Whether we are beginners or seasoned crocheters, we all find an immense amount of joy in looking at stunning intricate patterns. One of such is an incredible timeless design, loved by many – Sophie's Universe blanket designed by Dedri Uys.
Crocheters all around the world loved this project so much, that you can find countless versions of it, full set of step-by-step video tutorials, and even a book! Yes, the whole book was published to show exactly how to make this blanket, and you can purchase it here. What started as a crochet-along in 2015, is now a classic design that everyone knows about.
◉
Intrigued? Let's find out more about this fantastic project. Below you can see a small snippet of what's to come – beautiful versions of Sophie's Universe blanket by talented designers.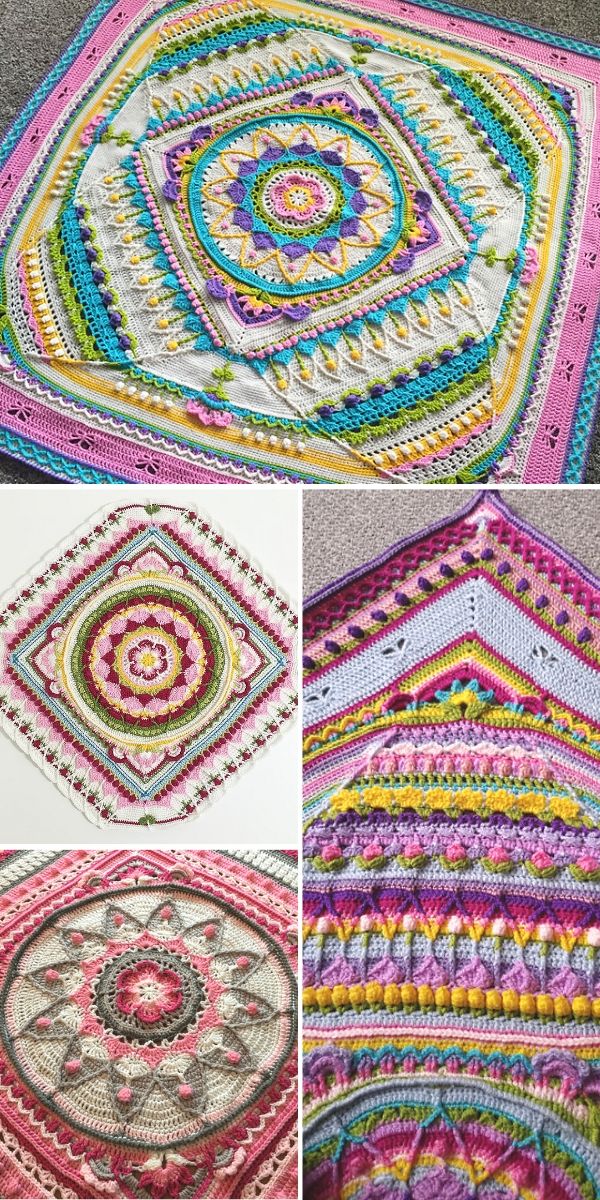 intricate and beautiful
It's an advanced pattern, but step-by-step instructions make it quite easy to follow through even for ambitious beginners. Original pattern includes three sizes – small, medium and large, and each of them requires different kinds of yarn and hook. You can learn more about them in Dedri's post here.
How do I start?
As I mentioned, first you need to decide, which size you are going to make, because each of them requires you to prepare differently. For example, size small uses Scheepjes Cotton
yarn
with 2.5-3mm
hook
, but large one was made using Scheepjes Stonewashed XL and a 5mm-5.5mm crochet hook. For the details click the link in previous paragraph.
When you chose your yarn, hooks and colorway, it's time to proceed with the pattern. Below you can see simplified process of the first stages of Sophie's Universe CAL.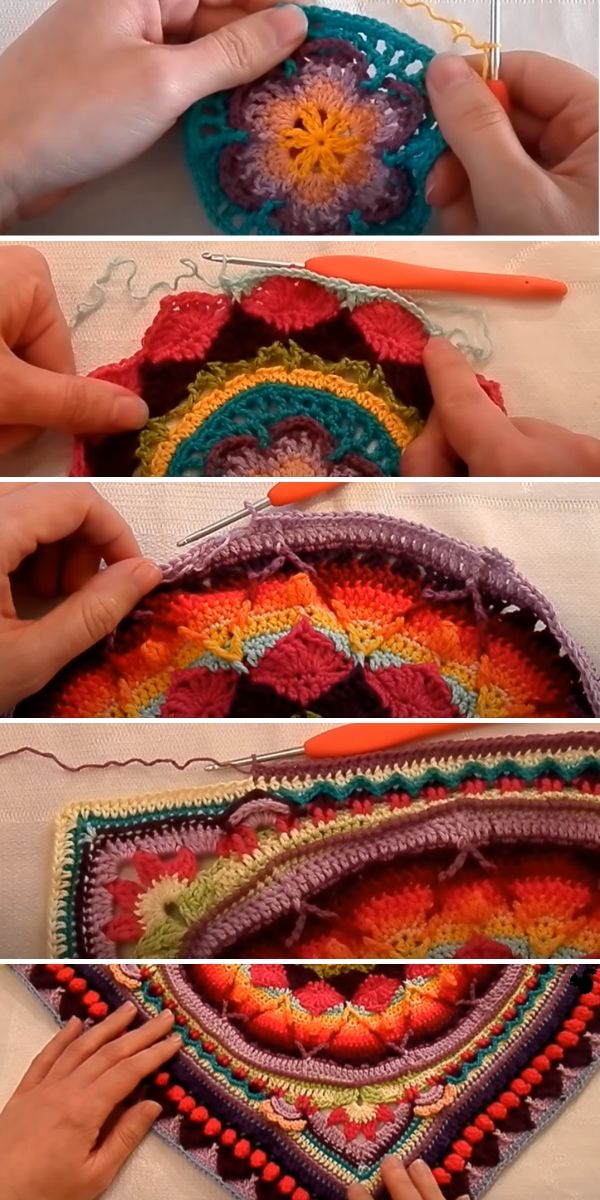 Learn more here…
…see the
full playlist of step-by-step video tutorials
 by Esther Dijkstra from It's All In a Nutshell Crochet on YouTube
here
, or check out
Dedri Uys' post
here
. More info and useful links about this project can be found on Ravelry
here
.
talking about stitches…
Our growing website and library of free crochet patterns has some projects that might interest you, too. If you want to know more about crochet, read my articles on different topics, for example – what are Yarn Weights and Ply? 
→ Yes! Take me to this article! ←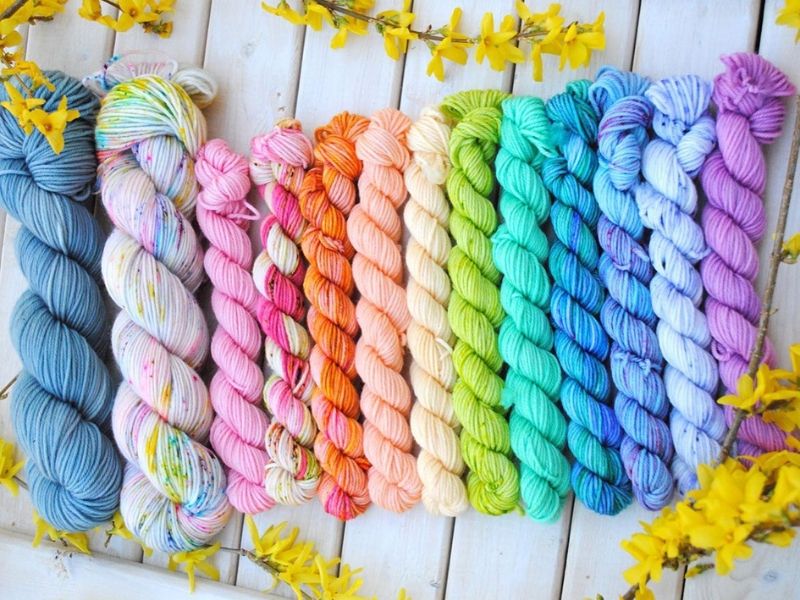 or…
Learn all about Spectacular Larksfoot Stitch Ideas!
→ Yes! Take me to this article! ←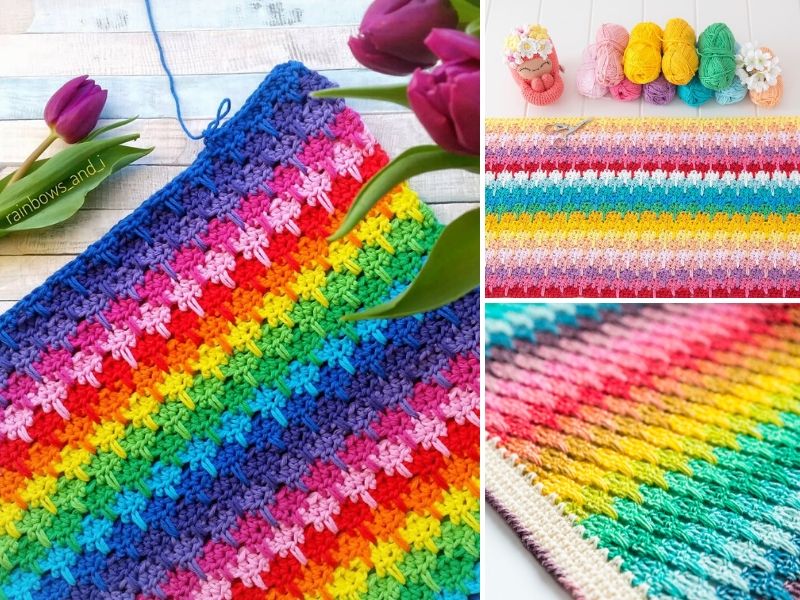 crochet roundup!
Sophie's Universe CAL has almost 7000 realizations in its Ravelry library, so it wasn't easy to pick some for today's post! Many of them are just breathtaking, because of fantastic color schemes and fineness of stitches. I managed to choose some of my favorites, but it's obvious how many amazing versions I must have left behind. Well… Let's dive in!
Read carefully for free crochet patterns and tutorials.
◉
Vibrant and bold
Sophie's Pond by Diana (Dianaj8)
This colorway is definitely one of my favorites, because I'm a sucker for bold contrasts and deep nature-inspired hues. Floral motives of Sophie work perfectly with blues, and overall the whole project reminds me of lilies in the pond. Take a look below to see how fantastically Diana did it.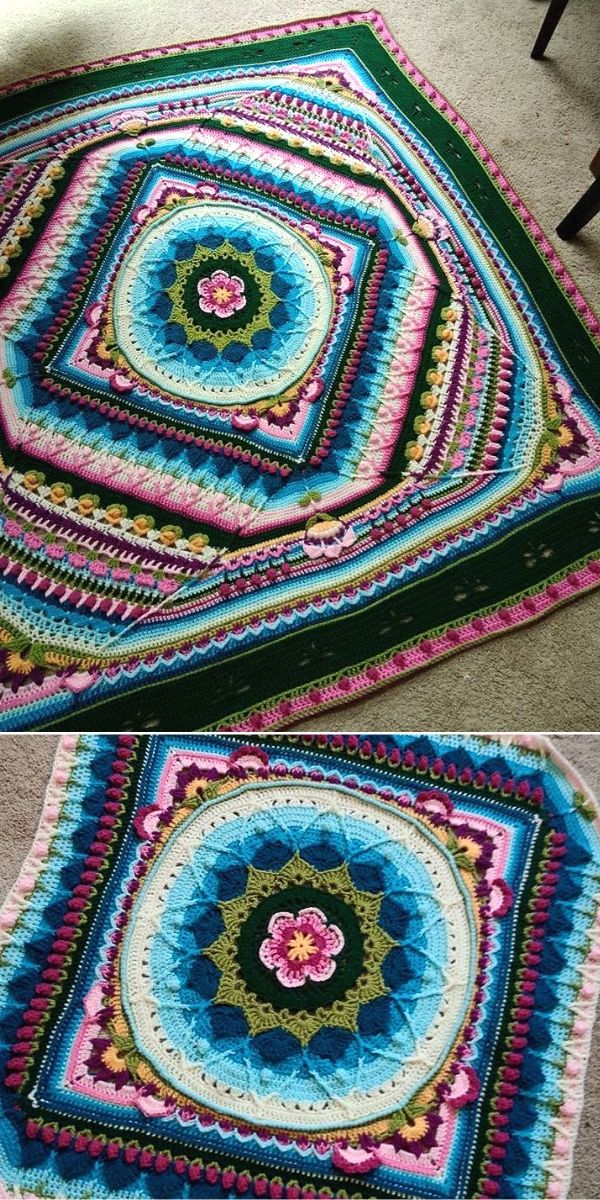 This is a version of original free crochet pattern called Sophie's Universe CAL by Dedri Uys.
If you are looking for more crochet-alongs to follow through, try Nature's Walk CAL!
◉
Sophie by XantheJS
This rich colorway is vibrant, but it's also very sophisticated and inspiring. This version by XantheJS reminds me of colorful Mexican throws, because it employs playful array of colors, each in just the right amount. See it below and feel the power!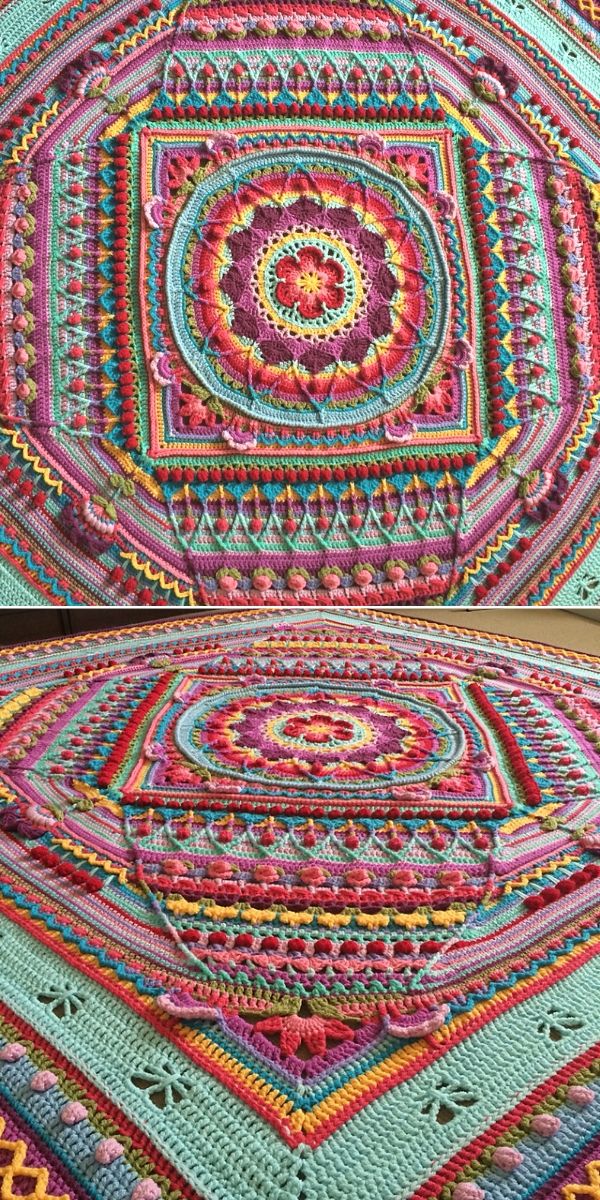 Original pattern is available for free here.
◉
Sophie's Universe Medium Blanket by Yarntoknitmari
Some may say that it's a very girly palette, but I will dare to disagree. This color scheme is rich and sophisticated, with strategically placed green stems and yellow petals. This kind of planning requires a lot of thought, and I think that this blanket by Yarntoknitmari is a true masterpiece. See for yourself in the photos below.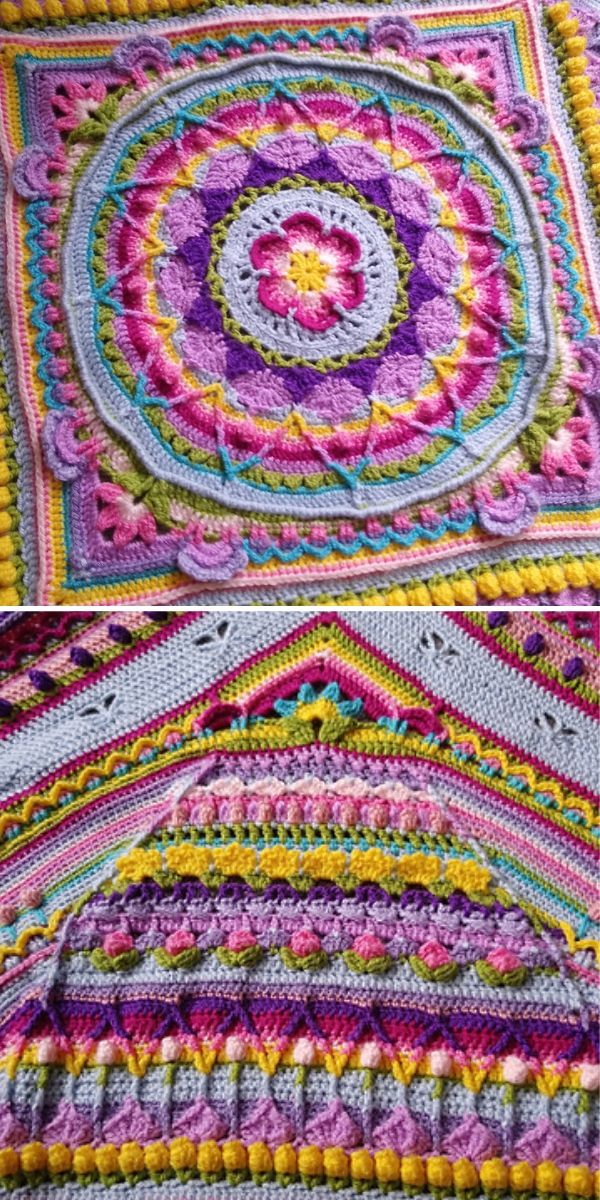 Based on this pattern by Dedri Uys, available for free.
Do you like front post stitches? If so, take a look at Dreamy Alpine Stitch ideas!
◉
Interesting greens
Turkish Poppies by Courtney (Saturated Life Cro)
This project by Courtney is a great example of fantastic contrasts. Emerald, red and black create together a very oriental combination, which is reflected in the title of this project. As you can see in the photos below, red flowers are main focus of this project.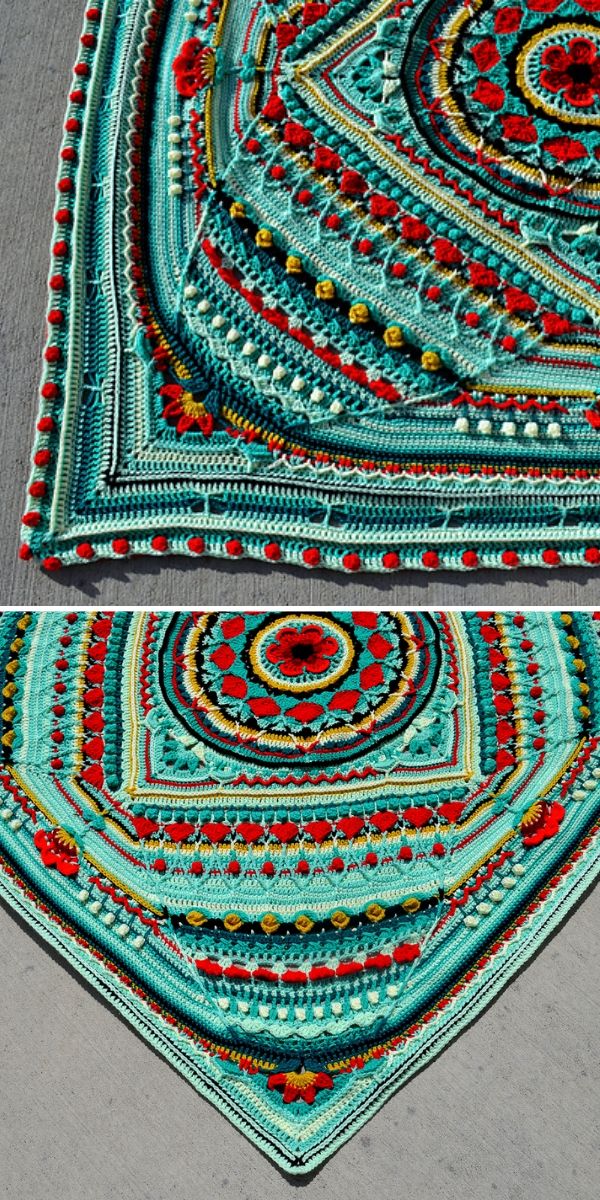 Free crochet pattern for original CAL is here.
◉
Grandma's Sophie's Universe by Carlie Jean Fullam
Another side of green is the one with yellow tint in it, and it instantly reminds me of spring. This delicate palette uses red only for very little details, leaving the rest of the project for greens and whites. See more below in this lovely project by Carlie Jean Fullam.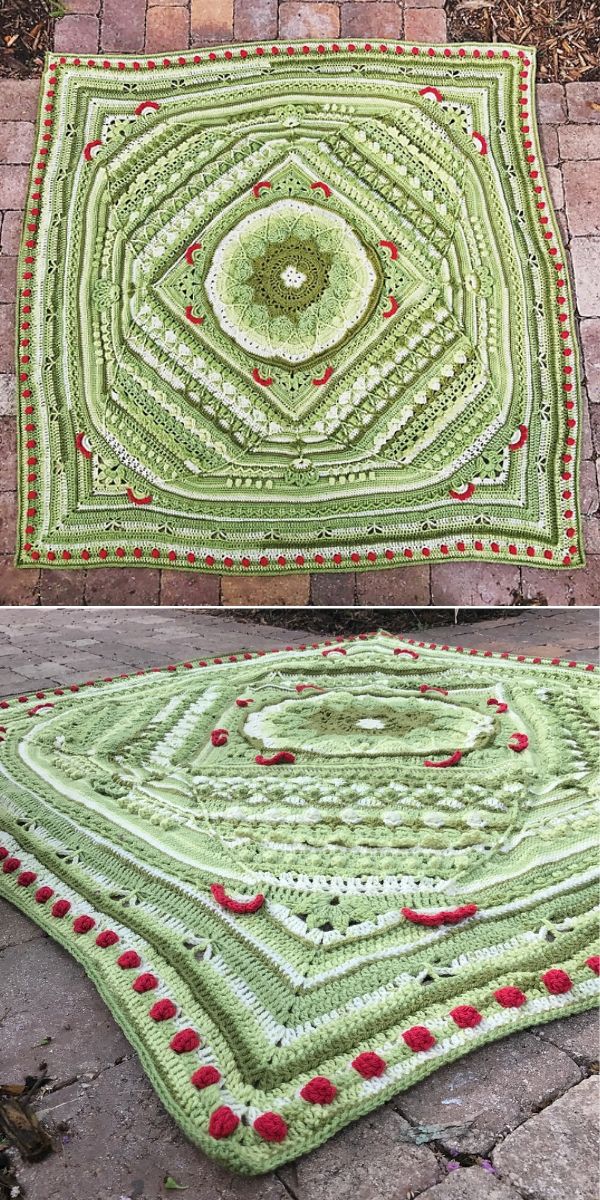 Free pattern for Sophie's Universe created a base for this project.
◉
Soft and delicate
Sophie's Alternate Universe by Valerie (happy scraps)
Although I'm not very much into girly palettes, I must say that this one won my heart instantly. Maybe it's clever combination of pinks, whites and yellows, or strategically placed stems and petals. Anyway, Valerie did fantastic job, so take a look at it below.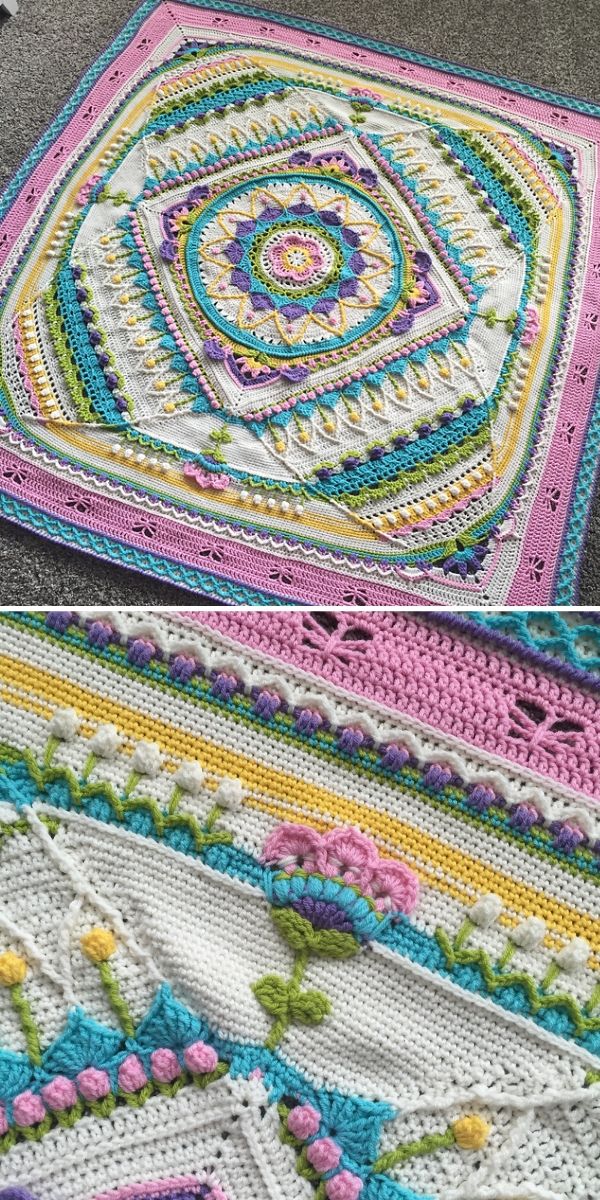 Original free pattern is available here.
I recently wrote about Dragonfly Stitch Ideas which you can see in this project!
◉
Sophie's Universe by Yukiko (yukiko12)
Colorways that are based on white need special planning, because each color will look very distinct on this background. Yukiko did a great job combining all these hues together, so take a look at her project shown below.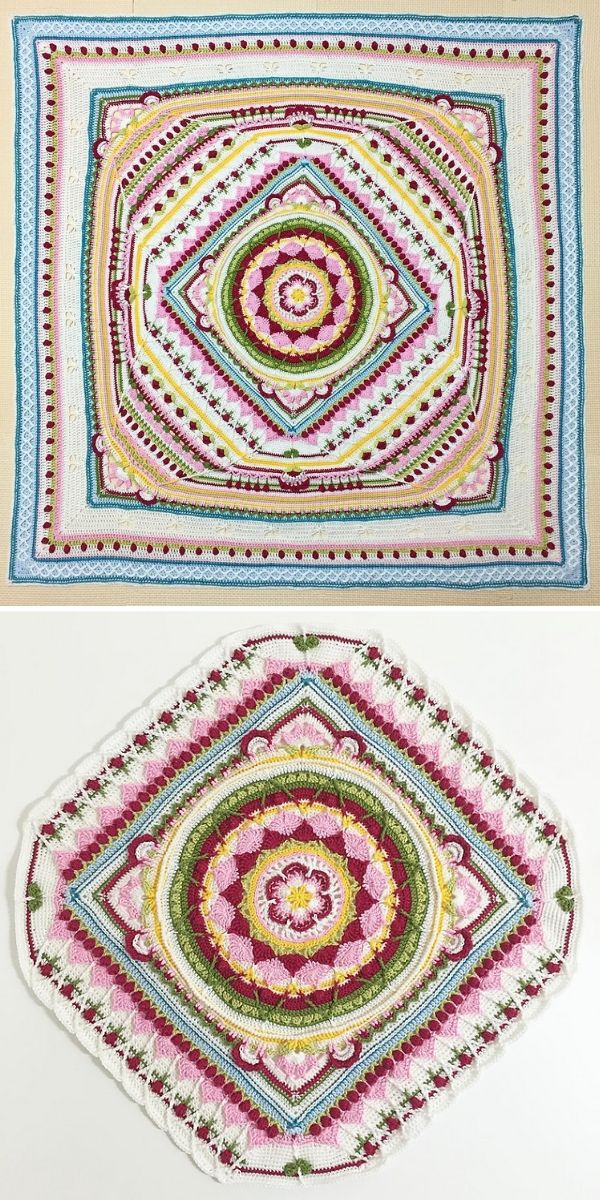 To make your own blanket, use free crochet pattern by Dedri available here.
◉
My Aran Sophie's Universe by Margaret (margaretev)
Why not go all white? Well, if you are not a fan of weaving in ends, or just need something extremely delicate and sophisticated, making your Sophie in one color is a great choice. As you can see, the pattern sings even in pure white, because the stitches are so beautifully designed. Take a look below on Margaret's work.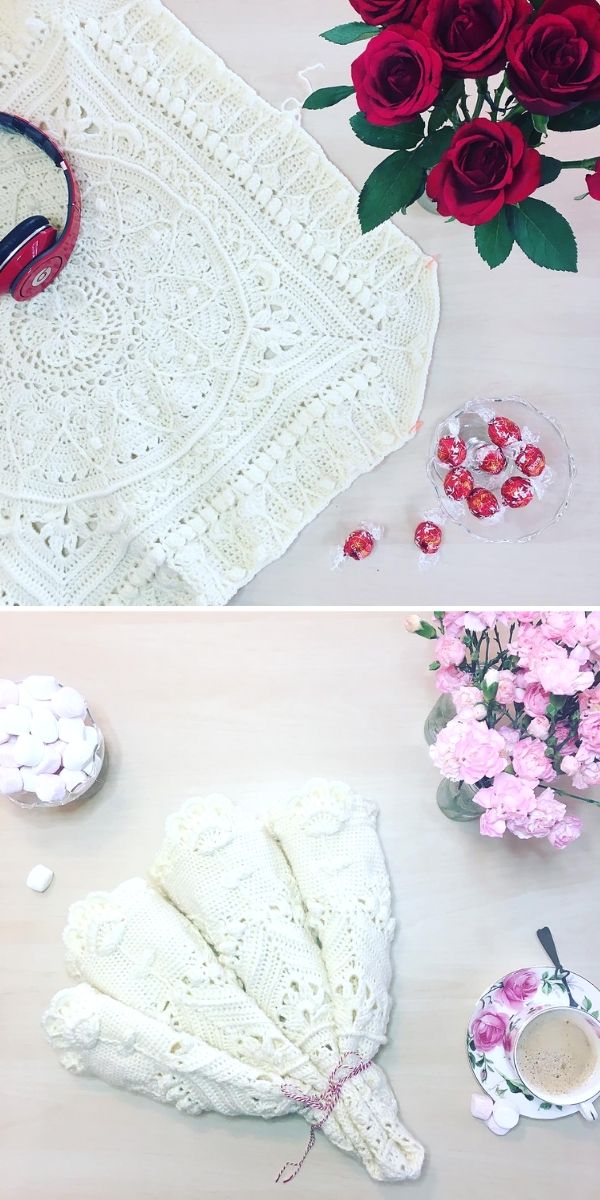 You can find this project as a free crochet pattern –  Sophie's Universe CAL by Dedri Uys.
I love popcorn stitch so much, that I wrote an article about it – Creative Popcorn Stitch Ideas!
◉
Pink power!
Baby Pinky by Tina
Pinks and cream work perfectly together, just like cherries and vanilla ice cream. Blanket like this will be a great addition to feminine bedroom, or unforgettable baby accessory, cherished for generations. Take a look below at the lovely version by Tina.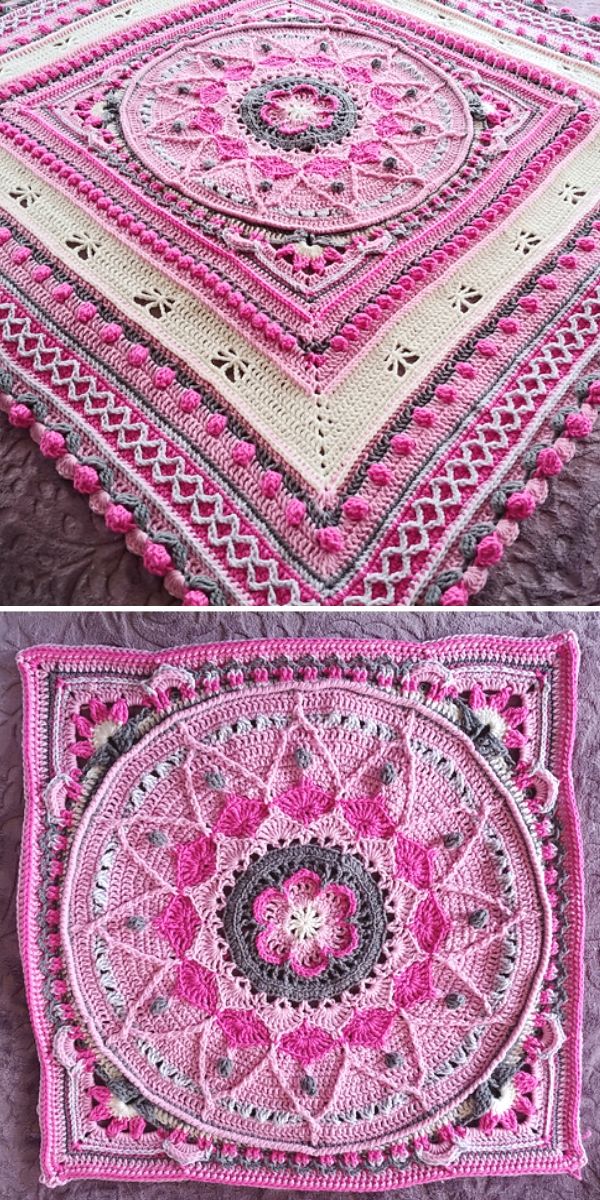 This beauty was based on Sophie's Universe free pattern.
◉
Sophie's Universe CAL Baby Blanket by Marianne (Happy Sunshine 13)
Looking for more sophisticated pinks? There you go, just choose rosy hues and pair them with dusty greens and greys. This small version by Marianne has lovely lacy edging, as you can see in the photos.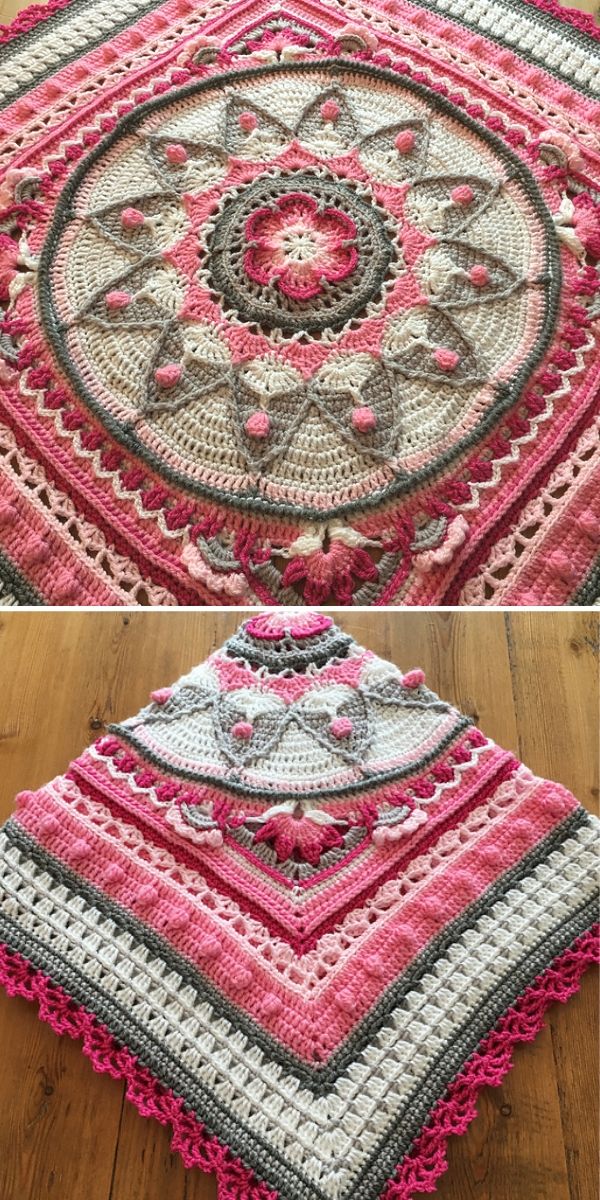 Check out free crochet pattern for original Sophie here.
◉
Magical ombre
Sophie's Universe by Vanessa (vhan1317)
Have you ever tried ombre yarn? If so, I'm sure you fell in love with it, because it creates fantastic color flow without the fuss of weaving ends. Multicolored yarn is a great choice for this project, if you want to lessen the impact of structural stitches and instead showcase color flow. See for yourself in the photos below.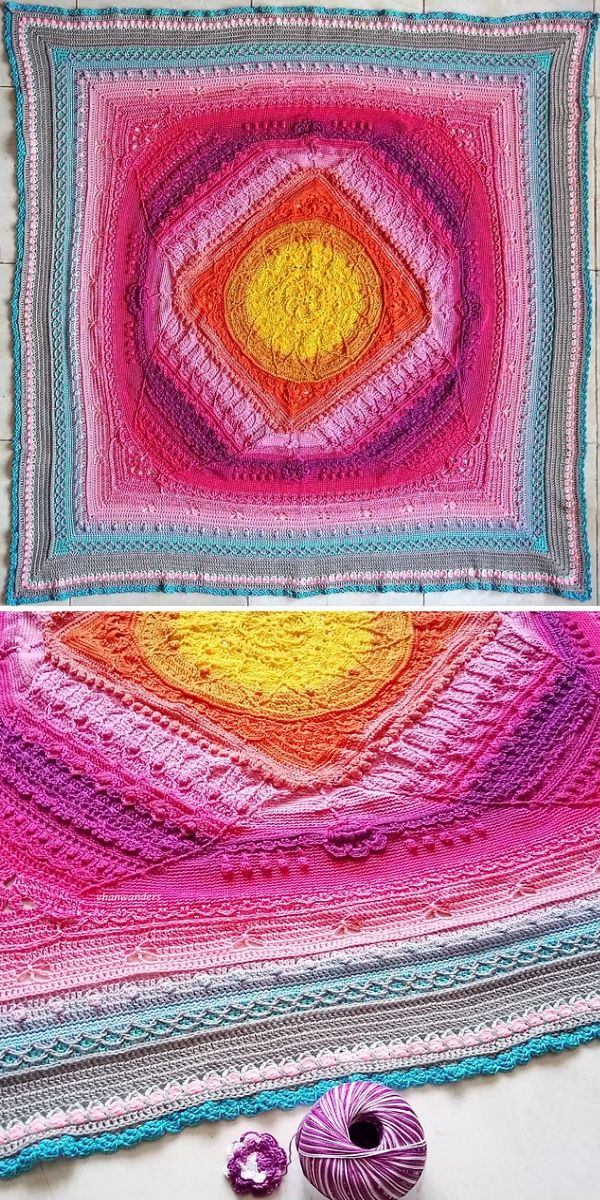 Original free pattern is available here.
◉
Sophie's Universe CAL by piccoloninja
This project looks like it's made with ombre yarn, but in fact it's not! Piccoloninja decided to plan her colors in clever way, which suggests that they go from the vibrant yellow to the deepest navy blue. See below how eight different colors were employed to create this optical illusion.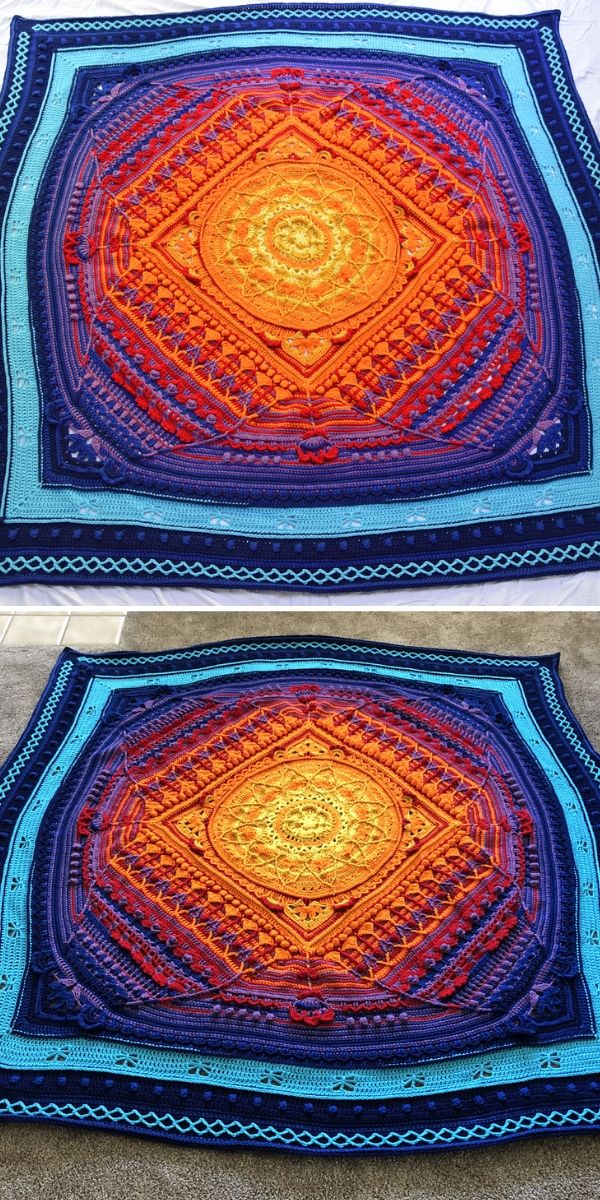 Sophie's Universe was the base for this project.
◉
Sophie's Universe CAL by Katri Adolfsson
Playful colorway can be an opportunity to create something unusual! This rainbow Sophie by Katri looks fantastic, so check it out in the photos below. Pay attention to beautiful border with yellow detail!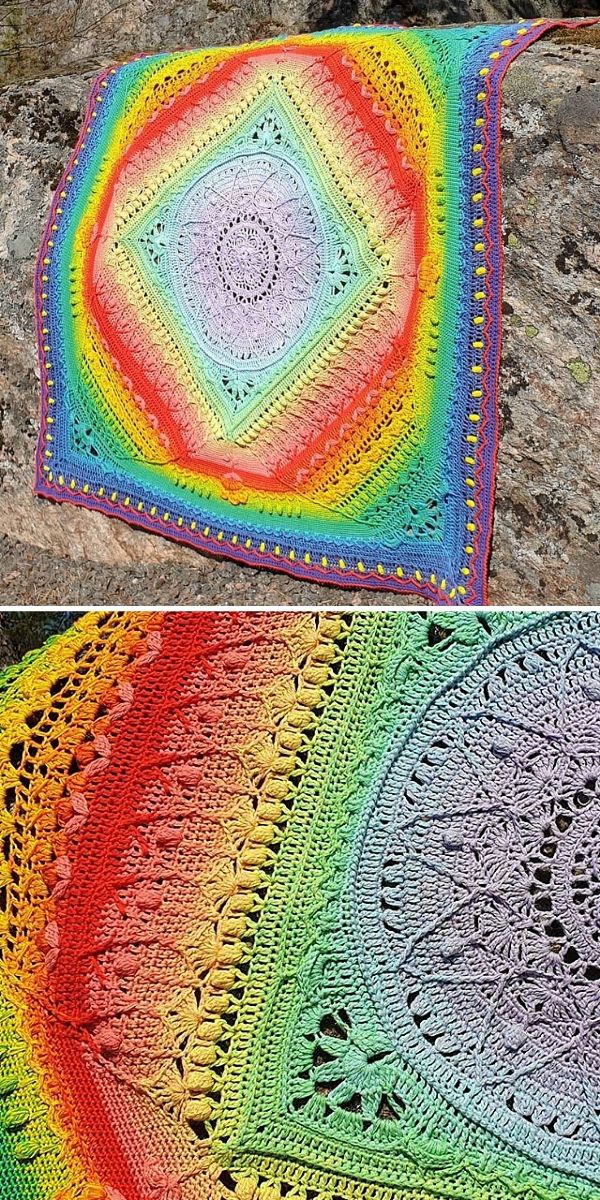 CAL by Dedri Uys is available for free.
◉
Peculiar Sophie
Micro Sophie CAL by Geneva-Kae
This blanket is very unusual, because it's teeny-tiny! Have you ever tried crocheting with thread? If not, be sure that you can create little masterpieces like this one by Geneva-Kae. You can see below how intricate it is, but I almost can't imagine how much work was put into it!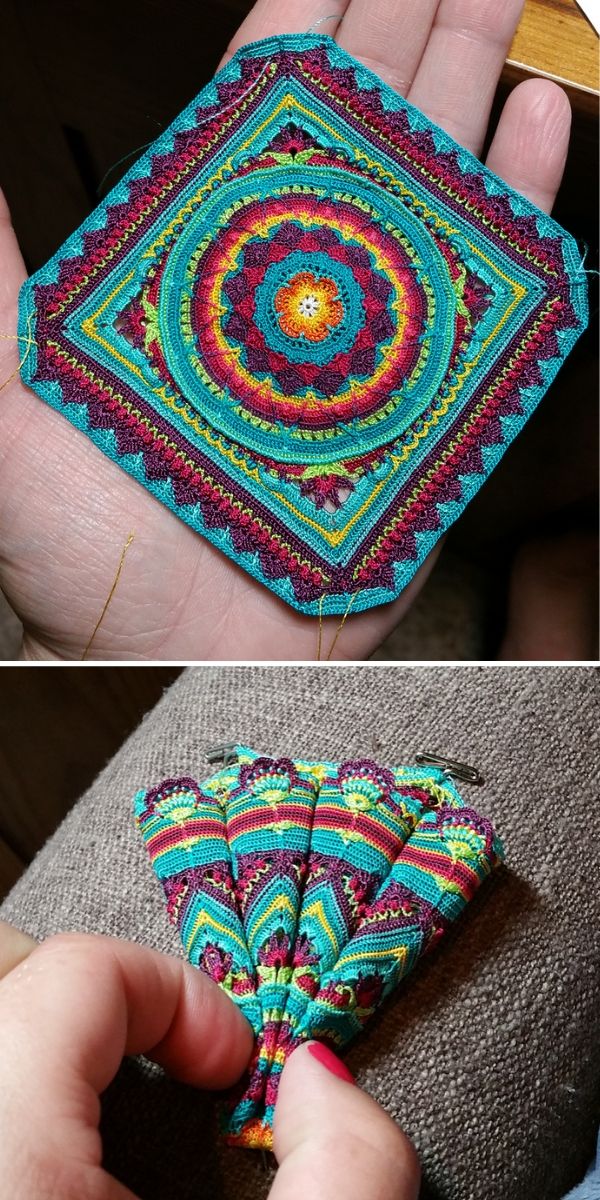 Sophie's Universe CAL is a free crochet pattern.
◉
Sophie's Universe CAL by Shamim (poopakbaft)
Big, multi-step patterns like today's hero have one significant advantage – you can stop whenever you want! Make it a decorative mandala, afghan square or baby blanket. Many crocheters are intimidated by big CALs, but remember, that you don't need to go all the way through it. See lovely square by Shamim below.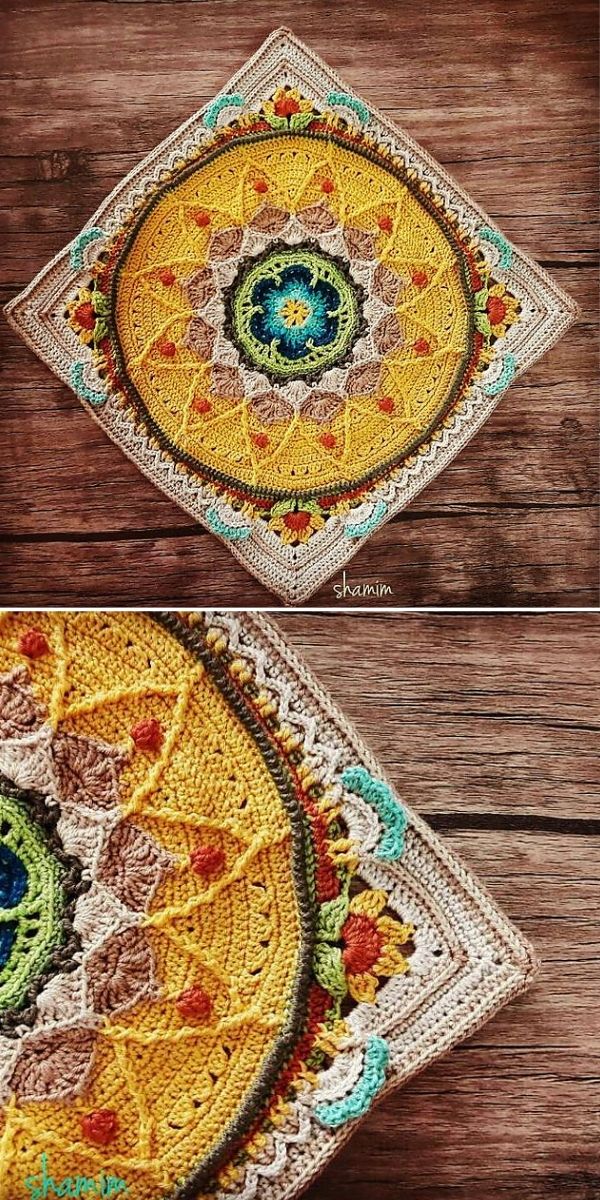 You can find this project as a free crochet pattern – Sophie's Universe CAL by Dedri Uys, so try it today!
◉
That's all for today, but I'll be back with much more inspiring projects and free patterns. Like, share and subscribe if you like what you see. Stay tuned!
↔
You may also like: Arcade Stitch Ideas