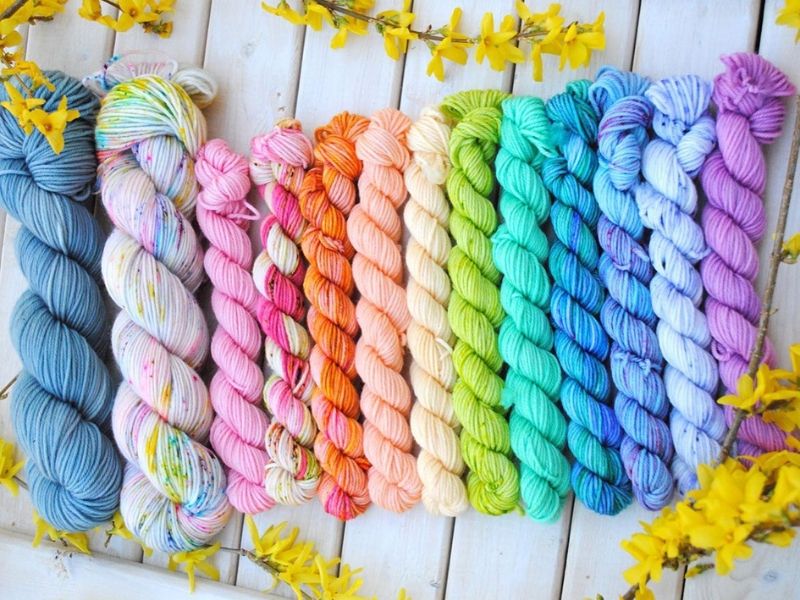 featured photo by Jake | KENYARN / instagram.com (@isthatkenyarn)
◉
Yarn weight categories tell us how thick a yarn is. There are 8 main categories, which contain different types of yarn.
Take a look at the chart below. You will find all the informations about yarn weight symbols there, as well as types of yarn, estimated crochet gauge and recommended hook for every category.
Pin it to save for later!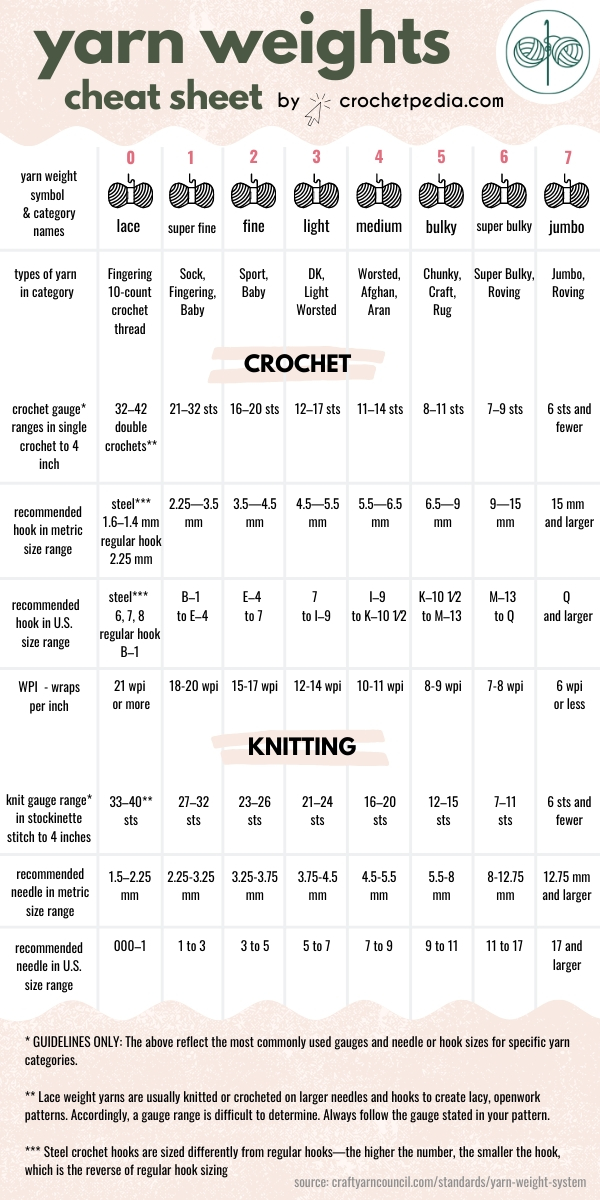 this chart is based directly on official informations provided by The Craft Yarn Council (CYC), available here.
We must remember that yarn weight does not indicate what particular yarn is made of – to learn more about Types of Yarn, check out my article – available soon!
Yarns can be wound into different shapes, such as skeins, hanks, balls and other – if you want to know more about Yarn Ball Types, check out this article!
◉
0 – Lace
In this category: Lace, Cobweb, Thread, Light Fingering Yarn.
Lace yarn is the most delicate and fine of all. It's often used for intricate doilies, lacy garments and accessories, as well as other refined projects. Scarves and shawls made with lace yarns are often very decorative.
Remember, that intricate lacy designs often need blocking, and doilies often also need stiffening.
◉
1 – Super Fine
In this category: Super Fine, Sock, Fingering, Baby.
Differences in naming: AUS/NZ, UK– 3 Ply and 4 Ply.
Super fine yarn is a little bit thicker than lace yarn, but it's still great for delicate lacy accessories and garments. It's often used to make socks and shawls. Bigger garments made with such fine yarn look fantastic, but require a little bit more time and effort.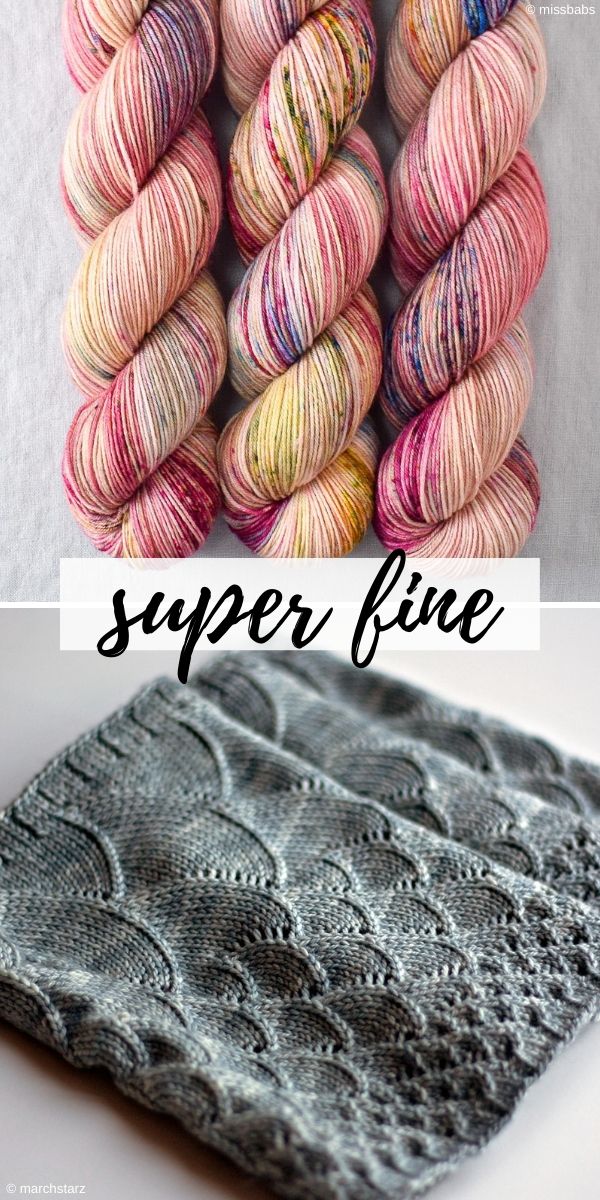 ◉
2 – Fine
In this category: Fine, Sport, Baby.
Differences in naming: AUS/NZ, UK – 5 Ply
Fine yarn is our next stop in the chart – thicker than super fine, but still quite delicate. It's suitable for even more projects, such as ornamental winter accessories, scarves and mittens. You can find fantastic artisan yarns in this weight category, featuring beautiful color schemes.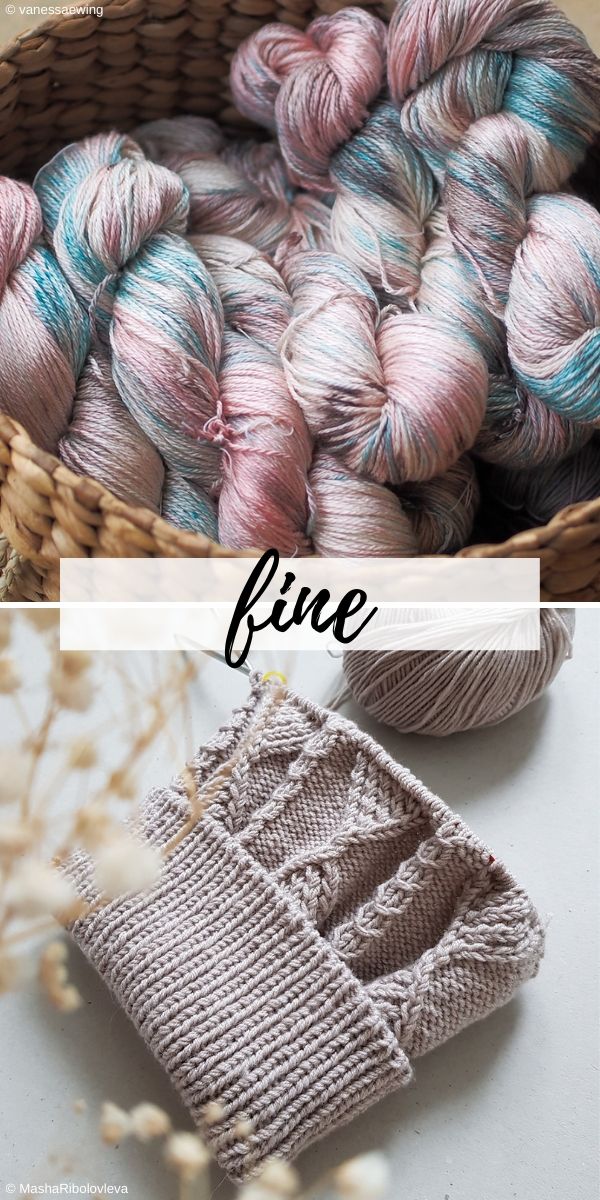 ◉
3 – Light / DK
In this category: DK, Light Worsted.
Differences in naming: AUS/NZ – 8 Ply, UK – DK
Light or DK yarns are very popular, because they are on the finer side of medium yarns. You can find a lot of different projects using this weight – light blankets, garments, socks, and more.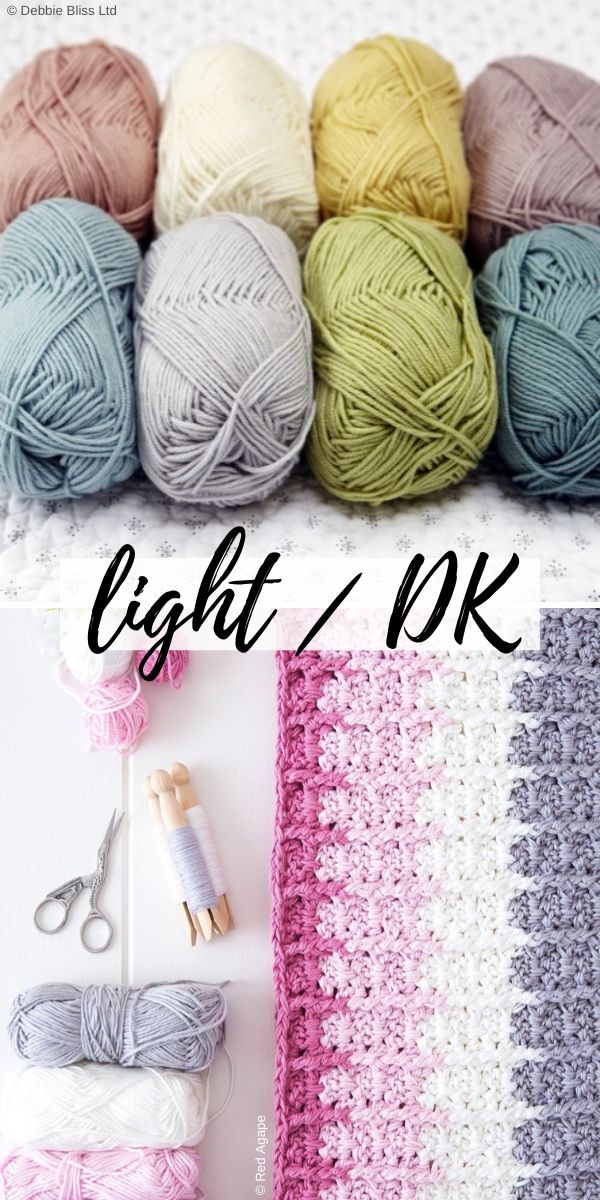 ◉
4 – Medium
In this category: Worsted, Afghan, Aran.
Differences in naming: AUS/NZ – 10 Ply, UK – Aran / Worsted
This is the most popular yarn weight, because it's great for beginner crocheters and knitters. It's fun to work with and is perfect for many different projects – garments, blankets, and more.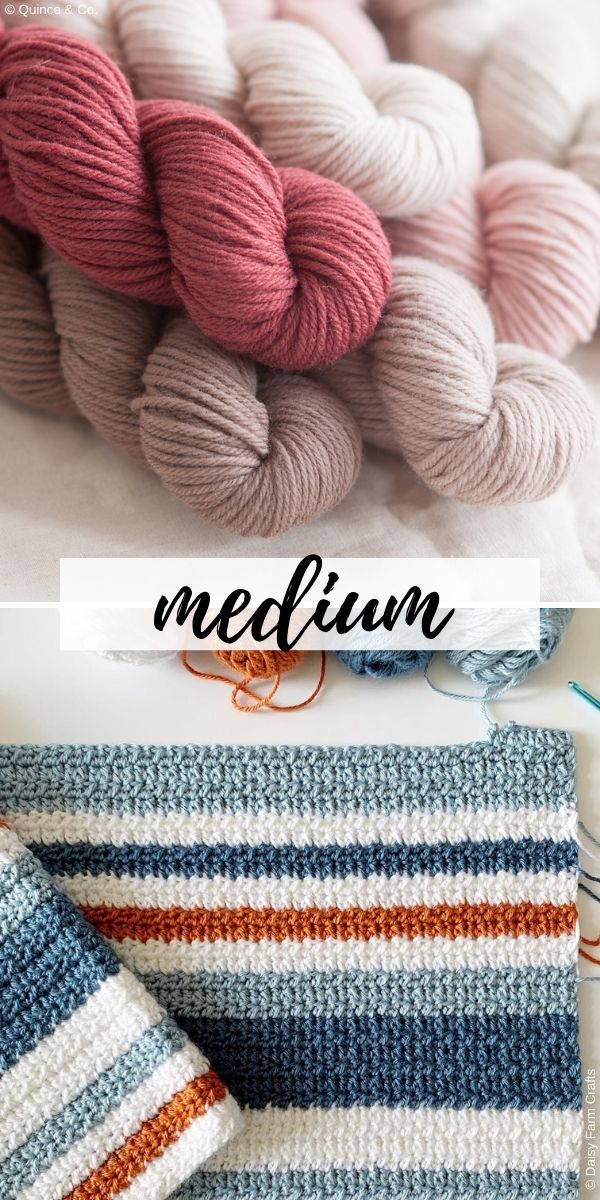 ◉
5 – Bulky
In this category: Chunky, Craft, Rug.
Differences in naming: AUS/NZ – 12 Ply, UK – Bulky
Bulky yarns are fantastic for winter accessories, such as hats, scarves or cowls. It also works great with home decor projects. It's a beloved yarn of those crocheters, who like quick projects – it works up fast, but you can still fine enough for ornamental stitches to be nicely visible.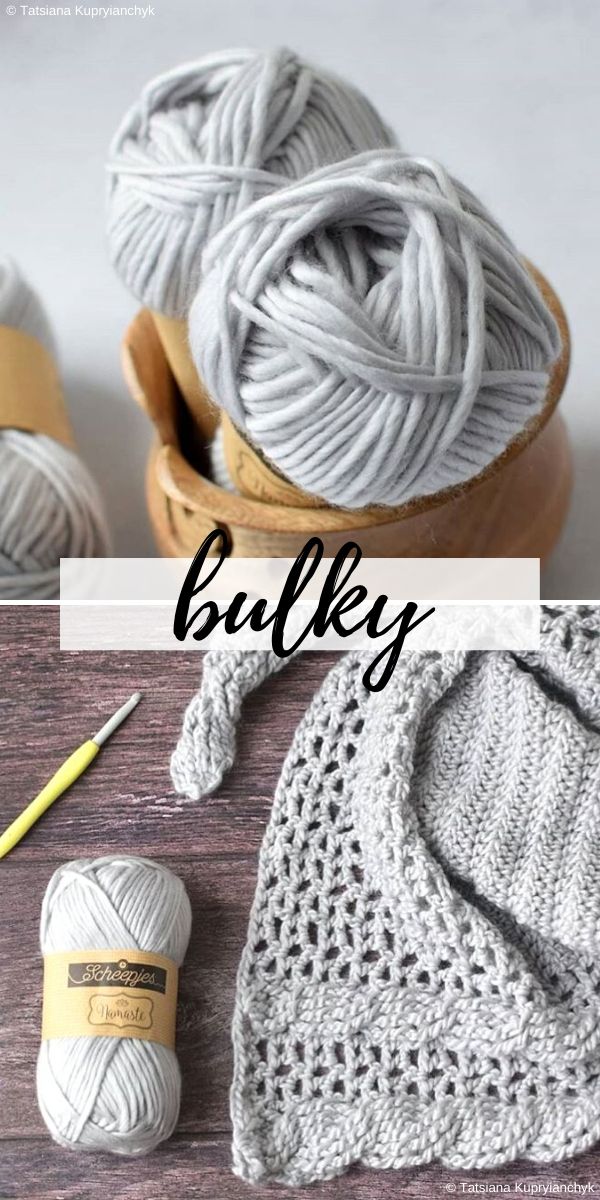 ◉
6 – Super Bulky
In this category: Super Bulky, Roving.
Differences in naming: AUS/NZ – 16+ Ply, UK – Super Chunky
Super bulky yarn works up even quicker! This yarn creates very characteristic, visible stitches and is very comfy. Winter accessories, sweaters, cowls, hats – it's all great for those projects! And, of course, snuggly blankets.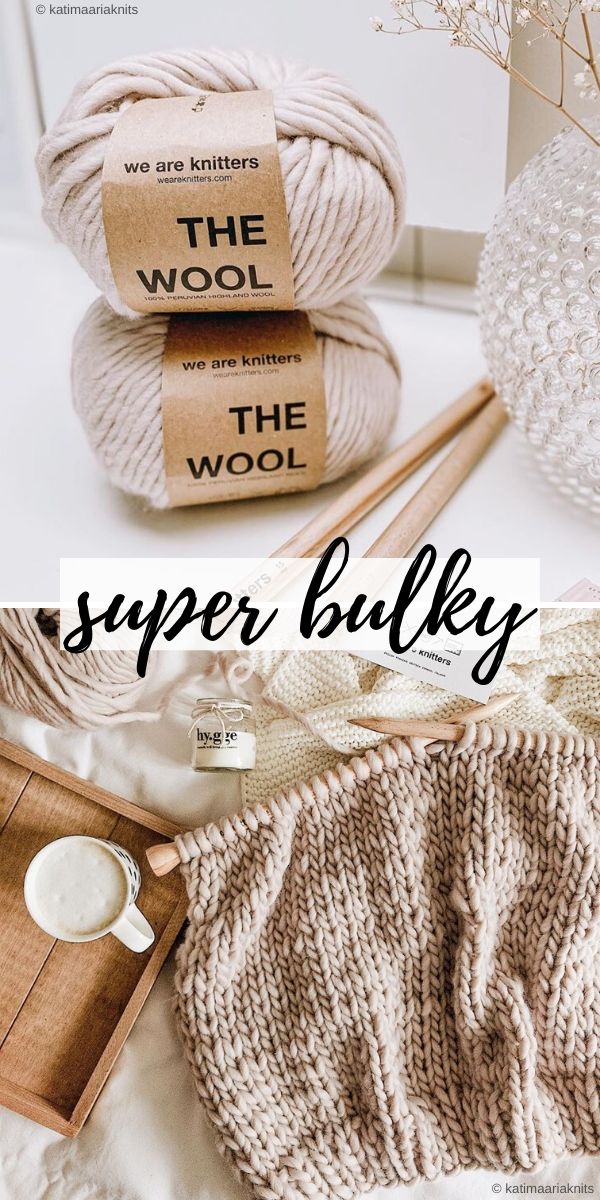 ◉
7 – Jumbo
In this category: Jumbo, Roving.
Differences in naming: AUS/NZ, UK – Jumbo
Over the past few years, jumbo yarn has gotten very popular among crocheters, and I'm not surprised why! This gigantic yarn is so thick, that it's most often knitted by hand – or, should I say, arm knitted. It works up incredibly fast and looks great, because such blanket is a true statement piece.
Jumbo yarn can be made with various materials, such as wool, acrylic or even cotton tubes, as shown in the picture below.
◉
Ply – what does it mean?
Number before the word 'Ply' indicates how many strands of yarn are spun together to make particular kind of yarn. It doesn't tell you how thick the yarn is, though, because individual threads can be of different weight themselves. You can have 6 very fine threads spun together (6 ply), that together create the yarn finer than 2 bulky ones (2 ply).
◉
You may also like: Crochet Blocking