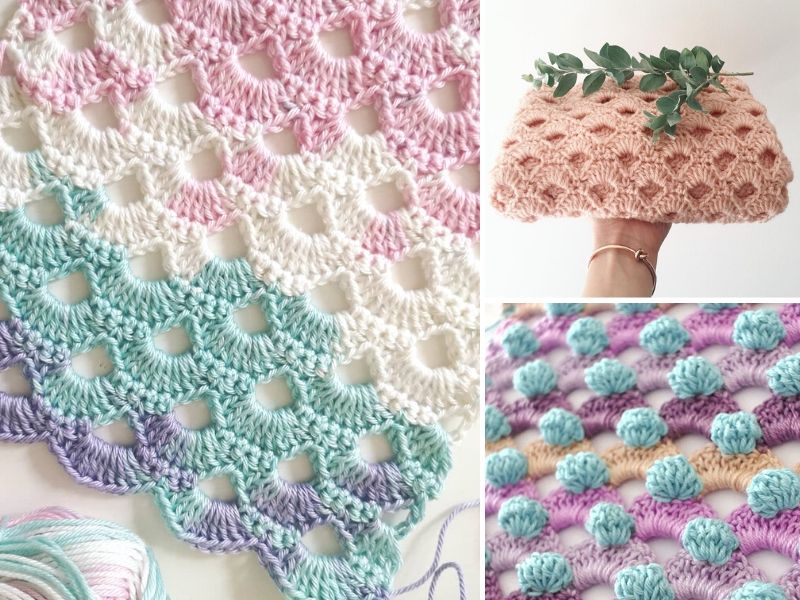 When I first saw crochet arcade stitch, and I immediately thought "I HAVE TO learn it!". Some stitches are truly breathtaking, and surprise you with their beauty when you look at them for the first time.
This lovely technique combines geometric, repetitive pattern with lacy structure. Little eyelets are shaped evenly and make the 'arches' look sophisticated and bold. It's a fantastic stitch for those of you, who need a little refreshment, something new and eye-pleasing for your next project.
◉
This stitch requires some skills, but is easy to learn if you know basic techniques. As you can see in the pictures below, it creates nice even edge and looks great in many colors. Excited? Let's dive in!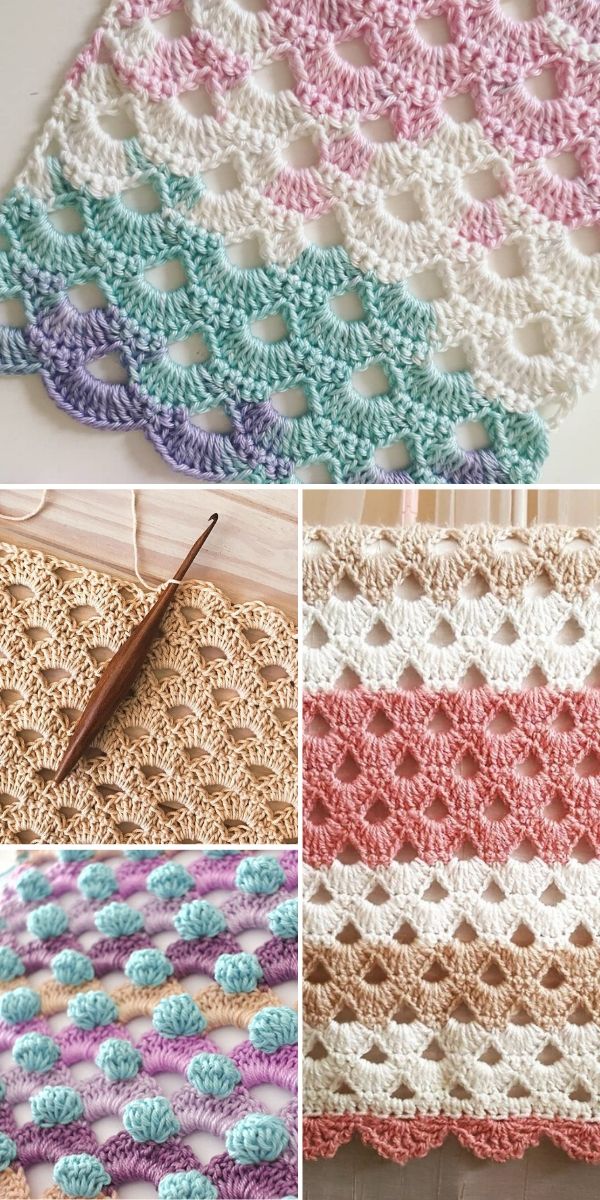 beautiful arches
Arcade stitch is great for home accessories, such as decorative bedspreads, blankets, and pillowcases. It may not be the best option for baby blankets, because openwork can be a trap for little fingers and toes. That said, I know that many crocheters don't find it problematic, especially if you add a lining or pair the blanket with another light one underneath. Arcade stitch is great for mesh bags, summer garments and scarves.
How do I start?
To make your own arcade stitch project, use any
type of yarn
and corresponding
hook
you want. For this tutorial Emma used Caron Simply Soft green yarn with a 5 mm hook.
Let's look at the picture below to see the simplified process of making arcade stitch.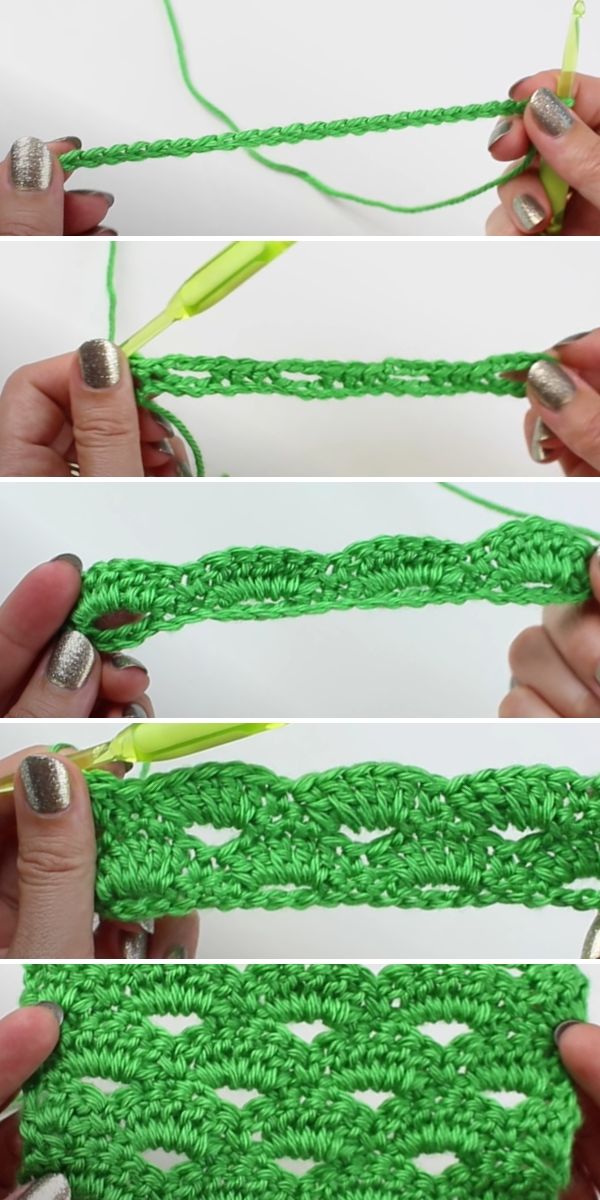 stills from YouTube video by Potter and Bloom- source
As you can see, it all starts with
slip knot
and
foundation chain
. Each version of this stitch may require different amount of starting stitches, but in this case we chain multiple of 6 + 1, which is our
turning chain
. First row is already setting up the base for the arches, which are next built up in subsequent rows.
Learn more here…
I highly recommend you watching the
full video
by Potter and Bloom on YouTube
here
, or checking out written pattern
here
. Just remember that Emma uses
UK terms
, which are slightly different than US terms.
talking about stitches…
Our growing website and library of free crochet patterns has some projects that might interest you, too. Maybe you would like to try my Puppy Baby Lovey pattern? 
→ Yes! Take me to this free pattern! ←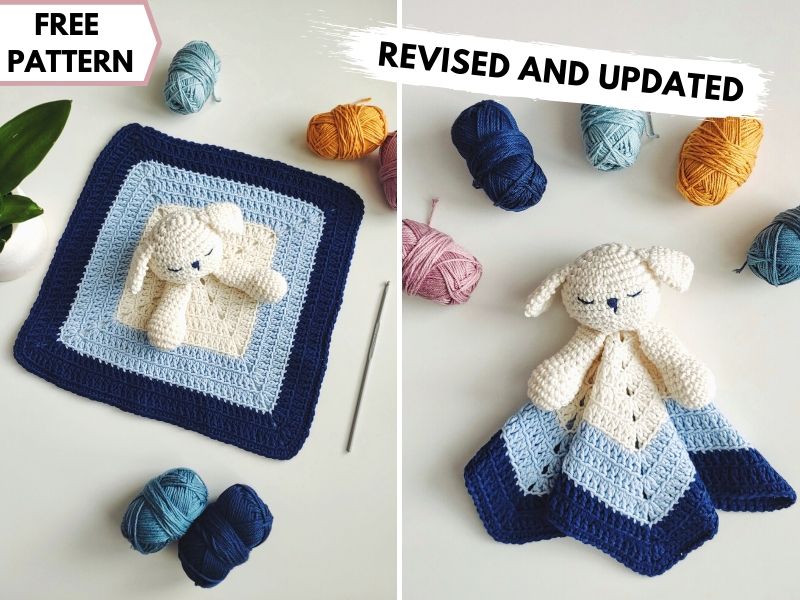 or…
Learn all about Spectacular Larksfoot Stitch Ideas!
→ Yes! Take me to this article! ←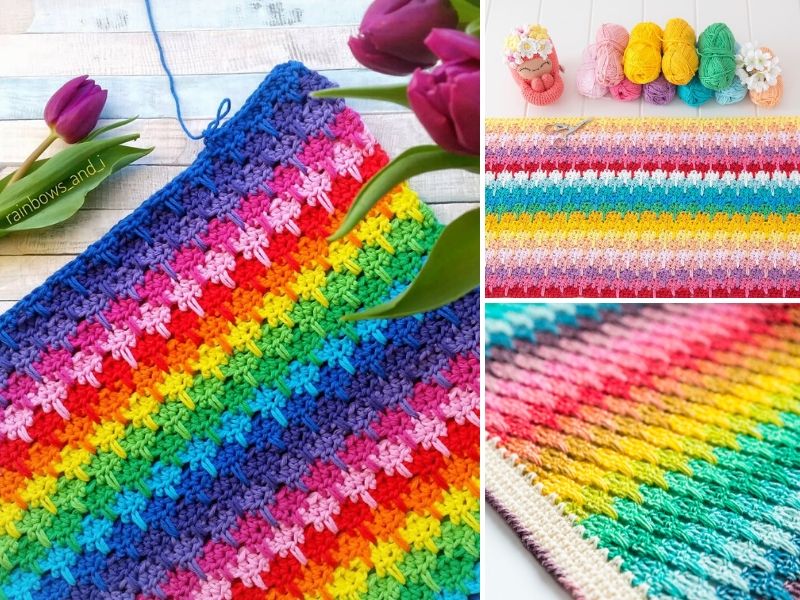 crochet roundup!
This part is definitely my favorite, because I absolutely looove writing about colors. The more I research, the more beautiful creations I find. This time it's all about arcade stitch, and you will see how versatile this technique can be.
Read carefully for free crochet patterns and tutorials.
◉
Pastels and Peaches
Arcade Stitch by na2kukibg
When you look at the photos below, it's obvious that arcade stitch is a great choice for this yarn. Author of this lovely project has tried it many times, and this one showcases the colorful nature of the artisan yarn.

To make a similar project use one of the tutorials by Potter & Bloom I linked in the first part of this article. Both written pattern and video tutorial are available for free.
◉
Arcade Stitch Baby Blanket by Ivy + Olive
I mentioned before, that many crocheters avoid lacy stitches for baby blankets, but you must admit that this peachy version by Ivy and Olive is very cute. Take a look at the photos below and see how well it works with greenery – these two colors go perfectly together.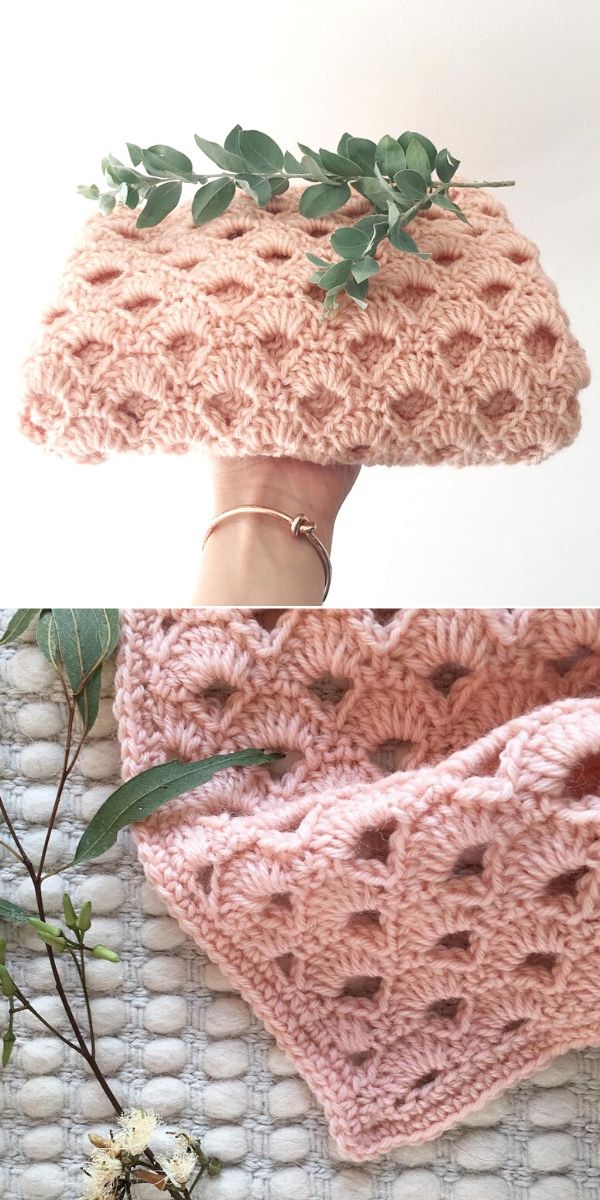 To make your own blanket, take a look at Arcade Crochet Stitch Tutorial by Crochet'n'Create, which is available as free pattern.
◉
Arcade Stitch Baby Blanket by Sooky La La Crochet Co.
This design looks fresh and modern, but it's neutral enough to look great in classic vintage nursery, too. As you can see in the pictures, Sooky La La Crochet Co. chose black and white for the border. It is a fantastic finishing touch – and an easy one!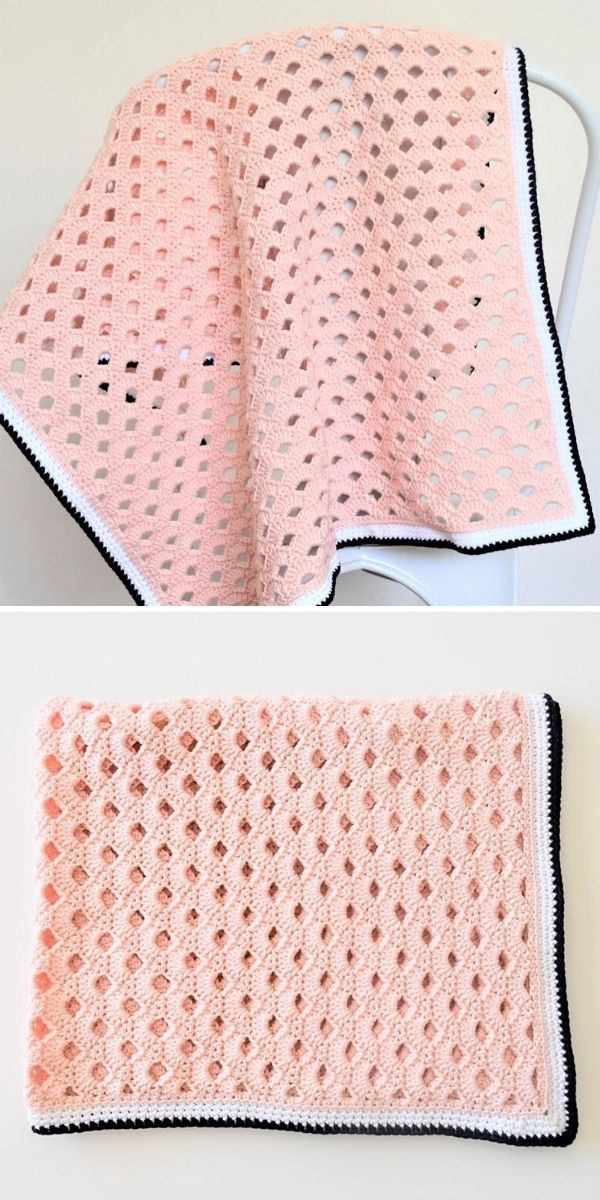 Didn't like previous video tutorial? Try this one: How to Crochet: Arcade Stitch by Wool And The Gang – it's free on YouTube.
◉
Arcade Stitch Blanket by Mummys_Crochet_Boutique
If you have read my previous articles on stitches, you must have already stumbled upon beautiful creations by Mummys Crochet Boutique. Her designs are truly splendid, and you can see one in the pictures below. Soft rosy palette is finished with delicate scalloped edging – romantic and beautiful.
◉
Soft Neutrals
Arcade Stitch by Maddy with a Y and BlackSheepMade
Neutrals are always a great choice. If you are making a gift for someone you don't know very well, or you simply can't decide on any color, just go for neutrals. Beige or tan looks great in classic and minimalist interiors, and both Maddy and Alyssarhaye know it well! Take a look below to see their versions of arcade stitch.

To make a similar project use one of the tutorials by Potter & Bloom I linked in the first part of this article. Both written pattern and video tutorial are available for free.
◉
Arcade Stitch by Jeanett Johnsen and Louise Jensen
Greys, oh beautiful greys. Some may think it's boring, but I think it's fantastic, and so are Jeanett and Louise, whose creations you can see below. Neutrals are perfect for striking geometric patterns like this one, right?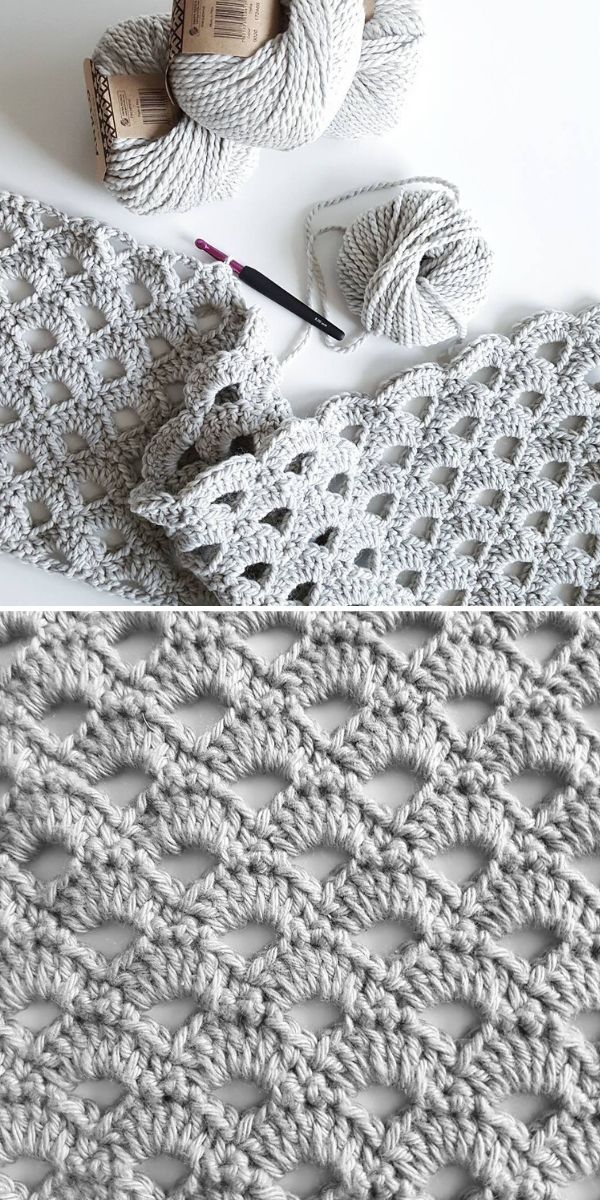 If you are looking for a project that uses light color of yarn, you may like white version of Happy Monday Arcade Top by jennyandteddy. It's a free crochet pattern.
◉
Sea Greens and Blues
Arcade Stitch by Fahmi Nazir
Bold solid color? Why not! Fahmi Nazir is not afraid of such decisions, and it's great, because you can see for yourself that this color is working here. Take a peak below to admire lovely scalloped edge, too!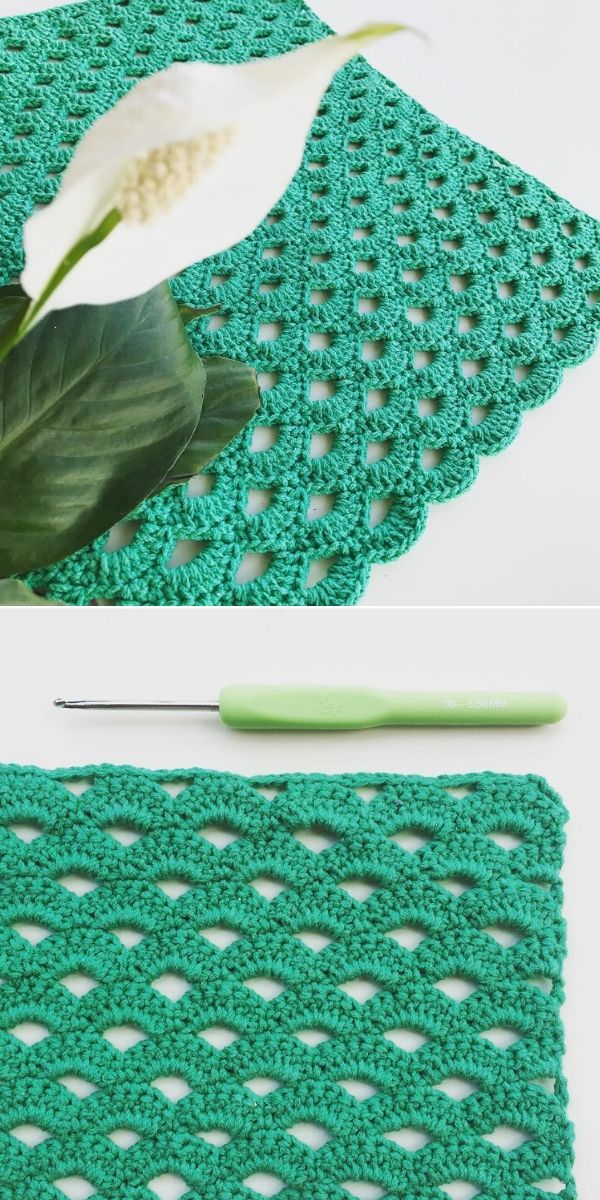 If you'd like to try using this stitch to make a beautiful everyday accessory, check out free crochet pattern for Arcade Bag by Alison Smith.
◉
Arcade Stitch by Steph Lewis
Ombre yarn combined with arcade stitch is one of the best ideas you can use. This stunning scarf by Steph showcases the colorway, is interesting and looks very sohpisticated – just take a look at the pictures below and see for yourself.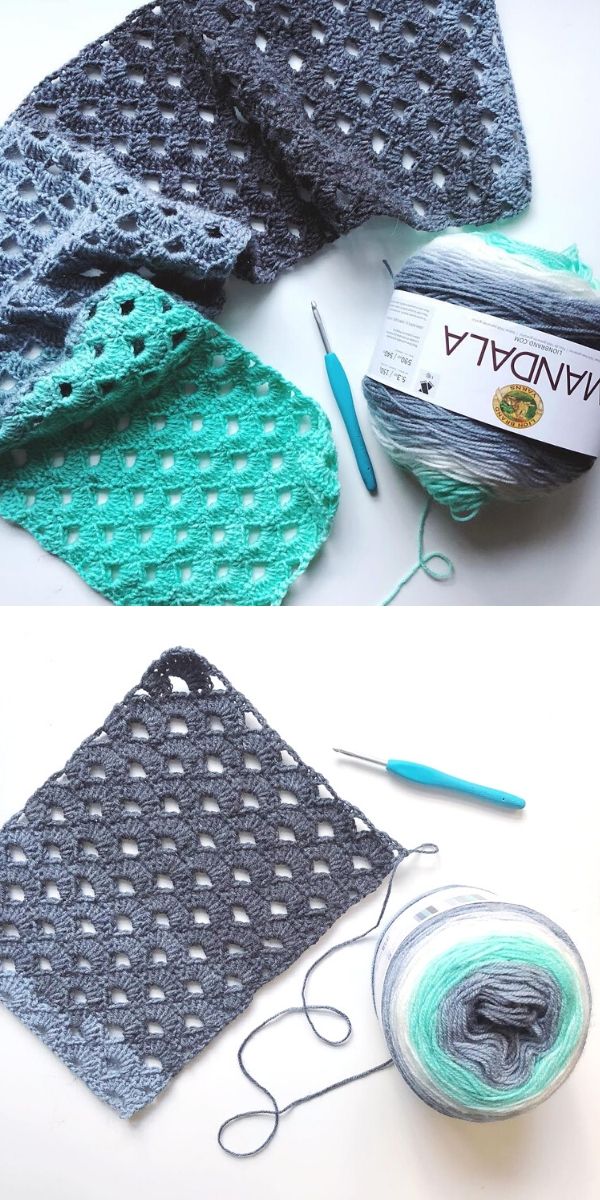 Looking for something a little bit more unusual? This free tutorial on How to Crochet Viaduct Stitch by Potter & Bloom gives an interesting twist on classic arcade stitch. It's available in both UK and US terminology.
◉
Arcade Stitches by Lottie and Choose Joy
I absolutely love denim blue, especially in the rugged, washed out version. Both Lottie and Choose Joy decided to use these colors, and you can see below that they work beautifully. Everyday accessories in this palette will look chic and timeless.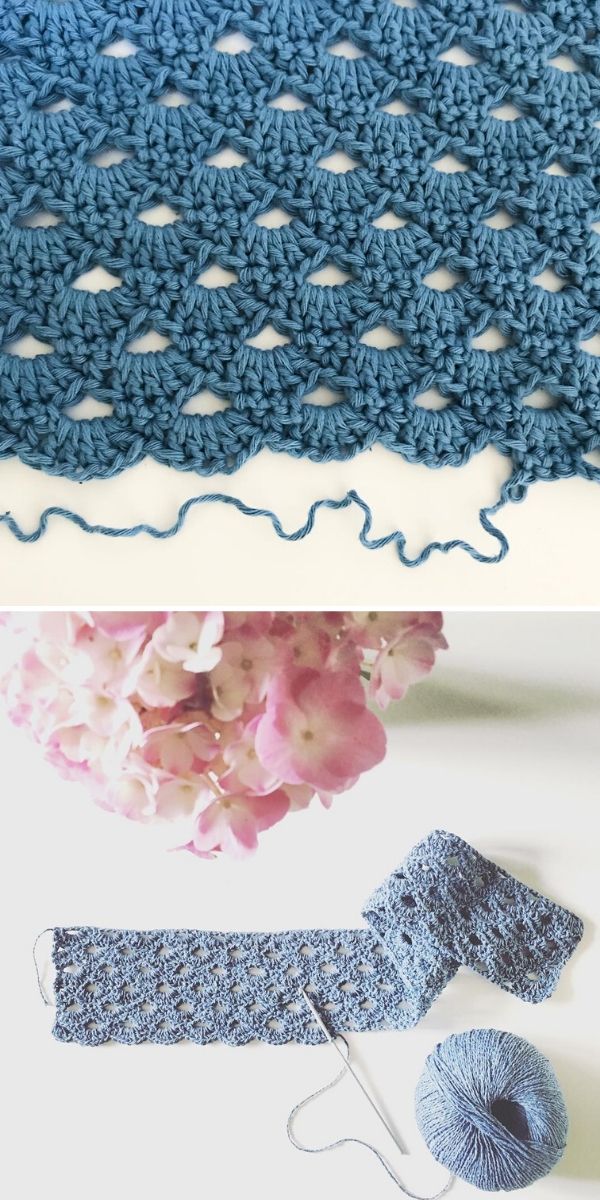 Use any of the tutorials or written patterns I linked throughout the article to make your own version of these projects.
◉
Arcade Stitch Baby Blanket by Mrs. H
Cuteness overload! If you take a look at the baby blanket below, you will instantly cheer up, because it looks just like blue sky. Mrs. H used electric blue to make stunning nursery addition.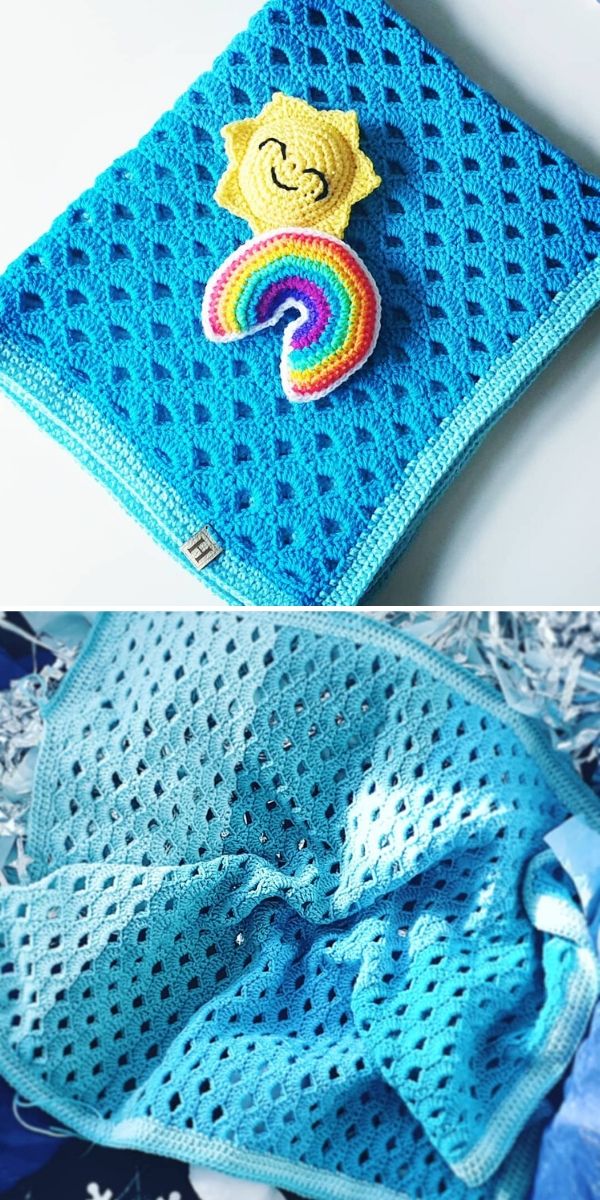 To create similar blanket, take a look at free pattern for Baby blanket – Cascade Stitch by Helby O. The pattern is archived, but you can still access it through Ravelry page.
◉
Colorful and Playful
Arcade Stitch Blanket by Shimon Designs
Isn't this blanket beautiful? Colorful stripes create geometric and clean pattern, but it's still so much fun. Adding border with wide panels at the top and bottom is a great idea, because it looks sleek and nicely finished. See below how it's done by Shimon Designs.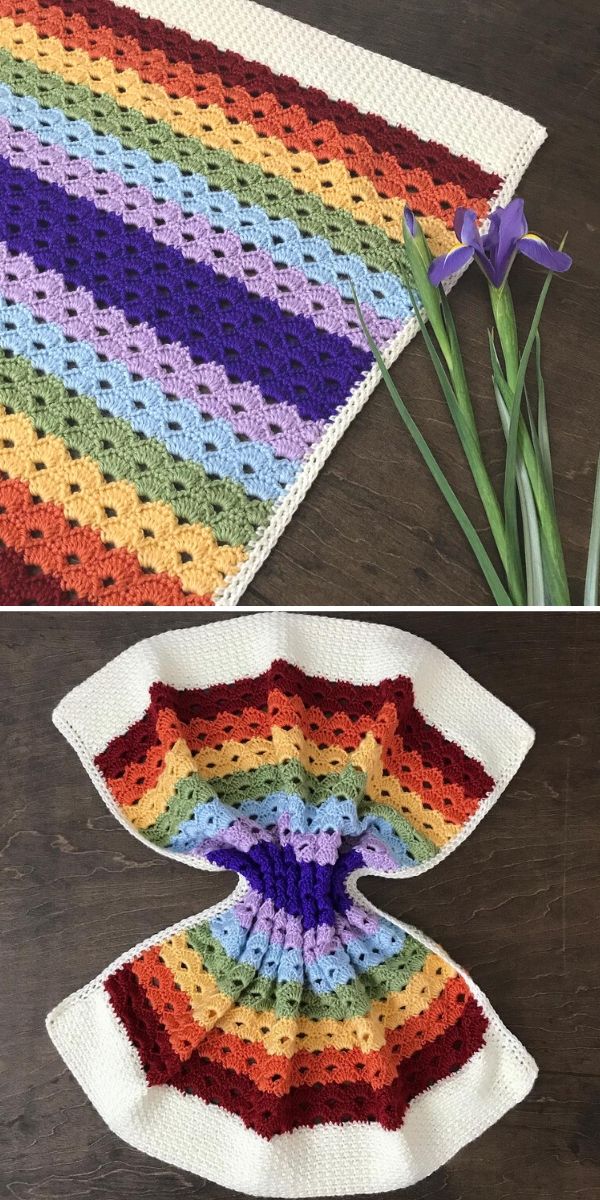 If you like arcade stitch, you will like Wheatsheaf Stitch, a.k.a Mini Arcade Stitch, too! Take a look at this free video tutorial by Hooked by Robin.
◉
Arcade Stitch Blanket by Crafty Little Rach
Alternating colors is fun, but it's even more fun if you use multicolored yarn. Choose ombre yarn and pair it with white, just like Crafty Little Rach did. You can see how cool it looks in the photos below.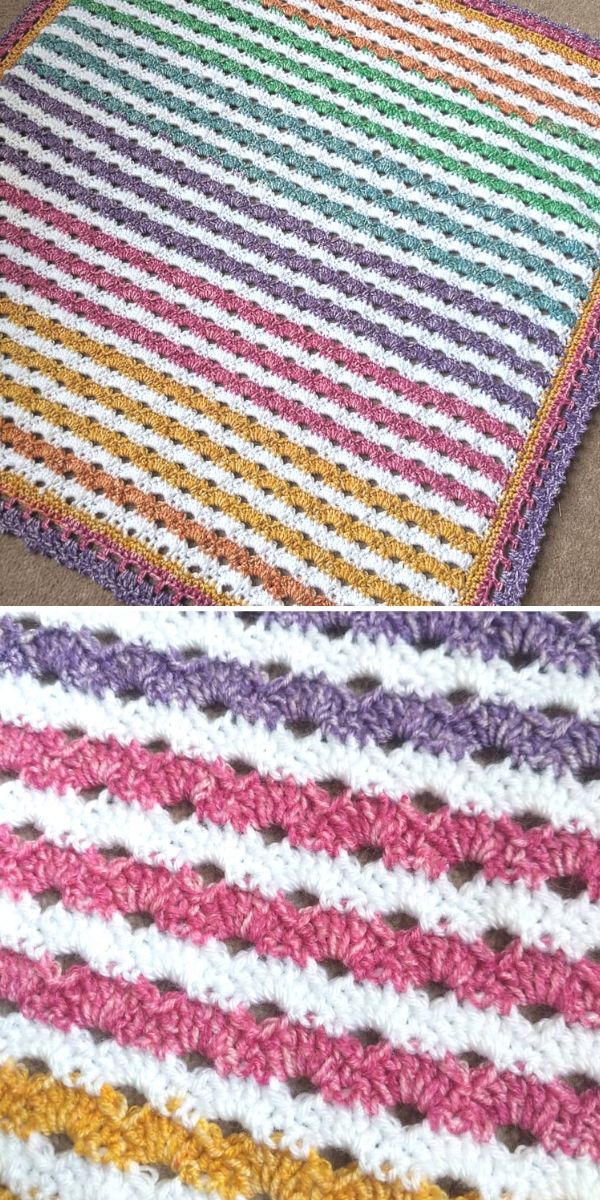 To make a similar project, take a look at free tutorial for Crochet Arcade Stitch by Naztazia. She uses different color for each row, too.
◉
Crochet Bobble Stitch by MyPicot
If simple arcade stitch is not enough for you, so what would you say to this playful version? Bobbles are added on top of each arch as you go, therefore making structural pattern. Take a look at two beautiful color versions by MyPicot.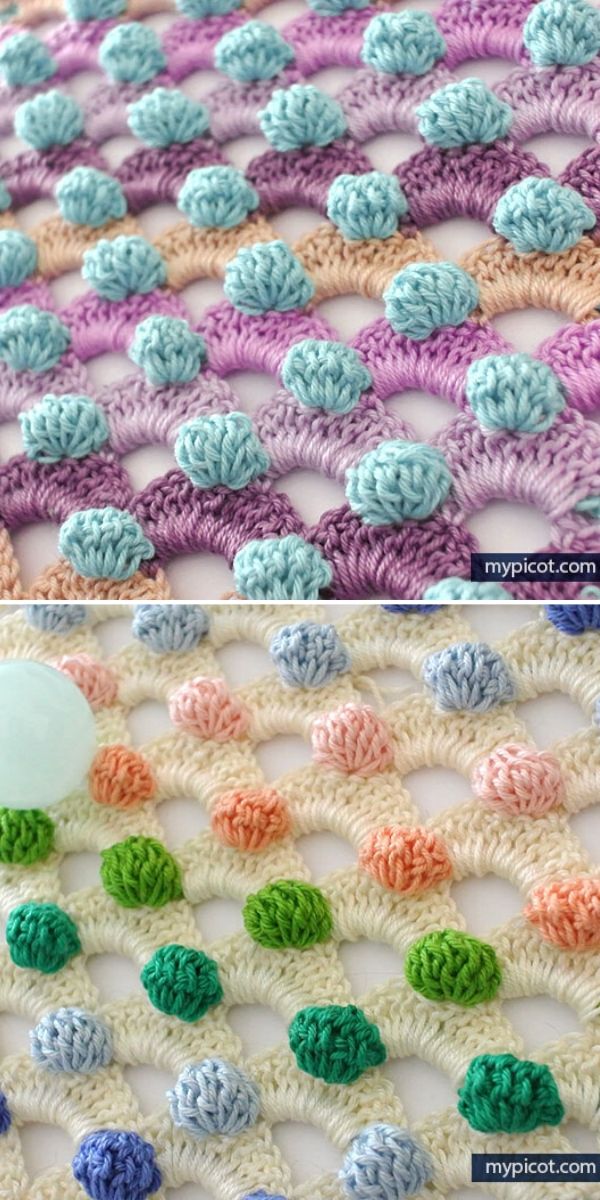 You can find free step-by-step tutorial for this fun stitch here.
◉
Trendy Mesh Tops
Sunny Days Cotton Tee by OTH Crochet Nook
Summer is closer and closer, so you better be prepared! Mesh top like this one is a great solution for hot days at the beach, because it's light and airy. OTH Crochet Nook's design you can see below, use speckled white yarn – don't you think it looks interesting?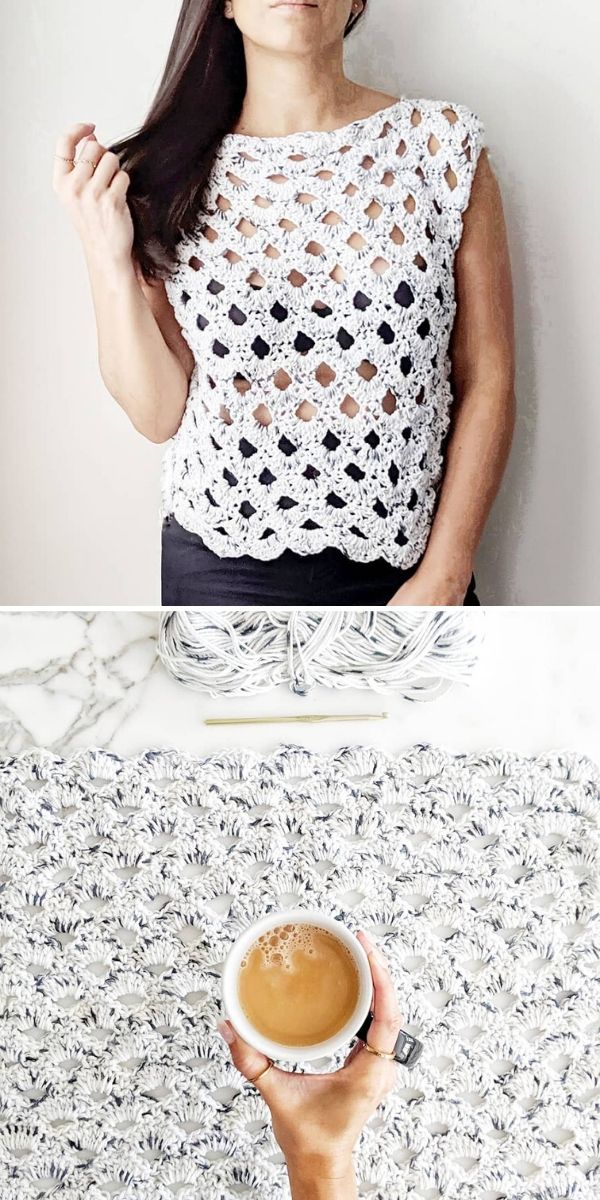 This project is called Sunny Days Cotton Tee and you can find it as free crochet pattern here.
◉
Armada Sweater by Wool and the Gang
As I mentioned, arcade stitch looks great in garments, because it's eye-catching. This sweater use two colors of pink yarn and is a true statement piece – the only one you need in your wardrobe. Take a peak at the photos below, so you can decide for yourself.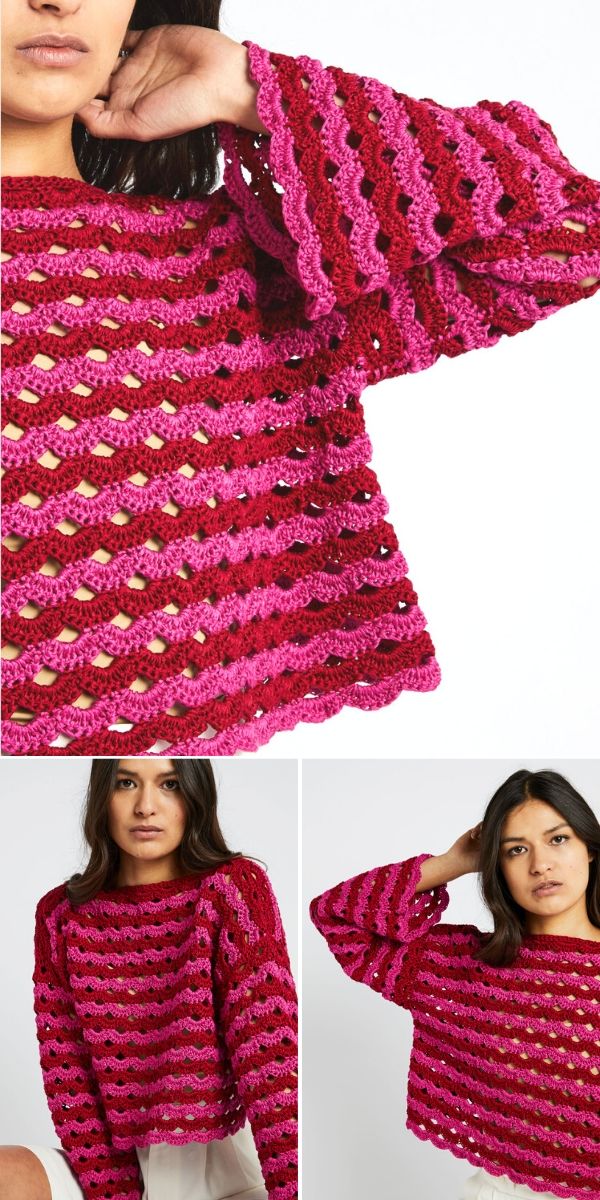 You can purchase crochet kit with this pattern here. If you are looking for a long-sleeved garment that use arcade stitch, you might like Penny Arcade Jacket by Vickie Howell, which is available as free pattern.
◉
That's all for today, but I'll be back with much more inspiring projects and free patterns. Like, share, and subscribe if you like what you see. Stay tuned!
↔
You may also like: Millstone Stitch Ideas