When researching the theme for my previous article titled
Fantastic Harlequin Stitch Ideas
, I've found this amazing stitch, which is called Bavarian Stitch. It's known under this name, or associated with famous Wool-Eater Blanket pattern, as well as often confused with Catherine's Wheel Stitch, which I will try to cover in the near future 🙂
To see how it's made, I went on a hunt for the best video tutorial, and I stumbled upon great one by
Kristi Simpson
for allfreecrochet.com. Its clear step-by-step instructions were enough for me to grasp the basics of this fantastic stitch, so I recommend you taking a look!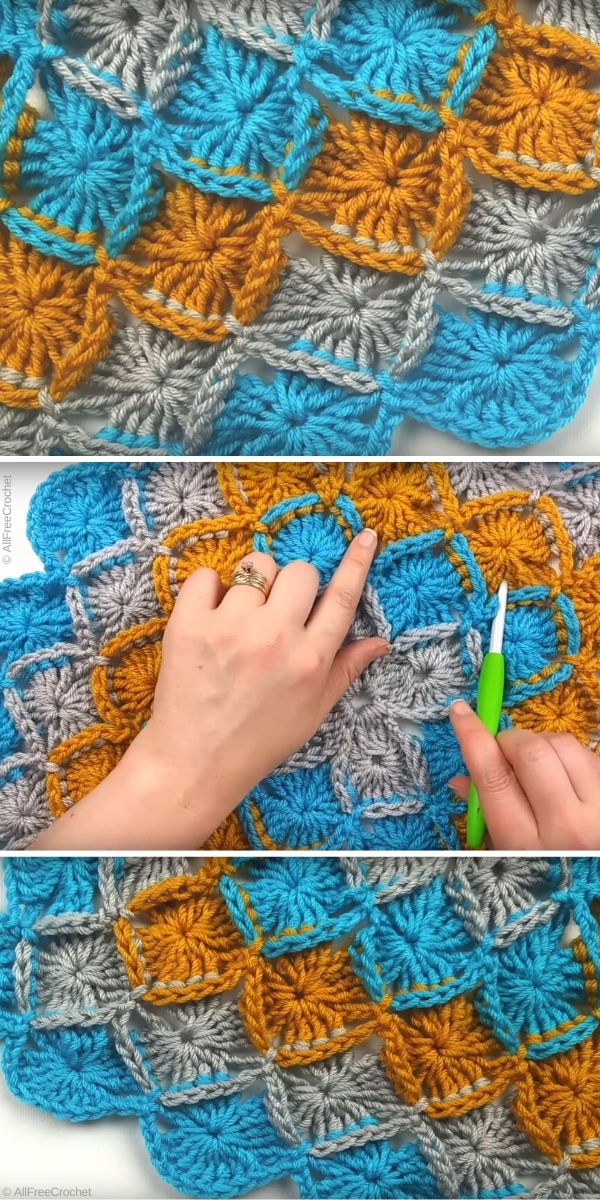 fun to make and versatile
This technique creates beautiful structural surface on one side, and interesting pattern on the other. It's mostly used to make baby blankets, dishcloths, pillows and other home accessories, but it definitely can be applied to many different projects.
Materials:
You can use any kind of yarn and corresponding hook size for this project, because the gauge is not important here. Just remember that the thickness of the yarn will affect the size and density of your work.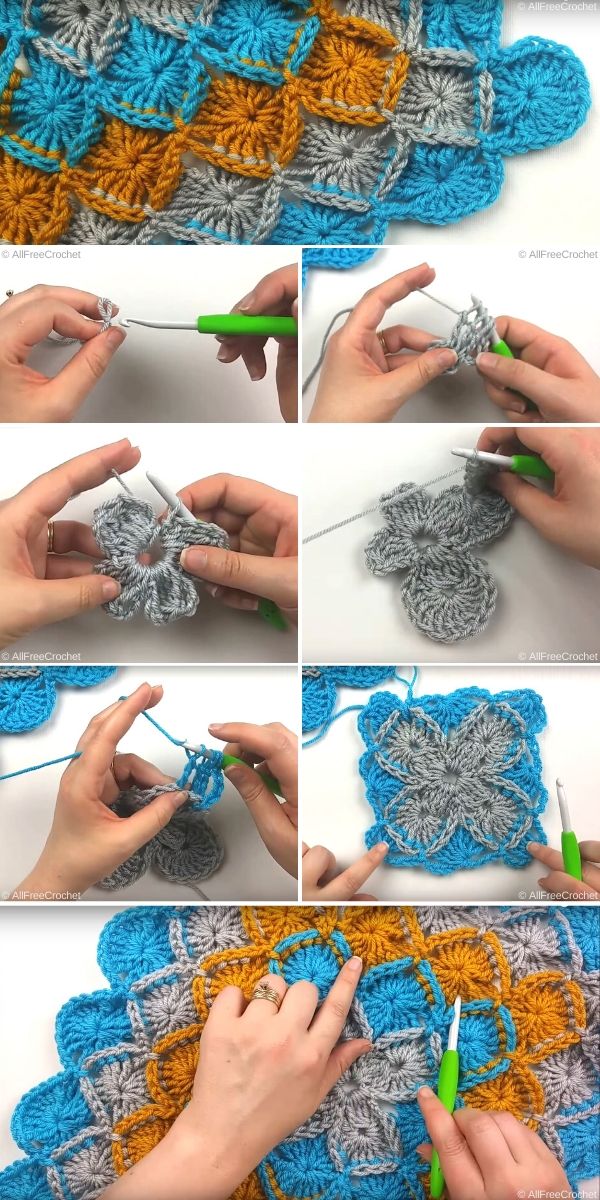 This easy to learn stitch is worked from the inside out. You start out with magic loop and proceed to work in rounds. This stitch includes chain stitches, slip stitch and other basic techniques. It's mostly based on treble crochet stitches, which are increased and decreased to create these lovely clusters. In addition, using back post stitches create structural border for each rosette.
Check out full video tutorial here, or get a written pattern here.
talking about stitches…
Our growing website and library of free crochet patterns has some projects that might interest you, too. Try our Star-Shaped Flower applique today!
→ Yes! Take me to this article! ←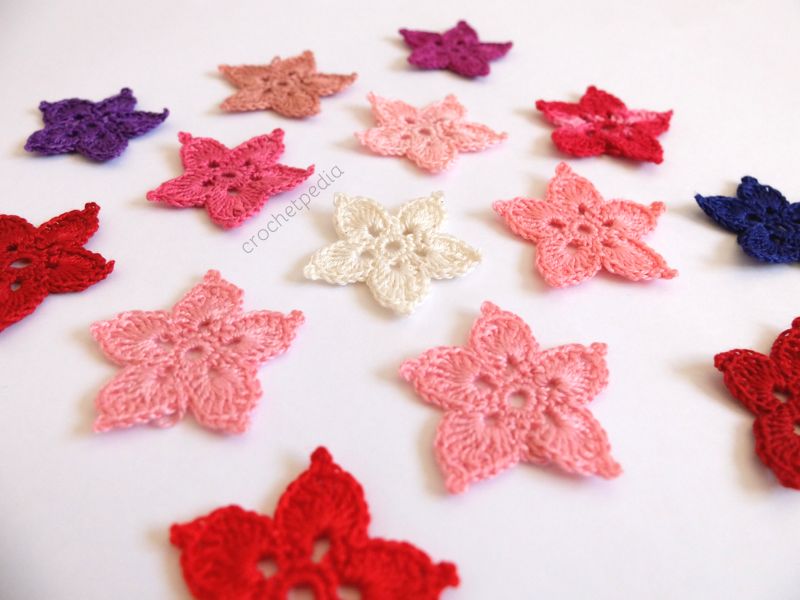 or…
Try my Rose Bunny Amigurumi to make a sweet toy!
→ Yes! Take me to this free tutorial! ←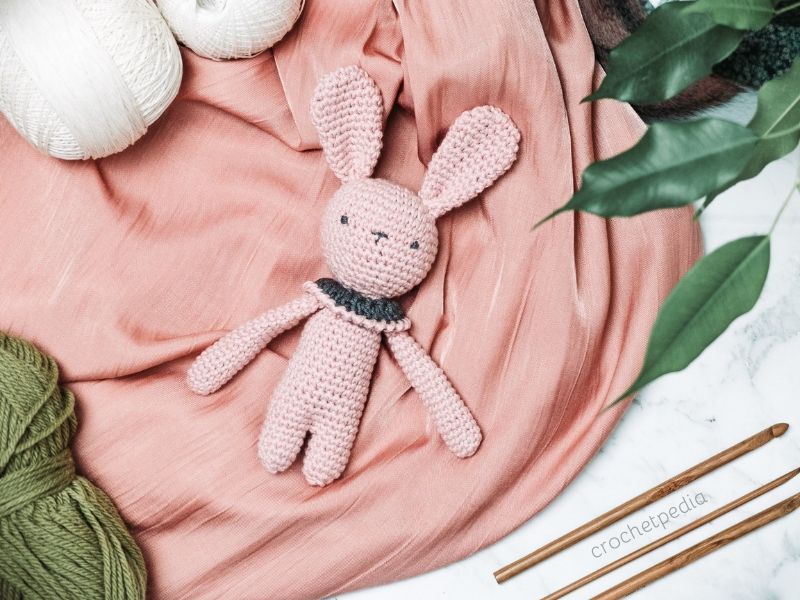 crochet roundup!
Today's theme is Bavarian Stitch, and there is plenty of amazing work online, let me tell ya! Potholders, pillows, blankets… Many designs use this stitch in rows or rounds, so I gathered them for you to try. Explore these ideas to grab some free patterns and get inspired!
◉
The Wool Eater Blanket Versions
Kaleidoscope Sunset / The Wool Eater Blanket Version by SamPixieDot
Now let's talk about showpieces, because this one is definitely an eye-catcher! SampixieDot not only used a bavarian stitch to create large squares, but also planned the colors meticulously. As you can see in the photo, the flow from one dark corner to another is beautifully visible when blanket lays flat on the king-sized bed. Classy!
This blanket is based on a free pattern for The Wool-Eater Blanket.
◉
Lorelei Wool Eater Afghan / The Wool Eater Blanket Version by BreezyTree
Let's dive deep into the ocean, shall we? Colors in this blanket flow as if someone threw a stone in the middle, rising foamy waves. Stark contrast between deep blue and white is beautifully balanced by the rest of the colors, which bridge the two perfectly. As you can see below, BreezyTree created a lovely unisex baby blanket.
This blanket is based on a free pattern for The Wool-Eater Blanket.
You may also like this post: Lake Sunset Shawl – Free Crochet Pattern
◉
The Wool Eater Blanket Version by 7lilsheep
Good palette is half of the success, and you can see it in the work of crocheter behind 7lilsheep. Bavarian stitch blankets do not differ much in construction, as the stitch is very decorative itself, but there is a lot of room for experiments when it comes to colors. Green palettes seem quite hard to get right to me, so I'm very impressed by the blanket you can see in the photos.
This blanket is based on a free pattern for The Wool-Eater Blanket.
◉
Ombre Wooleater / The Wool Eater Blanket Version by ashmacqueen
Several shades of pink, neutrals and blue create a very nice, graphic combination. These colors are timeless and go very well together, because you can achieve subtle color changes between them, as well as play with contrasts if you want to. Ashmacqueen did a great job, by creating layers of colors. Take a look at the photos and get inspired!
This blanket is based on a free pattern for The Wool-Eater Blanket.
You may also like this post: African Flowers Crochet Ideas
◉
The Wool Eater Blanket Version by Jo Avery
I'm a big fan of this bavarian stitch blanket by Jo Avery, because it's playful and fun! Sometimes crocheters go overboard with their color palettes, but here all of the hues are on their right places. Darker accents make the pattern nicely visible, so that the construction plays a big role in final effect. See below how nicely these squares are joined together – with a stitch so similar to the main motif, it's almost unrecognizable.
This blanket is based on a free pattern for The Wool-Eater Blanket.
◉
Clare's Wool Eater Blanket by thornberry
This lovely version by Thornberry, which you can see in the pictures, is a great example of subtle color flow. You can achieve it by using multicolored yarn, or by switching colors in every other row. It's tricky, though, because you need to plan in advance in order to create such beautiful color palette.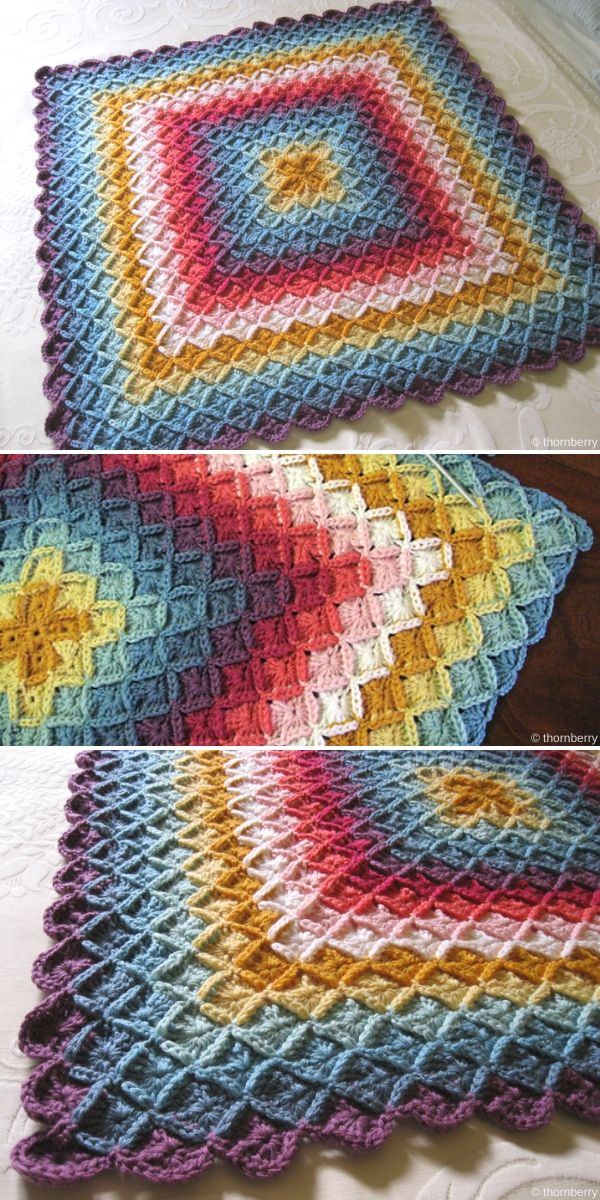 This lovely colorful design is based on well-known free pattern for Wool-Eater Blanket pattern.
You may also like this post: Crochet Snowflakes Mini CAL – Free Patterns!
◉
Other Bavarian Stitch Blankets
Bavarian Stitch Blanket by Tatiana Komarova
Now this is a true gem! I almost gasped when I've found this beautiful blanket by Tatiana Komarova, because I couldn't believe that what I'm looking at is actually a bavarian stitch. This lacy beauty looks nothing like its worsted weight siblings, and it's especially stunning in off-white. The secret lays in using the thread – just look at the top photo, how lightweight it is! Bottom photo features a variation with tiny bobbles – isn't it cute, too?
◉
Bavarian Stitch Blanket by Yarn Blossom Boutique
If you like modern designs, you will like this colorway by Yarn Blossom Boutique, because it's fun and plays with contrasts. Shades of blue and white are used interchangeably, which makes it look very interesting. This is a perfect project for a modern nursery, so take a look below and get inspired!

To make such beautiful blanket, try one of many free tutorials, or head to Yarn Blossom Boutique's Etsy shop for this pattern.
You may also like this post: Spike Stitch Baby Blanket – Free Crochet Pattern
◉
Bavarian Stitch Blanket by Little Cosy Things
This project will bring a smile on everyone's faces, because it's sweet as a bag of rainbow candies! It's a perfect idea for a cheerful baby blanket, so don't wait and try it. Crocheter behind Little Cosy Things is a big fan of rainbows, so if you are too, be sure to check out her Instagram account for more crochet creations!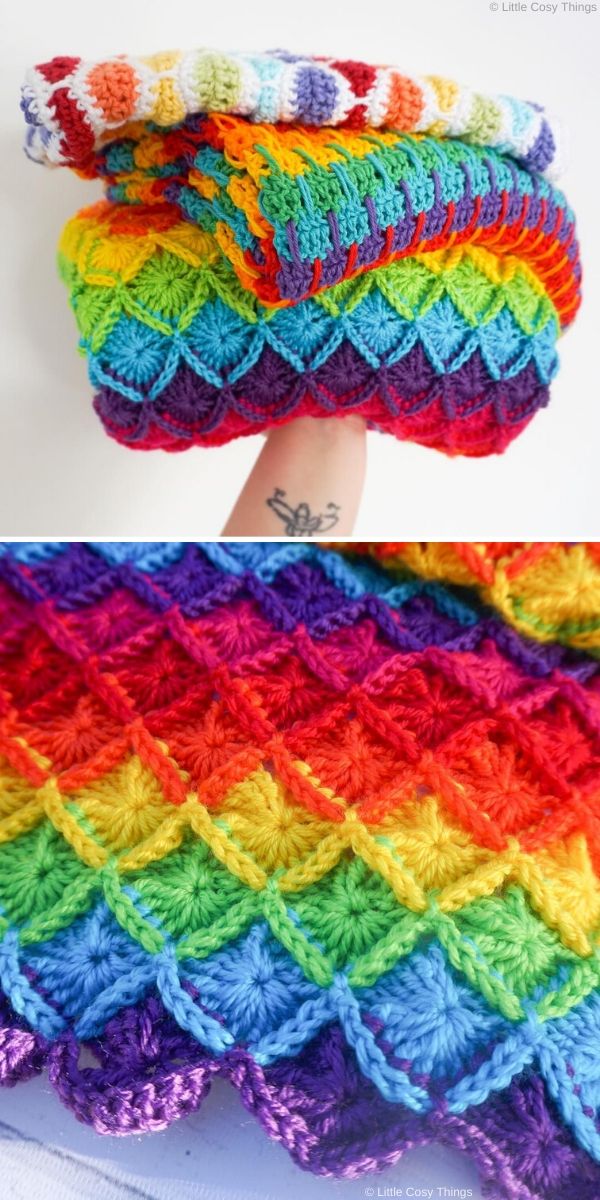 ◉
Bavarian Stitch Squares
Bavarian Stitch Potholders by Red Agape
If you need a quick, but effective project, go for these potholders, because they work up quickly! They will be amazing adornment of any kitchen and helpful everyday accessory. Fun colors like bright pink or green can work nicely, when combined with neutrals, so don't be afraid of using them! Take a look below to see fantastic versions by Red Agape.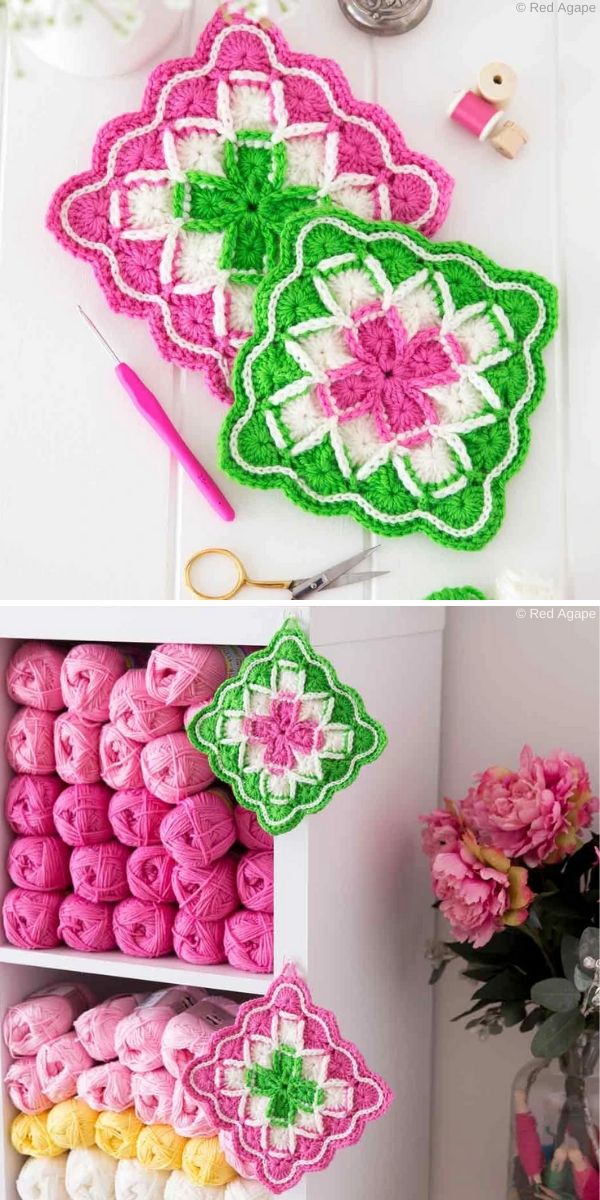 You can purchase the pattern here.
You may also like this post: 10 Best Crochet Hacks to Make Your Life Easier
◉
Bavarian Stitch Granny Version by crochigis
Crocheter behind crochigis followed Red Agape's tutorial and created these lovely potholders, which you can see in the photos. Aren't they lovely? Color scheme is romantic and delicate, so it will be a perfect fit in a classy kitchen. If you are looking for a last-minute gift idea, potholders are a fantastic one!
This project is based on one of the patterns from "12 Months of Crochet with Red Agape" book, which I featured in my Crochet Gift Guide 2020.
◉
Bavarian Beauty by Annie Marisa
Why not try something different? Bavarian Stitch in these blocks creates beautiful center, so join them into an afghan or use as coasters. As you can see below, simple border makes this design looks really interesting, so be sure to keep this idea in your library – maybe you would use it in a blanket? Annie Marisa chose beautiful, classy color scheme for her project.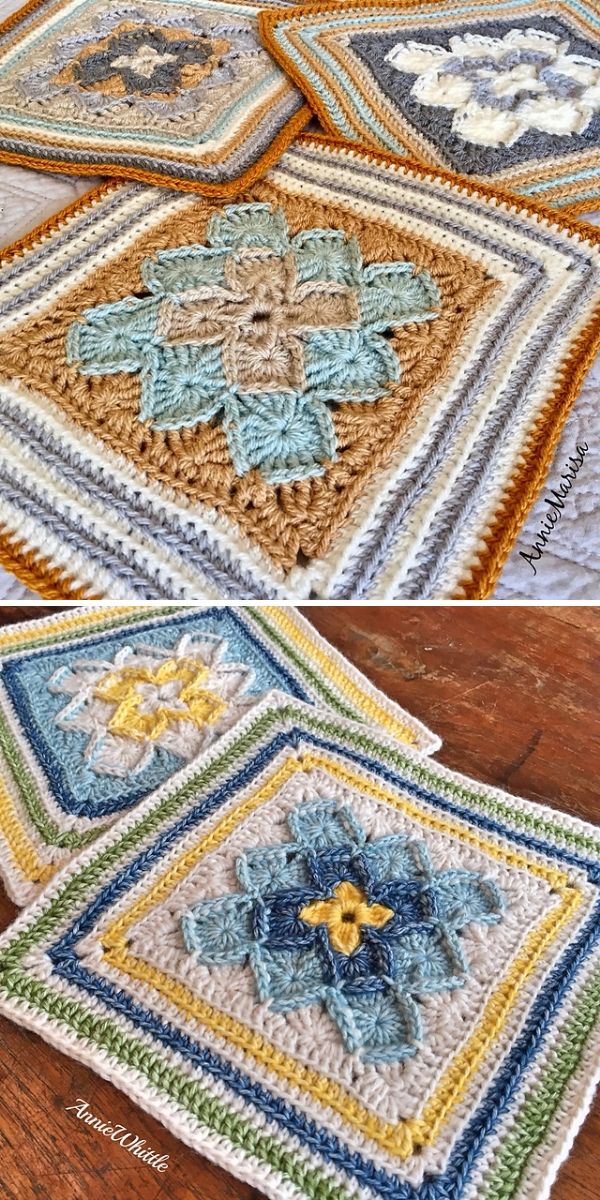 It's based on free crochet pattern for Bavarian Beauty 12 Inch Block by Heather C Gibbs.
◉
That's all for today, but I'll be back with much more inspiring projects and free patterns. Like, share and subscribe if you like what you see. Stay tuned!
↔
You may also like: Fantastic Harlequin Stitch Ideas