The Best Gift Ideas for Crocheters
Hello! Christmas is a little bit different this year, but it doesn't make us less keen to shower our loved ones with thoughtful gifts. Hopefully this Crochet Gift Guide will make it easier for you to find interesting pieces for yourself or other avid makers!
We, crocheters, most probably will gift our own creations to others, because… well, because that's what we do! You can be immersed in gift-making yourself, while your family is wondering what to give to YOU. If you don't want to receive any unwanted knick-knacks, better share this list with them!
This year was extremely hard on small business owners, so I've decided to share with you the coolest independent brands and makers.
◉
10 Gift Ideas for Crocheters
Below you can find ten ideas for thoughtful gifts, which you can use as a guide for this year's Christmas shopping. Links to products and web pages are always under the pictures, so be sure to check them out!
1. Personalized Notebooks and Journals
Whether you are a professional crochet designer, or an enthusiastic beginner, you better have at least one notebook that is exclusively for crochet stuff. When I'm figuring out a project, it's always much easier if I can write down the number of stitches, or scribble a chart. Personalized journals are on the next level of coolness, and I'm sure that the gift receiver will be beyond happy!
Below you can see adorable recycled notebooks designed by Clare of Little Conkers, who makes sustainable, handmade gifts, crafts & crochet patterns.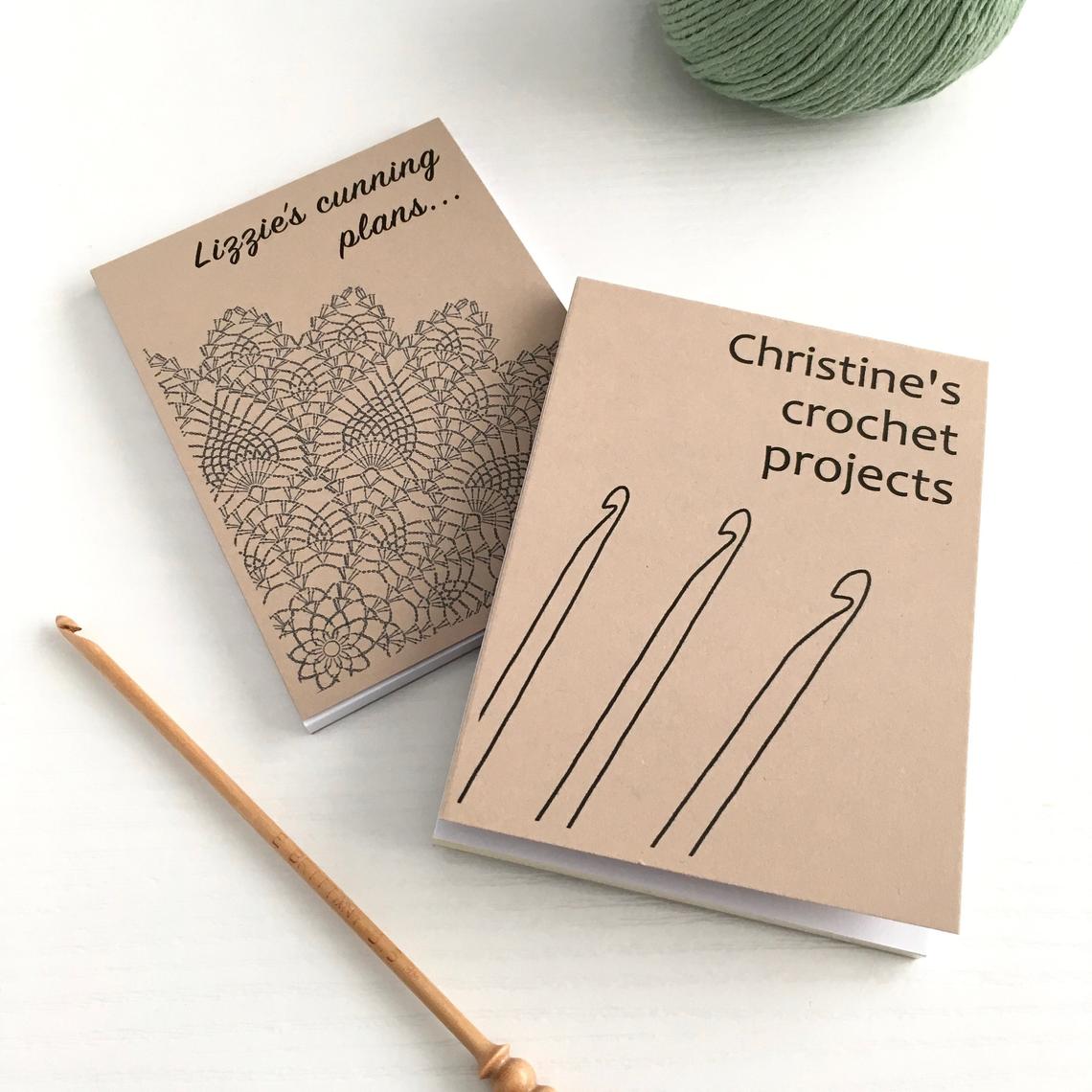 Check out other lovely products in Clare's shop on Etsy: https://www.etsy.com/shop/LittleConkers
◉
2. Funny T-Shirts
There comes a time in the life of a crocheter, when everybody knows how crazy you are about your hobby. Let's not keep it inside, my dear, let's embrace it! Funny t-shirt like the one you can see in the photo, could truly make your day, so check out how many cool designs you can find online!
This "Eat. Sleep. Crochet." T-shirt by WaryaTshirts is definitely my favorite, because it's casual and will look cool both at home and outside!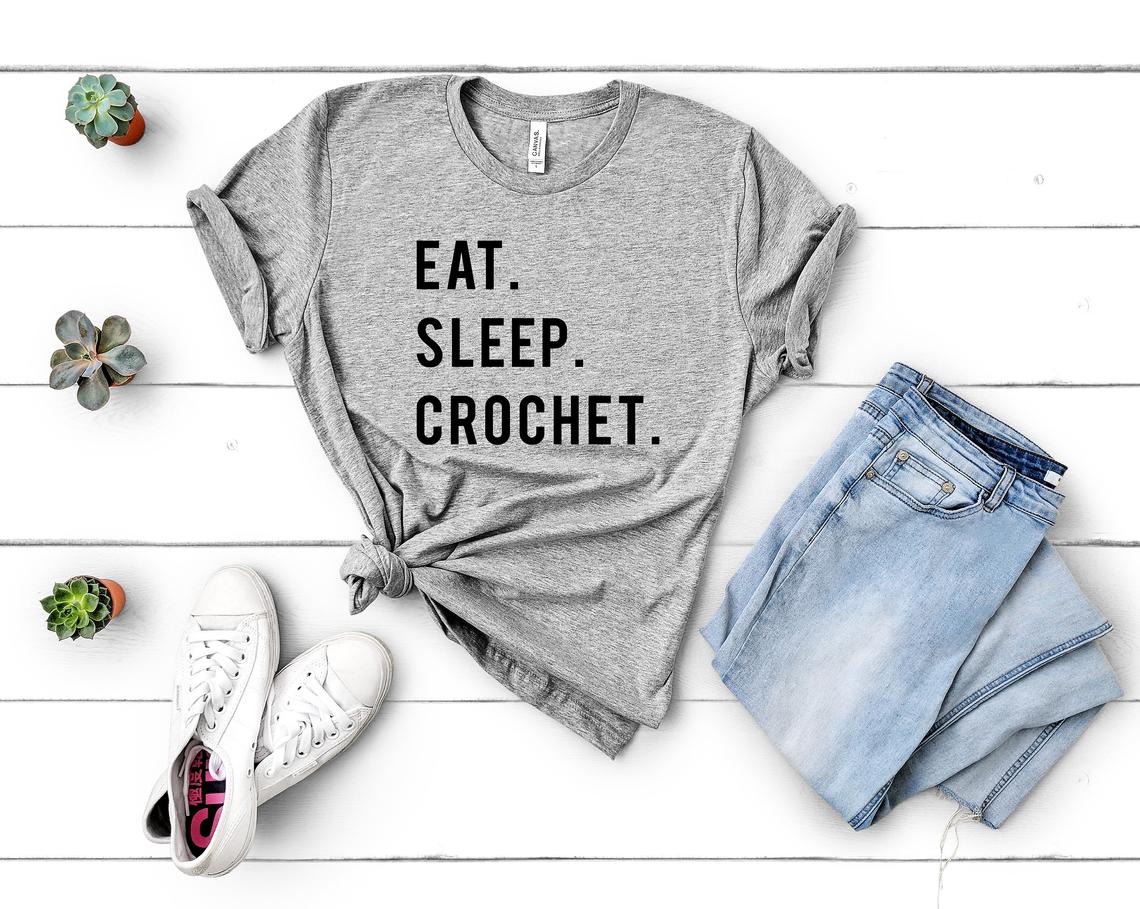 Check out tons of fun t-shirt designs in their shop on Etsy: https://www.etsy.com/shop/WaryaTshirts
◉
3. Crochet Blocking Solutions
I feel like I've already written about this topic a thousand times, but it's important, guys! Two words: blocking station. If you don't have one, you most definitely need it, and if you have it, you most definitely know why I'm so enthusiastic about it.
I've written a whole article about various blocking solutions, including grid foam mats and knit blockers. Each one of these things is a fantastic gift idea!
Check it out in my article – Crochet Blocking.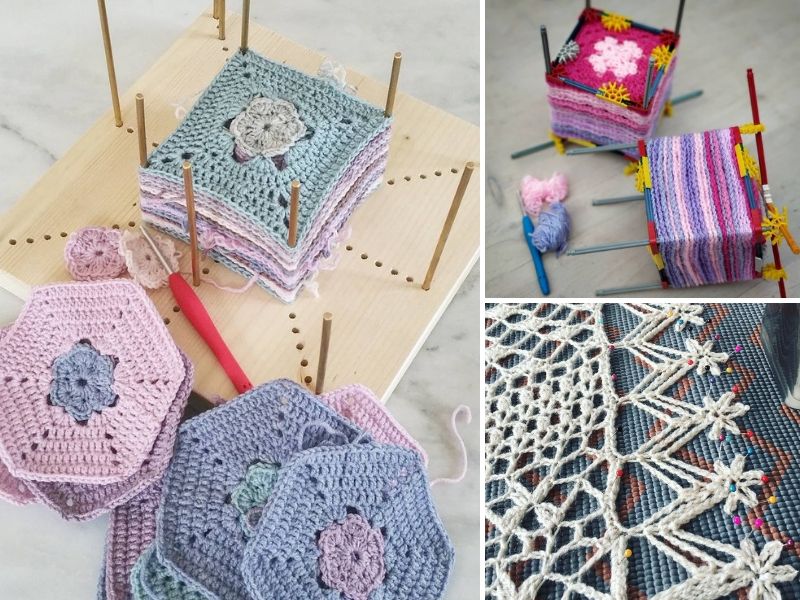 ◉
4. Useful Crochet Accessories
Yarn bowls, pom-pom makers, hooks sets… the list goes on and on! There are so many little things you can add to a craft studio, that it's hard to mention them all. Don't worry, though, because I've written not one, but TWO articles that are all about crochet accessories!
Learn more about this topic in my articles – Part 1 and Part 2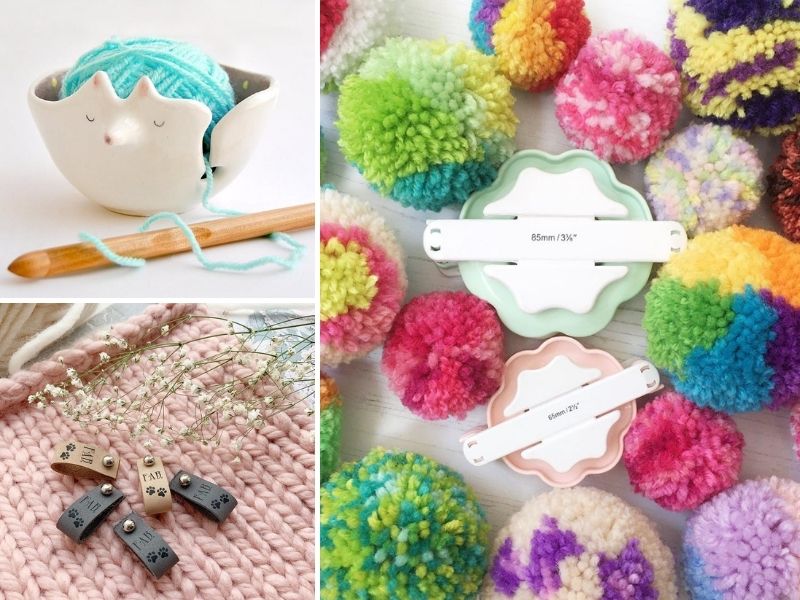 …or invest in a lovely bamboo set of crochet hooks, like the one you can see below:
Purchase this lovely bamboo set by clicking on the link above, or see more cool stuff in Zoe's shop on Etsy: https://www.etsy.com/shop/HookAndICraftsStore
◉
5. Stitch Markers
Technically, stitch markers are crochet accessories, but I wanted to write about them separately. That's because I absolutely love how many independent designers make them, and how fun they can be. It's like choosing new jewelry!
In the photo below you can see Christmas-themed collection by Julia of Northern Loop Knitwear. Her handcrafted pieces are meticulously shaped and will make crocheting even more fun!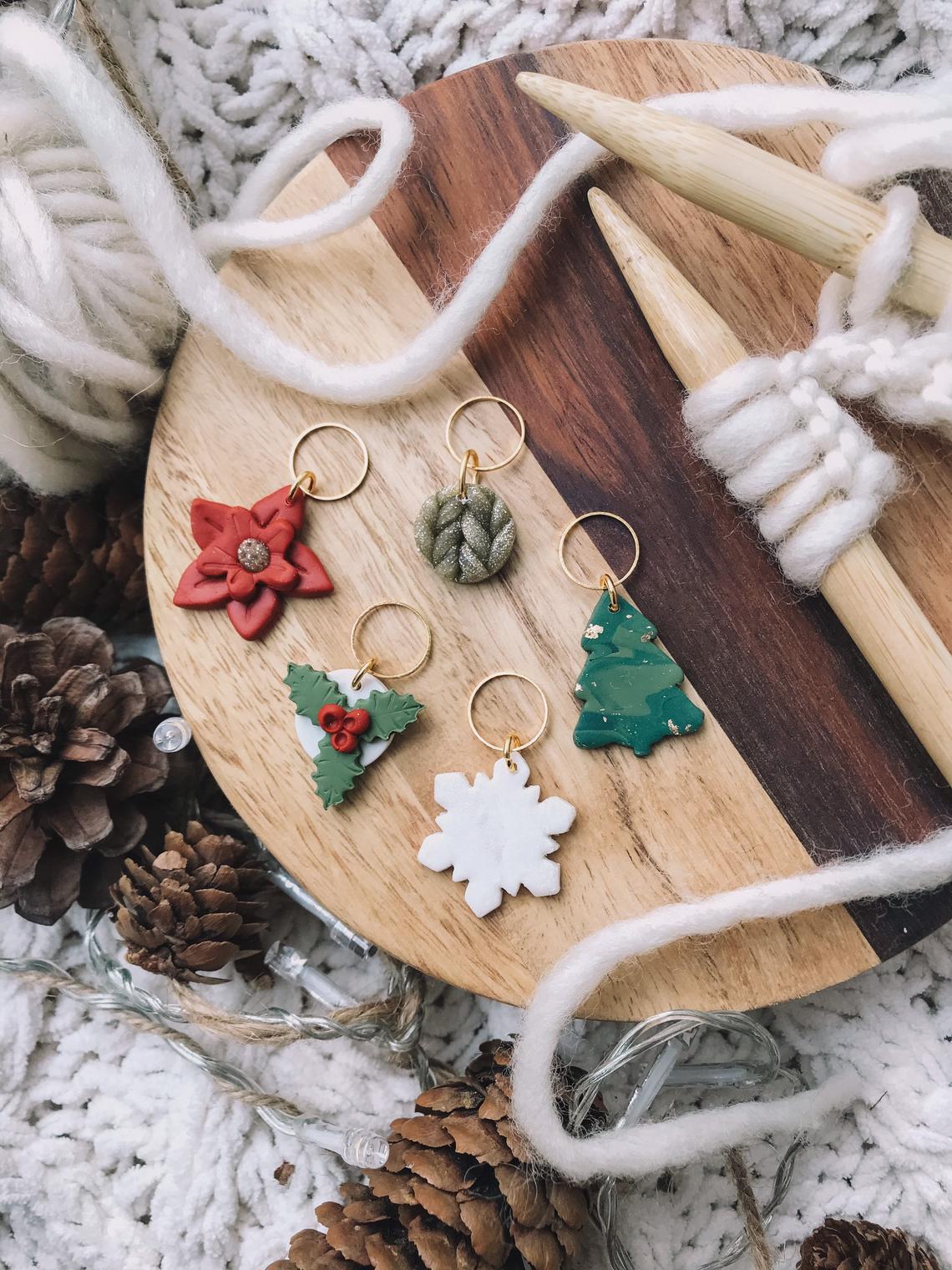 You can buy this 5-piece Holiday Essentials set on her Etsy page here. To explore more of her beautiful designs, visit her shop: https://www.etsy.com/shop/northernloopknitwear/
◉
6. Subscriptions
What would you say, if you were to receive a gift every month, instead of once? Cool, right? That's what subscriptions are all about – a steady flow of inspiration and ideas. Choose your favorite crochet magazines, or explore monthly crochet boxes, and put them on your wish-list!
In the photo you can see a crochet subscription box from the Australian brand Crate Crochet. Every month you will receive a package with new crochet project and yarn to make it, so you will never be bored again!
Explore possibilities on Crate Crochet website by clicking the link above, or check out subscription boxes by Darn Good Yarn's ones here: darngoodyarn.com
◉
7. Crochet Kits
The idea of a crochet kit is perfect in its simplicity – you get a crochet pattern, as well as enough yarn to make it, in exactly the same colors the author recommends. Isn't it cool? Sometimes shopping for yarn can be stressful, because you don't really know how much you need, or the colors aren't available. Kits are the whole package, and all is left for you to do, is to grab your hook and start crocheting!
If you want to buy something truly fabulous for an experienced crocheter, choose a CAL kit, such as Scheepjes Rozeta CAL kit available on deramores.com.
It's quite easy to find kits by independent designers, especially on Etsy. They range from winter accessories, bags or blankets, to cute amigurumi toys, like the ones you can see in the photo. Lydia Tresselt of Lalylala makes all kind of adorable supplies for crafters, so be sure to check out her shop!
Purchase this cute New Year's Eve Crochet Kit by clicking the link above, or check out tons of amazing products in Lydia's shop on Etsy: https://www.etsy.com/shop/lalylaland
◉
8. Crochet Books
It's true, that our library differs a little bit from the ones of regular people, but exploring new crochet book is one of my favorite pastimes. It's also a fantastic way to back your favorite designers, because many of them have their projects published in this beautiful, professional way. 
The one you can see below is Romantic Crochet by Emma Escot, which is filled with lovely crochet projects.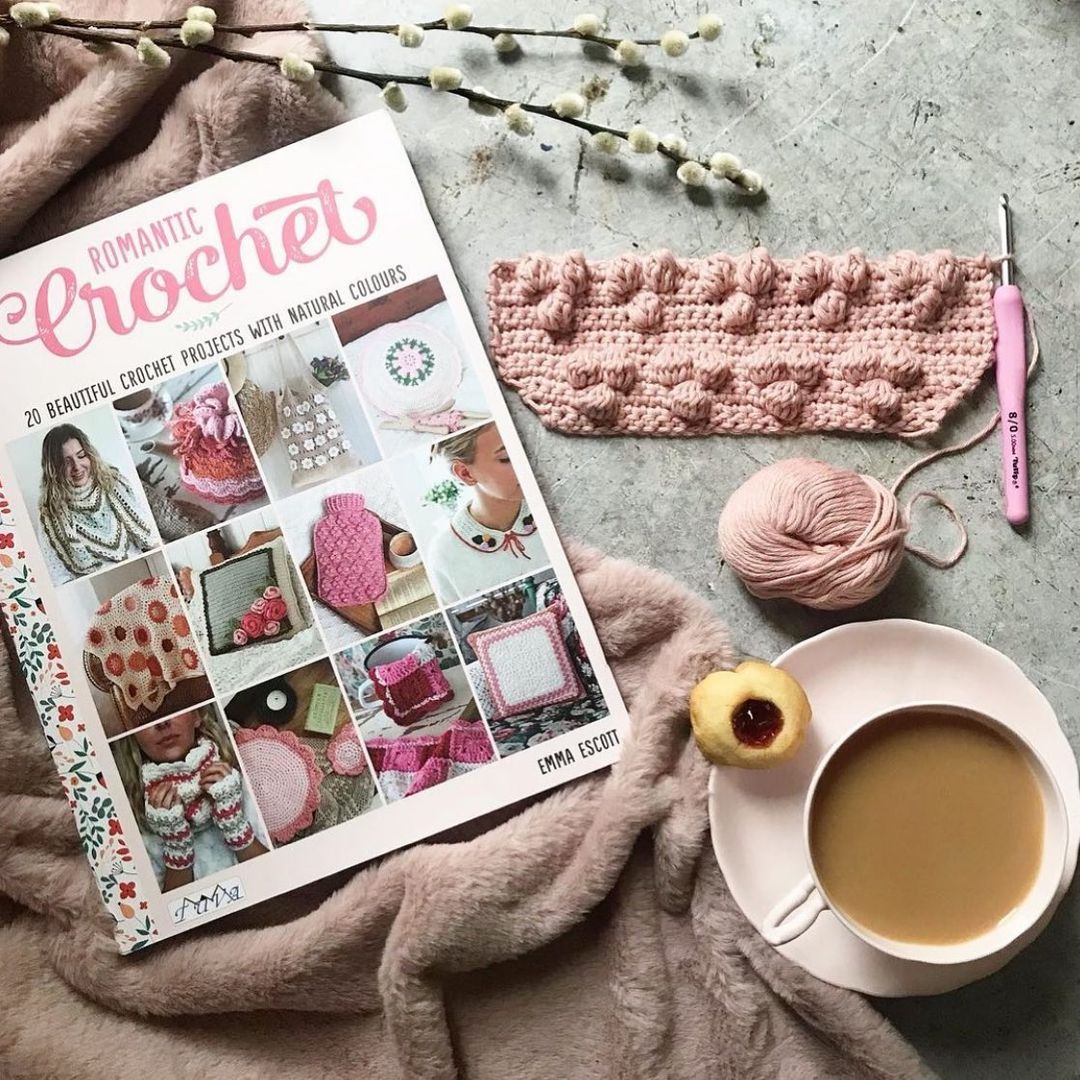 If you like modern projects, be sure to check out Modern Crochet by Teresa Carter, or Corner to Corner Crochet by Jessica Coppom. For amigurumi lovers, there is fabulous Crochet Iconic Women by Carla Mitrani and Kawaii Crochet by Melissa Bradley. Fantastic 12 Months of Crochet with Redagape combines crochet projects and a yearly planner.
◉
9. Craft Studio Storage and Decor
Only the luckiest of us can proudly share their crocheting space, while the rest tries to squeeze their overflowing stash into a closet. I think that it's safe to say that we ALL need more storage. Boxes, shelves, baskets… they are lifesavers!
I would be super happy to receive anything that would help me keep my hobby organized, but decor is very welcome, too! Changeable letter boards, for example, look great in a studio, and are highly instagrammable 😉 This colorful, yarn-filled workspace belongs to Swedish crochet designer Jennifer Santos.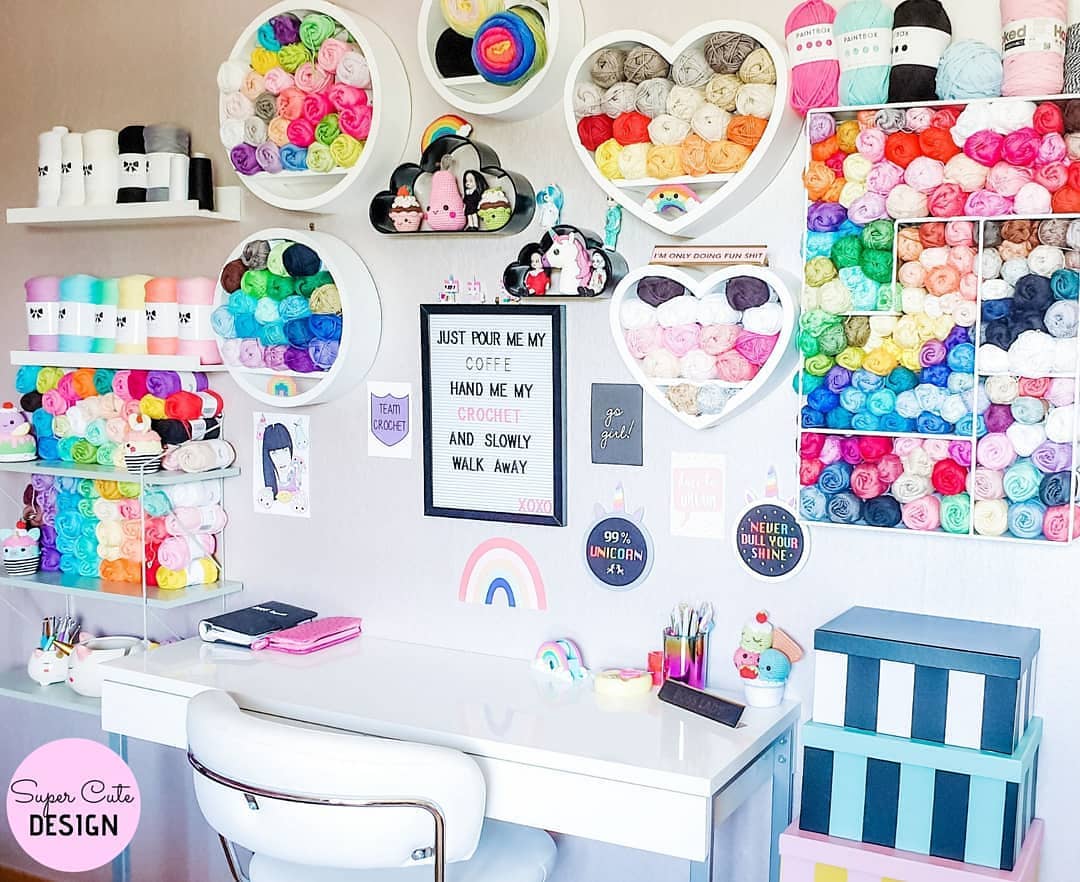 ◉
10. Mood Makers
Finally, if you or your fellow crafter has absolutely everything he or she can dream of, there are always mood makers. There's no better companion to a crochet project, than nice scented candle, or a cup of good quality coffee. Gifts like this are always welcome, because we use them up, and it's always good to have spares at hand.
This minimalist soy wax candle which you can see in the photo, is hand-poured beauty by Australian brand Solenn. They are the best of the best – vegan, cruelty-free and sustainably packaged.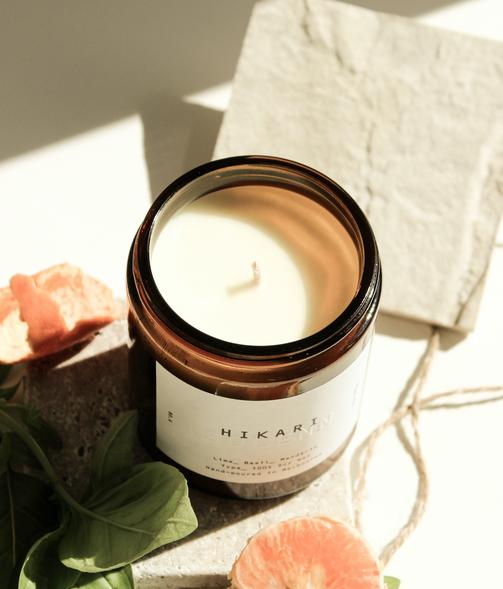 Click on the link above to purchase Hikari candle, which is visible on the photo. For the whole range of their scented candles, visit solenn.com.au.
◉
You may also like: How To Crochet Granny Stripe Stitch