10 Best Crochet Hacks to Make Your Life Easier
Ready to step up your crocheting game? With this collection of clever crochet hacks, you will be unbeatable, because all top crochet designers know little tricks that help them work faster, better and be more creative.
◉
10 best crochet hacks
Below you will find the most clever and useful crochet hacks, that will make your life and work much easier. I've chosen for you ten most noteworthy articles and tutorials from talented and, most importantly, experienced crochet designers. Let's dive in!
◉
1. Join Yarn Invisibly with Russian Join Technique
Did you know, that you can join yarns invisibly? Say no to ugly knots and learn a mind blowing Russian Join. This clever technique lets you hide yarn ends INSIDE another yarn, so that it's totally unnoticeable. Below you can find a sneak peak of Sheep and Stitch's tutorial, which I highly recommend!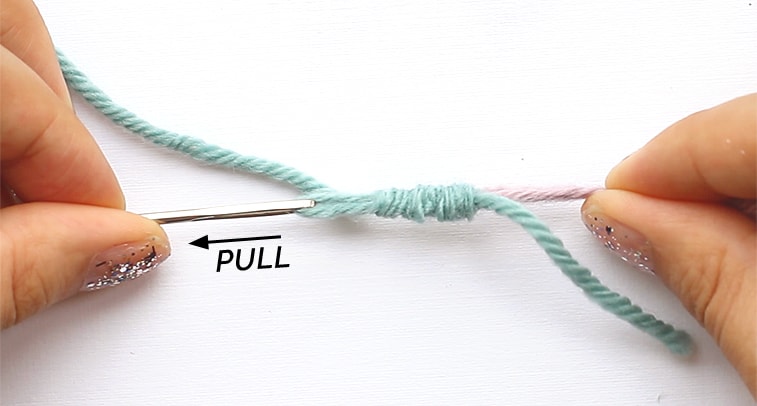 Find free video tutorial on Bella Coco's YouTube channel, or follow a photo tutorial on sheepandstitch.com.
You may also like this article – Easy Heart Stitch Ideas.
◉
2. Create Jogless Stripes When Working in The Round
This hack is for amigurumi lovers, because it's about crocheting spirally. Have you ever tried to change colors only to end up with ugly jogs? This clever technique will allow you to crochet perfectly symmetrical color changes in your amigurumi projects. In the picture you can see the comparison from Club Crochet – the difference is massive!

Find this free crochet tutorial on Club Crochet's YouTube channel, or read more on clubcrochet.com.
Learn more about this topic in my article on How to Change Colors in Crochet.
◉
3. Step up Your Game with Chainless Foundation Crochet Stitches
Chainless foundation chains – sounds odd, right? This technique is a true game changer! Forget tight and wobbly foundation chains, in which you have to work your first row. Make your first row of stitches without the base! Sound like magic? Thought so!
Learn more about it in my article about Foundation Chain.

Find free video tutorial on TL Yarn Crafts' YouTube channel.
◉
4. Explore Clever Ways of Weaving in Ends
Every crocheter who tackled multicolored project knows how annoying is weaving in yarn ends, but fear not! With this bunch of clever ideas it will not be a pain anymore. Experienced author's tips and tricks will help you make weaving ends painless, but most importantly – your yarn will not come out. Below you can see the back of multicolored sweater, and a darning needle ready to weave these ends in!

Find out how to do it with free tutorial on hearthookhome.com.
You may also like this article – 6 Day Kid Blanket Ideas.
◉
5. Learn to Always Keep Your Edges Super Straight
Basic methods of crocheting do not always provide the best results, but there are many simple tricks that will make your creations look better. One of them is a clever technique that makes your edges super straight – it's very useful, if you don't want to make a border on your blanket or a kitchen towel. Below you can see one picture from fantastic tutorial by Sewrella – it's a must-see!

Find this free crochet tutorial on sewrella.com, or see her video tutorial on YouTube.
◉
6. Find Out an Easy Way of Keeping Row Count
How many times did you lost count of your stitches or rows? Don't let it happen again and use the best tools there are, which will keep you on track. Simple, but clever solutions, such as stitch markers, can be made with the use of everyday items – for example, safety pins or paper clips. I bet that every one of you will agree with the message below, though… 😉

Learn how to do it with comprehensive guide availiable on joyofmotioncrochet.com.
◉
7. Easily Make Your Own T-Shirt Yarn
I personally love sturdy baskets and dense crochet rugs made with T-shirt yarn, but it can get really expensive. Did you know that you can make your own yarn out of t-shirts that you don't use anymore? It's all about the way you cut it, so that you end up with one long strand of yarn. Below you can see colorful balls captured by Beth Huntington, as well as find links to step-by-step tutorials.

Find instructions on ehow.com, or go straight to their video tutorial on YouTube.
You may also like this article – Puff Flower Crochet Ideas.
◉
8. Use Plastic Protectors when Working With Printed Patterns
Some of us may be comfortable working with pattern on the computer screen, but I would argue that the most of us like to have their patterns printed. Not only does it use up a lot of expensive ink, but also makes it impossible to write annotations on it more than once.
To avoid having to print your pattern every time you are working on it, and to make note-taking easier, place printed sheet into a plastic protector. You can easily write on it with a marker, and can later just wipe it out with a sponge.

◉
9. Learn How to Make a Perfect Pom-Pom
Who doesn't love pom-poms? These fluffy balls of goodness look great as home decor, on top of winter hats, or as a fun addition to blankets or pillows. If you haven't tried it yet, don't worry, because you don't need any fancy equipment to make them. Below you can see a beautiful pom-pom flowers by Steph, so check her out!

Find free tutorial on sheepandstitch.com, or head to their YouTube channel for video tutorial.
◉
10. Make the Most of Crochet Accessories
There are so many clever accessories for crocheters and knitters nowadays, that you can buy online. No matter where you are in the world, be sure that you at least know about these solutions, because they are extremely useful. Check out my article on this topic, that is linked below the picture, and explore all the possibilities!

Explore more in my article Useful Crochet Accessories –part 1 and part 2.
◉
That's all for today, but I'll be back with much more inspiring projects and free patterns. Like, share, and subscribe if you like what you see. Stay tuned!
↔
You may also like: Enchanting Dragonfly Stitch Ideas