How to Choose The Best Colors for Your Crochet Project
If you're wondering how to choose colors for crochet, be sure to keep reading, because I've got a bunch of tips for you!
We all love beautiful color palettes because they are simply stunning to look at. Tastefully chosen hues can make or break the project, so it's important to know the basics of color theory. When you know which colors go together and which ones should never be put right next to each other, you'll feel much more confident.
This article will cover topics such as:
Questions to Ask When Choosing Color Palette – so that you make more informed decisions.
Basic Color Theory – a bunch of rules based on science.
Clever Online Tools for Choosing Colors – bookmark them for future projects!
Shortcuts: Color Choices for Blankets – some ideas to use right away.
◉
This article is a follow-up to these posts:
When in doubt, check out my Knowledge Base for Beginners to find the articles you need.
◉
Questions to Ask When Choosing a Color Palette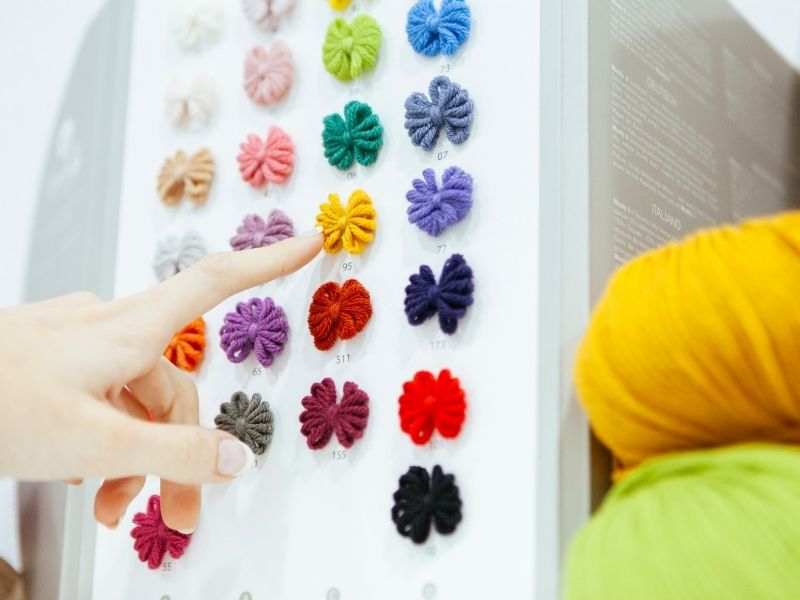 Choosing the colors of yarn can be tricky, but it's easier if you ask the right questions.
What vibe am I aiming for?
Each color palette has a vibe – it reminds you of something or brings back memories. It has a certain mood, too, as it can be calming, energetic, or romantic. Decide what you want to achieve before choosing the colors of yarn.
Will this crochet piece be a part of an interior?
Think about the big picture. Each style calls for certain home decor items and certain color palettes, so always take it into consideration – especially if you're making a gift!
What plays the main part in my project: pattern or colors?
Colors can kill the pattern and the pattern can kill the colors, so decide which one is more important. Certain techniques, such as spike stitch or alpine stitch require careful planning when it comes to colors because rows interact with each other in a special way. Click on the links to see what I mean!
How do the colors correspond with the pattern?
While learning how to choose colors for crochet, don't forget about what the pattern is about. If you crochet floral stitches, go for green stems and leaves, and pink bulbs.
If your pattern is very detailed and structural, your color palette should emphasize the right elements. On the other hand, if your pattern is simple and repeatable, you can go crazy with colors, which will then tell your own story!
◉
Basic Color Theory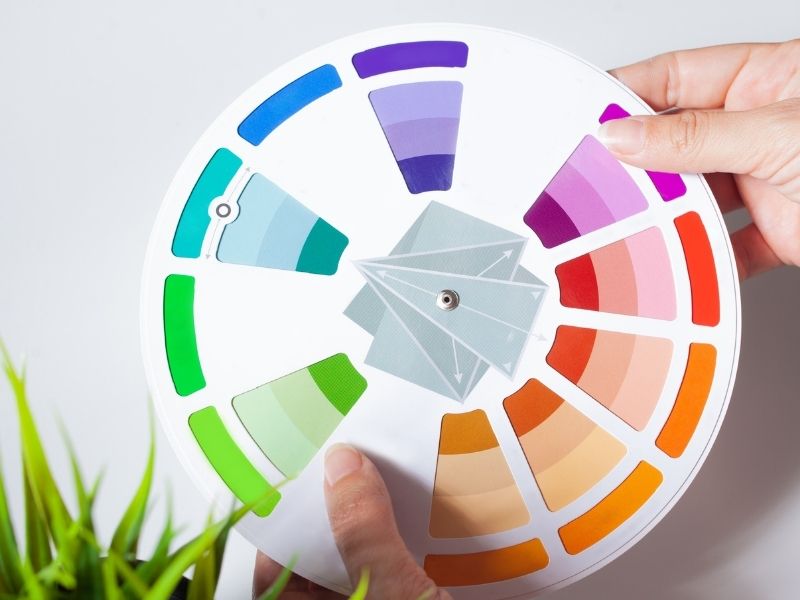 The Color Wheel
The history of color theory dates back to 1666 when Sir Isaac Newton developed the first circular diagram of colors, but since then it has taken many shapes and forms.
In short, it's a system that puts colors in logical relation to each other.
The most basic wheel contains just three primary colors: red, blue, and yellow, but there are also secondary and tertiary colors.

Color Harmony
You've probably seen projects that don't look good, but you don't really know why. I can bet my money on the fact that these color palettes weren't harmonious.
harmony occurs when colors work "just right" with each other.
The opposites of harmony are boring color combinations (colors too similar to each other), or chaotic combinations (colors too random). In both of these cases, our brain is either understimulated or overstimulated.
Here are some of the algorithms that allow us to easily choose color combinations on the color wheel:
analogous – three or more colors that are side by side, for example: yellow, yellow-green, green.
complementary – colors that are on the opposite sides of the wheel, for example: yellow-green and purple, or blue and orange.
monochromatic – in other words, versions of the same color: for example, different hues of green.
triad – three points (as in a triangle) that point to three colors on the wheel, for example: red, green, and blue.
Color Context
In short, our brain perceives colors differently when they occur in relation to other colors.

Below you can see two big squares with little rectangles in the center, but can you believe that the small ones are the same color? They are, but our brain tricks us into thinking they are not!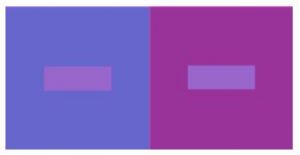 Relativity of color can totally change our perception of the same hues. As you can see, the same color in relation to blue seems more purple, and at the same time looks more blue when presented on a purple background.
◉
Clever Online Tools for Choosing Colors
There are AMAZING free online tools for choosing color palettes, so checking them out is a must. Making your own color scheme will be easy and you'll learn how to choose colors for crochet in no time!

a screenshot of trending color palettes on coolors.co
The best online tools for playing with colors:
◉
Shortcuts: Color Choices for Blankets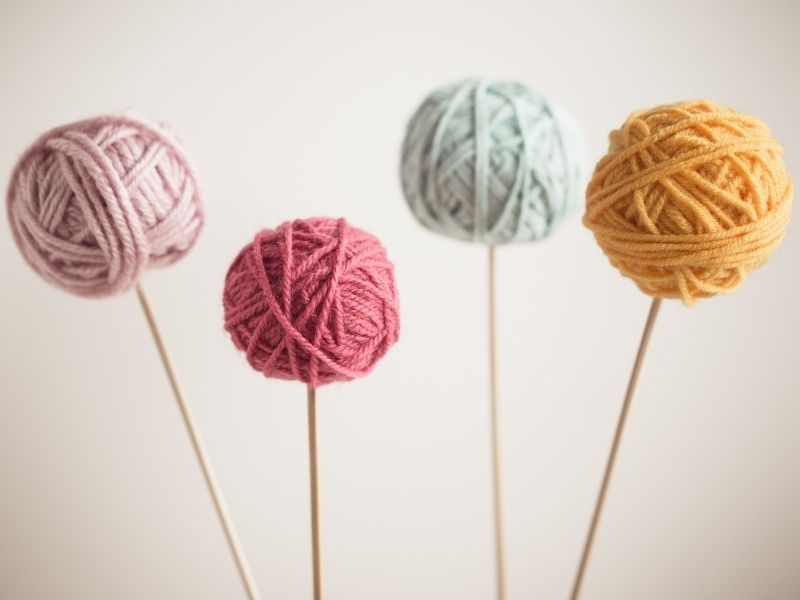 Ombre Effect and Multicolored Cake Yarns
When colors flow nicely from one to another using many different shades, we are talking about the ombre effect. You can achieve it by choosing the right colors of yarn by yourself, or by buying a yarn cake.
While working with ombre yarn in simple rows is quite straightforward, working with it in the round and in triangles requires more planning. Why? Well, the more rounds you crochet, the bigger these rounds get, so it takes a lot more yarn to make it. It's nicely visible in triangular shawls, such as my Lake Sunset Shawl: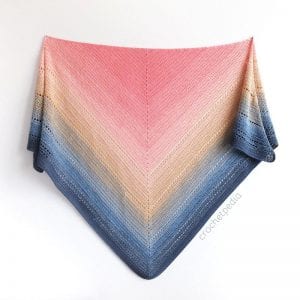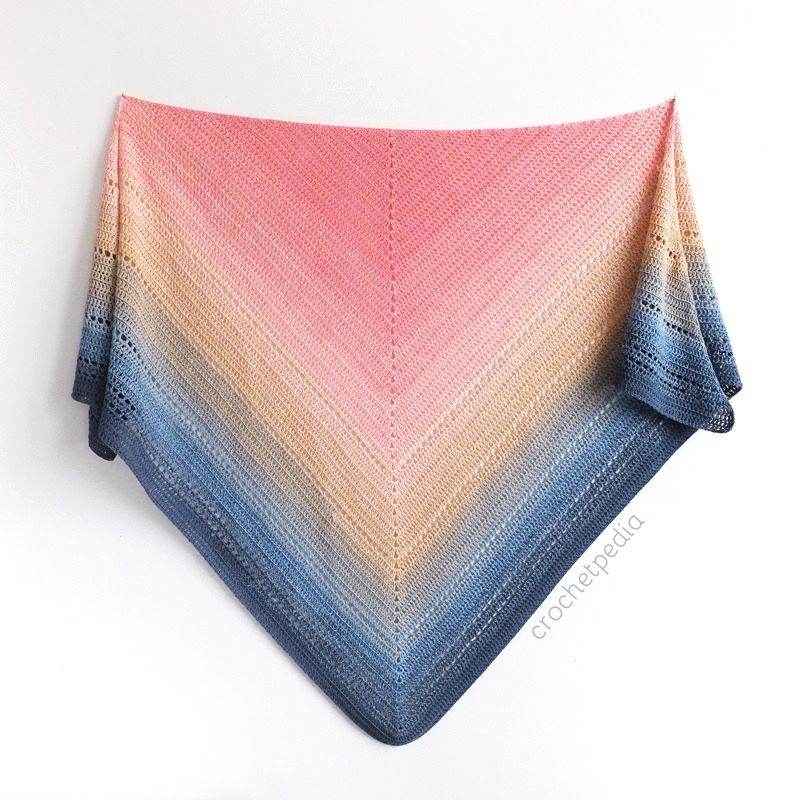 Lake Sunset Shawl (Free Crochet Pattern)
As you can see, there's a lot of pink at the top, where I started, but the colors keep changing faster and faster the farther I go. That's because the rows are getting longer and longer.
If I would have started with the other end of the yarn, I would end up with lots of blue at the top and a slim border of pink.
Color Repeat: Mirrored or Simple?
You've chosen your colors – now what? Well, you've got three choices: repeat them all as they are, mirror the repeat, or repeat them randomly.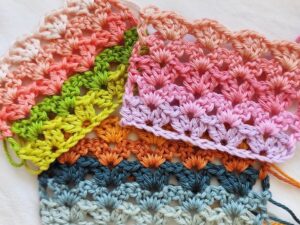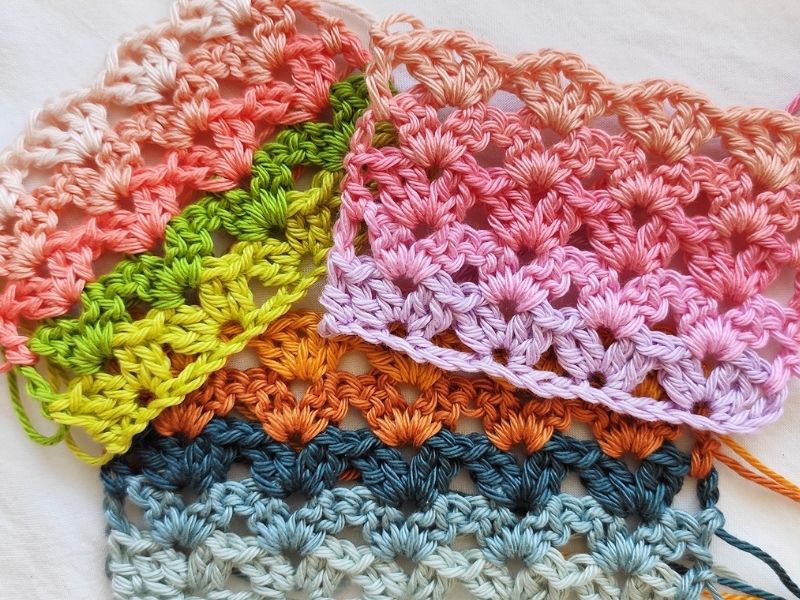 How to Crochet Iris Stitch + Video
All of these choices result in very different outcomes, even if you are using the same colors because they will interact with each other differently. Make a bunch of crochet swatches to see which effect you like the most and go for it!
Dividing Colors with Neutrals
One of the easiest ways to come up with a nice color palette is choosing one vibrant color of yarn and pairing it with neutrals. Neutrals are colors such as white, cream, grey, beige, light brown, or black – they create a fantastic background for more vibrant colors.
If you choose a lot of vibrant hues, but they don't look very good side by side, you can divide them with one (or more) neutral colors. This way the stripes will look much more delicate and sophisticated.
Complementary Colors as a Starting Point
Start with two complementary colors, such as blue and yellow, and divide each of them into different hues. What do I mean? For example, go for light yellow, vibrant yellow, baby blue, darker blue, and really dark blue.
You can also add one or two neutrals to the mix, so choose white or cream to make the overall feel lighter, or dark grey and black to make it heavier and moody.
See? It's an easy way to build a beautiful color palette.
◉
PIN ME!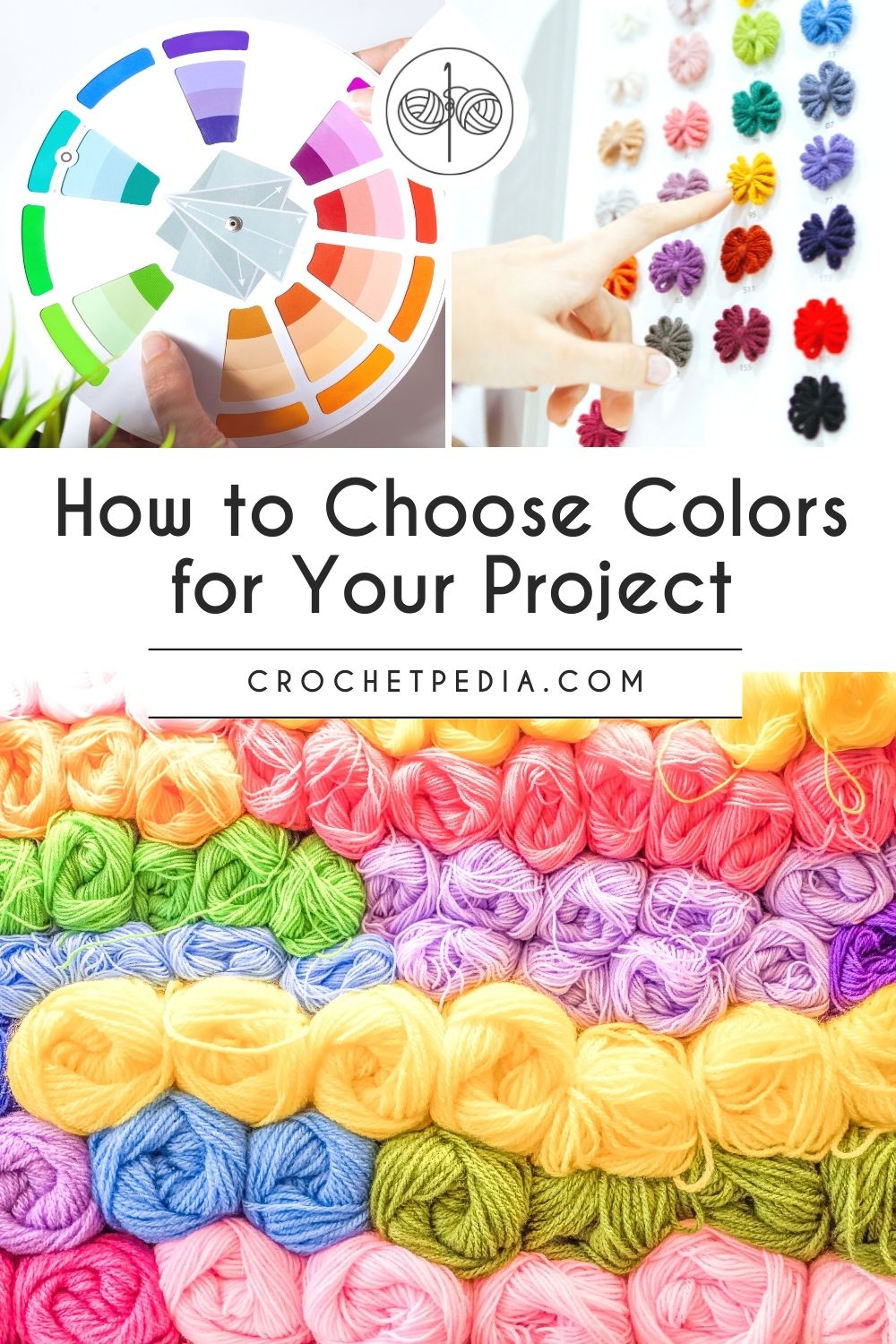 SHARE, LIKE, SUBSCRIBE!
Sharing is caring, so if you liked this, be sure to share it with your friends and spread the word, because I really appreciate it! For more stitch tutorials, free patterns, and recommendations – follow my social media pages and allow notifications to get a pop-up whenever a new post is published.
◉
FOLLOW ME ON PINTEREST AND INSTAGRAM
◉
You may also like: Bean Stitch and Elizabeth Stitch (Mini Bean Stitch) Crochet Ideas