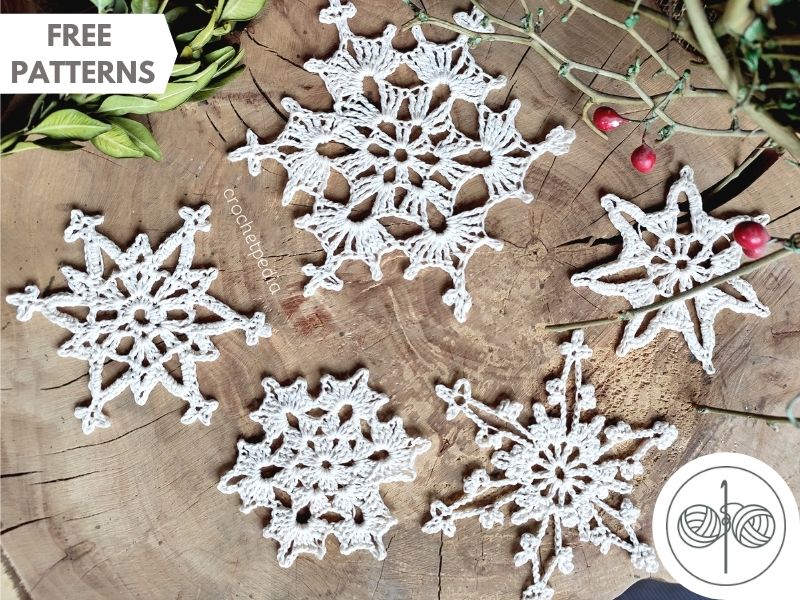 Crochet snowflakes are the ultimate Christmas decor, and I'm always enchanted by their delicate beauty. If you are looking for ways to make your festive time even more special, this CAL may be for you!
These lacy crochet ornaments are beginner-friendly, because I'm not an expert myself, and I like projects that work fast. These beauties look good in many different colors, as you can see in the pictures. I used three colors of thread to show you what's possible, but be sure to experiment to find your own way!
◉
SAVE IT IN FAVORITES ON RAVELRY
or follow me on PINTEREST and INSTAGRAM
◉
What is it all about?
This CAL is a series of patterns for crochet snowflakes, which will be perfect as Christmas tree ornaments, coasters, wall decor, or more! Parts will be published every Tuesday during November 2020. There will be 5 parts, in which you will find 6 written patterns for crochet snowflakes, plus one Mystery Pattern, which will be revealed on the 1st of December 2020.
Is this CAL free?
Yes, this CAL is and will always remain free!
I'm a beginner – will I be able to make these crochet snowflakes?
Yes! These designs are very simple, and you need only basic crochet techniques to follow the patterns. If you happen to have any questions or problems, though, be sure to leave a comment, or contact me via social media or email, and I will be happy to help!
How do you make the snowflakes keep the shape?
By blocking and stiffening, honey! I personally use a solution of wood glue (such as Vicol) or starch and water, and I block my pieces on foam mats with rust-free pins.
Have more questions about crochet snowflakes? Ask in the comment section below!
◉
DISCOVER THE PATTERNS
◉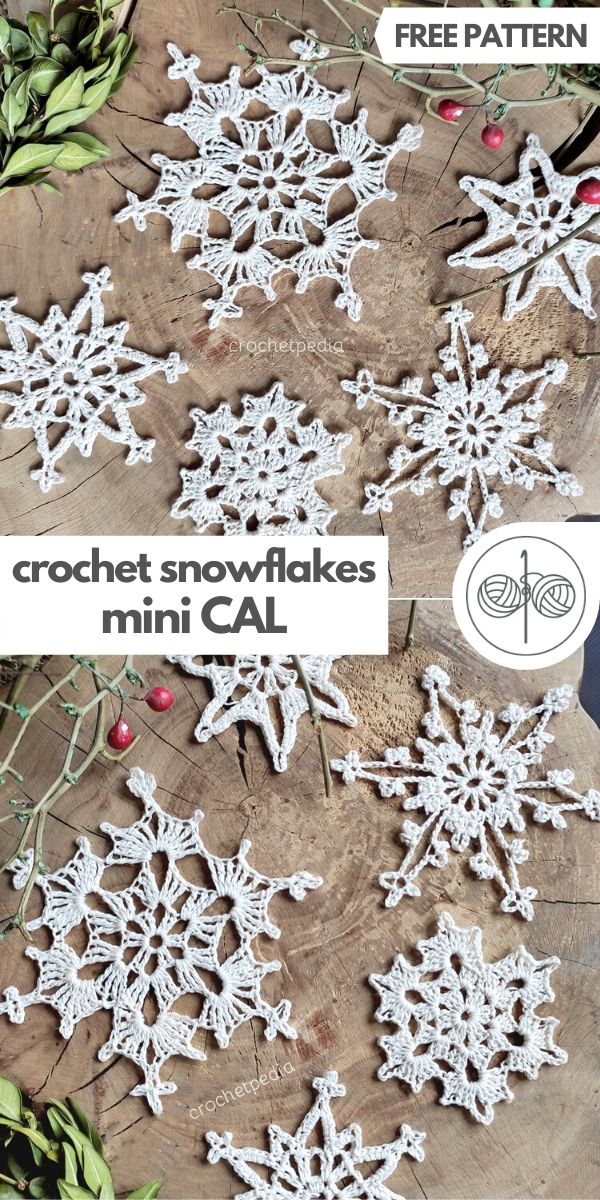 ◉
You may also like these free patterns!
share, like, subscribe!
If you happen to make this project, I would love to see it, so don't hesitate to contact me! Please feel free to share the results with us in the comments or on social media. Of course, if you find any mistakes in the pattern or find it hard to understand, please let me know, so I can learn and improve!
Sharing is caring, so if you liked this project, be sure to share it with your friends and spread the word, because I really appreciate it! For more free tutorials, patterns and interesting articles – follow my social media pages and allow notifications to get a pop-up whenever new post is published.
◉
FOLLOW ME ON PINTEREST AND INSTAGRAM