The Best Crochet Cardigan Pattern Ideas
Today's theme is all about crochet cardigan pattern ideas, so cozy up and dive into the world of snuggly garments! In Quick Roundup series I share 5-10 best ideas for crochet techniques, projects and patterns that caught my eye, so stay tuned for next parts!
If you want to learn more, read my articles, check out my Recommendation Series, or try my Free Crochet Patterns and Stitch Tutorials!
◉
I want to crochet a cardigan! How do I start?
No matter if you are a beginner, or a seasoned crocheter, you will most definitely find a pattern for you. First step should be looking for the right pattern to follow, so that it's within your skillset and fun to make. Don't worry – I've gathered a bunch of free patterns in this article!
Next, you should gather supplies, so find the right hook, yarn and other accessories if the pattern requires them. Following the instructions will keep you on the right track!
How to choose the right pattern for me?
Consider what style you like and what silhouette you are looking for – should it be oversized and slouchy, or lacy and feminine? Do you want it to be cropped, or do you like longer designs? Do you care about it having hood or pockets?
Answer these questions and go pattern hunting!
What yarn should I choose?
Every crochet pattern designer suggests the yarn for the project, so just follow their lead if you have no idea which yarn to choose. If you are familiar with the yarns, however, consider how often you will wear the cardigan (and how often will you wash it!), or if you care about it being light or heavy.
Every kind of yarn has different qualities, so be sure to know what's what before you start. Learn more about types of yarn in my Yarn 101 Series!
◉
Crochet Roundup
Below you will find a selection of crochet cardigan pattern ideas that are easy and fun to make! I'm sure there's your next project hiding somewhere, so check them out!
◉
Cozy Cocoon Cardigans
Granny Twister Cardigan by Tine Sommer Hansen
If you are not yet familiar with the originality and versatility of ombre yarns, let this project be a great example of both. Tine designed this cardigan with colorway in mind and created one of the simplest crochet shrugs. Take a look at the photo and notice that it's just a big granny square joined at the corners to create sleeve openings. So clever!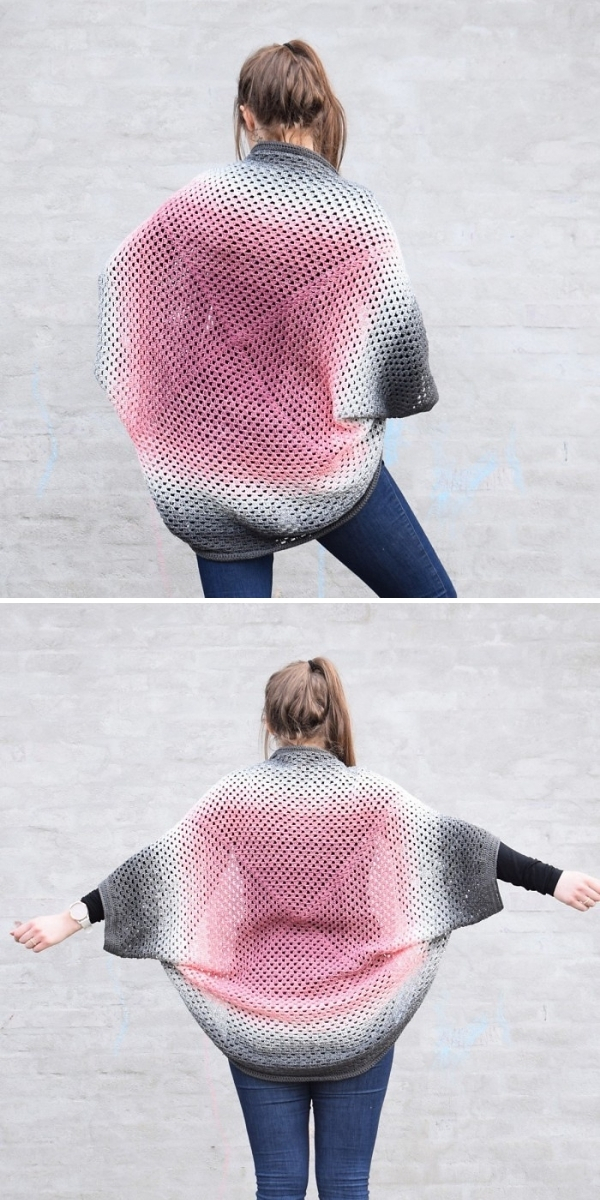 Free crochet pattern for this cardigan is available on hobbii.com, or through ravelry.com.
◉
Movie Night Cocoon Cardi Version by Pam Eberstadt
Crocheters love cocoon cardigans, but none is as celebrated as Movie Night Cocoon Cardi! It has a lot of versions and each one is unique, so it would be impossible to show you the best ones. I chose this colorful one by Pam, which looks great in stonewashed yarn – just take a look below!

This project uses free crochet pattern for Movie Night Cocoon Cardi by Alexandra Tavel, which is available on twoofwands.com, or through ravelry.com. To learn more about this particular version, click the link below the photo.
◉
Hooded Cardigans
Remix Cardigan by Jess Coppom
Jess is a mastermind behind so many crochet cardigans that I could write a whole post about her genius designs. This one is a color experiment, because she deconstructed colorful yarn cakes to create her own beautiful color flow – take a look below to see it! The shape of the cardigan is very simple, so it's a great project for beginners to try!

This free crochet pattern is available on makeanddocrew.com, but you can also read more about it on ravelry.com.
Remix Cardigan Version by Cornel Strydom
Staying on the colorful island, I could not stop myself from sharing this beautiful cardigan by Cornel. When you look closely at the picture below you will see how the colors imitate the sunset over the sea. Isn't it the coolest?

This project is based on the free crochet pattern for Remix Cardigan which is available on makeanddocrew.com.
You may also like this article – Easy Heart Stitch Ideas.
◉
The Campfire Cardigan Version by karewares
The simplicity of this cardigan is cleverly hidden, because it looks and feels so cool! Don't be mistaken, though – it's one of the easiest designs you can find. Granny stitch makes it lacy and gives a lot of room for experimentation with colors. Karewares chose lovely colorway, which will be perfect for fall season – just take a look at it!

This cardigan was originally designed by Jess Coppom – you can find free crochet pattern on makeanddocrew.com, or read more on ravelry.com. To learn more about the version in the photo, click the link under it.
◉
Simple and Cozy Cardigans with Textured Stitches
The Mezzo Cardigan by Jess Coppom
When your wardrobe needs a neutral addition, go for one-color projects. They don't have to be boring, because you can focus on the texture instead. It's a great idea for all of you who like minimal style, or have lots of colorful garments in your closet already. As you can see, Jess made this cardi in two colors – natural beige and dusty pink. Which is your favorite?

This free crochet pattern is available on makeanddocrew.com, but you can also read more about it on ravelry.com. 
You may also like this article – Crochet in Details – Easy Way to Level Up Your Home Decor.
◉
Samhradh Cardigan by Carrie M Chambers
This bobbly design makes me smile instantly, and I bet it would do it every day I'd choose to wear it. Carrie decided to go for pink, but I'm sure it would look great in neutrals, black, or dark green, too. As you can see, such oversized garments pair well with summer dresses, so you can be sure that it will be in constant use all year round.

Samhradh Cardigan by Carrie M Chambers is available as free crochet pattern on crochetwithcarrie.com.
◉
Granny Square Cardigans
Granny Square Cardigan by Joy of Motion Crochet | Janne Kleivset
You can make so many things with granny squares it's mind blowing! Janne created a fantastic cardigan that celebrates this classic technique in the best possible way. When you look at the photo you will see that the outer rounds of the squares are always white, so that you can join them seamlessly!

This cardigan is available as free crochet pattern on joyofmotioncrochet.com, but you can also find more info on ravelry.com.
◉
Cropped Granny Jacket (DK) by Theodora Goes Wild
I just love this small cropped cardi by Theodora, because it's so fun! What caught my eye were the details – bobbly edging and clever yoke design. As you can see in the photo, top grannies are actually triangles which create lovely rounded shape. This project is a great stash buster, so if you have a lot of leftover yarn, be sure to give it a try.

You can purchase this pattern from ravelry.com.
Granny Stripe Cardigans
A Good Vintage Cardigan Version by Sineadmari
Why not go for classic granny stripe? This cardigan is simply timeless, and Sineadmari knew it well. You can change up the colors every row, or go for more uniform look – either way it will look great. Take a look at the picture below and see how blue finishing ties the whole piece together.

This is a version of A Good Vintage Cardigan by Fran Morgan, which you can purchase through ravelry.com. To learn more about this version, click the link under the photo.
◉
That's all for today, but I'll be back with much more inspiring projects and free patterns. Like, share, and subscribe if you like what you see. Stay tuned!
↔
You may also like: Dune Blanket Ideas – The Most Beautiful Versions