The Art of Freeform Crochet
Have you ever heard about freeform crochet? It's so much fun, because there are absolutely no rules to how you should do it. Whether you like making three-dimensional forms, or you are more into "painting with yarn", freeform crochet is for you.
What is freeform crochet?
Freeform crochet is a creative approach to crochet which allows one to create extraordinary three-dimensional shapes and works of art. Those experienced at crochet do not have to follow a particular model, because if they know the techniques of crochet and know how to use them, they can create forms of crochet 'as they go along.'
What does it look like?
These don't have to be forms using rows or recurring patterns, so freeform crochet often looks interesting and unusual. The most important thing is expression and not the project's usefulness or symmetry, but experience in many crochet techniques is a must. In this way, one may create two- or three-dimensional forms as complicated or as easy as he wants them to be. You can compare such techniques with painting or sculpting, because of the freedom an artist have in expressing himself. Moreover, very similar to any other art, one needs to be very good at using the medium to experiment with it. 
Crochet roundup
There are so many amazing projects featuring this technique, and crocheters come up with new ideas everyday. These examples show how versatile freeform crochet is, and how many beautiful things you can do with it.
◉
3D Freeform Crochet Decors
Crocheted Coral Reef by Tori Auerhan
This breathtaking wall piece, which you can see in the photos, is a result of hours and hours of meticulous crocheting and assembling it all together, but it has a hidden surprise. Go to Tori's Instagram page linked below to see that this coral reef… glows in the dark! Thanks to special yarn and blacklight, this masterpiece of crochet transforms into fairytale garden at night.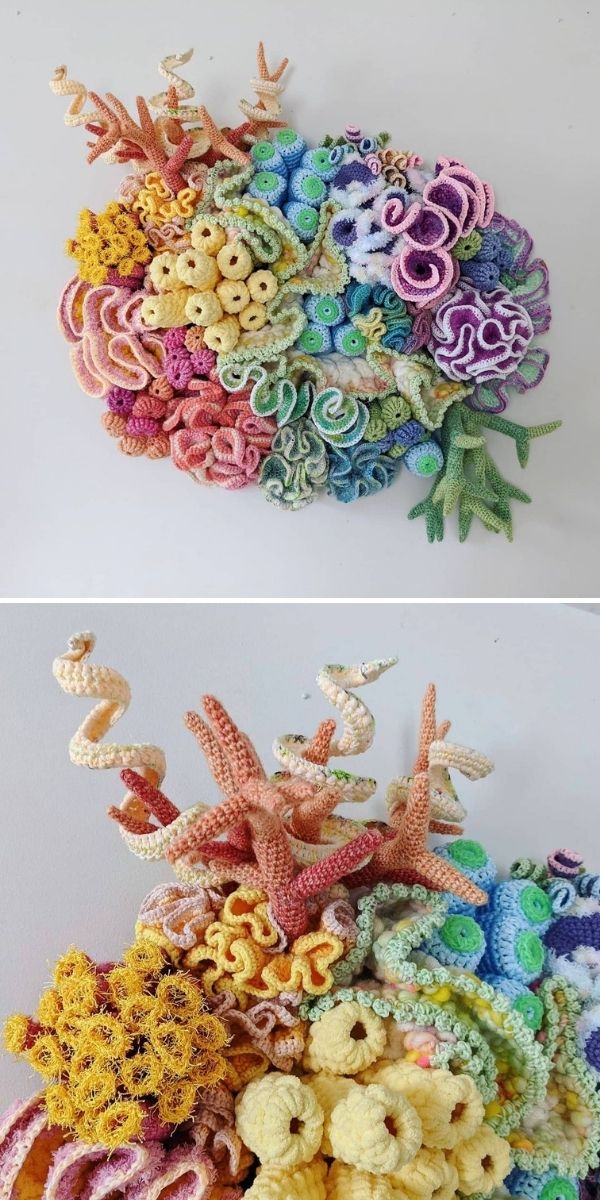 You can find free crochet patterns for basic coral reef shapes in this project: Coral Shapes by Institute for Figuring, available on fcintheloop.blogspot.com. More about it on ravelry.com.
◉
Crocheted Sweets by Kate Jenkins
Kate is a true queen of crocheted food: she creates everything from shrimps, fish and french fries to candies and pastry. Her creations often include additional decorations, such as beads or embroidery, but that's exactly what makes them look so yummy! Take a look at the picture below – isn't this candy bag just perfect?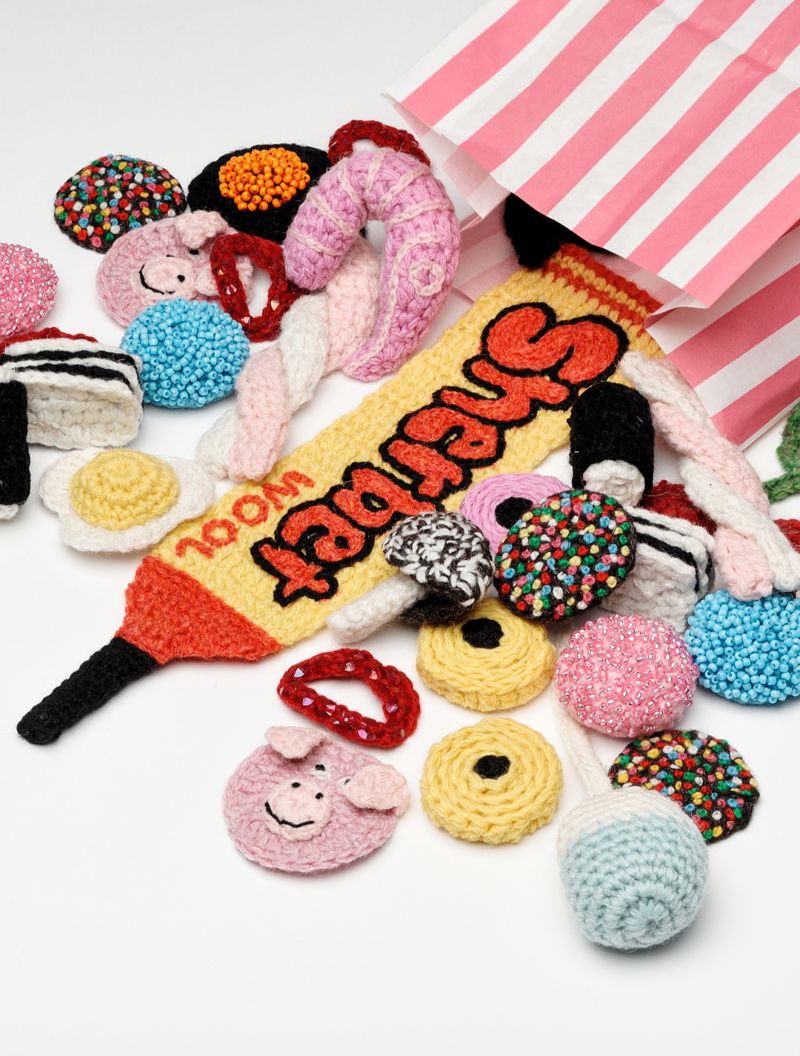 photo by Kate Jenkins on katejenkinsstudio.co.uk
See more of her artworks on katejenkinsstudio.co.uk, or check out her Instagram page @kjcardigan.
◉
Freeform Saccharine by DreamsinCrochet
Staying in the realm of sweetness, you don't need very elaborate projects to make a cute freeform decoration. This plate was filled with simple floral shapes and hearty swirls. Author behind DreamsinCrochet stayed in a uniform color palette, which features reds, pinks and violets. Take a look at the photos below and see how nice it looks!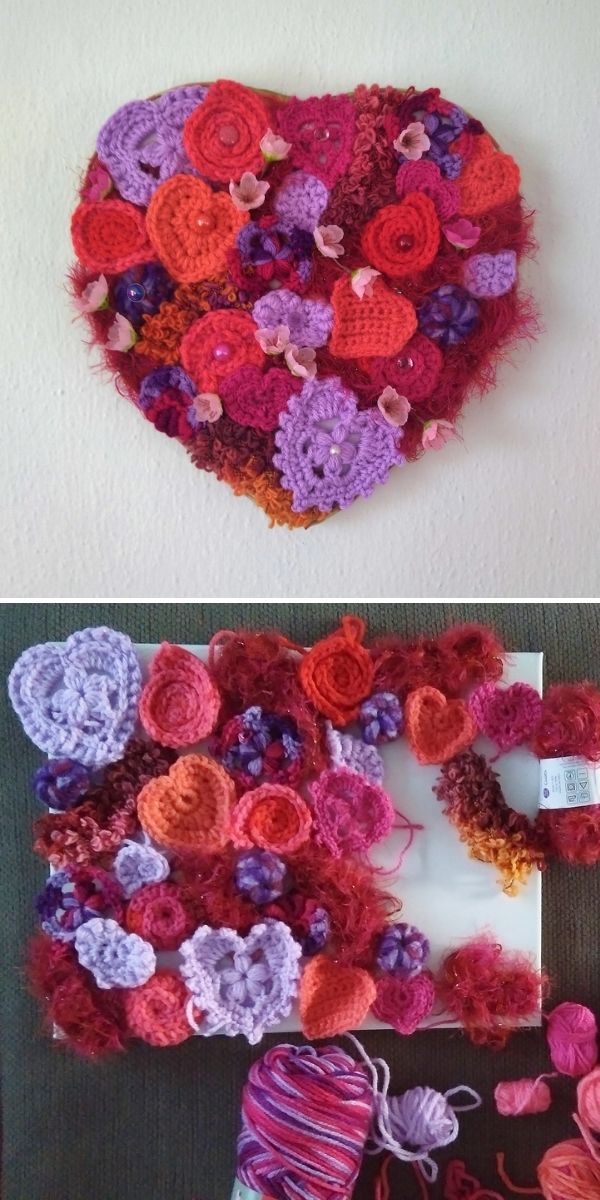 You may also like this article: The Best Blankets to Make and Sell.
◉
Freeform Crochet Flowers and Leaves
Pink Power Blanket by vicArty19
Freeform crochet is perfect for creating patchworks, especially if you commit to making your shapes flat. Crocheter behind vicArty19 created an array of flowers and arranged them on striped fabric. This way it looks like a trellis on which the flowers grow! Lots of small shapes and color changes makes it a perfect choice for those of you, who want to use up scrap yarn ends.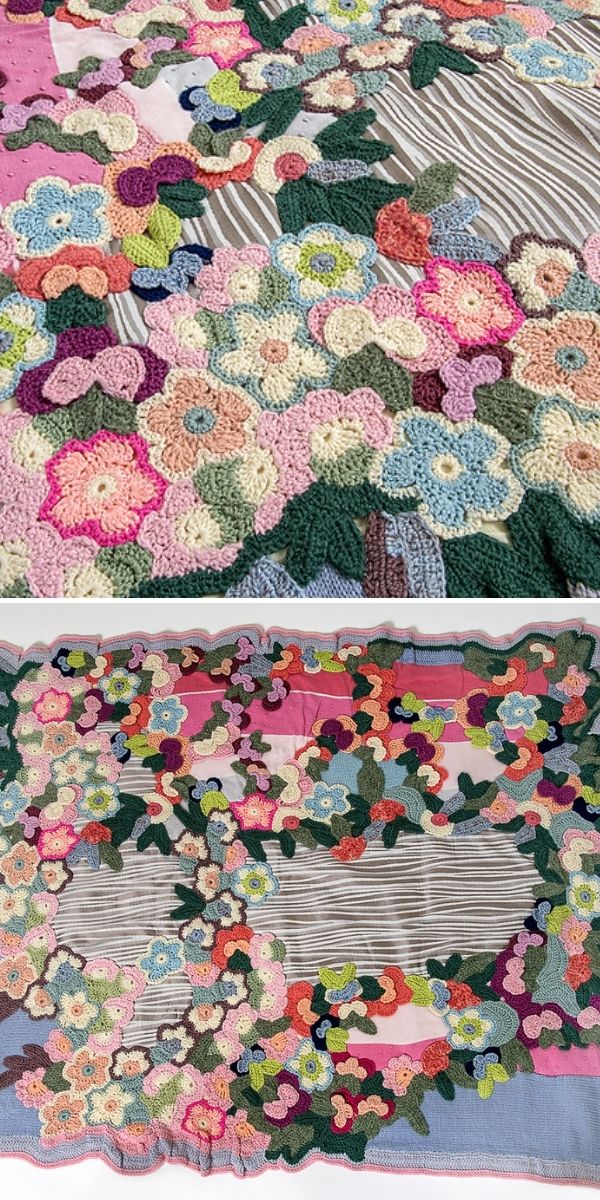 This blanket is a part of Pink Power Project – international collaboration to raise money for breast cancer research. Read more about it on ravelry.com.
◉
100 Days of Crochet Flowers by Steph Lewis

If you've made lots of crochet flowers already, you probably know how they work – I mean, how the center is made and how the petals should "grow". There are so many different flowers, yet all of them are quite similar in the construction. Steph commited to a 100 days of challenge, which resulted in quite a bunch of floral pieces! Isn't it amazing? Check out some of them in the photo below.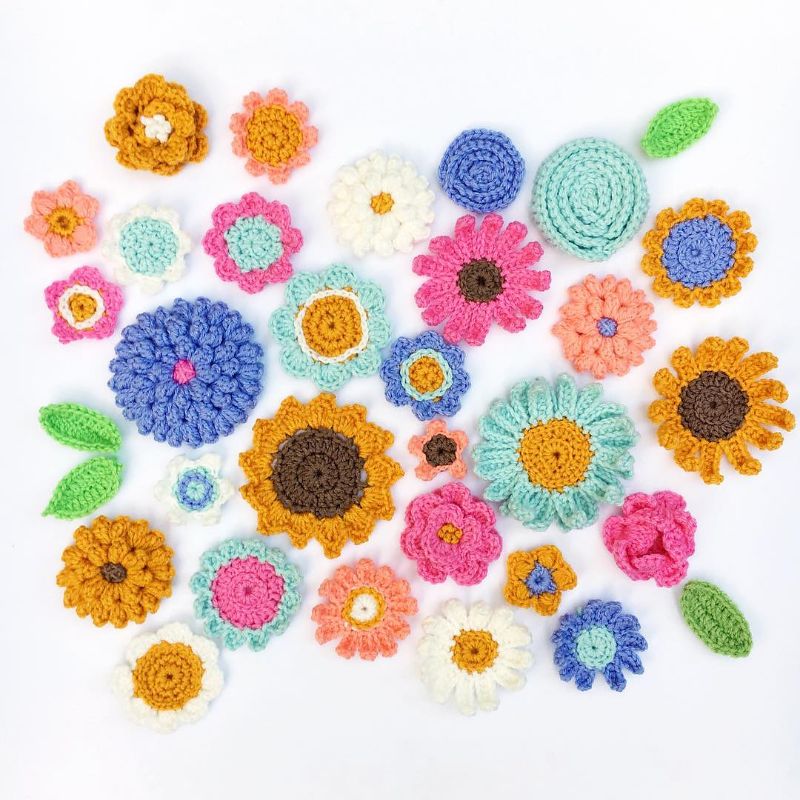 ◉
Union by Susanna Bauer
Take a look at the photo – isn't this family of leaves just beautiful? Susanna uses freeform crochet to build a bridge between nature and culture. In her ephemeral artworks she cuts, pokes and joins leaves for life, adding her delicate crochet right where it should be. Please take a look at her website and Instagram page for more inspiration, because it's precious!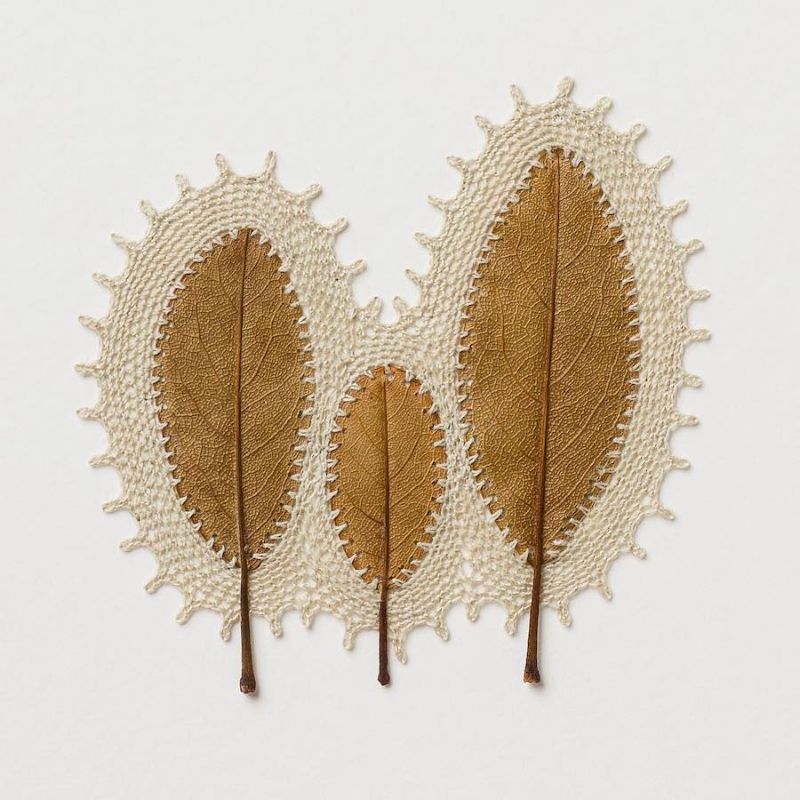 photos by Susanna Bauer on susannabauer.com
See more of Susanna's artwork on susannabauer.com, or check out her beautiful Instagram page @susanna_bauer.
◉
Freeform Crochet Animals
Crochet Animals by Sarah Abbondio
The level of realism in Sarah's works is incredible – just take a look at her parrot and lion depictions in the photos. Thanks to lots and lots of colors of yarn she is able to create nuances so delicate that it seems almost impossible to achieve. Her works focus on animal kingdom, and rightly so – where else could you find so many colorful characters?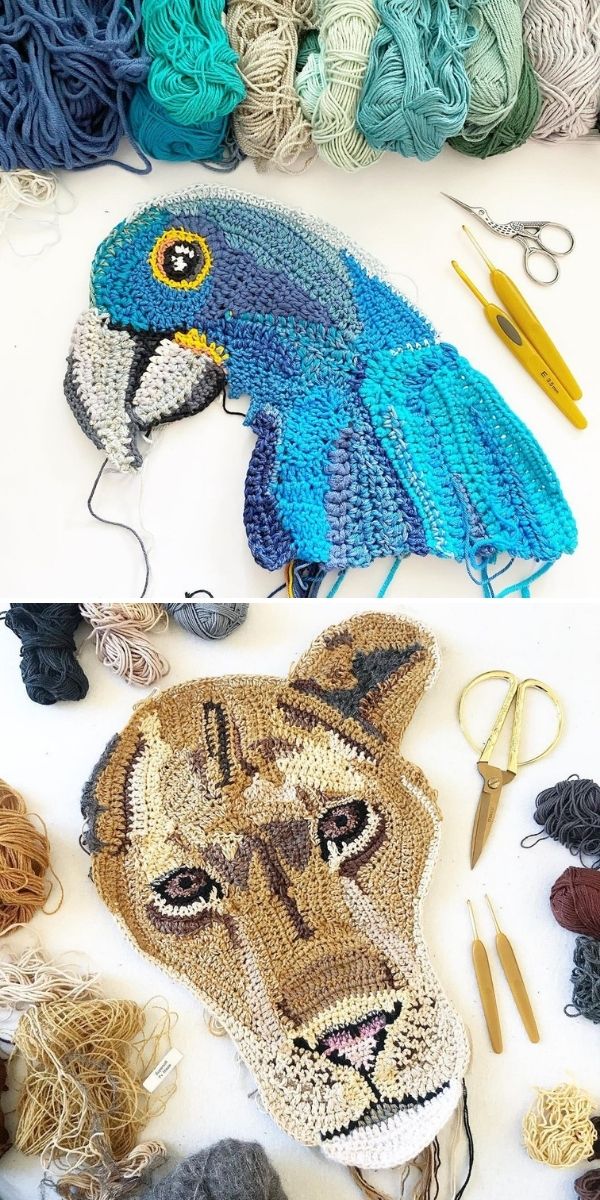 I'm very much impressed by the whole process, but the final effect is what interests me the most. As you can see, Sarah attaches her crochet pieces onto a canvas and doesn't hide the yarn ends. Instead she allows them to rain down, creating a tactile proof that her masterpieces are in fact made with simple strands of yarn.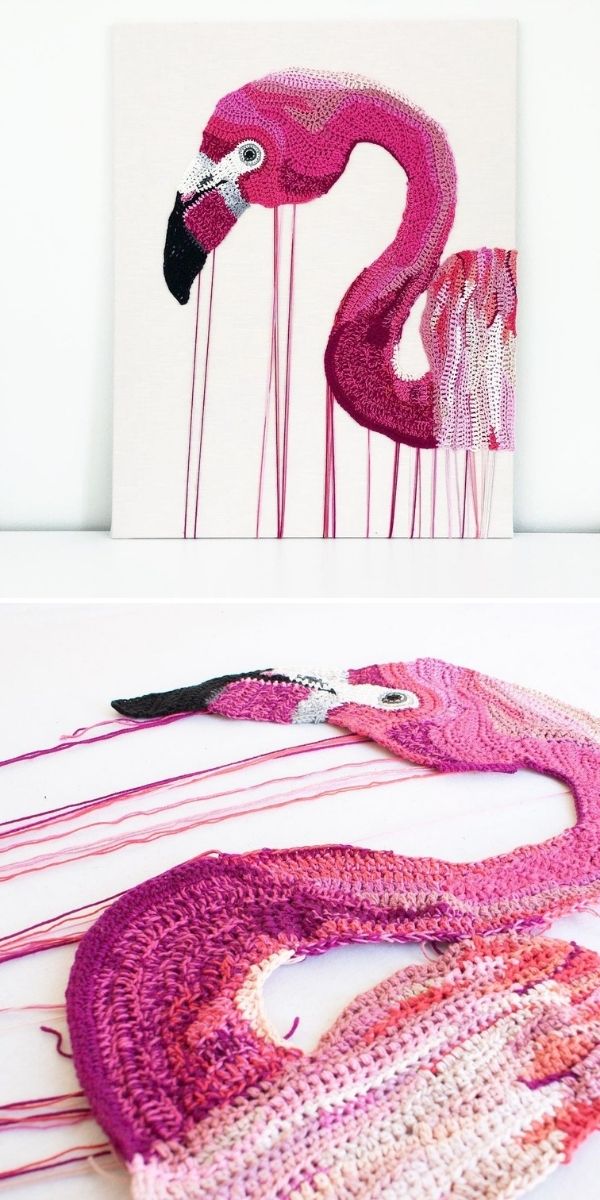 You may also like this article: How to Crochet Easy Lacy Stitch | Video + Chart + Written Pattern.
◉
Freeform Birds by AMerryweather
Author of these little cuties created a bunch of freeform birds and called her project a bedspread. Although there is no photo of the final piece, I can assume that the birds will either be sewn onto the blanket, or joined in a freeform-like manner by the yarn filling out the spaces between them. Take a peek below and see how cute they look already.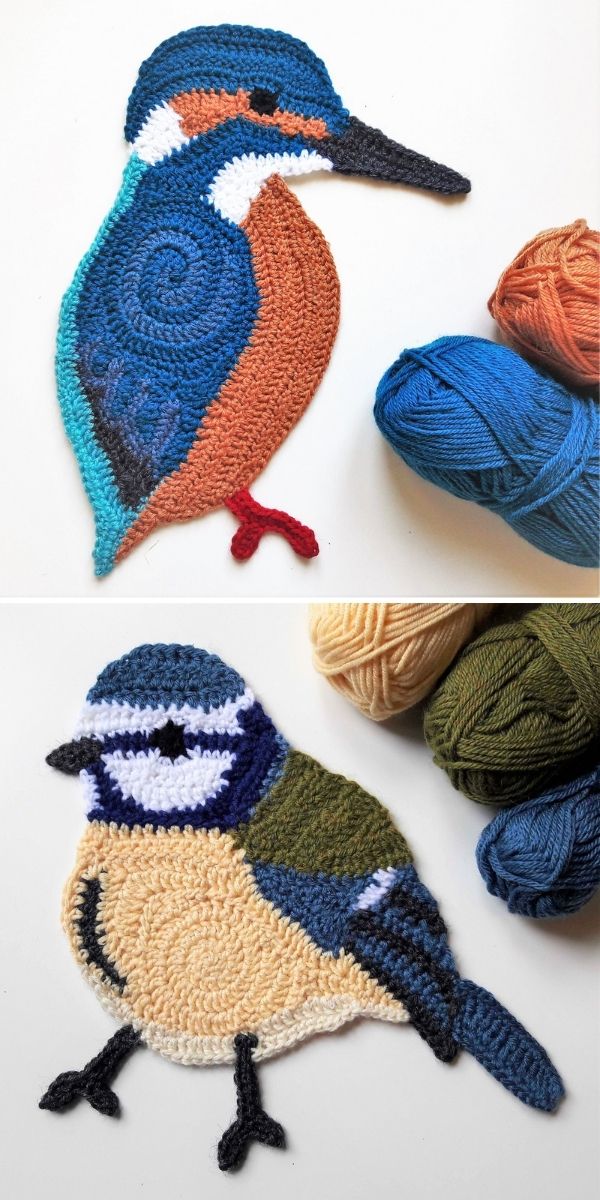 If you want to start with freeform crochet, simple Freeform Storm Cloud by Angela Ader can be a great starting point. Find free crochet pattern on nineinspired.com, or read more on ravelry.com.
◉
Freeform Bird Blanket: Painting With Yarn by dragonbird

Now this is a piece of art, right? This crazy piece features so many colors and shapes that it's hard to see what's what on the first glance. After looking at it for some time you can clearly see that it's a scene of nature – birds, an owl, a butterfly, a bee! All of them swarming around the tree and 3D flowers. Cute!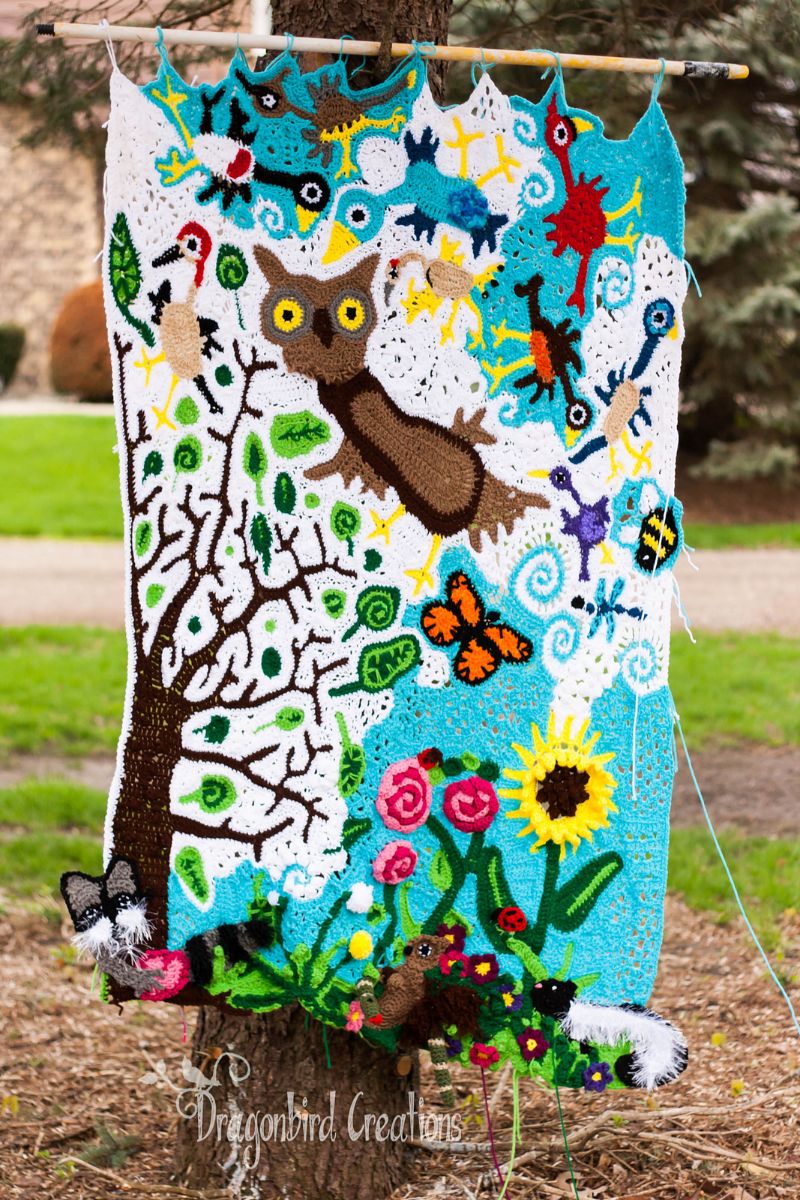 This beautiful project is loosely based on free crochet pattern called Freeform Crochet Blanket by Kirsti Hallamaa, which is available on ravelry.com.
◉
Freeform Crochet Portraits
Crochet Marylin by Will C.
It's not easy to even draw a human face, but what about drawing with yarn? Isn't it just impossible? Well, it is possible and people do that, believe it or not. Will is one of the most talented freeform crochet artists out there, and he is just 19 years old! To show you his talent I chose his latest project – Marylin Monroe. Take a look below to see how good it is!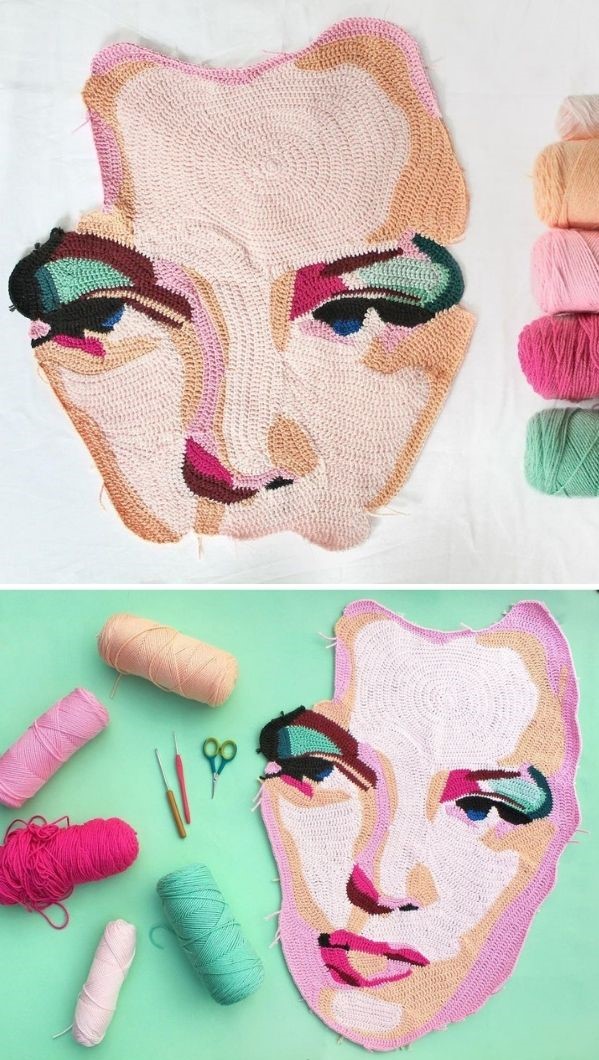 You may also like this article: How to Crochet V-Stitch Two Ways – Tutorial + Video!
◉
Crochet Portraits by Jose Dammers
Jose's works focus on women – especially women's faces. What is the most interesting to me is the process, which includes drawing the faces first and using it as a pattern. It's just incredible! Be sure to check author's Instagram page, because it's full of inspiration and tricks for those of you who want to learn.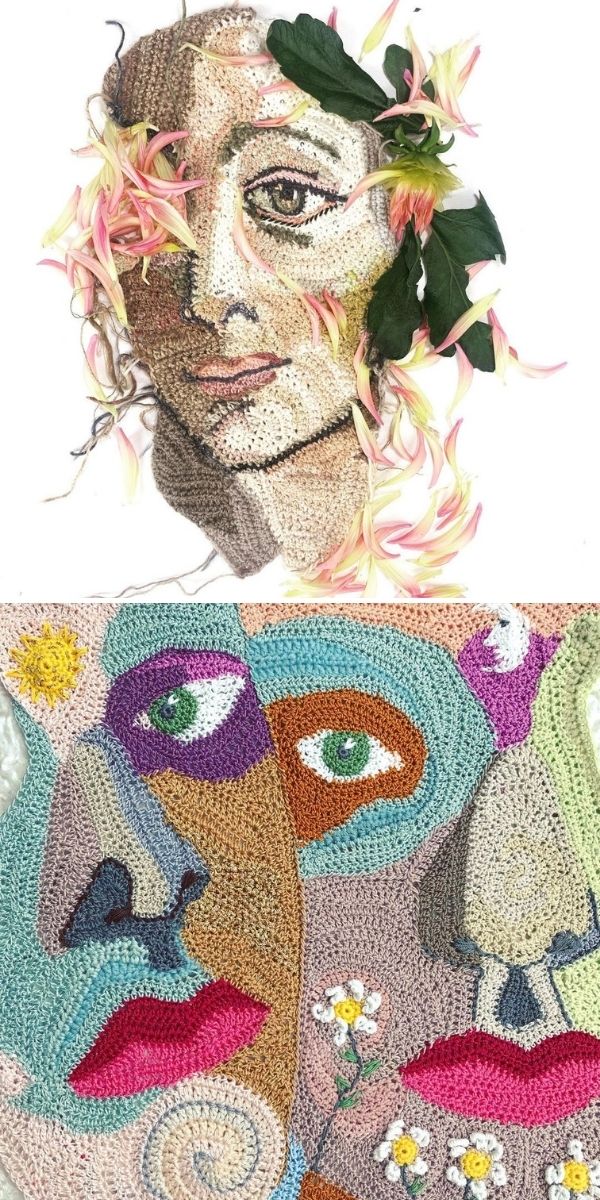 ◉
Yarn illustrations by Tuija Heikkinen
Scandinavian design, especially Finnish design has a certain vibe to it that cannot be mistaken for anything else. That's what I see in Tuija's works, which focus on bits and pieces of everyday life, which slowly come together. As you can see, there are many ways of documenting life – maybe freeform crochet will be the one for you?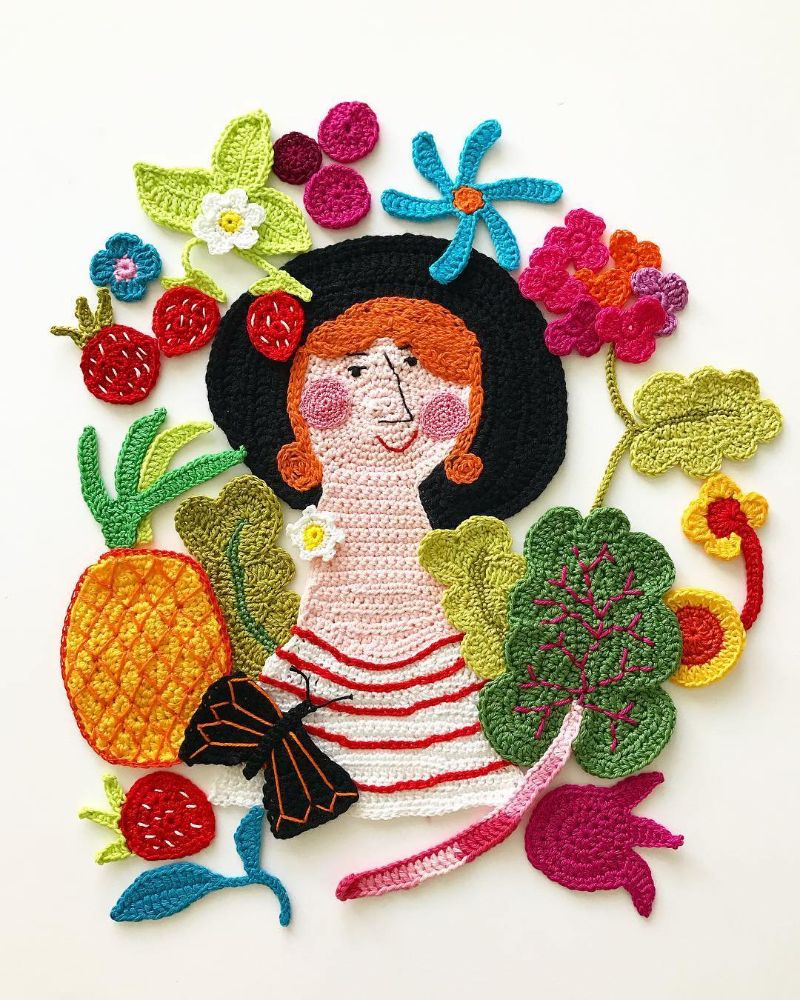 ◉
Crochet Characters by Rhianne Evans
There are artists that use freeform crochet for creating portraits, but Rhianne's focus is rather specific – black and white depictions of movie characters! As you can see in the photo below, her Dracula is just incredible. Whether you are into such spooky vibes or not, you must admit that you've never seen anything like this before!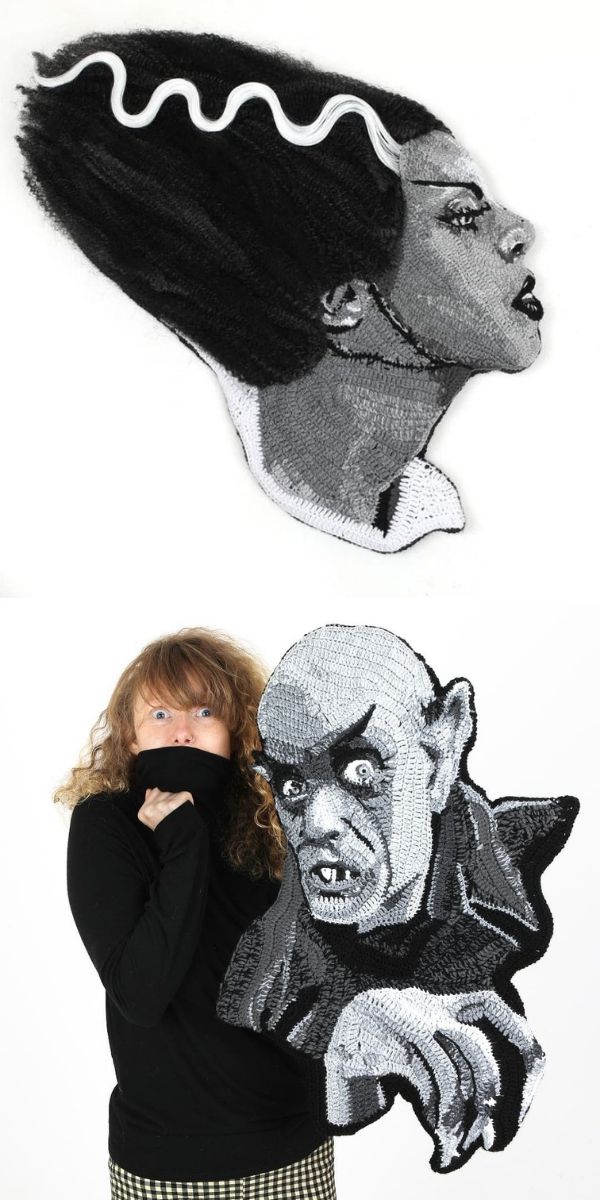 You may also like this article: Christmas Crochet Baubles – Free Pattern.
◉
Freeform Crochet Garments
FF White Beige by Suzanne Sullivan

If you want to make a freeform garment, start with a cape – its simple shape will be great for combining various shapes and meandering stitches. As you can see in the photo, it's good to stay in one color palette, because it reduces business created by the shapes and textures. Suzanne decided to go with white, creams and beiges.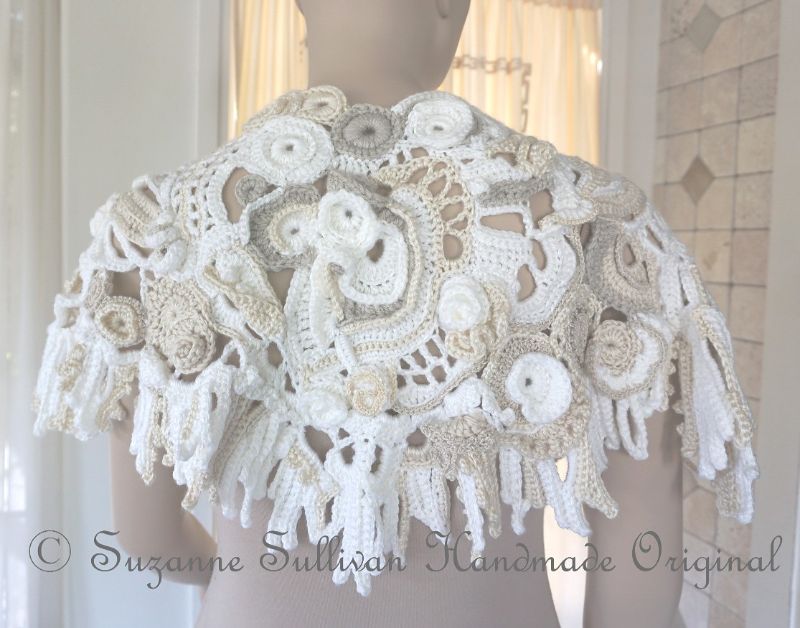 photos by SSHO on ravelry.com
(the original photo is no longer there, but take a look at her other freeform capes!)
◉
FreeSpirit by Ne11
If you love bright colors, this proposition will suit your taste better – crocheter behind Ne11 decided to go for the most vibrant hues in their stash. Organic shapes, swirls and flowers create a magical landscape that definitely is a statement piece. In the photo you can see how many various elements are there!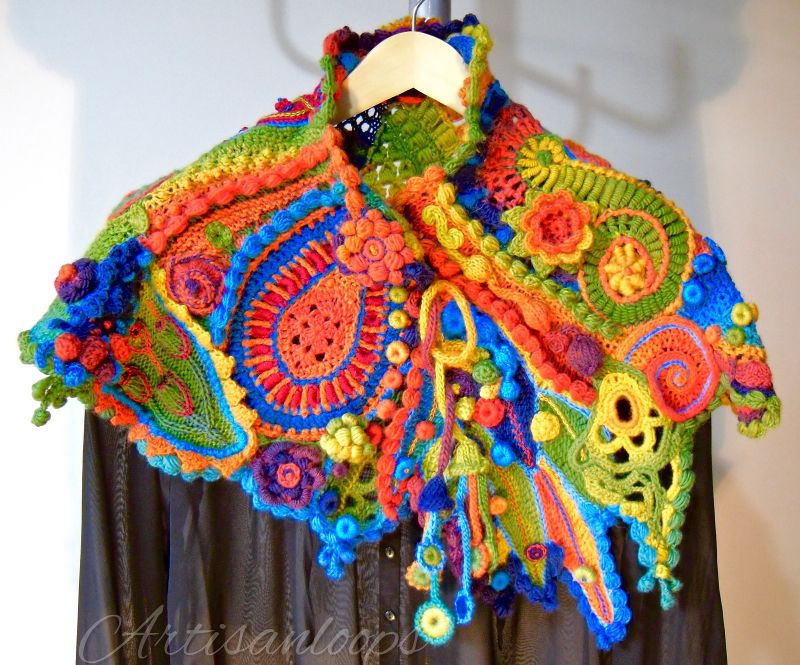 ◉
Summer Coat by Olgemini
Some projects are just masterpieces, and this one surely is one of them. Flowery summer coat may not be up your alley if you prefer minimalist designs, but I'm sure everyone could admit how nicely it's made! This celebration of spring and summer is definitely one of a kind – just take a look at the photo.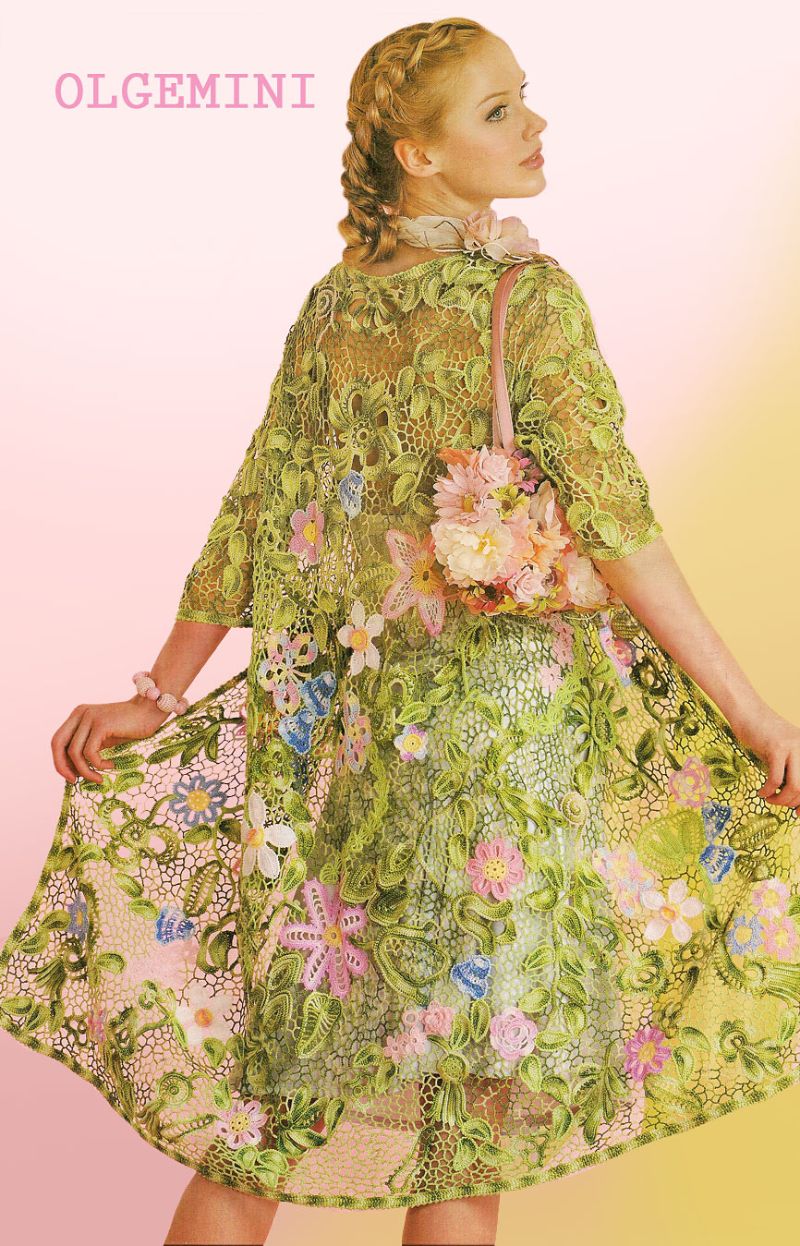 You may also like this article: Anna's Tales CAL – The Most Beautiful Versions.
◉
3D Freeform Crochet Accessories
Golden Fall

by ItWasYarn
Do you like your accessories to be one of a kind? Freeform crochet is a way to go, then! Simple shape of a headband is small enough for beginners to not get frustrated, but still make something fun to wear. Hone your skills while having fun, just like crocheter behind ItWasYarn had.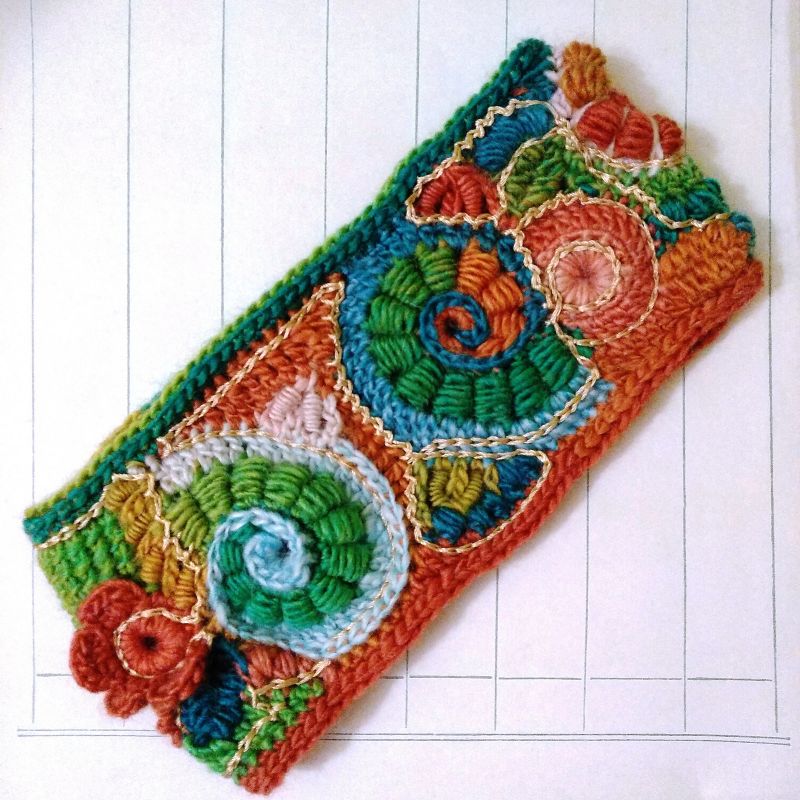 I've found one crochet patternfor freeform headband and it's called Third Eye Freeform Headband by Hannah Martin – check it out on ravelry.com.
◉
Pink Power Freeform Diary Cover by PrudenceM
Dear diary, today I thought I would like to learn freeform crochet at last! Personalization can be achieved in a myriad of ways, but this crocheted book cover by PrudenceM is just mesmerizing. Textures, three-dimensional objects and stitch swatches all find their place here, creating a truly one-of-a-kind tactile experience. Take a close look at the pictures below.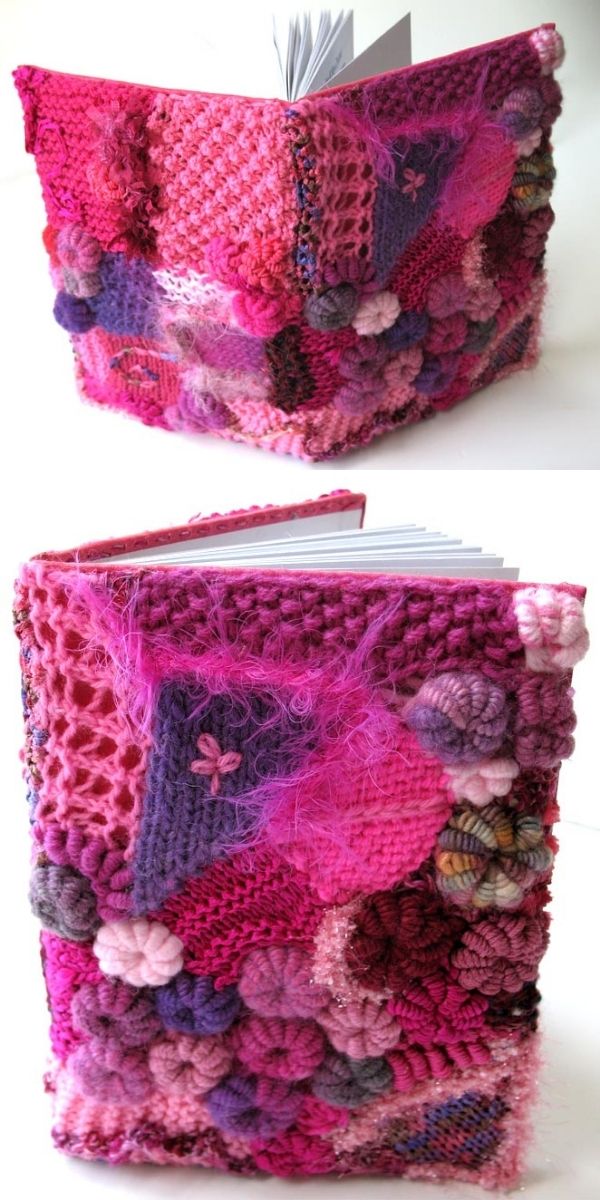 photos by Prudence M on Flickr: source
This diary cover is a part of Pink Power Project – international collaboration to raise money for breast cancer research. Read more about it on ravelry.com.
◉
Sunrise in a Jungle by ItWasYarn
*free crochet pattern*
Gather your leftover yarn ends and make yourself this fun tote! It features an array of different techniques, including lovely bullion stitch. Pattern will help you make the elements, but how they are arranged is completely up to you. In the photo you can see ItWasYarn's colorful version, but it will look lovely in subdued colors as well.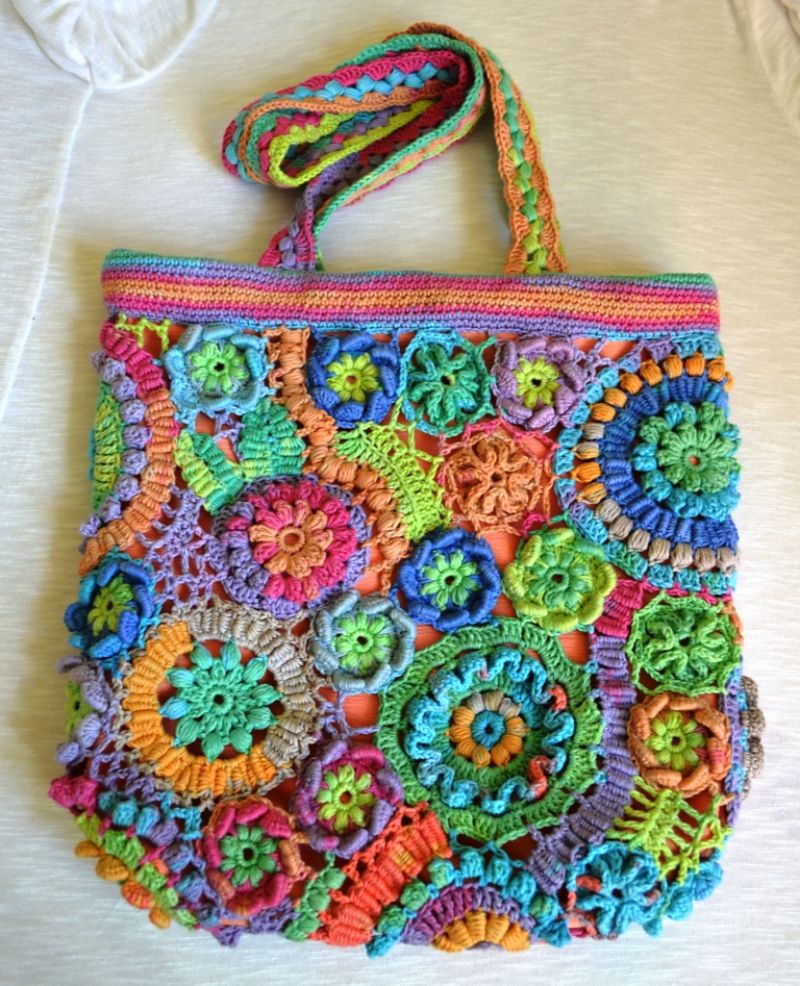 This project is available as free crochet pattern called Life of the sky by Kate Veselunka – download it directly from ravelry.com.
◉
That's all for today, but I'll be back with much more inspiring projects and free patterns. Like, share and subscribe if you like what you see. Stay tuned!
↔
You may also like: Crochet Shell Stitch Blanket Ideas