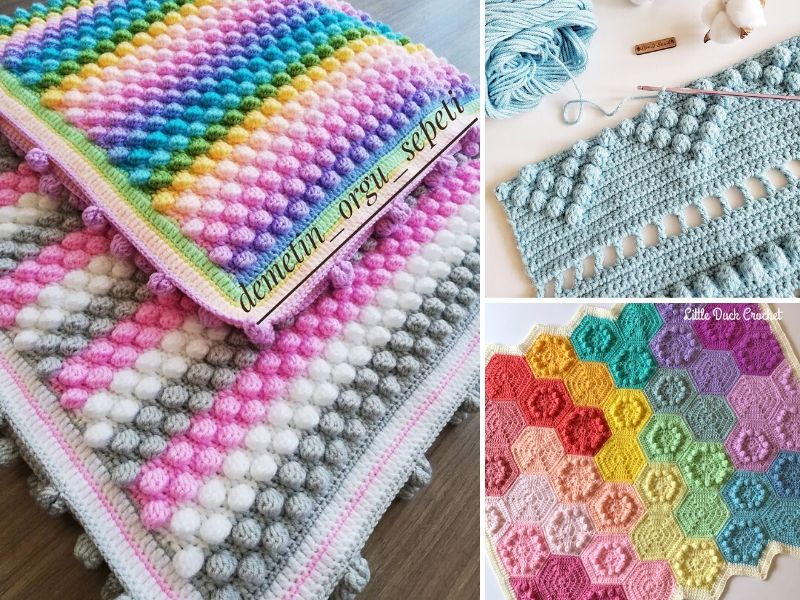 Hello there! Today's article is all about yummy popcorn stitch, so grab your favorite snacks and relax with me 🙂 This stitch is often mixed with others in the general 'bobble' category, so much so, that sometimes you can't see if it's popcorn or bobble you're looking at!
Among puff stitches and bobbles, popcorn is definitely the most visible and prominent of all. As you will see, it's also not that easy to make… but fear not! Ambitious beginners, welcome aboard!
Ready? Grab your favorite yarns and crochet hook!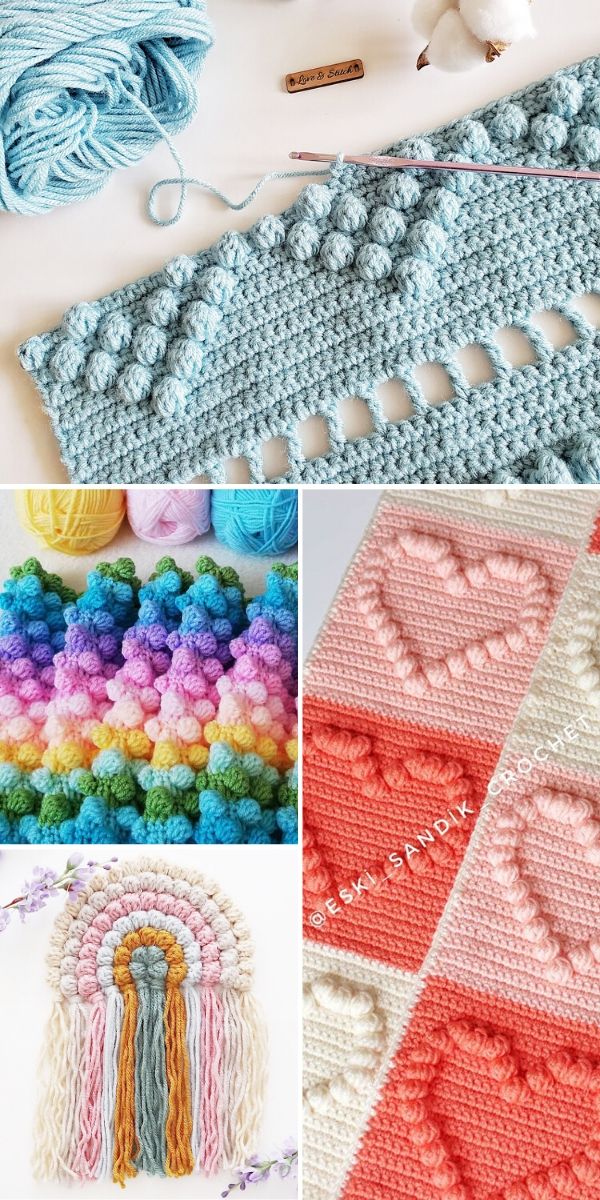 fun and tactile
This cool stitch can be used in many different projects, such as baby blankets, afghans, or wall decoration. It's very structural, so it looks great when organized strategically with other basic stitches.
Materials
Bella Coco used Caron Simply Soft yarn, which is aran weight 100% acrylic.
She chose 5.00 mm crochet hook for this yarn, but you can use any yarn and corresponding hook size.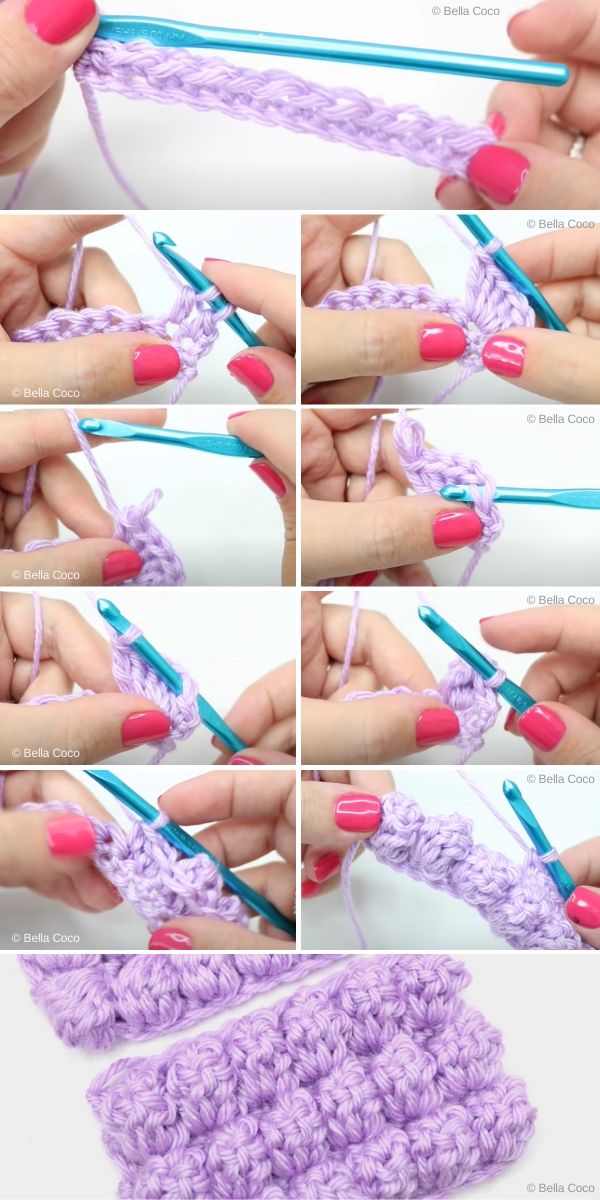 The twist is, that you need to remove your hook from the loop and reinsert it into the beginning of your cluster to close the popcorn stitch. It's not hard to do, but requires some practice, so you take a look at my article on
how to work with crochet hook
.
talking about stitches…
Our growing website and library of free crochet patterns has some projects that might interest you, too. If you want to know more about crochet, read my articles on different topics, for example – what are Crochet Swatches? 
→ Yes! Take me to this article! ←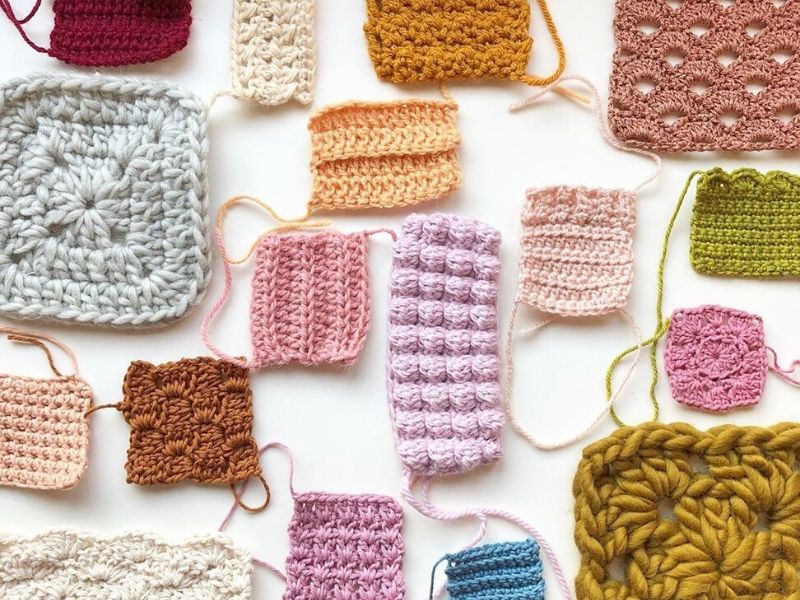 or…
Learn all about Fun Bobble Stitch Crochet Ideas!
→ Yes! Take me to this article! ←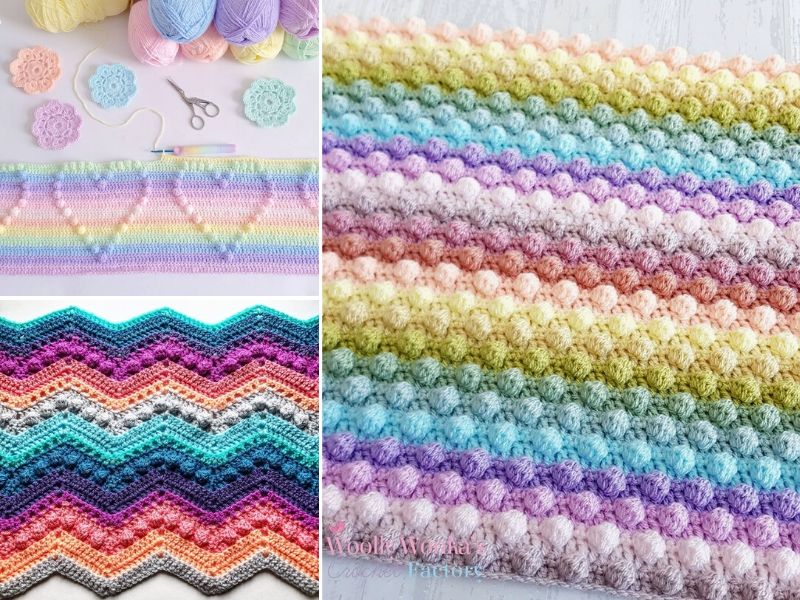 crochet roundup!
Lots of beautiful creations are coming your way today! All selected by hand, as usual 🙂 Let yourself be inspired by the best popcorn crochet designs I could find. Which one you like the most? Let me know in the comments!
Read carefully for free crochet patterns and tutorials.
◉
Crochet Wall Hangings by Love & Stitch

Use popcorn stitch to make a beautiful wall hanging. Such handmade decoration not only brings boho vibes to your home, but also creates warm atmosphere. All guests are going to ask you about it, I'm sure!
These projects are available to purchase on Ravelry: Amelia Wall Hanging Crochet Pattern and Diamond Bobble Crochet Wall Hanging Pattern.
◉
St. Patrick's Rainbow Wall Hanging by CrochetbyCote and SewSweetMommies

Crochet rainbows are trending now, so why not use your spare time to make one of these beauties? Use up leftover yarns to create something totally new.
You can purchase instructions for this particular project here – St. Patrick's Rainbow Wall Hanging by CCrochet Shoppe. If you want to try something for free first, take a look at Rainbow Wall Hanging by Heaven Hooked Crochet – it features puff stitches!
◉
Popcorn Rainbows by Wooly Wonka's Crochet Factory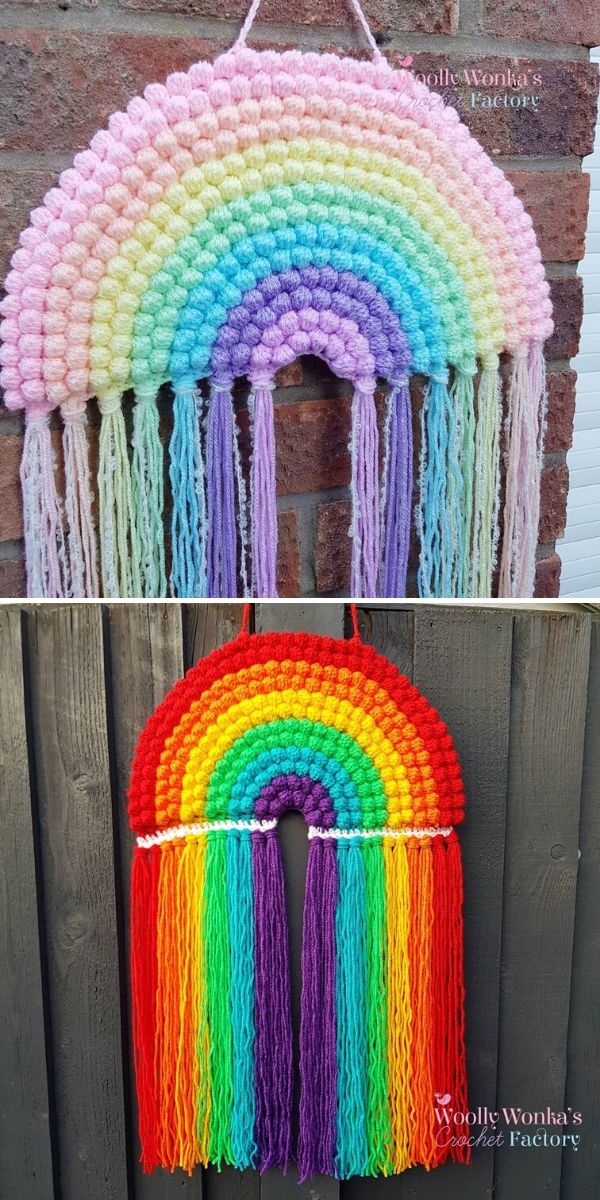 Whether you prefer pastels or vibrant colors, this project can be your next wip! Long tails are almost as important as the popcorn rainbow itself. Hang it on the wall in your bedroom or adorn kids' room – they will love it.
This project was based on a paid pattern, which is available for purchase here. If you like this design, you might want to try free crochet pattern for Crafty Rainbow Pillow by Ashley Stallsworth.
◉
Popcorn Heart Blanket by eski_sandik_crochet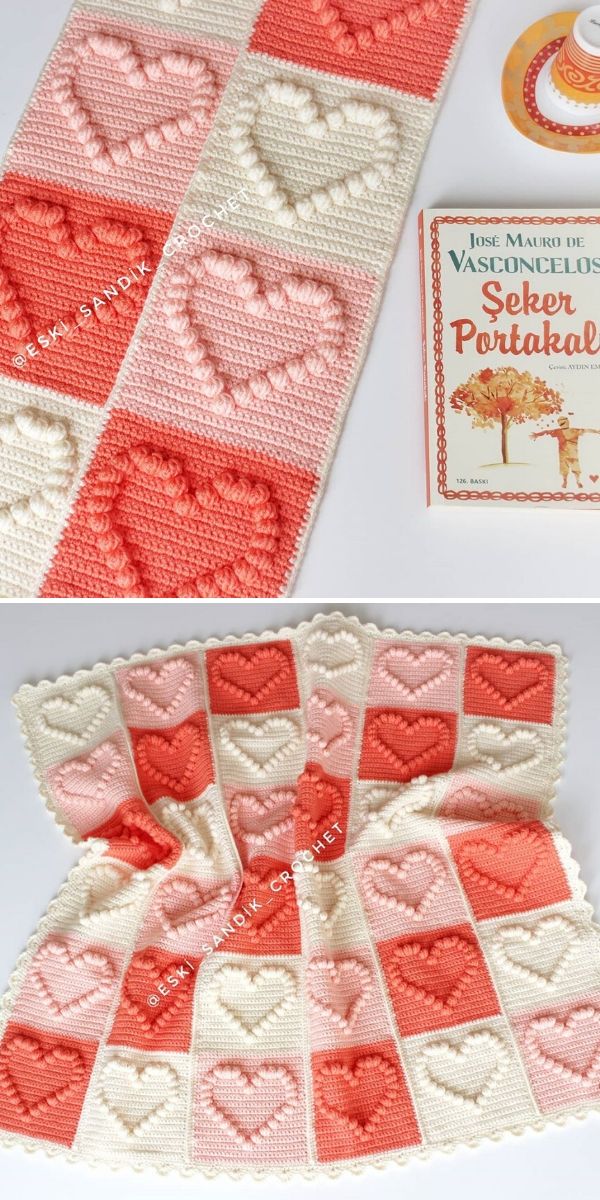 If you learn how to strategically place bobbles or popcorn when working in rows, you will be able to paint all kinds of shapes! This sweet heart blanket is just adorable!
If you would like to make a similar blanket, or just learn how "painting with bobbles" work, check out this free video tutorial – How To Crochet Popcorn Stitch Heart Square by Kristines Crochets.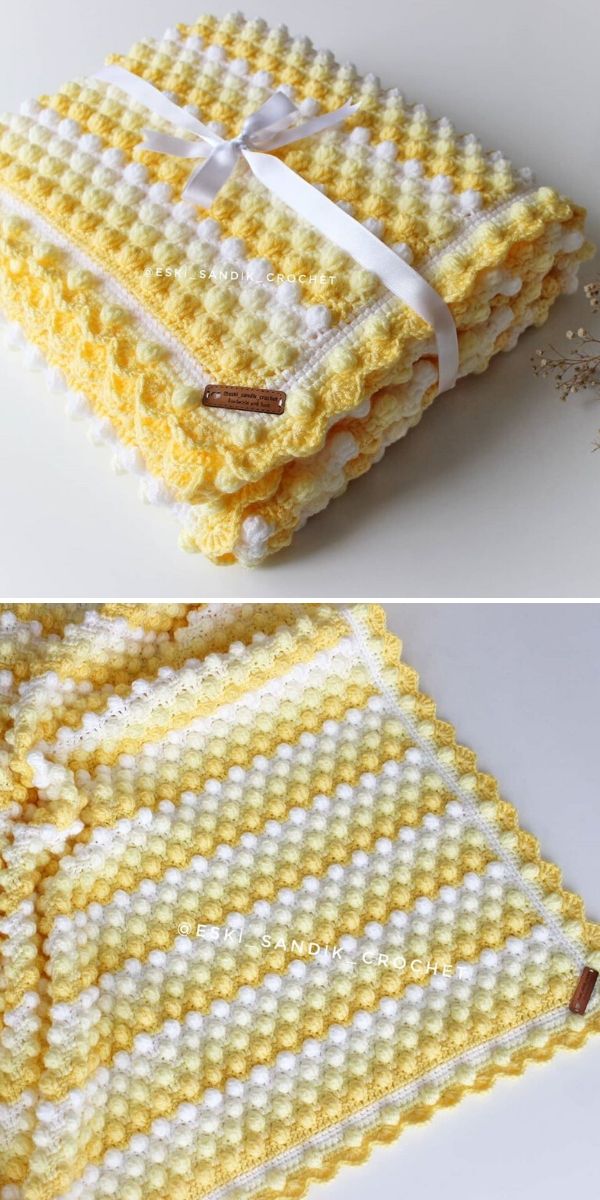 Yellows and whites are neutral and delicate combination of colors, which will be suitable both for girls and boys! Popcorn stitch is fun for babies, because they just love touching it.
To make a similar blanket, use popular free crochet pattern for Blackberry Salad Striped Afghan by Tamara Kelly and substitute bobbles for popcorn!
◉
Popcorn Stitch Blanket by demetin_orgu_sepeti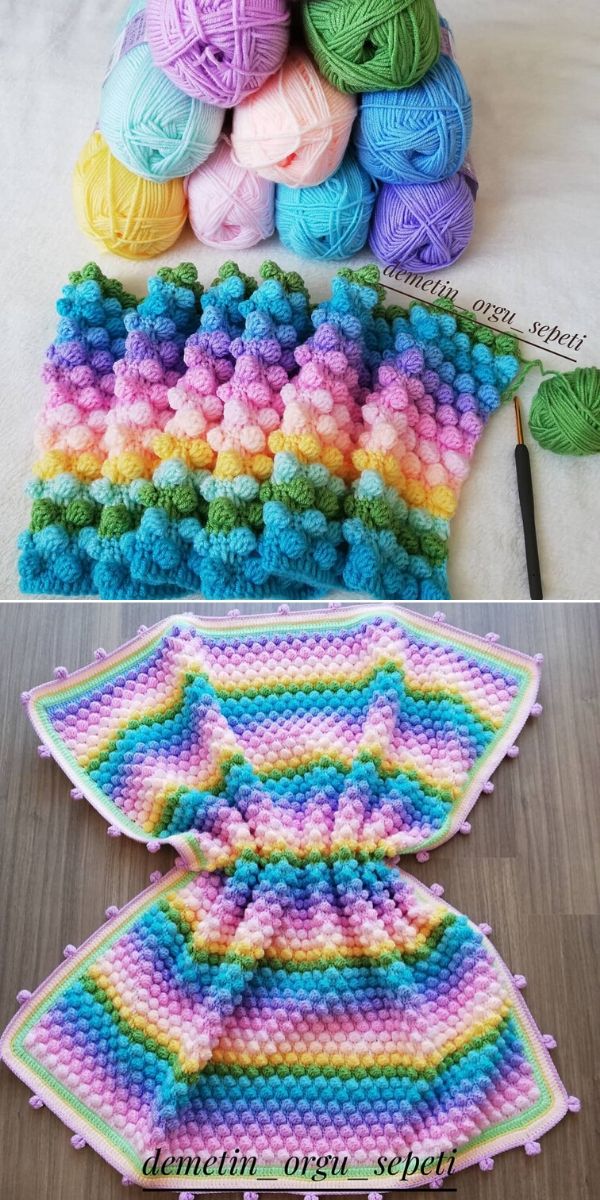 Color flow of this blanket is amazing, because it's so smooth! Simple popcorn stitches in rows are enough to create something magical. Take a look at this creative edging, too – it's a cherry on top!
To create similar blanket, take a look at free pattern for Polka Dots & Frills Baby Blanket by Lauren Brown. Make popcorn stitches instead of bobbles for even more structural piece.
◉
Hexi Bobble Blanket by Little Duck Crochet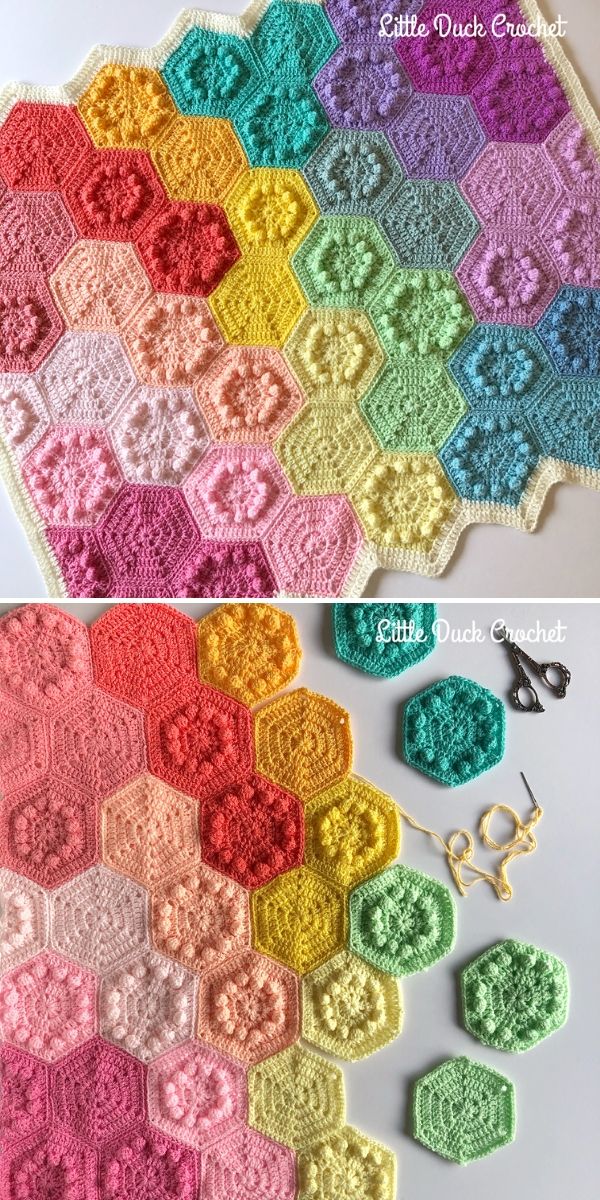 Using popcorn stitch as a detail is a great idea, especially if you are not a fan of a lot of texture, so take it under consideration. This project has just enough of it, don't you think?
You can purchase this beautiful pattern here.
◉
Hello Petal Blanket by Crafty Little Cottontail
Structural petals of delicate flowers create depth and catch the eye, so if you need romantic design, this one may be for you. Modules such as hexagons or squares are great for blankets, because they allow you to customize its size as you go!
This blanket is based on a paid pattern, which is available for a small fee here – Hello Petal Blanket by Eleri Schofield. If you want to try making similar flowery modules for free, check out Crochet Popcorn Flower Granny Square Tutorial by Kristines Crochets.
◉
Geo Pop Pillow by Julia Madill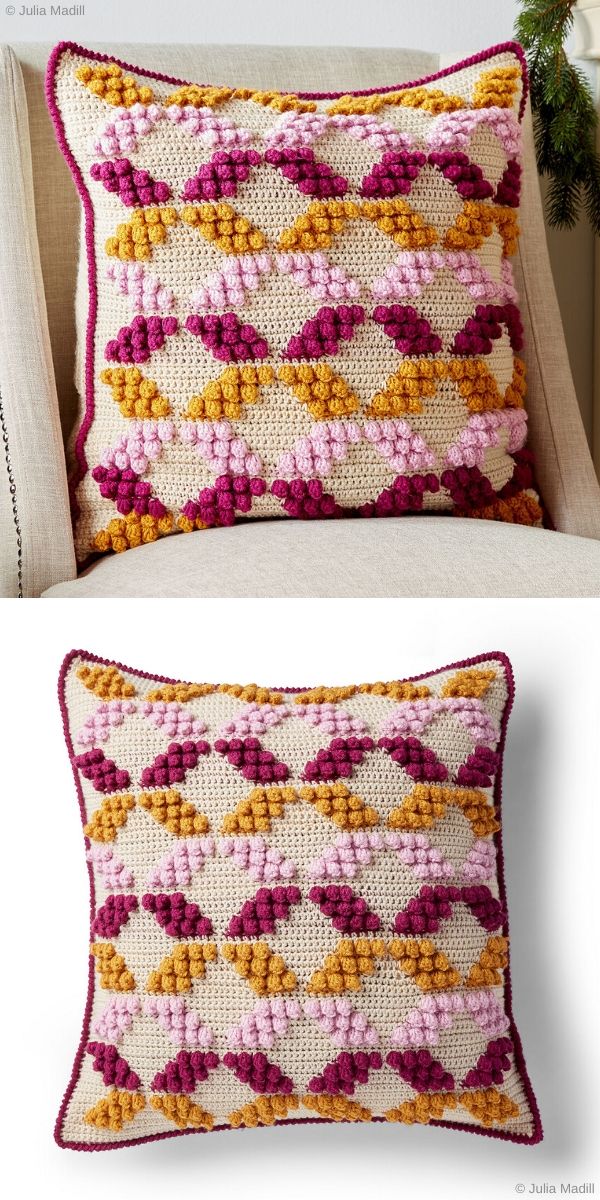 Geometric pattern of this pillow is truly remarkable, because you can see how profound popcorn stitches are on a plain background. It looks modern and fun, so don't hesitate to try it!
This beautiful project is available as free crochet pattern here.
◉
Smitten Blanket by knohe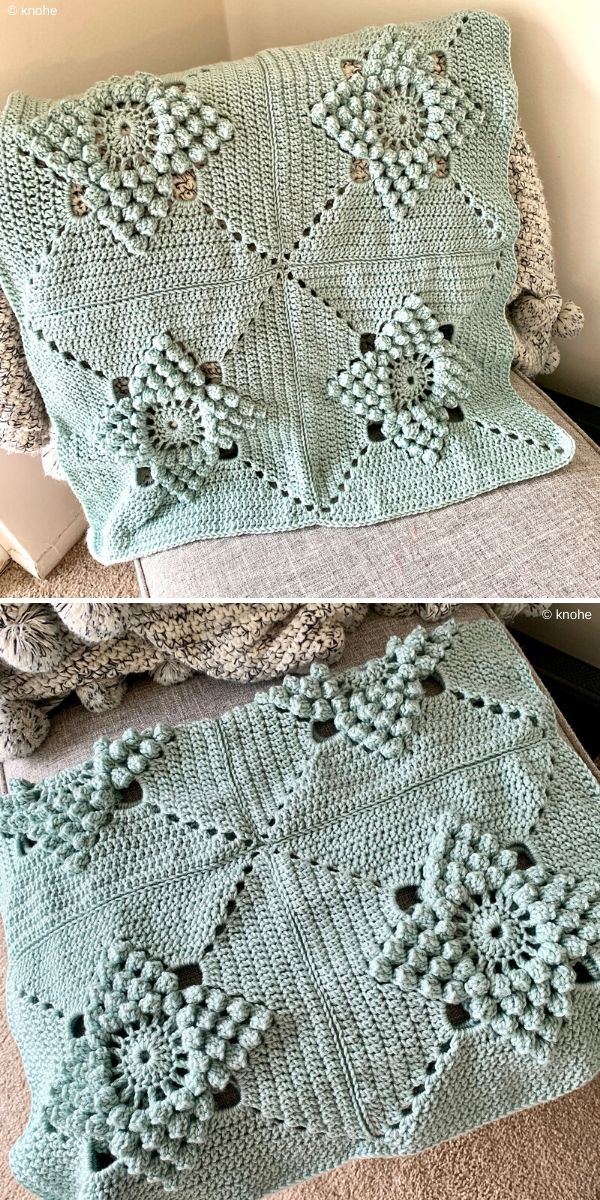 Another example of strategic use of popcorn stitch, and yet another fantastic design! This blanket will look super cool as a bedspread. Delicate mint makes it look fresh and modern.
This blanket is based on a free pattern for Smitten Blanket by Haafner. Free video tutorial by Sirin's Crochet is available here.
◉
Smitten Blanket by PinkLemons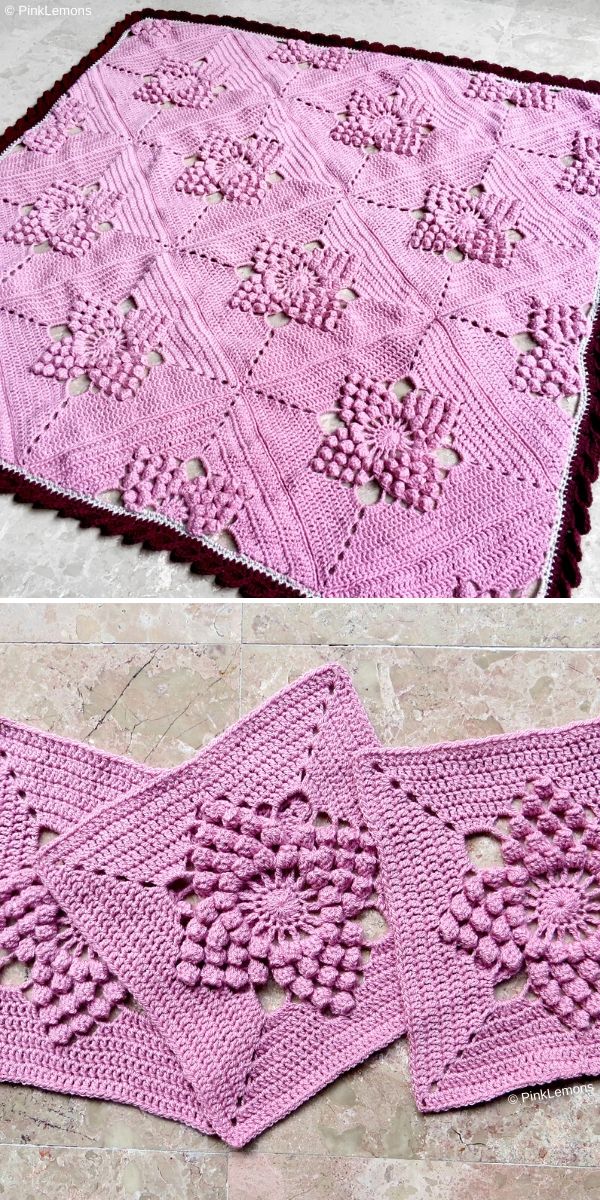 Bold pink may not be for everyone, but you will admit that it looks great, right? Contrasting edging gives it character and finishes off the design beautifully.
This blanket is based on a free pattern for Smitten Blanket by Haafner. Free video tutorial by Sirin's Crochet is available here.
◉
That's all for today, but I'll be back with much more inspiring projects and free patterns. Like, share and subscribe if you like what you see. Stay tuned!
↔
You may also like: Spectacular Larksfoot Stitch Ideas