Popcorn stitch
The popcorn stitch forms a raised bubble made of double crochet stitches.
It's similar to bobble and puff stitches, but not the same. 
This is usually marked by a symbol which is similar to flower bud – as the curves (usually five) symbolize stitches, they have a crosspiece and they are connected at the top by an ellipse or a crescent. Many differences do exist in the symbols used.
Currently, it's one of the most popular stitches. It's very decorative and allows one to add structure and a more interesting form to the crochet piece. It's an easy stitch to master as it's based on one's ability to make double crochet stitches.
The popcorn stitch is made up of an unlimited number of double crochet stitches (usually 4-6) put through the same stitch and joined at the top with a slip stitch.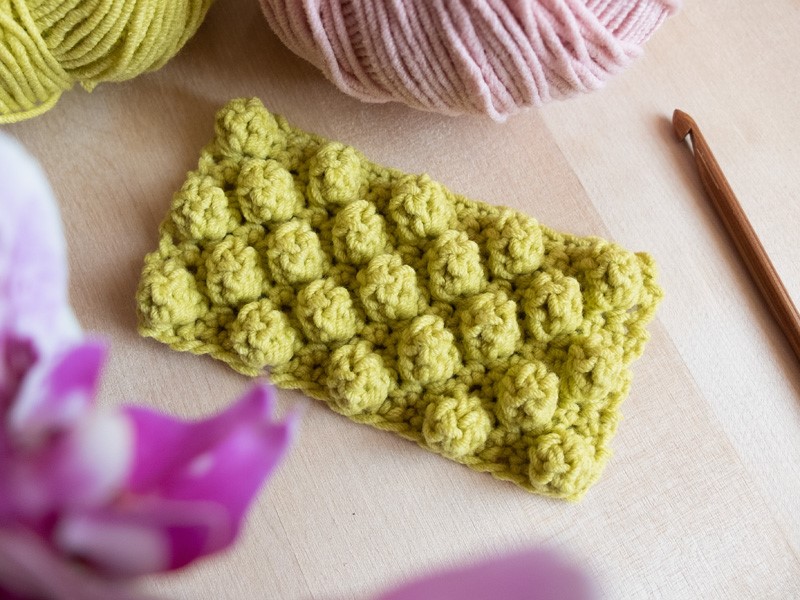 How-to:
How to make a popcorn stitch when starts it off a row or a circle:
We make 3 chain stitches (instead of the first stitch, meaning we make turning chain) and 4 remaining double crochet stitches, all of them in the same stitch of the previous row. We should have 6 loops on the hook. Carefully removing the hook from the piece, we insert it into the third stitch of the turning chain (the one which takes the place of the first double crochet stitch). We place the hook into the loop of the last double crochet stitch we have made and draw it through the loop we have on the hook. Usually we make one or more single crochet stitches afterwards, which makes popcorn stitch "pop" even more. 
How to make a popcorn stitch in the middle of a crochet piece:
We crochet 5 double crochet stitches through one of the stitches or the previous row. We take the hook from the loop and insert into the top of the first double crochet we made. We draw one loop through the other and secure it with single crochet or make one chain stitch. We now have a popcorn stitch.
As a popcorn stitch is a wide feature, it's important to separate them if they are to lie next to each other. You have to work it in every second or every third stitch, thanks to which the piece will not lose its shape and the popcorn stitch itself will be well displayed. You can separate them with chain stitch or use single crochet between them.