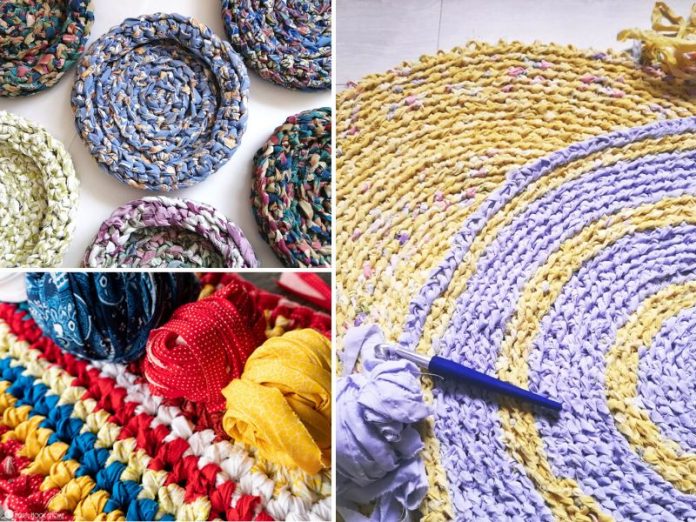 Looking for other ways to spice up your crochet practice? Try fabric crochet! It's eco-friendly, full of unexpected effects and simply perfect for home accessories. Want to know more? Sit back, relax and let's dive in!
Find more inspiration in my Recommendation Series, because I've analyzed lots of cool crochet stitches and projects there. Learn more about The Best Crochet Flower Patterns, C2C Crochet Graphgan Patterns, or explore Crochet Shell Stitch Blanket Ideas.
One of a kind
What is fabric crochet?
Fabric crochet is a technique that uses long strips of fabric instead of yarn or thread. You can make fabric yarn by yourself, for example by cutting up old sheets, duvet covers, or clothes. If you don't want to do this, however, there are ribbon and t-shirt yarns available to buy in online stores.
What can you use fabric yarn for?
The majority of projects using this yarn are home accessories, such as rugs, baskets, poufs, stool covers, pot plant covers, and so on. That's because fabric yarn holds the shape beautifully (hence baskets) and is very sturdy (hence rugs).
In the Crochet Roundup section you'll find a lot of examples, many of which are available as free crochet patterns.
Kinds of fabric yarns
Textile yarns
I use this broad term to describe all yarns that are manufactured by yarn producers, but which consist of textile instead of threads. The most popular example would be so called t-shirt yarn, which is in fact made with long uniform strips of light and elastic machine knitted fabric. What's characteristic for this yarn is that the edges fold inwards, creating a little bit of volume.
Another fantastic invention is tube yarn, which is literally a tube (also made with elastic knitted fabric), but filled with polyester filling. It's soft on the outside and fluffy inside, which makes it perfect for squishy home accessories.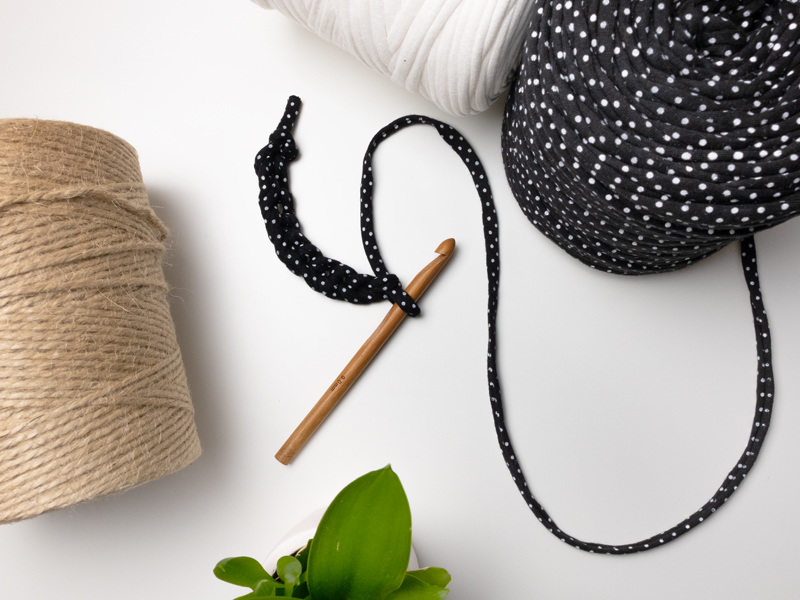 t-shirt yarn made with dotted fabric offers interesting effects
Ribbon yarns
Have you ever tied a bow on a present? Good! Then you have a vivid idea of what a ribbon is, and ribbon yarns will have no secrets from you. The cross-section will show you that such yarn is flat as opposed to other kinds of yarn. It can be made with all kinds of materials, though – cotton strips, polyester, sheer chiffon, or glittery decorative fabric.
In fact, you could use any fabric ribbon found in the store to crochet with it, because it will be suturdy enough to fold and create the stitches.
Recycled fabric yarns
Of course, there are many items available for recycling that later become yarns, but here I'm talking about something that you yourself can do.
You can make your own fabric yarn by cutting up old clothes and accessories. Bed sheets, duvet covers and lightweight courtains will be perfect, because they simply contain a lot of fabric. That's not all, though – clothes, tablecloths and other textiles can become your source of material.
Want to learn how to make your own fabric yarn? Check out these posts:
Pros and cons of fabric yarns
Pros
The use of strips of fabric produces interesting results depending on the type, color and pattern of these strips.

Frayed edges can be a great decorative motif.

This is an eco-friendly technique – as it's good for recycling unused clothing, textiles or accessories.

T-shirt yarn is fantastic for bags and baskets, because it keeps the shape beautifully.
It's machine washable (in most cases)!
Cons
Working with this yarn can be quite hard on the hands (especially t-shirt yarn).
Making your own fabric yarn may not result in the desired amount.
Items made with fabric yarn can be more scratchy and uneven.
talking about stitches…
Our growing website and library of free crochet patterns has some projects that might interest you, too. 
or…
crochet roundup!
Check out all the amazing creations I've found, or look for paid and free patterns linked below the photos 🙂
◉
Recycled Fabric Yarn Crochet Ideas
Recycled Yarn Rugs by Sharon Marshall
Sharon's dense rag rugs are a true pleasure to look at, because patterned fabric strips create lovely specles and unexpected color changes. As you can see, frayed edges add to the overall vibe as well, so that the final product looks handmade yet very stylish.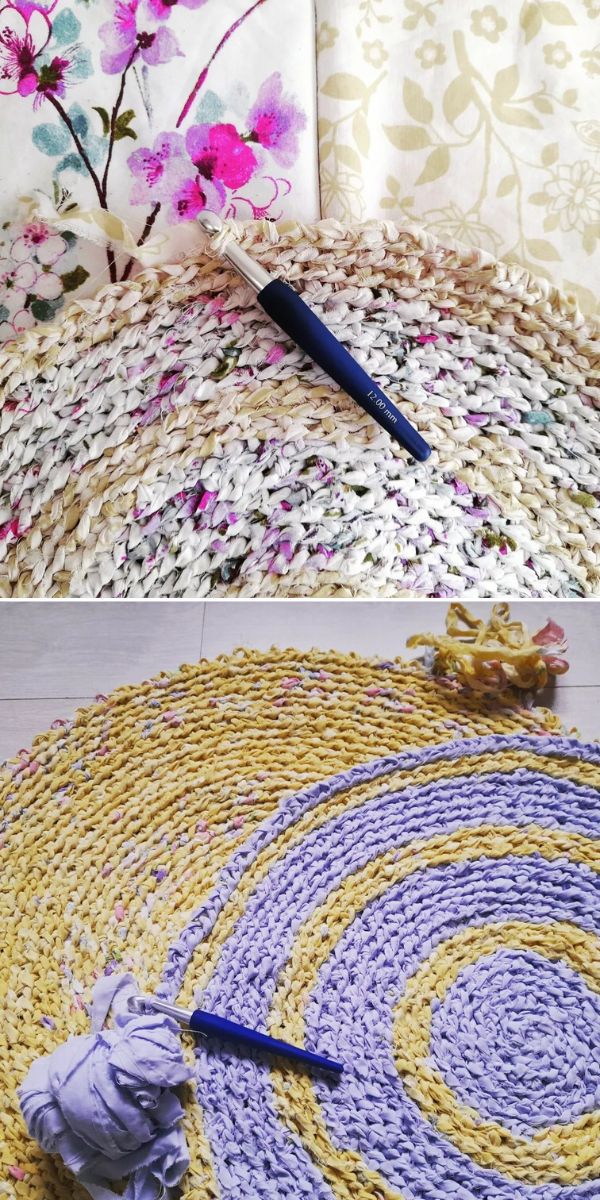 To make similar project you can use free crochet pattern for Round Lake Rug by Bobbi IntVeld, available on ravelry.com.
◉
Rag Rug by Ashlea Konecny
*free crochet pattern*
If you want to learn how to crochet with fabric AND make a stunning rug at the same time, check out this pattern by Ashlea. In the pictures you can see how nice it looks when there are multiple colors and patterns involved, and don't worry about the color changes. Rag rugs look best when you simply let the magic happen and crochet away!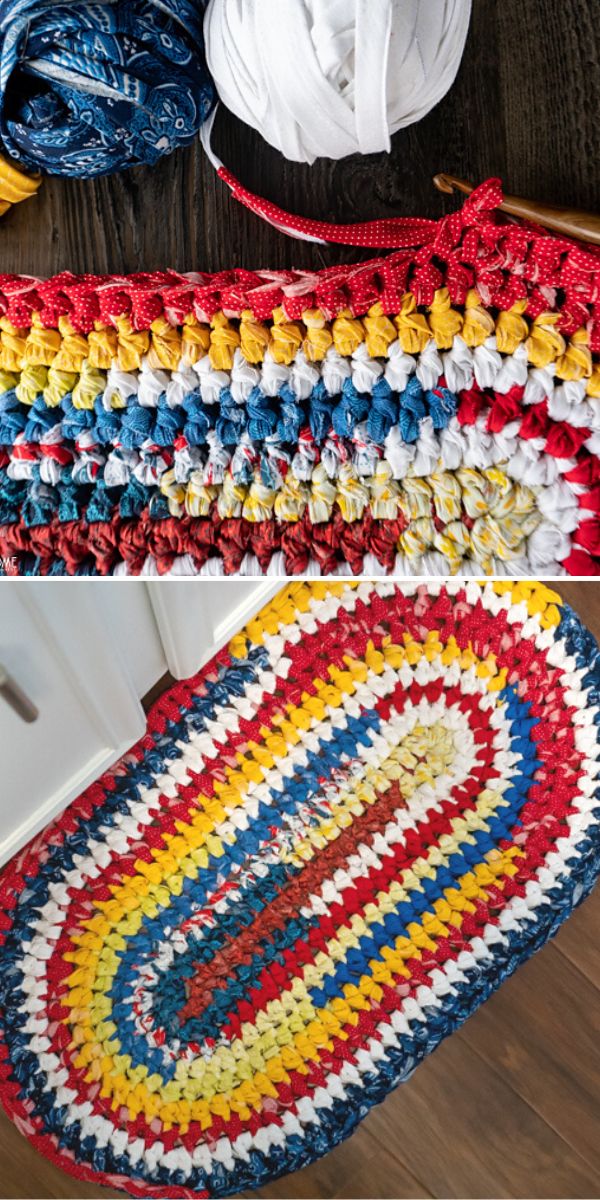 Find this free crochet pattern on hearthookhome.com, or read more about it on ravelry.com.
◉
Crochet Trinket Dishes by Karen Leonard Design
If you're not into big projects at the moment, start small – for example, by making cute trinket dishes. It's basically a bottom of a basket, because you stop when the outer wall is still very short. Karen's dishes feature various color schemes, and I'm truly fascinated by the little details visible in the stitches.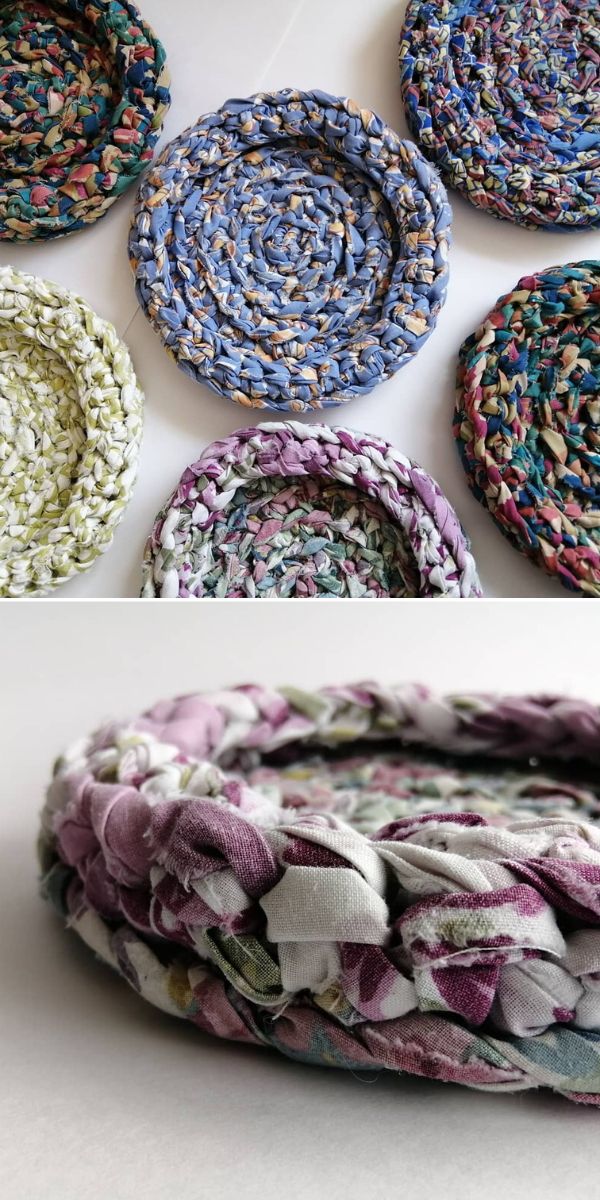 To make similar project you can use free crochet pattern for Minimalist Jewelry Dish by Read Street Knitting, available on ravelry.com.
◉
T-shirt Yarn Crochet Ideas
Basket by Irini Papounidou
*free crochet pattern*
If you're into neat and elegant designs, definitely go for soft t-shirt yarn and sleek basket design. Irini used waistcoat stitch to create what looks like knitted texture; yet it's all done by hook, I promise! In the bottom photo you can see one basket featuring speckled yarn – isn't it beautiful?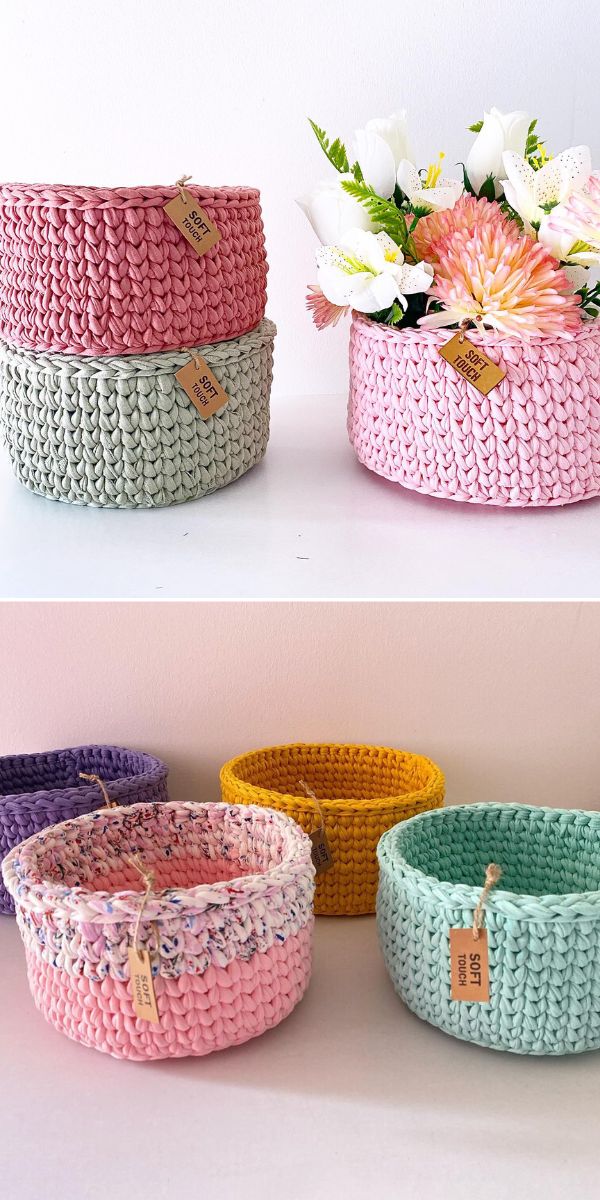 Finf this free crochet pattern on ravelry.com.
◉
Weighted Blanket by Kathleen Quiring
*free crochet pattern*
How about using the weight of the t-shirt yarn to your advantage? Such blanket will be soft and heavy like a hug! There's a lot of evidence proving that weighted blankets help fall asleep and relieve stress, so be sure to add it to your home for the winter season. Beginners, I'm talking to you – all you need are the simplest stitches!
Find this free crochet pattern on becomingpeculiar.com, or read more about it on ravelry.com.
◉
Lars Pouf Video Tutorial by isWoolish
Poufs, stool covers, rugs and big pillows – t-shirt yarn is sturdy and washable, so it will be a perfect choice for these projects. In the photos you can see minimalist textured pouf by isWoolish, which, made in neutral colors, will fit into any interior.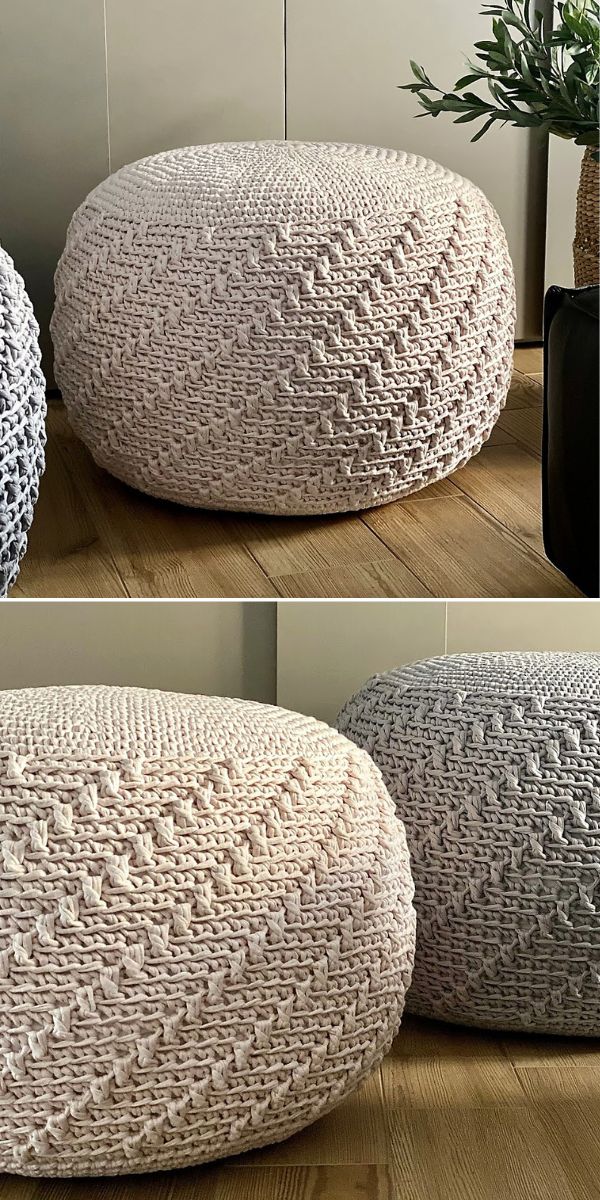 Purchase this crochet pattern on ravelry.com, or use one of the free patterns available online, for example Crochet Floor Pouf by Twin Dragonfly Designs – available on twindragonflydesigns.com and ravelry.com.
◉
Herringbone Trivet Set by Dana Hogan
*free crochet pattern*
Use the unique qualities of bulky fabric yarn to your advantage and make one-of-a-kind stylish trivets. As you can see below, simple design by Dana features lovely herringbone stitch. Wooden ring detail not only looks great, but is very useful – you can hang it when it's not needed.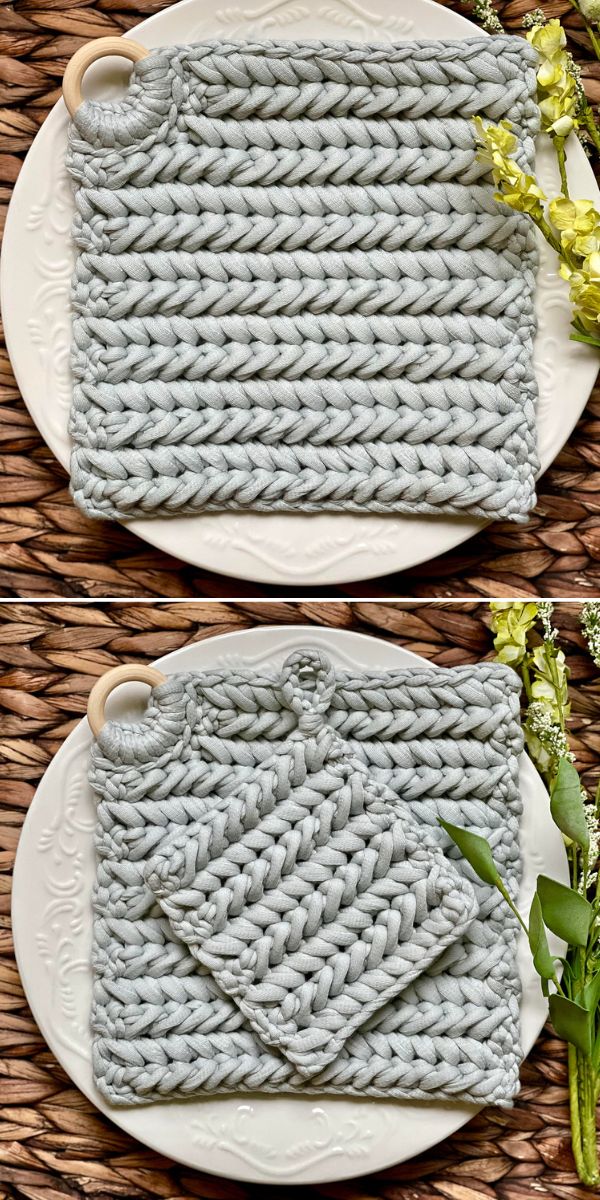 Find this free crochet pattern on daysck.com, or read more about it on ravelry.com.
◉
Ribbon Yarn Crochet Ideas
Teardrop Hanging Baskets by Sweet Softies
*free crochet pattern*
Ribbon yarn can have amazing natural feel to it, and Sweet Softies' choice is a perfect example. Take a look at the photos and notice that the yarn looks almost like twine, or other material taken directly from the tree! Teardrop shape of this little hanging basket ties it to nature even more, and it's a lovely way to add small plant to your wall.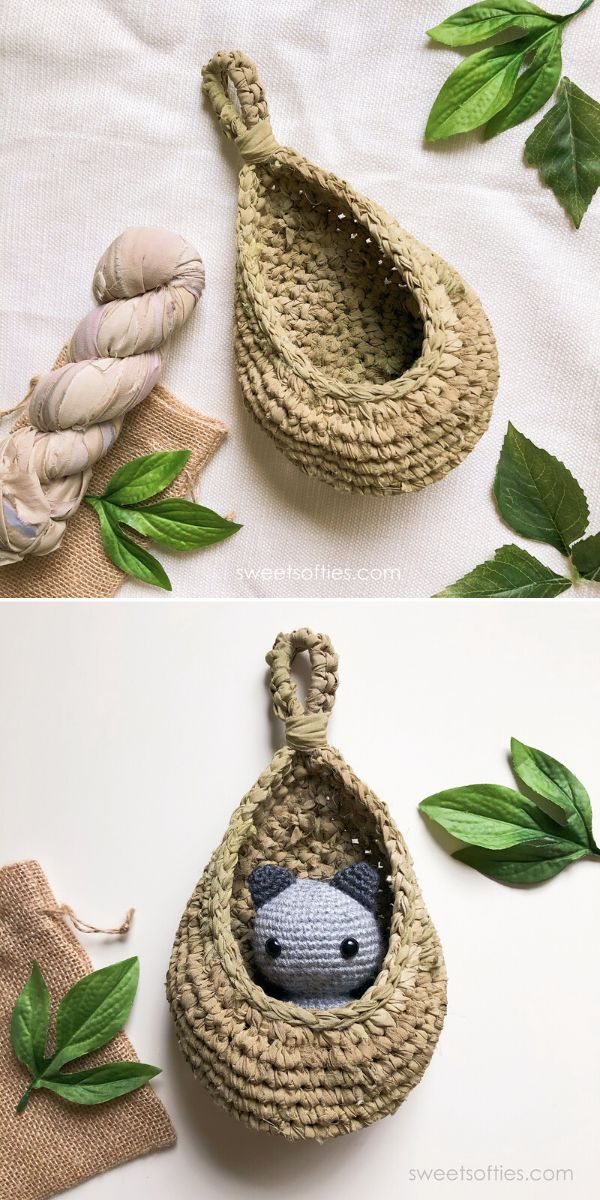 Find this free crochet pattern on sweetsofties.com, or read more about it on ravelry.com.
◉
Rainbow Ribbon Flowers by Melissa Franke
Melissa's ribbon flowers reminded me to think outside the box, because imagination has no limits! Not only do the colors create painterly palette, but long "tails" look like they were dipped in watercolors. Such decoration will be a lovely handmade touch and a quick crochet project.
Explore free patterns in my post about Crochet Flowers, or see my Star Shaped Flower Free Crochet Pattern.
◉
Other ways to use fabric yarns
Braided Scrap Rugs by Veronika Bentrad
I couldn't resist including Veronika's project in here, even though it's not really crochet. Who knows – maybe it will inspire you to try something new? Well, what you can see in the photos are braids of recycled fabrics, which are then coiled and sewn together. Clever!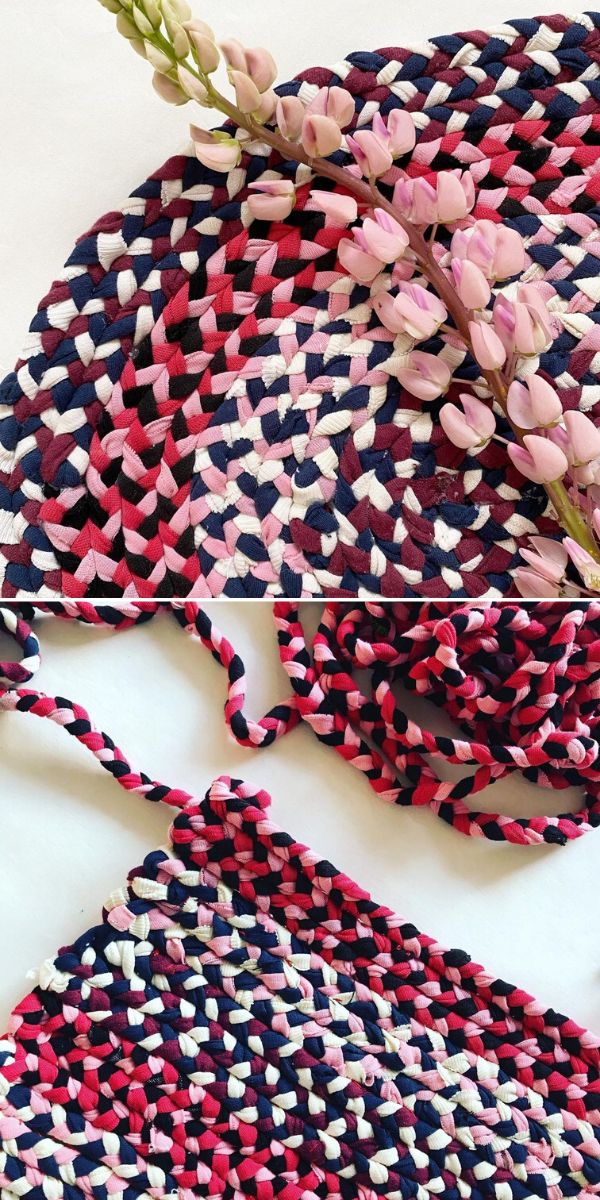 To learn how to make braided rugs, see free tutorial by Megan Nielsen on blog.megannielsen.com.
◉
That's all for today, but I'll be back with much more inspiring projects and free patterns. Like, share and subscribe if you like what you see. Stay tuned!
↔
You may also like: Suzette Stitch Ideas – Resources, Colorways and Inspiration!