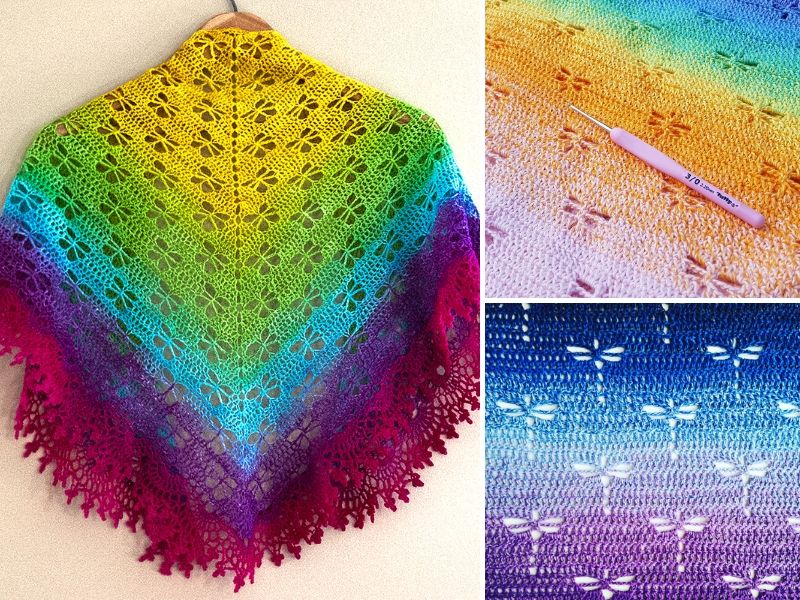 Hi guys! The spring is finally here – trees are blooming, flowers are turning their heads to the sun and little birds are chirping relentlessly. I love this season, even though more and more insects are making themselves comfortable in my bedroom 😉
Speaking of insects, though, let's get to today's stitch! Let's discuss the beloved dragonfly stitch <3 Have you seen it, or try it? It's airy, fun, and very easy to do, because it uses basic stitches. Beginner-friendly!
Let's dive in!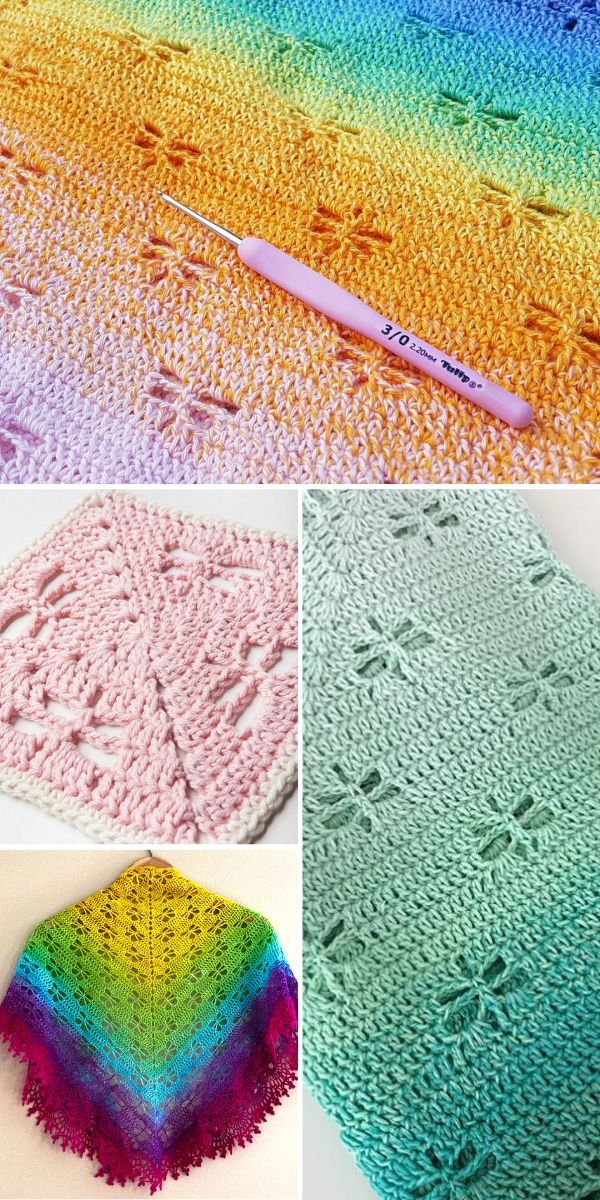 Lovely openwork
This amazing technique has a lot of different variations, but all of them focus on making lovely openwork in the shape of a dragonfly. It can have elongated or quite short body; sometimes you can even say that it looks more like a butterfly! No matter – basic premise of this stitch is to play with solid stitches and openwork to create beautiful lace.
Materials
Sirin used Nako Vega yarn, which is 100% acrylic and 5.00 mm crochet hook.
Of course, you can use any yarn with corresponding hook, but remember that the thicker yarn you choose, the bigger your dragonflies will be.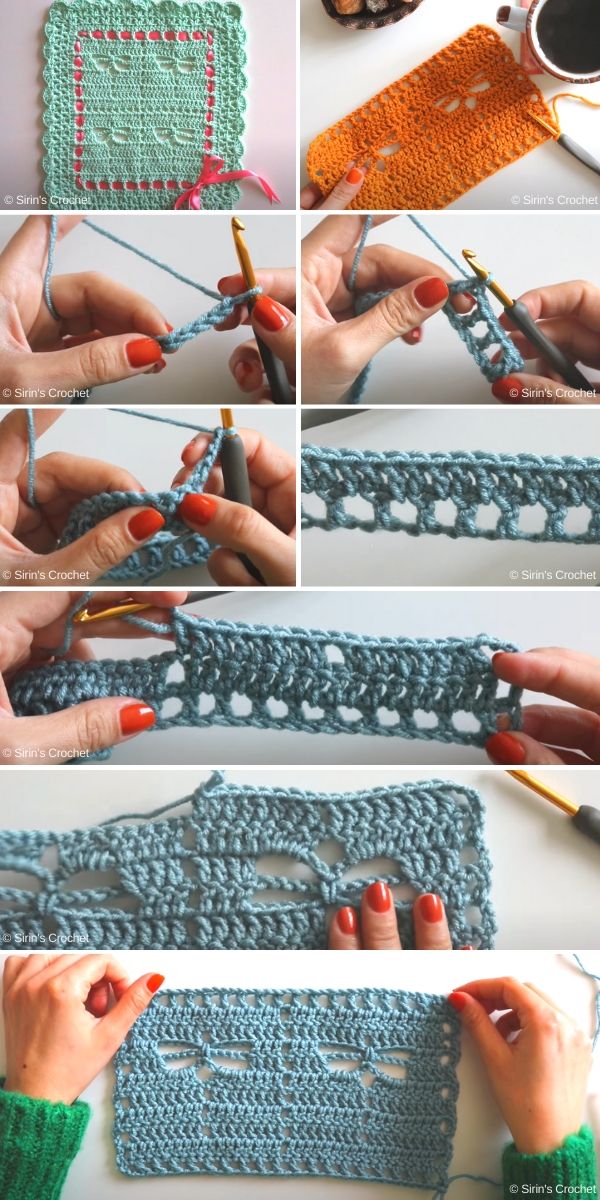 Sirin enclosed her dragonflies in little squares, which are defined by delicate openwork. Each pattern will use a slightly different combination of stitches, so remember that this tutorial shows just one of the ways to do it.
See the full video by Sirin's Crochet
here
.
talking about stitches…
Our growing website and library of free crochet patterns has some projects that might interest you, too. If you want to know more about crochet, read my articles on different topics, for example – what are Yarn Weights and Ply? 
→ Yes! Take me to this article! ←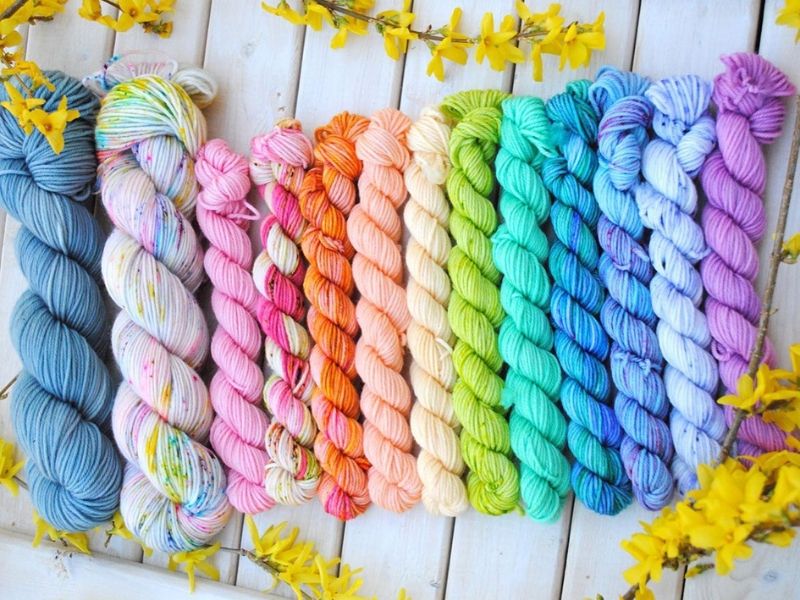 or…
Learn all about Spectacular Larksfoot Stitch Ideas!
→ Yes! Take me to this article! ←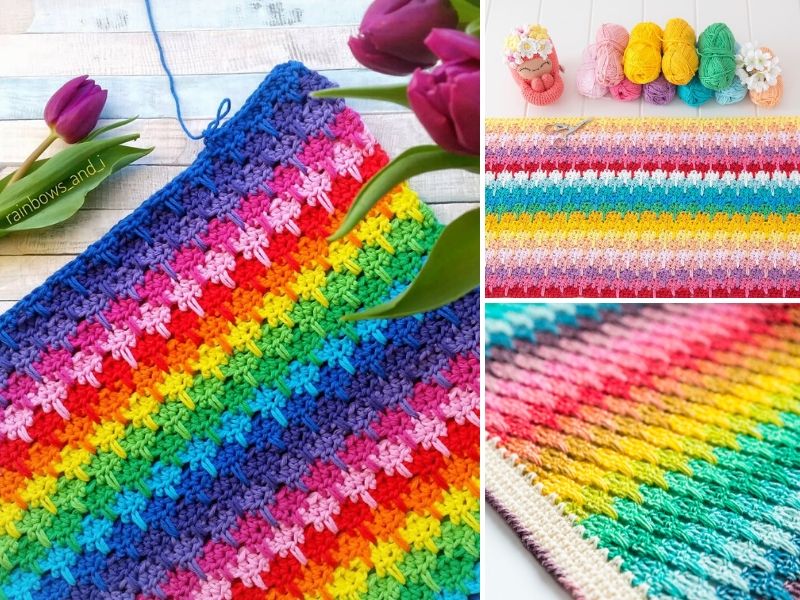 crochet roundup!
Each dragonfly pattern I've found was unique and beautiful, so I'm very happy that I can show you my selection today. I'm always very excited to share how creative and imaginative crocheters are, because I know there is a big power in our community! 🙂
Read carefully for free crochet patterns and tutorials.
◉
Radiating Dragonflies Throw by RandiNys

Something as simple as choosing the right yarn can transform simple pattern into a fantastic design. This color flow is juicy, dreamy and reminds me of the diversity of the natural world. Dragonfly stitch is a perfect choice!
This project was based on free crochet pattern for Radiating Dragonflies Throw by Maria Bittner.
◉
Butterfly Stitch Prayer Shawl by carouselno34

top photo by carouselno34 (Ravelry)
Well, isn't it the perfect spring accessory? This delicate lacy shawl has everything – beautiful color flow, little lacy butterflies and absolutely stunning edging. Will it be your staple this season?
This amazing design is based on this free crochet pattern – Butterfly Stitch Prayer Shawl by njSharon AND DebiAdams.
◉
Dragonfly Blanket by dbirchall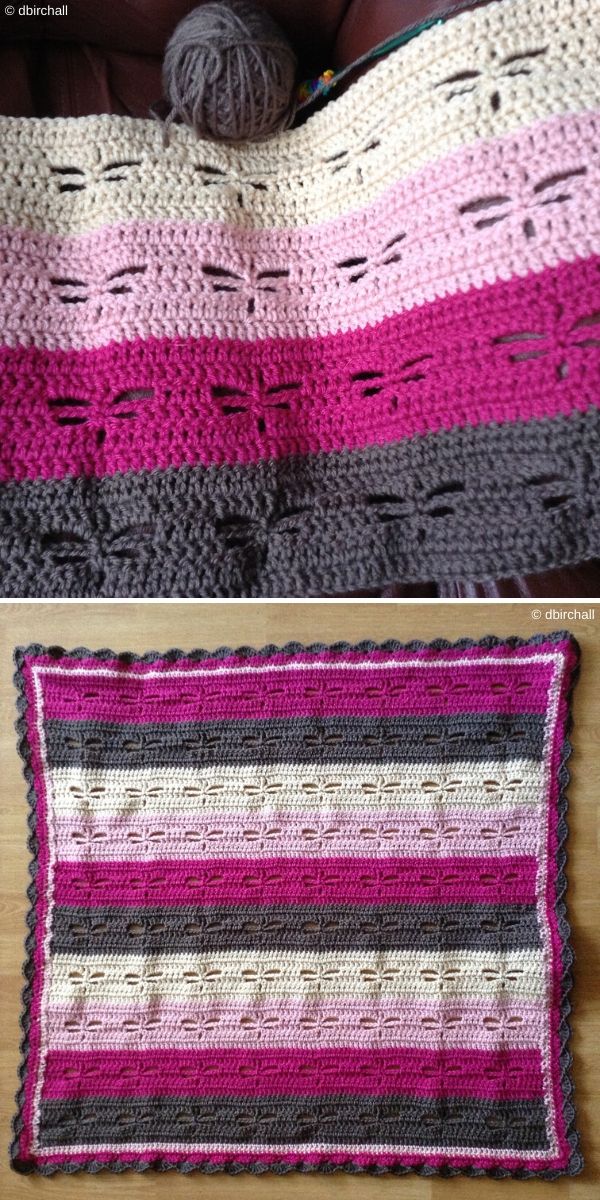 Are you tired of basic stitches, but you don't feel confindent enough to leave your safe space? Dragonfly blanket is a great idea for you, then! This stitch is very beginner-friendly, works up fast and adds a lot of character to the otherwise plain design.
To make a blanket like this, check out free crochet pattern called Dragonfly Blanket by Janaya Chouinard.
◉
Dragonfly Blankets by skinnybeader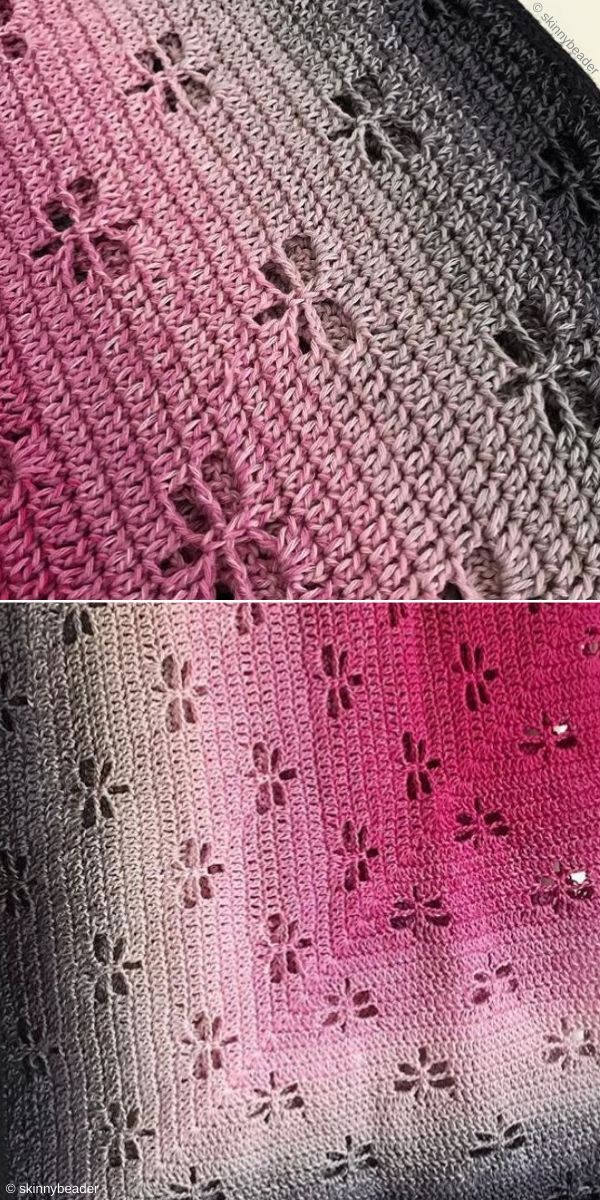 Ombre yarns are fantastic for square blankets, because you can see the colors flow from the inside out! This lovely transition from berry to black is subtle and refined.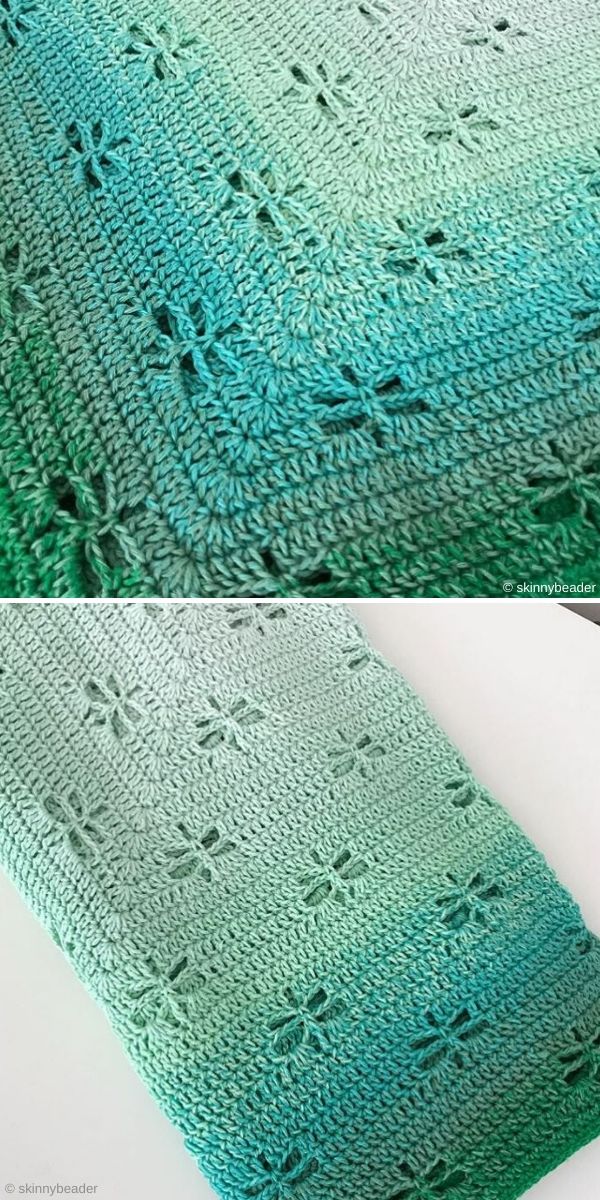 Hues of green flow from one to another, just like in nature! Little dragonflies are perfect addition to this fantastic yarn. If you want them to be smaller, go for a design that uses single crochet or half double crochet stitches instead of double crochet.
◉
Dragonfly Shawl by Ekaygdesigns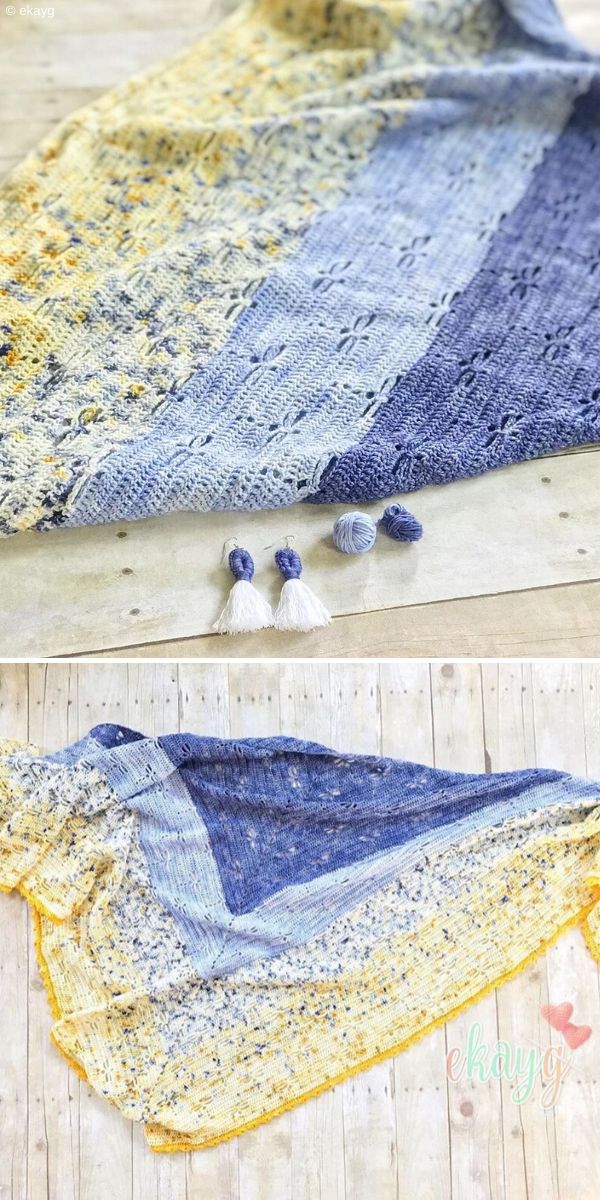 This beautiful design shows us how different kinds of yarns react with openwork stitches. As you can see, dragonflies are much more visible on solid colors than speckled parts of this project, but when put against contrasting color, such as black, they will appear again!
This particular shawl was based on paid pattern called Dragonfly in a V Shawl by Fleur's Refaire, but if you would like to try free pattern first, go for Dragonfly Bandana Cowl
by Maria Bittner.
◉
Dragonfly Shawlette by Elena Kozhukhar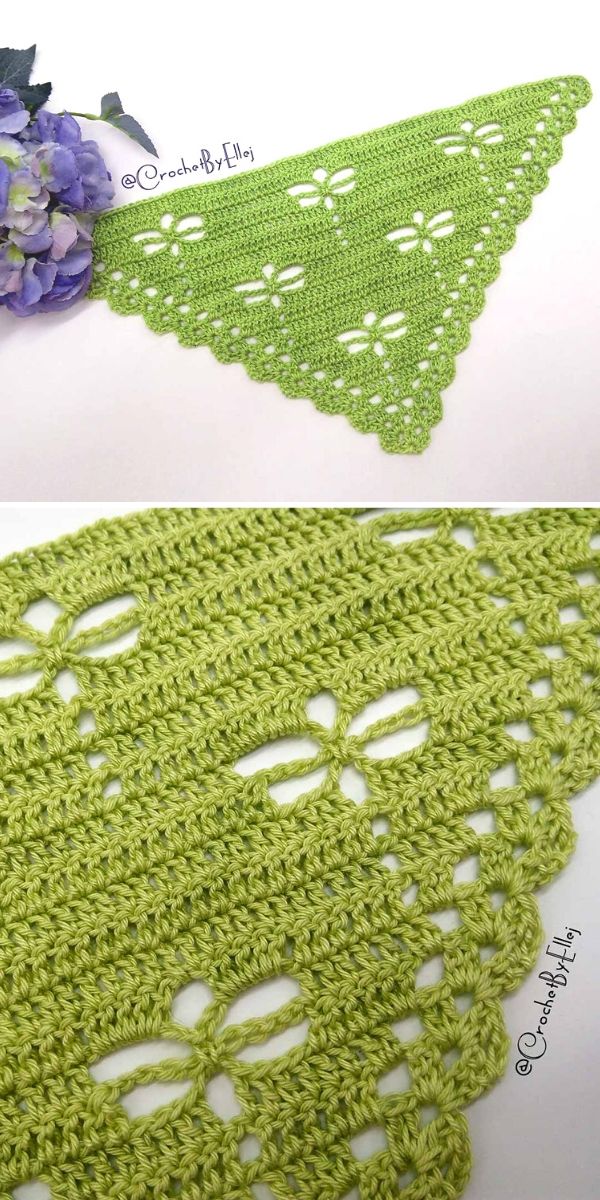 photos by Elena Kozhukhar (Ravelry)
This tiny shawlette can grow and grow into a full-fledged shawl, it depends only on your imagination! Beautiful scalloped edge adds to the feminine style and is a lovely finishing touch. Make if for a woman dear to your heart, she will love it!
This project is available as free pattern here: Dragonfly Shawlette by Elena Kozhukhar.
◉
Dragonfly Blankets by deecrochet3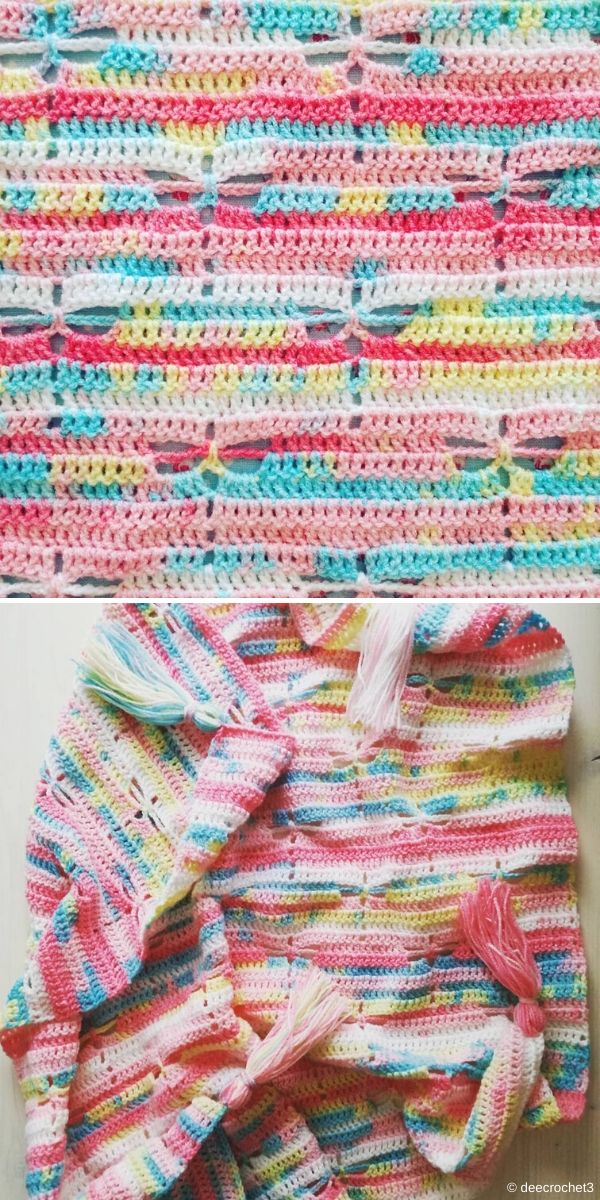 Multicolored yarn works very well with dragonfly stitch, and this blanket is a proof of that! Subtle openwork stays harmonious with crazy speckles of colors, creating lovely rythm.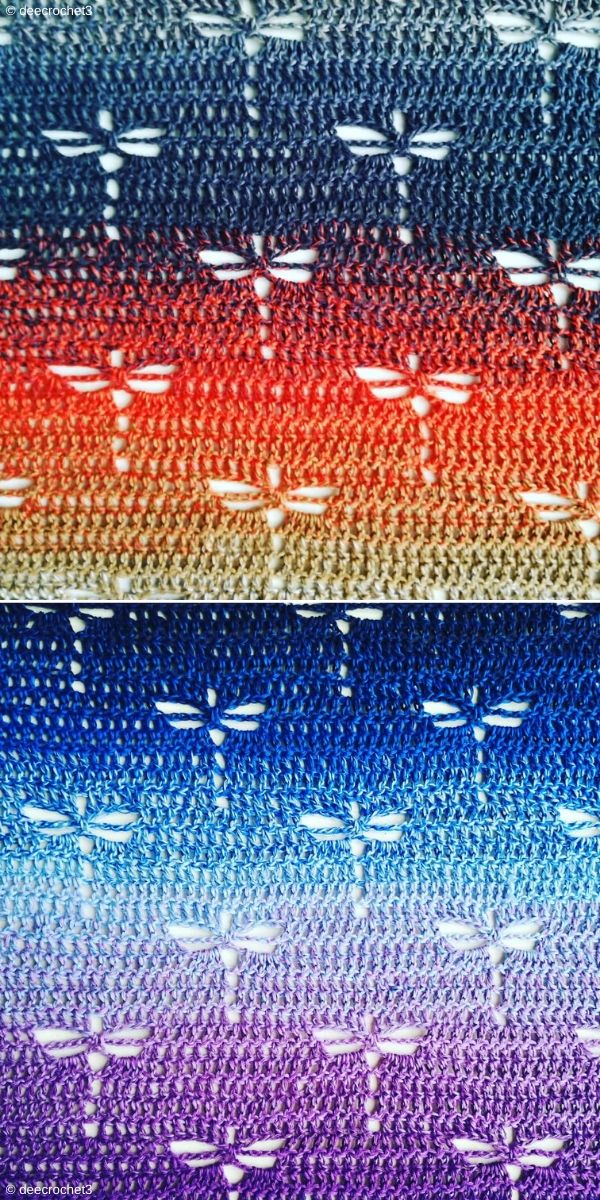 Just look at this beautiful swarm of dragonflies! Subtle tone changes are clearly visible here and create fantastic background for this pattern. Which color scheme do you prefer?
If you want to try something different, take a look at two designs by Maria Bittner: Dragonfly Chevron Blanket or Dragonfly C2C Throw. Both of them are available as free crochet patterns!
◉
Dragonfly Delight Dishcloth by Jennifer Pionk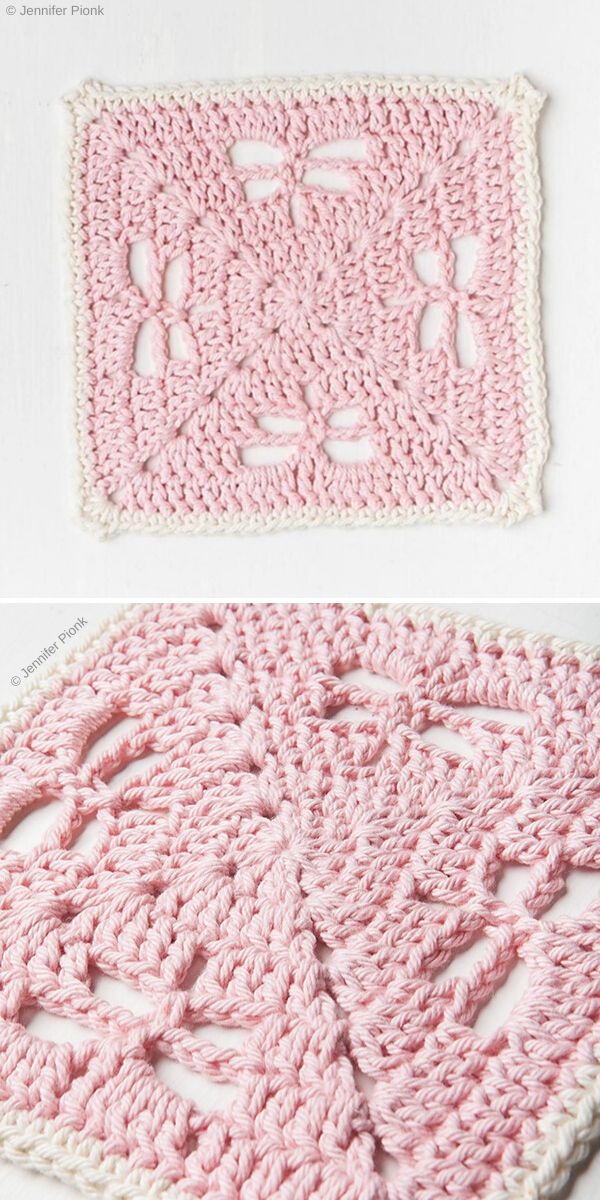 This lovely square can become your favorite kitchen accessory, or a piece of a bigger project! Remember that you can always join squares to make a blanket or afghan – it's much easier to make it this way!
This fantastic project can be your next WIP, because it's available as free crochet pattern here – Dragonfly Delight Dishcloth by Jennifer Pionk.
◉
That's all for today, but I'll be back with much more inspiring projects and free patterns. Like, share and subscribe if you like what you see. Stay tuned!
↔
You may also like: Creative Popcorn Stitch Ideas