Today's post is a little bit different than all the others, because I decided to focus on specific project, not a stitch. I've seen so many stunning versions of Nature's Walk CAL blankets, that it seemed appropriate to share them with you and give you a little bit of inspiration. I've had this project in mind for months now, and I think that after this research I'm ready to try it myself!
Free crochet pattern in both US and UK terms is available on Ravelry. In addition to this, you can find a lot of informations on Sandra's website Cherry Heart, for example in this post. Grab your crochet hook and let's dive in!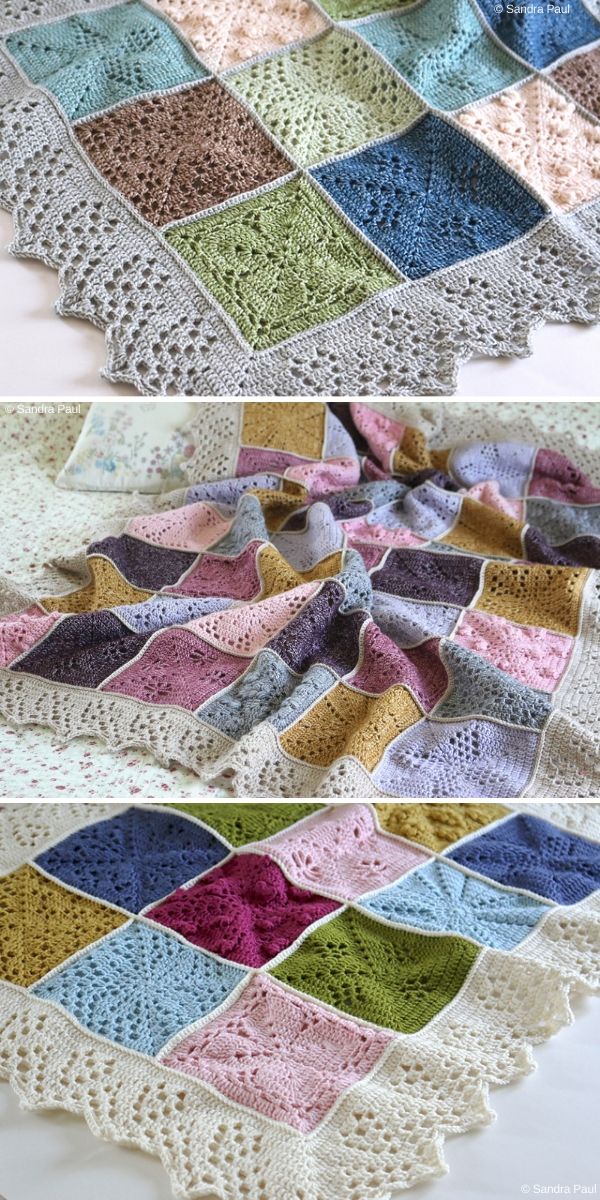 ◉
romantic and classy
This romantic design will look lovely in your living room or bedroom, and must be a true pleasure to make. Squares were created using filet technique, one of the most classic and easy crochet styles there are. Finished blanket is 117 x 148 cm (46 x 58").
Materials:
You can purchase Color Packs for this project in three different color styles chosen by the author. These packs consist of Scheepjes Stone Washed yarn, which is a combination of cotton and acrylic. Suggested crochet hook for this project is 3.5mm, but if you use different yarn, be sure to choose the tools that will help you obtain correct gauge.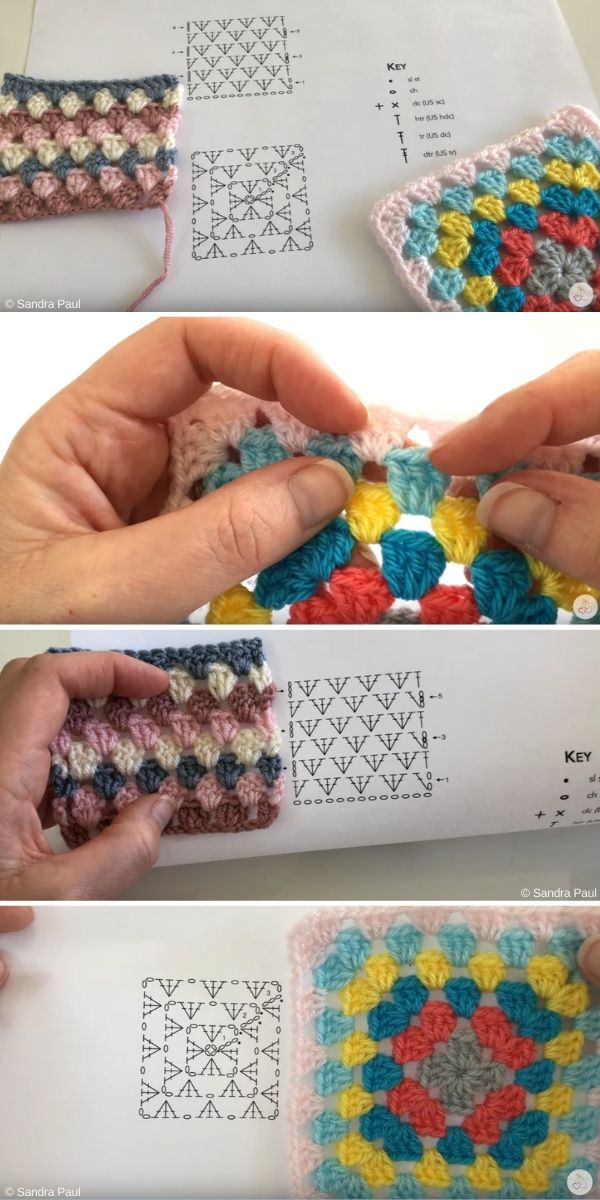 "Getting Started with Crochet Charts" is a comprehensive, two-part tutorial on how to read charts and follow the pattern. Check out both videos by Sandra: Part 1 and Part 2.
talking about stitches…
Our growing website and library of free crochet patterns has some projects that might interest you, too. On top of that, my list of Stitch Series is still growing! For example, check out my article on Easy Heart Stitch Ideas!
→ Yes! Take me to this article! ←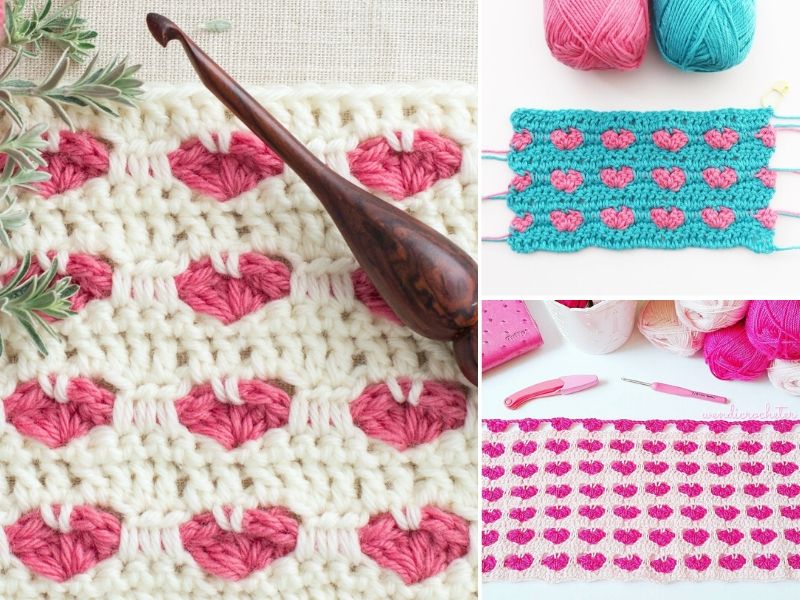 or…
Explore the article I wrote about Dreamy Alpine Stitch Ideas, because it's full of free resources!
→ Yes! Take me to this article! ←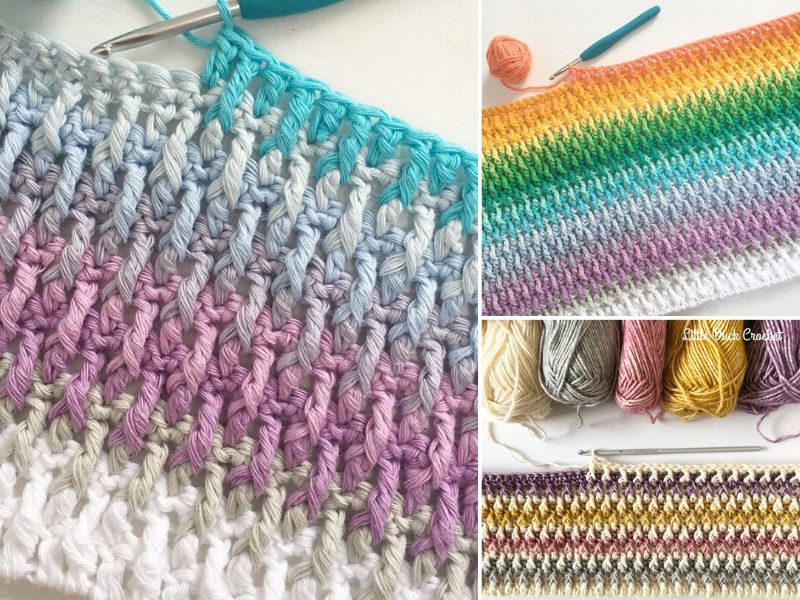 crochet roundup!
Dive into the world of beautiful delicate crochet squares and lacy edgings! Subtle color schemes are perfect for this project, because the modules are inspired by nature. Berries, leaves, flower buds or stars – this blanket has it all. I chose the most beautiful projects from all over the Internet, so get inspired with me!
I will not link original pattern below each picture, because you can find a TON of resources in the first part of this article. When in doubt, go there!
◉
Official Colorways
Nature's Walk CAL by Ellysewposh
One of the most classic palettes for this project is also the most popular one, but I must admit it looks great in its simplicity. Author of the version you see below used recommended Sheepjes Stonewashed yarn, and you can see beautiful little changes of color in the bottom photo.

Links to free pattern are available in the first part of the article.
◉
Nature's Walk CAL by Kate of variable_difference
Kate decided to go for subdued but still juicy colors of Sheepjes Stone Washed. This amazing yarn creates slightly rustic look, which is perfect for this pattern. Check out Ravelry page of this project, as well as Kate's Etsy shop.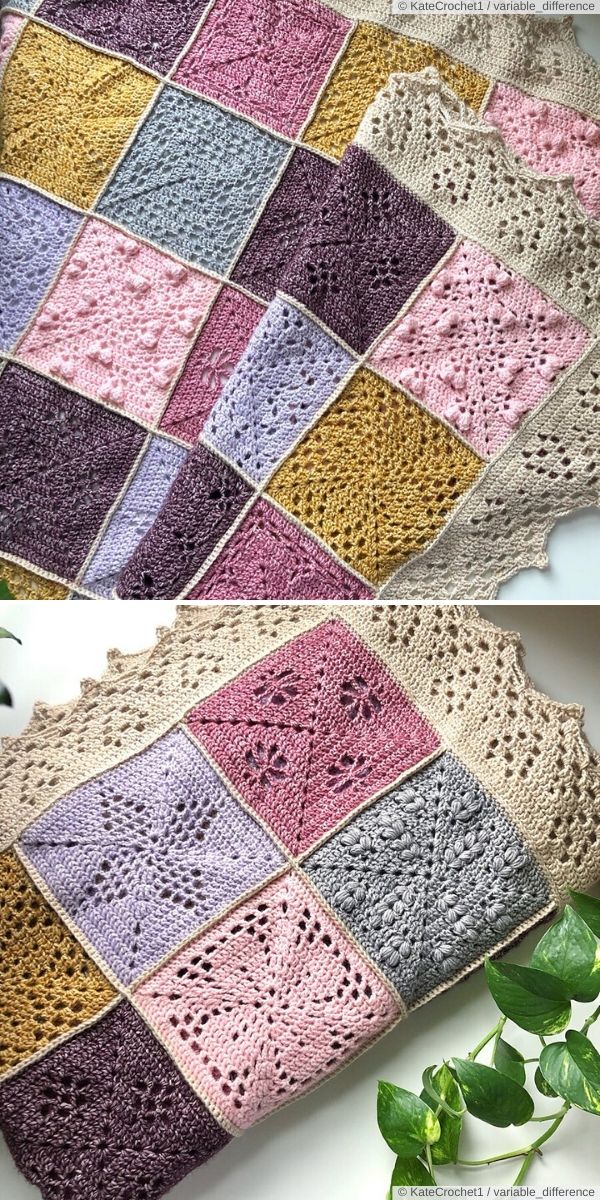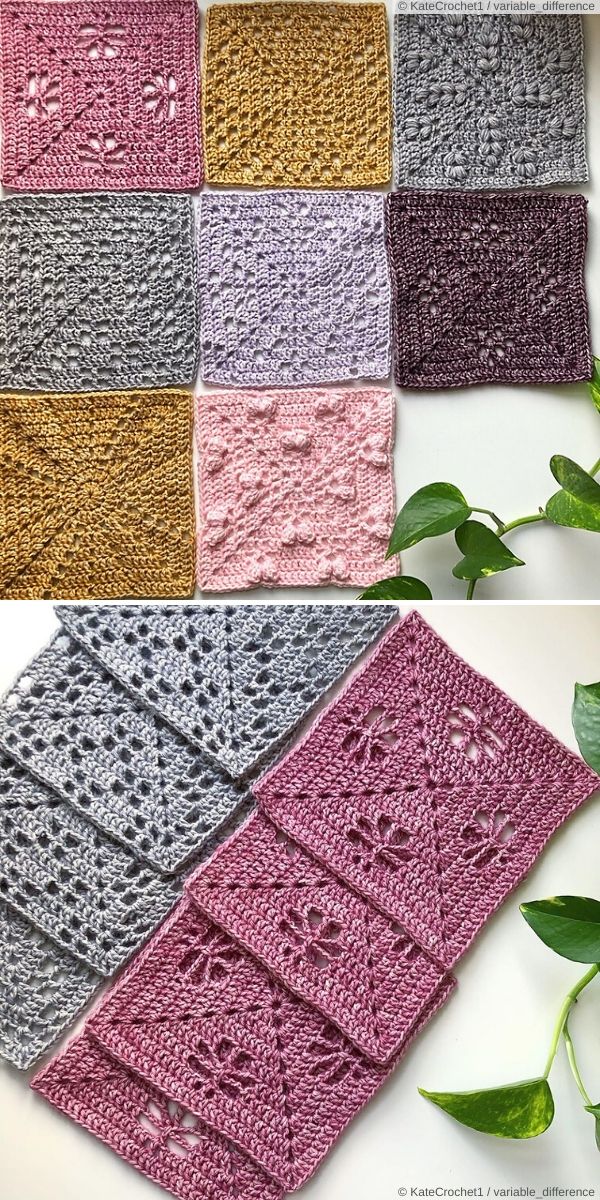 ◉
Nature's Walk CAL by Zeba Mohsin of Hook to Loop
Deep colors of berries and leaves remind me of a bountiful forest floor, so if you like long walks, go for this palette. Contrasting join gives this blanket a lot of character. Check out Ravelry page of this project and follow Zeba on Instagram for more inspiration!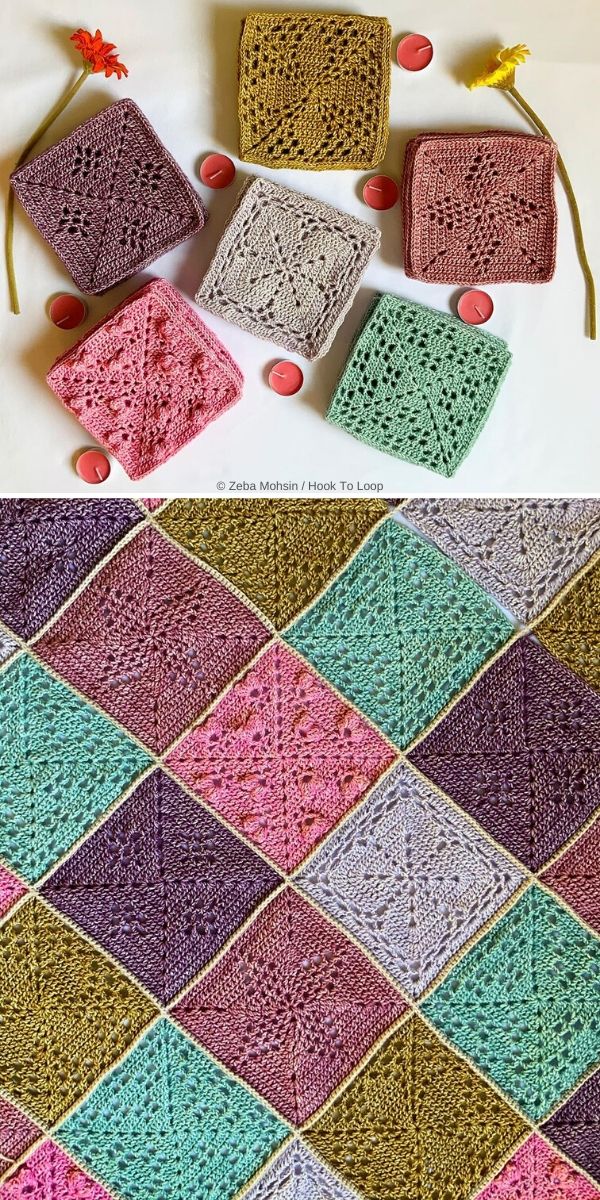 Links to original pattern are in the first part of the article.
◉
Sweet Pastels
Nature's Walk CAL by Whiskers and Wool
I absolutely love this color scheme, because it's delicate, sophisticated and modern. I can imagine this blanket in contemporary nursery or elegant bedroom. See more of Haylie's designs on her Instagram.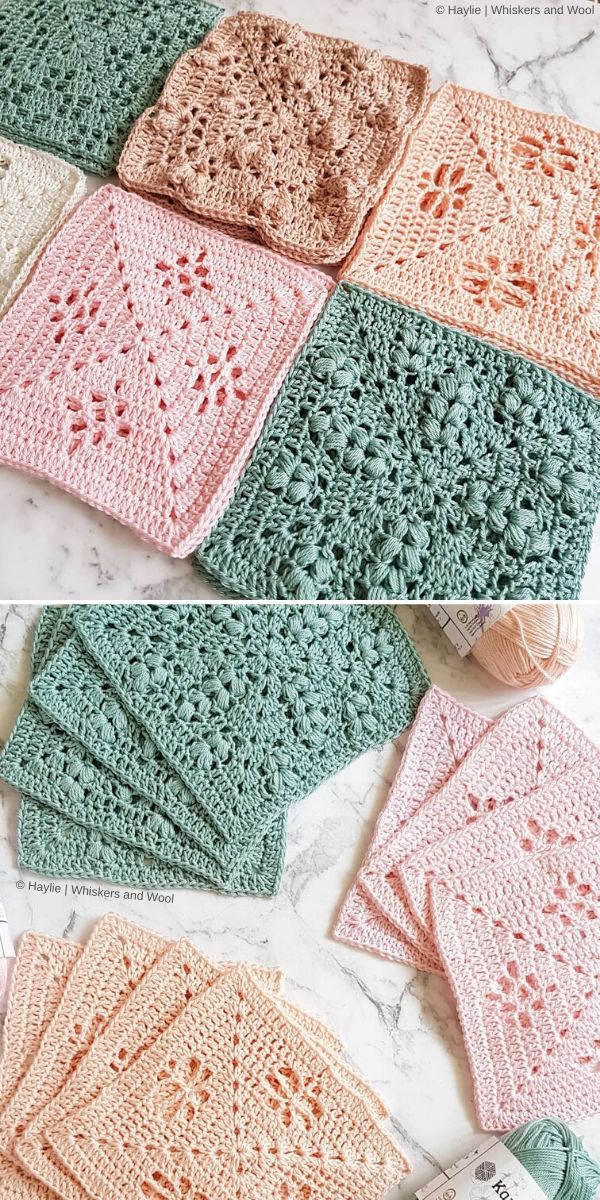 ◉
Nature's Walk Blanket Version by blomulldesign
This subtle color combination will work perfectly both in boys' and girls' nursery, because dusty pastels are neutral. Crocheter behind blomulldesign Instagram page decided to use white yarn for joining and for delicate border, and you must admit that this effect is lovely! Take a look at the photos below to see for yourself how nice this lacy blanket is.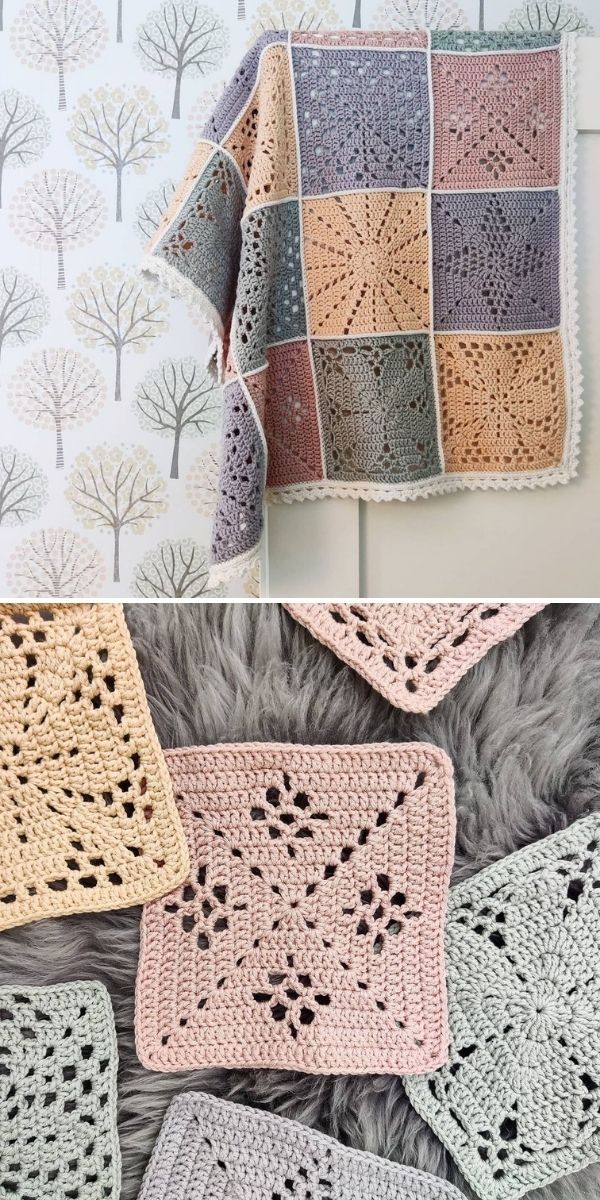 Find original pattern linked at the beginning of this post.
◉
Nature's Walk CAL by Letty of Letty's Handquarters
Why not go for classic neutrals? Letty knows that this color palette will look elegant in any interior. Creams, lilacs and dusty mint works great together. For more informations, check out Ravelry page of this project and follow Letty on Instagram!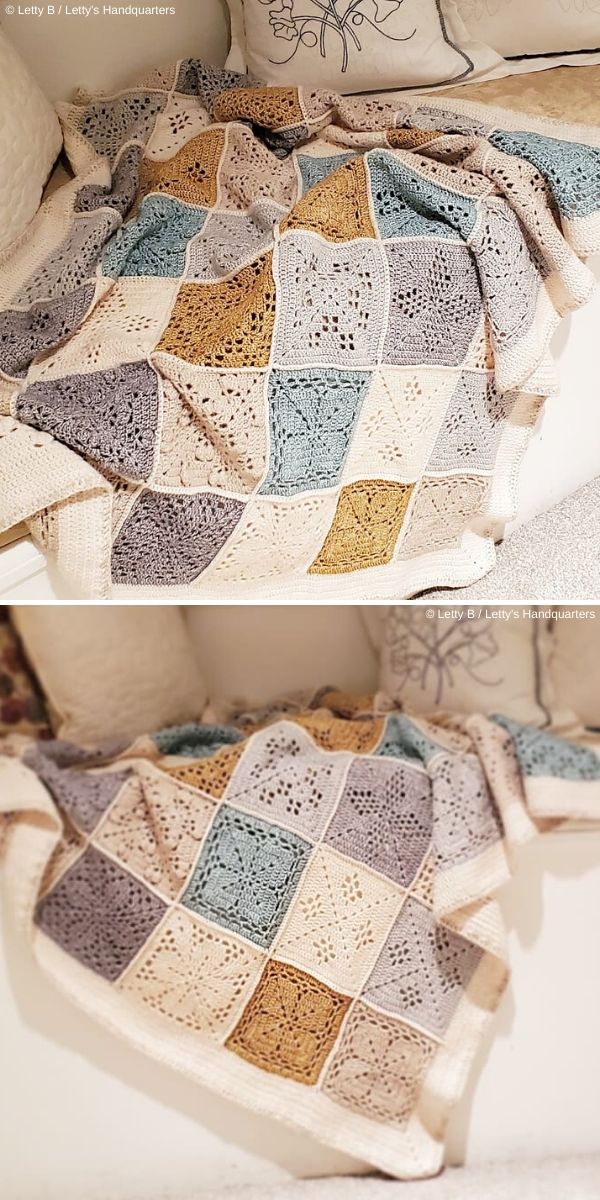 ◉
Romantic Color Palettes
Rose Cottage Blanket by clumsycraftlady
Subtle color changes of stonewashed yarn are one thing, but artisan yarn is a different story. As you can see in the pictures, squares in this version feature delicate ombre effects and interesting color spots. Crocheter behind Clumsy Craft Lady used natural beige yarn to join all of them together, so that it has true vintage vibes. The squares are lovely, but just look at this scalloped edging!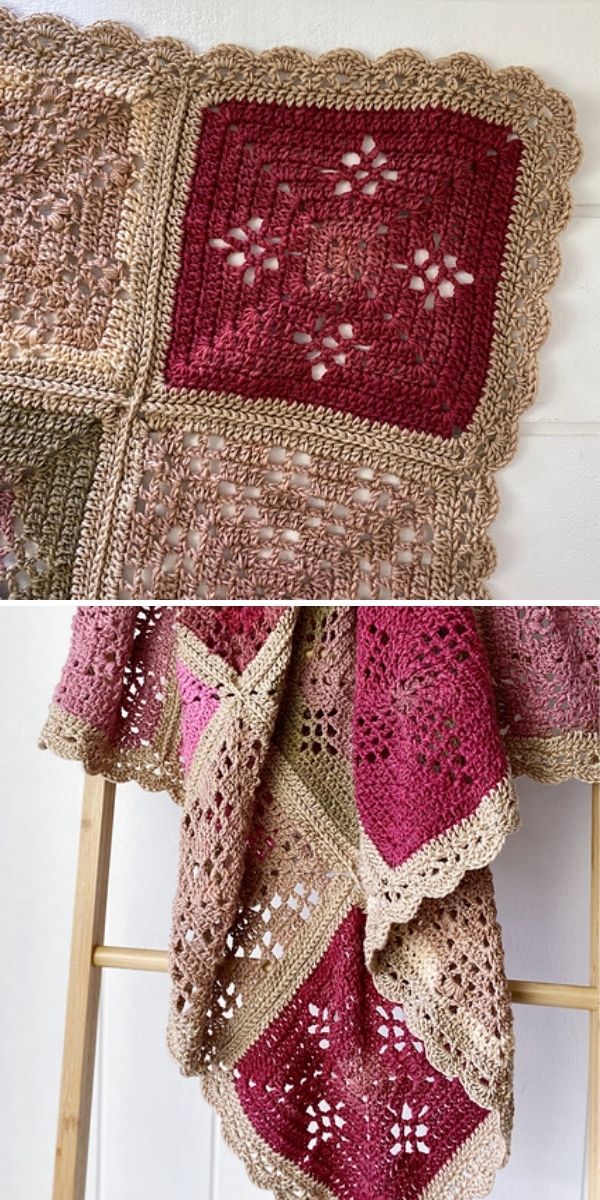 Remember, that links to original pattern are at the beginning of this article.
◉
Girly Nature's Walk Blanket Version by knitnotes
Who said that you have to follow the pattern as it is? If you are a seasoned crocheter, or just like some squares more than the other, make your own version. Maker behind knitnotes chose one lacy square and made it in many different pastel colors and it works so nicely! You can do that easily, because they are all the same size.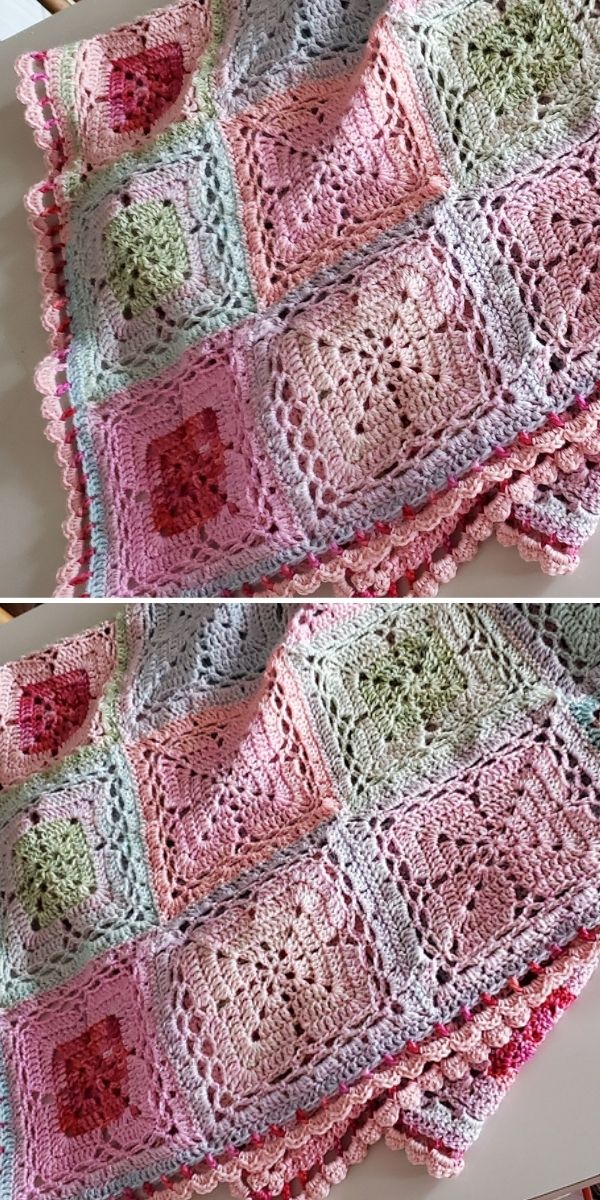 ◉
Nature's Walk CAL by Gumleaf_Crochet
Isn't this border stunning? Little filet hearts are beautiful addition to this elegant blanket. Pinks and blues look great together, and sunny yellows pop like vibrant flowers. Get inspired by this colorway and see more on Jill's Instagram page.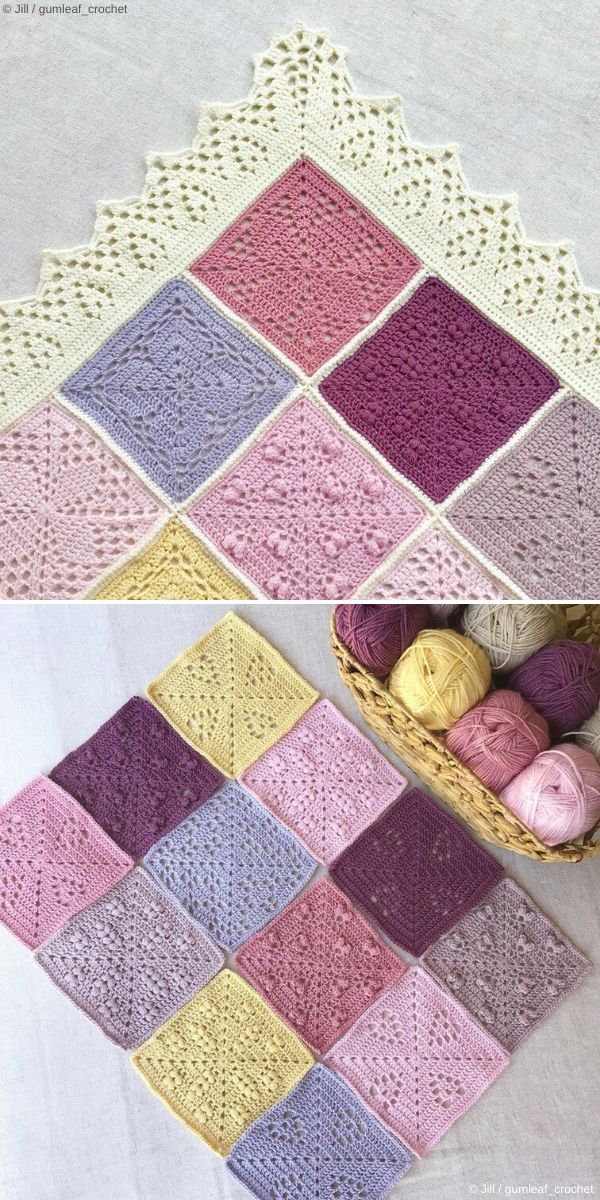 Look for this free pattern in the first part of the article.
◉
Nature's Walk CAL by jennifers_crochet
This color scheme combines warm and cold hues in the most beautiful way – like a meadow full of pink and blue flowers. The project itself looks vintage, but palette is interesting and modern. See more on Jennifer's Instagram linked below!

◉
Nature's Walk CAL by Deb Hickman of Tinkhickman
Beautiful colors of these squares make me want to grab my crochet hook and start immediately! Deb went for subdued colors that work perfectly together. It will be a stunning, sophisticated blanket. Check out Ravelry page of this project so you can get more info, and follow Deb on Instagram.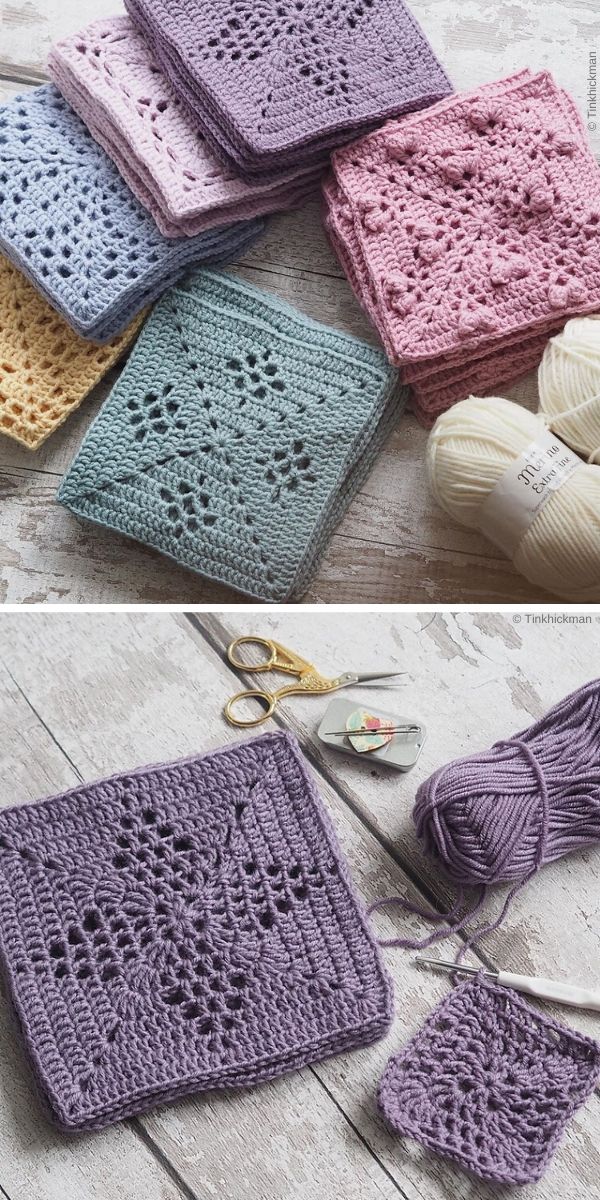 To access original free pattern, please go back to the beginning of this article.
◉
Bold and Vibrant
Nature's Walk CAL by Harlow Monroe Handmade
Are you more of a free spirit, who likes to go their own way? Well, if so, this colorful proposition by Kerrie can be a great inspiration for your version of this classic blanket. This color scheme is vibrant and fun, so try it if you like surrounding yourself in cheerful accessories. Take a look below to see which way you prefer – mixed or orderly organized?

◉
Nature's Walk CAL by Yarn Time Now
Combining pastel colors with dark hues is actually a great way to achieve a cohesive palette. Crocheter behind Yarn Time Now decided to put together rusty tones, greys and pinks – you can see below how great is the final result! White join is a perfect accent, because it ties all colors together.

To make this project, please go to original free pattern – it is linked in the first part of this post.
◉
Blues and Greens
Nature's Walk CAL by hobbydingen
Colors of the ocean are always a good idea, especially in such romantic projects like this blanket, so keep it in mind! This lovely palette will be a perfect fit for rustic and minimalist interiors, because it's versatile and classy. Nautical style looks great in bedrooms, because they need calm colors to create relaxing environment.

◉
Unusual Color Combos
Nature's Walk CAL by CraftyRabbitHole
Why not go for neutrals? Beautiful version of this blanket, which you can see below was created entirely with shades of grey and black. It works fantastic, because it's timeless and versatile. It will look great in modern interiors, as well as in classic ones, so try it if you are not a fan of colorful designs.

◉
Nature's Walk Blanket Version by carolann03038
Now this version by carolann03038, which you can see in the photos, is a nice example of how this project can look when made with scraps of yarn. You can easily use up any leftovers you have in your stash, but remember to choose the same yarn weight.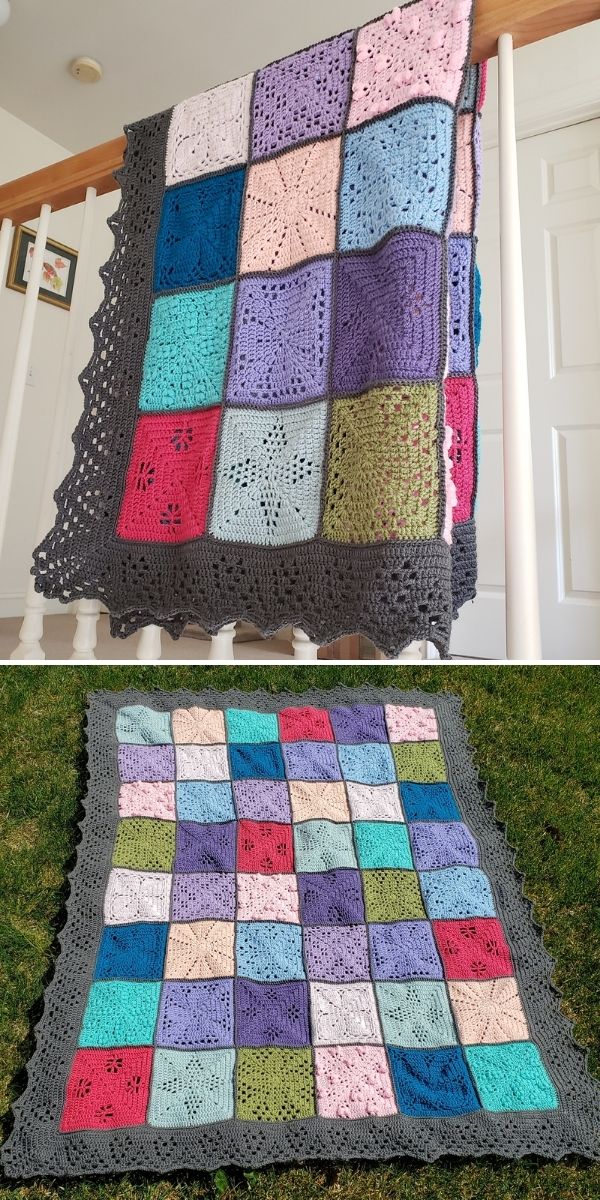 Look for links in the first part of the article, because that's where I linked original pattern.
◉
Nature's Walk Blanket in Red & Off White by Jamiepilar
Isn't it fun? This amazing version by Jamiepilar looks nothing like the romantic original, but it has its own vibe and flavor. Off-white and red is a classic Christmas-sy combo, however one can argue that it will look playful all year long! I can see it in kids' room, or as a bedspread, because it's eye-catching and will definitely be a showpiece.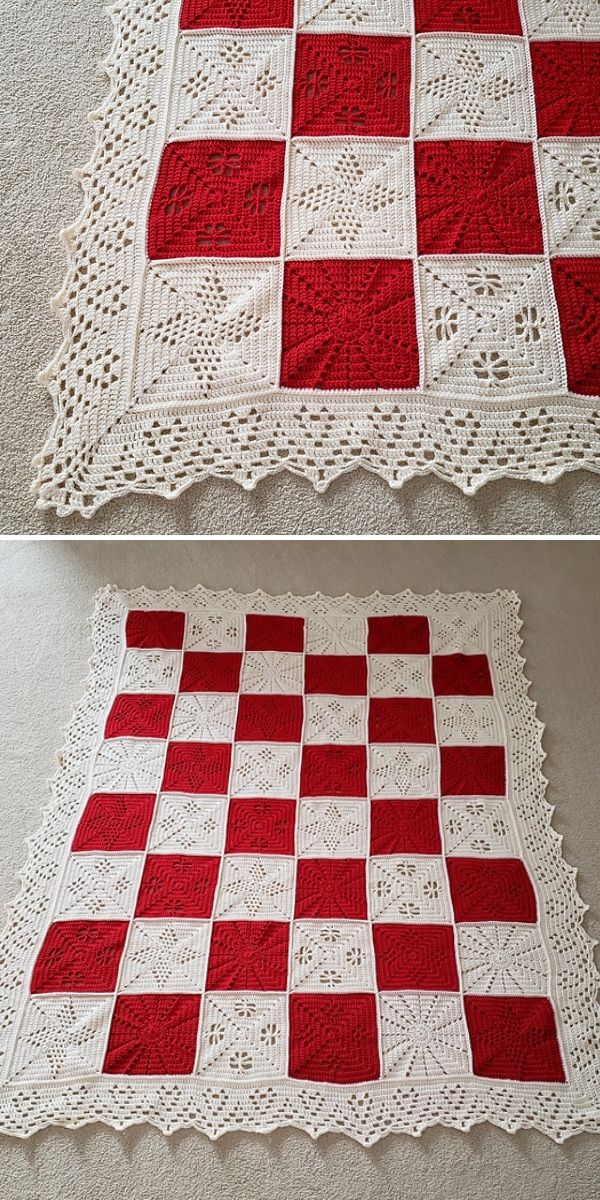 ◉
That's all for today, but I'll be back with much more inspiring projects and free patterns. Like, share and subscribe if you like what you see. Stay tuned!
↔
You may also like: Fun Bobble Stitch Crochet Ideas