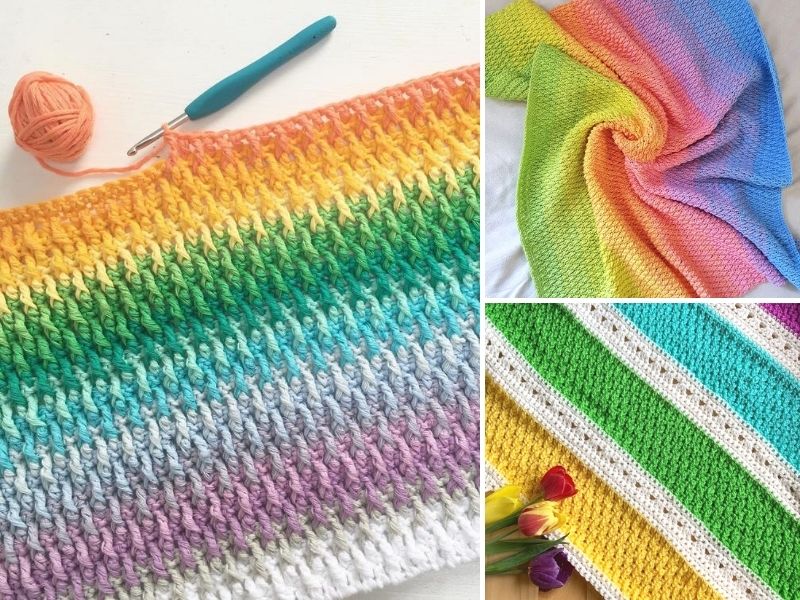 This post contains affiliate links.
Alpine stitch is so nice, and so easy! Clever combination of basic stitches, with a little bit of front post technique, creates very interesting effect. Have you ever tried it? It's so much fun!
Check out my newest tutorial – How to Crochet Alpine Stitch with free pattern, photo tutorial and six unique colorways to ignite your creativity!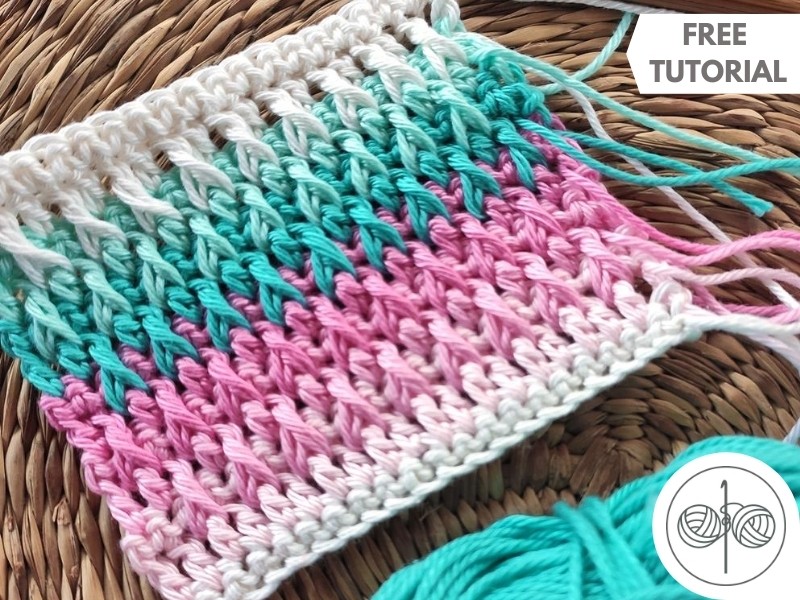 Click on the photo above and try it! 🙂
◉
Affiliate Partnership
What does it mean? It means that if you click the link below and subscribe to this fantastic offer within 24 hours, I get a fee out of that purchase. Such partnerships are what allows me to grow and make even more free patterns and tutorials for you!
How to get 90+ Patterns in your digital library NOW!
Ready to make some brag-worthy projects? Happily Hooked publishes designs are unique, fun, and accessible for all skill levels! Add in your first issue of Happily Hooked, Pattern Pack Pro AND 7 bonus issues, you get… 90+ crochet designs for every season in your personal digital library!
Click to get them today from my friends at Happily Hooked!
CLICK HERE AND SUBSCRIBE TODAY!
◉
Light but structural
This lovely stitch is great for blankets, because it works up fast and creates amazing texture. It's also a great choice for winter accessories, such as gloves, scarves and cowls.
Materials:
Claudetta used Millamia Naturally Soft Aran yarn, which is 100% Extrafine Merino wool, with 6.00mm crochet hook. She also prepared scissors and yarn needle.
Of course, you can use any yarn you want to make this stitch.
Alpine stitch uses slipknot and multiple of 2 +1 chain stitches to start. First row is single crochets, to give a nice basis for the project. Then you will proceed with double crochet stitches, as well as variations on it. The main part is using post stitches – front post double crochet, to be exact.
This is the most common way to make this stitch, but there are versions in which crocheters use front post treble crochet.
Check out full video tutorial here.
talking about stitches…
Our growing website and library of free crochet patterns has some projects that might interest you, too. For example, why not learn more about Popcorn Stitches?
→ Yes! Take me to this article! ←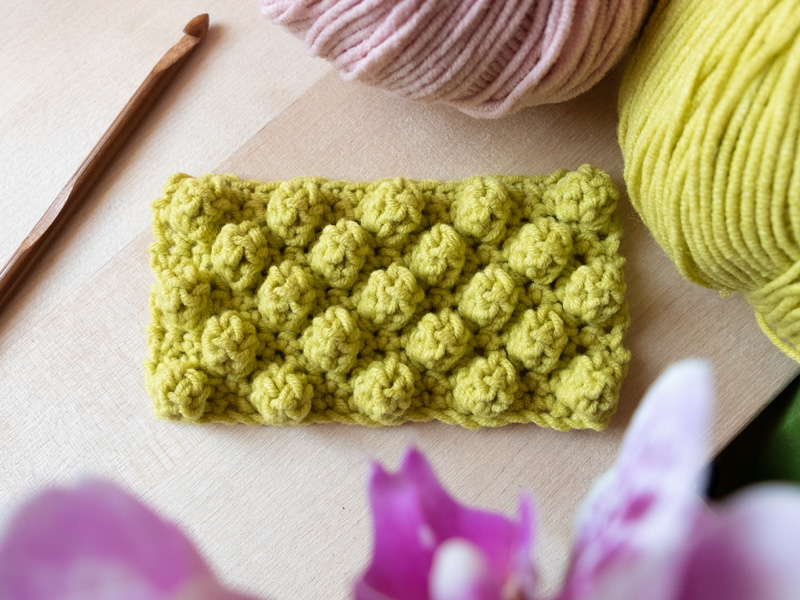 or…
Learn more about Lace in crochet!
→ Yes! Take me to this article! ←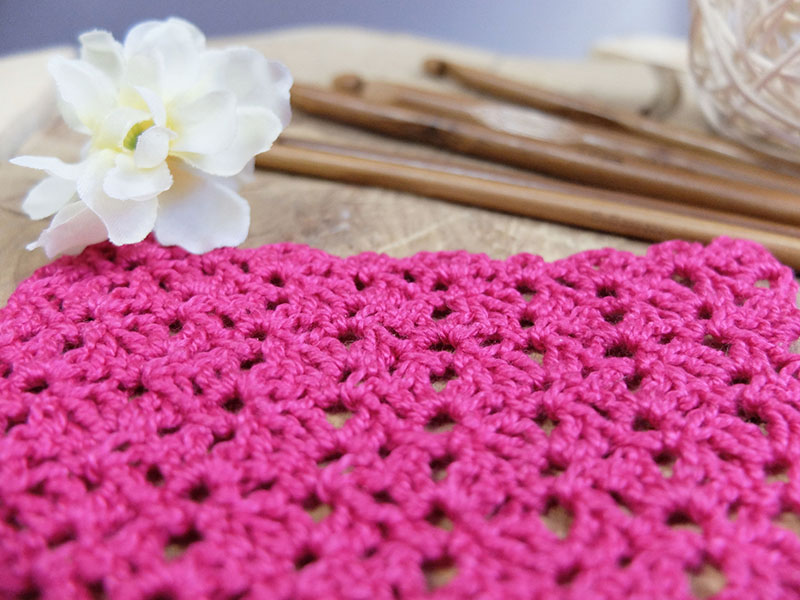 crochet roundup!
Today's theme is alpine stitch, of course, and I just drooled over all the fantastic ideas I've encountered online. I hope that this selection of the most beautiful versions will inspire you to try this technique, because it's worth the try. Read carefully, there are free patterns below!
◉
Colorful Alpine Stitch Ideas
Alpine Stitch by Stephanie Linden
Did you know, that you can use leftover yarn scraps to make amazing colorful blanket or accessory? If you are not convinced, just take a look below to see how cool does this stitch look when you change colors every row. It's great! Follow the link below the picture to see more inspiring creations by Stephanie and be sure to follow her on Instagram.

You may also like this article – 6 Day Kid Blanket Ideas.
◉
Alpine Stitch by Wendy of Wndjnsn and The Acorn Craft Shop
Whether you prefer solid color or multicolored stitches, fear not – they will look great in alpine stitch. This technique creates fantastic structural surface, so it always grabs attention. Below you can see two beautiful examples of that, but go ahead and try making your own!
◉
Alpine Stitch Crochet Blankets
Alpine Rainbow Blanket by Little Crochet Makes
If you need your blanket to be even more interesting, try this lovely design by Kelly Groves of Crafty Cruella, because it combines alpine stitch with basic techniques. Striped blanket like this will be a beautiful gift or a cool addition to your home! Take a look below to see how beautiful is this colorful version by Little Crochet Makes.
This blanket is based by crochet pattern called Alpine Rainbow Blanket which you can buy on deramores.com.
You may also like this article – Granny Square Crochet Ideas.
◉
Rainbow Alpine Blanket by Yarnofpearl
Ombre yarn is perfect for single-stitch designs, such as this beauty, which you can see below. The whole blanket use alpine stitch only, and you must admit, that it looks great in this rainbow yarn. Color flow is fantastic, so be sure to Pin it to your Pinterest board or save for later.
◉
Crochet Pastel Rainbow Baby Blanket by ToTheMoonBySophie
Border is often what makes the design look truly polished, so always make sure that your blanket is nicely finished off. Sophie decided to combine her alpine stitch blanket with wide granny stitch border and crab stitch. Take a look at the photos below and see how cute it looks!
Order this sweet blanket on Etsy by clicking on the link below the picture.
◉
The Alpine Blanket Free Crochet Pattern
Green and white bring to mind snow-covered evergreens, right? Now you can make your own forest, so you can keep it close! This modern blanket will look great in modern interiors, as well as in rustic ones, because alpine stitch is truly timeless. Take a look below at beautiful design by Jerica.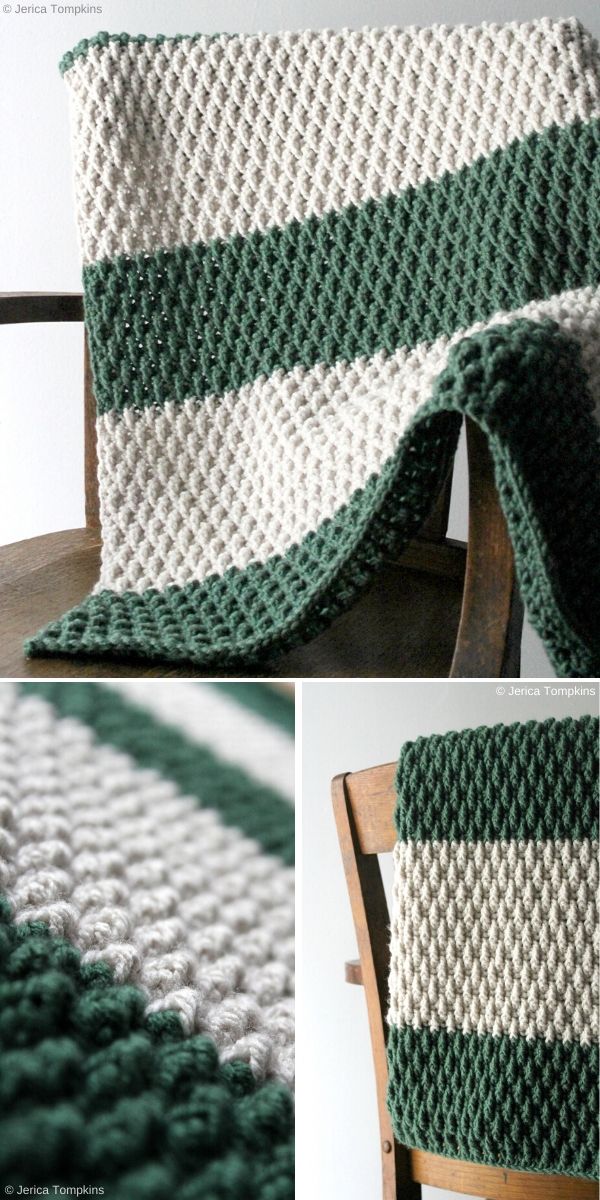 photos by Jerica Tompkins / ravelry.com
This lovely blanket is available as free pattern, and more info about it can be found here.
You may also like this article – Battenberg Blanket Crochet Ideas.
◉
Alpine Stitch Blanket by Nicole Miller
You can never go wrong with stripes, so keep it in mind. You can use it to almost any stitch, and, as you can see below, it works great with alpine stitch, too. Nicole used simple whites and greens, which create soothing color palette.
This square is based on free pattern for Alpine Square by Heather J Anderson.
◉
Alpine Stitch Blanket by Kelly Martinelli
Multicolored or self-striping yarns doesn't have to be in bright colors, so if you like subdued designs, don't be discouraged to use them! Below you can see lovely blanket by Kelly, where white slowly become beige and fades to grey.
You may also like this article – Waffle Stitch Crochet Ideas.
◉
Alpine Stitch Squares
Alpine Stitch Square by Juffrouw Haak
Why not use this stitch as an element of a bigger project? It's a great idea, because making simple square with alpine stitch will add structure to your blanket design. Be sure to check out Juffrouw's Instagram feed, so you can get even more inspired!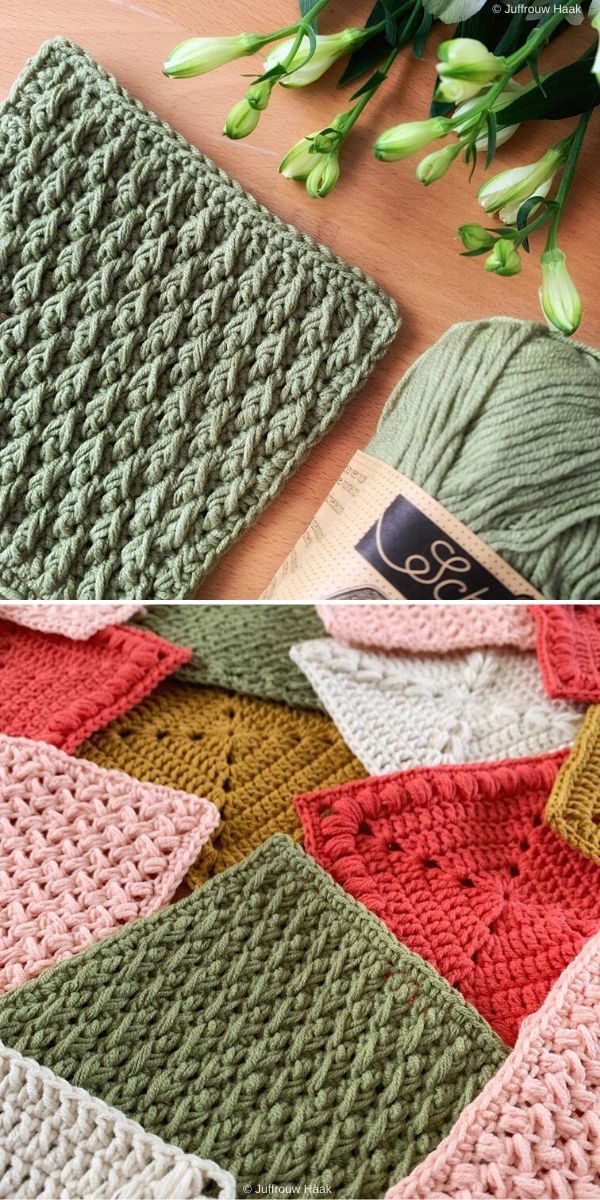 Looking for a free pattern? Try Alpine Square by Heather J Anderson.
◉
Alpine Square by Quirky Mama Creations
Are you a fan of neutrals? Great, because this square is an epitome of simplicity. It's elegant and versatile, so think about all cool uses you can find for it. Add it to your afghan, or make a bunch with cotton yarn and use as kitchen towels. Just take a look at the picture below and see the beautiful shade of grey that Bekki chose for her project.
photos by Quirky Mama Creations (Ravelry)
This square is based on free pattern for Alpine Square by Heather J Anderson.
You may also like this article – Ripple Stitch Crochet Ideas.
◉
Alpine Stitch in Garments and Accessories
Alpine Stitch Baby Cardigan by Camilla Hvied / HviedsVerden
This stitch is perfect for garments, too! Adorable little cardigan will keep your little one cosy and stylish, so make one for upcoming fall / winter season. I would love to have one for myself! See more inspiring projects on Camilla's Instagram.

If you want to make crochet cardigan with this stitch, try free pattern for The Alpine Basic Cardigan by Merry Mary Stories, which incorporates alpine stitch as a decorative detail.
◉
Alpine Stitch Fingerless Gloves by Little Duck Crochet
This fantastic set of winter accessories will keep you warm and cosy! You can purchase the patterns for all of them here – Alpine Cowl, Alpine Mitts and Alpine Hat, all designed by oh-so talented Little Duck Crochet!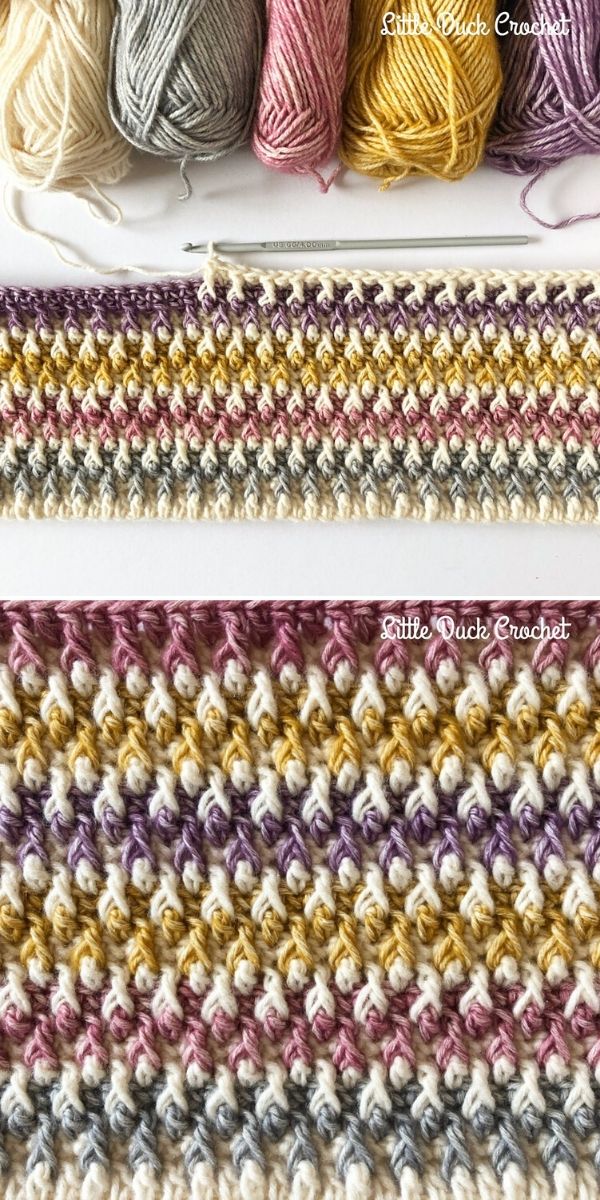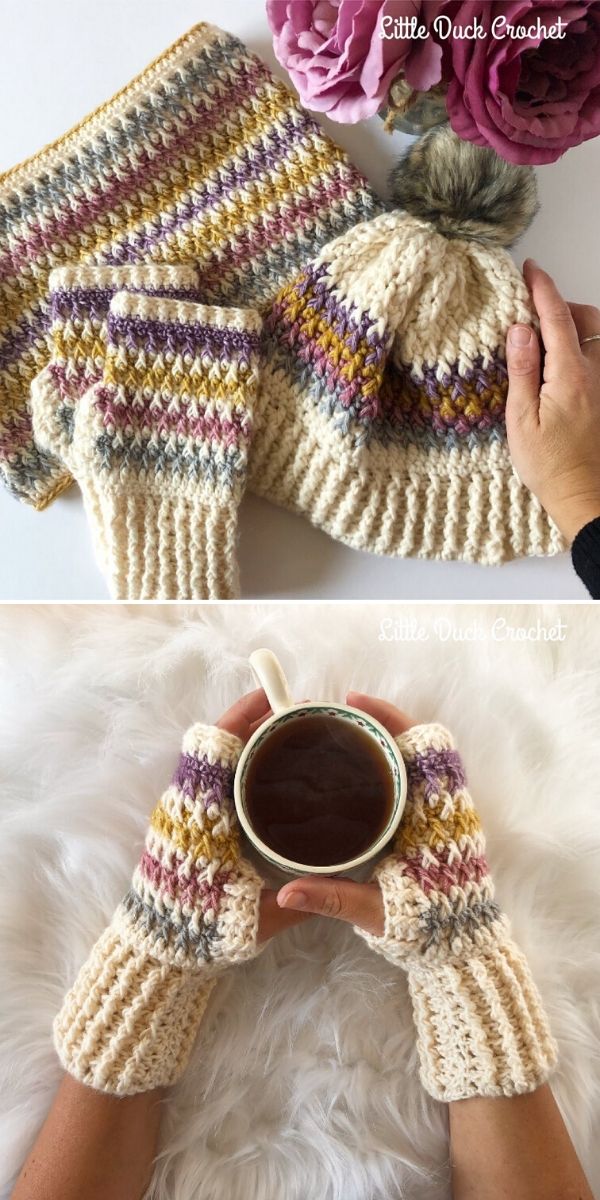 If you want to try a free pattern first, check out Alpine Ridge Slouchy Hat
by Megan Meyer.
You may also like this article – Larksfoot Stitch Ideas.
◉
Alpine Stitch Pouch by heartdeco.ch
When learning a new stitch, you may end up with little pieces of crochet, but don't throw them out! You can use them to make something cute, for example little zipper pouch for loose change in your pockets. Take a look below, and see how cool this technique looks like when made with speckled yarn!
◉
That's all for today, but I'll be back with much more inspiring projects and free patterns. Like, share and subscribe if you like what you see. Stay tuned!
↔
You may also like: Elegant Jasmine Stitch Ideas