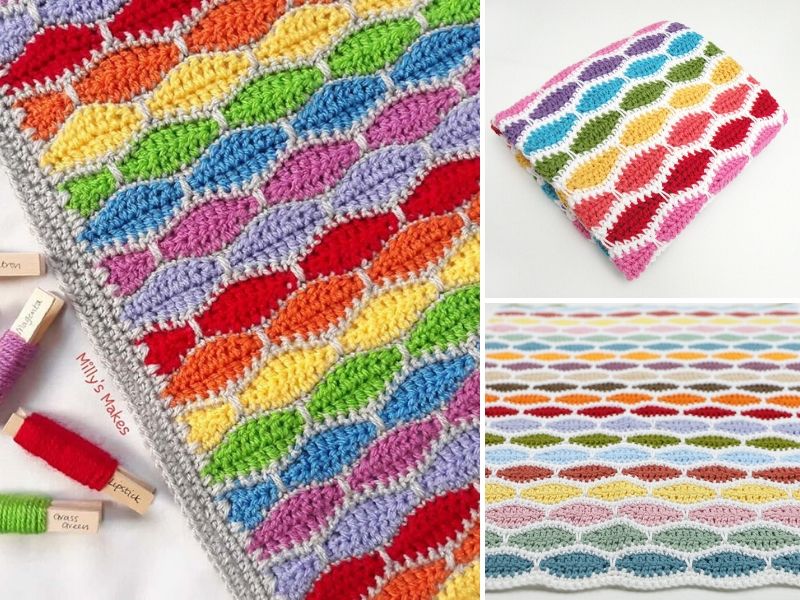 Whether you are looking for a fun stitch to use in a baby blanket, or a new technique to play with, millstone stitch is the right choice. I love stitches that create unusual patterns, and today's hero has it all – versatility, playfulness and unique look.
To be frank, the name "millstone stitch" remains a mystery to me, because this stitch looks like it has nothing to do with actual millstones. These stones, paired up and used to grind grains, had beautiful geometric patterns carved out on the surface.
This stitch looks a lot like brick and mortar, though, but without the sharp edges. Instead, it uses different heights of stitches to create subtle wavy flow.
◉
If you are wondering how millstone stitch looks like, take a peek below, where I present a couple of examples. Intrigued? I thought so. Let's find out how it's done!
brick and mortar
Millstone stitch requires two or more colors to be properly visible. One of the colors serves as "bricks" and other as "mortar", but, of course, you can change up the colors for each row, however you like. I don't recommend doing it all in one color only, because the pattern will become invisible.
This stitch is perfect for baby blankets, because it creates dense, but stretchy knitwear. It's a great choice for scrap blankets, as well as garments and accessories.
How do I start?
To make your own millstone stitch design, you can use any
type of yarn
and corresponding
hook
you want.
Choose at least two colors
– complimentary or contrasting, however you like it best.
If it's your first time crocheting this stitch, I would recommend going for contrasting colors, so that you can see exactly how the rows are made. Just be sure that both of your yarns are the same weight.
Below you can see simplified process of making millstone stitch. It's worked in blue and purple, so that you can see clearly what is what. The author of this fantastic tutorial is Emma of Potter and Bloom, known for her amazing patterns, video tutorials and podcast! You can find her website linked below, so be sure to check it out.
Millstone stitch is worked in rows, and you start with color A, which will be your "mortar". Make a
slip knot
and a
foundation chain
of multiples of 10 + 2. First row consists of
single crochet stitches
, just to give a nice base for your second color.
Learn more here…
I highly recommend you seeing the
full video
by Potter and Bloom on her YouTube channel
here
, or checking out written pattern
here
. Be sure to visit
potterandbloom.com
for free patterns, tutorials and a fantastic podcast!
talking about stitches…
Our growing website and library of free crochet patterns has some projects that might interest you, too. To know more about one of the most popular crochet blanket designs, check out this article about 6 Day Kid Blanket Ideas!
→ Yes! Take me to this article! ←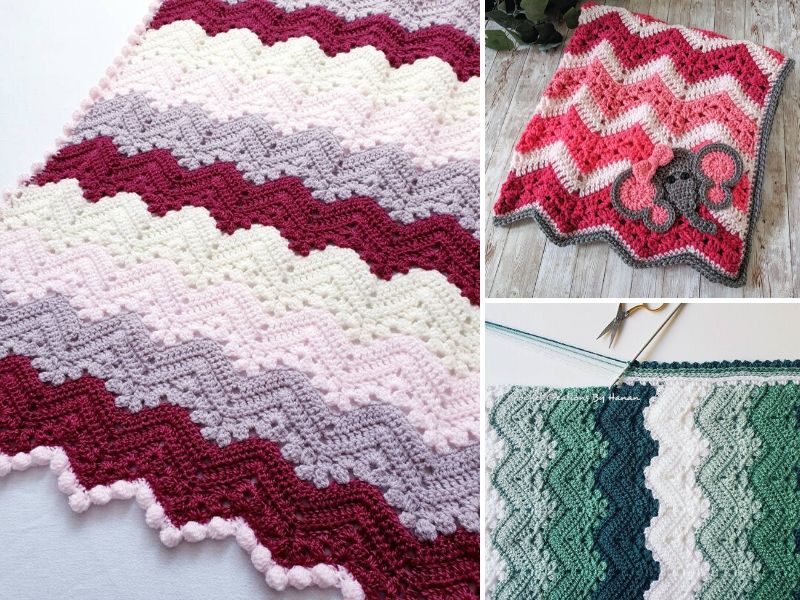 or…
Learn all about Classic Gingham Crochet!
→ Yes! Take me to this article! ←
crochet roundup!
My favorite part – explorations! I've gathered a lot of examples of millstone stitch from the most talented crocheters to show you how versatile this technique can be. Let's see which color schemes fit the best with this pattern and what can do to achieve the look we want.
Read carefully for free crochet patterns and tutorials.
◉
Sea Vibes
This part is all about the blues – navy, sky blue, green, mint, and so on. These colors are proven perfect for modern nurseries, because they are gender-neutral and work great with minimalist interiors. If you are looking for subdued, elegant color scheme, look at the examples below!
Bertie Baby Blanket by Andrea (alsommer)
There's no rule to what color the "mortar" part should be, but many crocheters choose white. It's no surprise, because it looks great with most colors, and so it is in this case, too. Andrea chose blues and greens of different shades, which you can see in the photos below.
This, as well as the other blankets you will see below, are based on Bertie Baby Blanket by Little Doolally, which is a paid pattern. If you want to try something for free first, follow video tutorial or written pattern for millstone stitch by Potter and Bloom, that I've linked in the first part of the article.
◉
Bertie Baby Blanket by Linda Robertus
The deeper you dive, the darker it gets! That's why this fantastic color scheme reaches for the coolest and darkest purples and navy blues. When you arrange them in a beautiful, logical color flow, it becomes mesmerizing. Take a peek at this version by Linda, presented below. She sure knows how to combine colors.
This blanket was based on paid pattern for Bertie Baby Blanket by Little Doolally. However, if you want to try out free pattern first, check out Afghan #3663 by Bernat Design Studio.
◉
Mosaic Baby Blanket by Stephanie Rose
If sea colors are too cool for you, why not introduce a warmer detail? As you can see in the picture below, Stephanie decided to compliment her cool sapphire greens with a hint of red and orange. It works great, right?
Bertie Baby Blanket by Little Doolally is a paid pattern, which Stephanie used to make her version. Check out Streamwave Throw by Kim Guzman if you are looking for a free crochet pattern with similar design.
◉
Earthy Tones
Just like in a process of evolution, let's leave the sea and put our feet on the solid ground. These color palettes will bring you back to nature – reddish dusty tones, mossy greens and warm yellows. Are you into it? Let's see how they did it!
Bertie Baby Blanket by Mummys Crochet Boutique
This delicate palette is soft and down to earth, gender-neutral and just perfect for a nursery. Warm tones play very well with white, looking a lot like real bricks! Mummys Crochet Boutique is a seasoned blanket maker, and the beauty you can see below is another example of her exquisite crocheting skills.
Just like previous projects, this blanket was also based on Bertie Blanket, which can be found here. If you like millstone stitch, you may be interested in this free crochet pattern for Moorland Blanket by Lucy of Attic24. The technique is a little bit different, but it creates similar wavy flow.
◉
Bertie Baby Blanket by Rachel Munnelly
Browns, reds and yellows work well together, especially if you want to create a baby blanket or a throw that will be timeless. Rachel chose rich colors, which you can see in the pictures below. Don't they look great? Go for similar palette if you like this effect.
Here you will find paid pattern on which this blanket is based. To make similar one for free, use tutorials and and written patterns linked earlier in the article.
◉
Bertie Baby Blanket by Danielle (danielleknitl)
The blanket you see below is made by Danielle, who knows that different colors can go perfectly well together, as long as they are similar shade. These hues are very different – we can see blues, yellows, reds and pinks, but all of them are subdued, dusty. That makes them go so well together.
Based on this crochet pattern – purchase here. Not a fan of "mortar" part? Go for something else, such as this free crochet pattern for Wavy Blanket by Stephanie Gage.
◉
Colorful Stories
Need a little bit of inspiration for a full-fledged baby blanket? These colorful designs will show you how to design one from scraps of yarn!
Bertie Baby Blanket by Little Doolally
The original Bertie Blanket is colorful and bold! As you can see below, white background is a perfect canvas for such big amount of colors, and Little Doolally certainly knows how to mix them. If you have a lot of leftover yarn ends or some mini-skeins laying around, be sure to use them in this design!
You can find this crochet pattern here.
◉
Bertie Baby Blanket by Kerryandtheboys
Do you have Lego fans at home? If so, this blanket will be right up their alley! One would think that bright prime colors, such as blue, red and yellow will clash, but Kerry proves that it's not the case! Just look at the blanket in the photo and see how well it works together.
Based on this crochet pattern here. Like millstone stitch, but want to make something else than blanket? Check out this free pattern for Woolly Waves Sweater by Anna Erlandsson.
◉
Playing with Rainbow
When in doubt, go for rainbow! That's my motto. You can't go wrong with this color scheme!
Millstone Stitch Baby Blanket by The Wiggly Stick
Rainbow bricks and rainbow edging? Isn't it too much? When I look below at the beautiful blanket by The Wiggly Stick, I think it's just right. Using off-white for "mortar" part is a great choice, because you don't need more contrasts with this amount of colors.
To make a similar blanket, try out free tutorials and patterns linked at the beginning of this article.
◉
Bertie Baby Blanket by Milly's Makes
Milly decided to let the colors speak for themselves and chose grey to go with them. It's a great choice, as you can see in the top photo below. Four colors are enough to make a lovely blanket, too – just look at the bottom one!
Crochet pattern for Bertie Blanket can be purchased here. You may be interested in a similar design called Scrumptious Scraps Afghan by Dot Matthews, which is available for free. The pattern is a little more elongated, but still very interesting.
◉
Bertie Baby Blanket by Monkey Travel Club
Another colorful design in our round-up is sweet as candy. This color scheme will make every girl happy, I'm sure! Dense blanket like this will be a fantastic baby shower gift. Take a look below to see how Monkey Travel Club arranged colors in this project.
Based on this crochet pattern – here.
◉
Romantic Color Palettes
Looking for something more girly and romantic? I get it. Whether you need a palette for baby girl or your own beloved mother, I've got you covered. Just take a look at these examples!
Girlie Bertie by Erika Pisciotta
Lilacs come in many shades – some are more pink, other more blue. Erika took an inspiration in all of them and created this lovely version you can see below. Isn't it stunning? Elegant color palette like this one will be suitable for any important woman in your life.
You can find this crochet pattern here. Similar color scheme was used in a free crochet pattern for Rolling Waves Blanket by Nicole Riley. It's a different design, but you may want to take a look!
◉
Bertie Baby Blanket by Kezza (thiskezza)
For an ultimate baby girl combo, choose romantic staple – pale pink, white and grey. This combination of colors works every time, simply because it's timeless. Kezza used beautiful lacy border, which you can see in the photos below. Isn't it the cutest?
Based on this pattern. Make your own version by following free crochet tutorials and patterns for millstone stitch. I linked them earlier in this article.
◉
Playing with Background Colors
Most of the examples used white for the "mortar" part, but there's no rule to which color should be where! You can use dark hues as background and get fantastic results. See for yourself!
Bertie Baby Blanket by Catarina Gonçalves
Catarina decided to frame her pale rainbow in dark grey, and I must say that this combination looks phenomenal. Just look at the picture below and tell me that it's not true! As you can see, dark "filling" between the "bricks" works as well as the light one.
Based on Bertie Blanket – here. If you want to see more, Wave Blanket by Ana Contreras is an interesting take on similar idea, and available as free crochet pattern. Check out if you like it!
◉
Bertie Baby Blanket by Kerryandtheboys
Last but not least, the most interesting color flow of all – unique, unexpected, but charming! Kerry chose two warm tones and two cool ones, and glued them all together with lovely peachy hue. I wouldn't be sure if it's going to work, so kudos to her for the bravery! You can see the result in the pictures below.
Based on Bertie Blanket – purchase this crochet pattern here. Want to make and accessory using millstone stitch? Take a look at Diamond Wave Scarf by Michael Sellick – it's a free pattern!
◉
That's all for today, but I'll be back with much more inspiring projects and free patterns. Like, share and subscribe if you like what you see. Stay tuned!
↔
You may also like: Chevron Stitch Ideas