Today's theme is all about crochet pocket shawl pattern ideas, so don't wait and make yourself this winter staple! In Quick Roundup series I share 5-10 best ideas for crochet techniques, projects and patterns that caught my eye, so stay tuned for next parts!
If you want to learn more, read my articles, check out my Recommendation Series, or try my Free Crochet Patterns and Stitch Tutorials!
◉
MY FREE CROCHET SHAWL PATTERNS
Sapphire Puff Shawl | Juliette Shawl
Lake Sunset Shawl | Lake Midnight Shawl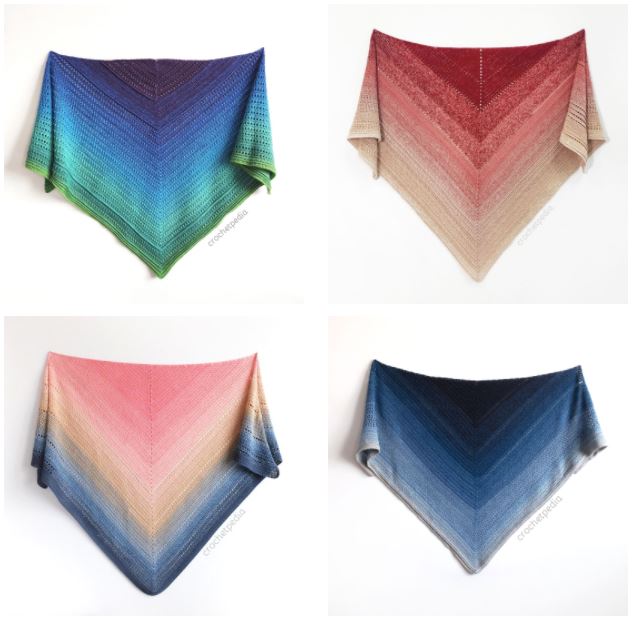 ◉
What is crochet pocket shawl?
It's quite self-explanatory, because it's just a shawl with pockets! Or I should say scarf to be more accurate, and reserving the word 'shawl' for triangular beauties. Basically, it's a crochet accessory that you can wrap yourself in, that has pockets on each end. Comfy and stylish!
What are the types of pocket shawls?
There are a few different ways to approach making such shawl, but they are all quite similar in final form. You can find light and lacy pocket shawls, often with fringe and boho vibe, which will be perfect for mild weather.
Another type is more dense, often ornamental and structural pocket shawls, which are created with the use of such stitches as bobble, alpine, or post stitches. These ones are great for harsh winter colds.
Besides that you can encounter hooded pocket shawls, or the ones so wide they look and work like ponchos.
I'm a beginner. Will I be able to make it?
Yes! Many of these projects are suitable for beginners, because the overall shape of pocket shawl is quite simple. Of course, projects differ from one another, so you need to look for one that is on your skill level.
When looking for a perfect pattern be sure to check how many different techniques does it include, or how are the pockets attached. If you want a quick project, look for the one that uses thick yarn, or choose the lacy one – they work up much quicker than the rest!
Every kind of yarn has different qualities, so be sure to know what's what before you start. Learn more about types of yarn in my Yarn 101 Series!
◉
Crochet Roundup
Below you will find a selection of crochet pocket shawl pattern ideas that are easy and fun to make! I'm sure there's your next project hiding somewhere, so check them out!
◉
Perfect-Pockets Shawl Versions by Emily Guske
This must be one of the most popular pocket shawl patterns, because it ticks all of the boxes! It works up fast, has a lovely boho vibe thanks to fringe and lacy structure, and looks great in virtually any yarn color. Emily made her versions in various hues, but the one I like the most is in the photo below – this peachy color is so delicate!
To prove my point, I wanted to show you yet another Emily's creation – take a look at the photo and see how rich in color it is. I believe now you can see what I mean when I'm talking about a truly versatile project, because this one can change like a chameleon.
Original crochet pattern for this shawl was designed by Sonja Hood and you can purchase it through ravelry.com.
◉
Lazy Diamond Boho Pocket Shawl by Crystal White-Van Cleemput
The width of the pocket shawl determines its ability to wrap the wearer, so this project by Crystal is definitely on the wide side! When most of the shawls cover the arms to the elbows max, this one will work more like a poncho-cardigan. To see the cleverness of this design, take a look at the pictures and notice that it's comprised of crochet squares!

This project is a free crochet pattern available on youtube.com, or through ravelry.com.
◉
Ibizastyle Pocket Shawl by Annah Haakt
One doesn't need much to make a lovely crochet pocket shawl, and this project by Annah proves my point. It's narrow, but manages to feature granny stripe, some basic stitches and fantastic structural ribbing. Naturally speckled yarn gives it even more rustic look, which is enhanced by the fringe.

You can purchase this pattern through ravelry.com.
◉
Marjorie Pocket Scarf by Tonya Bush
Tonya's colorful design is a great example on how to work with the natural flow of the project. Thanks to the fact that this shawl is worked sideways, ornamental rows create interesting vertical lines while wearing. Intricate patterns are just exquisite – I could easily compare their beauty to the stitches in the most stunning afghans. See it for yourself in the pictures below.

This project is available as free crochet pattern on nanascraftyhome.com, but you can read more about it on ravelry.com.
You may also like this article – Easy Heart Stitch Ideas.
◉
Boho Beaded Pocket Scarf Version by CoyCrochet
If you want to go full boho, this project will be perfect for you. It has all it needs – fringe, structural stitches an real beads! This set of stitches makes the fabric quite dense, so it will be nice and cozy for the fall-winter season. Crocheter behind CoyCrochet decided to go for rich rusty color, and I can't get over it, because it looks like the most beautiful fall leaves.

This shawl was originally designed by tl.crochet – you can purchase the pattern through ravelry.com. To learn more about the version in the photo, click the link under it.
Boho Beaded Pocket Scarf Version by Ciaracable
What can I say? I'm in love with this design. To show you the full scope of its versatility, I decided to include this version by Ciaracable, which you can see below. Dusty blue-grey yarn is very sophisticated and works great with black beads. I can easily see how this shawl can transform from everyday wear to more formal occasions.

This shawl was originally designed by tl.crochet – you can purchase the pattern through ravelry.com. To learn more about the version in the photo, click the link under it.
You may also like this article – Crochet in Details – Easy Way to Level Up Your Home Decor.
◉
6-Day Sideways Pocket Shawl by Betty McKnit
Are you a fan of 6-Day Kid Blanket? I bet you are, just like thousands of crocheters from all around the world! Betty went with the flow and created her own version of pocket shawl using this epic combination of stitches. As you can see, the pockets are created by folding the edges of the shawl, and I must say that it's the easiest way to do it.

This project is available as free crochet pattern on bettymcknit.com, but you can learn more about it by clicking the link to Ravelry page – it's below the photo!
◉
Stay at Home Pocket Shawl by Jess Coppom
Is it a poncho, a cardigan, or a shawl? I'm not sure, but it's definitely beautiful! Jess yet again created a stunning project that is quite different from the rest. Take a close look at the photos and notice all the details – delicate openwork, big wooden buttons and very simple construction. Beginners, this can be your place to start!

This shawl is available as free crochet pattern on makeanddocrew.com, but you can also find more info on ravelry.com.
◉
That's all for today, but I'll be back with much more inspiring projects and free patterns. Like, share, and subscribe if you like what you see. Stay tuned!
↔
You may also like: The Best Crochet Cardigan Pattern Ideas