How to Crochet Alpine Stitch
It's not the first time I'm writing about alpine stitch, and that's because it's one of my absolute favorites. This clever technique is quite easy to learn and creates amazing structure. In this post you will find a step-by-step tutorial on how to make it, as well as colorways that you can use in your projects!
Edit / December 2020: I added a video tutorial!
◉
SAVE IT IN FAVORITES ON RAVELRY
or follow me on PINTEREST and INSTAGRAM
◉
Alpine stitch is great for blankets and accessories, but you can easily use it in garments, too. Combine it with other stitches to achieve interesting surfaces, or play with yarns to create nice color flow.
Below you will find my attempt on a video tutorial. It's my first one ever, so please don't laugh 😉 I tried my best!
Please subscribe to my channel to see more!
◉
Colorways
I decided to experiment a bit with different colorways on this one, because some time ago I've got myself a big Colour Pack of Scheepjes Catona mini-skeins. I've been dying to use them for a while now, so making colorful swatches appeared to be a great way to play with different color palettes.
I came up with six colorways, and I really loved the process! As you can see, in some cases I was trying to make colors flow delicately, but in other I mixed and matched them. Each colorway is created with the use of six colors. Hope you like it as much as I do!
◉
Unicorn / Alpine Stitch
Classic baby blanket combo, which will look great in a nursery.
Colors: 519 Fresia, 222 Tulip, 238 Powder Pink, 105 Bridal White, 385 Crystalline, 253 Tropic.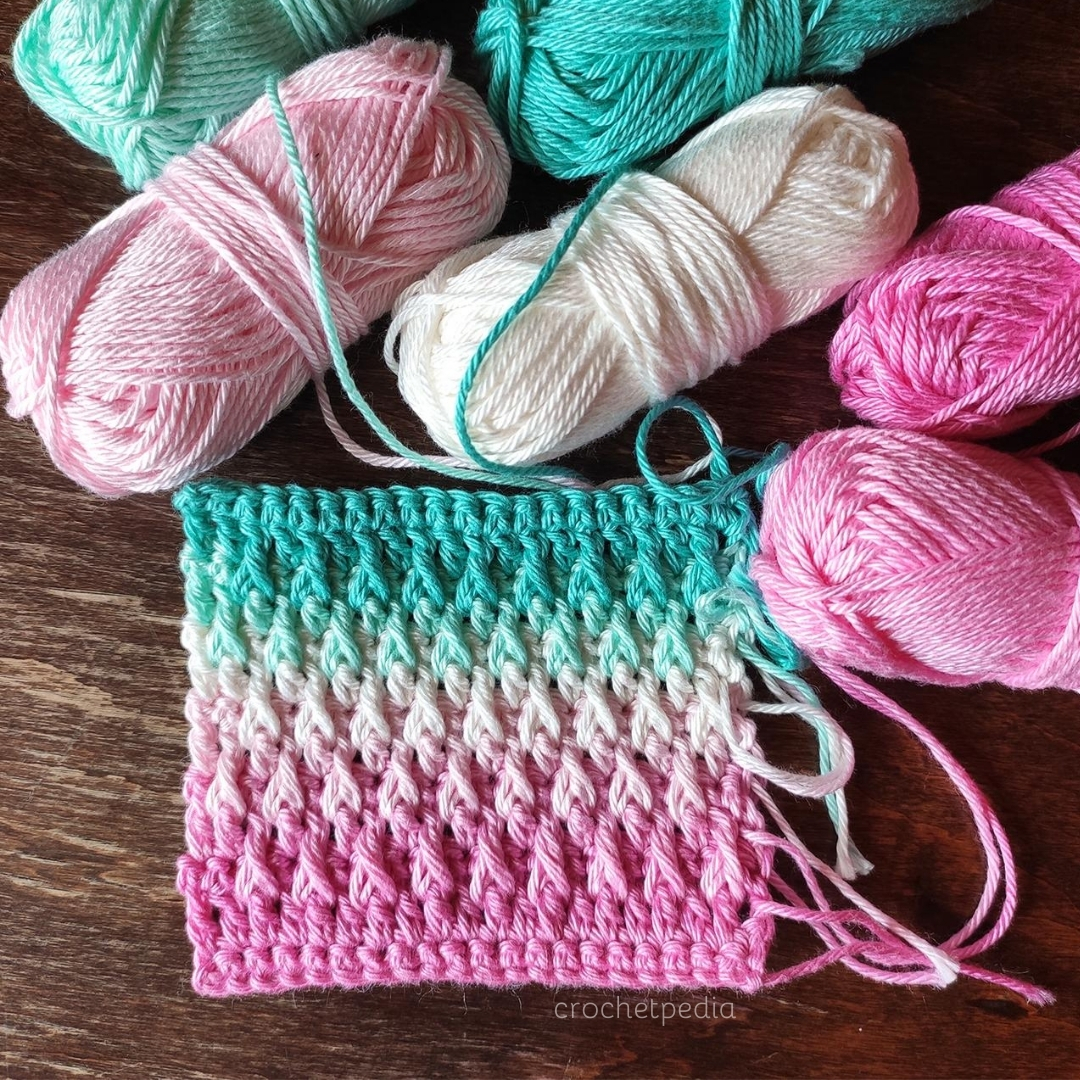 Dusty Orange / Alpine Stitch
Neutrals like the company of vibrant, lively hues, so don't be afraid to mix them.
Colors: 410 Rich Coral, 524 Apricot, 414 Vintage Peach, 404 English Tea, 248 Champagne, 387 Dark Olive.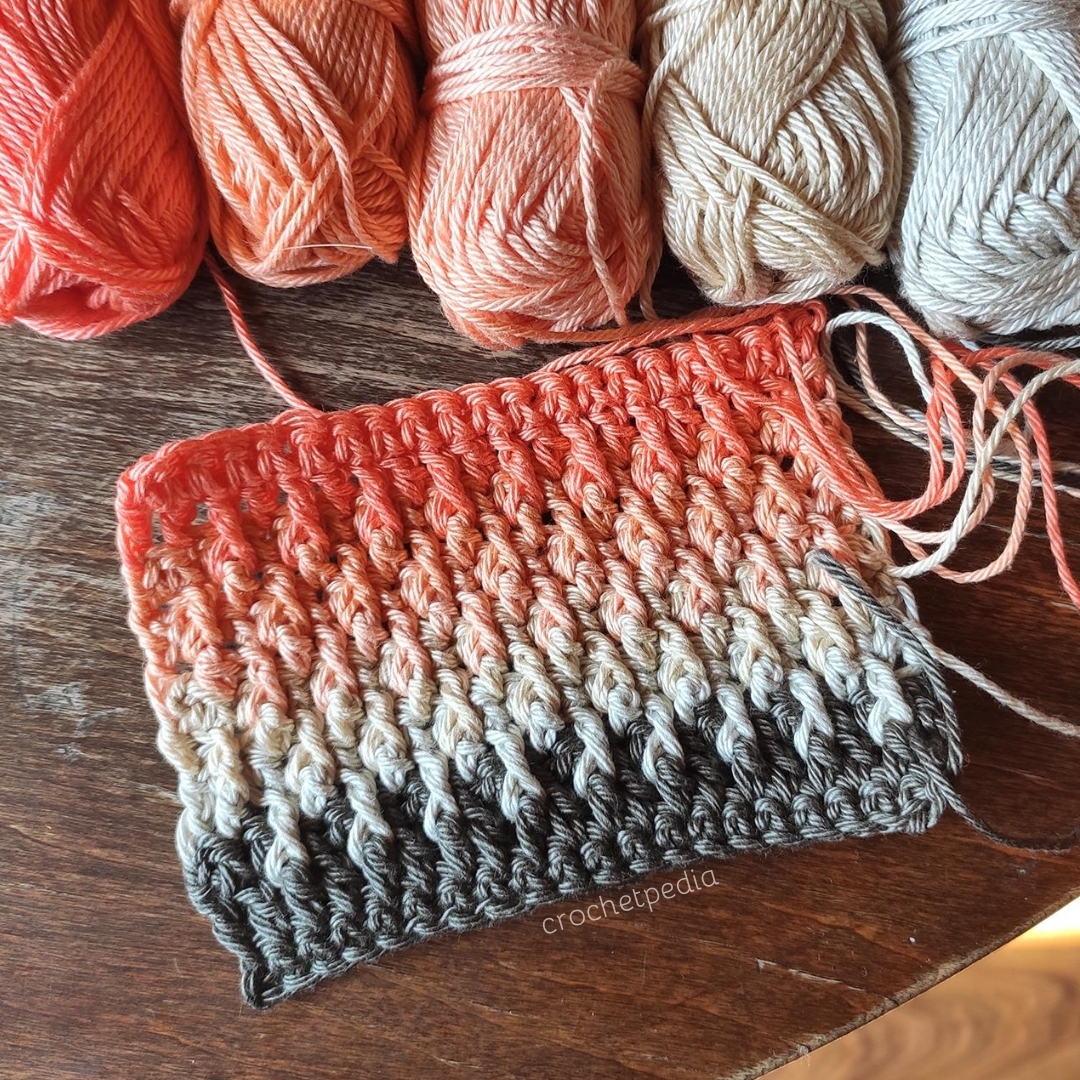 Peacock / Alpine Stitch
This rich palette is one of my favorites, because it looks like iridescent peacock feather!
Colors: 192 Scarlet, 517 Ruby, 394 Shadow Purple, 401 Dark Teal, 241 Parrot Green, 514 Jade.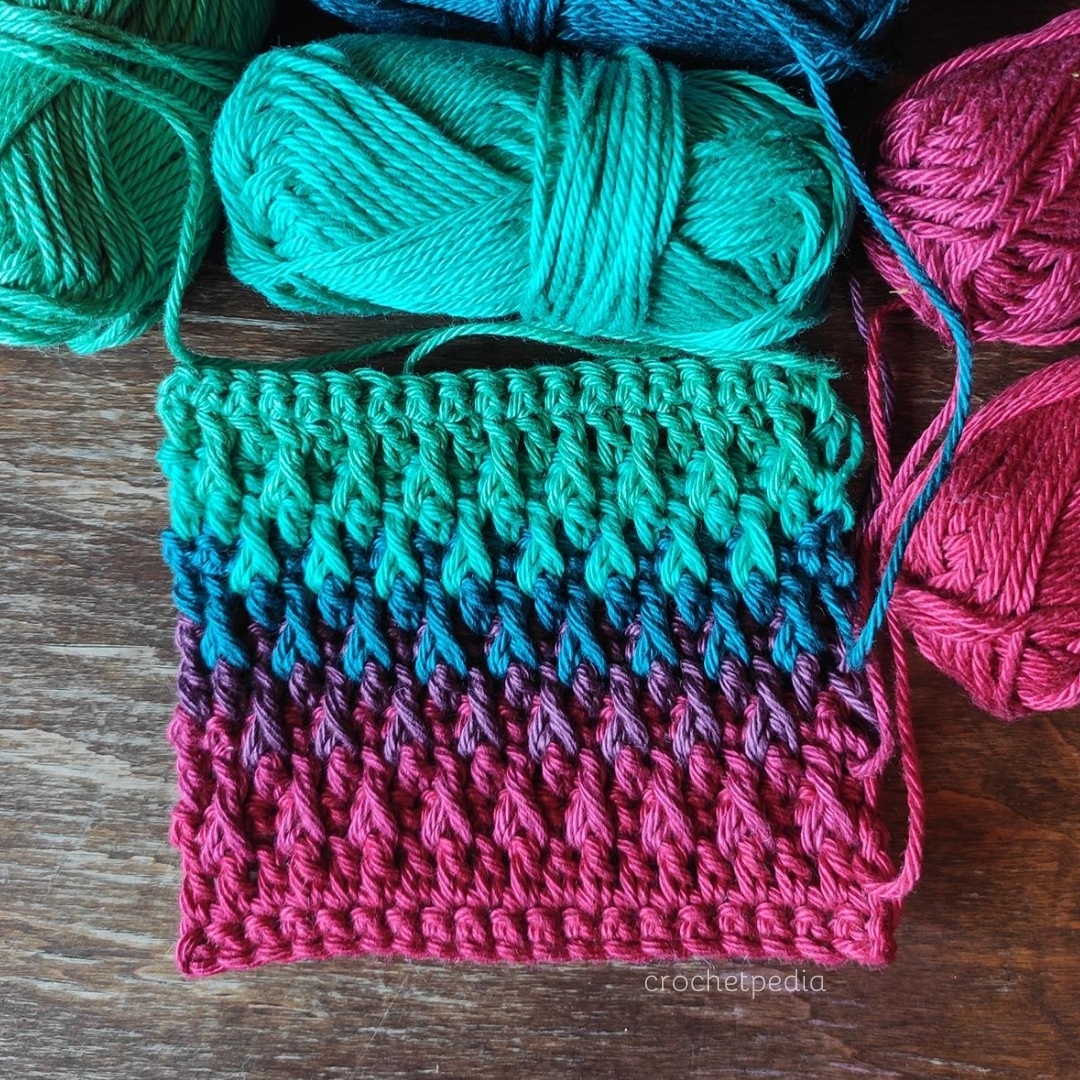 Rosebud / Alpine Stitch
To achieve vintage vibe, go for dusty pinks, because they are timeless!
Colors: 130 Old Lace, 255 Shell, 518 Marshmallow, 523 Sweet Mandarin, 408 Old Rose, 396 Rose Wine.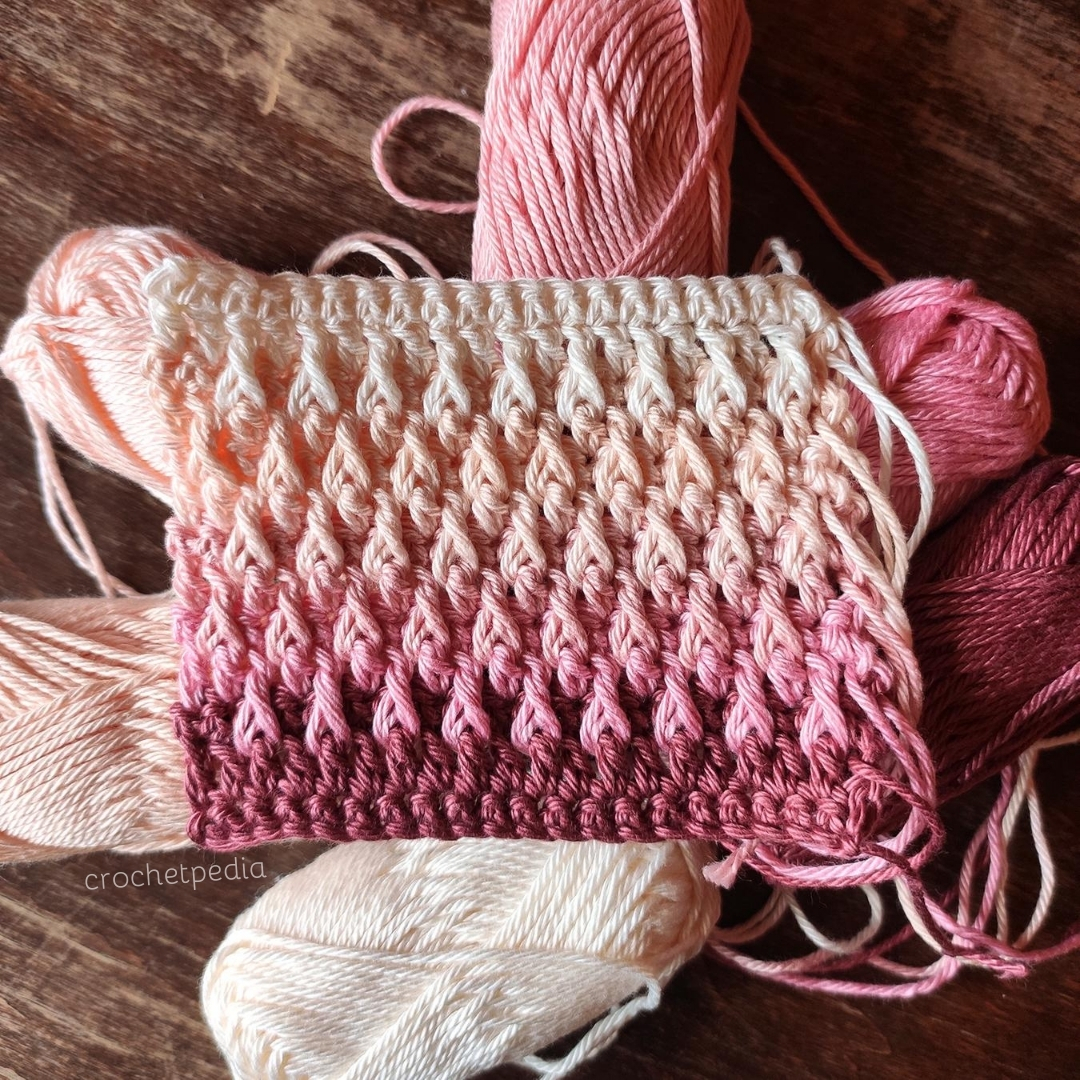 Coral and Blue / Alpine Stitch
Cold and hot goes very well together, and this palette proves that, right?
Colors: 252 Watermelon, 263 Petal Peach, 264 Light Coral, 402 Silver Green, 528 Silver Blue, 391 Deep Ocean Green.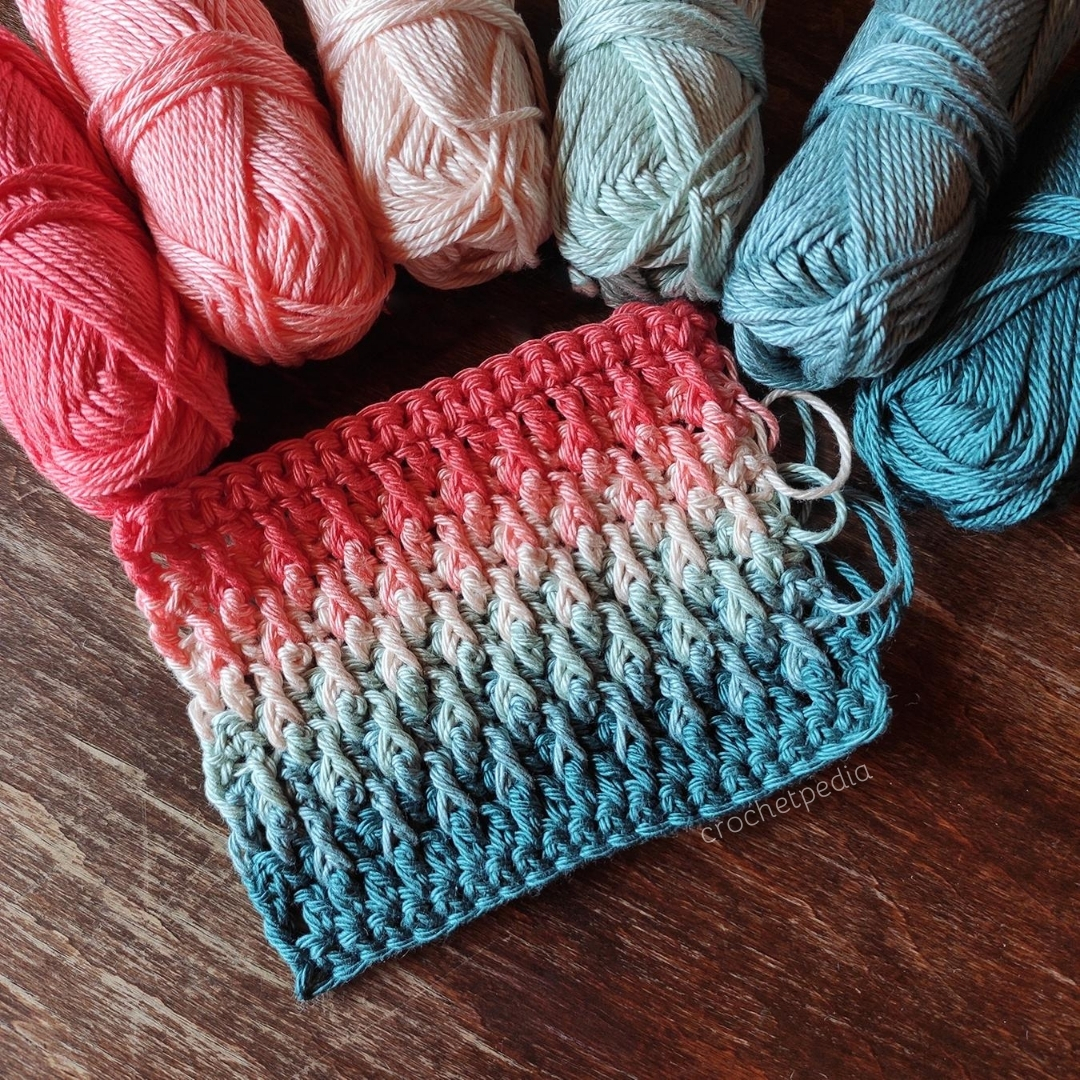 Golden Sky / Alpine Stitch
Go for rich autumnal tones, if you need something eye-catching and moody at the same time.
Colors: 249 Saffron, 383 Ginger Gold, 504 Brick Red, 507 Chocolate, 388 Rust, 501 Anthracite.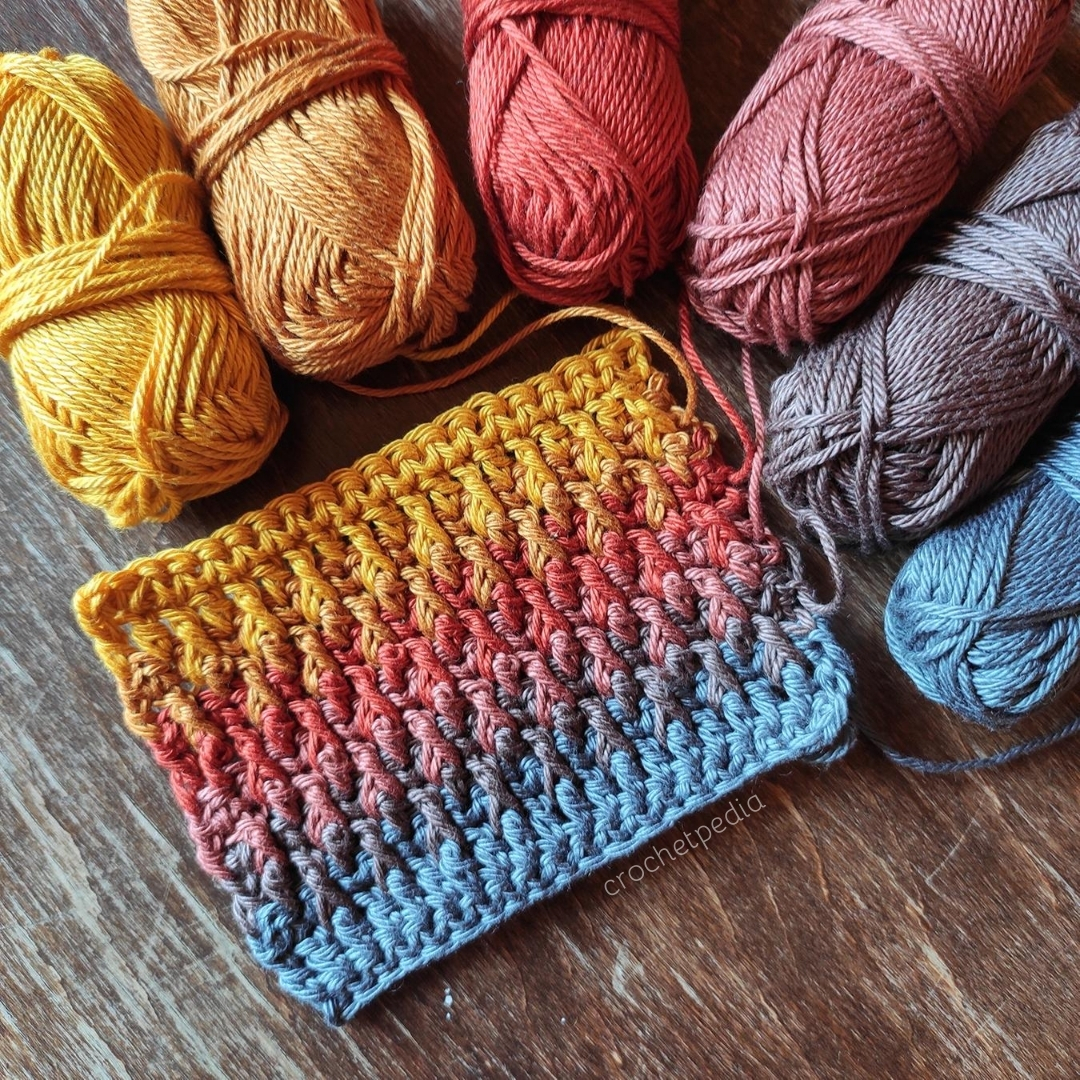 Inspired? Great, so let's learn how to crochet alpine stitch.
For more inspiration and free crochet patterns, visit this post: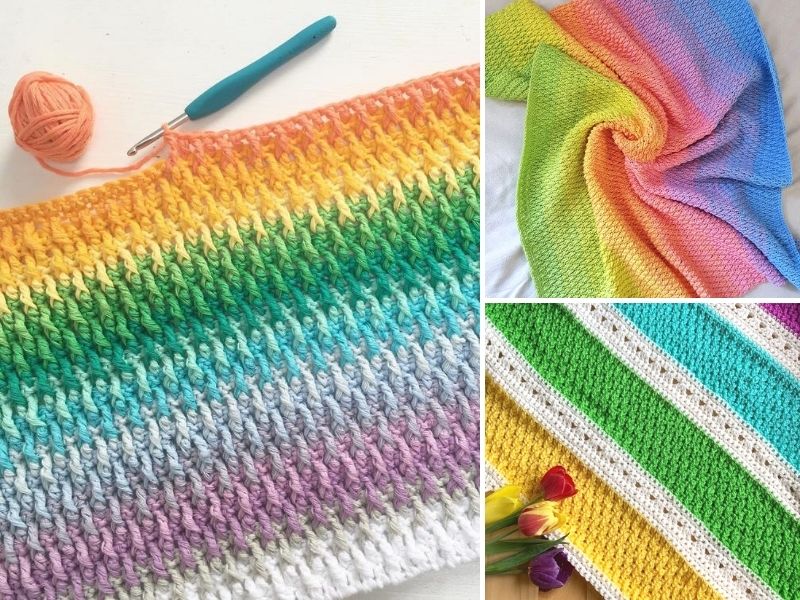 ◉
PATTERN NOTES
LEVEL – upper beginner
TERMS – standard US
TECHNIQUES
MATERIALS AND TOOLS
you can use any yarn and recommended hook size

for step by step sample I used DMC Amigurumi Cotton yarn and 2 mm hook; colorful samples were made with Scheepjes Catona yarn and 2.5 mm hook.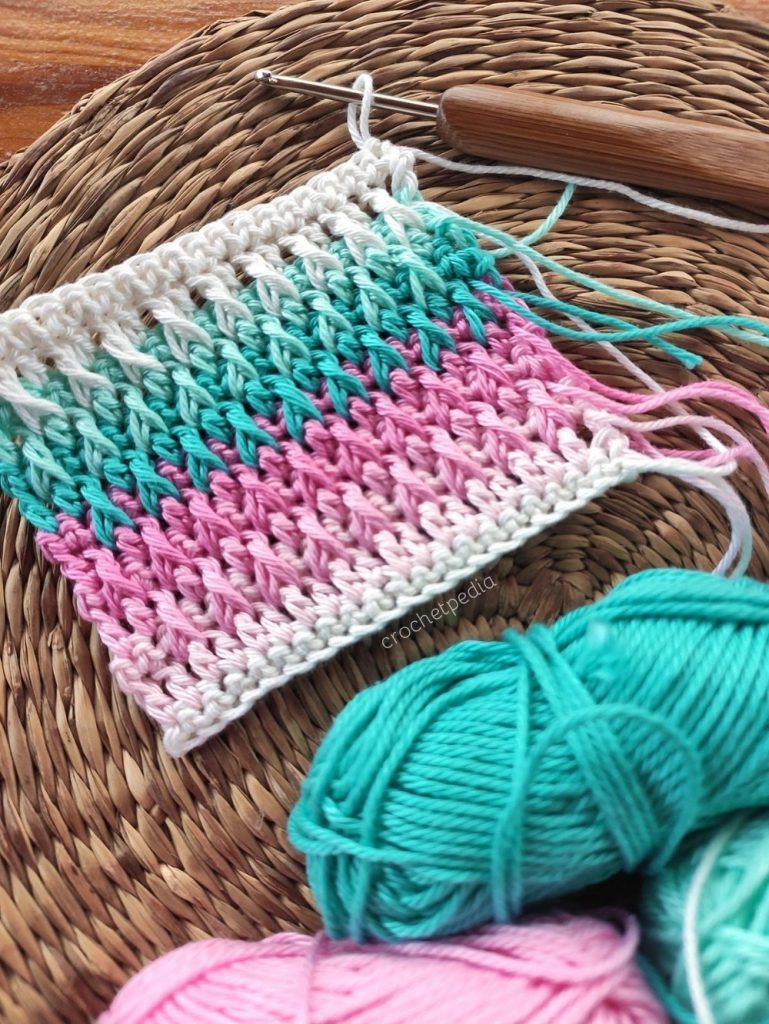 how to crochet alpine stitch
START:
ROW 1:
chain 1,
single crochet
stitches all the way. Remember to work your first single crochet in the first stitch, because
turning chain
doesn't count as a stitch here.
ROW 2:
chain 3,
double crochet
stitches all the way.  Remember, that your
turning chain
(3 chain stitches at the beginning of the row) count as your first stitch.
ROW 3:
chain 1, single crochet stitches all the way.  Remember about the last stitch of the row, which is worked in the turning chain.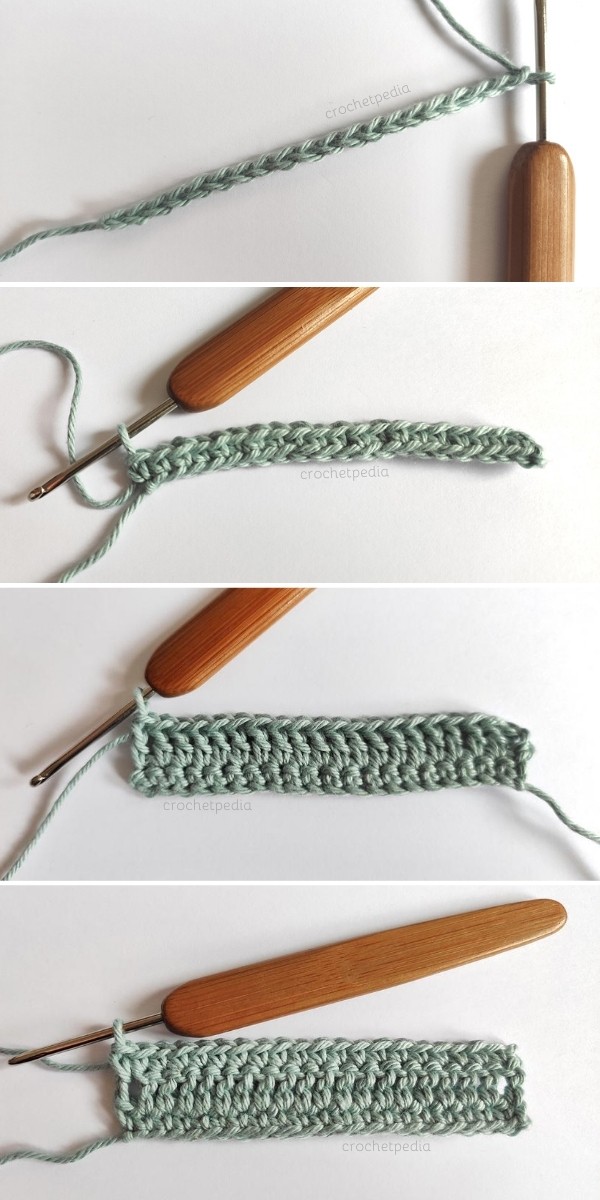 foundation chain and rows 1-3
If you want to introduce a new color in your work, don't finish the last single crochet, but instead add new color, as shown in the picture below. If you are working with one color only, just go on with the pattern.
introducing a new color – end of row 3
ROW 4:
chain 2, *1 fpdc (front post double crochet) in the double crochet of row 2, 1 double crochet*, until you reach last stitch, which is 2 double crochets. Remember to always skip one stitch "behind" fpdc, when working your dc's, so that stitch count stays the same.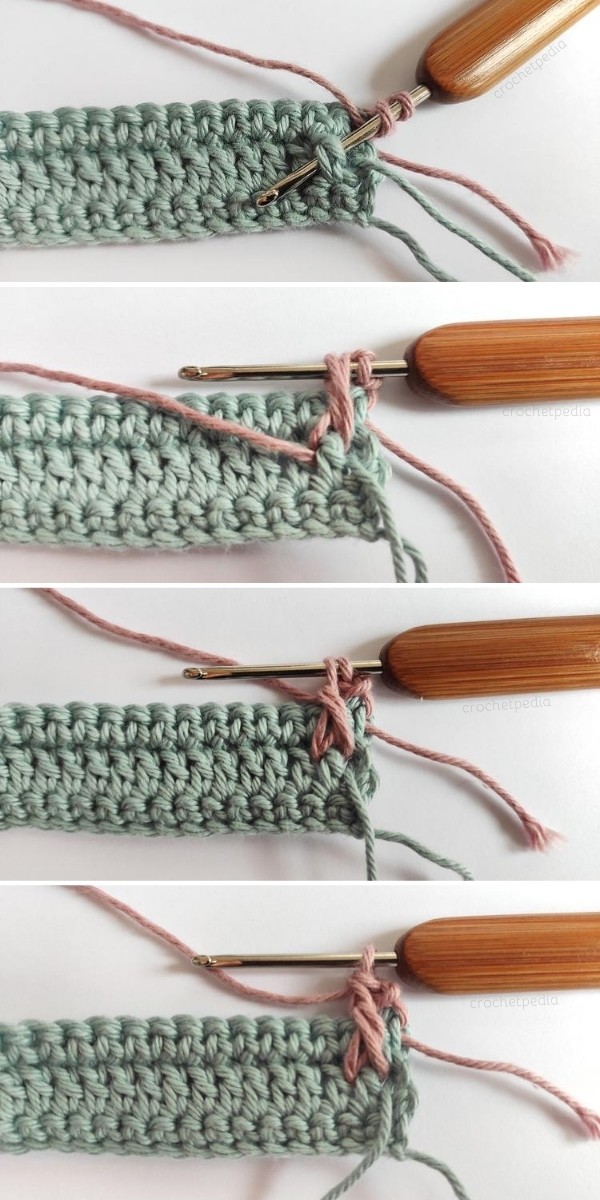 beginning of row 4 and making of front post double crochet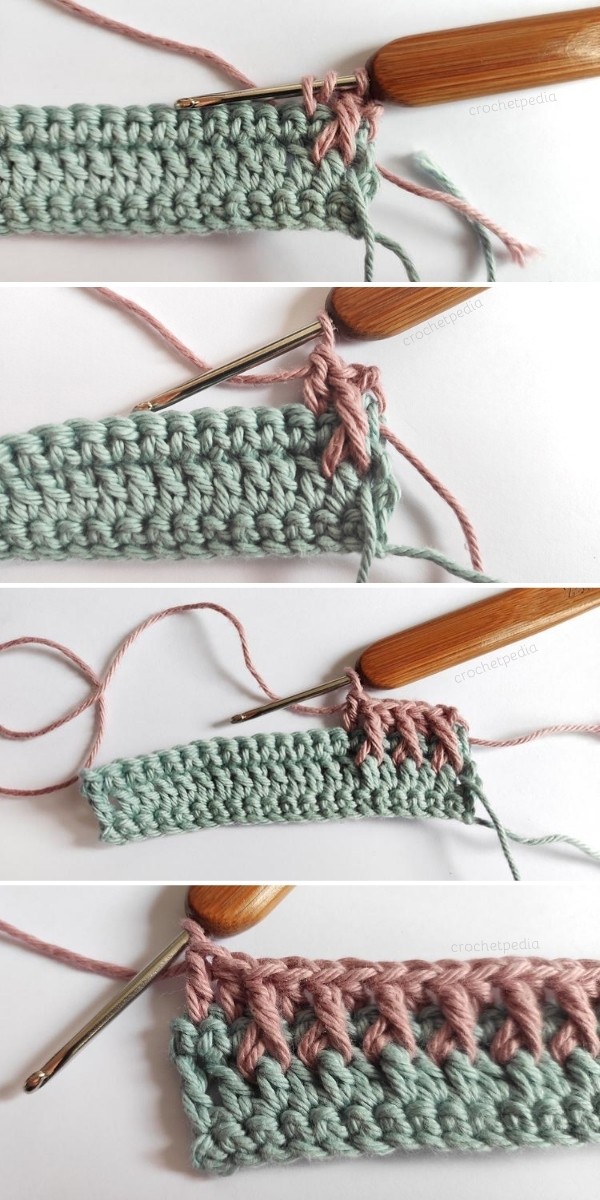 next steps of row 4 and last stitches
ROW 5:
chain 1, single crochet stitches all the way.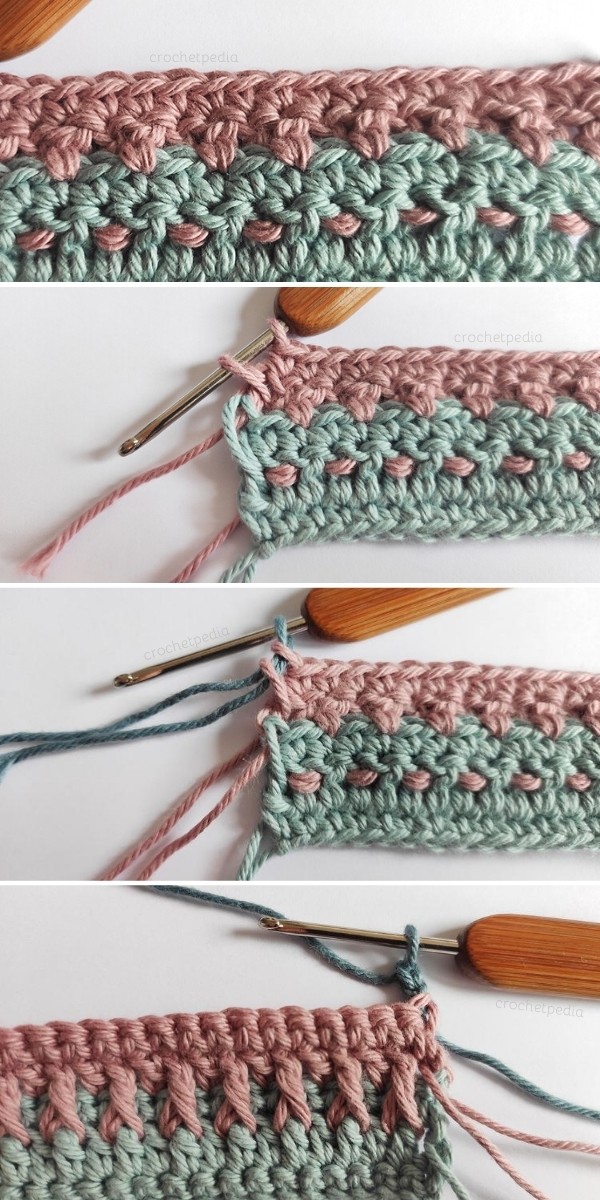 row 5 and changing the color
ROW 6:
chain 2, *1 double crochet, 1 fpdc (front post double crochet) in the double crochet of row 4*; your last stitch should be 1 double crochet.
ROW 7:
chain 1, single crochet stitches all the way.
beginning of row 6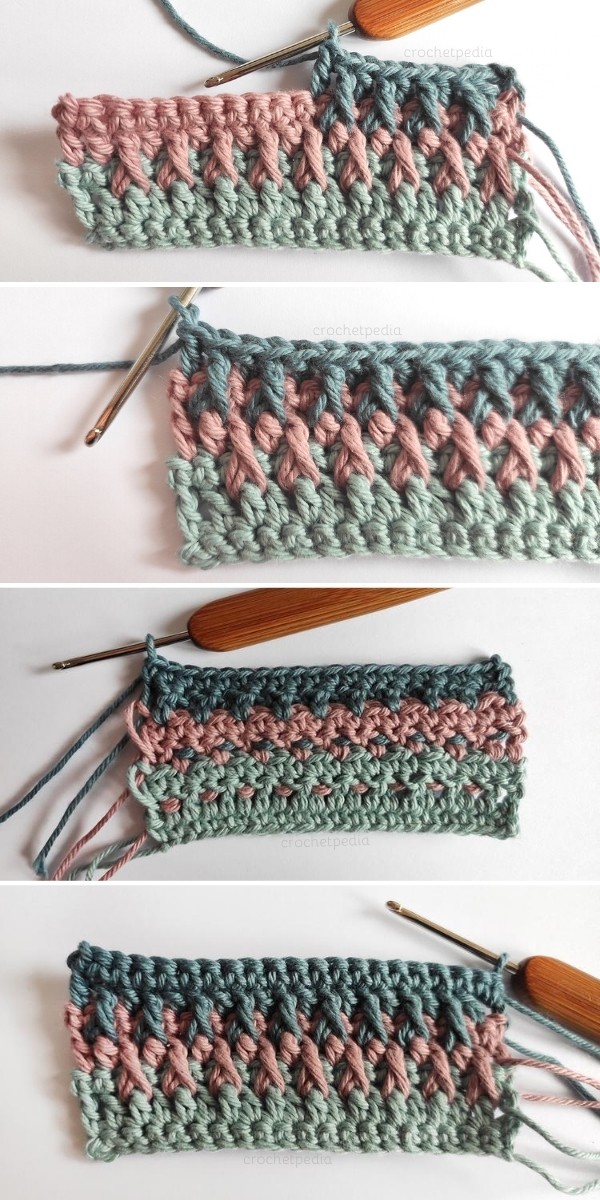 finishing row 6 and row 7 – back and front view
Repeat rows 4-7.
The best place to introduce new color are rows 4 and 6, because "the spikes" of front post dc's are nicely visible.
I used one color both for row of front post double crochet, and the row of single crochet stitches that goes after it. I think that it's the best way to alternate colors if you are going for stripy design.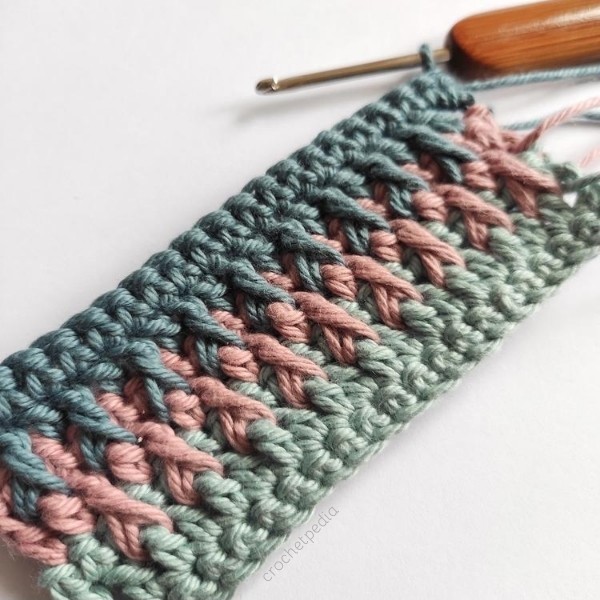 Hey, it wasn't hard, right? Use this stitch in whatever project you want.
share, like, subscribe!
If you happen to make this project, I would love to see it, so don't hesitate to contact me! Please feel free to share the results with us in the comments or on social media. Of course, if you find any mistakes in the pattern or find it hard to understand, please let me know, so I can learn and improve!
Sharing is caring, so if you liked this project, be sure to share it with your friends and spread the word, because I really appreciate it! For more free tutorials, patterns and interesting articles – follow my social media pages and allow notifications to get a pop-up whenever new post is published.
◉
FOLLOW ME ON PINTEREST AND INSTAGRAM