Good ol' granny stripe! Who doesn't know it? Who doesn't love it? This well-known technique is  versatile and has truly timeless look to it. You can conjure up all sorts of things with it, because it's all in the details (and colors!). Those of you, who don't like it, certainly haven't seen enough of it!
Beginners, if you want to learn your first proper stitch (not counting basic stitches!), this one is for you, because it's easy and fun!
Grab your crochet hook and try it!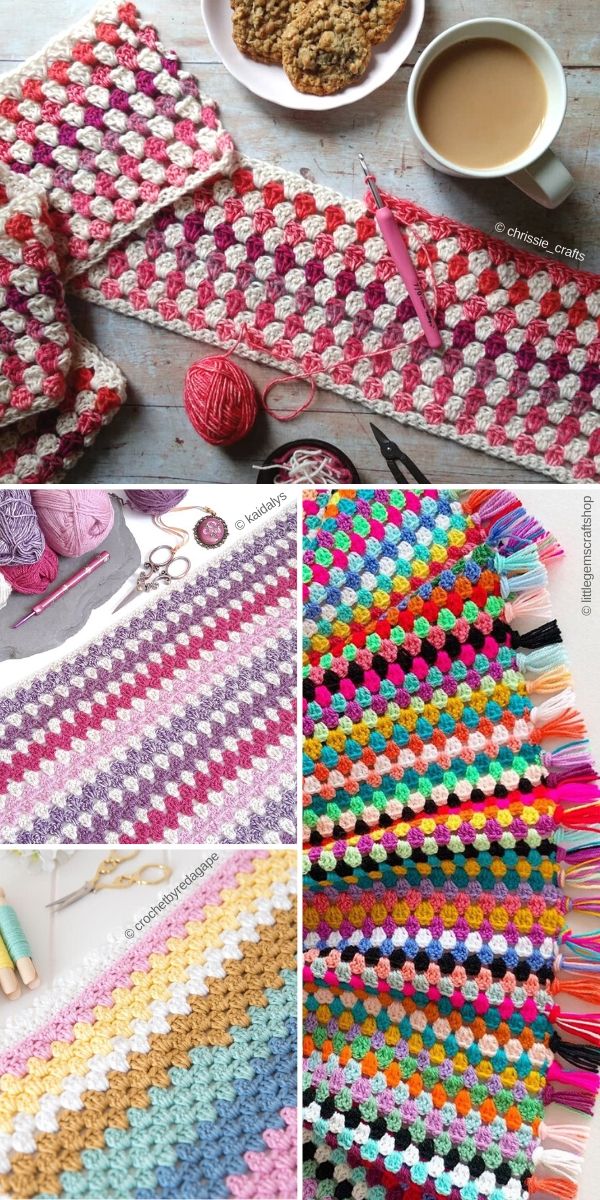 WELL-KNOWN TECHNIQUE
In this article I'm focusing on granny stripe, and what do I mean by it? Well, you can find a lot of ways to work granny stitch – in squares, rows, ripples, even in a circular manner! But this post is all about working it in rows.
It's perfect for blankets of all kinds, so baby blankets, throws and bedspreads. You can use it in garments and accessories, too! Trying out different color palettes is a real game changer for this simple stitch.
Materials
Yarn and gauge is not important here! You can work granny stripes with any yarn and corresponding hook you like.
Ready? Scroll down for inspiration or head straight to my tutorial for more info and step by step instructions under this link: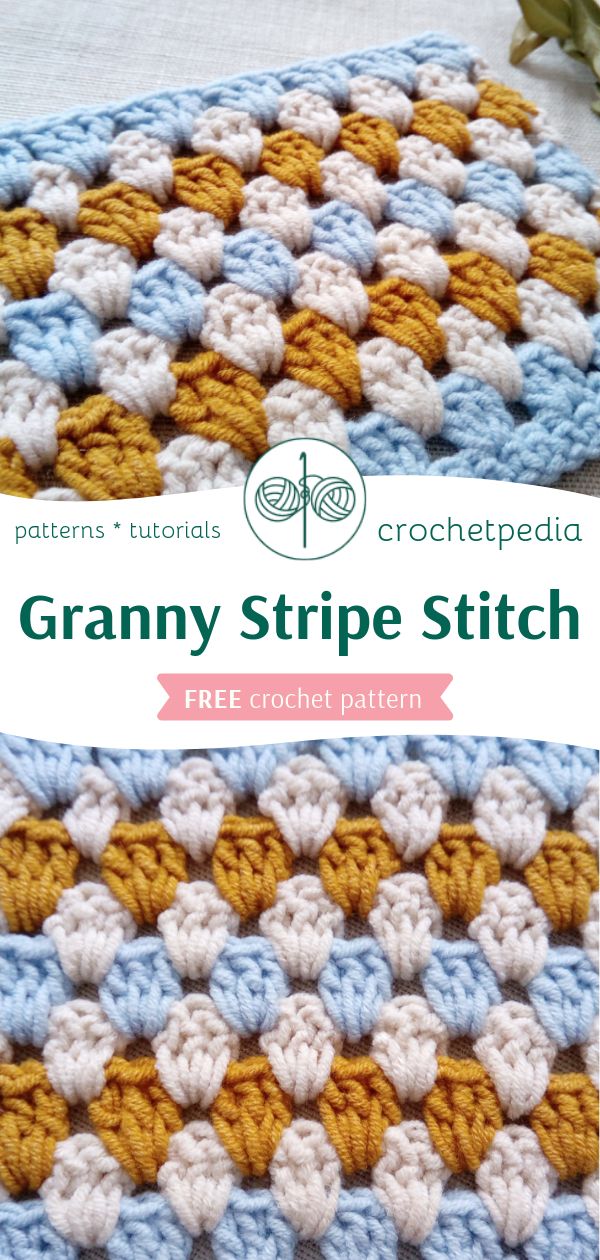 Classic granny stripe stitch uses
chain stitches
and
double crochets
in clusters of three. There are other variations, but this one is the most common.
If you prefer visual learning, you can find a cool video tutorial by Bella Coco
here
.
talking about stitches…
Our growing website and library of free crochet patterns has some projects that might interest you, too. If you want to know more about crochet, read my articles on different topics, for example – what are Crochet Swatches? 
→ Yes! Take me to this article! ←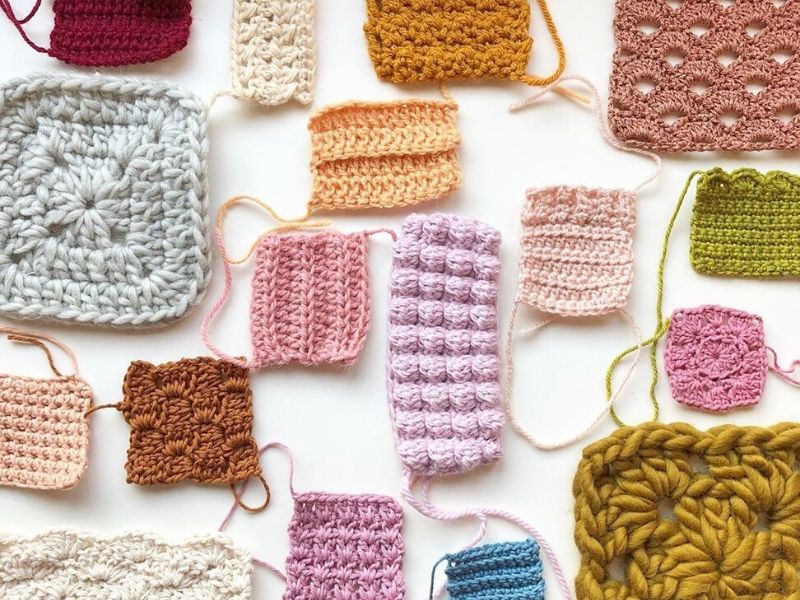 or…
Learn all about Foundation Chain!
→ Yes! Take me to this article! ←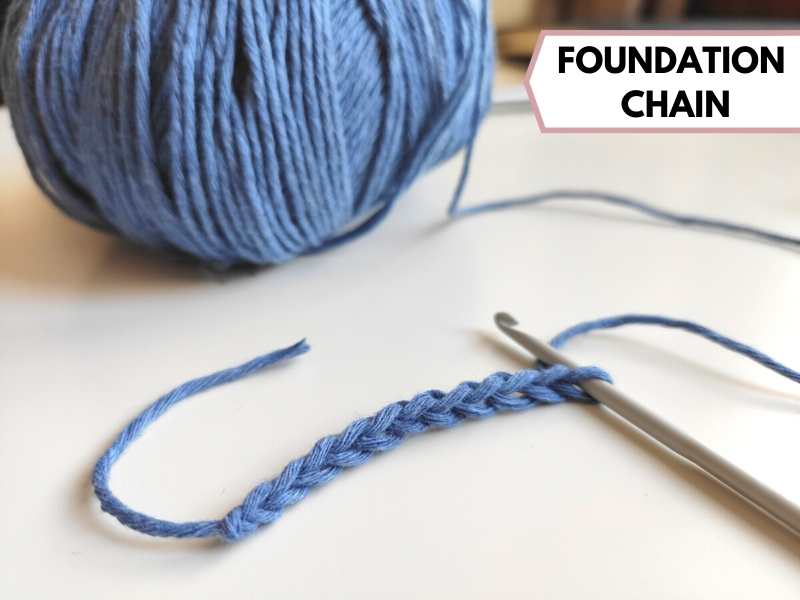 crochet roundup!
Looking for today's inspiration roundup was quite overwhelming, especially because there are so many fantastic ideas for granny stripe stitch! As per usual, I tried to pick absolutely the most stunning and versatile versions, so that you can fully appreciate vast range of possibilities that this technique brings.
Read carefully for free crochet patterns and tutorials.
◉
Granny Stripe Blanket by Kaidalys

Are you a sucker for lilacs, because I definitely am! This blanket design alternates hues of violet and pink with consistent cream intermissions. The effect is fabulous!

Don't be afraid of colors! Use them as an accent juxtaposed against white for dramatic effect, or go full on with the joy of mixing colors! If it's a baby blanket, you cannot go wrong with this palette.
These projects are based on a classic (and probably the most popular ever!) free crochet pattern for Granny Stripes by Lucy of Attic24. If you go to Ravelry page of this pattern, be sure to dive into library of users' creations, it's almost 7500 of them!
◉
Granny Stripe Blanket by Chrissie Crafts
Little 'dots' that the granny stripe creates, can become your playground! Use your main color, such as white or cream, to divide stripes of different colors. This particular design was made with adorable tiny skeins of Scheepjes minis!
This project is based on the same pattern as previous one, but if you need more resources, I truly recommend taking a look at free crochet pattern for Good Morning Sunshine Blanket by Jess Coppom.
◉
Granny Stripe Blanket by RedAgape (Mandy O'Sullivan)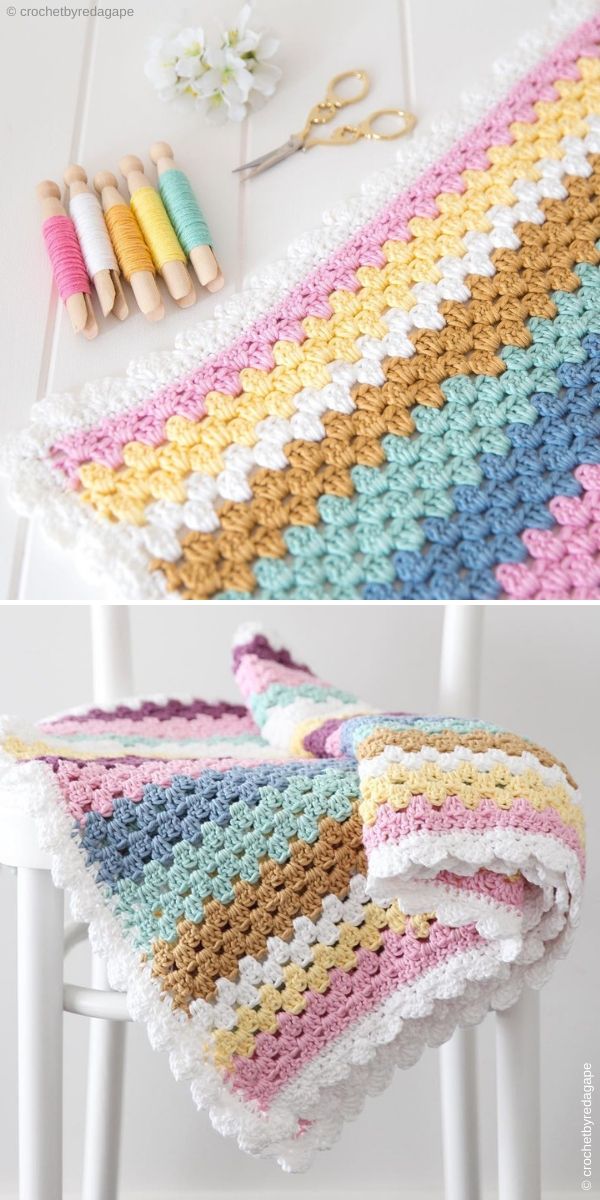 Colorful doesn't always mean noisy and this beautiful blanket is an excellent example. Lovely scalloped white edging is a great way to frame this design and add a finishing touch.
◉
Granny Stripe Blanket by SewHappyCreative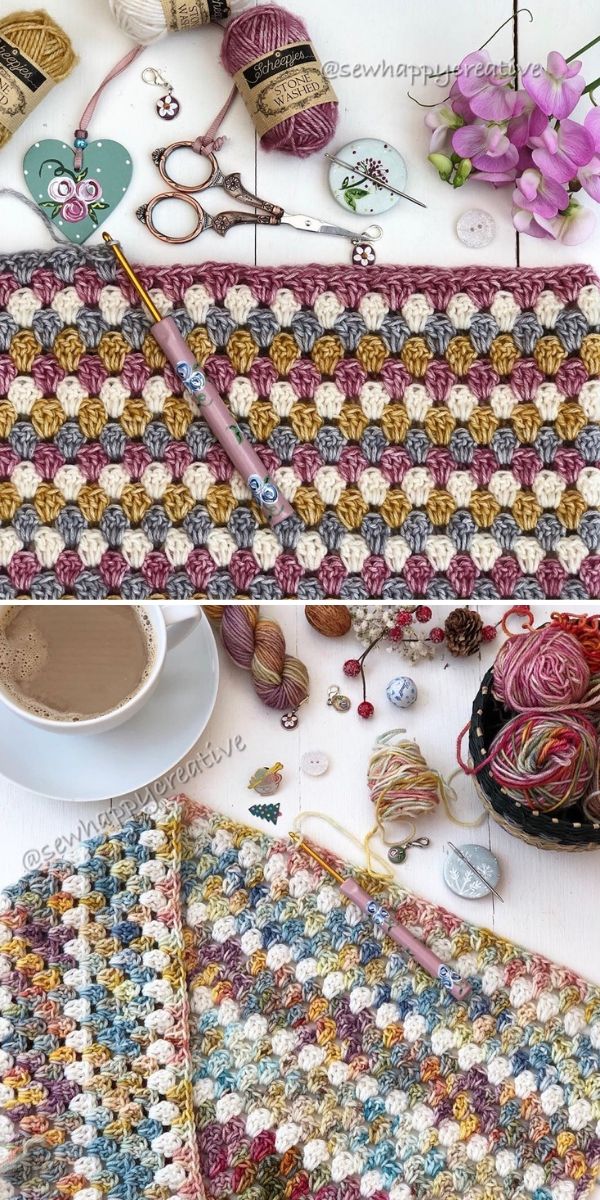 Artisan yarns and multicolored skeins are great for grannies, too! Even if you don't dye your own yarns, you can easily purchase beautiful ones online. Try them to create unexpected flow of colors or divide them with solid one to emphasize the pattern.
If you are interested in experimenting with colors, you may want to check out Color Pooling Baby Blanket by Sarah Zimmerman. Her project is so cool!
◉
Little Happy Blanket by Little Gems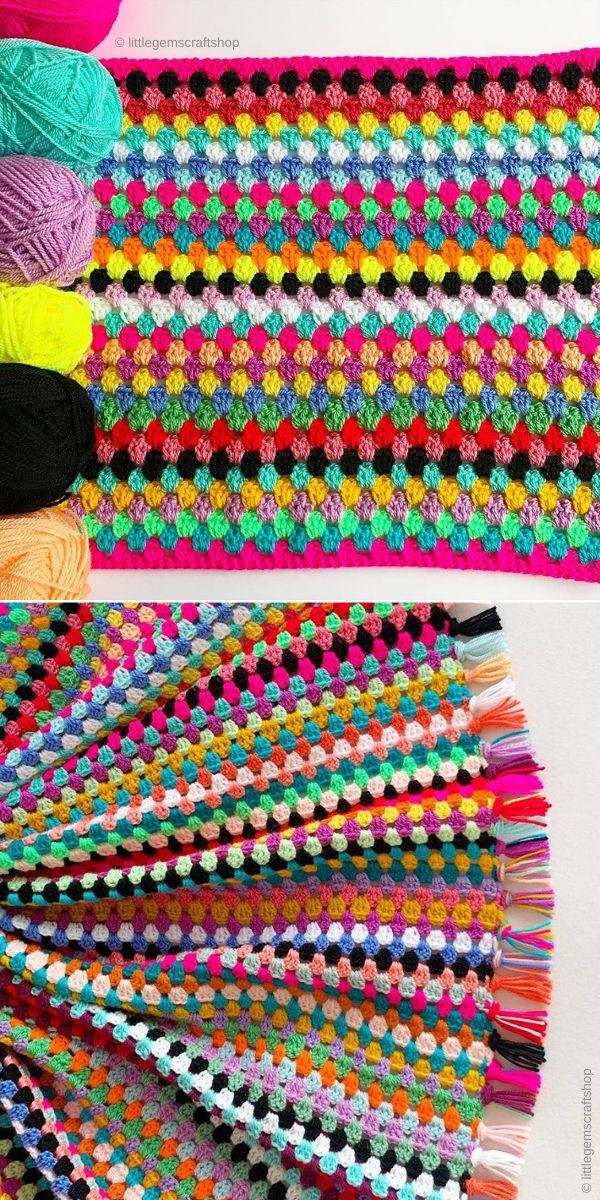 This blanket is called Happy Little Blanket and I know why! Many of you hate weaving in ends after using so many colors in one project, but guess what – you can leave them and turn into fringe!
If you are in need for good stashbuster project, try this free crochet pattern for Stashbuster Granny Stripe Afghan by Amy Ramnarine.
◉
Granny Stripe Blanket by Mummys_Crochet_Boutique
This color palette is to die for! Don't you love it? I bet it would look great in a nursery, so it's a good idea to make one for a baby shower. These colors will work even if you don't know if it's gonna be for a boy or girl – it's gender neutral!
◉
Granny Stripe by cosykitty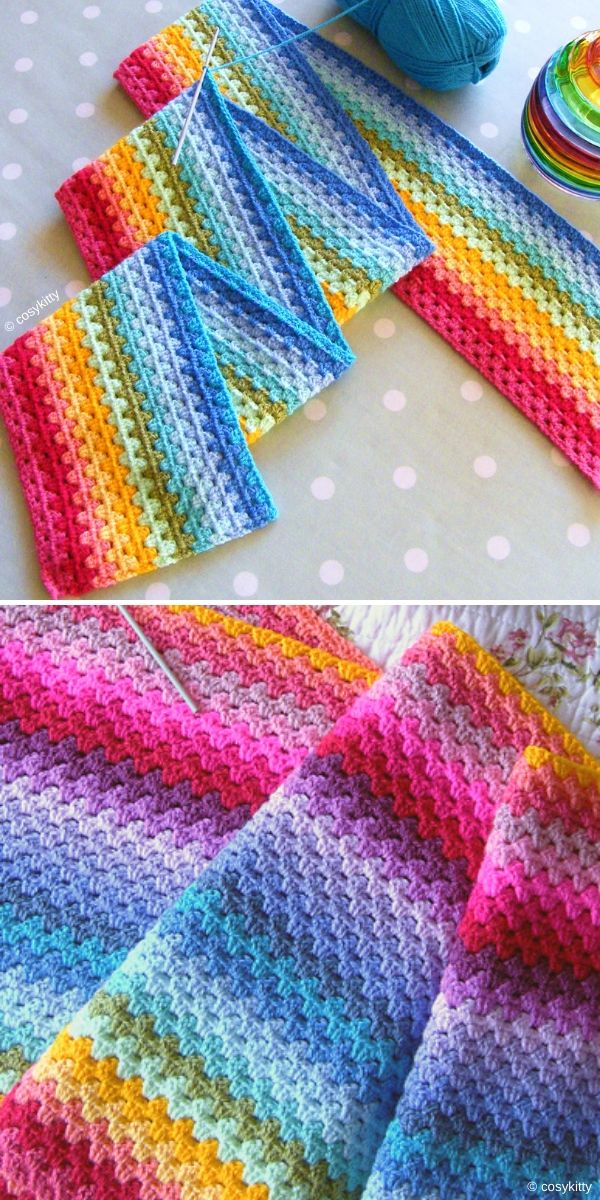 Ahh rainbows. I couldn't resist, because apparently I need to include a rainbow project in all of my round-ups 😉 This beauty has some unexpected combos, but still the color flow is amazing.
To try out something even more fun than rainbow, take a look at crazy geometric free pattern by Love Triangles Baby Blanket by ChiWei Ranck. It's awesome!
◉
Granny Stripe by IgnorantBliss
This little narrow piece of granny stripe has caught my attention, because it showcases truly beautiful color scheme. If you don't want to go for a full-fledged blanket, there are many other options to choose from!
For example, you can make a scarf. Take a look at free pattern for Granny Stripe Scarf by Purl Soho. Simple, but clever idea!
◉
That's all for today, but I'll be back with much more inspiring projects and free patterns. Like, share and subscribe if you like what you see. Stay tuned!
↔
You may also like: Ripple Stitch Crochet Ideas