Easy Shawls for Beginners
Everyday, when I browse the web for inspiration, I find a lot of amazing designs that are right up my alley! It's amazing how rich and creative the world of crochet is. It's impossible to try out all the projects, so often I gravitate towards the simplest ones. When I was a beginner myself, I just couldn't wait to make something wearable and beautiful, so I decided to make a very simple shawl.
Putting time and effort into such project really pays off, because it gives you time to learn the basics really well. Working on a big triangle shawl made entirely out of basic stitches can feel monotonous sometimes! I get it, but remember that it's the time for your hand to get used to working with a crochet hook. The right tension, evenness of stitches or their quality – it's all a matter of practice, so don't hesitate. Grab your hook and start now!
easy and fun
Our growing library of free crochet patterns also has some designs that may interest you! Check out my takes on simple triangle shawls – two beginner-friendly projects that are available as written patterns. Just click on the link and try it! 🙂
Lake Sunset Shawl – Free Crochet Pattern
This easy shawl uses basic stitches only! It will be perfect first shawl for every beginner crocheter.
→ Yes! Take me to this free pattern! ←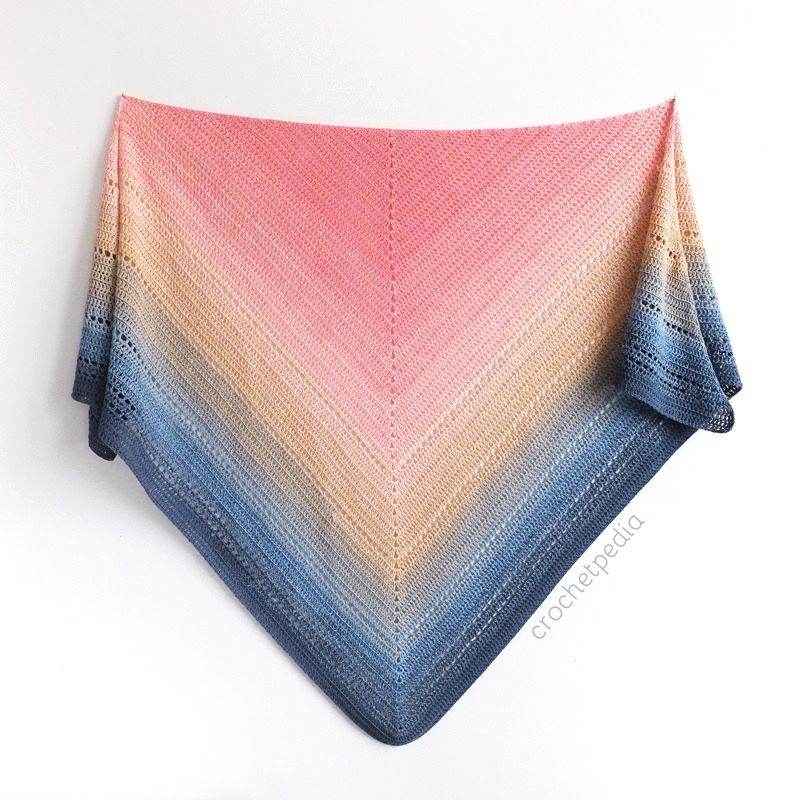 Lake Midnight Shawl – Free Crochet Pattern
Ombre effect is strong in this one! This shawl features net stitch in combination with basic stitches and a little bit of decorative details.
→ Yes! Take me to this free pattern! ←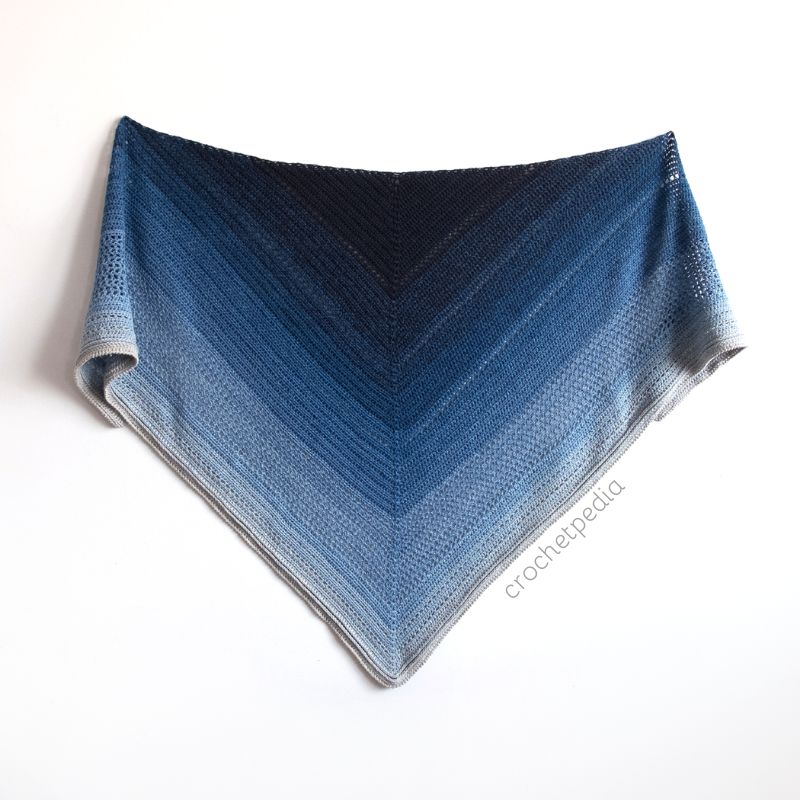 crochet roundup!
I really love simple shawl designs, and there is so many available online! This time I decided to share some of my favorite patterns by top-notch creators. Hope you will find inspiration here, as I did! Happy crocheting 🙂
Nobody's Perfect Shawl
design and photo by Potter & Bloom
This colorful shawl was made with multicolored yarns and yarn scraps, and uses only basic stitches. It's a great way to use up materials that are leftovers from previous projects!
Shell Wave Shawl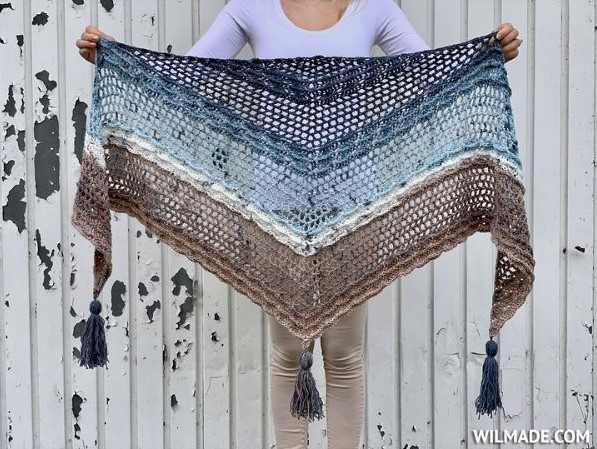 design and photo by Wilma Westenberg
Mesh structure of this stunning shawl is alternated with lovely shells. Tassels add even more style!
→ if you are interested in shell stitches, check out our Little Shells Stitch Tutorial!
Fragrant Shawl
design and photo by Carmen Heffernan
Spring vibes are strong in this one! Making this simple shell shawl is a great way to learn how the stitches are increased in triangular design.
Stormborn Wrap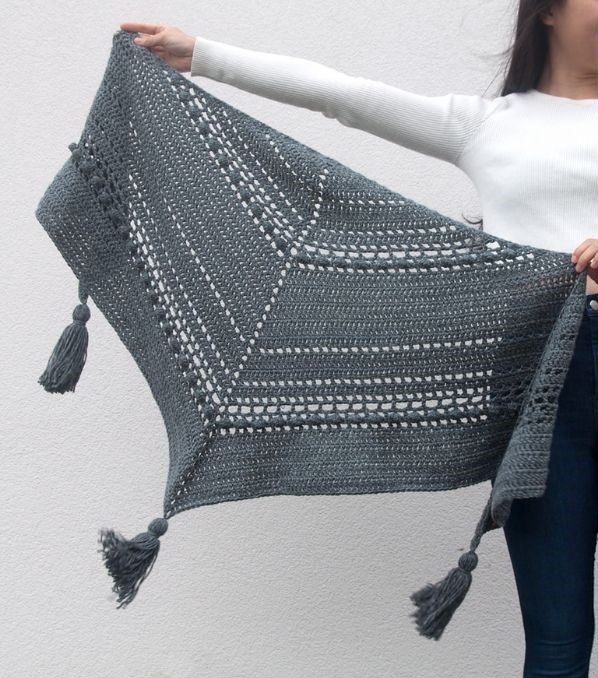 design and photo by Grace forthefrills
Bobbles and mesh are the techniques you will learn while making this beautiful grey wrap. It will be perfect for cold days!
Such Simple Shawl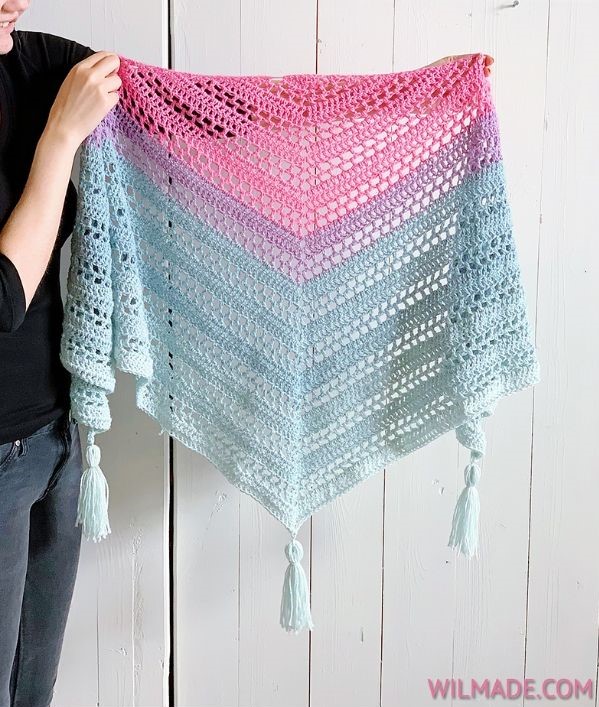 design and photo by Wilma Westenberg
As the title says, this shawl is very simple and easy to make. It uses beautiful ombre yarn to create this color flow – great way to spice up simple designs!
Genara Shawl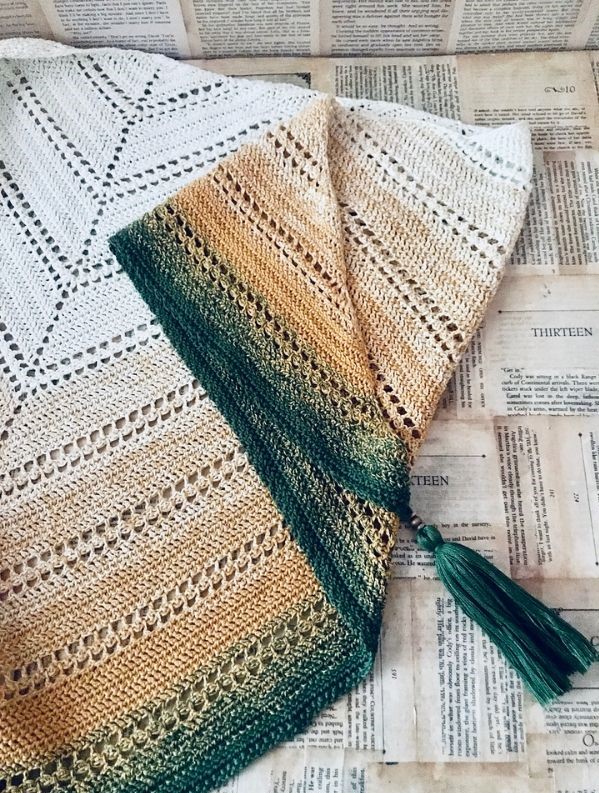 design and photo by D' Elegant Ermine
Basic crochet stitches and mesh go hand in hand. You can easily make a beautiful shawl like this one without much effort, so don't wait!
↔
That's all for today, but I'll be back with much more inspiring projects and free patterns. Like, share and subscribe if you like what you see. Stay tuned!