Anna's Tales CAL – The Most Beautiful Versions
Anna's Tales CAL is a crochet baby blanket pattern and it was designed by Krisztina Anna Matejcsok-Edomer, who is bettern known as K.A.M.E Crochet. This intricate pattern is worked in the round and features a lot of amazing crochet stitches, such as puff and shell stitch variations, lacy stitches and structural post stitches.
The best thing, though? This pattern is completely free!
In this article you will find more informations about magical Anna's Tales CAL, as well as crochet roundup with the most eye-catching versions. Have fun!
◉
abundance of beautiful stitches
What is a CAL, by the way?
CAL is an abbreviation of Crochet-A-Long, which means that the pattern is published in parts throughout a period of time. Crocheters that join CAL can consult with each other in groups, discuss and share their work in progress with others.
CALs are usually very detailed and often include photo or video tutorials of every step. It's a great way to learn for those of you who have never tried such big project before.
Why should I choose this project?
First of all, Krisztina is one of the most talented crocheters out there, so you can be sure that this pattern is of highest quality. Secondly, this intricate baby blanket is a kind of project that stays in the family for years and is cherished by generations. That's what we aim for with our handmade gifts, right?
This pattern is designed for intermediate and advanced crocheters, but thanks to easy to read photo-tutorials, it will be a nice project for ambitious beginners.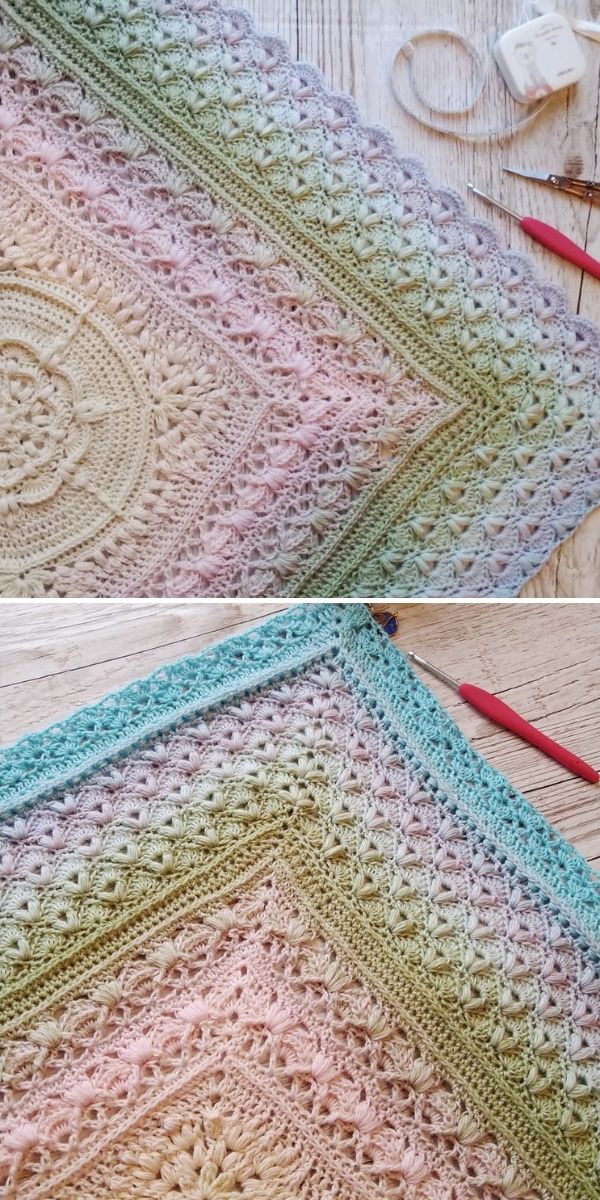 Free crochet pattern is available on kamecrochet.com, but you can learn more about it on ravelry.com, too!
What kind of yarn should I choose?
Originally this blanket is designed for Scheepjes Whirl and Whirlette yarn cakes, so we are talking cotton-acrylic ombre yarn in big yardages. Please read more about yarn types and their qualities in my article.
Of course, you can use other kinds of yarn, but be sure to choose ones that will result in a similar gauge, otherwise the size of your blanket will be significantly different than the original.
Ombre yarns are easy to work with and result in amazing color changes, as you are about to see in Crochet Roundup below… Don't wait – check it out now!
talking about stitches…
Our growing website and library of free crochet patterns has some projects that might interest you, too! Here are some other articles I wrote about CALs!
crochet roundup!
Today I gathered the most eye-catching projects from mega-talented crocheters, so don't wait another minute and dive deep in!
All of the projects visible below are versions of original Anna's Tales CAL by K.A.M.E Crochet, which is a free pattern! It's linked in the first part of the article.
◉
Delicate Pastels
eched's Anna's Tales
Dusty colorways like the one you see below are very sophisticated, so go for similar hues when making a gift for someone who likes classics. The center of the blanket features stunning ombre yarn that goes from beige to dark pink, imitating a flower. The border, on the other hand, nicely frames it in dusty mint.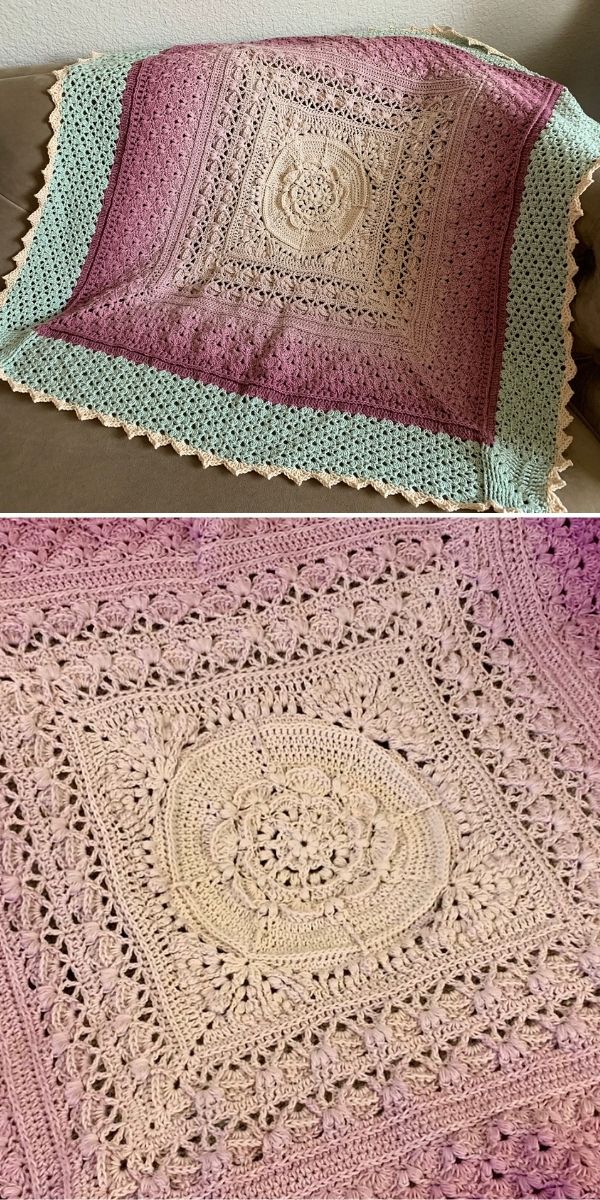 ◉
Anna's Blanket by ByMyTina
What I love about projects worked in the round is that you can stop wherever you want, or keep going! Crocheter behind the name ByMyTina decided to go for smaller squares made with ombre yarn, and each one of them is unique. Thanks to uniform pastel palette, all of the pieces fit together nicely, even though they are different.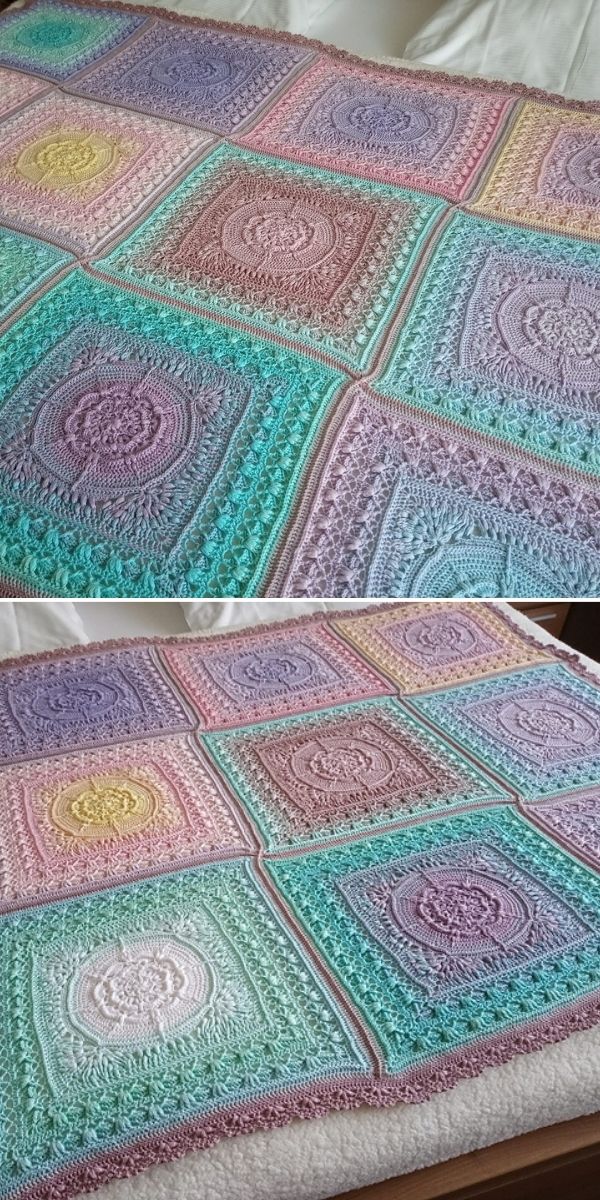 ◉
Lovely Lilacs
Anna's Tales Blanket Version by Anna Moore
Structural flower in the middle of this blanket makes it easy for us to see it in floral colors, and the project in the pictures is no exception. Anna chose the most stunnig colorway of Hobbii Twister yarn, which features both light and dark lilacs, with an unexpected pop of blue in between. I think that this is a great combo for any nursery, because it will please both vintage lovers and modern design enthusiasts.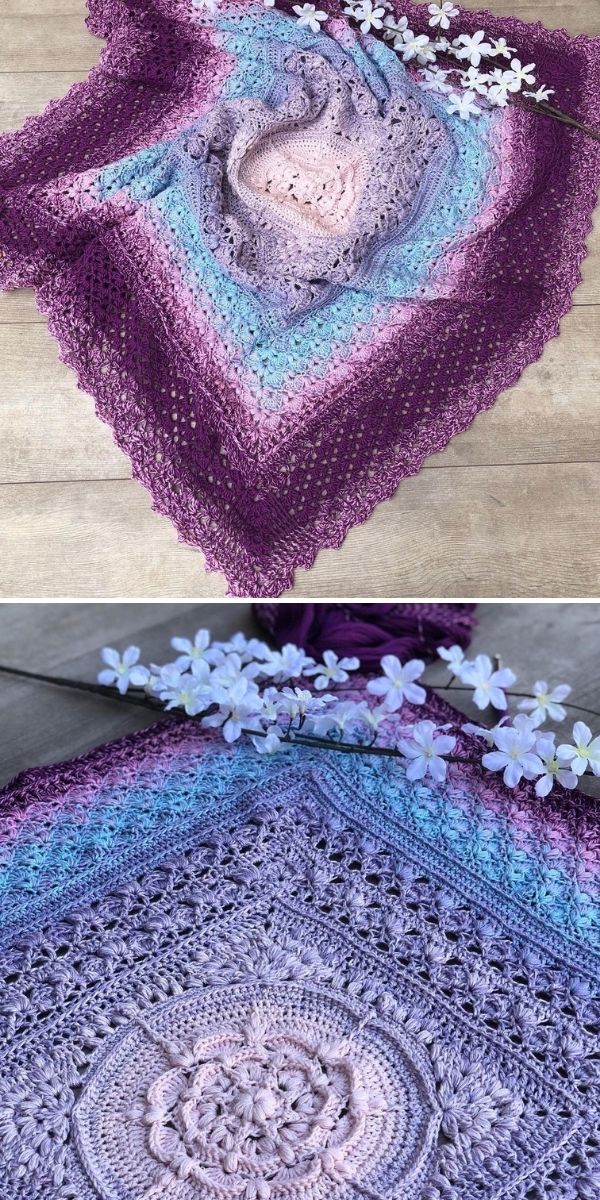 ◉
Anna's Tales Blanket Version by Crochet UK
What an interesting combination of colors, right? How often do we see shades of yellow with violets and blues? Let's keep it in mind, because it might come handy in our future projects. As you can see in the bottom photo, crocheter behind Crochet UK decided to start with the yellow and end on dark violet. I think it creates a really dramatic effect and plays perfectly with original stitches of the pattern.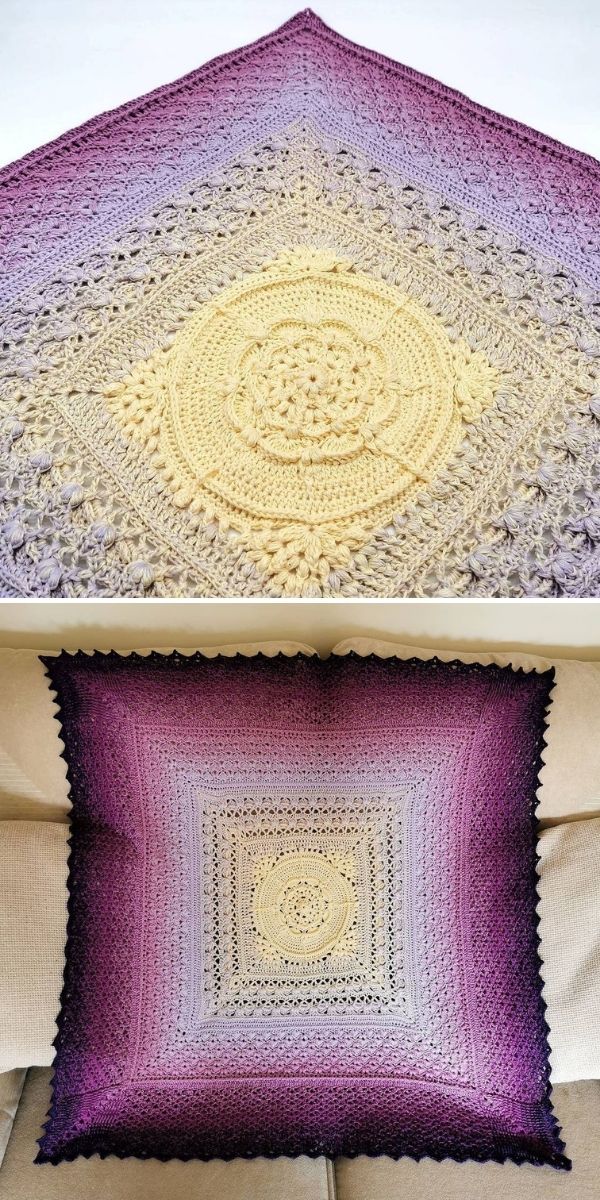 ◉
Anna's Tales Blanket Version by Carrie Gesner
I absolutely love this colorway of Cotton Kings' Color Bomb yarn and how perfectly Carrie paired it with another cake (you can see it in the top photo!). The fact is that one cake is not enough to make the whole blanket, so you can be really playful with choosing your combination. Carrie did a great job – the result is stunning!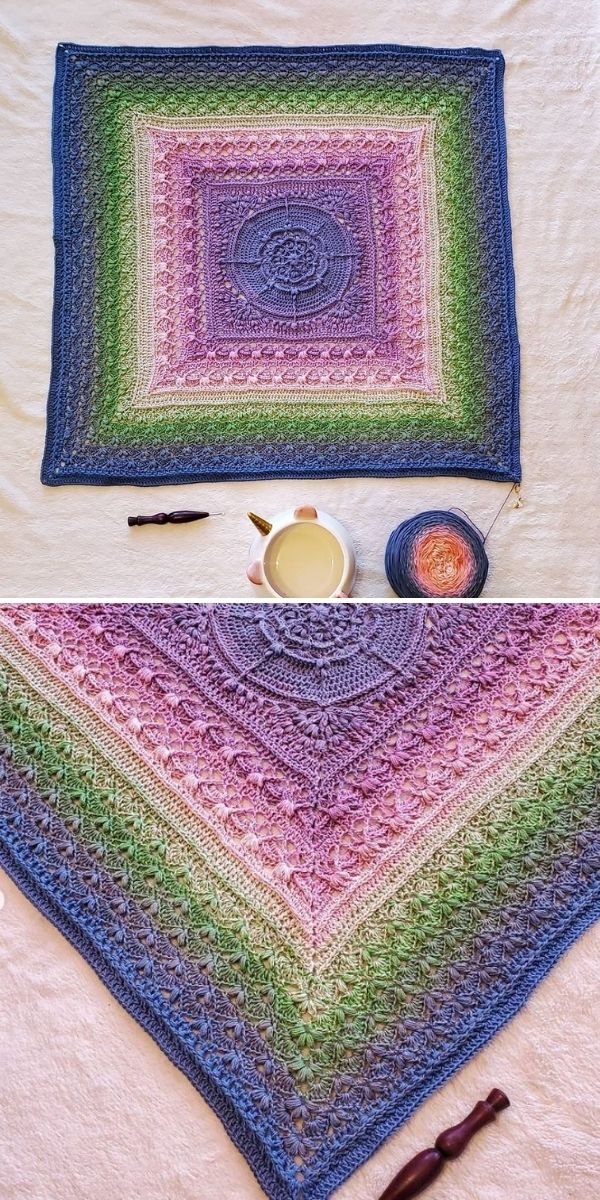 ◉
Rainbow Palettes
Anna's Tales Version by filledusoleil86
Hey, rainbow lovers – this version by filledusoleil86 is a dream come true! I can't stop looking at these photos, because the color flow of this yarn is stunning. It's not easy to find the yarn that has so delicate color changes, so check out the link below the photo to see what kind did author use here.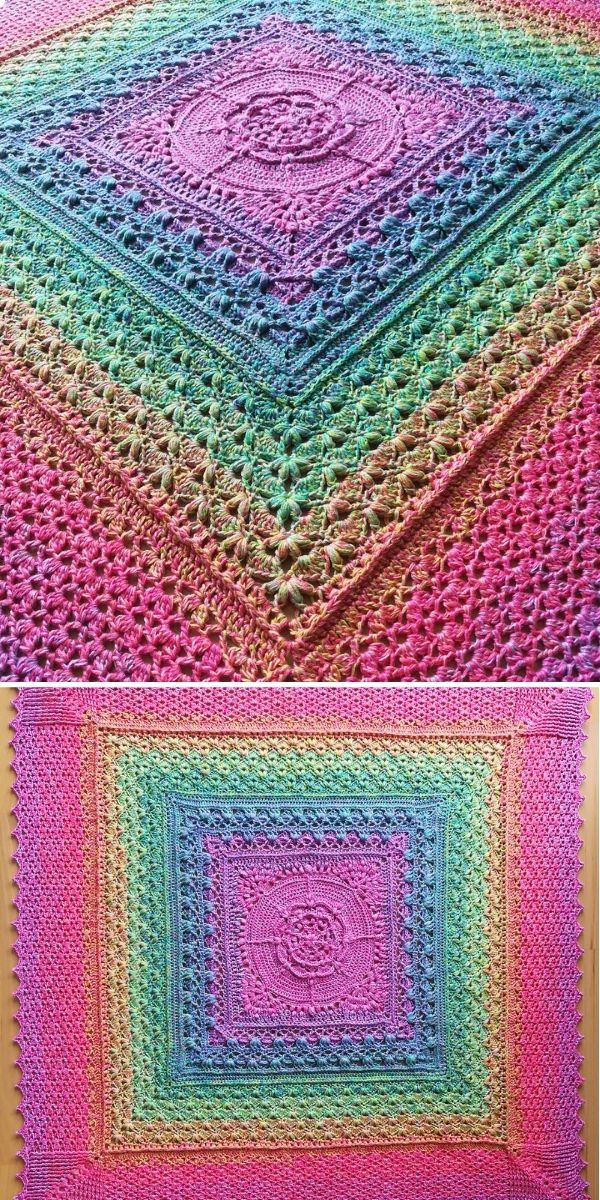 ◉
Anna's Tales Blanket Version by My Dancing Hook
If you are more of a cheerful personality and don't resent weaving in yarn ends, this idea might be for you! Crocheter behind My Dancing Hook went for a rainbow of candy colors – a whole rainbow! As you can see in the photos, each row features a different color, which creates a rather impressive array of stitches. Love it!
◉
Vivid and Vibrant
Anna's Tales in Narnia by Dkennedy66
Believe it or not, but this version by Dkennedy66 features multicolored cake yarn! It looks very detailed, as if each color was chosen exactly for the row it's in, but in fact it's just the beautiful color changes in the yarn. You can achieve similar effect by using multiple colors, of course, so plan it carefully and go for it!
◉
Anna's Tales Blanket Version by Loopin' Stitches
Tired of dark and dull colors? Well, you can always go for fiery hues, such as these! Take a look at the pictures and notice how delicately dark red transforms into bright yellow, imitating a real flame. Crocheter behind Loopin' Stitches decided to start with a darker hue, which greatly impacted the design. Remember, that when you work with yarn cakes, you can always choose if you want to start from the middle of the cake, or from the outer edge.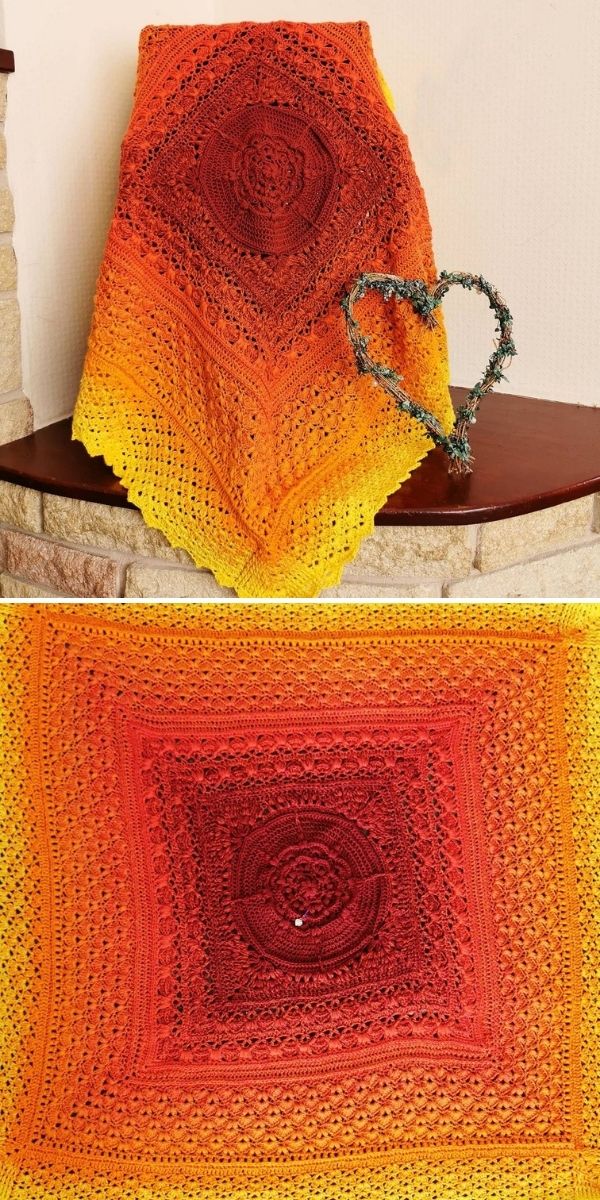 ◉
Moody Blues
Anna's Tales Blanket Version by Wizard of Loops
If I was to say which colorways are my favorite, I would say that sophisticated ones – and this beauty you see in the picture definitely counts as one! Wizard of Loops has truly enchanted me with this version, because original dark border fantastically balances plain neutrals of the center. Delicate colors in the puffy shell part remind me of irridescent petrol shining in the sky. Amazing!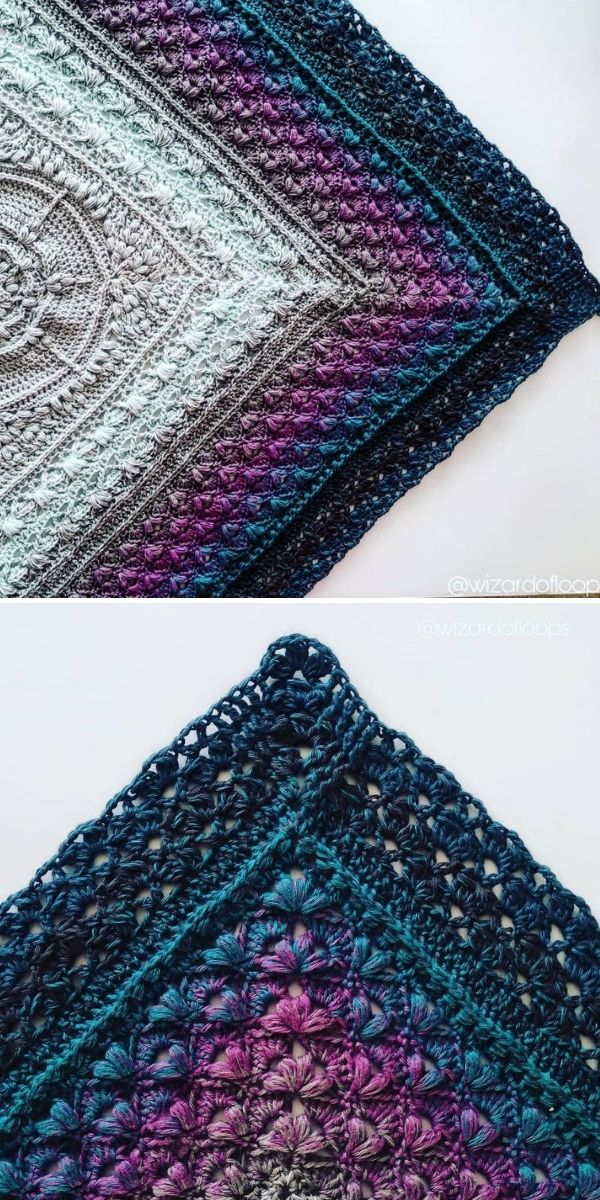 ◉
Anna's Tales CAL Blanket Version by Daniel W. Sonntag
When in doubt, go for simple and tried color combinations, such as pinks with blues. These colors often appear together in nature, so you can be sure that they will please the eye. Daniel is one of the few men that crochet, and he is fantastic in his craft. He actually made three different versions of this project, each one so interesting that I couldn't decide which one to show you! Well, this is it – take a look at the photos and admire the rich palette of this one.
◉
Unexpected Color Combos
Anna's Tales CAL Using YarnArt by escamizan
If someone had told me that the combination of teal, pink and brown will look good, I wouldn't believe, but here it is! Take a look at escamizan's stunning piece and admit it – you wouldn't choose these colors either, but they just work. That's a reminder that you shouldn't be afraid of experiments!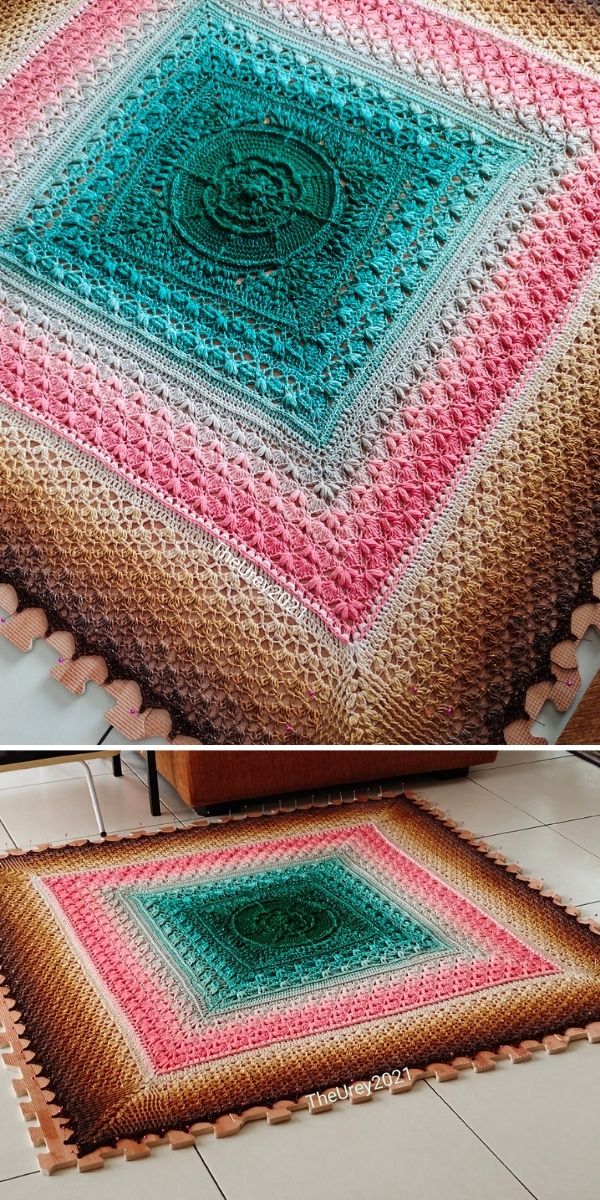 ◉
That's all for today, but I'll be back with much more inspiring projects and free patterns. Like, share and subscribe if you like what you see. Stay tuned!
↔
You may also like: Puffy Stripes Baby Blanket – Free Crochet Pattern