Today's post is all about crochet heart stitch! Valentine's Day is coming soon, so are you ready to feel the love? No matter if you are going to spend this day alone, with friends or have romantic plans with your other half – you absolutely need to find some time for crocheting! And what better theme to undertake than hearts, right?
I knew that there will come the time when I write about one of Olivia's tutorials, because they're just so beautiful. Often the easiest techniques create the loveliest patterns, so you will find a lot of ideas for beginners, as usual.
Grab your crochet hook and let's dive in!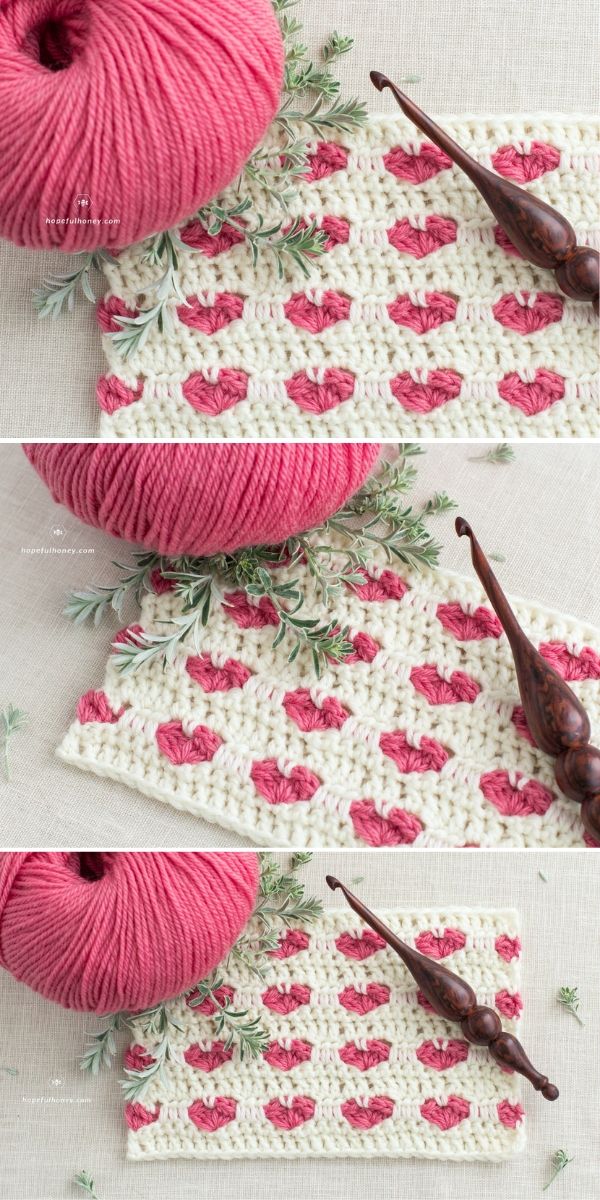 not only for valentine's day
This romantic stitch is dense but cute, so use it for kitchen accessories, cowls, cushion covers or baby blankets. Once you learn the basics of this stitch, you will go on without even looking. It's a perfect idea for a weekend project.
Materials:
Olivia used Willow & Lark Ramble Yarn, which is 100% wool, in two lovely colorways: Snowdrop and Rhubarb Pink. She decided to use 3.75mm (F/5) crochet hook with it. I bet scissors and yarn needle for weaving ends will come in handy, too.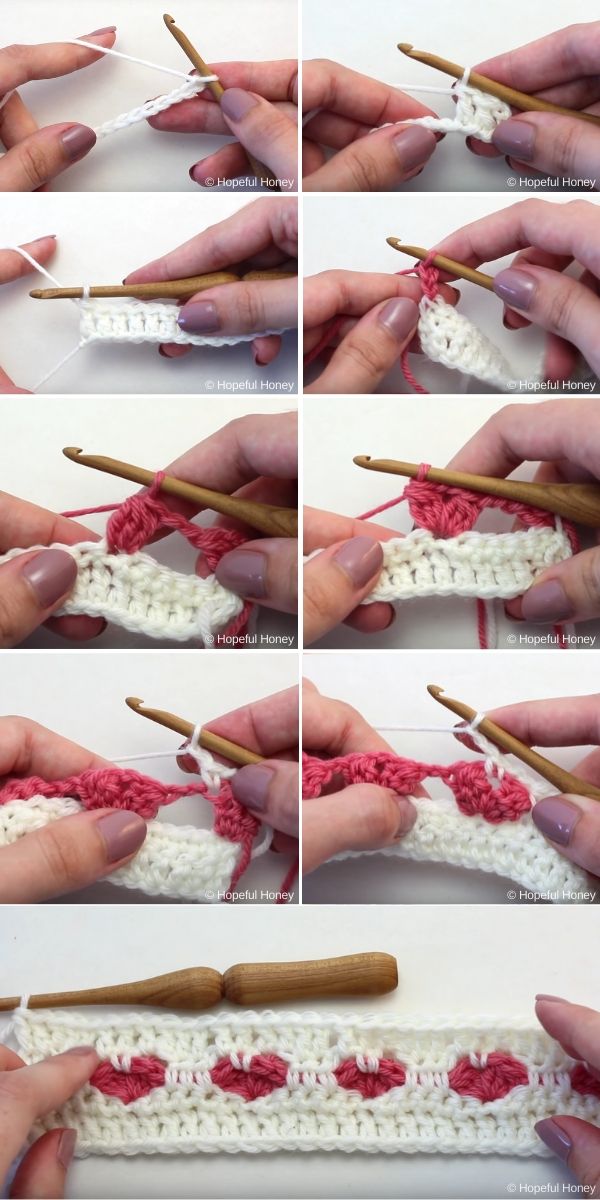 We start by making starting chain in multiples of 6 + 3. First row consists of double crochet stitches, next one of single crochets. Third row is when we introduce pink yarn. To achieve these cute heart shapes, we need to make double crochet clusters, which next are separated by background color.
For better instructions check out full video tutorial here, or written pattern if you prefer this way of learning.
talking about stitches…
Our growing website and library of free crochet patterns has some projects that might interest you, too. On top of that, my list of Stitch Series is still growing! For example, check out my article on Moss Stitch aka Linen Stitch Crochet Ideas!
→ Yes! Take me to this article! ←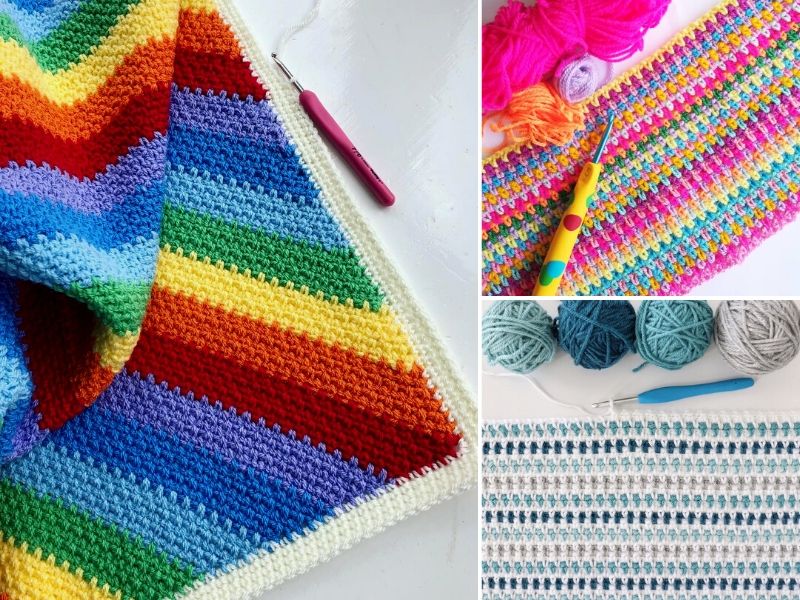 or…
Explore the article I wrote about Waffle Stitch Ideas, because it's full of free resources!
→ Yes! Take me to this article! ←
crochet roundup!
I loved exploring today's theme, because there are as many ideas as there are crocheters. Finally, I chose for you the cutest color combinations and ideas for this special technique. Remember that heart stitch blanket or accessory can be a stunning gift for someone you love!
Be sure to read the post carefully for free patterns and tutorials.
◉
Simple Reversible Heart Stitch Ideas
I Love Scraps Afghan Version by Anomaliya
Cute little hearts on the simple cream background will look great in most color combinations, but lilac-inspired one is just stunning. Take a look below at Anomaliya's blanket, which features wide flat border with thin stripes and crab stitch edging.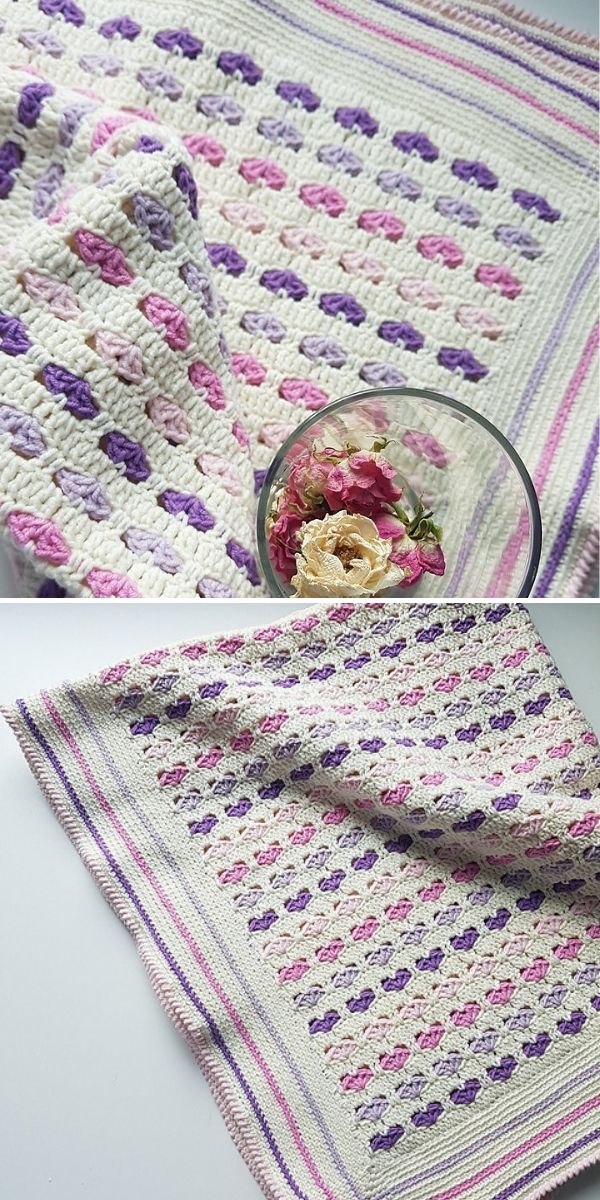 This is a version of free crochet pattern called I Love Scraps Afghan by Mary Ann Frits, which is available on crochet-world.com, with more info on ravelry.com.
◉
I Love Scraps Baby Blanket Version by Alex Roosje
Spice up the heart pattern with vibrant colors, such as mustard yellow, pink and deep blue. Alex went a step further and decided to combine white and light grey in the background. The stripes are delicate, but they create an interesting aspect to this otherwise simple blanket – just take a look at the photo!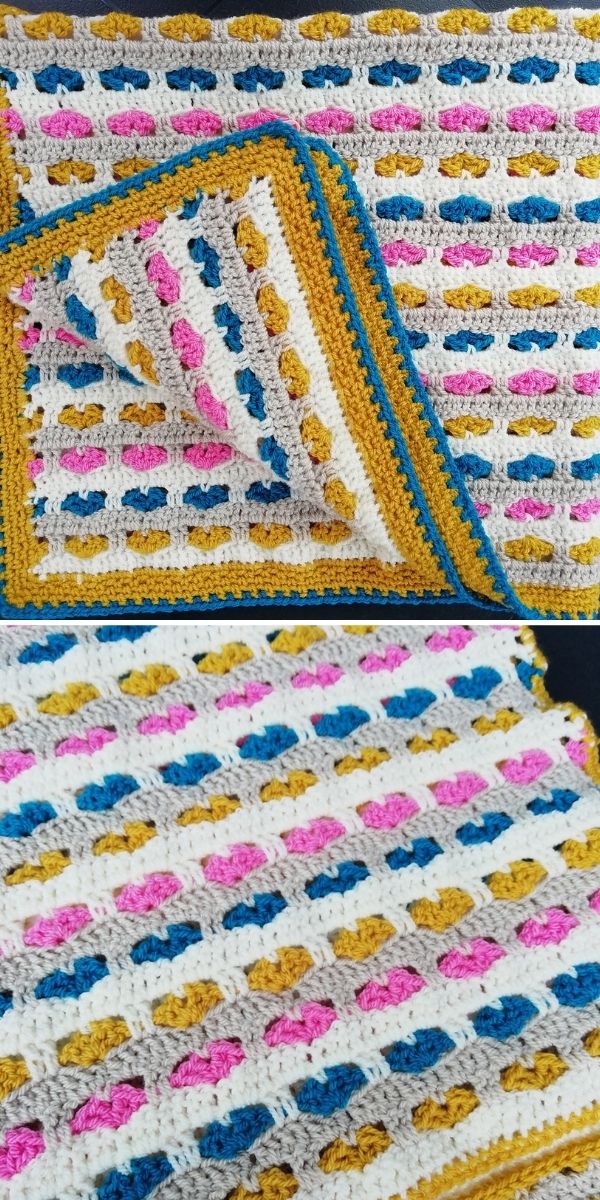 This is a version of free crochet pattern called I Love Scraps Afghan by Mary Ann Frits, which is available on crochet-world.com, with more info on ravelry.com.
◉
Crochet Lovey by Elin Werner
It's mostly about blankets here at my place, but it's important to keep the flexible and open mind. As you can see in the pictures, Elin chose this cute heart stitch as a base for her crochet lovey. It's a sleepy gnome hugging a tiny blanket – isn't it just adorable?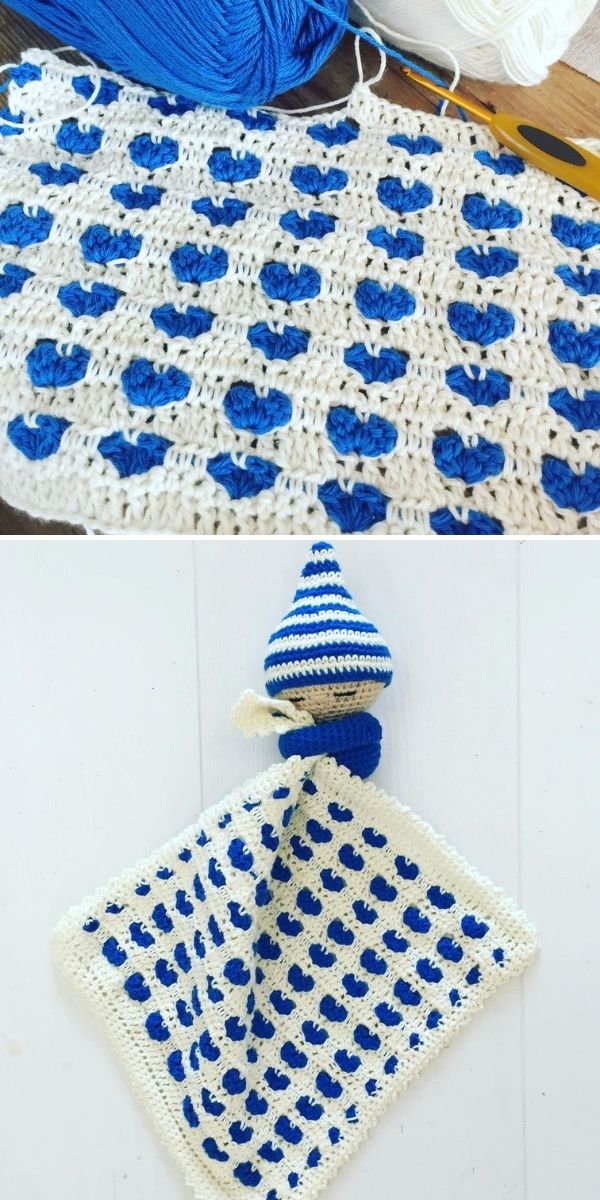 This project can be made using tutorial from the beginning of this article. If you are looking for free lovey patterns, check out some of mine: Puppy Baby Lovey, Sleepy Bunny Lovey, or Striped Bunny Baby Lovey.
◉
Heart Stitch by hellomissmaker
Bold colors go very well together and don't let anyone tell you otherwise! Make a pouch, blanket or a lovely dishcloth with this amazing heart stitch. Check out more inspiring crochet projects by hellomissmaker on her Instagram!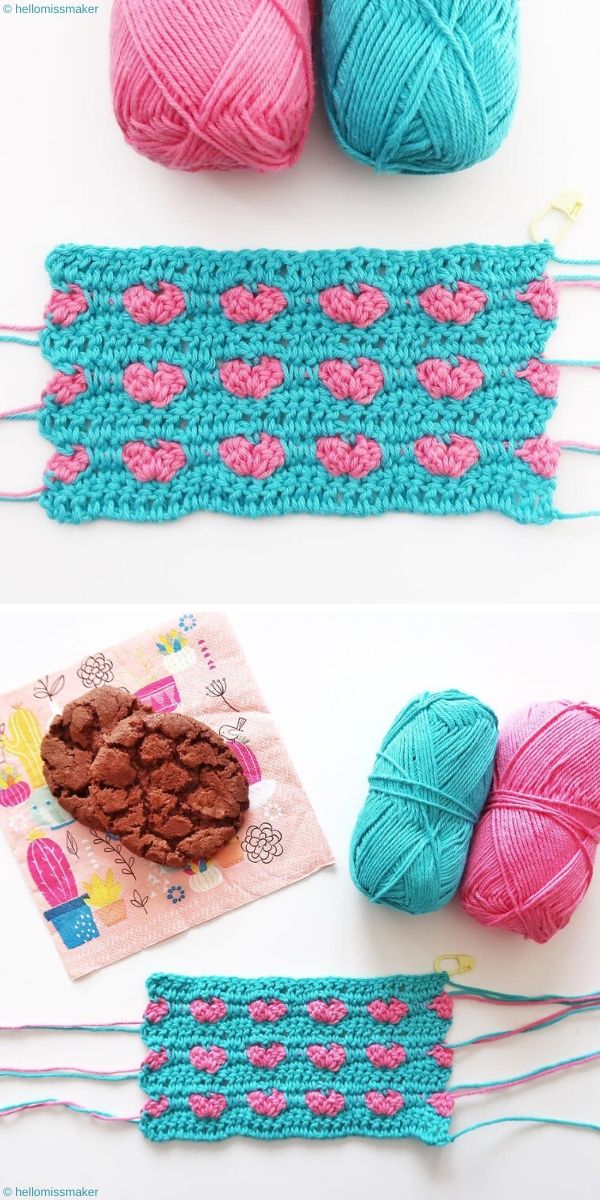 This project can be made using tutorial from the beginning of this article.
◉
Rainbow Heart Blanket by holly_pips
If you don't know what color scheme to choose, go for foolproof solution – rainbow! Use little hearts as a detail or main motif against simple background. It looks great with basic crochet stitches! Take a look at holly_pips' Instagram under the link above!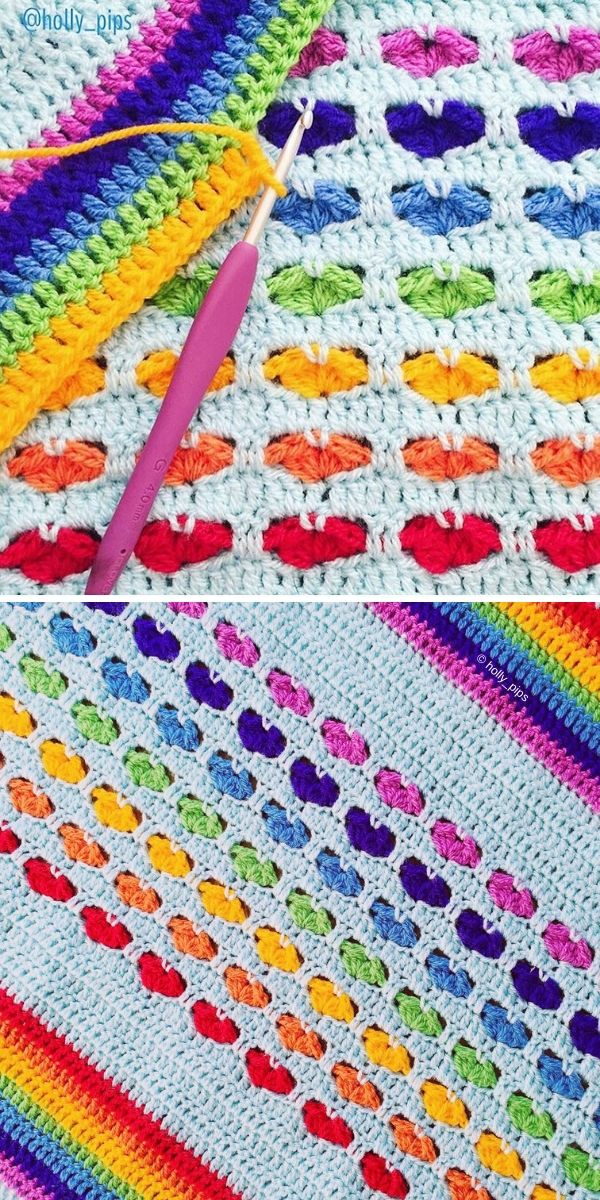 To make similar project, use free pattern for Heart Stripe Baby Blanket by Yarnspirations Design Studio, available on yarnspirations.com.
◉
Heart Stitch Blanket by Wendi Chong
Cream and pink is a match made in heaven, and producers of candy know it very well. If you need an inspiration for a very girly design, go for little hearts! Wendi used crab stitch as edging and it looks really cute.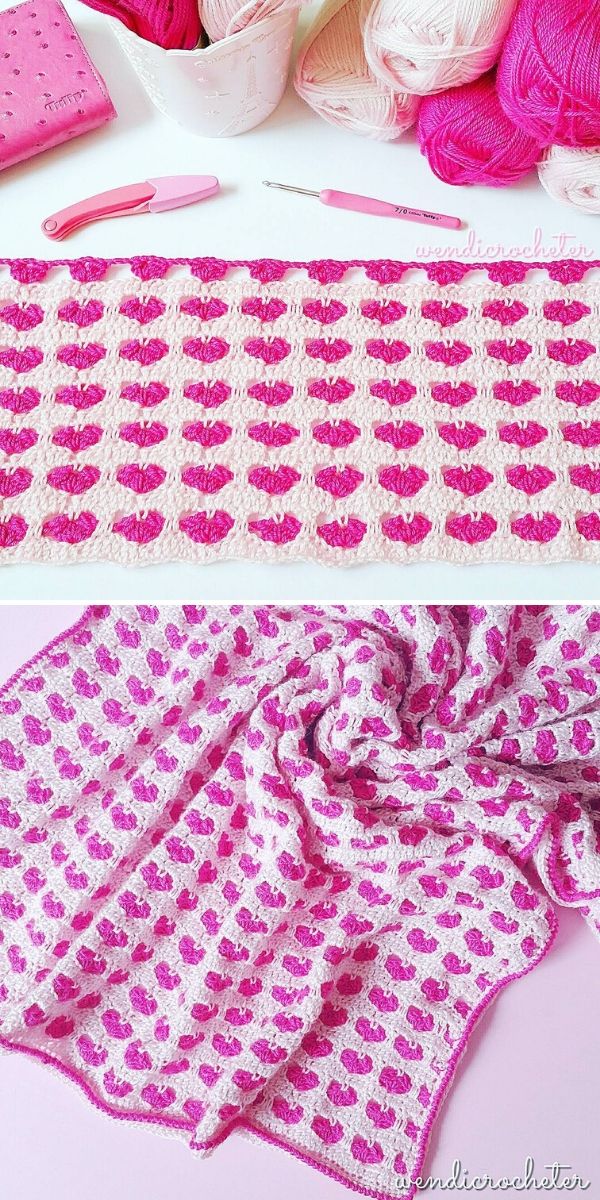 This project can be made using tutorial from the beginning of this article.
◉
Heart Blanket by Kwamsuk Designs
Pastel blue and colorful rows of hearts create a really lovely design. Here you can see how different colors of yarns can be used in every row, but I'm sure that using colorful ombre yarn for hearts would look stunning as well! See more of Kwamsuk Designs on their Instagram.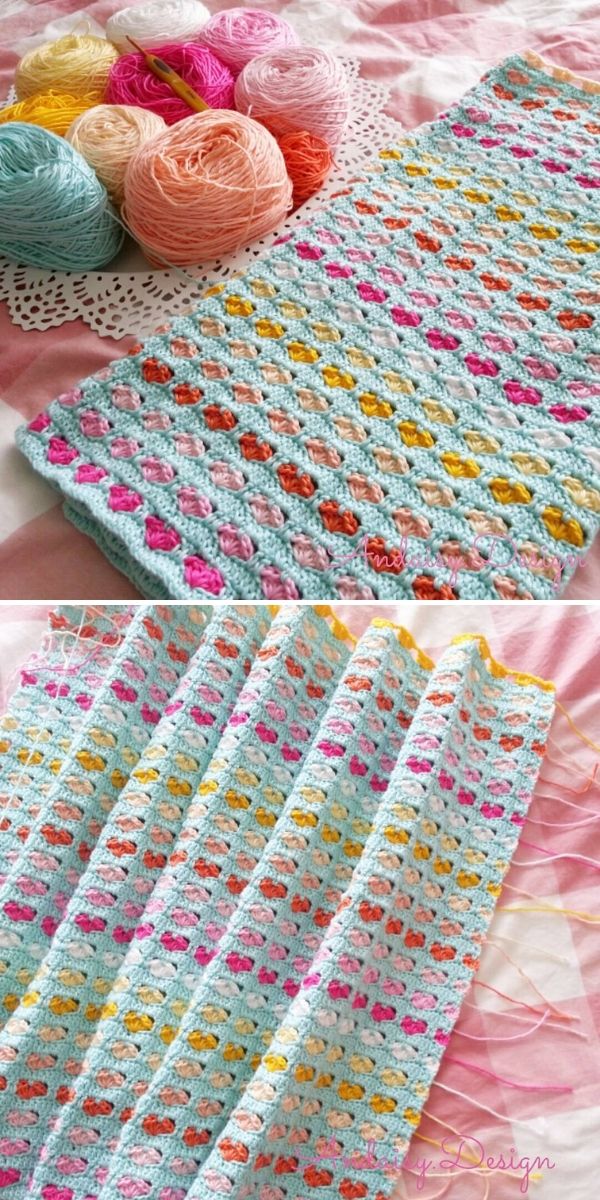 To make similar project, use free pattern for Puffy Hearts Blanket by Jerica Tompkins, available on yarnhookneedles.com.
◉
Flat Crochet Heart Stitch Ideas
Sweetheart Blanket and All Loved Up Baby Blanket by Butterfly Crochet
Filet crochet is a great technique for beginners, because it uses basic stitches to create fun patterns. As you can see below, little hearts emerge thanks to strategically placed stitches and holes. Crocheter behind Butterfly Crochet even combined it with many different stitches to create a truly unique baby blanket.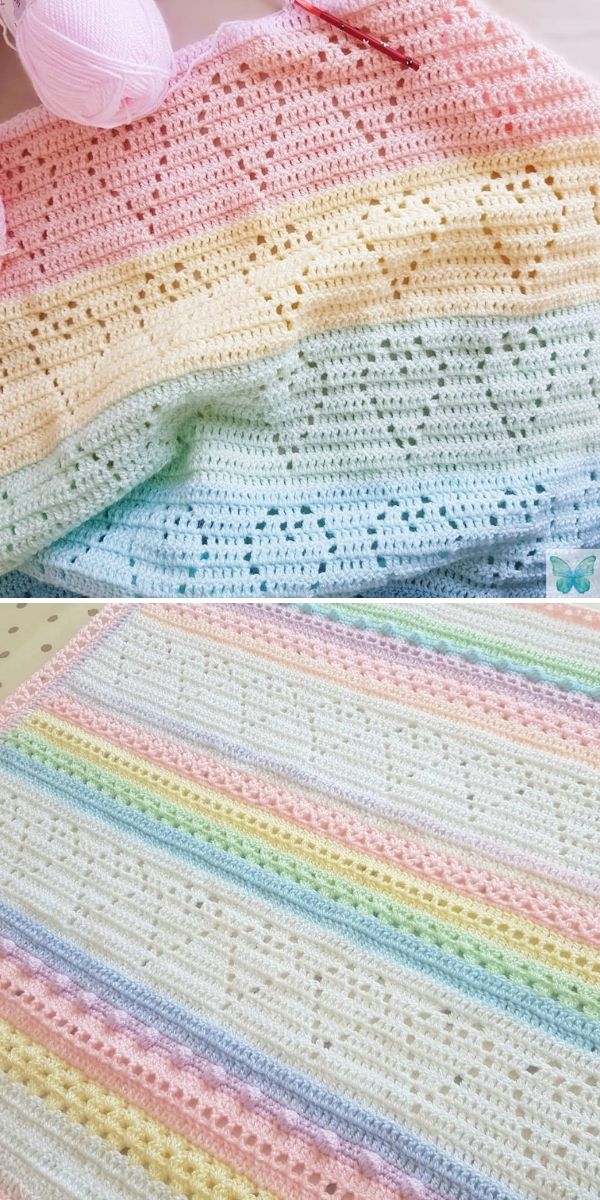 For the filet part of these projects, you can use similar free pattern called Baby Heart Beats Blanket by Mona El Deeb, which you'll find on ravelry.com. The rest of the blanket uses granny stitch, bobble stitch, v-stitch and basic stitches.
◉
Graphic Heart Stitch Ideas
Heart Granny Blanket by the_crofters
Granny squares are so versatile not only because they are easy to make, but also because you can change them completely with the right use of colors. In this case crocheter behind the_crofters decided to go with heart-motif in the center and build up the rest of the blanket with simple granny stripe.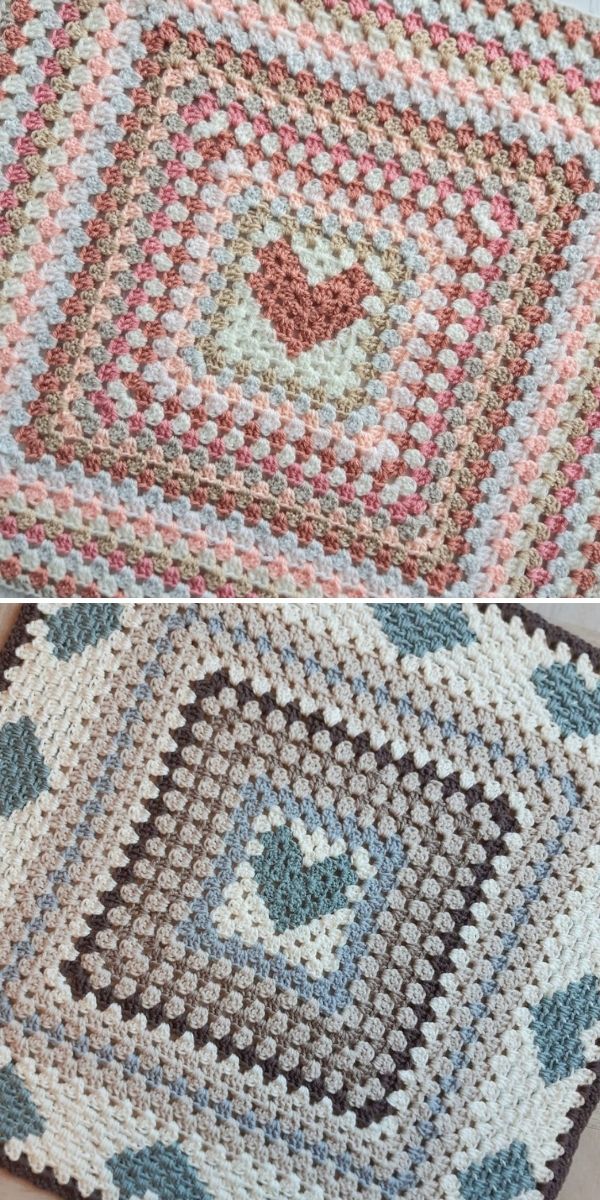 This blanket is based on Emma's Hearts Blanket by Anita Gibney, which you can purchase on ravelry.com. However, I linked lots of resources as well as a free pattern for heart granny square in my article called Granny Square Crochet Ideas.
◉
Tune My Heart Blanket by Magdalene Lee
*free crochet pattern*
This project is a great example of a totally different approach to design. If you want your crochet heart to be bigger, go for this amazing idea! Making simple granny squares can be perfect opportunity to arrange them into something much more interesting.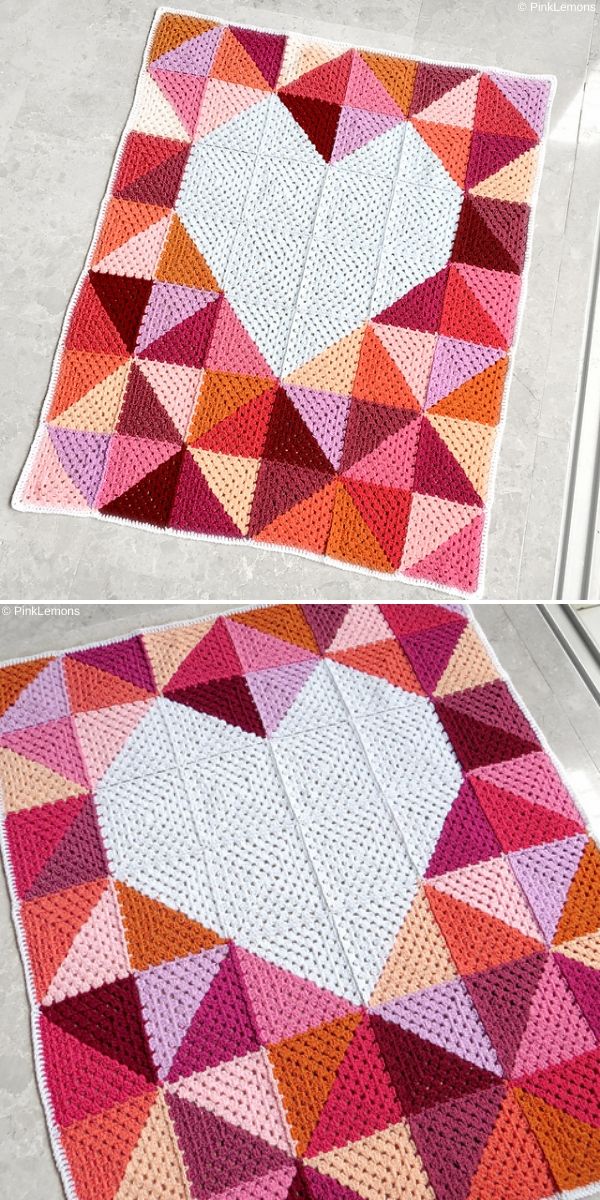 Find this free pattern on ravelry.com.
◉
Crochet Modern Hearts Baby Blanket by Daisy Farm Crafts
*free crochet pattern*
Tapestry crochet is a topic for another article, but I just couldn't resist showing you this adorable mint blanket. I can imagine this modern design changing its character completely when made with more contrasting colors – for example white and navy. It's so versatile!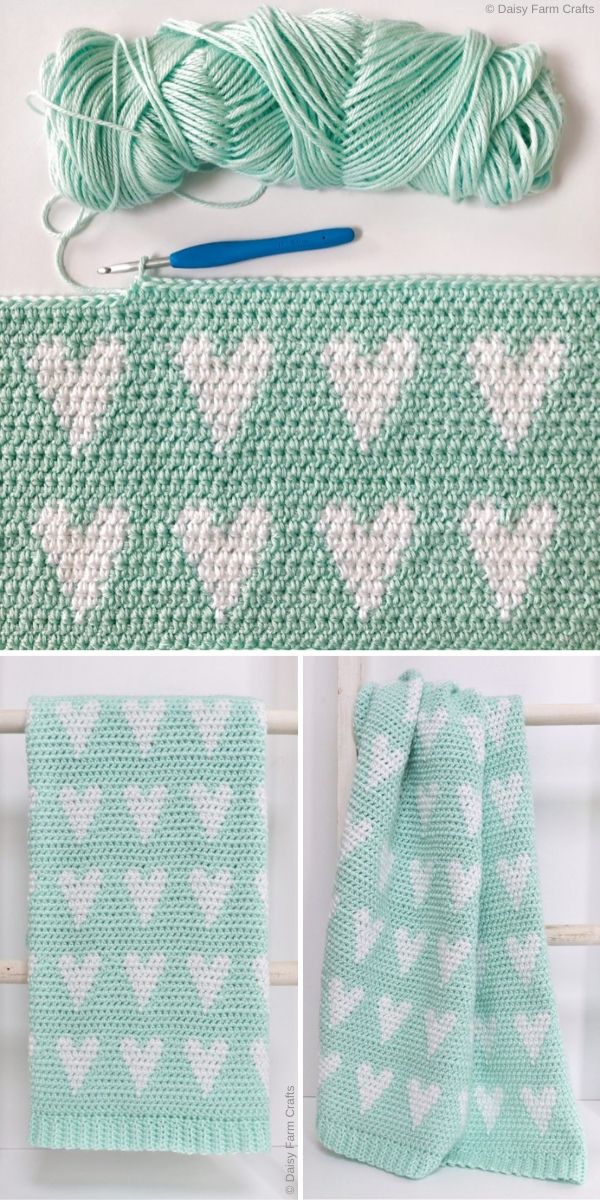 This is free crochet pattern and you'll find it on daisyfarmcrafts.com.
◉
3D Heart Stitch Ideas
Crochet Heart Stitch by MyPicot
*free crochet pattern*
My journey with crochet actually started with me finding MyPicot's designs and drooling over my laptop. As all of their patterns, this heart stitch is just heavenly! Structural, three-dimensional hearts look like applique, but are made as you go.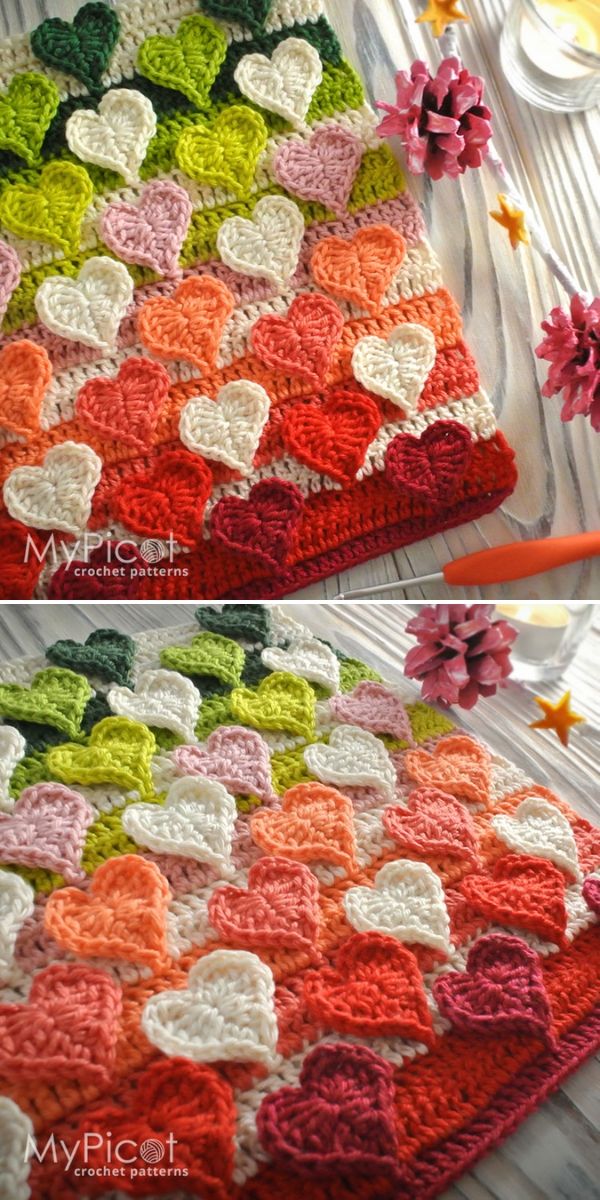 Find this free pattern with lovely photo-tutorial on mypicot.com.
◉
Frozen Hearts Baby Blanket by Crafting Happiness
*free crochet pattern*
Have you ever heard abour crocodile stitch? Well, if you look at it from the right perspective, the scales turn into cute hearts! As you can see, Ariana went for wintry palette, featuring white and two shades of blue. Simple moss stitch border is a great choice here, because this original stitch doesn't need any more decoration.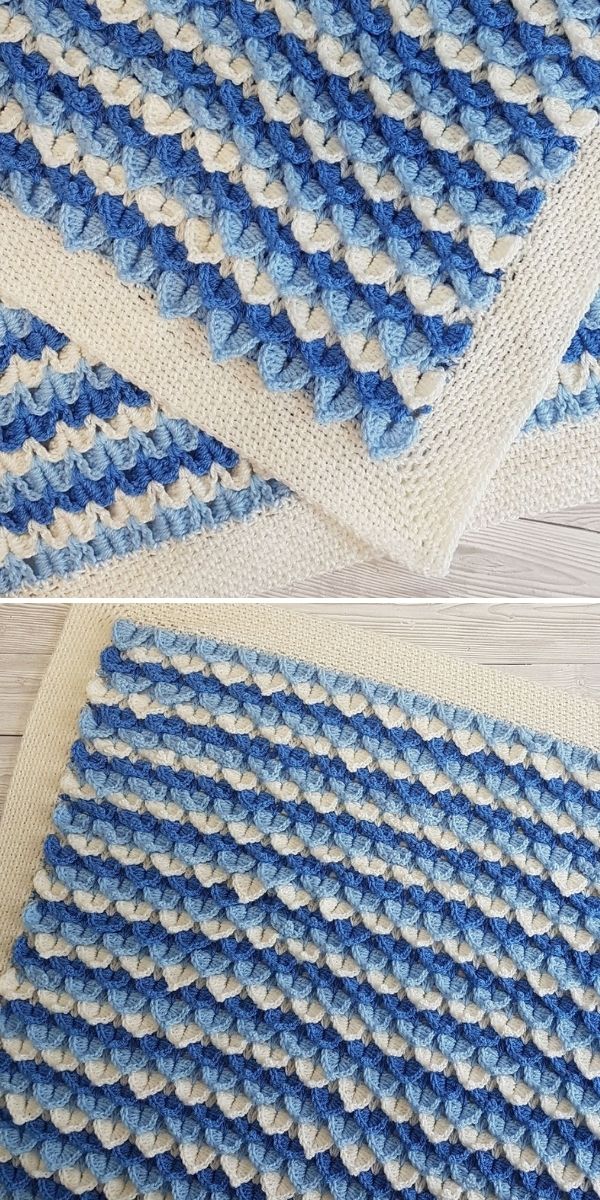 Find this free pattern on craftinghappiness.com.
◉
Heart Stitch Pillow by Helena Miranda
*free crochet pattern*
Hearts are quite universal motif, so it's a good idea to use them in a gift project. This lovely cushion in the photos below was designed by Helena and features little puffy hearts in rows. Both heart stitch and pastel colors make it a perfect fit for a girly bedroom, but remember that changing the background colors can make it more elegant and sophisticated.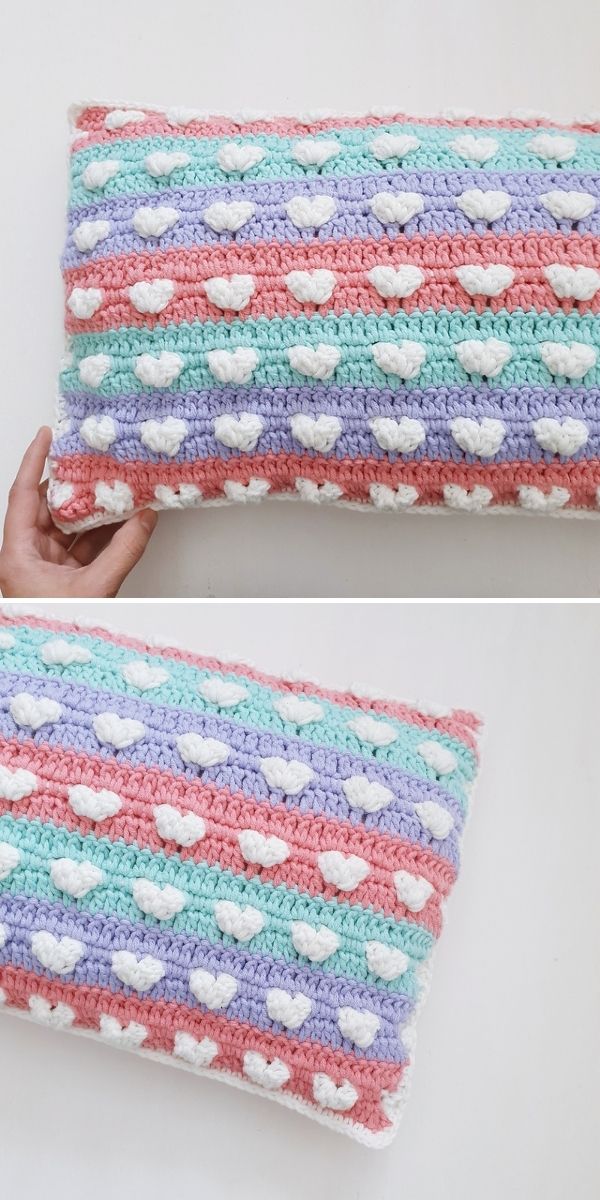 Find this free pattern on crochetloverstutorials.com or read more on ravelry.com.
◉
SHARE, LIKE, SUBSCRIBE!
Sharing is caring, so if you liked this article, be sure to share it with your friends and spread the word! Stay tuned for more free tutorials, patterns and interesting articles by following my social media pages (PINTEREST and INSTAGRAM), or allow notifications to get a pop-up whenever I publish something new.
◉
You may also like: Fun Bobble Stitch Crochet Ideas