How to Crochet Easy Puff Stitch | Video Tutorial + Written Pattern
Today I'm going to show you how to crochet easy puff stitch. It's lightweight, lacy and versatile, so you can use it in garments or accessories of any sort. In this article you will find video tutorial and written pattern 🙂 Hope you like it!
◉
SAVE IT IN FAVORITES ON RAVELRY
or follow me on PINTEREST and INSTAGRAM
◉
This variation is very easy to make, because it basically uses three kinds of stitches – chain stitch, double crochet and puff stitch. If you've never tried making puff stitches before, this is a great opportunity to learn!
If you like it, please give me thumbs up and subscribe to my channel, so that more people can learn from it!
Remember to click the bell button if you don't want to miss any of my tutorials!
The stitch you're about to learn was used in…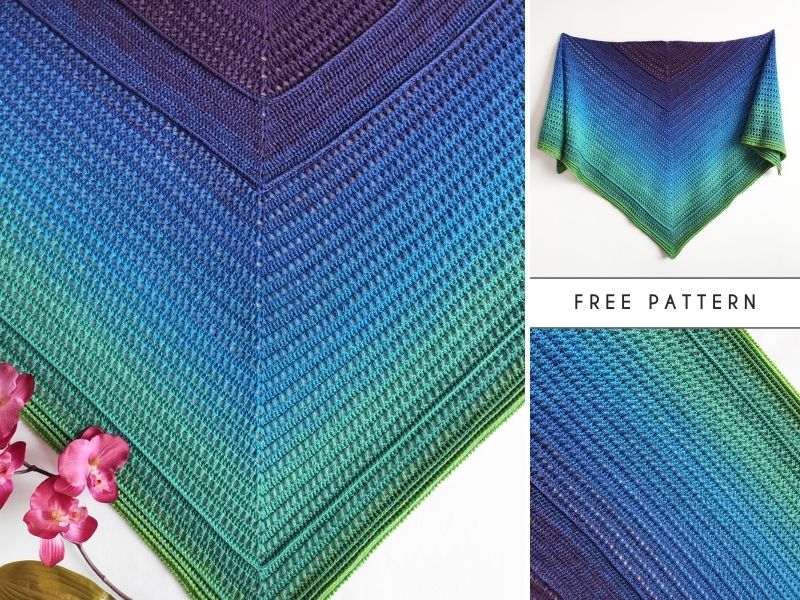 This stitch looks amazing in ombre yarn, which you will see soon in my upcoming free crochet pattern. You can be sure that I will link it here!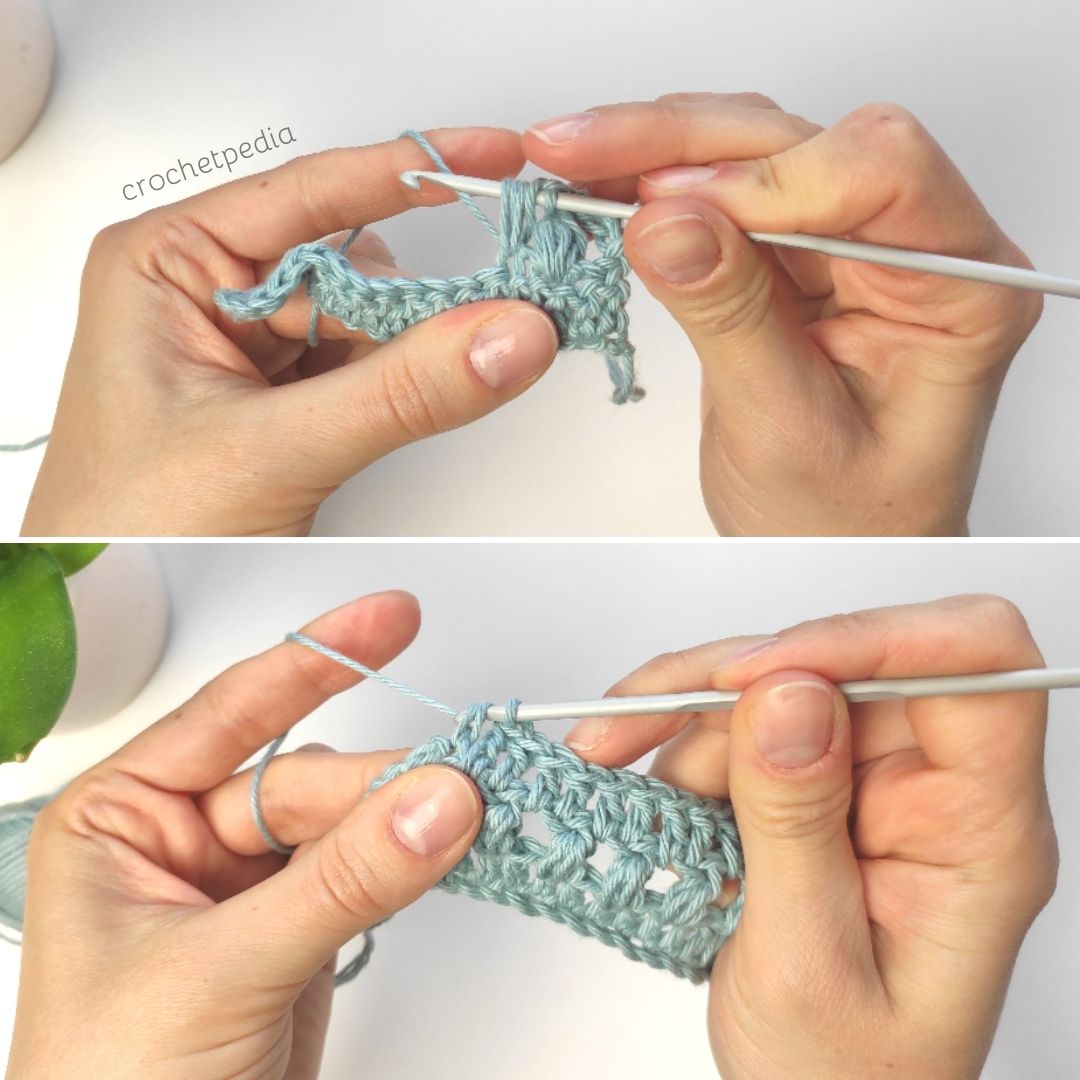 Start out with just one color of yarn and practice your puffs, because the more fluent you are in making them, the nicer they will be.
◉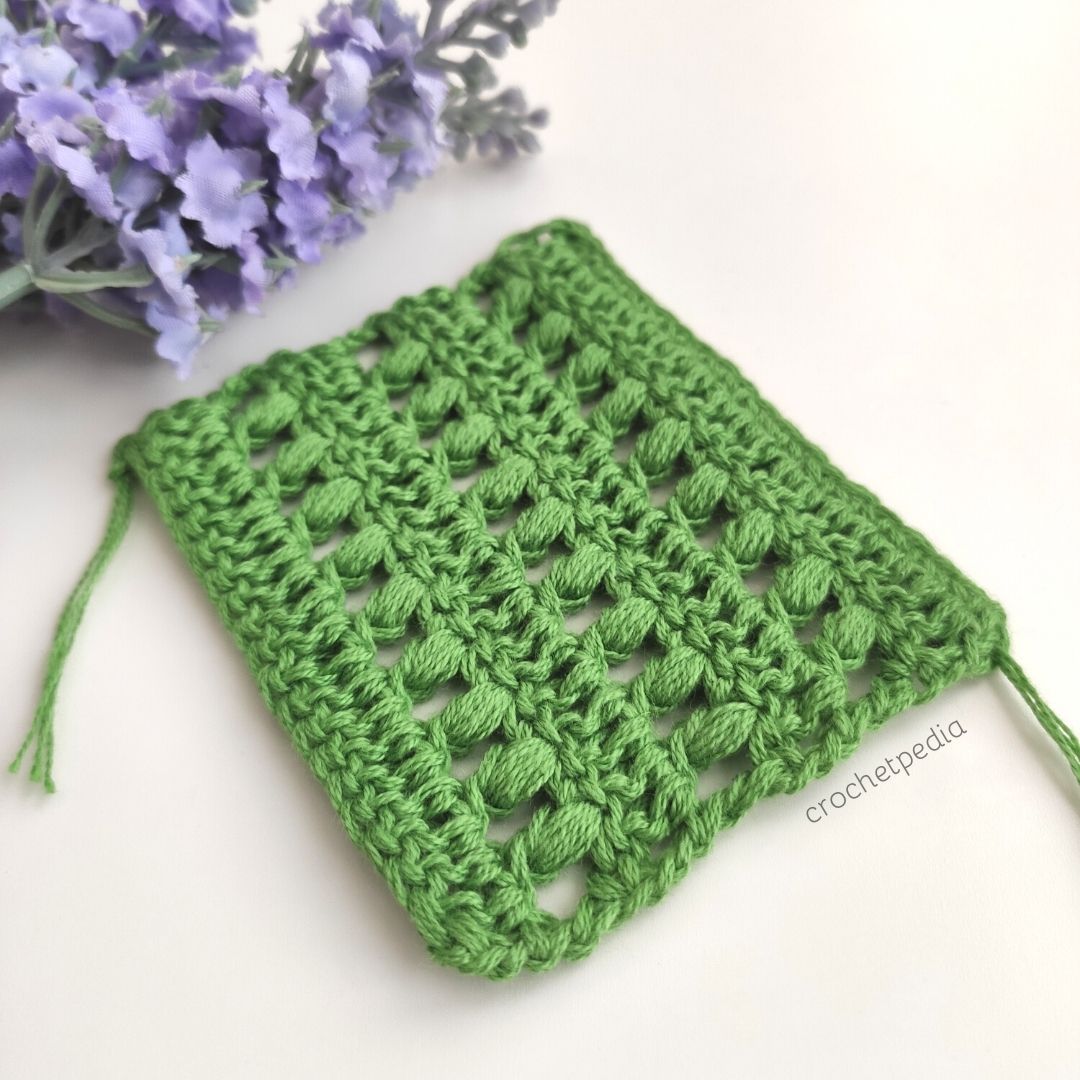 PATTERN NOTES
LEVEL – beginner
TERMS – standard US
TECHNIQUES
MATERIALS AND TOOLS
you can use any yarn and recommended hook size, but this stitch definitely likes soft yarn that's a little bit more on a fine side.
diagram
start with chaining multiple of 2 – the repetitive module consists of two stitches, which I indicated on the chart with colors pink and blue.

any additional stitches or those that vary from the repetitive module are marked green.
3 chain stitches at the beginning of row 1 count as 1 additional double crochet to the overall number of stitches of the row, so your final row count should be an uneven number.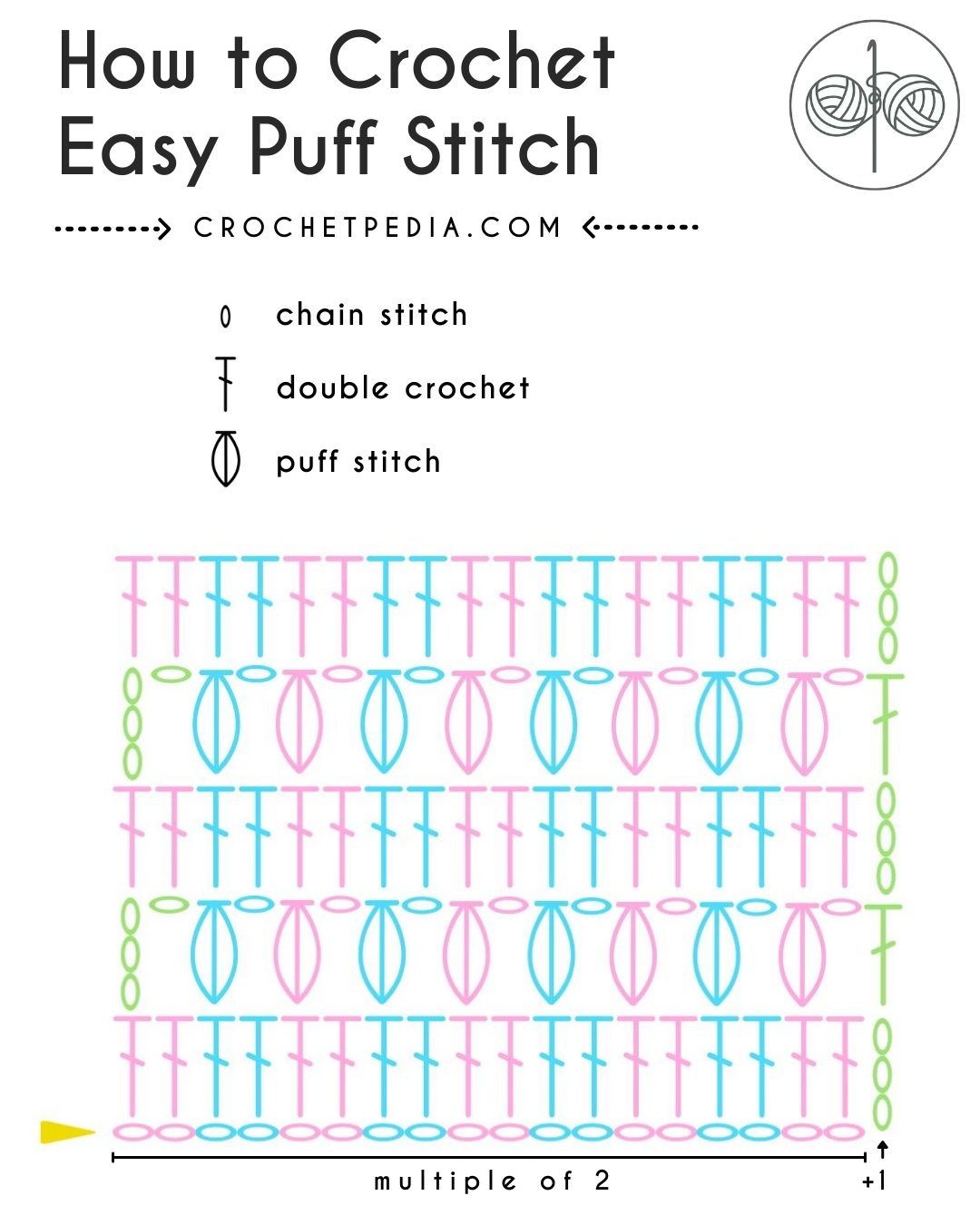 Written Pattern
START:
chain multiple 2. 
ROW 1:
chain 3, make 1 double crochet in each stitch.
ROW 2:
chain 4, skip one, *1 puff, 1 ch, skip one*, your last stitch should be 1 dc.
Repeat rows 1 and 2, keeping the overall count in each row the same. 
PRO TIP! 
If your crocheting style is rather loose, it's good to work double crochets IN the chain stitches between the puffs. If you struggle with inserting the hook in these chains, just work your dc's in the chain space and don't worry, because it will look fine, too.
You can see the difference it makes in the photo below: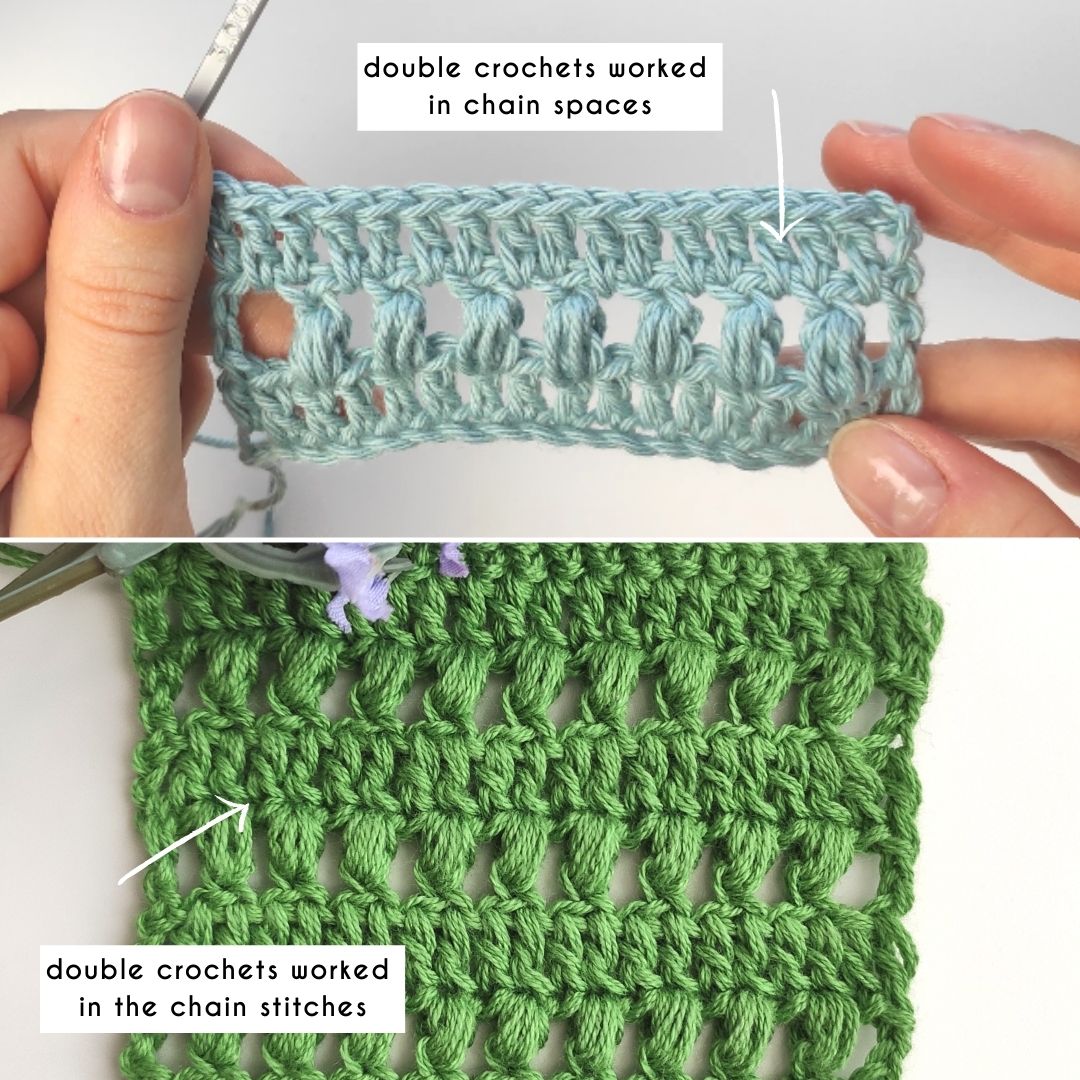 Hey, it wasn't hard, right? Use this stitch in whatever project you want.
◉
If you want to learn more, check this out!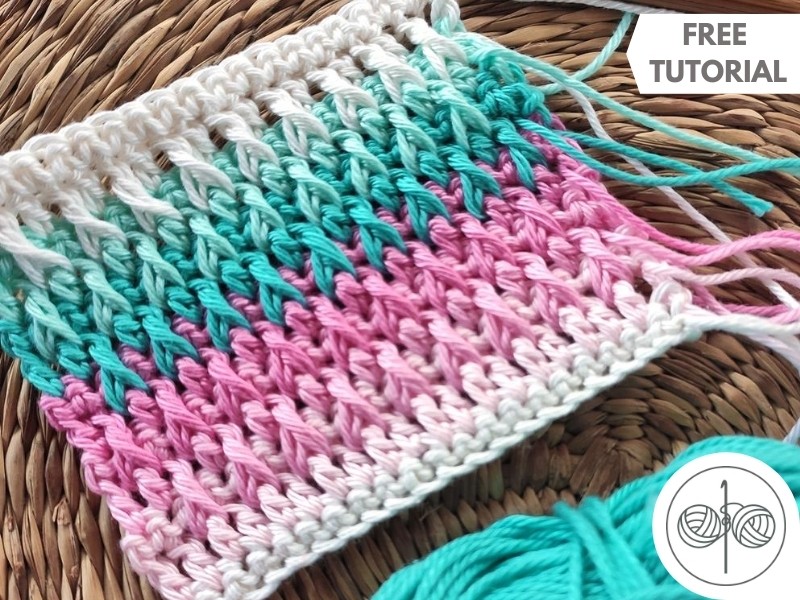 ◉
share, like, subscribe!
If you happen to make this project, I would love to see it, so don't hesitate to contact me! Please feel free to share the results with us in the comments or on social media. Of course, if you find any mistakes in the pattern or find it hard to understand, please let me know, so I can learn and improve!
Sharing is caring, so if you liked this project, be sure to share it with your friends and spread the word, because I really appreciate it! For more free tutorials, patterns and interesting articles – follow my social media pages and allow notifications to get a pop-up whenever new post is published.
◉
FOLLOW ME ON PINTEREST AND INSTAGRAM