Let's talk about surface crochet, shall we? This crochet technique may not be something you use everyday, but it's an essential for every crocheter to know it exists. It comes in many shapes and forms, so sit back, relax and let's dive in!
Find more inspiration in my Recommendation Series, because I've analyzed lots of cool crochet stitches and projects there. Learn more about The Best Crochet Flower Patterns, C2C Crochet Graphgan Patterns, or explore Crochet Shell Stitch Blanket Ideas.
Crocheting on the surface
What is surface crochet?
Surface crochet is a technique of decorating ready-made knitwear products. One can create designs of a different color on the working surface using its structure as a base. In this way, one may create two or three dimensional forms.
How to crochet on the surface
Two dimensional forms are usually create by using a surface slip stitch – similar to when we do it in embroidery. However, it's easy to make three dimensional forms, too. While still using ready product as a base, just start crocheting wherever you want and continue with any crochet stitch or technique you like.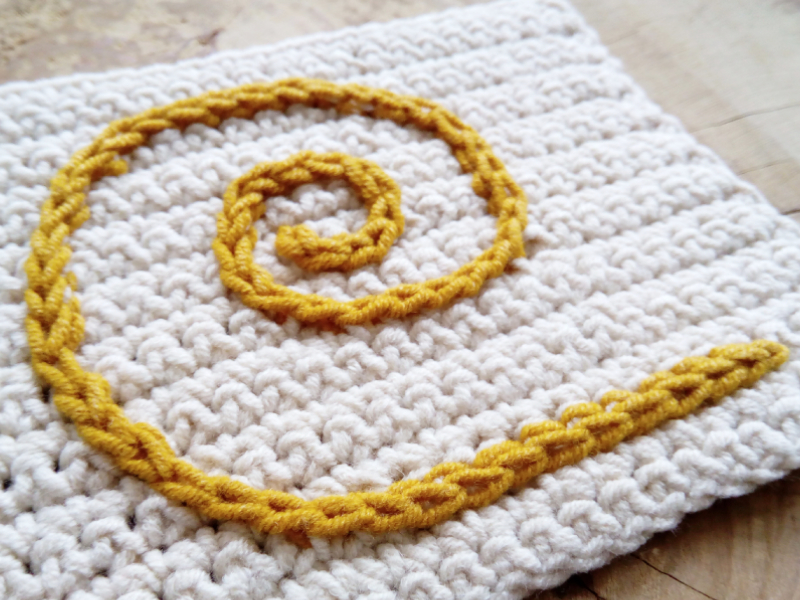 Types of surface crochet
Surface Slip Stitch
This type of slip stitch is one of the most popular ways of adding spice to your crochet pieces, because it's basically like embroidery. You can insert your hook in virtually any place on your base and draw the line with the stitches in any direction. What's more, you can change the direction whenever you want – creating swirls, zigzags, or shapes.
3D Surface Crochet
The easiest way to describe this type of surface crochet is to say that it results in the stitches sticking out (mostly on a 90 degree angle) from the base. While slip stitches create fairly flat lines, 3D surface crochet are here to create volume and texture.
You can often find projects that use post stitches to create similar effect, but in this case we are talking about adding totally new stitches to the otherwise finished piece.
In the Crochet Roundup section you'll find lots of examples, many of which are available as free crochet patterns.
Materials
Well, this is a place you can truly experiment with yarns and their looks. Of course, if you use the same yarn type as your base crochet piece, it will look uniform and polished.
On the other hand, maybe it's a good time for some experiments? Adding novelty yarn, or trying out different yarn weight may lead you to some truly stunning results.
The same thing applies to colors – you can go for the same as your base to create a structural detail, or try contrasting hues. To learn more, check out my article about How to Choose The Best Colors for Your Crochet Project.
talking about stitches…
Our growing website and library of free crochet patterns has some projects that might interest you, too. For example, why not learn more about Jasmine Stitch?
→ Yes! Take me to this article! ←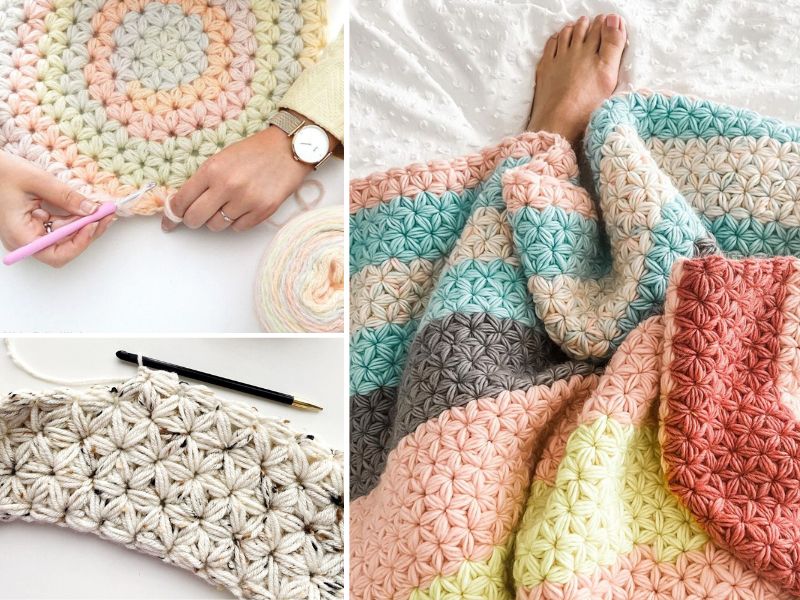 or…
Try my free pattern for Sleepy Bunny Lovey to make a sweet baby gift!
→ Yes! Take me to this free pattern! ←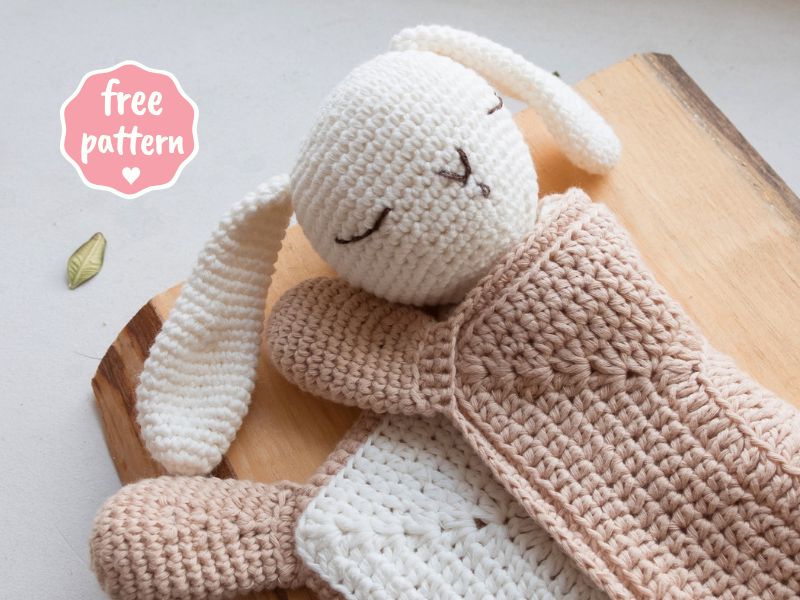 crochet roundup!
Check out all the amazing creations I've found, or look for paid and free patterns linked below the photos 🙂
◉
Surface Slip Stitch Crochet Ideas
Chinese Lattice Cowl by Tae Nomura

Tae was inspired by Chinese lattice motif, which is an architectural element very characteristic to this cultural area. I must admit that it looks amazing transformed into a crochet pattern, and you can see it in the photos below. Tae used surface slip stitches to basically draw the motif with white yarn on red background. Stunning!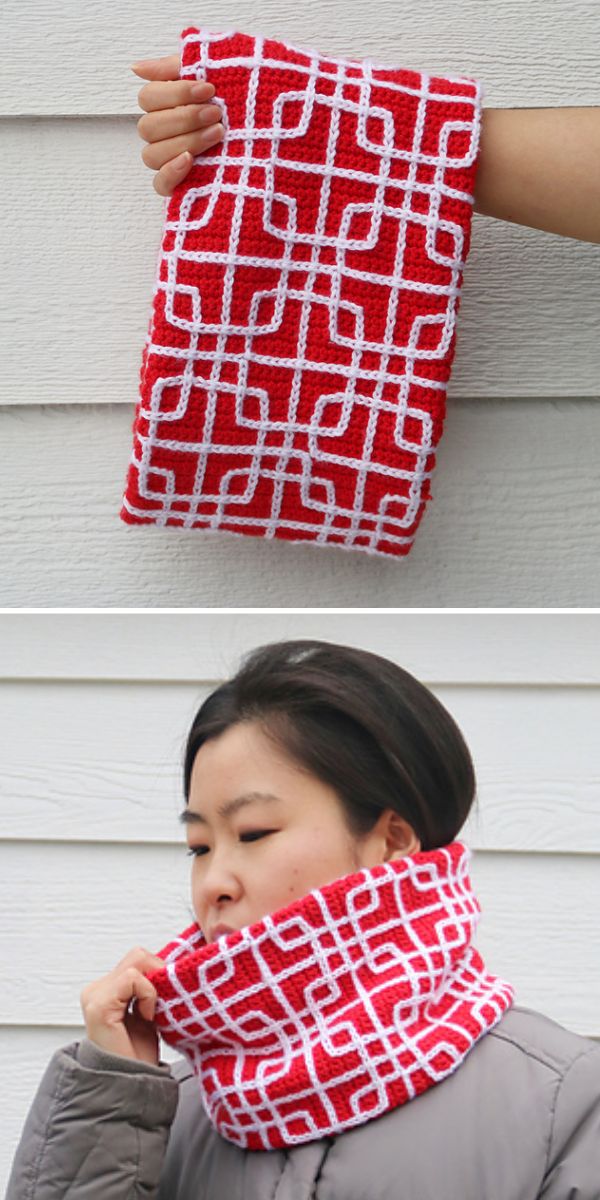 Purchase this crochet pattern on ravelry.com.
◉
Wordle Coaster by GoldenLucyCrafts
*free crochet pattern*
Here's something for those of you who want to learn two techniques at once – surface crochet and tapestry crochet. As you can see, these coasters resemble what probably is the most popular word game in the world – Wordle! After you've done the base with all the different colors, grab the white yarn and make the squares look nice and polished.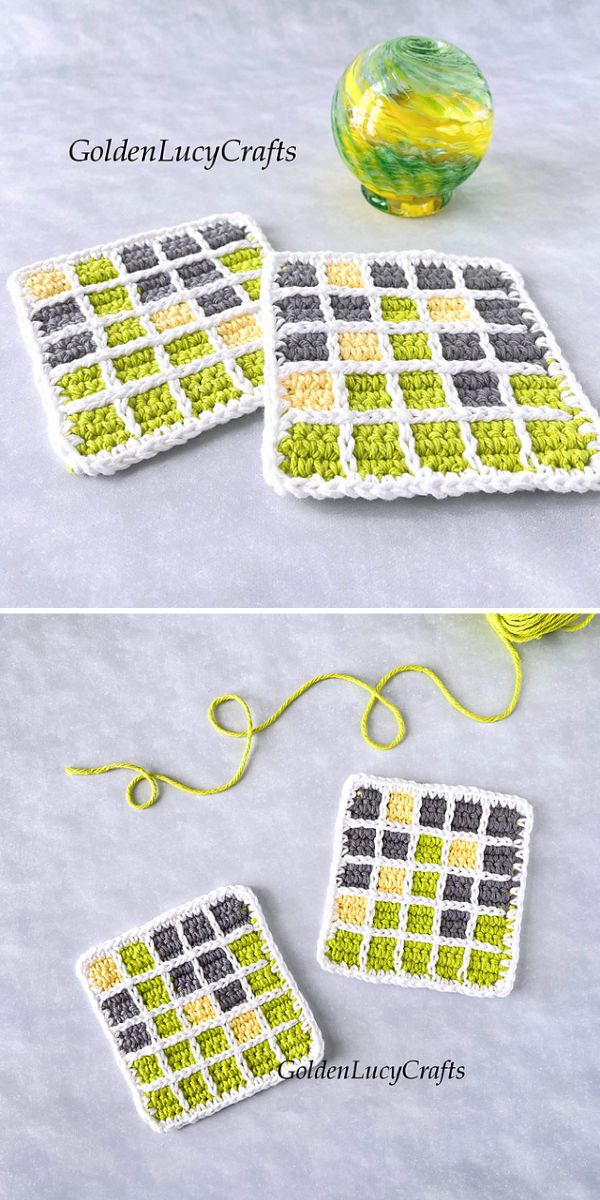 Find this free crochet pattern on goldenlucycrafts.com, or read more on ravelry.com.
◉
Zig-Zag with Surface Slip Stitch by Aysenin Orguleri
*free crochet tutorial*
While researching this article I've stumbled upon this photo and I spent a fair amount of time trying to figure it out! Now I can wholeheartedly say that this is one of the most interesting crochet stitches I've seen. In the photo below you can see how the author creates a base with chains and then uses surface slip stitches to "fill out" the triangles. Genius!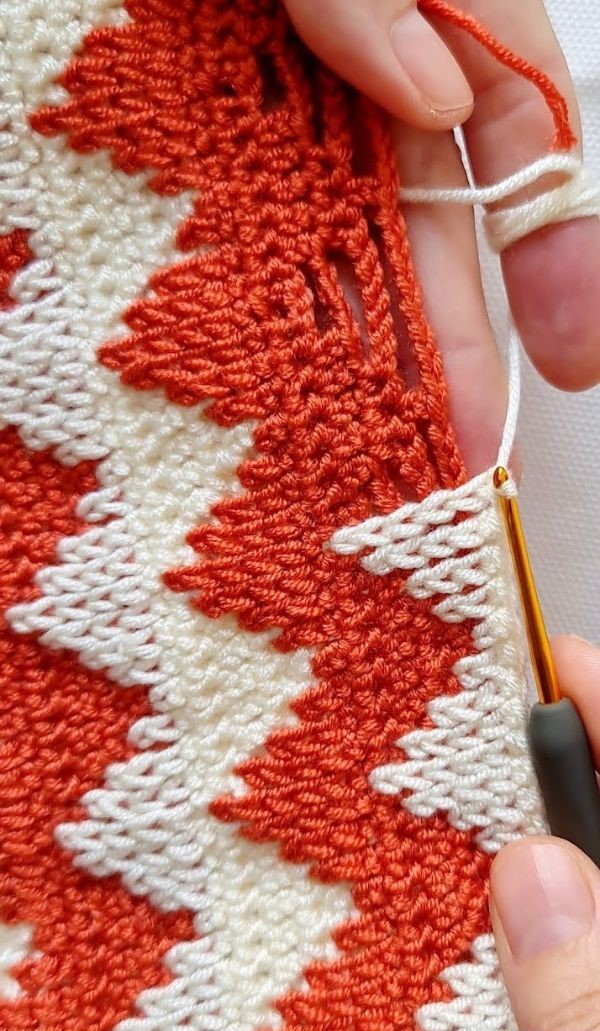 Find this free crochet tutorial (in Turkish!) on youtube.com.
◉
Swirl Lollipop Ornament by Raffaella Tassoni
*free crochet pattern*
Sweet ornaments by Raffaella wouldn't be so cute if it weren't for adorable slip stitch swirls! Below you can see exactly how seamless and uniform can these curvy lines be, but it requires some patience and practice. Get prepared for Christmas season with these adorable sweets and learn something new in the process!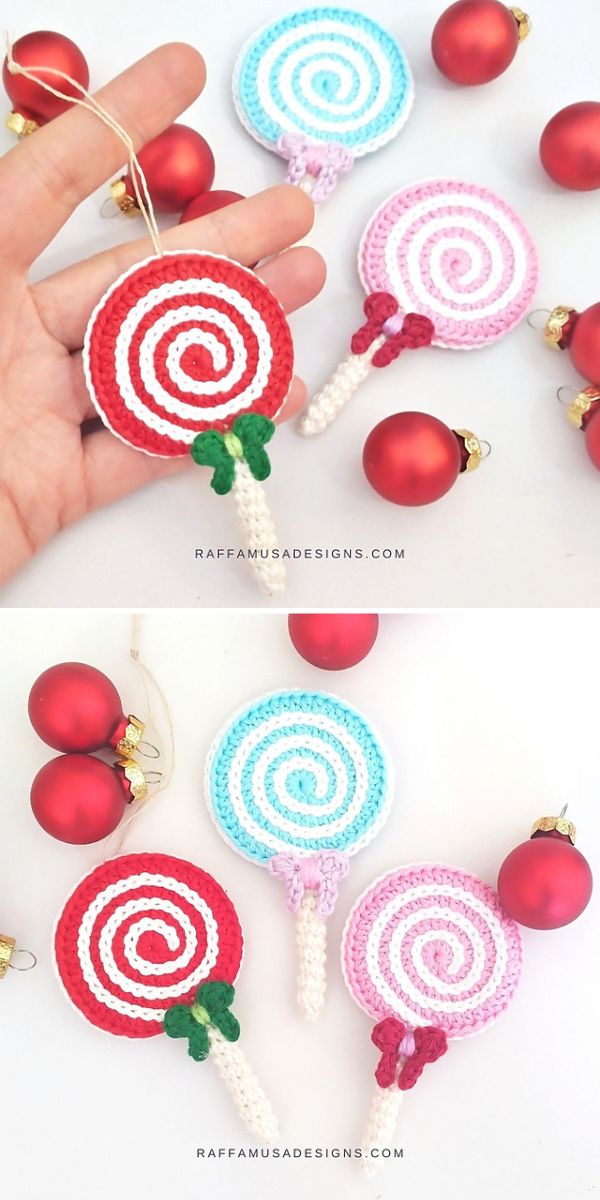 Find this free crochet pattern on raffamusadesigns.com, or read more on ravelry.com.
◉
Whatever Baby Blanket by Knits N Knots
This blanket by Knits N Knots isn't exactly made with surface slip stitches, but it surely could have been! As you can see below, simple colorful outlines make all the difference to this otherwise plain white baby blanket. Keep it in mind as an idea on how to keep things interesting!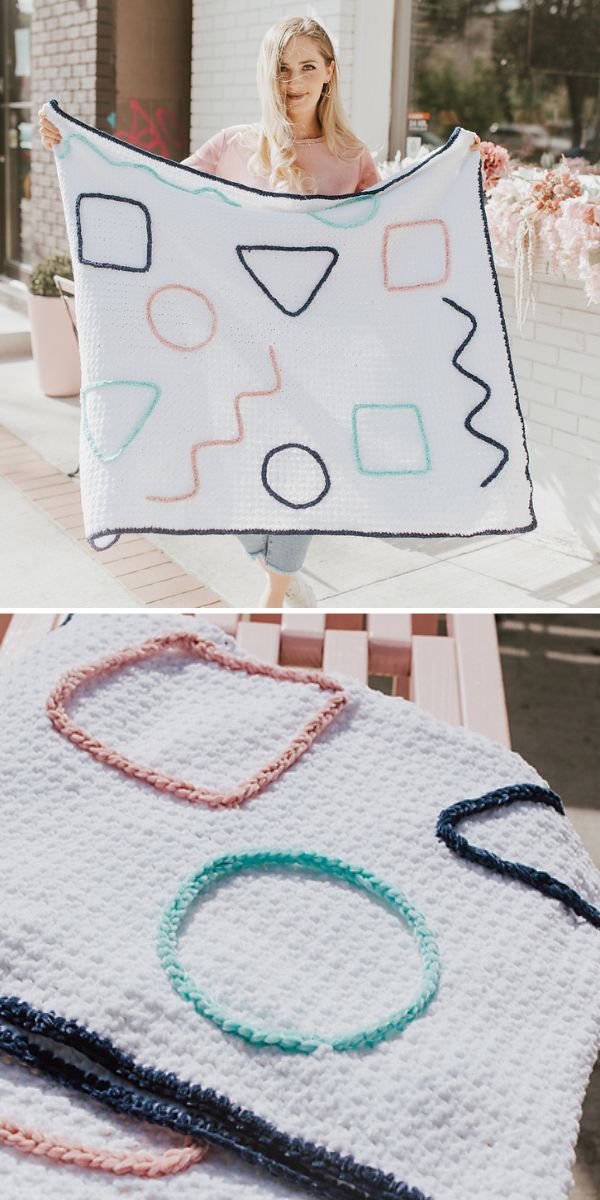 Purchase this pattern on knitsnknots.shop, or read more on ravelry.com.
◉
Chakra Shawl by Dora Does
*free crochet pattern*
There's nothing regular about this shawl, I can assure you! First thing is that Dora created triangular shape using rows, and she did it masterfully. Second thing is that these colorful dots combine surface crochet and a little bit of clever embroidery. How exactly is it made? Check out her free pattern!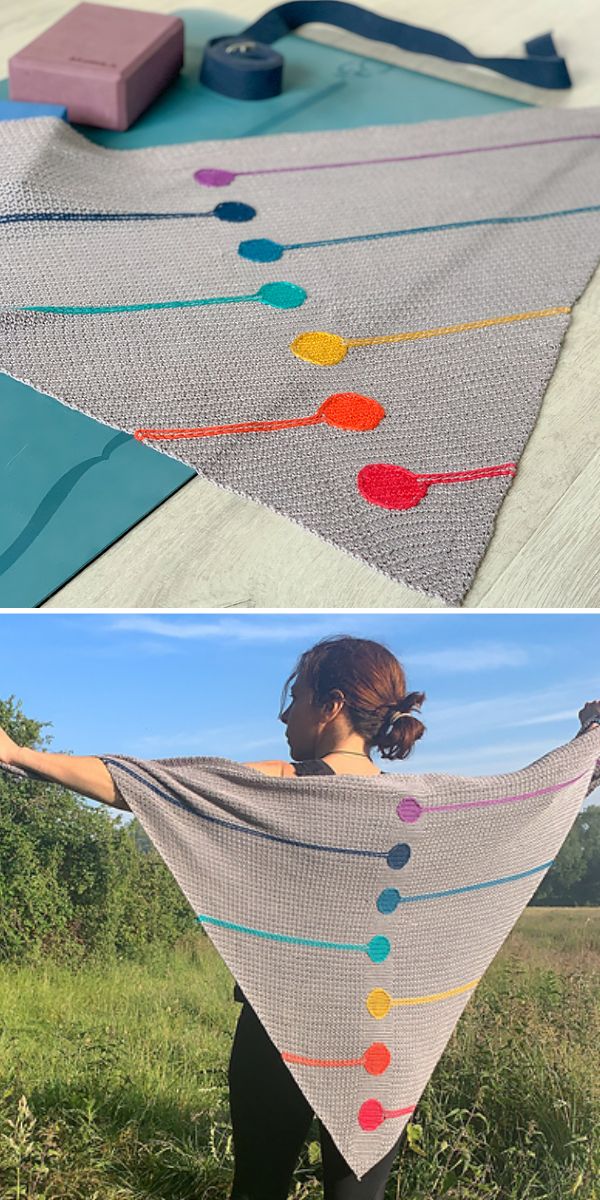 Find this free crochet pattern on doradoes.co.uk, or read more on ravelry.com.
◉
3D Surface Crochet Ideas
Wiggly Crochet Rug by Falando De Crochet
*free crochet pattern*
Those of you who like unusual crochet projects will simply love this one, I am sure! Author behind Falando De Crochet created a rug that will most definitely stand out, so check it out in the photos below. First step is creating a kind of mesh base, which then you can crochet over to create these lovely textural swirls and ruffles.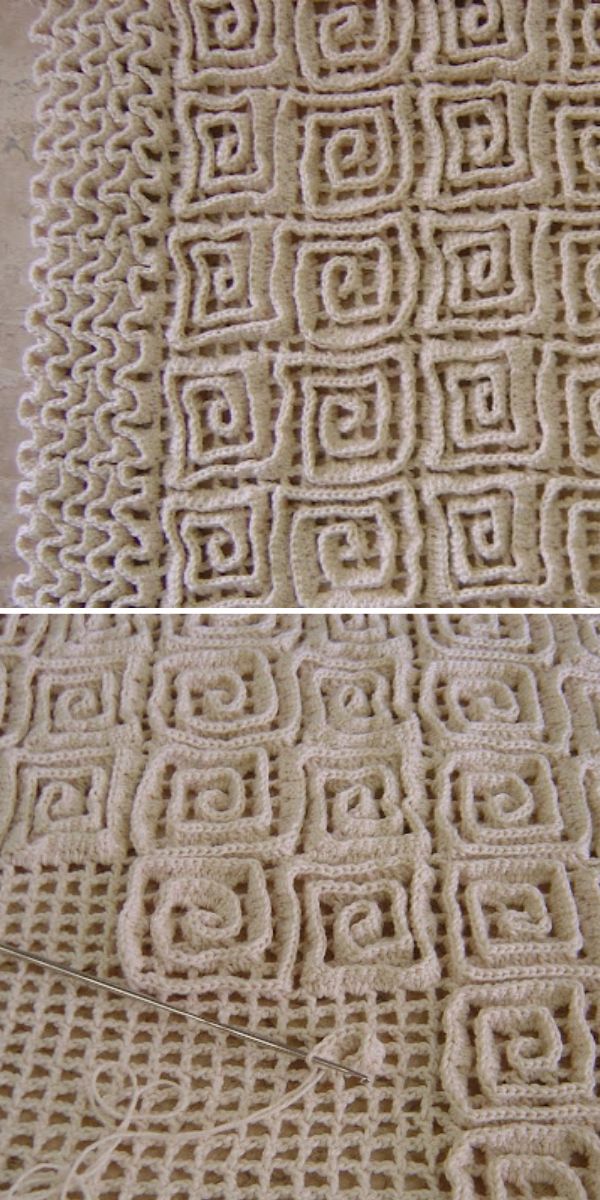 Find this free crochet pattern in Portugese on falandodecrochet.blogspot.com – you can use auto-translate to English by clicking right button and then "translate".
◉
Coral Reef Garden by BebaBlanket
Speaking about ruffles, this cute blanket is a great example on how to use 3D surface crochet as a detail. While adding texture is fairly simple with post stitches, creating the ruffle may be a problem. It's much better to add it afterwards, like in this case. In the photo you can see that this project features bullion stitches as well!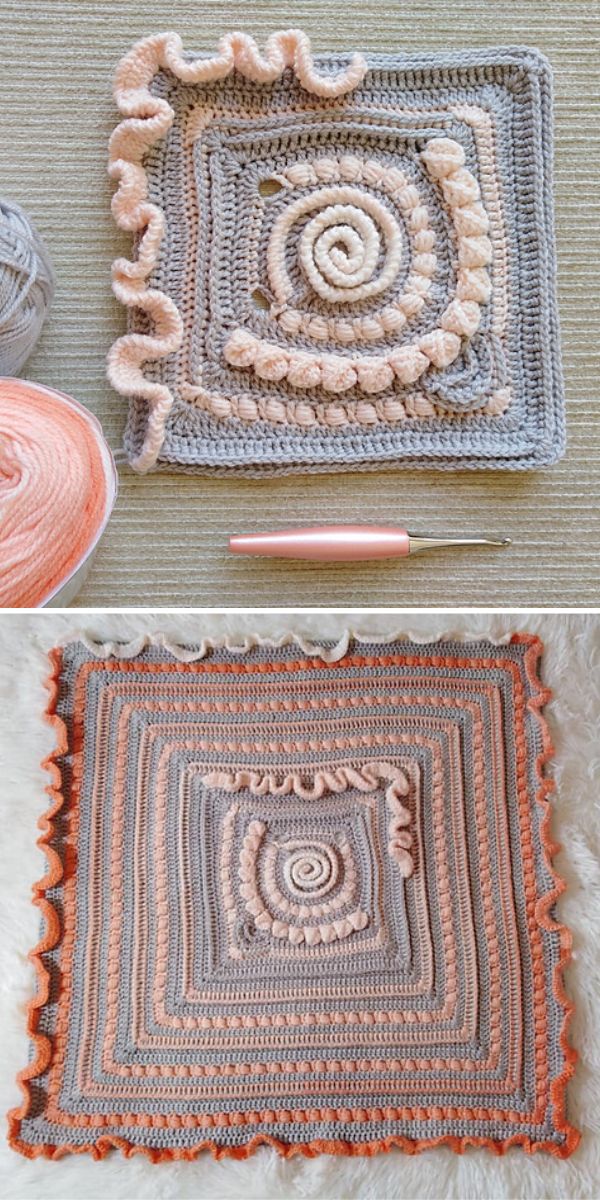 Purchase this crochet pattern on ravelry.com.
◉
Wiggly Crochet K-Town-Style by Barbara Smith
*free crochet pattern*
Mesh base can be a fantastic starting point for crochet experiments, and Barbara's project is a great example of that. She decided to start with the central square and change the yarn with each round, creating these wiggly rectangles. In the photo below you can see that the base becomes totally invisible once the piece is finished.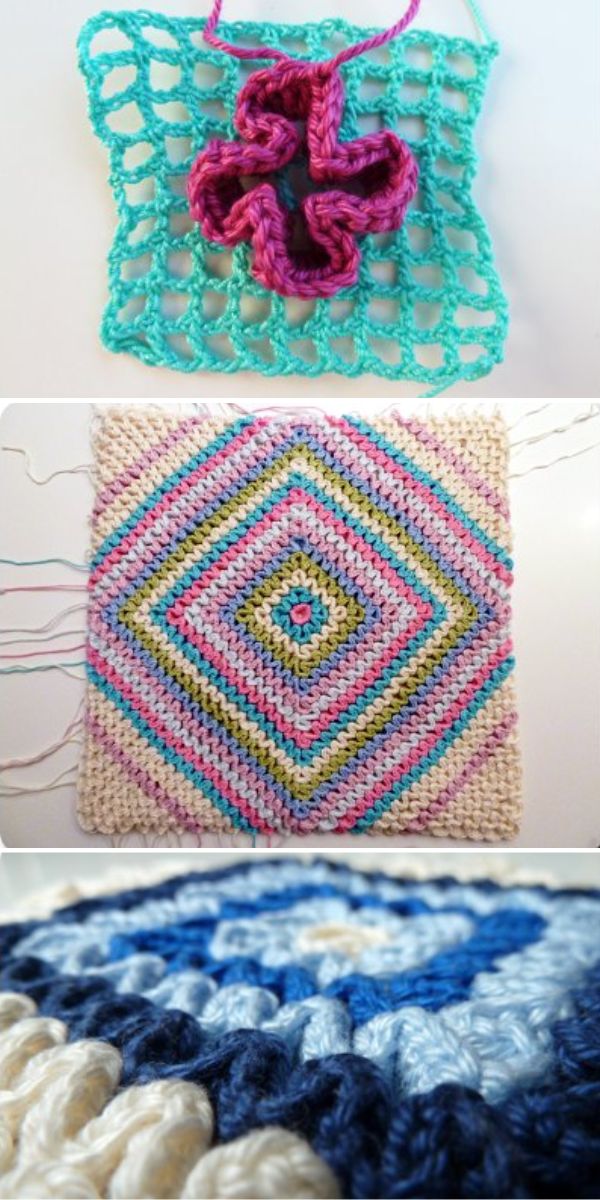 photos by Barbara Smith / made-in-k-town.blogspot.com
Find this free crochet tutorial on made-in-k-town.blogspot.com: part 1 and part 2.
◉
Blooming Flower Cushion Version Modified by Valentina
Although the original project used post stitches, Valentina wanted it to be even more dense, so she modified it. In her blog post you'll see the base she created for her cushion, as well as the process of filling it with "petals". Notice in the picture how ombre yarn creates delicate color change from the center out – stunning!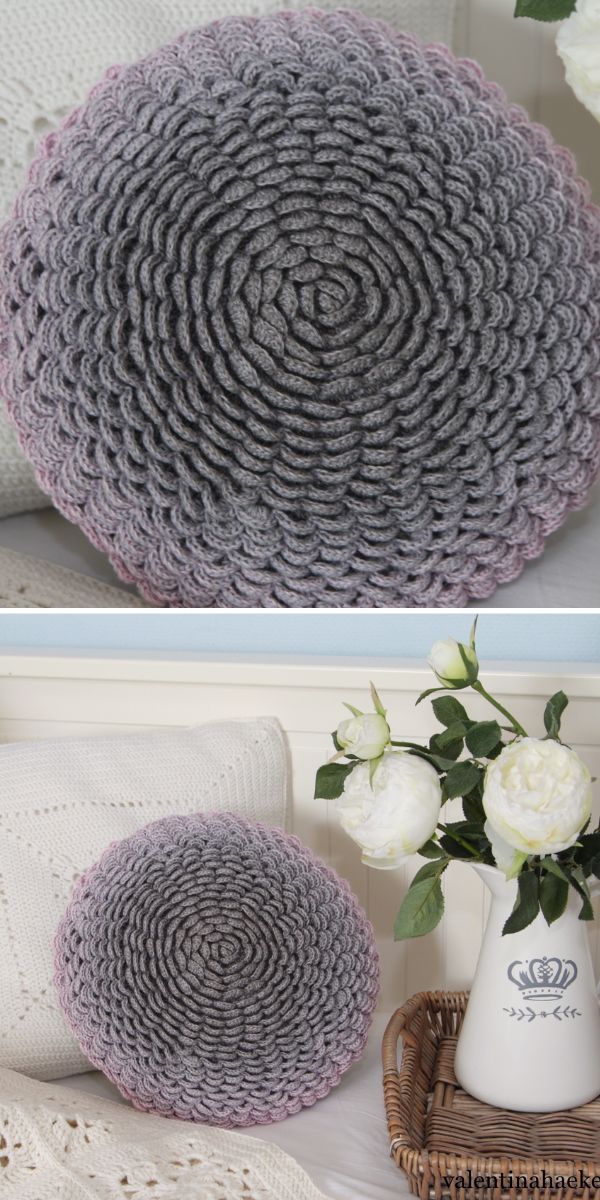 This project is based on free crochet pattern called Blooming Flower Cushion by Lucy from Attic24, which is available on attic24.typepad.com. The original looks similar, but this version has been modified – you can read about the modifications on valentinahaekelt.com.
◉
That's all for today, but I'll be back with much more inspiring projects and free patterns. Like, share and subscribe if you like what you see. Stay tuned!
↔
You may also like: Filet Crochet – Resources and Inspiration