Crochet in Details – Easy Way to Level Up Your Home Decor
You know that I love everything that involves crafts, and it's sometimes hard to focus on one medium. And, in fact, should we? One thing I am sure of, is that I can use every little bit of skill I have to make new creative things.
Today I want to explore a lesser known side of crochet, and that is – not using it as a main feature 😉 Controversial, huh? We are so overwhelmingly surrounded by all-crochet projects, that we forget to think outside the box.
◉
How can I use crochet in details?
Well, mix it up with other crafts! As you will soon see, you can easily combine it with sewing, quilting, or other DIY projects. Mixing crochet and knitting is very rare, but hey, why not?
1. Crochet + Sewing
Sewing and crochet often go hand in hand. If you like making amigurumi toys, I bet you are familiar with basic sewing, because there is always a head, or a leg to be attached. You can also find sewing in garments, when you need to join two or more elements, so that you end up with a nice sweater.
As you can see in the picture, you can also line your crochet projects, because it's a great way to make them more sturdy and useful. For example, this rose clutch by Three Birds Nest has textile lining with additional pocket, as well as a zipper – it's all sewn onto the crochet piece!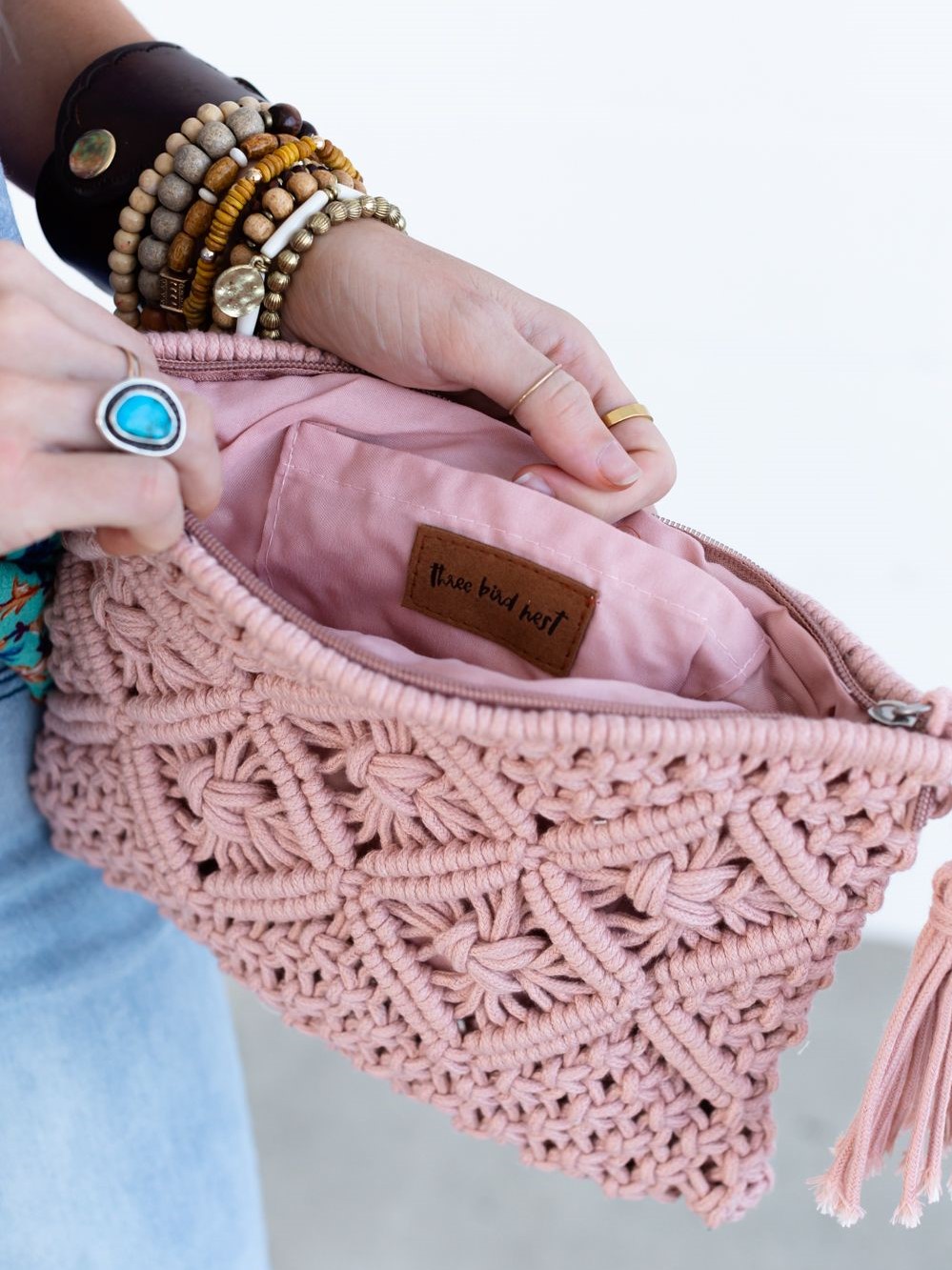 PRO-TIP if you are a fan of picnics – line your crochet blanket on one side with waterproof fabric; it will be great to sit on, no matter the ground!
Hey, you may also like this article: Granny Square Crochet Ideas
◉
2. Trimming
This is one of the broadest categories, because you can trim basically anything (including dry leaves!). It's a fast and easy way to make your home decor look much more polished!
First step to adding a crocheted edging to a textile product is to make a base – take a look at the picture below by Nettie. Can you see the stitching along the edge? It's necessary, because otherwise you don't have anything to "attach" your crocheted trim to.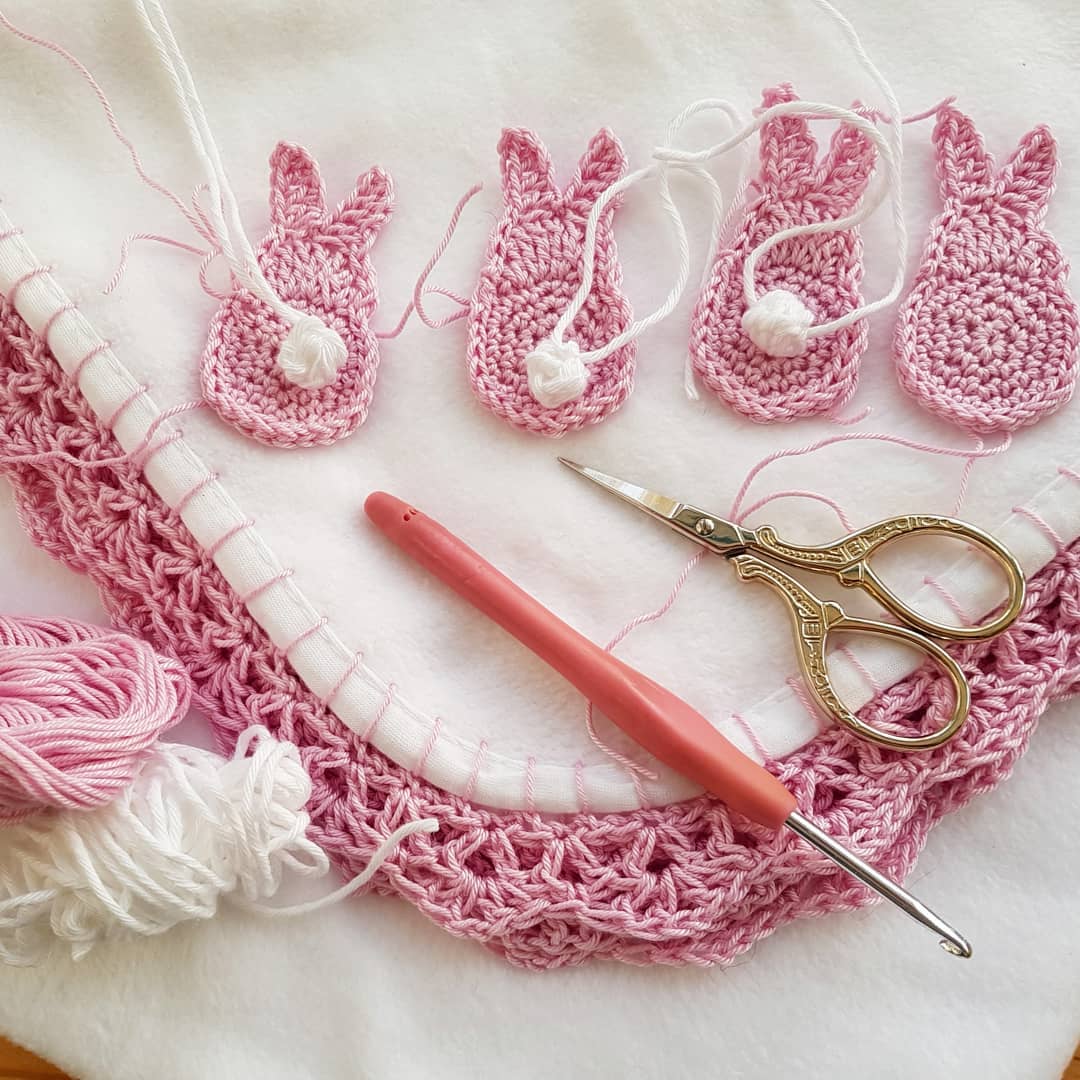 Add edgings to baby blankets, throws, but also to bedding! You can trim everything and anything. Just take a peek below and see how lovely do these cushions look – crocheter behind Rose Hip is so clever! If you are aiming for a vintage / cottage vibe, a simple scalloped edging will be perfect.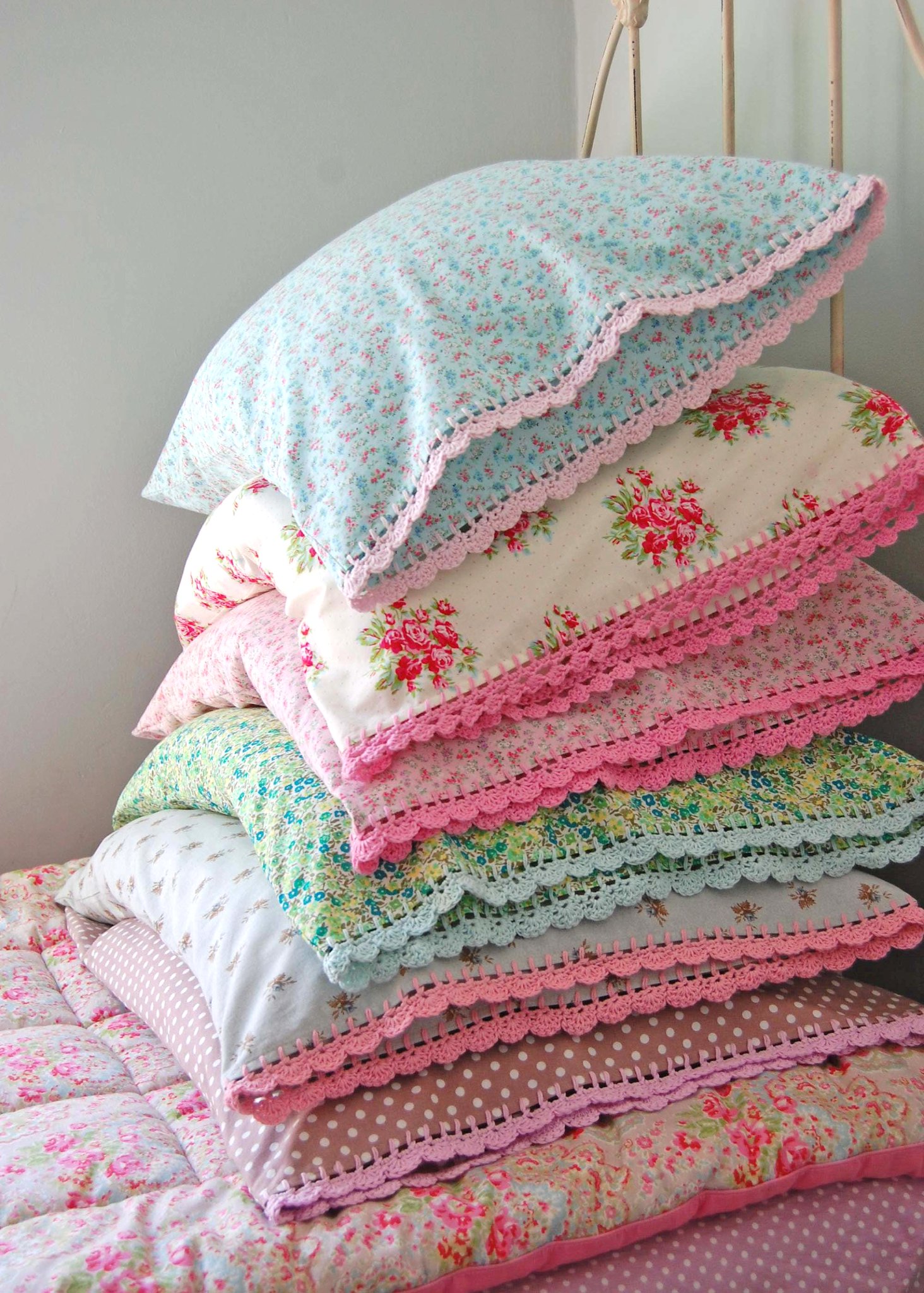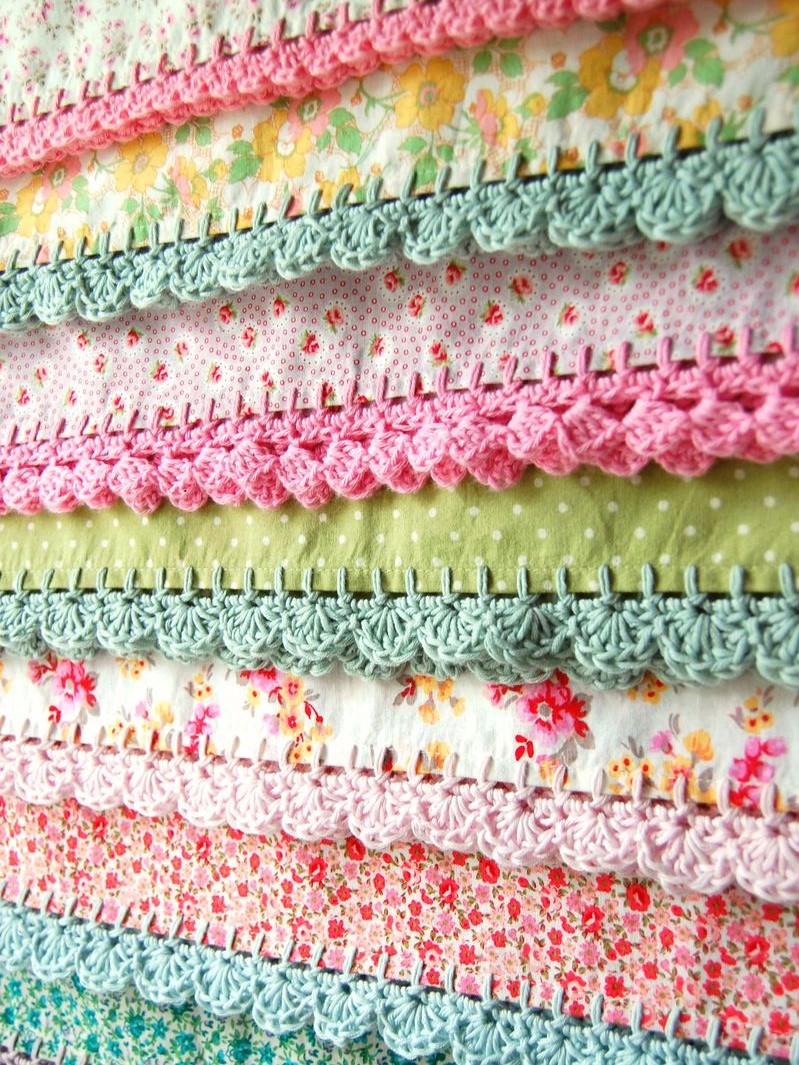 If you are old enough, you must remember handmade handkerchiefs that our grandmas cherished. These were the times before disposable tissues! The rule remains the same – take a piece of fabric, stitch up the edges and add a nice trim to it. Feeling inspired yet?
Take a look at this lovely set of trimmed napkins, or tablecloths? Either way, they look stunning and will be the crown jewel of your table.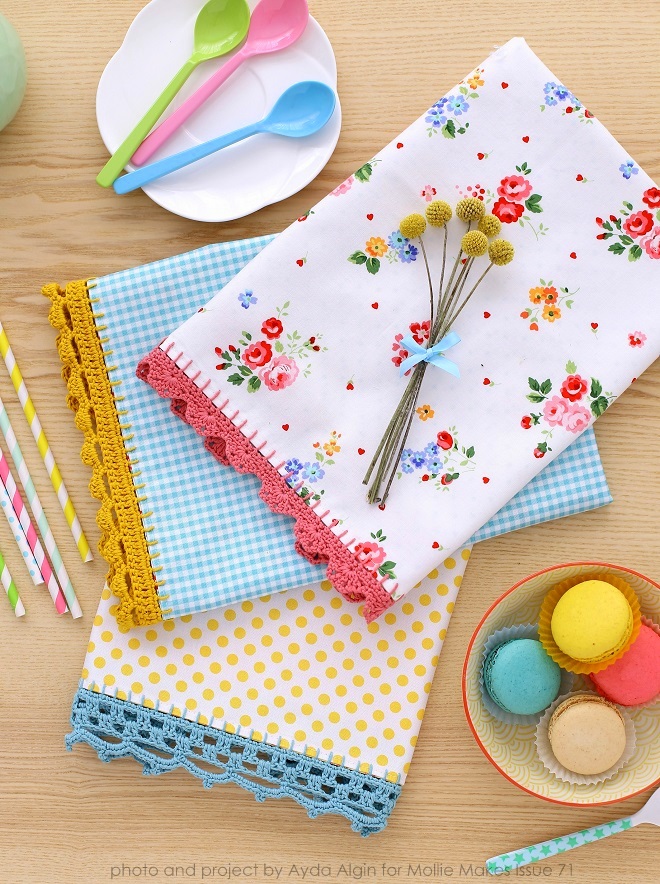 Explore more crochet edging ideas in this article: The Best Crochet Edging Ideas
There are many edging patterns to choose from, but you should experiment with them to see what works best for you. If you look at the photo below, you will see how nicely this lacy trim plays with dotted fabric.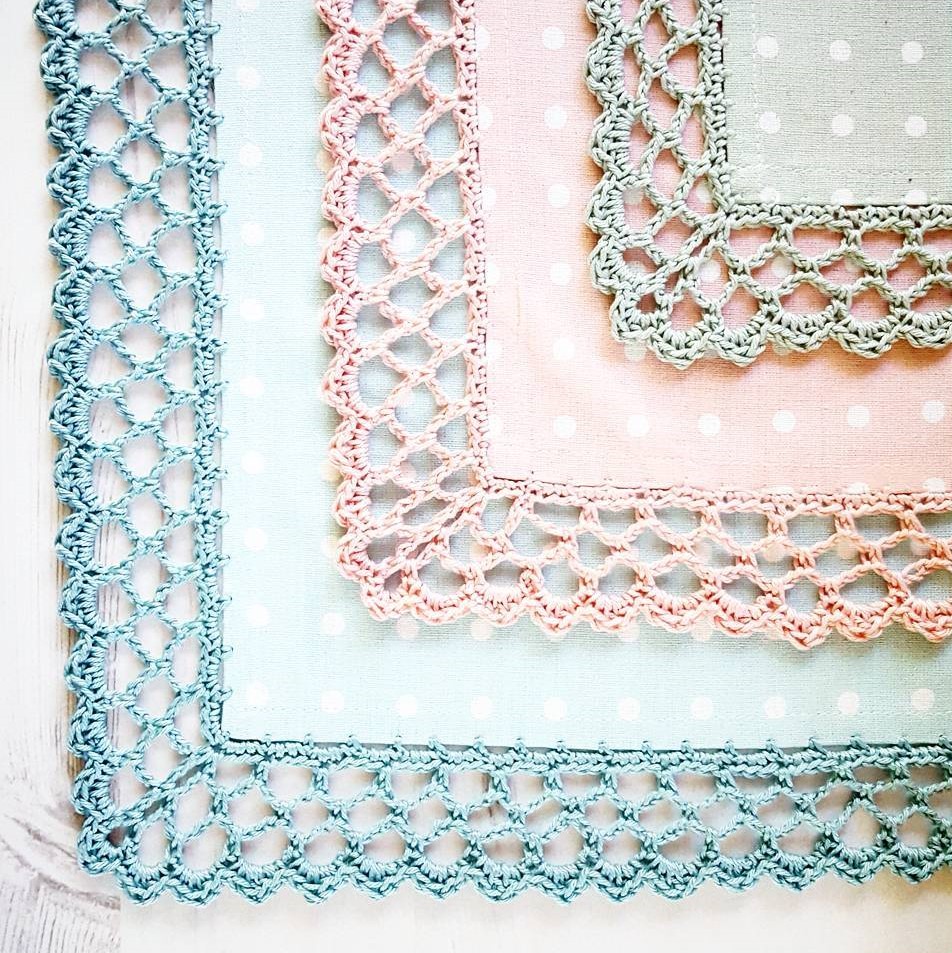 Remember, that trims don't have to be wide, or complicated. The opposite is often better, such as in the picture below – a row of tiny scallops or picots is more than enough.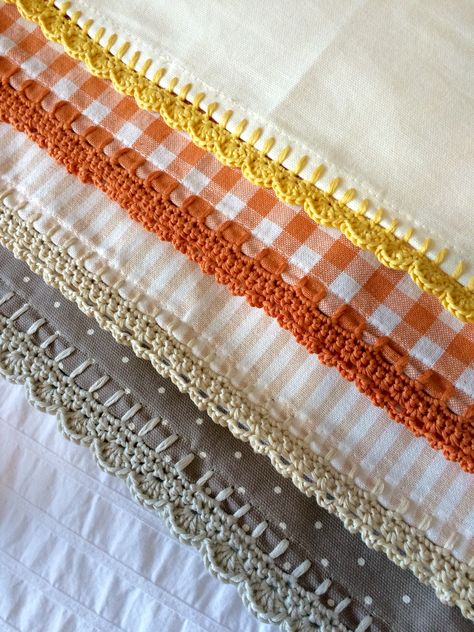 author of the photo unknown – if you know where it's from, please write a comment!
Play with shapes and colors, because why not? Just take a look how cute are these circular hot pads with pink trim. If you care about being eco-friendly, use up leftover yarn ends and small bits of fabrics, so that they don't go to waste.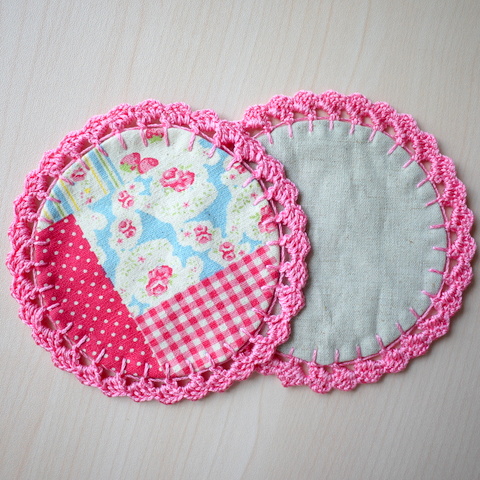 Hey, you may also like this article: 6 Day Kid Blanket Ideas
Home accessories are not the only things you can add crochet trim to, so try out these ideas! Not only are these bibs adorable, but I'm pretty sure they can be easily made out of old t-shirts. Add some cute applique and keep it simple!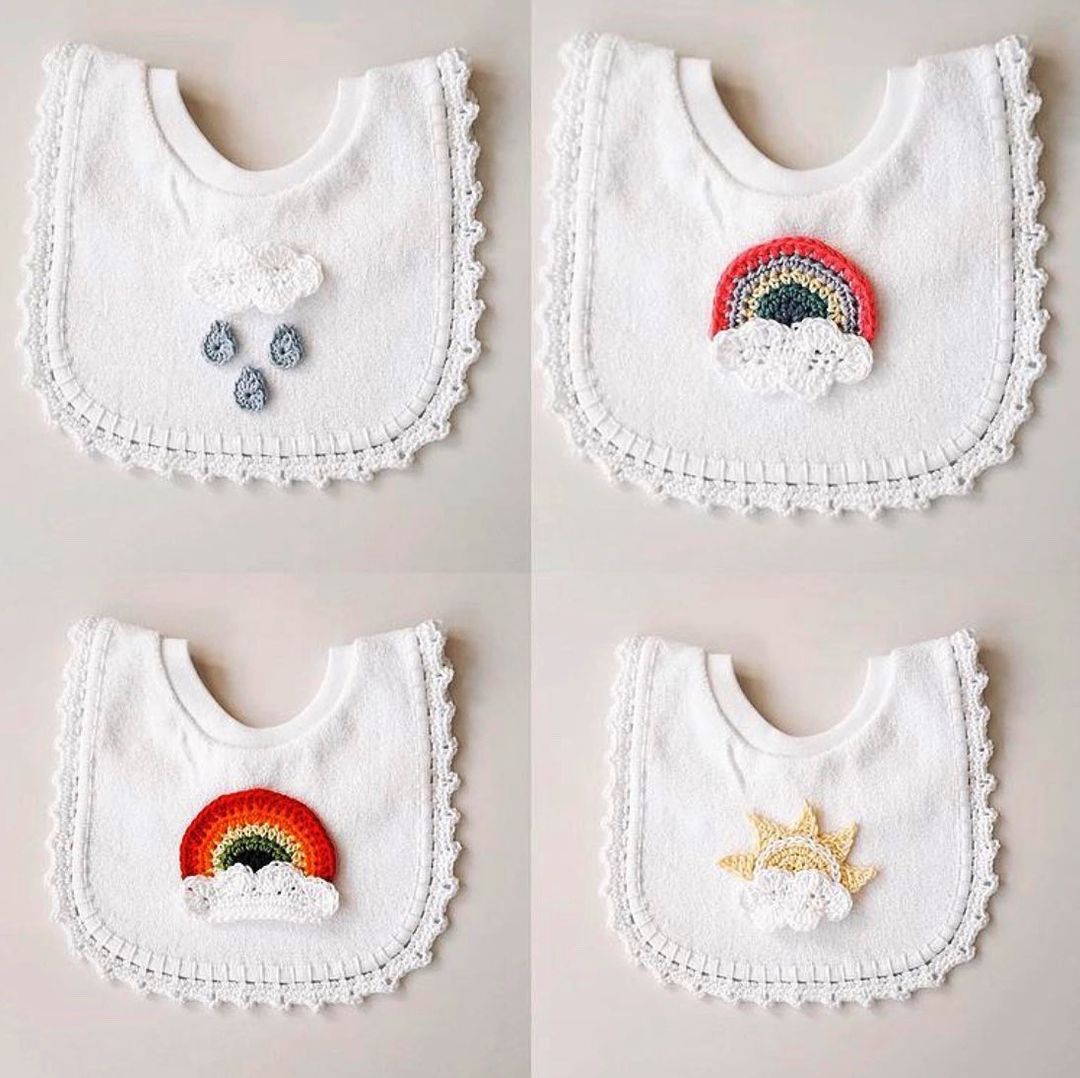 Remember, that you can always spice up some plain items you don't wear often enough. See this natural linen wrap in the photo below? Would it be as nice, if it weren't for the bright yellow crochet trim? Don't think so!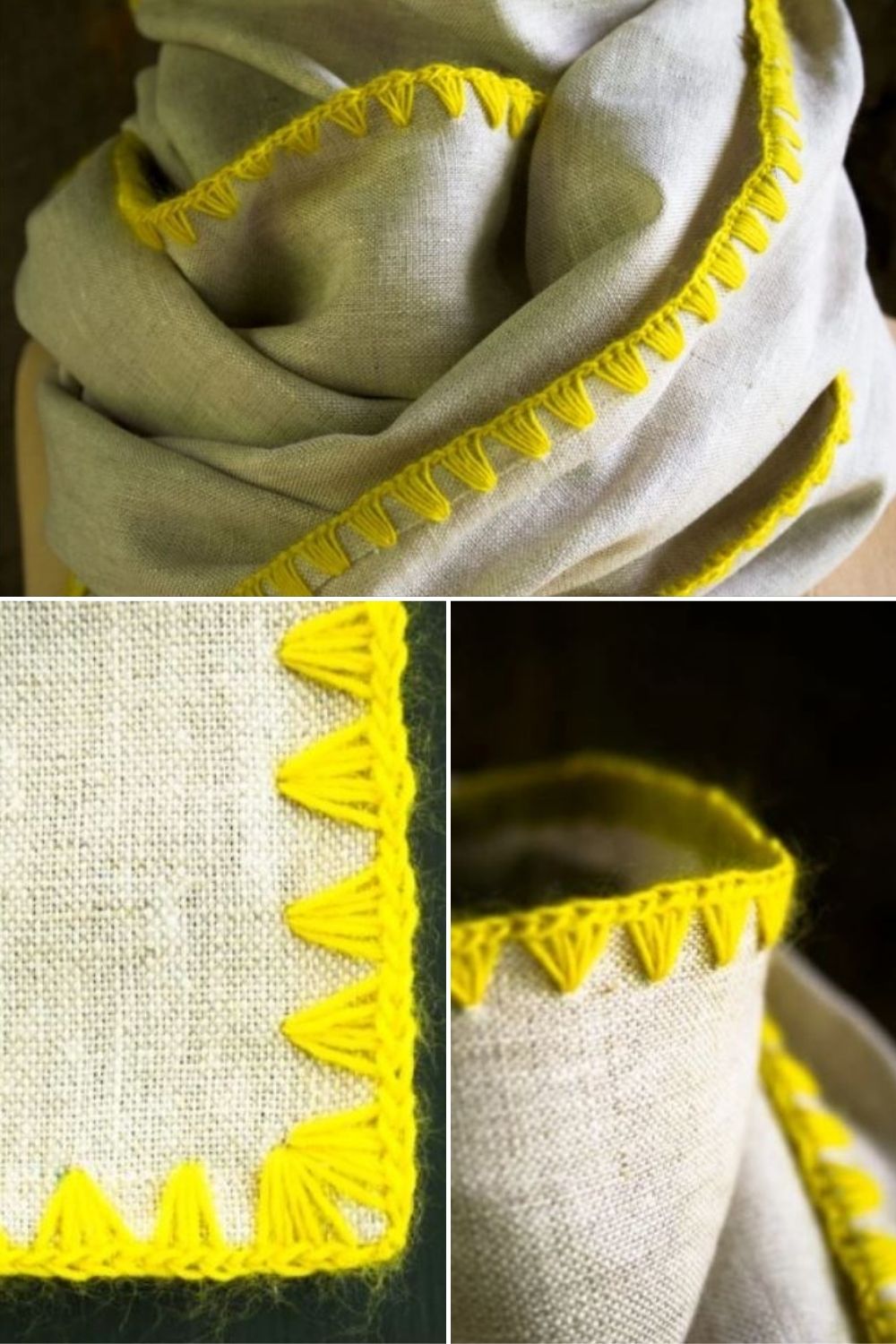 Click on the link below the photo to see free tutorial!
3. Crochet + Leather
I adore leather in combination with crochet, because it results in such sophisticated look! It's also very clever addition, if you need to make something more durable – such as the sole of an everyday slipper.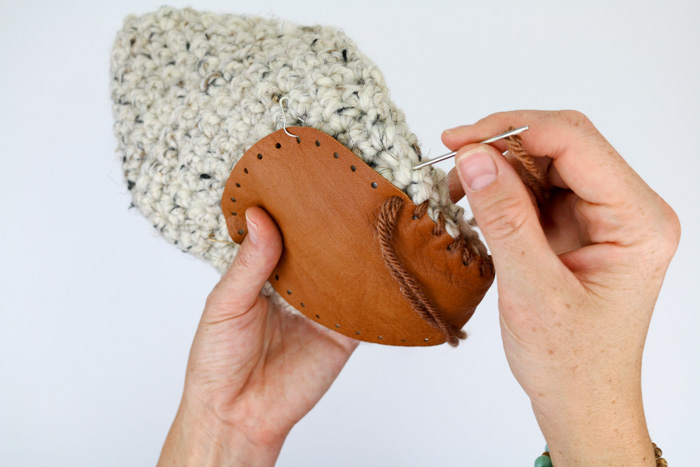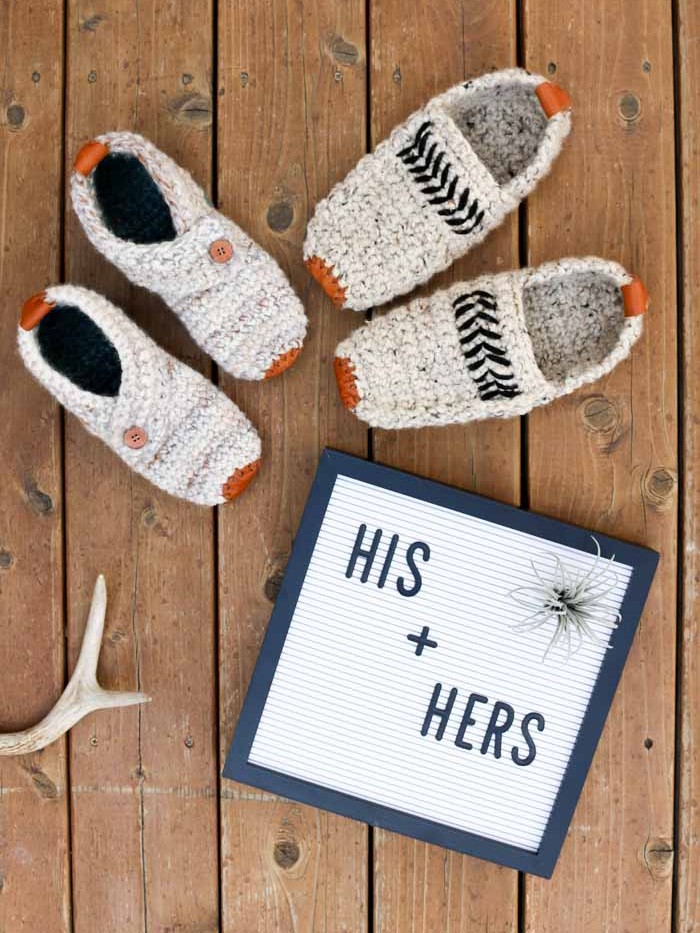 These slippers are available as free crochet patterns, so be sure to check them out (click the link below the photo!).
Adding crochet trim to leather requires something more than just a needle and thread, because this material is much thicker! You need to make the holes first, before stitching up your base. You can do it with a shoemaker's needle, or a nail and a hammer – just be careful, please!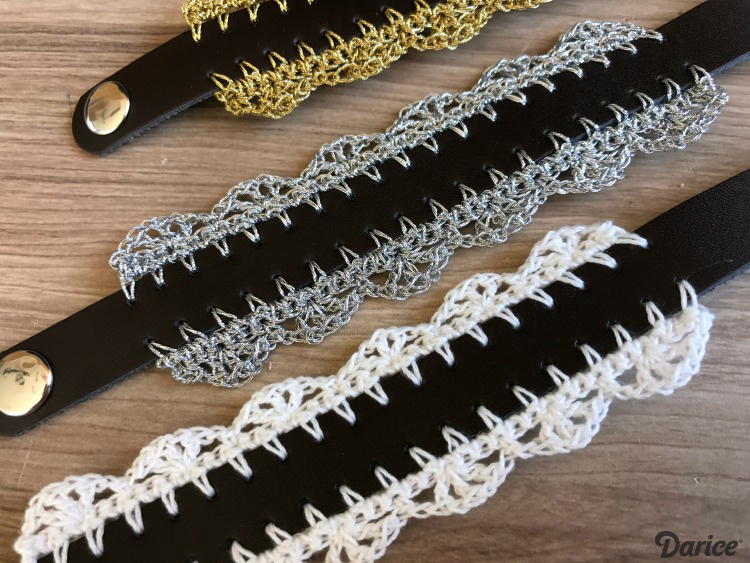 Free tutorial is available on Erica's website – click the link above to see it!
4. Appliques
There is a very clever and simple way to spice up your everyday wear, or your kids' favorite accessories. You guessed it – crochet applique! These little pieces can make a huge difference, and you can find them in a myriad of shapes and sizes.
Just sew them onto a blanket, a garment, or anything you like. You can use my free pattern as an applique: Star Shaped Flower – Free Crochet Pattern!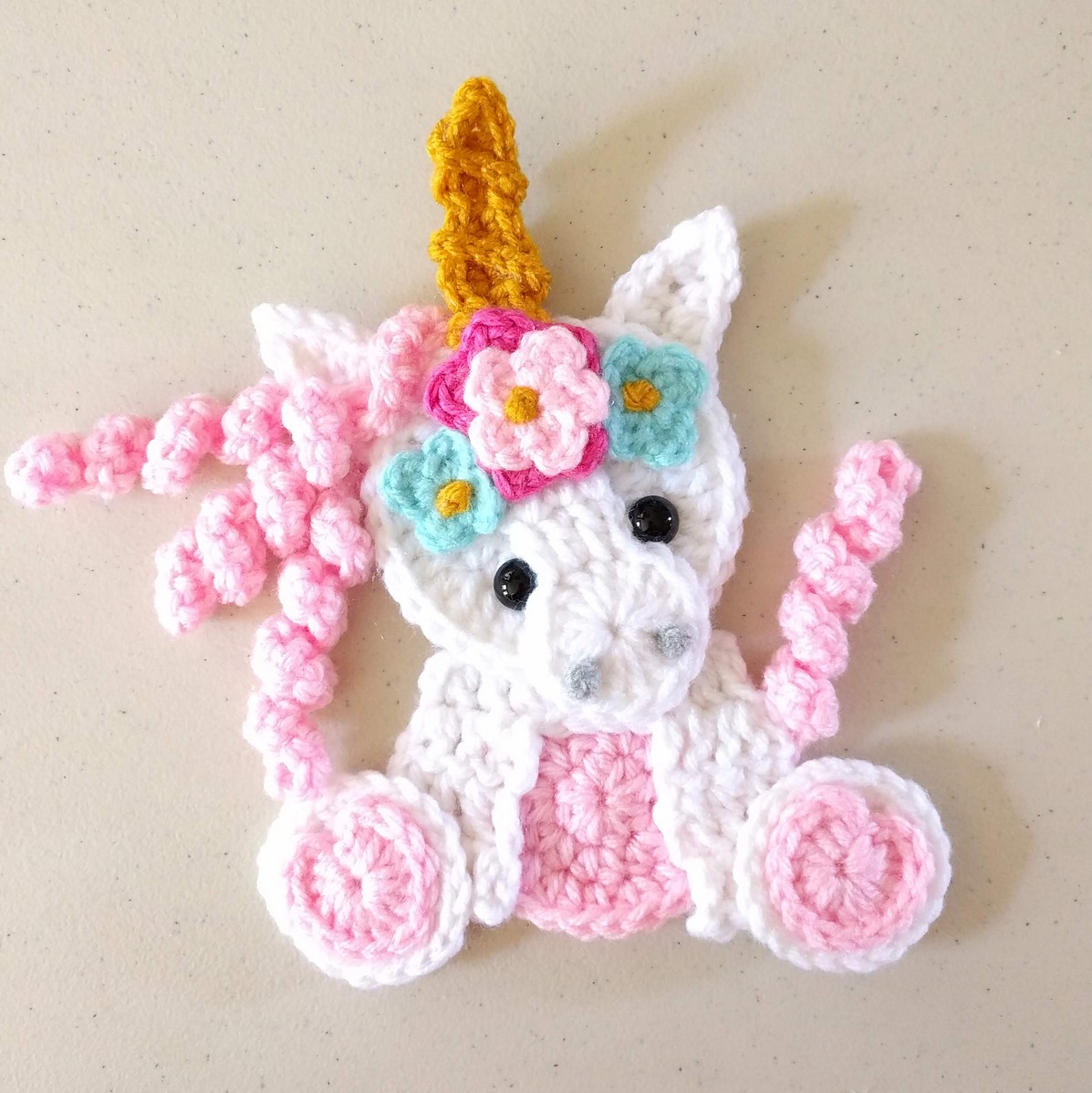 This version was made by Bekki, but the original pattern was designed by Jen Mitchell – Nella's Cottage and you can purchase it directly from Ravelry – here!
5. Crochet + Quilting
Are you familiar with any joining techniques? Well, they may come in handy in this case, because the project you see below is all about that. Crochet blankets, which are made of squares, are often joined with very decorative stitches. Why not combine it with fabric?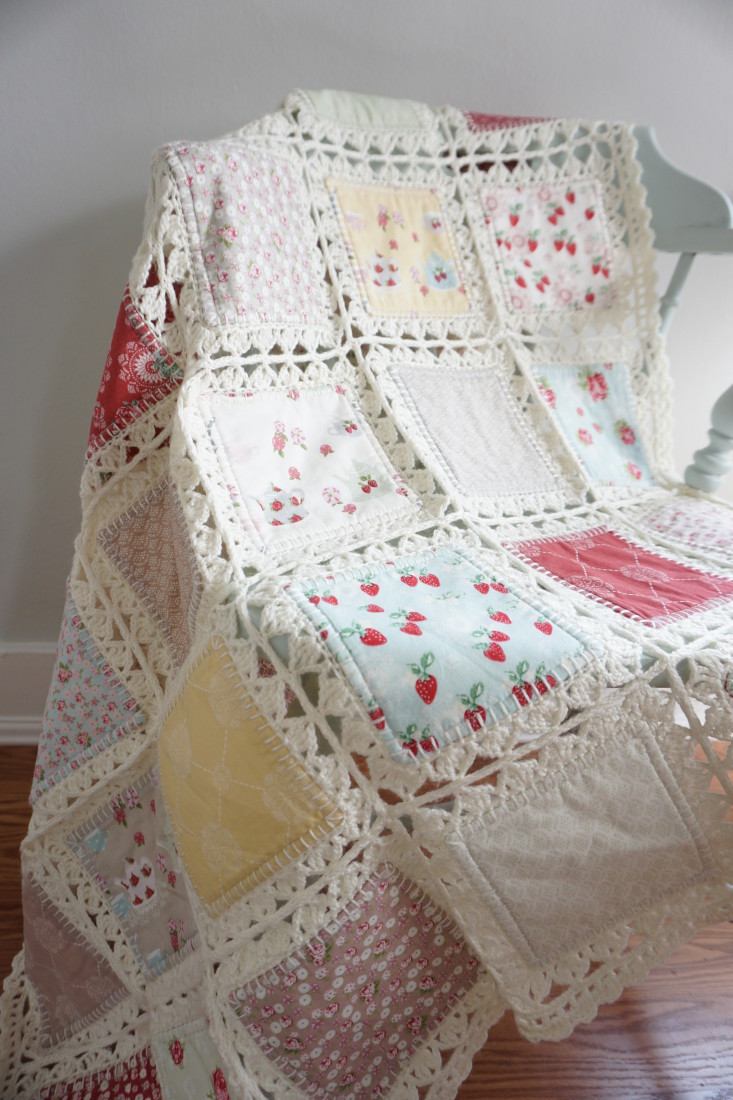 Read more about this project by clicking the link above, or go straight to free tutorial, which is available on fannyludesigns.com.
As you can see in the photo below, the process is always the same – you need to make the first stitching, so that you have a thread to crochet over. Isn't it nice? Old-school, but nice!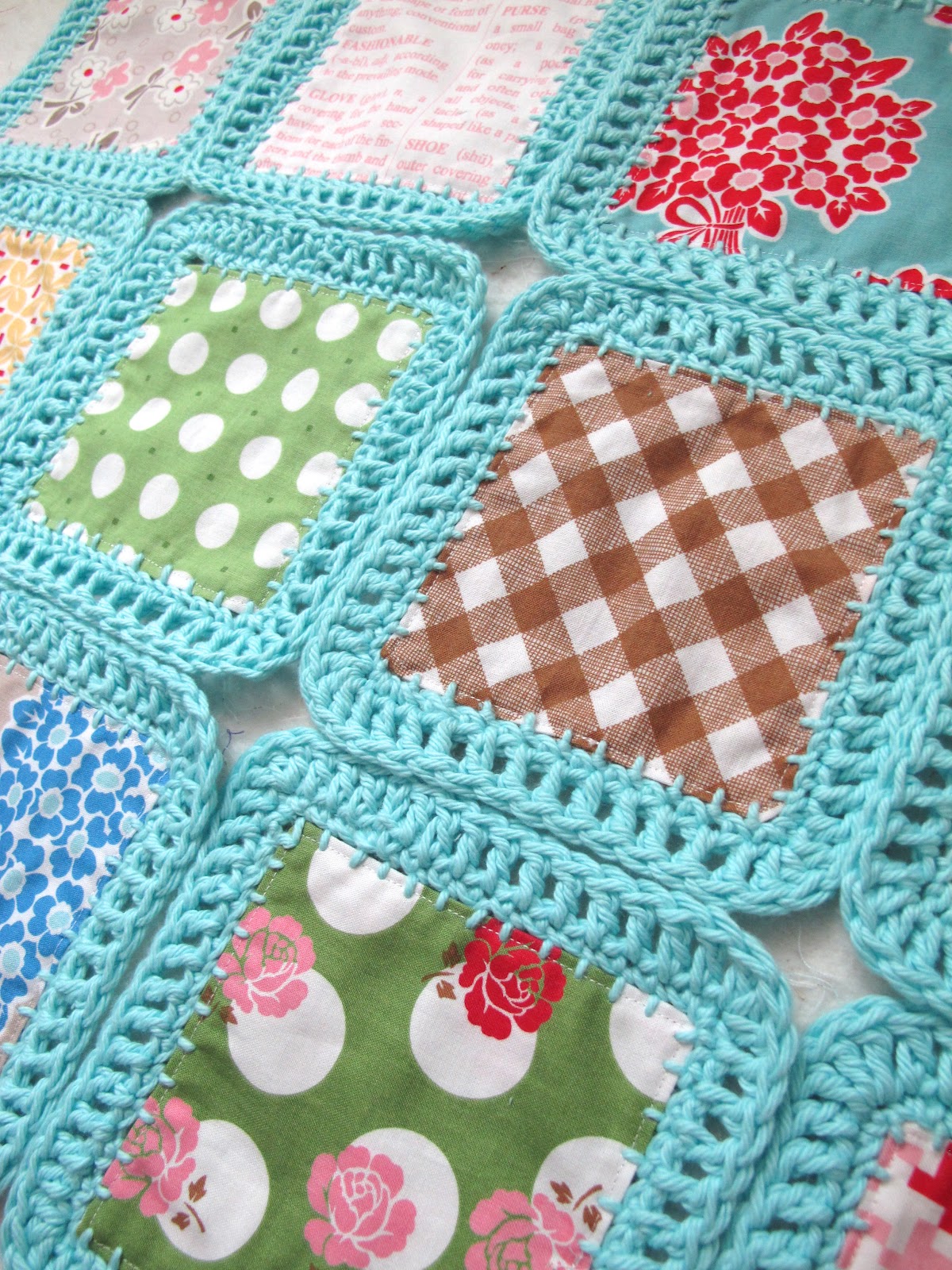 That's all for now, but you can be sure that I will keep this list growing! Hope you are a little bit more inspired now to use crochet in a different way.
You may also like this article: Nature's Walk CAL Ideas
◉
SHARE, LIKE, SUBSCRIBE!
Sharing is caring, so if you liked this article, be sure to share it with your friends and spread the word! Stay tuned for more free tutorials, patterns and interesting articles by following my social media pages (PINTEREST and INSTAGRAM), or allow notifications to get a pop-up whenever I publish something new.