This post contains affiliate links.
Bobble stitch is one of the most popular basic techniques, so you must have seen it before. It's often confused with popcorn or puff, but let me assure you – they are three different stitches! Bobbles are very versatile, and, as you can see in the post, can be modified in a lot of ways 🙂
You can use them to make an interesting structure or sprinkle them here and there to enhance other stitches and colors. If you haven't tried it, be sure to do it ASAP, but if you know bobbles well, maybe this post will inspire you to try something new?
Let's dive in!
◉
Affiliate Partnership
What does it mean? It means that if you click the link below and subscribe to this fantastic offer within 24 hours, I get a fee out of that purchase. Such partnerships are what allows me to grow and make even more free patterns and tutorials for you!
How to get 90+ Patterns in your digital library NOW!
Ready to make some brag-worthy projects? Happily Hooked publishes designs are unique, fun, and accessible for all skill levels! Add in your first issue of Happily Hooked, Pattern Pack Pro AND 7 bonus issues, you get… 90+ crochet designs for every season in your personal digital library!
Click to get them today from my friends at Happily Hooked!
CLICK HERE AND SUBSCRIBE TODAY!
◉
fun and easy!
There are so many ways you can work with bobble stitch, it's absolutely crazy! Baby blankets and throws are probably on top of the list, but you will find many, many different items with these little cuties.
Materials:
Sirin used Vogue With Love yarn, which is a combination of acrylic and wool. She chose 5.0mm crochet hook to go with it. In addition, tapestry needle comes in handy if you want to weave in yarn ends. Of course, you can go with any weight of yarn and corresponding crochet hook to make bobble stitches.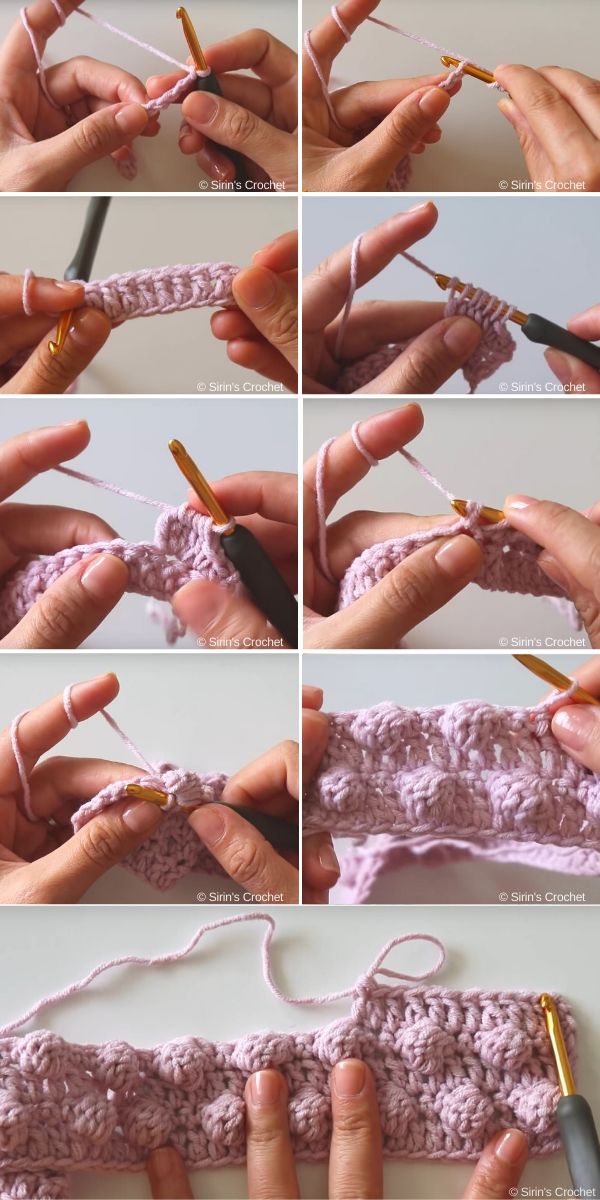 As always, you need a slip knot and a starting chain. First row is your base, so it can be made with single crochet stitches or double crochet. Bobbles are done by making five unfinished double crochets in one stitch, and then closing them all together.
For more info check out full video tutorial here, or check out written pattern if you prefer this way of learning.
talking about stitches…
Our growing website and library of free crochet patterns has some projects that might interest you, too. On top of that, my list of Stitch Series is still growing! For example, check out my article on Dreamy Alpine Stitch Ideas!
→ Yes! Take me to this article! ←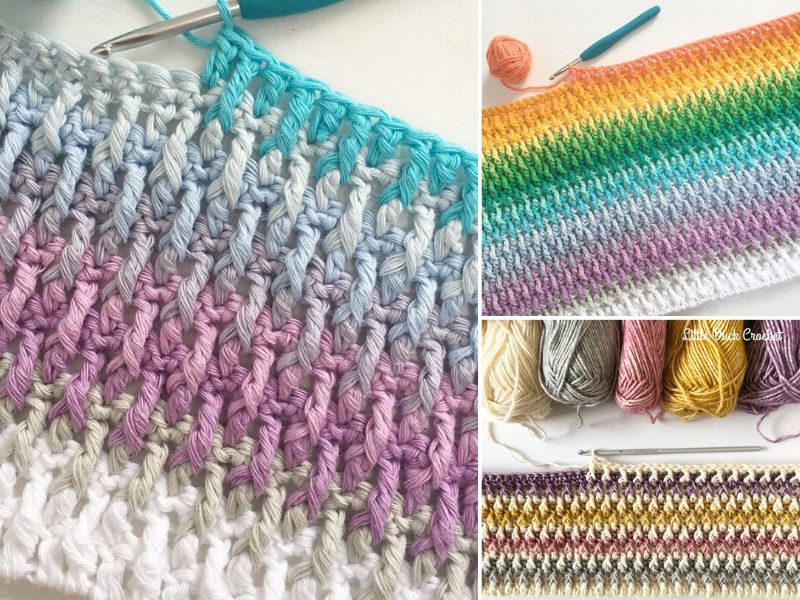 or…
Explore the article I wrote about Beautiful Bavarian Stitch Ideas, because it's full of free resources!
→ Yes! Take me to this article! ←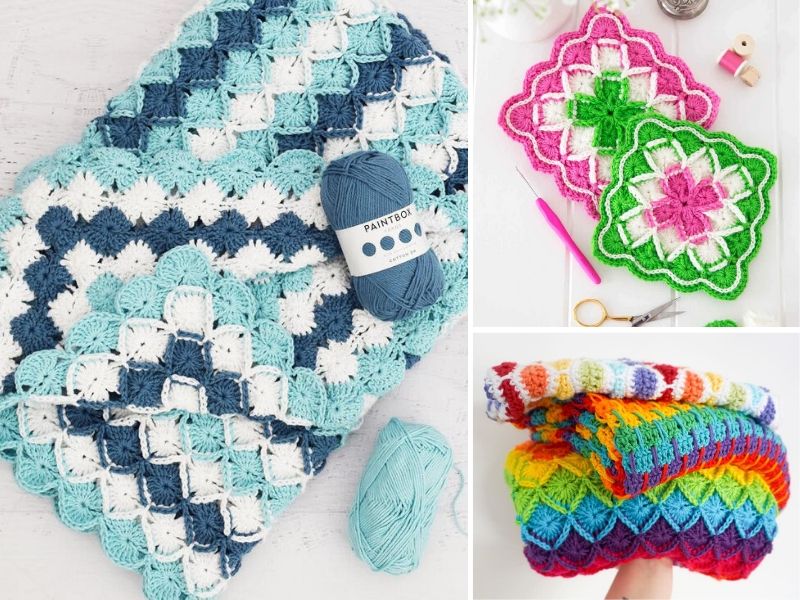 crochet roundup!
As I've mentioned before, there are A LOT of projects that feature bobble stitch, so in today's roundup I decided to focus on blankets and throws. They really beautifully showcase the full range of possibilities when it comes to this technique. Hopefully the collection of inspirations below will be enough for you to try something new!
Be sure to read the post carefully for free patterns and tutorials.
◉
Bobble Designs in Chevron Pattern
Chevron Bobble Blanket by Little Duck Crochet
You will agree that chevron is timeless and always looks good, right? Whether you are making baby blanket or try to create stunning accessory for your own living room, chevron is a modern way to go. See more on Sarah's Instagram feed!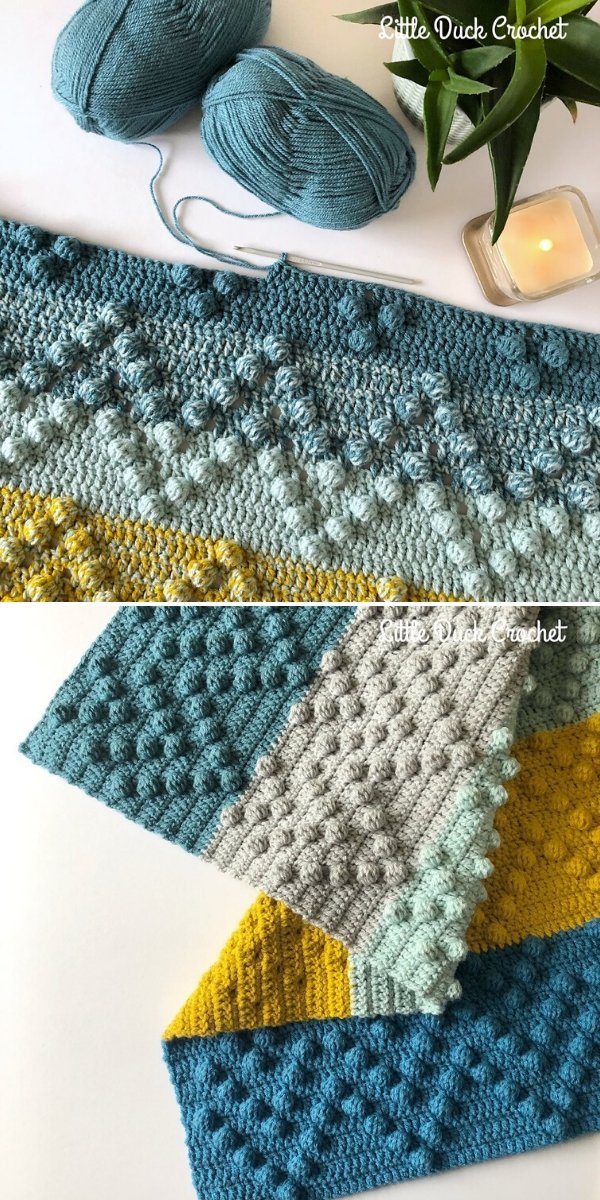 If you prefer blankets worked from the center out, The Bakewell Blanket by Jollijenni & Chlola is a free pattern and uses bobbles in a very interesting way.
◉
Chevron Party Blanket by Gilbert Crochet
What can I say? I looooove this colorway! It's rich and evokes the most beautiful lake sunset vibes. Bobble stitch creates lovely detailing on this otherwise simple blanket and goes perfectly well with basic stitches. To see more beautiful creations by Anna, check out her Instagram page under the link below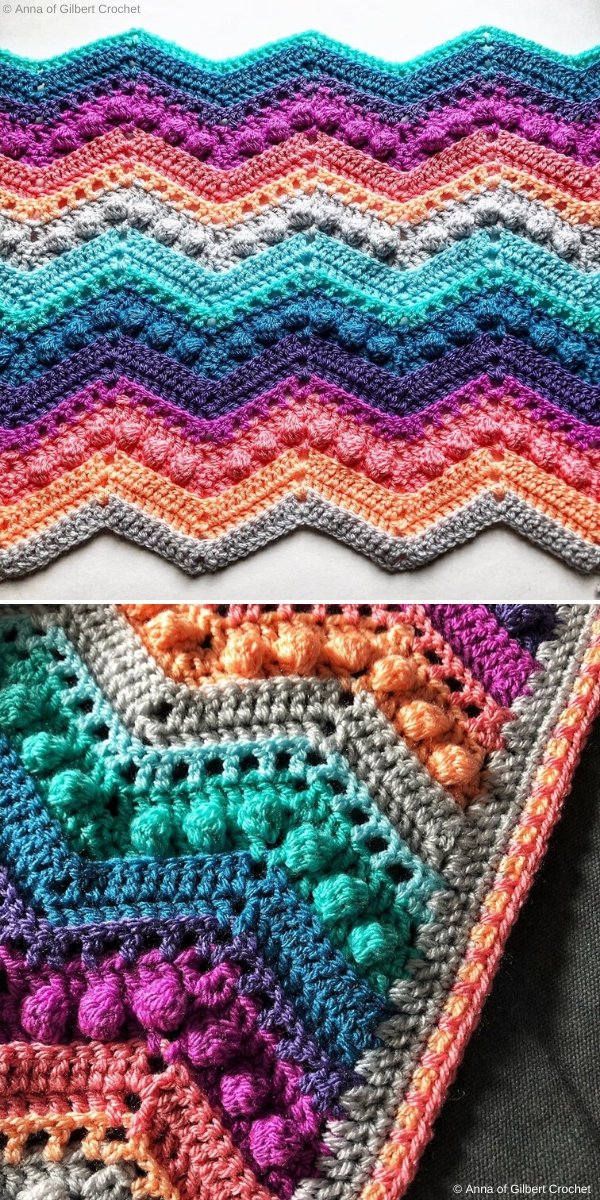 This amazing project is actually based on Chevron Party Blanket by Eleri Schofield, which you can purchase through Ravelry.
You may also like this article – Ripple Stitch Crochet Ideas.
◉
Chevron Bobble Blanket by Mummys_Crochet_Boutique
Author tweaked an existing pattern to come up with this design, and you must admit – it's stunning! Solid rows of chevron bobbles are just perfect, so take a look at the photos below and be inspired. One of the coolest things in this project is fringe, because it was nicely trimmed to repeat zig-zaggy pattern.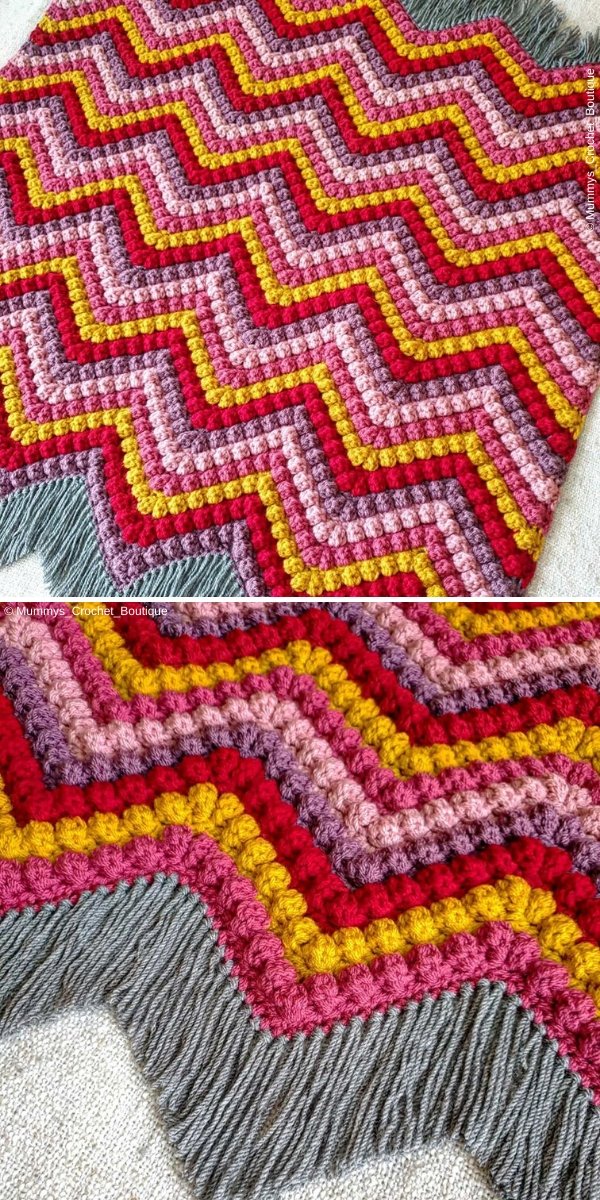 For similar effect, I would try following chevron design, such as free pattern for Hugs & Kisses Baby Blanket by Jeanne Steinhilber, but instead of the whole sequence, I would work only bobble row again and again.
◉
Hugs & Kisses Baby Blanket by Mummys_Crochet_Boutique
This lovely blanket is based on one the most cherished designs out there, free pattern called Hugs & Kisses Baby Blanket by Jeanne Steinhilber. Choose your colors and give it a try!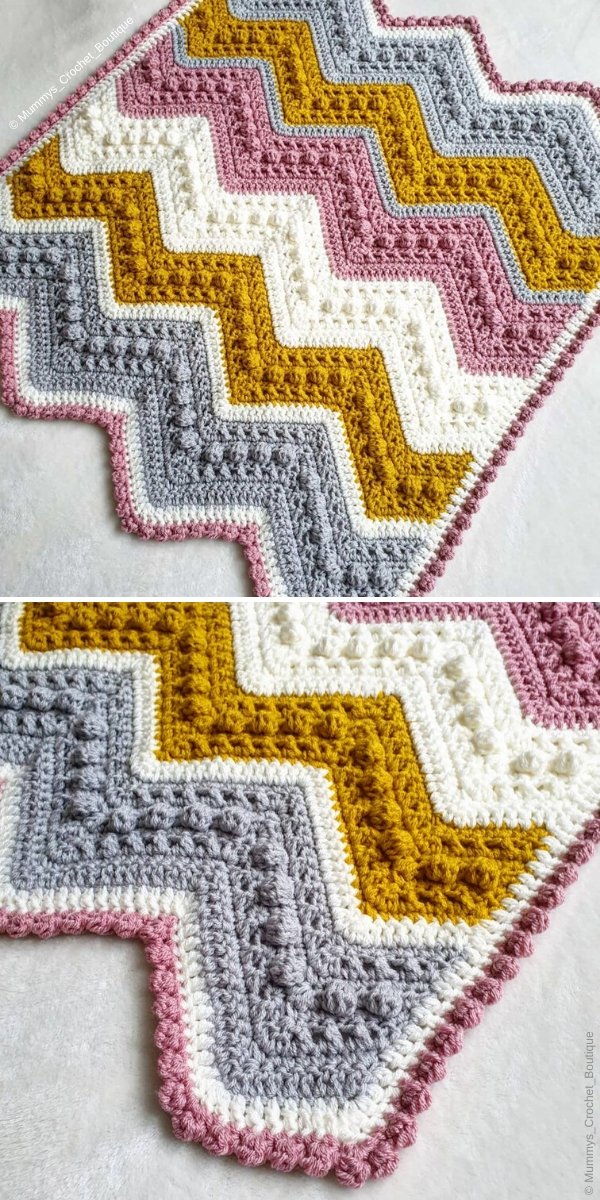 ◉
Bobbles Galore Crochet Blankets
Blackberry Salad Blanket by Little Duck Crochet
Pattern for this blanket is one of the beloved designs in the world of crochet, because its simplicity gives so much room for experiments and uniqueness! Below you can see a fantastic colorway created by talented Little Duck Crochet, whose craftsmanship and eye for detail is to die for.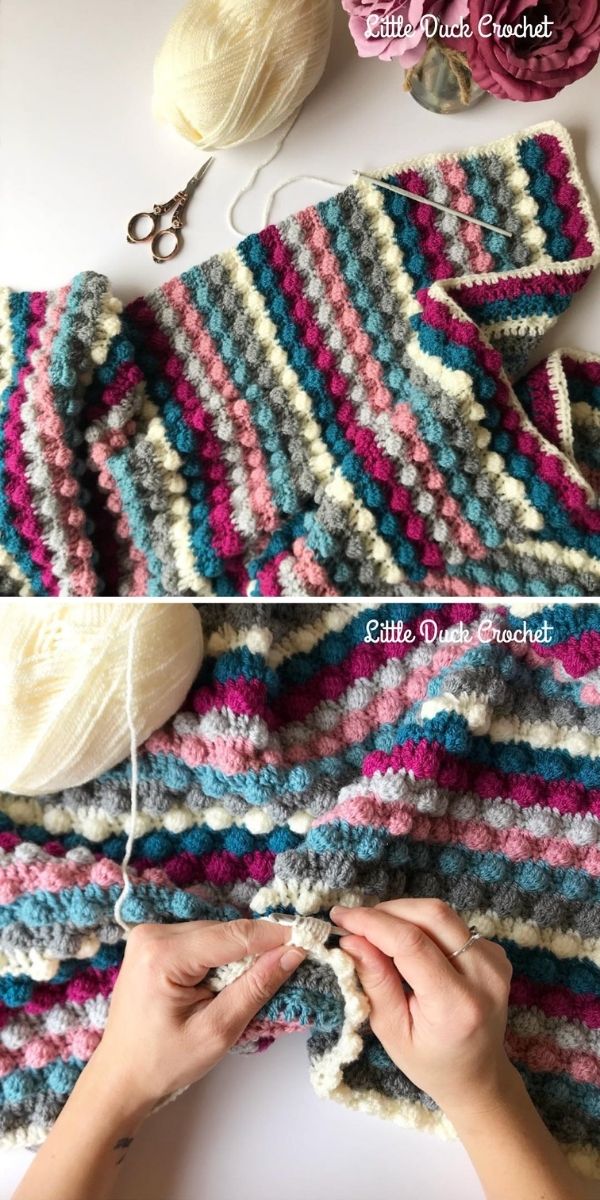 This blanket is based on a free pattern called Blackberry Salad Striped Baby Blanket by Tamara Kelly.
You may also like this article – Popcorn Stitch Ideas.
◉
Jayla Blanket by Wild Little Acorn Crochet
In this design, bobbles are not so densely packed, but they still play the main role. Lightweight baby blanket in ocean colors can be a great handmade gift, especially if you make it by yourself. Little kids and babies love tactile items, and bobbles will most definitely make an interesting detail for their little fingers. Below you can see how amazing this colorway looks!
Jayla Blanket pattern is available for purchase on lovecrafts.com.
◉
Spots & Stripes Baby Blanket by Helen Louise Smith
How many combinations of bobbles and stripes can you think of? Well, the minds of crochet designers are as deep as the deepest wells, so you can be sure that they will always come up with something new. As you can see in the photos, Helen found out how to balance dots and stripes perfectly.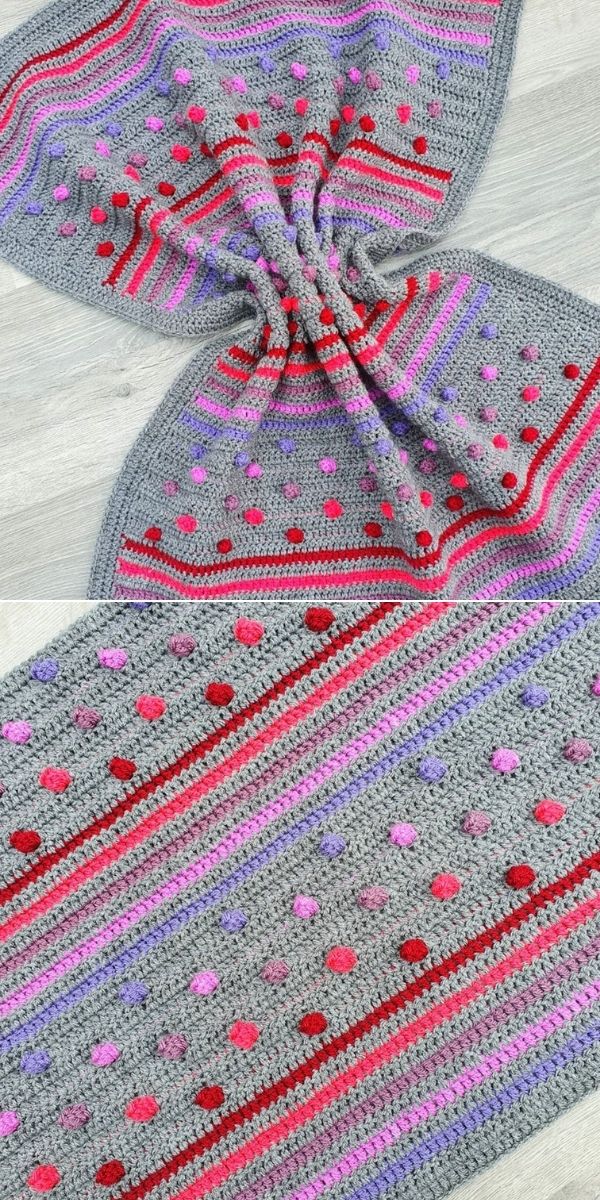 Purchase the pattern for Spots & Stripes Baby Blanket by Helen Louise Smith on Ravelry.com or Etsy.com.
◉
Bobble Stripe Baby Blanket by Alex DellAringa
Stripy designs can be a bit boring, but not when bobbles are involved! Alex came up with very fun design, which is totally free for you to use. What catches my eye instantly, though, is the fun border – you can see it in the top photo. Don't worry beginners, this project is great for all of you there, just starting out.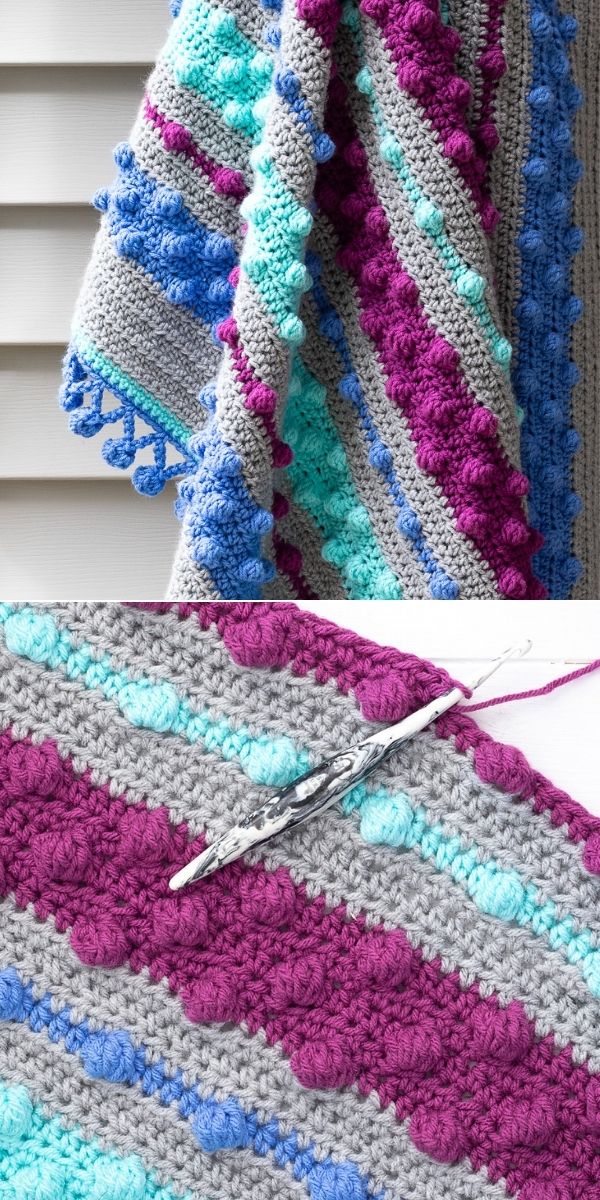 This beautiful project is available as free crochet pattern on youshouldcraft.com.
You may also like this article – Granny Stripe Crochet Ideas.
◉
Blackberry Salad Blanket by Kerry and The Boys
Kerry is the ultimate queen of rainbow, that's for sure! Her colorful designs never fail to bring a smile on my face. Something as simple as a bobble blanket can look very different, depending on a yarn you choose.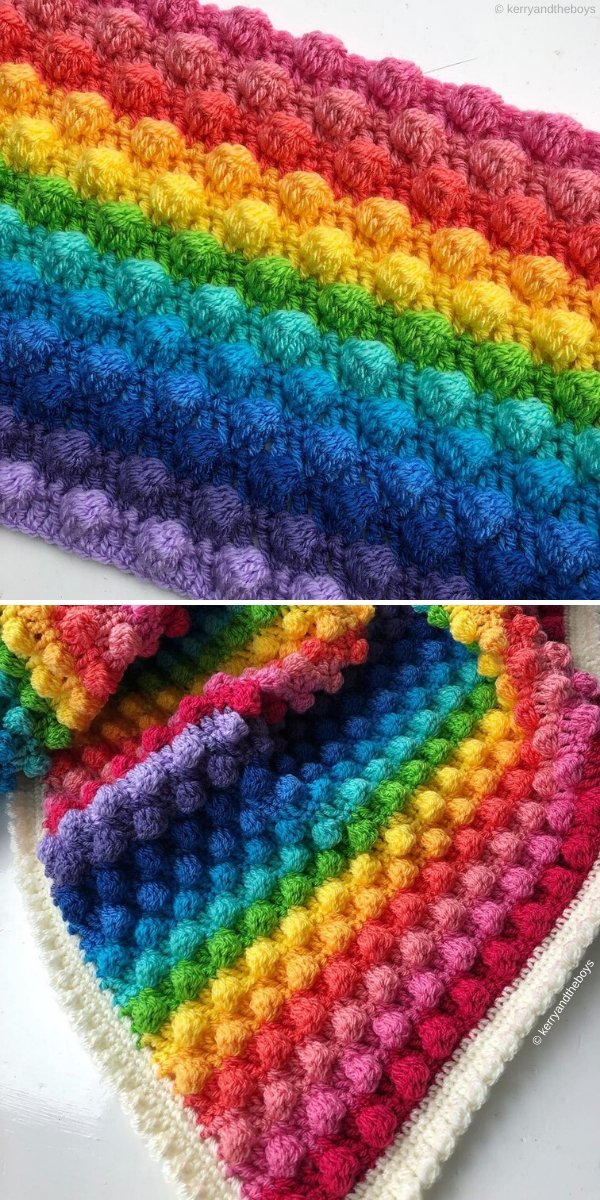 This amazing design is based on a free pattern called Blackberry Salad Striped Baby Blanket by Tamara Kelly.
◉
Bobble Blanket by Wooly Wonka's Crochet Factory
Pastel rainbow will be perfect for little girls, and this one is just breathtaking. It's made with 13 different colors of yarn and you can tell that it's exactly what makes it look so good. Check out more incredible creations on Melanie's Instagram page!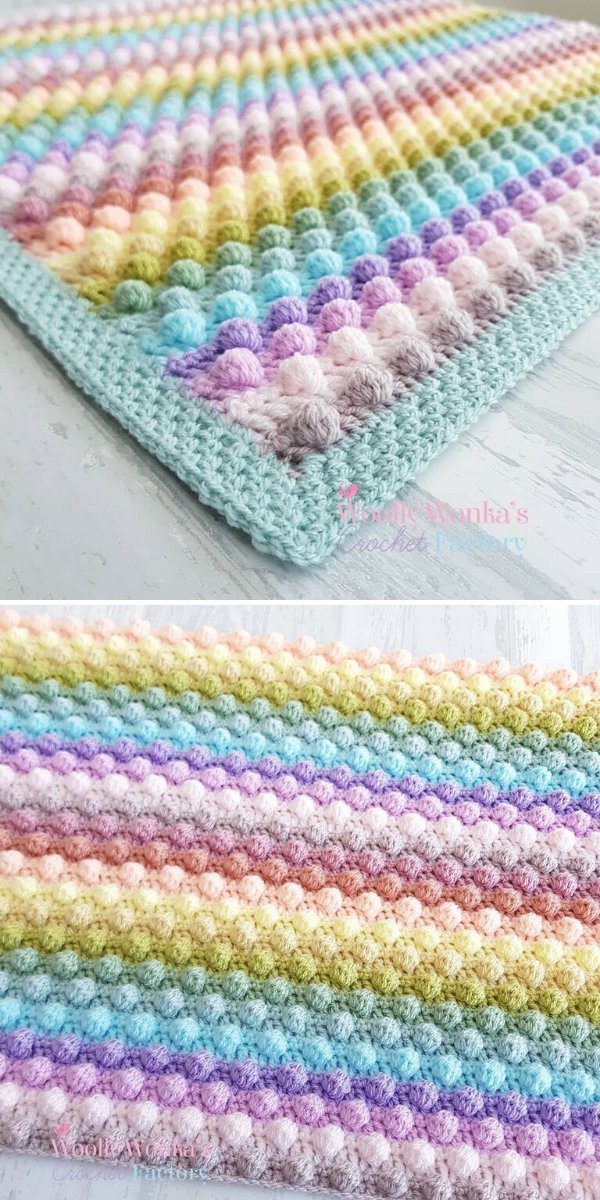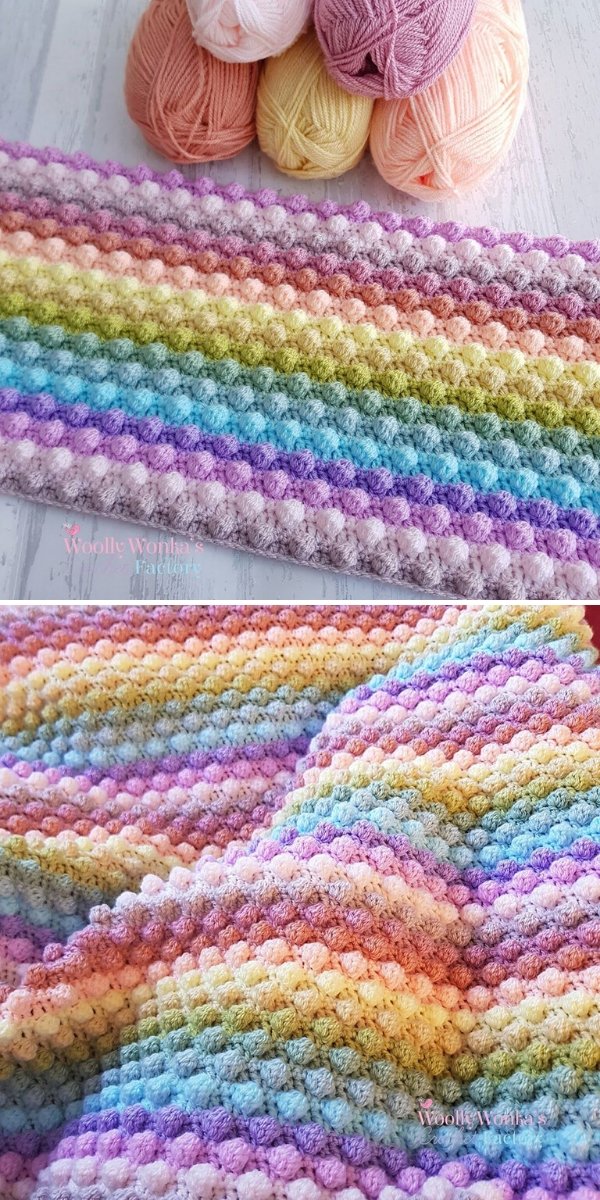 This stunning rainbow design can be easily made with this free pattern for Blackberry Salad Striped Baby Blanket by Tamara Kelly.
◉
Bobble Blankets by Mummys_Crochet_Boutique
Blues and mustard go very well together! This colorway is great for modern nurseries. Use one of the tutorials I've mentioned to create similar blanket, or try out slightly different approach with free crochet patterns like Bobble Lines Baby Blanket or Polka Dot Blanket by Daisy Farm Crafts.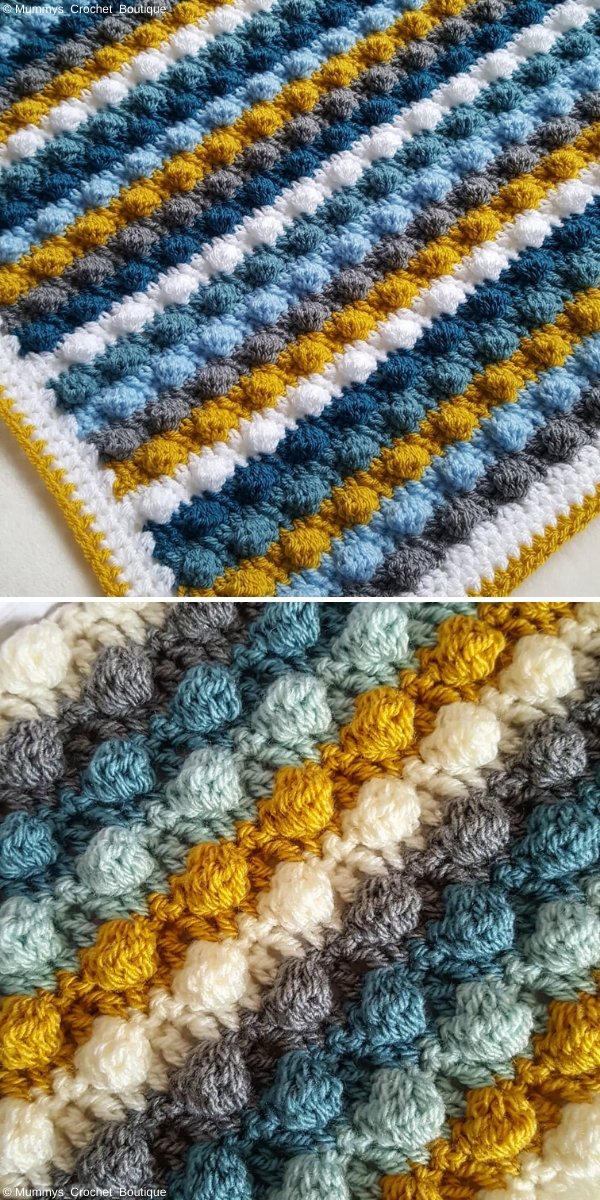 You may also like this article – Easy Heart Stitch Ideas.
◉
Painting, Drawing and Writing with Bobbles
Bobble Heart Blanket by Gemini Crochet
Bobble hearts are absolutely the cutest, don't you agree? This design combines hearts with letters to make it even more personal. Little receiver will have a true sentimental piece to cherish for life!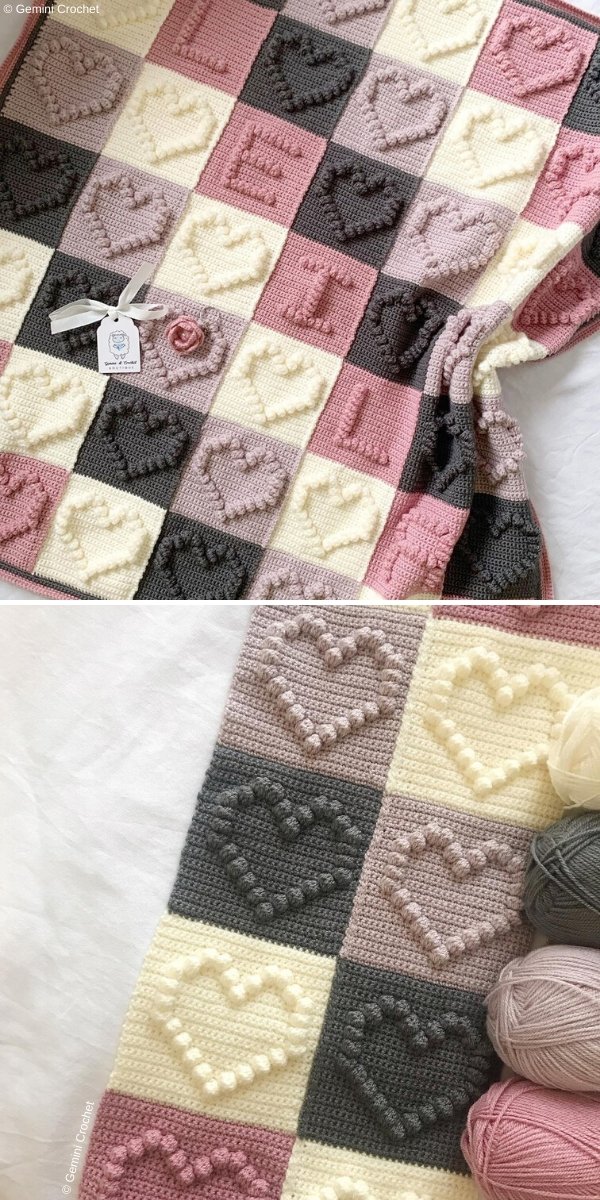 Check out similar design with free pattern for Rainbow Bobble Heart Square by Lisa Hooper. If you like this effect, explore patterns by Jody Pyott, who truly mastered this technique!
◉
Bobble Garden Cushion by Little Golden Nook
Ok, so now you know that you can arrange bobbles in many different ways, creating letters, symbols or fun patterns. But did you know that you can paint with them, too? Designer behind Little Golden Nook created amazing colorful cushion, in which colorful bobbles are the ones that "paint" the shapes on the surface. Take a look below and see for yourself!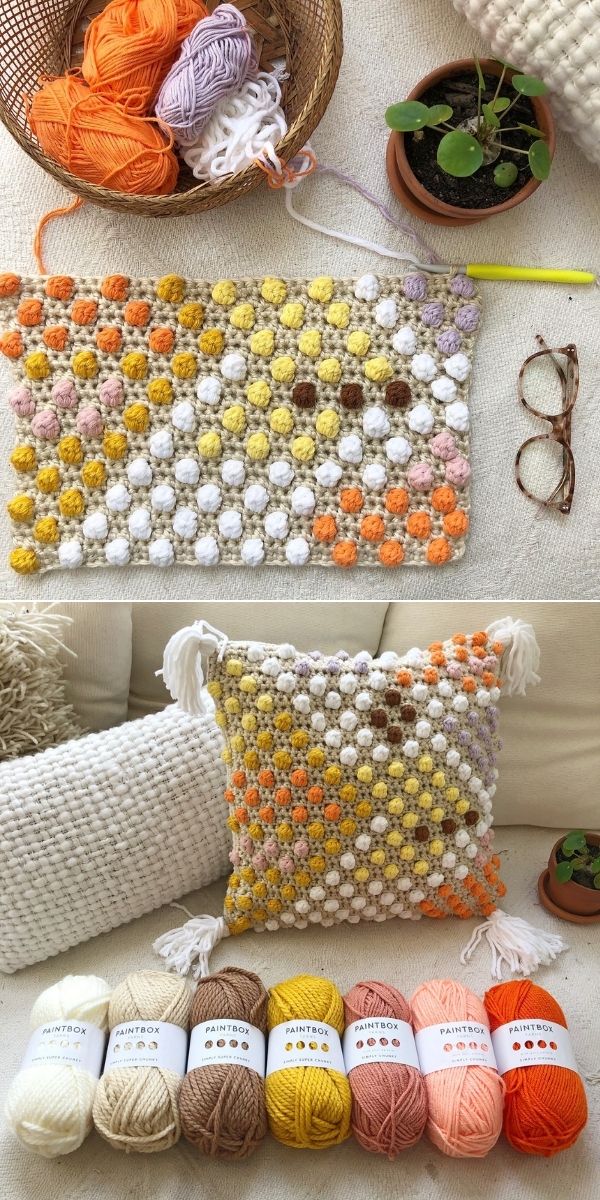 You can purchase this pattern on Ravelry here.
◉
Heart Bobble Baby Blanket by Kaidalys
Did you know that you can 'paint' shapes with bobbles? It's one of the cutest way in which designers work with this stitch. Pastel rainbow and lovely hearts are the ultimate girly baby blanket recipe!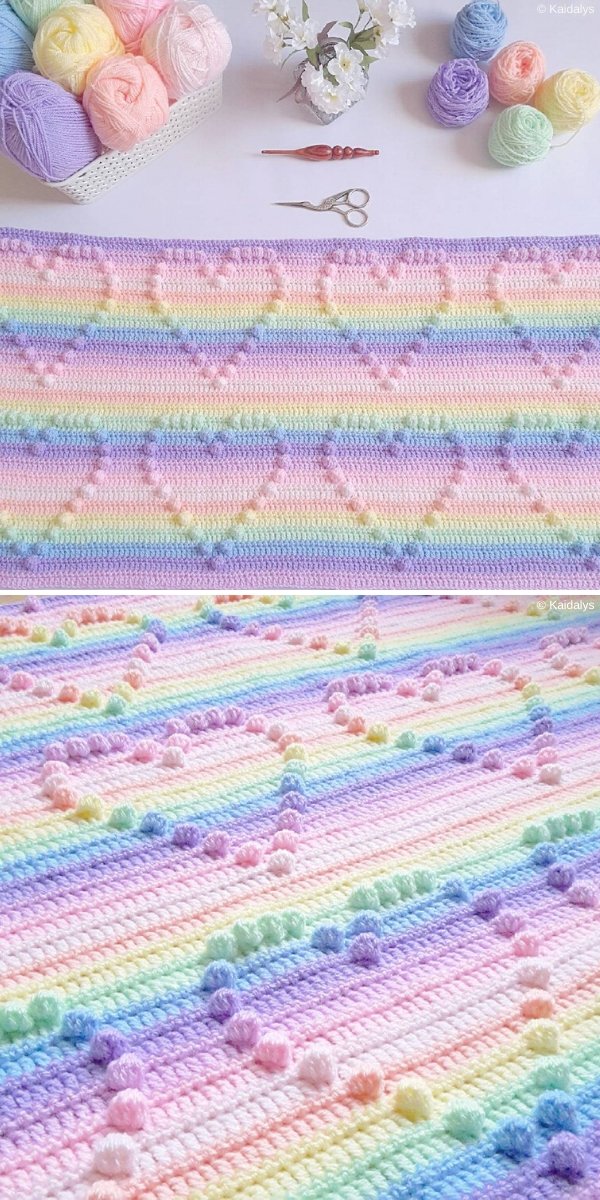 If you would like to make similar blanket, you can purchase a pattern for Heart Motifs Baby Blanket by Peach. Unicorn, or learn how to strategically place bobbles with free pattern for Diamond Berry Stitch Blanket by Daisy Farm Crafts. Both of these designs are great starting points for making your own bobble shapes.
You may also like this article – Chevron Stitch Ideas.
◉
That's all for today, but I'll be back with much more inspiring projects and free patterns. Like, share and subscribe if you like what you see. Stay tuned!
↔
You may also like: Moss Stitch aka Linen Stitch Crochet Ideas