The Best Yarn for Crochet Baby Blankets
If you struggle with choosing the best yarn for crochet baby blanket, you're not alone! With so many choices it's easy to get lost, but I've got a solution for you.
In this article we'll look at pros and cons of six of the most popular blanket yarns, as well as cover topics such as:
What kind of yarn is the best for blankets
How to choose the best yarn for blankets
Where to look for yarn qualities information
How to find good yarn substitutes
Which yarns are better: natural or synthetic?
◉
What kind of yarn is the best for blankets
The best yarn for crochet baby blanket should have specific qualities, because it's going to be heavily used around children. Such yarn should be quite lightweight, machine washable, and available in lots of colors, so that you can create a truly stunning piece. 
Depending on what season you are going for, you can choose between typically summer and winter yarns, but the final effect will differ greatly. Winter blankets should be warm and soft, featuring such yarns as wool and acrylic. Summer blankets should be lightweight and airy, covering the baby more from the sun than the cold – in this case the best choice will be lightweight wool, or cotton.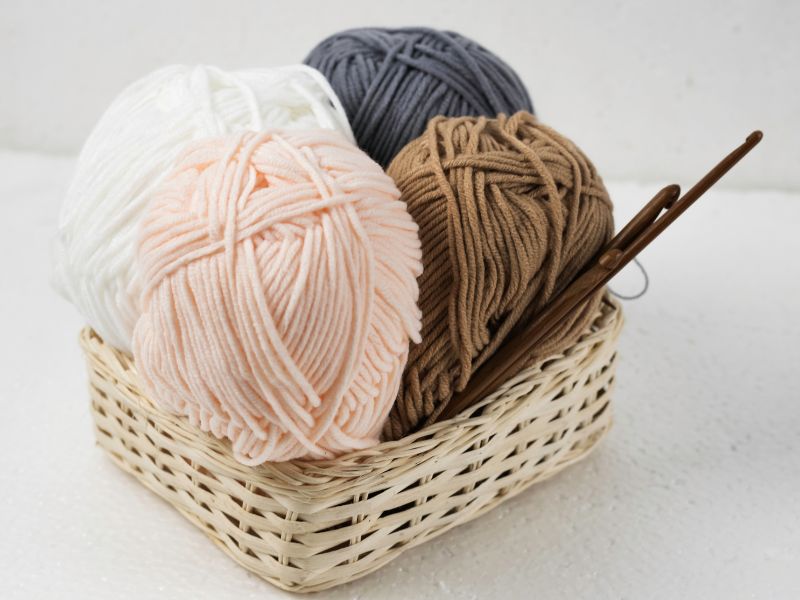 ◉
This article is a part of my series about making choices, so check it out if you're interested:
◉
How to choose best yarn for crochet baby blanket
The easiest way is to follow the instructions in your crochet pattern, because most of the designers recommend specific yarns. If the recommended brand isn't available in your local stores or online, the best way is to go for the yarn as similar as possible in qualities. Choosing a totally different yarn than the one recommended can completely throw the design off, as it won't match the original in shape, size, nor the feel. 
Some questions to ask may be:
Is your design a solid stitch, or a lacy one? 

Do you want it to be light and flowy, or dense and squishy? 
As I mentioned in the previous paragraph, consider the qualities you need for your blanket, but remember that yarn weight and fiber content will impact the final look and feel of it. 
Other questions you might want to ask yourself are: 
Will it be heavily used, or just decorative? 

Will it need washing often? 

How big is my budget?

Is using natural yarns important to me?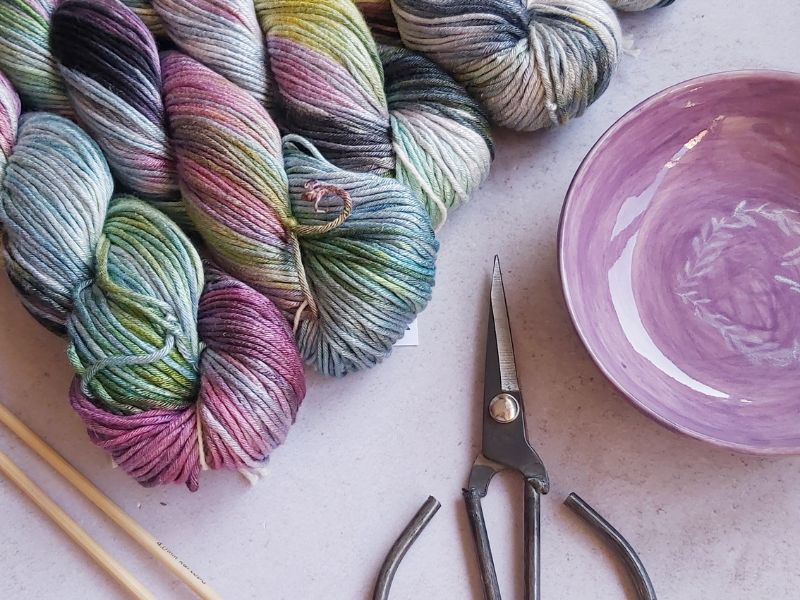 ◉
Where to look for yarn qualities information
Yarn qualities, such as fiber content, yarn weight and yardage, are all printed on the yarn label. If you are buying materials online, you will find this information in the product description.
To take good care of your crochet blankets and garments, you need to get familiar with the symbols and abbreviations manufacturers use. You can find similar symbols on store-bought garments, because they are used universally wherever you need care instructions.
To learn how to read symbols and abbreviations on the yarn label, check out my article about it – How to Read Yarn Labels.
◉
How to find good yarn substitutes
To find the yarn similar to the one you already have (or the one your crochet pattern calls for), you have to take into consideration all its qualities at once. Fifty grams of heavy cotton will have totally different yardage than fifty grams of lightweight merino. 
You should be looking at these qualities:
yardage vs. skein weight ratio

yarn weight (bulky, fingering, DK, etc.)

gauge
The perfect substitute yarn will have all the qualities as close as possible to the original. Similar fiber content will make your crochet blanket feel the same way, but the most important thing is gauge. Optimal yardage vs. skein weight ratio combined with similar yarn weight type will result in a yarn very similar in thickness and weight. 
By choosing the right hook size and making a gauge swatch you will then be able to see if your gauge matches the one in the pattern.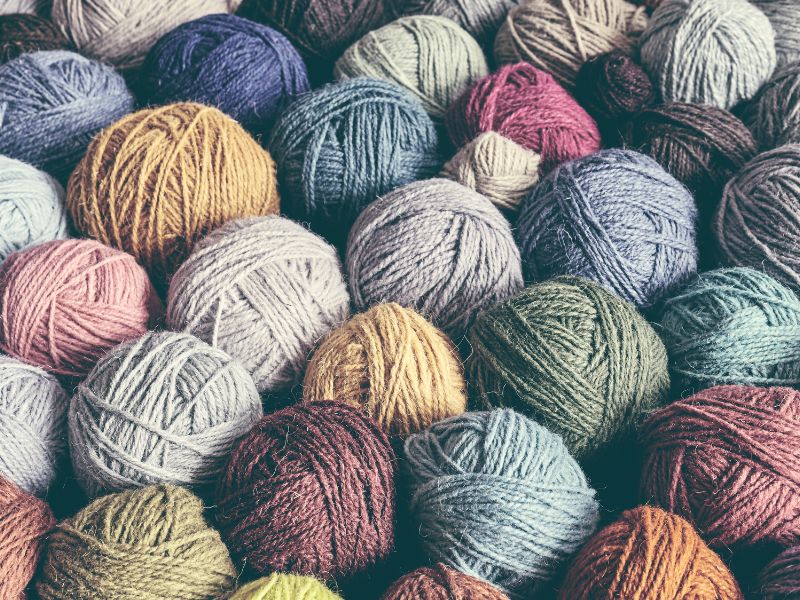 ◉
Which yarns are better: natural or synthetic?
This is an ongoing debate in the crafts world, and I guess there are lots of crocheters on each side of the fence. 
Natural yarns
Eco-friendly trend definitely created the rise of interest in sustainable and hand-dyed yarns, making it very profitable for indie manufacturers. Natural, untreated yarns often feature unusual, one of a kind details, and are environmentally friendly. They are considered breathable and safe for the skin, as opposed to chemically-treated yarns. 
Learn more about natural yarns in my articles about Animal Fiber-Based Yarns and Plant Fiber-Based Yarns.
Synthetic yarns 
On the other hand, synthetic and treated yarns have qualities the natural yarns don't. Superwash wool, for example, can be cleaned in the washing machine, making it a perfect choice for everyday items. Synthetic yarns are much more durable, often feature more vibrant colors, and are cheaper to produce – which is visible on a price tag. 
Learn more in my article about Synthetic and Novelty Yarns.
Making the choice
Both natural and synthetic yarns have unique qualities, but in the end it's our approach that makes all the difference. Of course, natural yarns take significantly less time to biodegrade, but recycled fibers make use of what's already there, without creating more waste.
Sometimes a more sustainable choice is to make a long-lasting acrylic blanket than a super-delicate one that has to be washed by hand each time. Consider your needs and focus on this question: Which way is the least wasteful?
◉
The most popular baby blanket yarns
Let's see six of the most popular yarns and analyze their qualities to find the best yarn for crochet baby blankets.
Malabrigo Worsted
Weight:

Aran

Fibers:

100% Merino Wool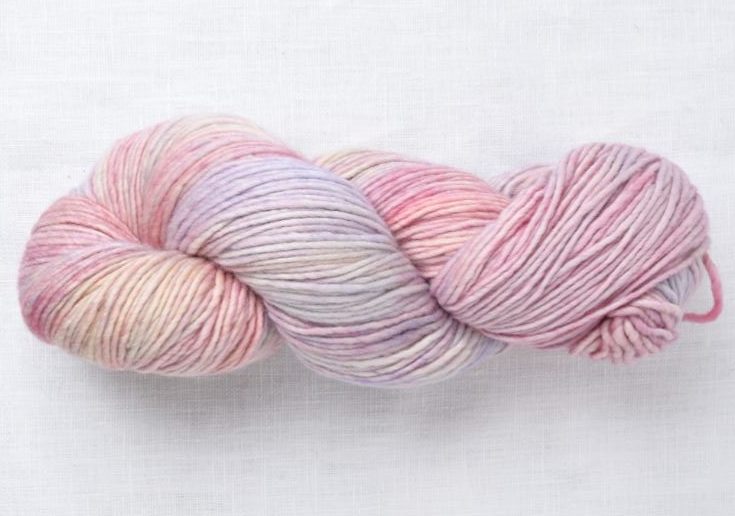 Pros: Made with natural Uruguayan wool, hand-dyed by artisans, very delicate and of the highest quality. If you are looking for warmth, comfort and a nice definition of stitches, Malabrigo yarn will be perfect. Big color palette features semi-solid, tonal and variegated colorways – very unique!
Cons: It has to be hand-washed, so it's not suitable for heavily worn, or easily stained items. If you run out of yarn, it may be hard to match the color, because each batch is dyed by hand and may differ from one another slightly. Additionally, it requires winding, as it comes in hanks.
Learn more on ravelry.com, or buy it on woolandcompany.com.
◉
Caron Simply Soft
Weight:

Aran

Fibers:

100% Acrylic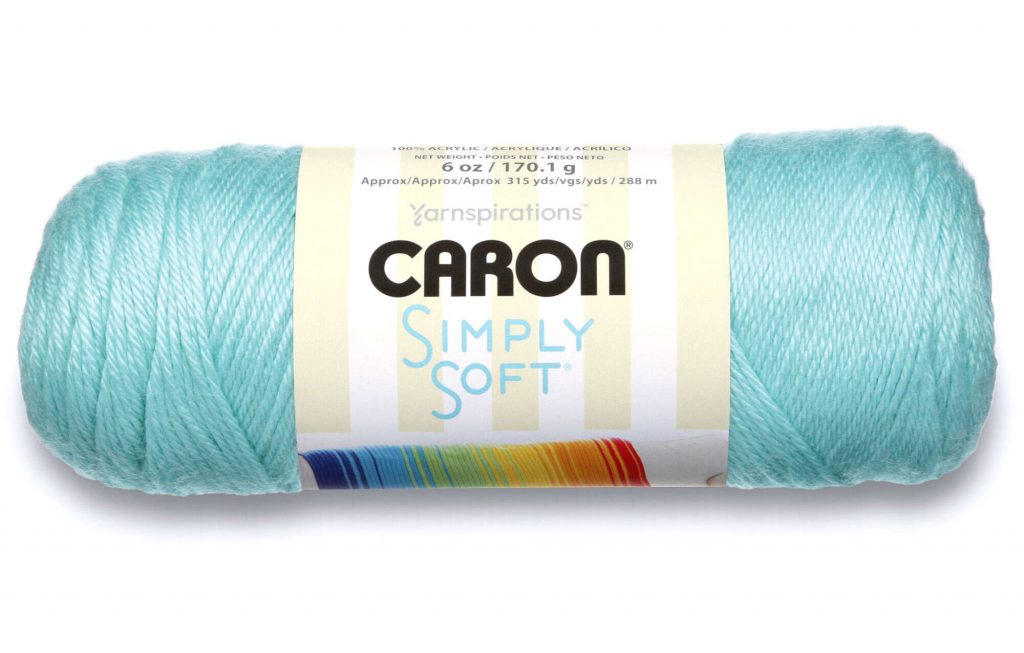 Pros: This yarn washes very well, doesn't shed or pill, so it's great for afghans and blankets. It's soft (especially after washing), has a good variety of colors to choose from, and is very inexpensive. Silky texture gives a nice sheen to the stitches, and it's machine washable.
Cons: This yarn often splits and knots while working, which can be very frustrating when making bigger projects. If you happen to frog it, the problem of splitting gets even bigger. You may need to rewind this yarn into a ball before starting the work.
Learn more on ravelry.com, or buy it on yarnspirations.com.
◉
Cascade 220 Yarn
Weight:

Worsted

Fibers:

100% Wool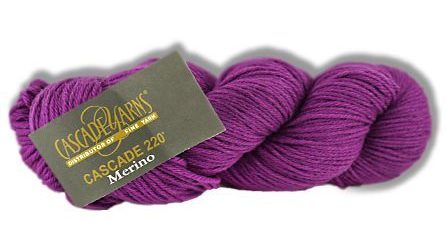 Pros: Natural wool manufactured and machine dyed in Peru, which is perfect for beginners and produces beautifully defined stitches. It comes in many colorways, is quite soft, and the price is low in comparison to the quality. If you're into felting, this yarn is great for that.
Cons: It needs unwinding, because it comes in loosely twisted hanks. Darker colors may bleed in the wash, so be aware of that when combining it with lighter colors in the same project. It requires cold water hand washing, and may be a little itchy when in contact with delicate parts of bare skin.
Learn more on ravelry.com, or buy it on woolwarehouse.co.uk.
◉
Lily Sugar'n Cream Solids and Denim
Weight:

Worsted

Fibers:

100% Cotton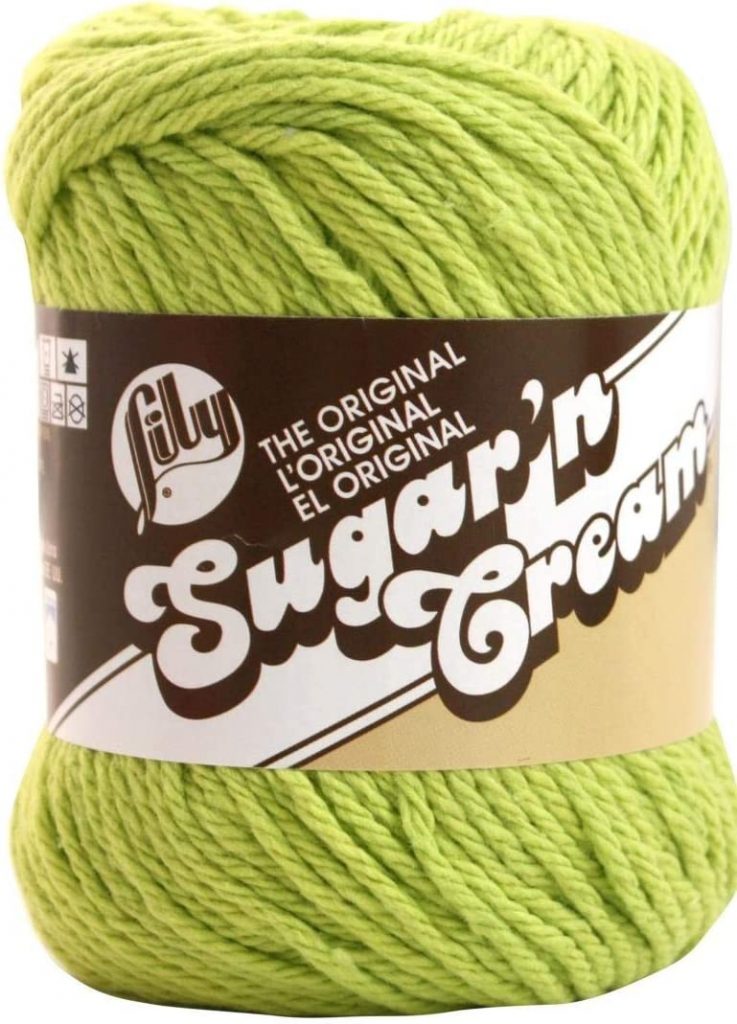 Pros: This is a very cheap, but sturdy cotton yarn, which is often used for dishcloths and home decor projects. It comes in many colors, so it's easy to combine them in a perfect palette. Small skeins are good for multicolored projects, and – of course, as all cottons – it's machine washable. 
Cons: The colors bleed and fade during washing, especially the dark ones, so it's not recommended for heavily washed items. Some users say it's quite hard on the hands and a bit splitty. 
Learn more on ravelry.com, or buy it on amazon.com.
◉
Stylecraft Special Double Knit
Weight:

DK

Fibers:

100% Acrylic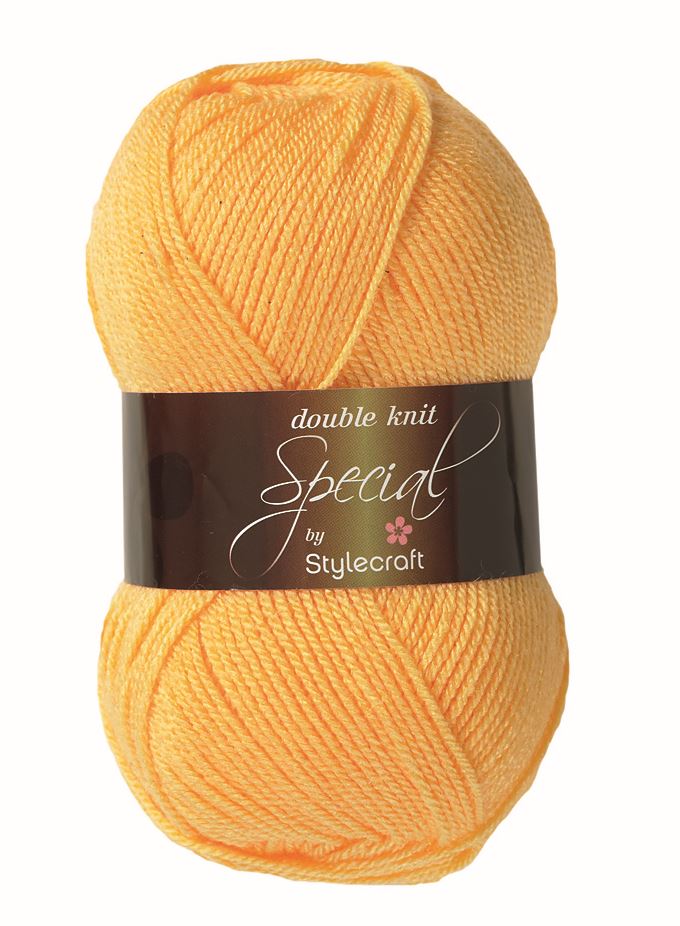 Pros: This yarn is very affordable and comes in both 50g and 100g skeins. The color palette is very big and the hues are vibrant. It's springy, soft, washes well and doesn't "squeak" while crocheting. The quality to price ratio is great.
Cons: As most acrylic yarns, it doesn't drape and isn't breathable. It splits sometimes and you can encounter tangles when working from the inside of the skein.
Learn more on ravelry.com, or buy it on woolwarehouse.co.uk.
◉
Drops Cotton Merino
Weight:

DK

Fibers:

50% Cotton, 50% Merino Wool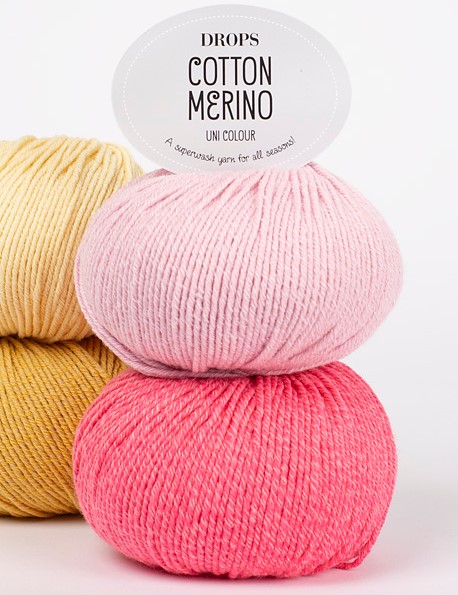 Pros: Combination of extra fine merino with long cotton fibers resulted in an extremely soft and springy yarn. It's a pleasure to work with and with some colorways you can see the difference between the colors of the strands. It's machine washable and feels very delicate on the skin.
Cons: There's much less colors available in comparison to acrylics covered earlier. You may encounter knots in the skeins, and the plied nature of the yarn makes it a little splitty. Dark colors may bleed a little in the wash.
Learn more on ravelry.com, or buy it on amazon.com.
◉
Conclusion
Crocheters love all of the yarns I covered above, and each one has its advantages and disadvantages. For crochet baby blanket patterns I'd look for qualities such as softness, durability, color range and price.
When taking all of these into consideration, the winner is Stylecraft Special DK – acrylic yarn available in many colors and fantastic price to quality ratio.
If you are looking for natural yarns, however, the best choice will be Drops Cotton Merino, which is soft, cheaper than Malabrigo yarn and combines the qualities of cotton and wool beautifully. 
I hope that this article will help you choose the best yarn for crochet baby blankets and make more informed decisions. Happy crocheting!
◉
SHARE, LIKE, SUBSCRIBE!
Sharing is caring, so if you liked this, be sure to share it with your friends and spread the word, because I really appreciate it! For more stitch tutorials, free patterns and recommendations – follow my social media pages and allow notifications to get a pop-up whenever new post is published.
◉
◉
You may also like: Crochet Star Blanket Ideas