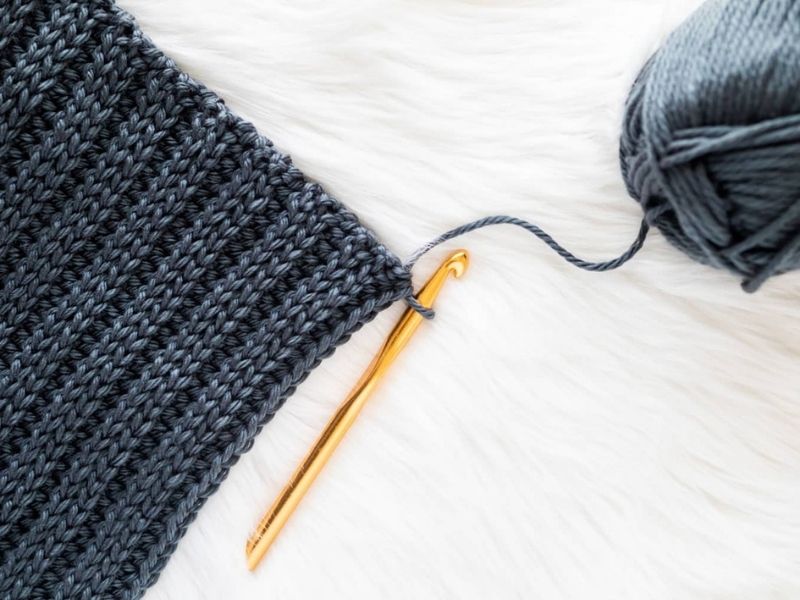 Ribbing is a very useful technique, especially if we like crocheting sweaters, tops or cardigans. It will come in handy in winter accessories, too! Beanies and socks are a great example, because they require a very elastic structure. This kind of crochet is perfect for items that are often stretched, so you will find many examples of it being used for finishing off the sleeves, or yokes. 
How to make ribbing?
In order to make a crochet ribbing stitch, you have to apply relief crochet, otherwise known as post stitches, or back loop only technique.
Alternating regular and back post stitches in a 2×2, 1×1, or any other repetitive system, creates a ribbing stitch. The 'thickness' of the ribbing depends on the kind of stitch we choose to do it with, but remember that you can use any basic crochet stitch for that.
There are many free tutorials for ribbing, but in the photo below you can see swatches created by Eline of Emmy + Lien. You can find the link to her free tutorial under the picture.
Eline combined half double crochet stitches with slip stitch, creating this lovely pattern. Please notice that her tutorial uses UK Terms, which are a bit different than US Terms (hence HTC instead of HDC!).
◉
How they do it
Free Crochet Patterns which use Ribbing
Ribbed Potholder by Rebecca Langford
When I was a beginner, one thing frustrated me the most – why can't I already make something nice, but only need to practice and practice? Well, this project by Rebecca is a perfect opportunity to hone your skills, but also to make something useful and pretty in the process. Potholders come in handy in many situations, so make some for yourself, or as a gift, and learn crochet ribbing in the meantime.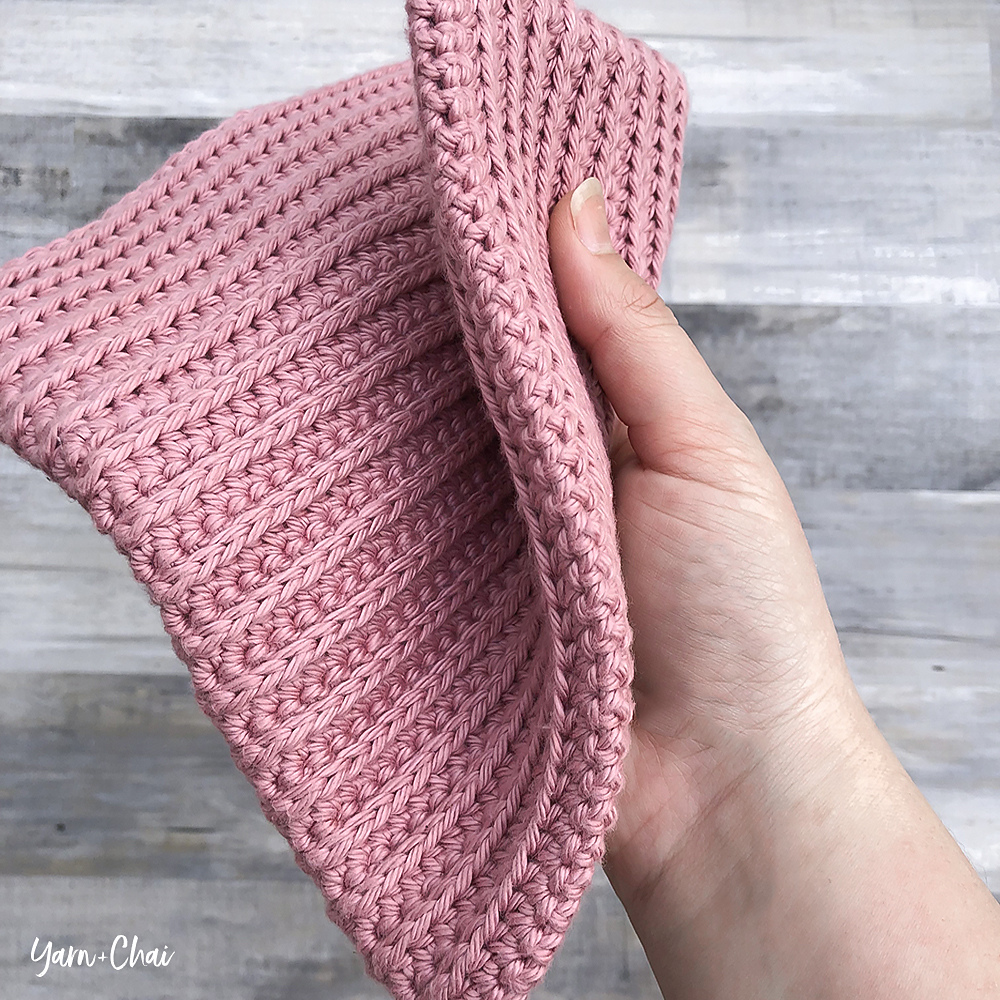 ◉
Fox Pumpkin by Lindsey Dale
For all of you, who thought that ribbing comes in handy in garments and accessories only – take a look at the photo! Lindsey came up with a great way of combining ribbing, tapestry crochet and amigurumi, so that it's cute and structural at the same time.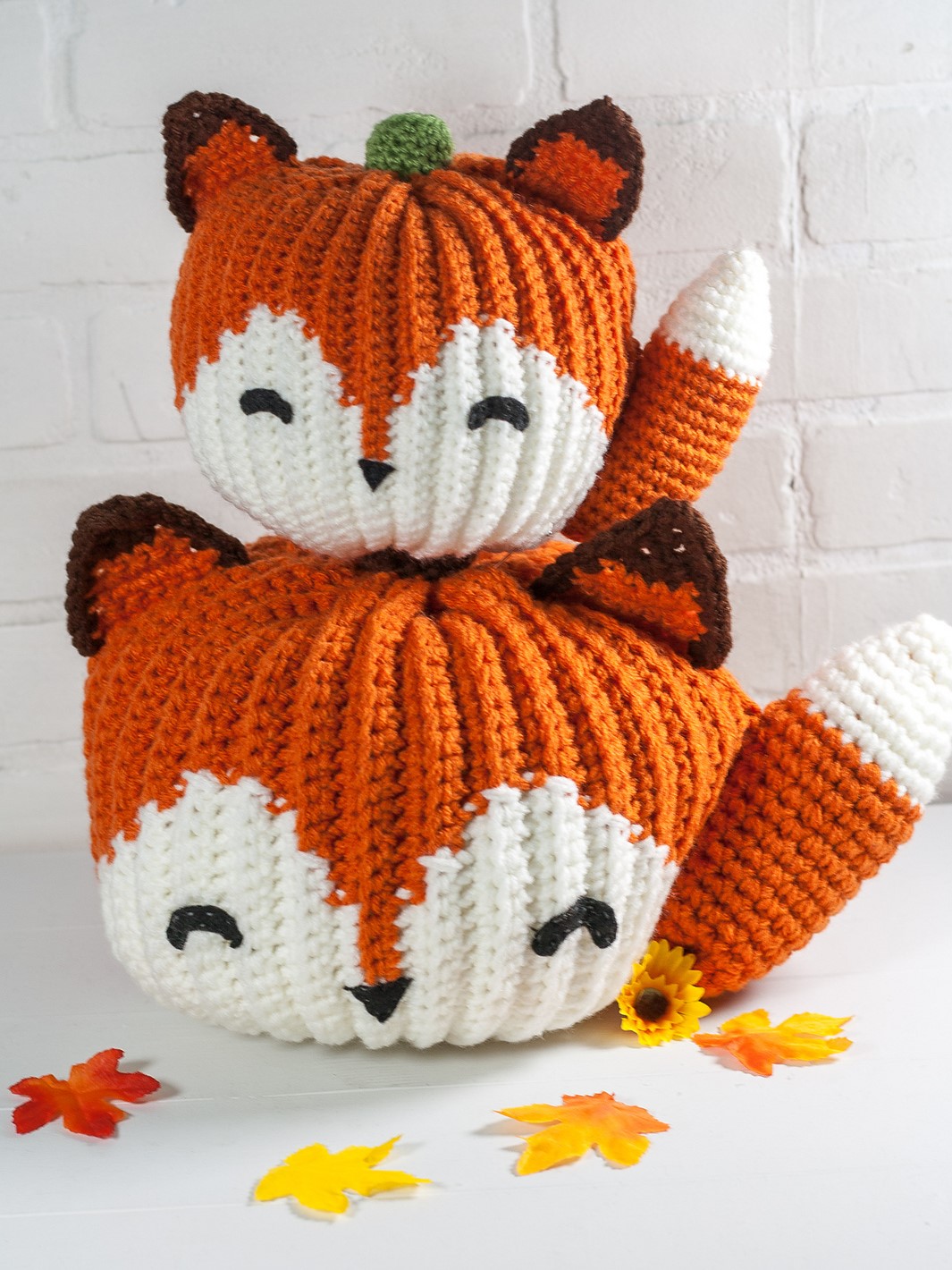 ◉
Nalu Crochet Shrug by Sylwia Kawczyńska
Shrug, cardigan, pocket scarf… whatever you plan to make, I bet it will look better with the right edging. Ribbing is the perfect choice for that, because it's elastic, simple and looks polished. Below you can see a work in progress by Sylwia, who chose beige yarn for her lacy shrug.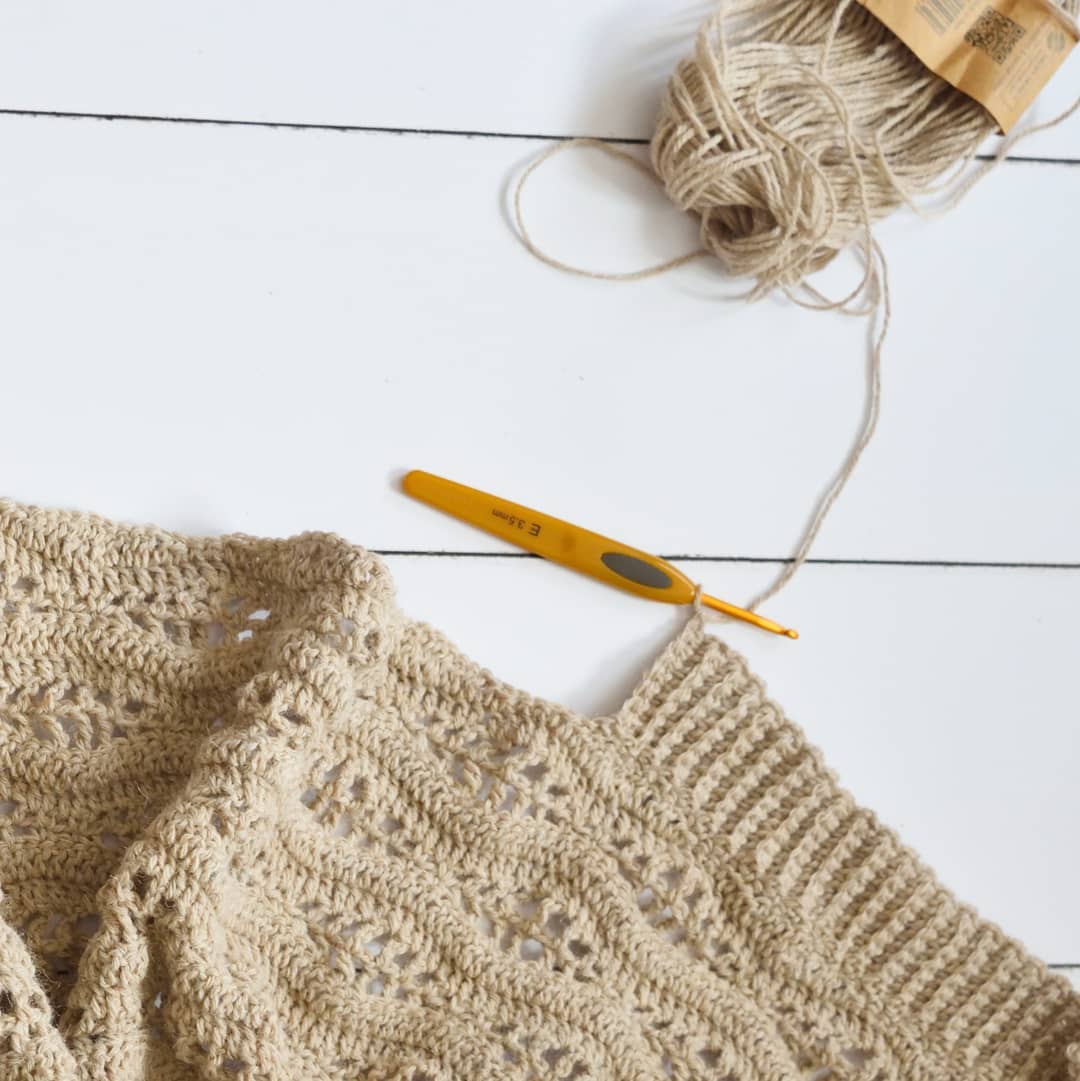 This shrug is a creation of talented Sylwia Kawczyńska from mycrochetory.com ← click for free pattern!
◉
Double Crochet Post Ribbing Border by Daisy Farm Crafts
Every crocheter knows, that borders are what elevates the design to the next level, so it's good to have some patterns at hand! This particular one by our beloved Daisy Farm Crafts, uses ribbing to create simple, but eye-catching structure. Take a look at the picture and see how great it looks when paired with the simplest baby blanket.
◉
Paid Crochet Patterns which use Ribbing
Pixel Socks by Svetlana Kochkina
Socks are most often associated with knitting, but there are a lot of fantastic patterns for crochet-lovers, too! For example, these sweet and simple socks by Svetlana, which you can see below, use fine yarn and look gorgeous. You can see the ribbing applied throughout the whole piece – not only in the ankle part!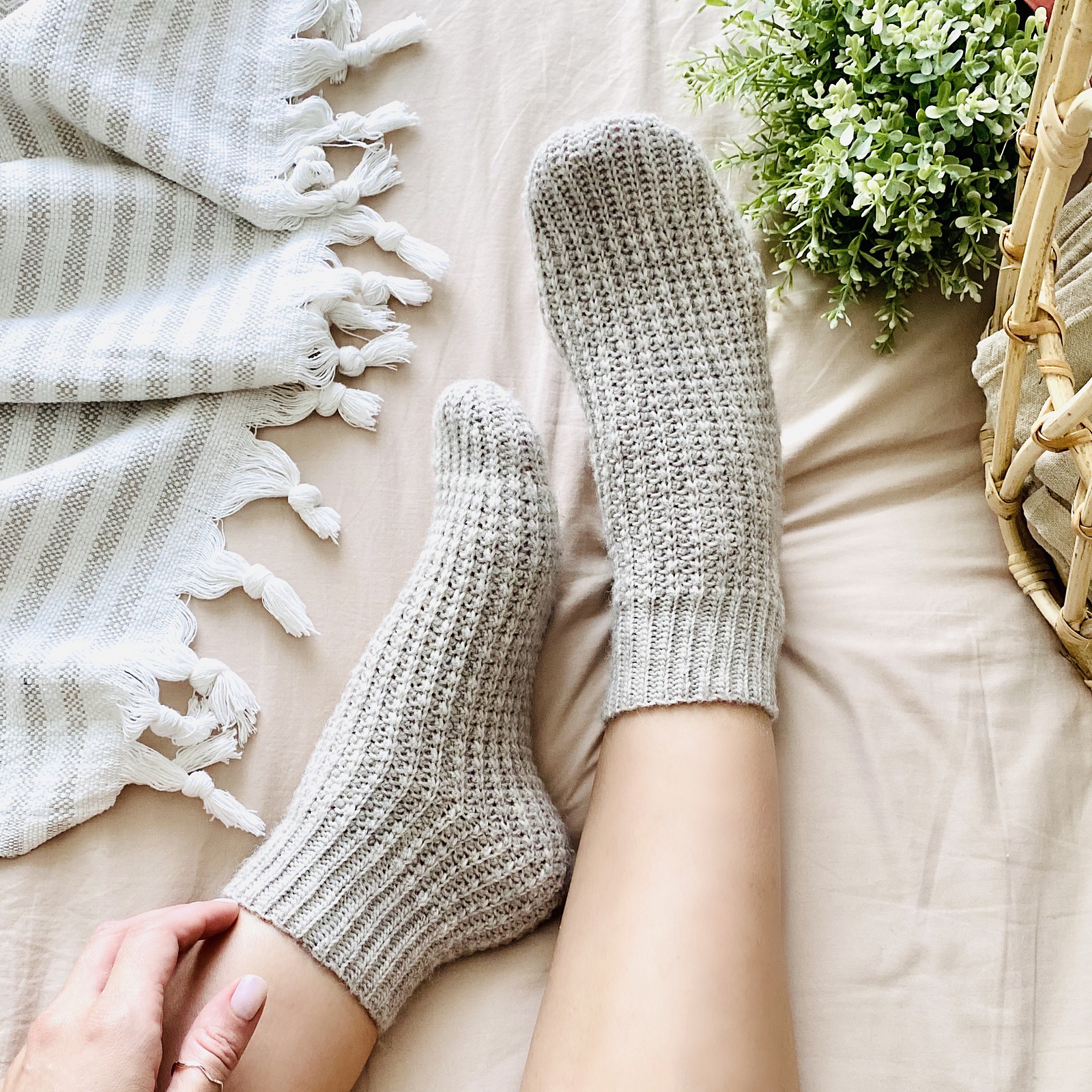 ◉
White Lily Blanket by Elena Fedotova
Can you see the ribbing structure of these triangles in the photo? The way they are joined together, and how their centers "sink in", makes this project a true gem for all fans of modern designs. It's all about structure, and Elena did a fantastic job, because such blanket will be a showstopper in every home.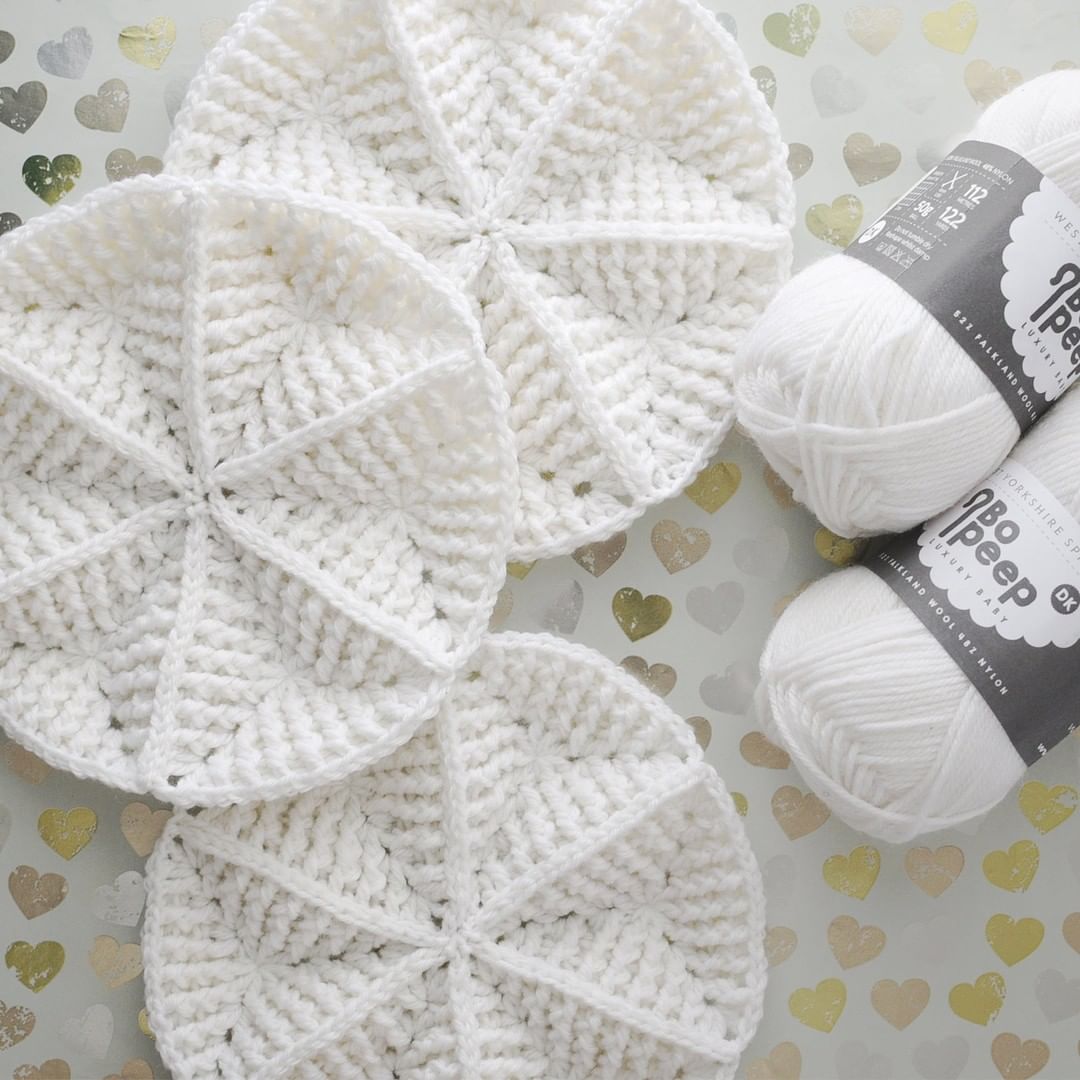 ◉
Ribbing Inspiration
Ribbing by @guploop_crochet
Isn't this little piece lovely? Crocheter behind guploop crochet started with a delicate ribbing, but continued with subtle openwork and post stitches. This way, the piece got an interesting structure and and romantic feel. Take a look at the photo below to see how well cream yarn goes with chocolate tones.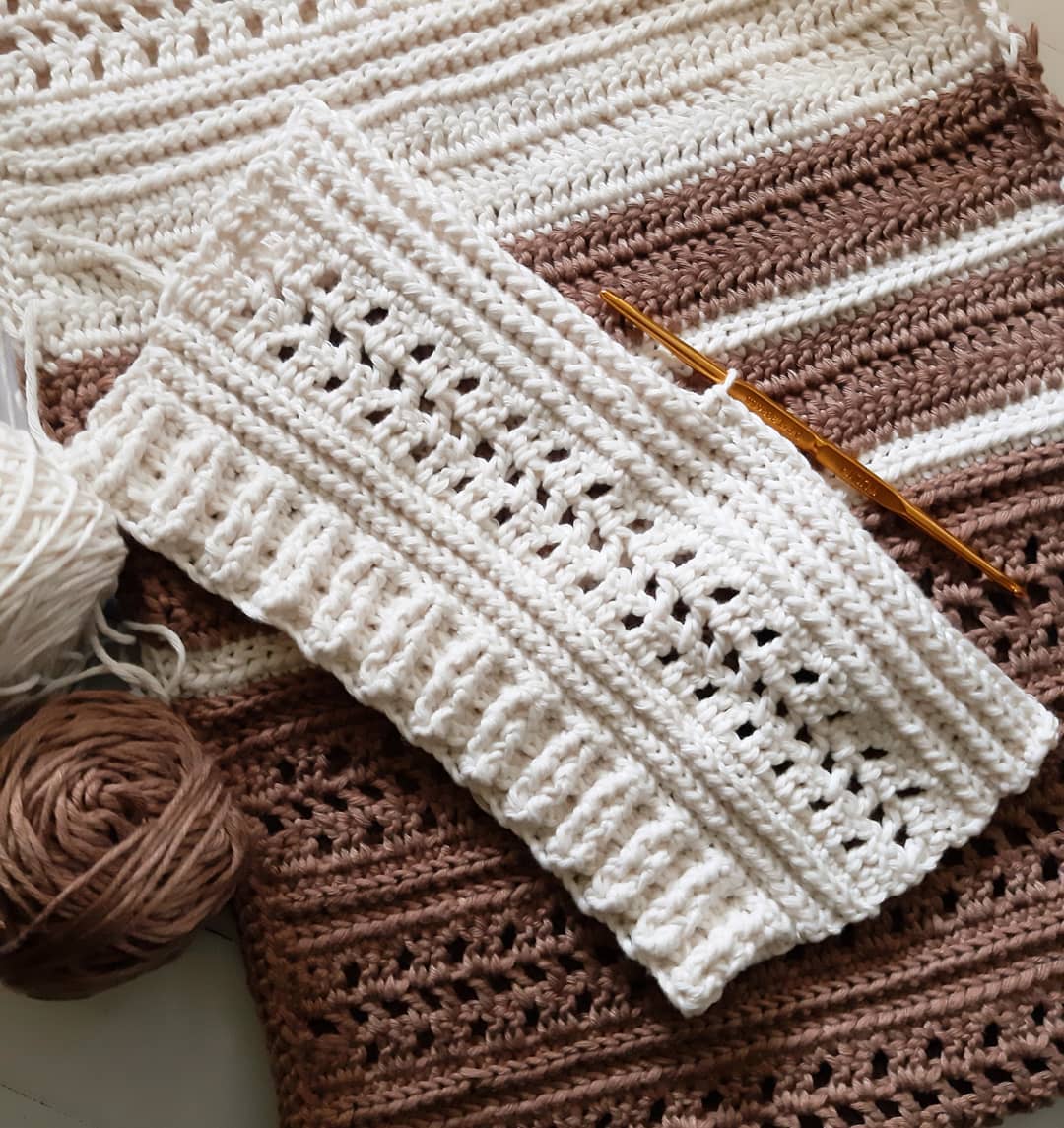 ◉
share, like, subscribe!
Sharing is caring, so if you liked this article, be sure to share it with your friends and spread the word! Stay tuned for more free tutorials, patterns and interesting articles by following my social media pages (PINTEREST and INSTAGRAM), or allow notifications to get a pop-up whenever I publish something new.