Apache Tears Crochet Ideas
When you need a showstopper stitch, go for Apache Tears! This amazing technique is one of the easiest, and yet one of the most effective out there. Colorful blankets, home decor or accessories will add a playful energy to your home and everyday life. Beginners, this article is for you, because these playful ripples are easier to pull off than you think 🙂
With these free resources and inspiration, you will be well equipped to start your own journey, so don't wait and try this stitch!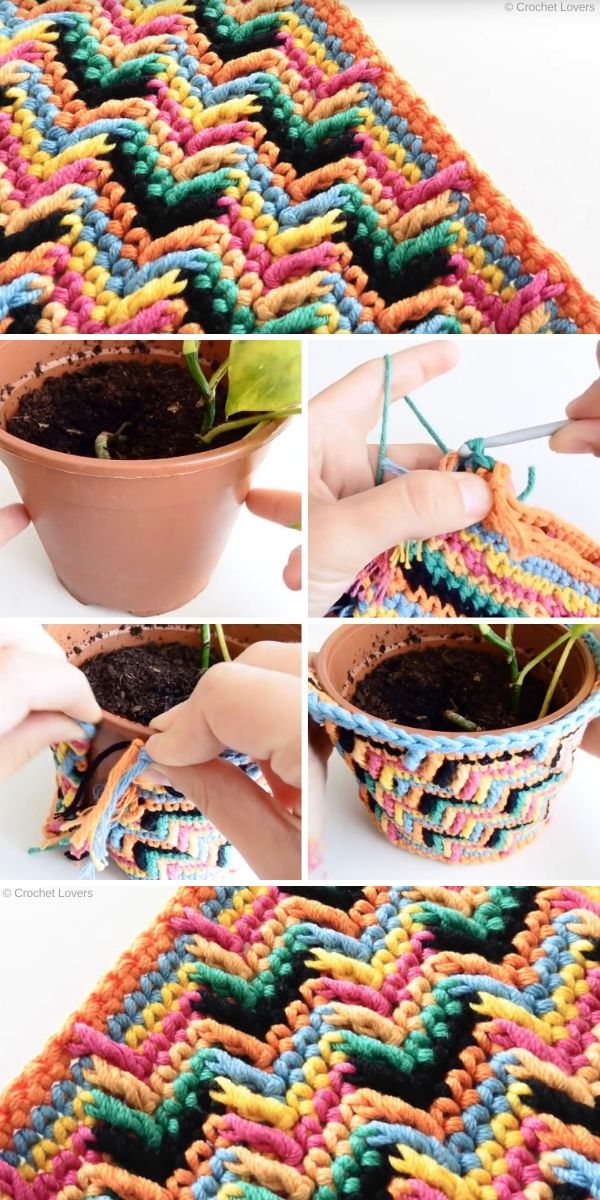 fantastic ripples
This easy stitch can be made with any kind of yarn, but remember that the thicker the yarn, the bigger your work will be. It's perfect for blankets, especially those made with scraps of yarn, so go for it! Works well for cushions and winter accessories, too!
Materials:
Crochet Lovers chose colorful yarn in seven different colors, as well as 4.00 mm crochet hook. The yarn is not specified, but looks like cotton to me 🙂 You will need scissors as well, and yarn needle if you wish to weave in ends instead of leaving them as fringe.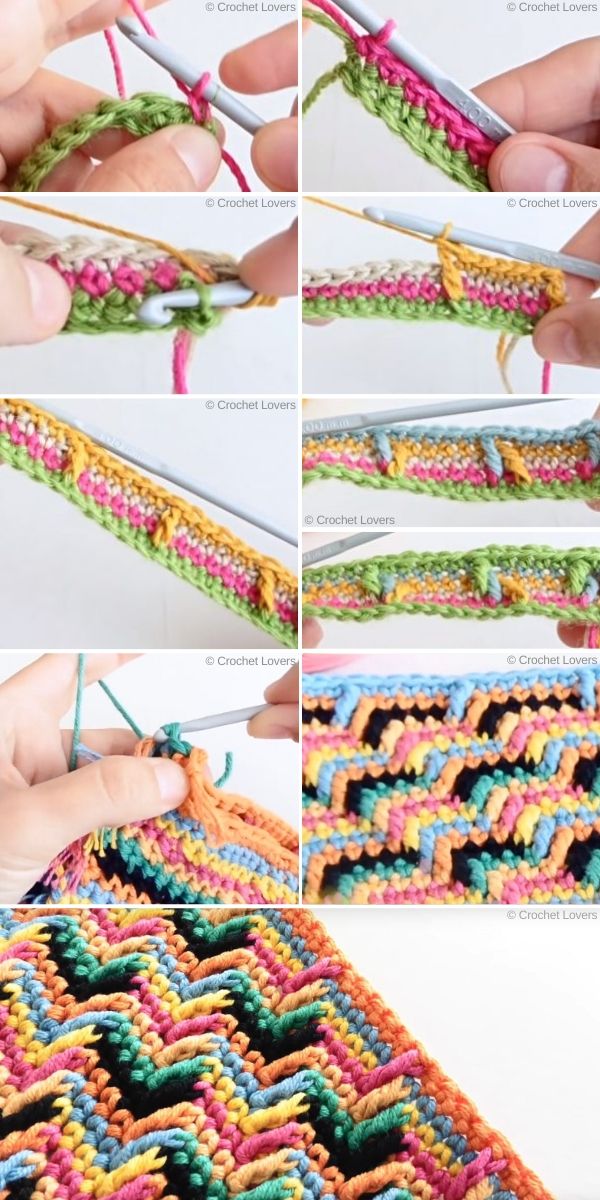 You can make the ripple in any module you want, so that the 'tear' can be made after 4, 5 or 6 stitches. Density you choose will affect the final pattern, so be sure that it's right for your liking.
You start by chaining multiple of module you chose, in the case of this tutorial it was multiple of 6 + 1. Three rows of single crochet stitches create a base for the first ripple row. Next one is a start of our ripples – you add 1 treble crochet every 6 stitches, by working it trough the loop three rows down.
Sounds difficult? It's easy-peasy! Check out full video tutorial here, and see for yourself 🙂
talking about stitches…
Our growing website and library of free crochet patterns has some projects that might interest you, too. Learn how to make Little Shells Stitch with this free crochet tutorial today!
→ Yes! Take me to this tutorial! ←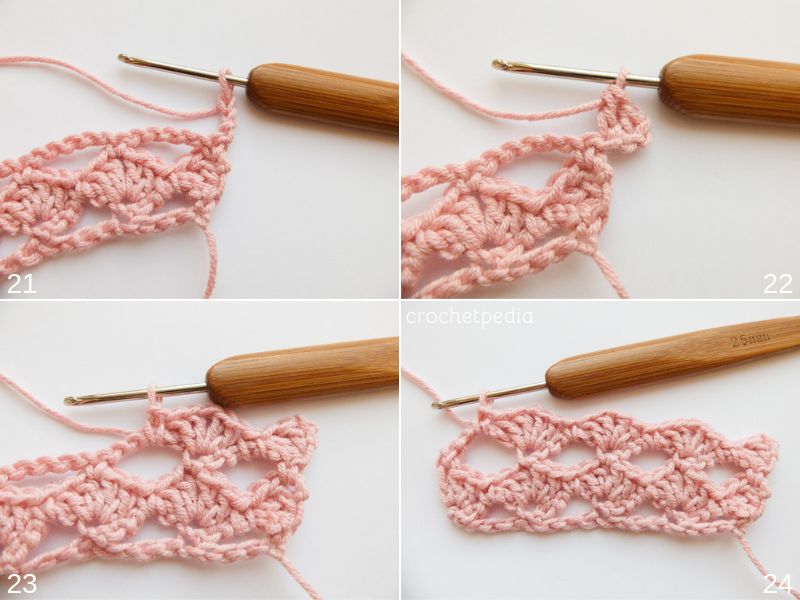 or…
Make an adorable Valentine's day gift with free crochet pattern for Rose Bunny Amigurumi!
→ Yes! Take me to this free pattern! ←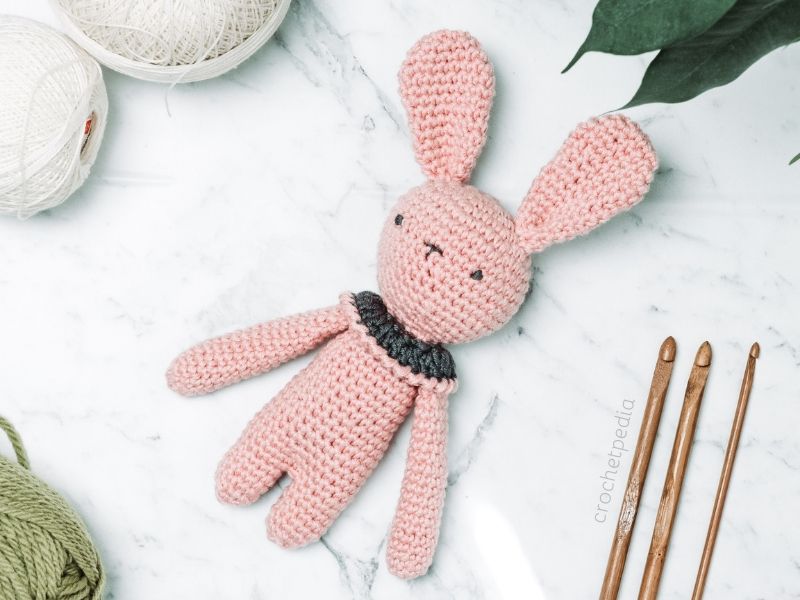 crochet roundup!
Today's theme is Apache Tears, so I chose a selection of the best inspiration on the topic. Crocheters are extremely inventive, and there are as many color combinations as there are creative minds. Find projects that speak to you, get inspired and try out free crochet patterns, which I included in the descriptions 🙂
◉
Full of Colors
Apache Tears Cowl by Make Create Do
Do you have a lot of assorted yarn ends, that you don't know what to do with? Densely packed Apache Tears stitch is a lovely idea for a standout winter accessory, so get creative now to be ready for cold season! Katie chose lovely juicy colors that will keep the summertime close all year long.
If you want to make a stunning winter accessory using this stitch, take a look at free patterns by Nicole Riley – Apache Tears Scarf, Apache Tears Hat and Apache Tears Mittens.
◉
The Trippy Blanket by Little Grey Hook
Take a look at the photos and tell me – do you feel like looking through a kaleidoscope? It must be the rainbow version of apache tears stitch! Berni from Little Grey Hook decided to combine colorful panels with plain white, so that the 'trippy-ness' of the pattern doesn't hurt the eyes 😉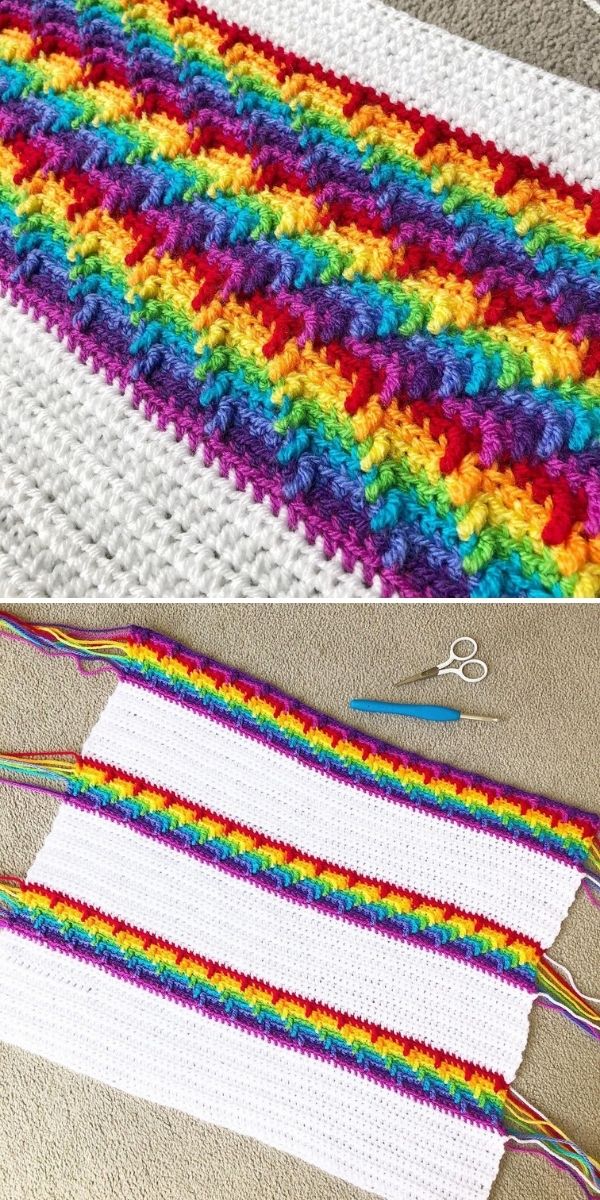 You may also like this article: How to Crochet Easy Puff Stitch
◉
Rainbow Apache Tears Blanket by Poppyseed and Pom
Caroline decided to divide patterned panels with classic grey, because rainbows can be a bit much! Introducing dark tone in between made colorful stripes look even more dramatic. Just take a look at the photos and see for yourself! Such combination of colors will be suitable both for kids and adults, so keep it in mind.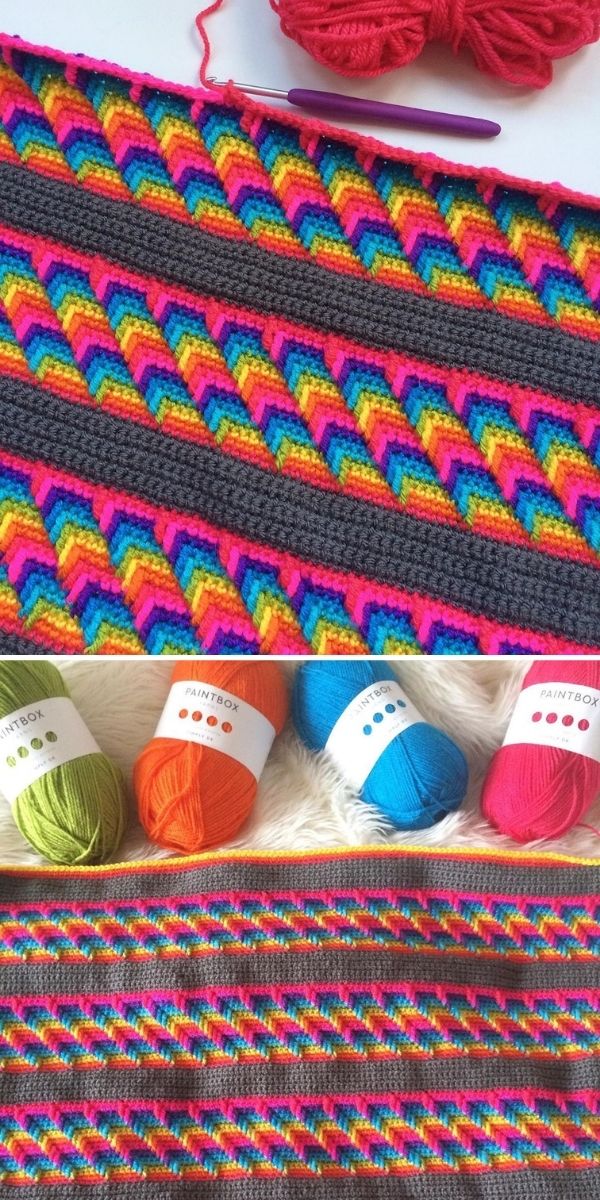 You may also like this article: Hugs and Kisses Blanket – The Most Beautiful Versions
◉
Apache Tears by Dreams Of Anne
Although blankets and bedspreads are a fantastic way to use this stitch, clever crocheter behind Dreams of Anne decided to make a cushion! It's not yet visible in the pictures, but you should go see author's Instagram page to find out how it came out.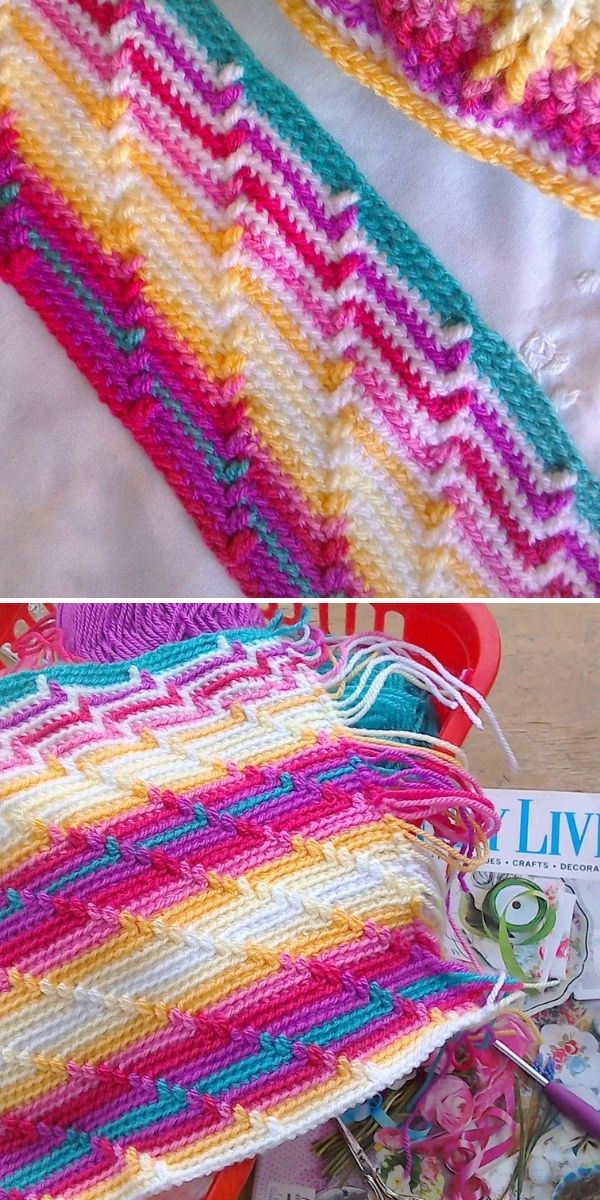 This free video tutorial by Claudetta Crochet will be a great starting point, so check it out on youtube.com.
◉
Apache Tears by Fernanda Detoni
Is it just me, or is this project a perfect watermelon-inspired piece? 😉 Fernanda combined two tasty colors: pinkish-coral and minty turquoise! What will it be? I don't know, but make sure you take a look at the pictures below and imagine what YOU would do with it.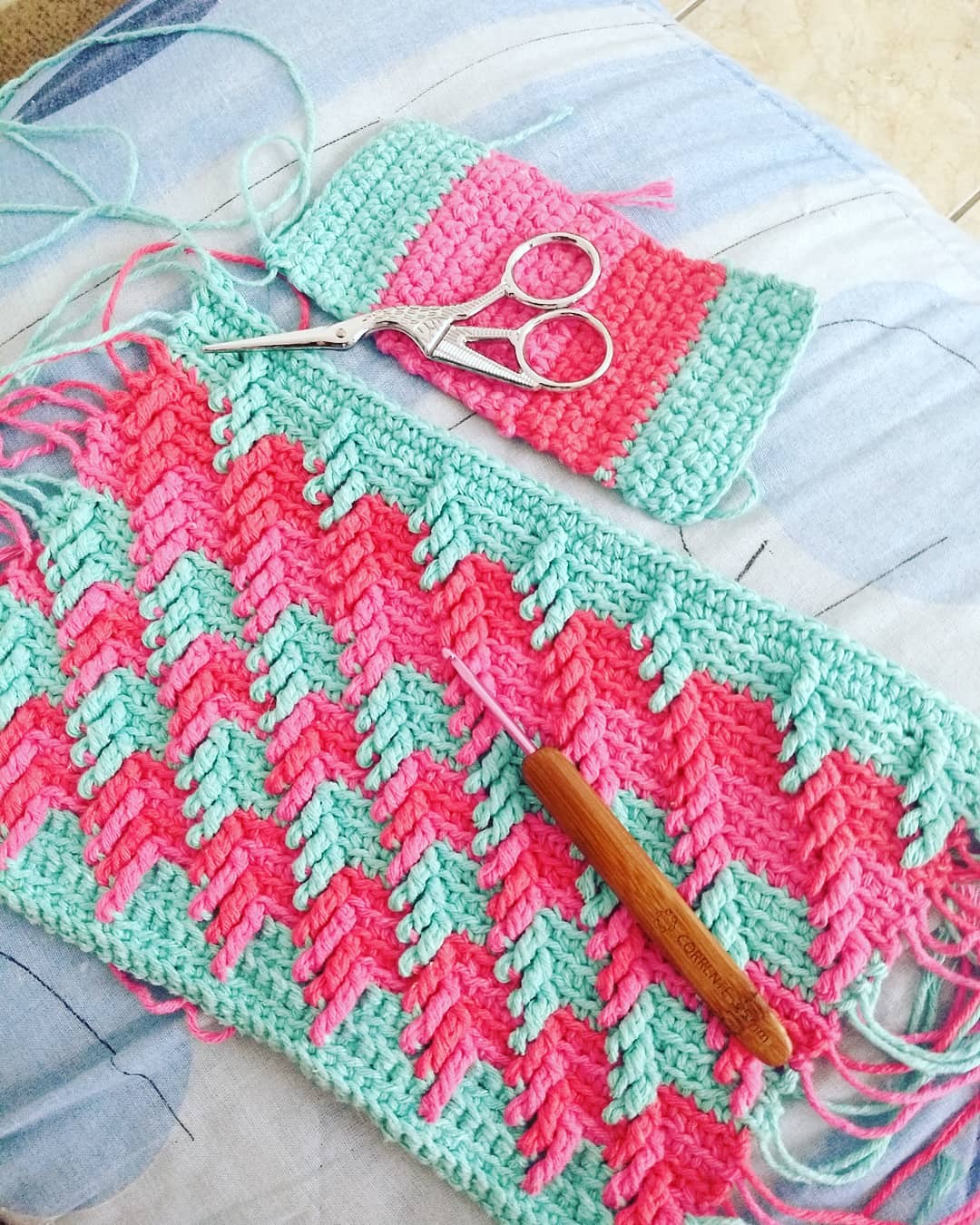 You may also like this article: 6 Day Kid Blanket Ideas
◉
Apache Tears Blanket by Pippa's Liv
Stunning color flow of this blanket made me gasp! The coolest thing about this technique is that it looks as neat on the wrong side, as it looks on the right side. This blanket will be a crown jewel of every home.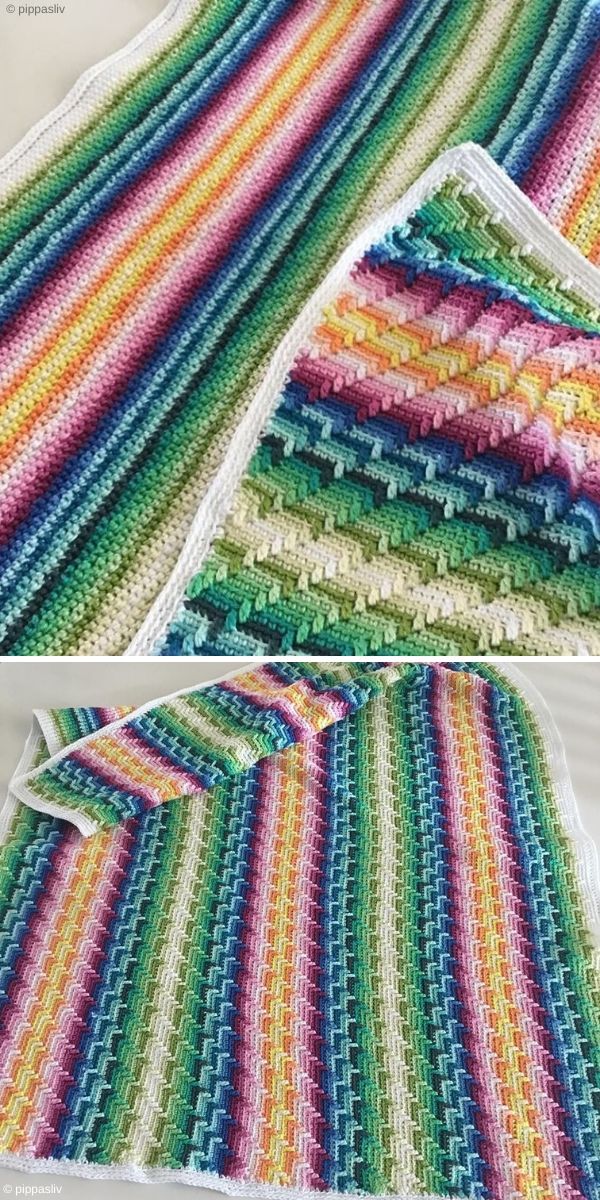 Check out tutorial for Apache Tears by Sarah London, because it's available for free on her blog!
◉
Temperature Blankets
2020 Temperature Blanket Apache Tears by Kountingsheeps
It's still the beginning of the year, and many crocheters undertake big projects – crocheter behind kountingsheeps decided to give it a go, too! One of the most popular are temperature blankets, in which each day or week is illustrated with colored row. Why do I talk about it here? Because apache tears stitch is perfect for this.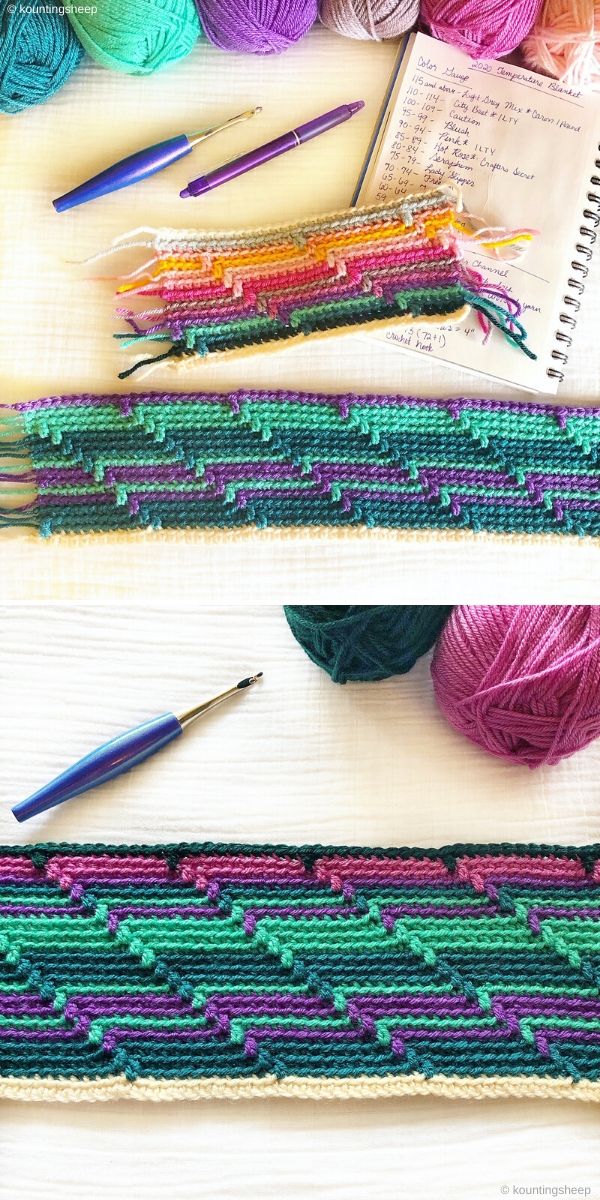 This project was based on classic free crochet pattern by Marinke Slump called Groovy-ghan. Be sure to check out this project's Ravelry library for tons of inspiration!
◉
Apache Tears Temperature Blanket by Nanna's Apprentice
Living in areas where temperatures change throughout the year is a great opportunity to make a blanket in celebration of your thermometer's work. Assign different colors to number ranges and work one row a week, or a day if you like! It's a fun project, so take a look at Nanna's Apprentice's version in the photos below.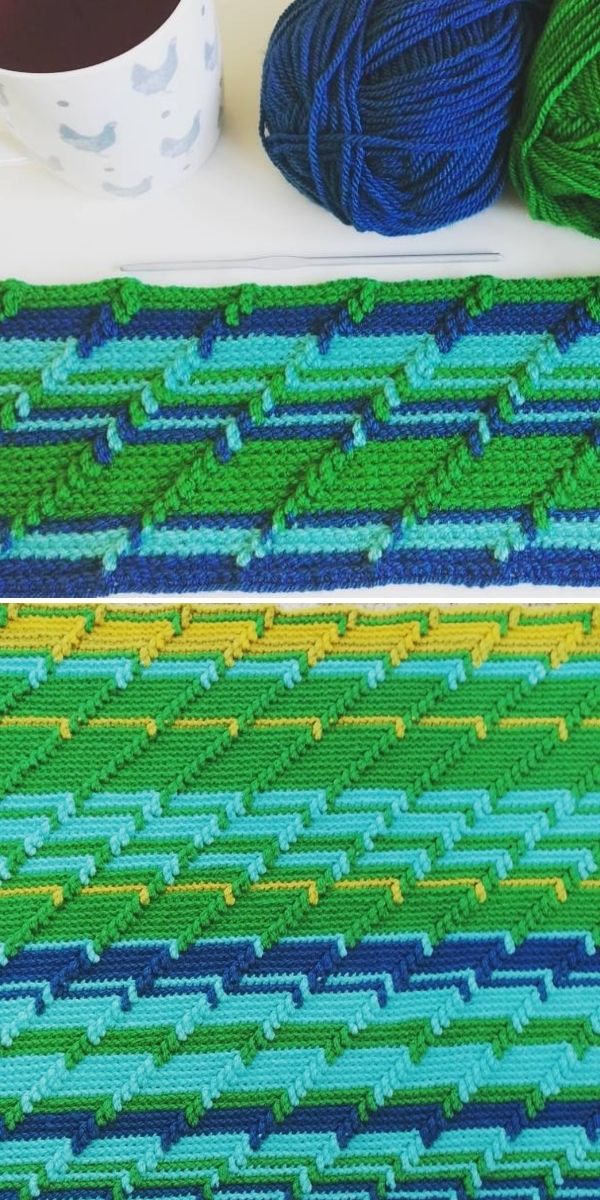 ◉
Sophisticated and Toned Down
Apache Tears by Tina Nielsen
Now let's take a breath and check out more toned down projects, shall we? I am in love with this colorway by Tina, who decided to combine deep greys and greens with lighter hues, like brown, dove grey and cream. As you can see, such palette will fit perfectly into any interior, so go for it when making blankets for parents, or grandparents.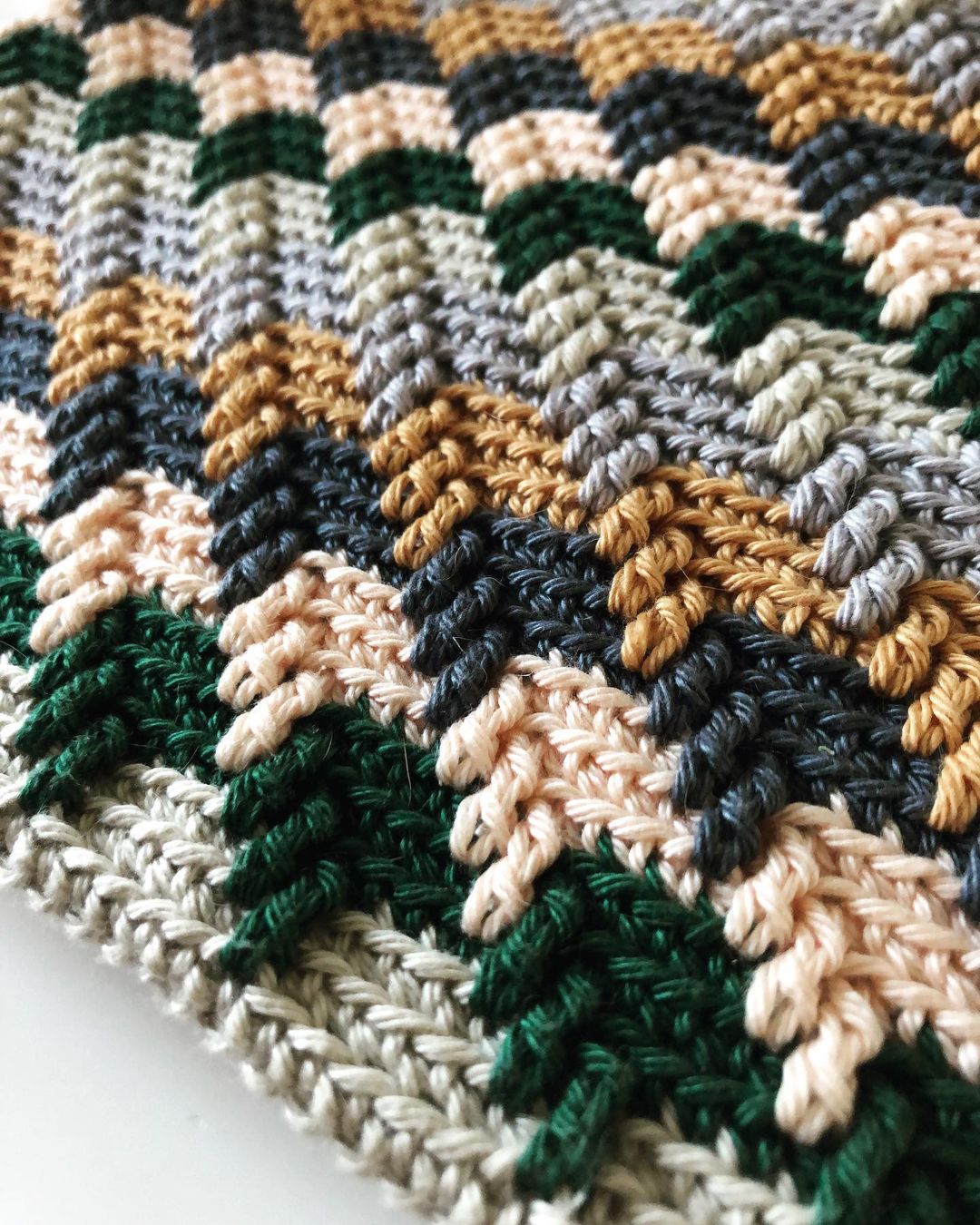 You may also like this article: Block Stitch Ideas – Colorways, Resources and Inspiration!
◉
Apache Tears Blanket by Rachel Michael
Even when you choose just two leading colors, you can introduce some variety in your design. For example, this lovely blanket by Rachel focuses on shades of blue, but the pattern is interrupted by fantastic shade of yellow. To see how great it looks, just take a peek below!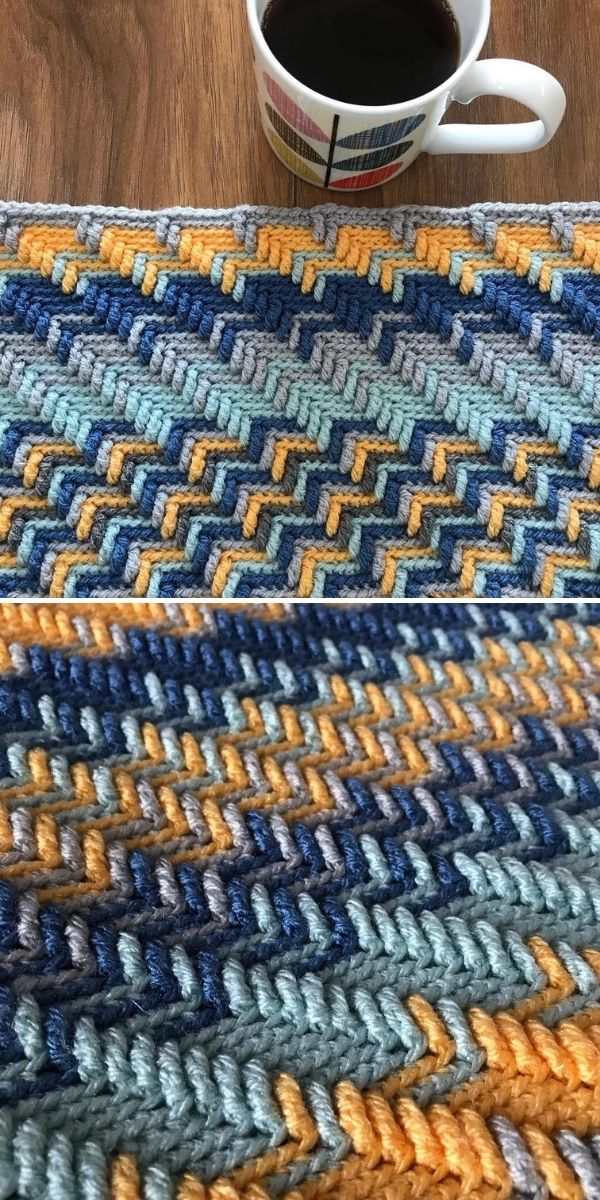 If you prefer written pattern to video tutorial, try this free pattern by Lucy Croft – Hook 'n' Learn Part 9 – Apache Tears.
◉
Graphic Experiments
Apache Tears Blanket by MariaLaLarga
Introducing white yarn every other row and using it with contrasting blacks and browns is a great idea, because it creates fantastic bold pattern. As you can see below, it looks interesting and is perfect for modern blankets. See more photos on Maria's Instagram feed!

You may also like this article: Easy V-Stitch Ideas
◉
Apache Tears Blanket by Ollie and Bella
If classic color combinations of apache tears are too busy for you, try making more than one row in the same color. This way you will create more of a geometric pattern that pleases the eye. Crocheter behind Ollie and Bella know how to choose the right palette – check it out in the pictures!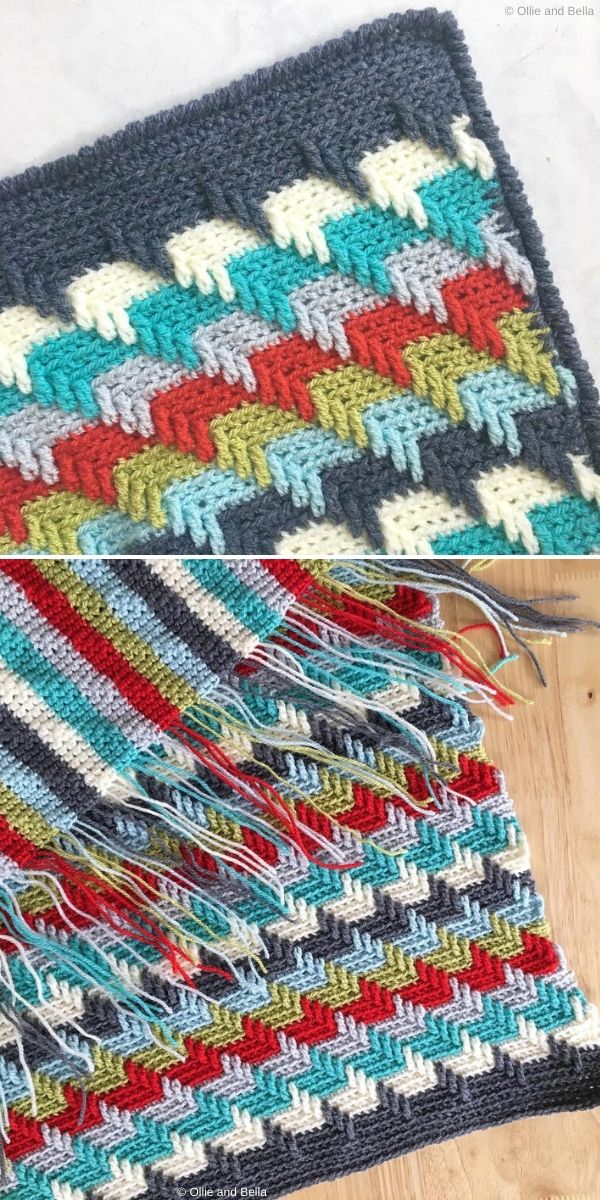 Be sure to check out Ollie and Bella's YouTube channel on youtube.com.
◉
That's all for today, but I'll be back with much more inspiring projects and free patterns. Like, share and subscribe if you like what you see. Stay tuned!
↔
You may also like: Dreamy Alpine Stitch Ideas