Temperature Blanket – Ideas and Resources
The internet is buzzing with temperature blanket ideas, because it's this time of the year! If you don't know what temperature blanket is, or if you want to start one, but need more guidance on the topic – just keep reading!
◉
What is Temperature Blanket?
This kind of blanket is a representation of the temperatures throughout the year, thanks to color key created beforehand. Each row or module, depending on the style one chooses, represents one day or week of the year. Particular temperature ranges have distinct colors associated with them, so that you always know which color to use. The final arrangement of colors is unpredictable, and that's why making it is so much fun!
Below you can see a lovely project by Burgundy and Blush, as well as color key with yarn swatches.
◉
What do I need to start?
Decide on the style you want to go with – stripes, chevron, or blocks? There is a ton of inspiration later in the post!
Do I record highs, lows, or average?
High temperature is probably the best option, because it does show more fluctuation throughout the year than average. More changes means more colorful pattern for your blanket!
How to make the color key?
Think about the climate you're living in, so that you can make the color-key accordingly. The more colors you want to use, the smaller increments you need to assign them to.
When choosing your palette, think about your interiors, and how you can make this blanket fit into your style.
Do I have to do the rainbow?
Of course not, although it is the most popular and traditional colorway for this project. You can choose whatever color palette you like, and I hope that the examples below will give you some inspiration.
Which stitch should I use?
There are many fantastic stitches you can use for this project, but they should be rather short. Depending on the width you are starting with, tall stitches like double crochet can make your blanket really long! It's 365 rows in the end, so keep it in mind!
I don't want to track temperature, but I like the idea. What should I do?
As the name suggests, you should be tracking daily temperature, but keep in mind that there are many other options. You can track your mental states, the weather (is it sunny, windy, or rainy), or literally anything else you want.
It's all about choosing simply measurable aspects of your daily life and assigning a color to each of them.
It's already the new year and I haven't got anything planned yet. Can I join anyway?
Yeah! Especially with temperature, you can find records of it available on the web at all times. You can even find daily record from the past years, so it's possible to make a blanket that tells the story.
◉
talking about stitches…
Our growing website and library of free crochet patterns has some projects that might interest you, too. To know more about one of the coolest stitches, check out this article about How to Crochet Alpine Stitch!
→ Yes! Take me to this tutorial! ←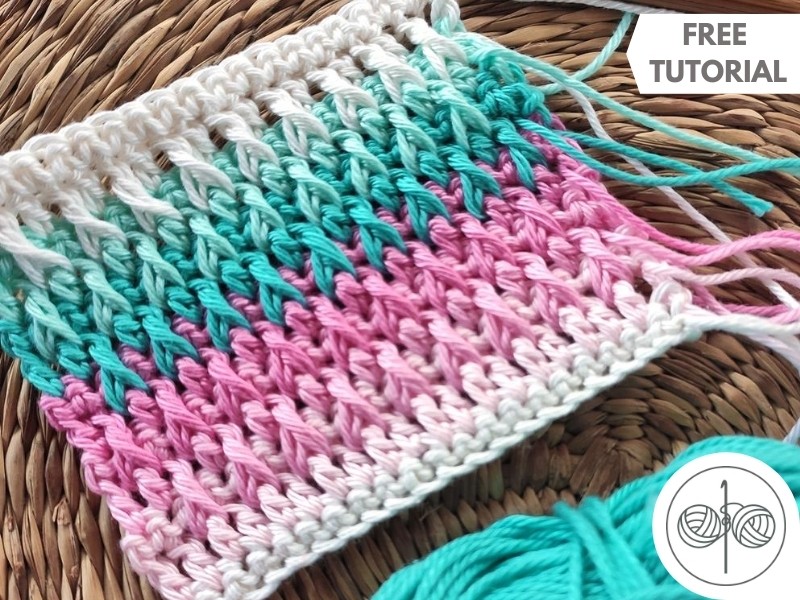 or…
Check out my Seven Wonders Crochet Scarf!
→ Yes! Take me to these free patterns! ←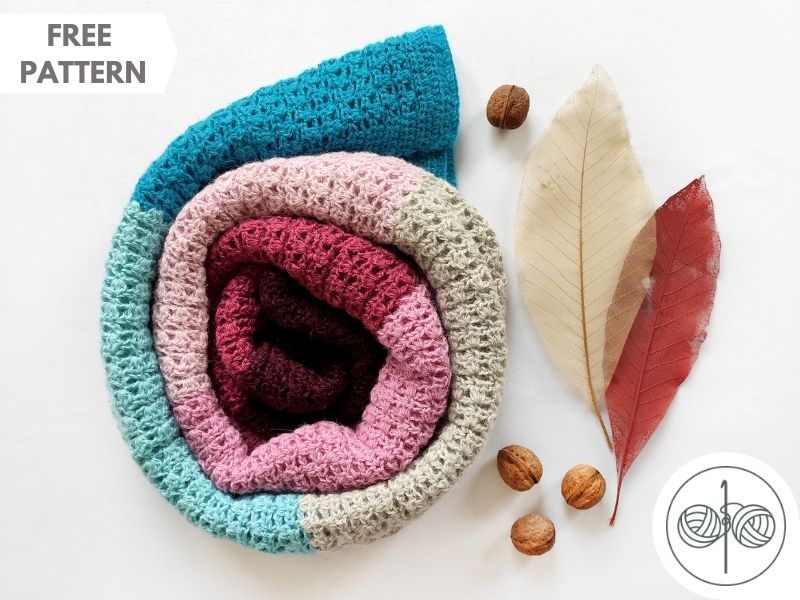 ◉
crochet roundup!
Every year there are new exciting projects around this topic, sprouting like fresh leaves. Below I've found the most beautiful ones, which hopefully will make you inspired to try them. Most of them are based on free crochet patterns, so read carefully. Links to these patterns, as well as author's pages are always linked under the photos.
◉
Make it… Row by Row
Bobble Field Temperature Blanket by Miranda
Creativity of the crocheters doesn't cease to amaze me. Miranda took an already amazing blanket pattern and decided that each bobble will represent one day! This clever idea turned into beautiful piece, especially because she chose grey as the background. Take a look at the photos and admire this tastefully arranged color palette!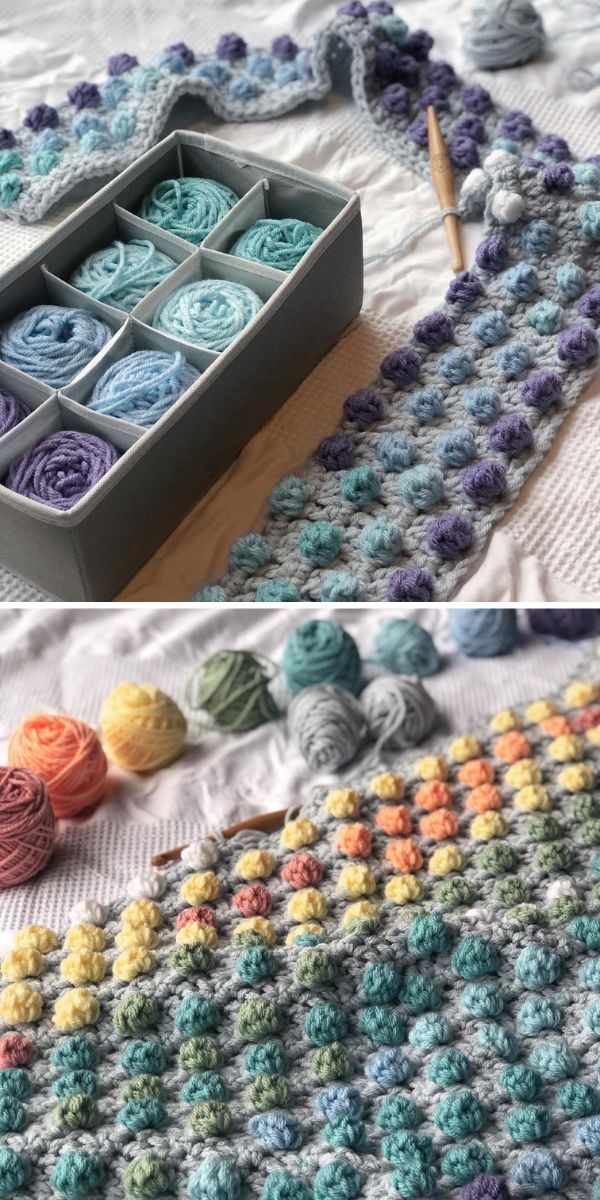 This project is a modified version of Little Golden Nook's Bobble Field Blanket, which you can purchase through ravelry.com.
◉
Color Splash Temperature Blanket by Ana Morais Soares
Spiky nature of Ana's blanket makes it stand out from the crowd! Each of the 365 rows of this blanket is made with the mosaic overlay crochet technique, so it's a great opportunity to learn it. If you look closely, you'll see that the interlocking rows are much shorter than regular crochet, and that makes them perfect for such big blanket.
Download free crochet pattern for this blanket from ravelry.com.
◉
2021 Temperature Blanket Colorway by Hobbydingen
Let's start with a classic – granny stripe stitch and a lovely, extensive colorway planned by Ingrid & Marjan of Hobbydingen. With this variety of hues you can be sure that each day will look different, but the colors still need to complement each other. They are all going to be a part of the same project, after all, right?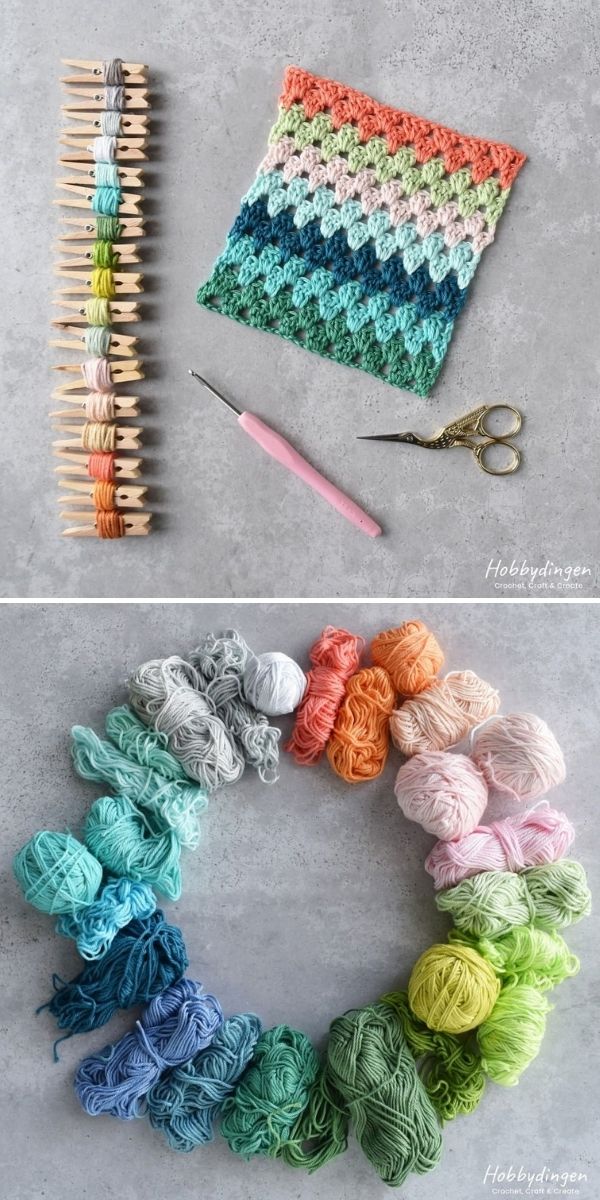 Go to hobbydingen.com for more informations about this project. If you want, check out my free tutorial on how to crochet Granny Stripe Stitch, or check out my other post about this fantastic technique.
◉
Havana Afghan CAL Version by RavenMeer
Author of this mesmerizing project proved that you can work with complicated patterns in unpredictable colorways, too. Interlocking of rows creates this magical structure, so you can be sure that it will be far from boring. Cold and warm colors are vivid and vibrant, and the final effect is rather ethnic – just take a look at the photos below!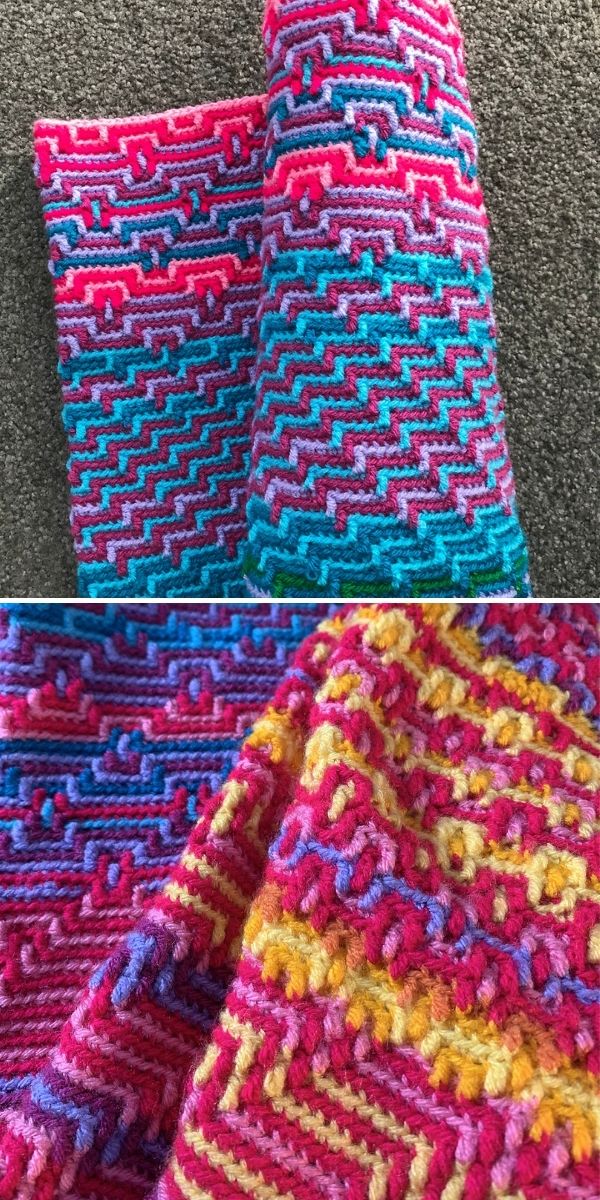 Crochet pattern for Havana Afghan CAL by Tinna Thórudóttir Thorvaldsdóttir is available to purchase directly from Ravelry. If you want to learn more about this style of crocheting, check out my article about Apache Tears – you will find free patterns inside.
◉
Tunisian Crochet Temperature Blanket by Toni Lipsey
If you want to try something different, go for Tunisian Crochet, because it's easy to learn and looks great. Knit-like structure is very cosy, and the pattern looks much more interesting than in classic "row by row" temperature blankets. As you can see below, Toni went for four long stripes for each quarter of the year, and joined them together at the end.
Find this free crochet pattern on tlycblog.com, or read more about it on Ravelry.
◉
Make it… with Moss (Linen) Stitch
Temperature Blanket 2022 by CostumeSandy
Linen stitch is definitely the most popular stitch for temperature blankets, but it looks like it never gets boring. Sandy's version features stunning hand-dyed artisan yarn – you can see its beauty up close in the top photo! Washed out effect is what makes it so lovely, and I think you could get similar effect with Scheepjes Stone Washed yarn.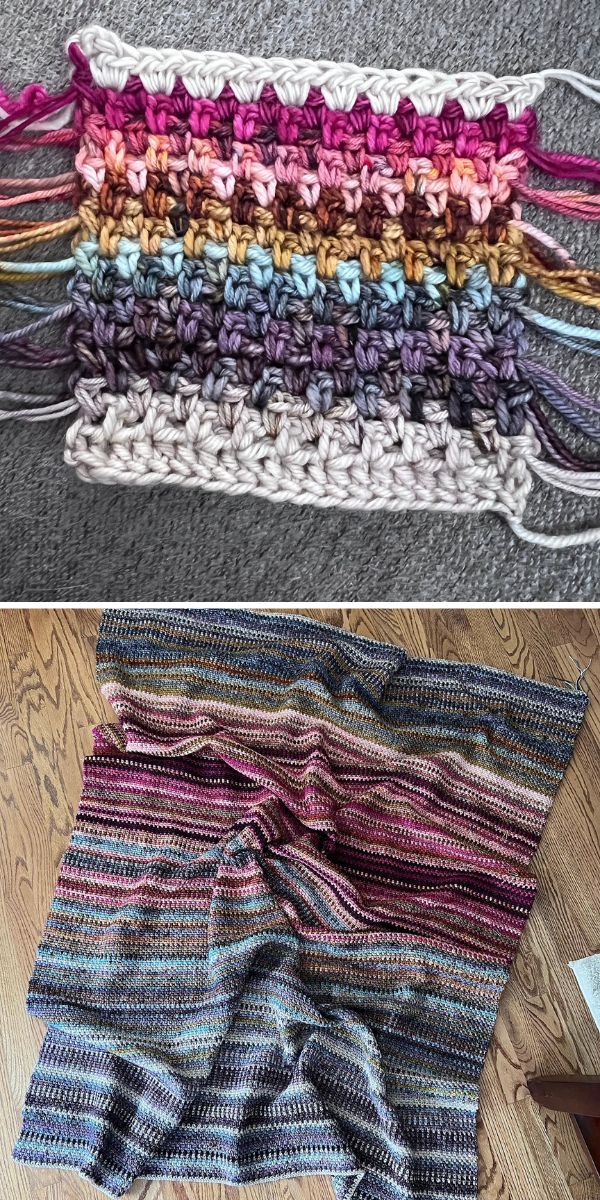 This project is based on simple moss stitch blanket by Nathalie Bouffard, available to buy through ravelry.com. If you want to use free pattern, however, try my Moss Stitch Tutorial and adjust the size yourself.
◉
2022 Temperature Blanket by Tara Marie
Classic moss stitch is one of the easiest and fun choices for those of you who want to make a temperature blanket. That's because the stitches are short, so the whole 365 rows don't result in a ridiculously long piece. As you can see in Tara's project below, moss stitch creates lovely dotted pattern, which makes the colors interact with each other in a fun way.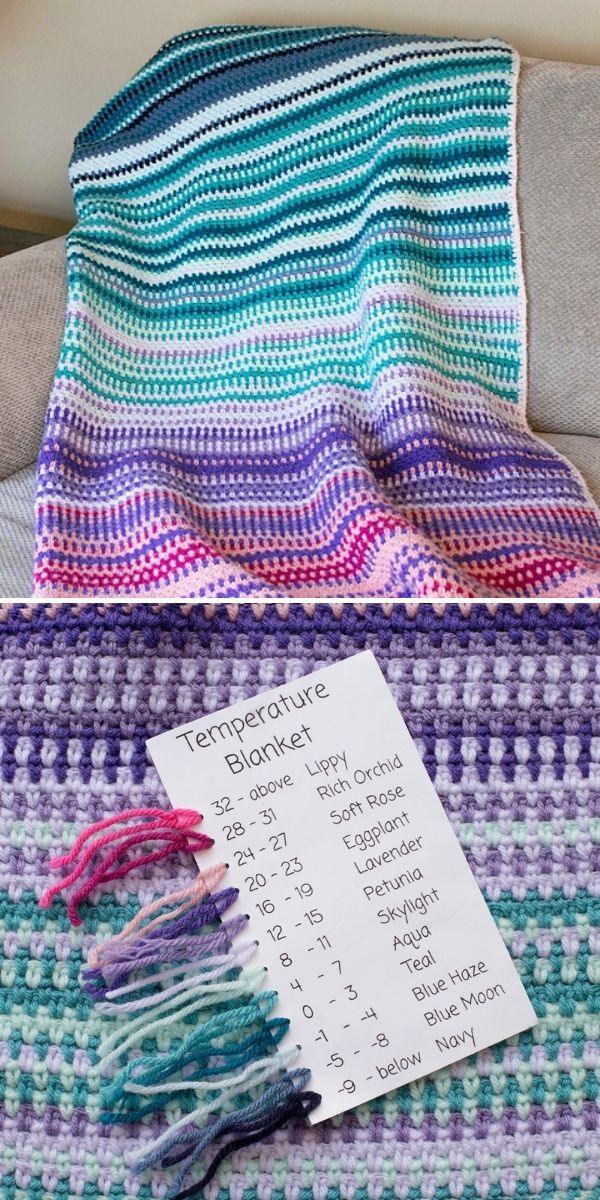 Find this free crochet pattern on foxandpinestitches.com, or read more about it on ravelry.com.
◉
Temperature Blanket 2021 by Sophie April Crochet
Sophie went for a lovely subdued color palette, which you can see in the photos. Her blanket features deep blues and dusty pinks. Looking at finished year-long projects can be truly inspiring, but remember that this kind of endeavors require patience and consistency.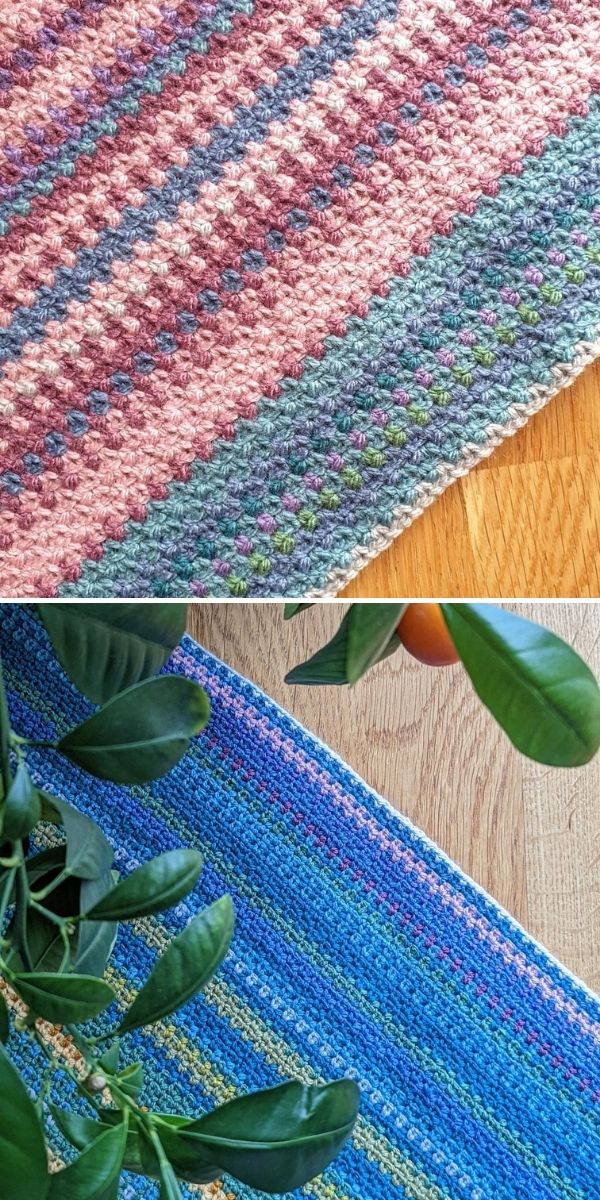 This project uses moss (linen) stitch, so check out all the possibilities and free crochet patterns in my article – Moss Stitch / Linen Stitch Crochet Ideas.
◉
Muted Crochet Temperature Blanket by Burgundy and Blush
Crocheter behind Burgundy and Blush came up with the loveliest color palette, because it's soft and lively at the same time. Warm and cold hues are nicely visible, but it's not classic rainbow color scheme. Take a look at the photo below and see how versatile such moss stitch blanket can be.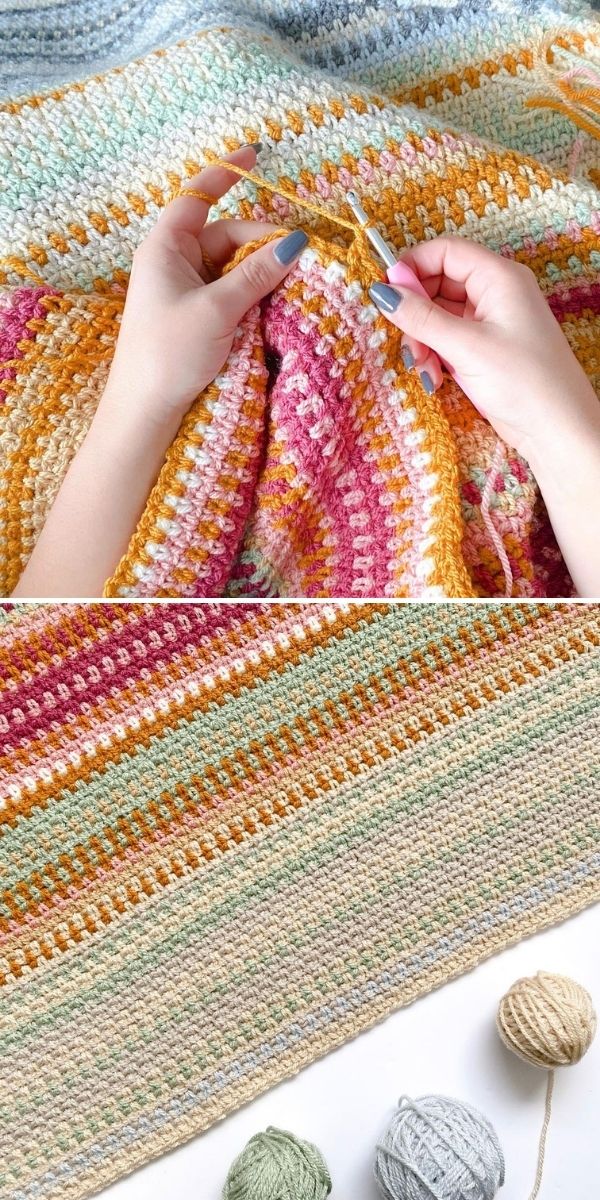 Be sure to go to burgundyandblush.co.uk to read more about this beautiful project. If you want to learn moss stitch, which is visible in the photos, go to my article about it – Moss Stitch a.k.a Linen Stitch Crochet Ideas – free patterns are linked inside!
◉
Make it… Tile by Tile
Alberta Temperature Blanket by Kerri Heide
Kerri's blanket couldn't be more straightforward – simple single crochet squares in basic colors, each one designating the temperature of one day. If you look closely at the top photo, you'll also notice white squares, which divide the months. To finish the whole thing off, Kerri joined the squares with a textural white join and added a colorful moss stitch border.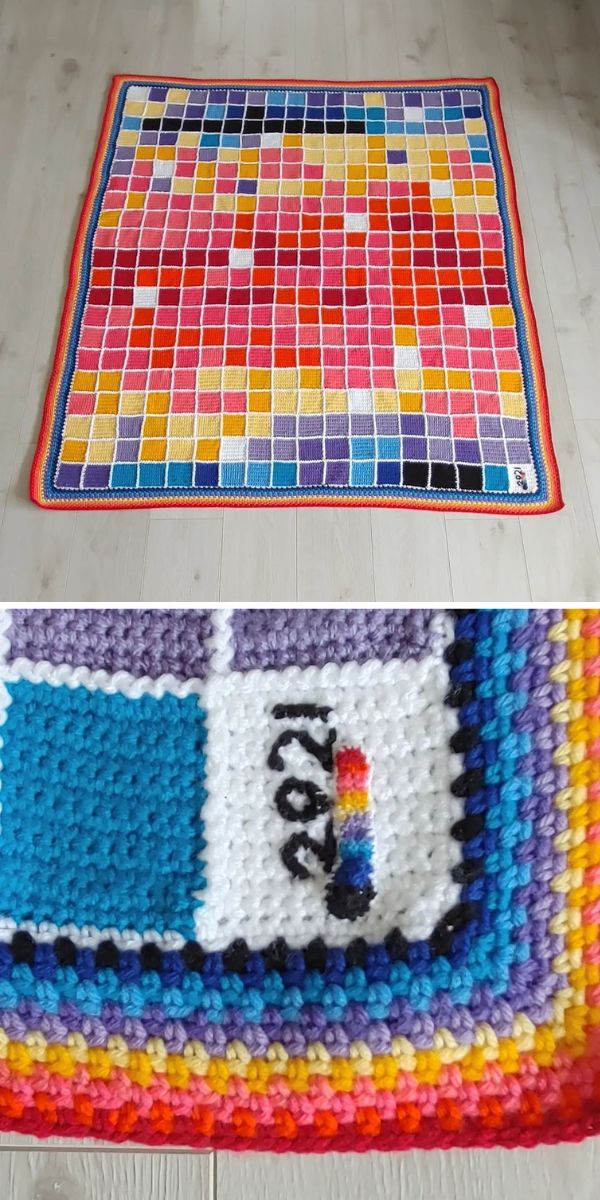 ◉
2020 Calendar Temperature Blanket by CyberOaf
I really love this project, because it looks like a real calendar! Colorful pixels show how the temperature changes day by day, while white squares fill up the rectangles. The whole piece is arranged on the grey background and finished up with contrasting trim. Author even added little stars to indicate important dates of the year, such as birthdays!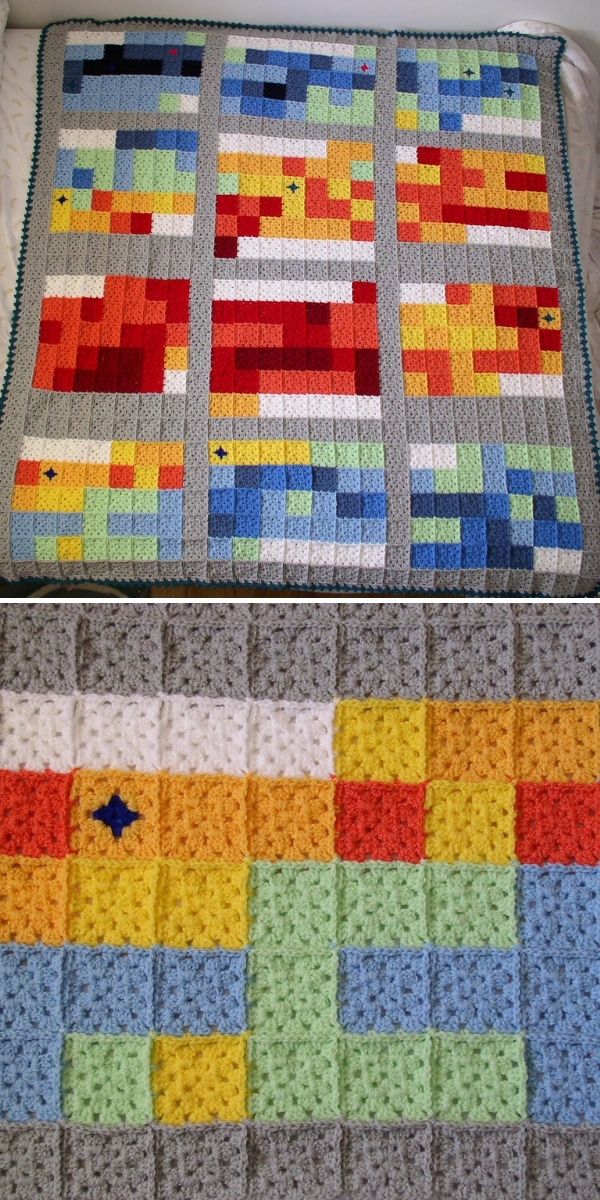 This project combines two free crochet patterns: Sweet Granny Baby Blanket by Toni Lipsey (available on ravelry.com and tlycblog.com) and Calendar Temperature Blanket by Things of String – you can read about it on ravelry.com, but the author's website is currently not working.
◉
Granny Square Mood Blanket by One Hook & A Thread Of Fate
Is it a temperature blanket, or is it a mood blanket? Nobody knows! What I know for sure, though, is that Kayleigh-Marie's project looks amazing! Just take a look below and see all of the squares together – although they are different, the color palette ties them together beautifully.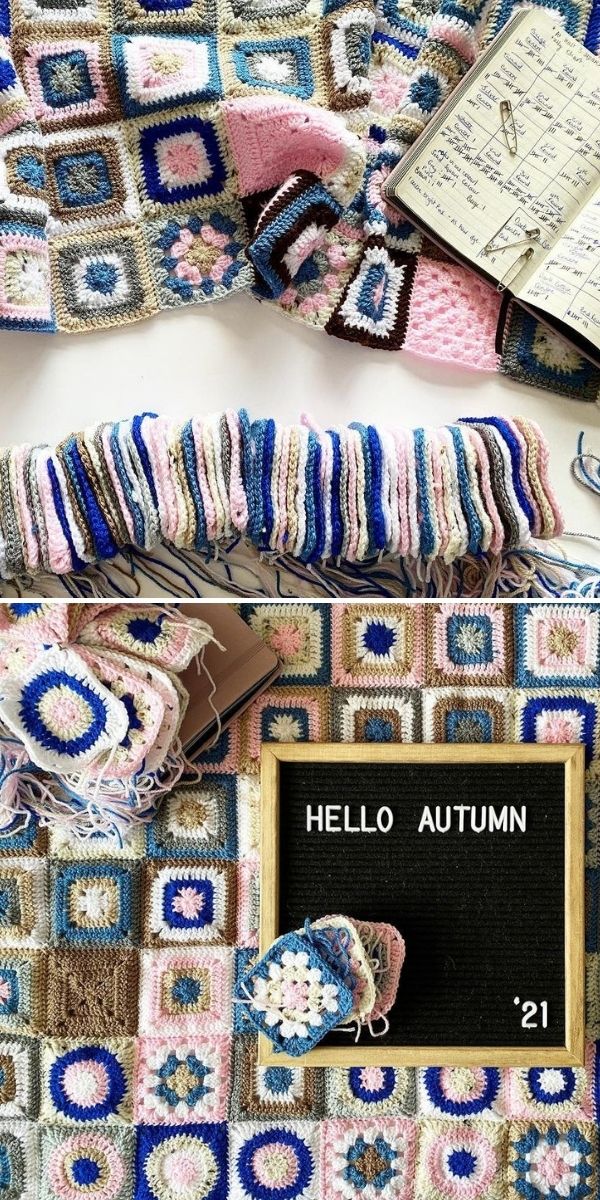 You can use any kind of granny square to make this project – explore all the possibilities in my article about Granny Squares, because I've linked a lot of free patterns there.
◉
Linen Stitch Square Temperature Blanket by TLYarnCrafts
Moss stitch is great in all its shapes and forms, and worked in the round can create very interesting pieces. Toni decided to go for squares that can be later joined together, but the rows still represent the changing temperatures. Take a look how nice it is, whether you are working with cool colors, or warmer ones.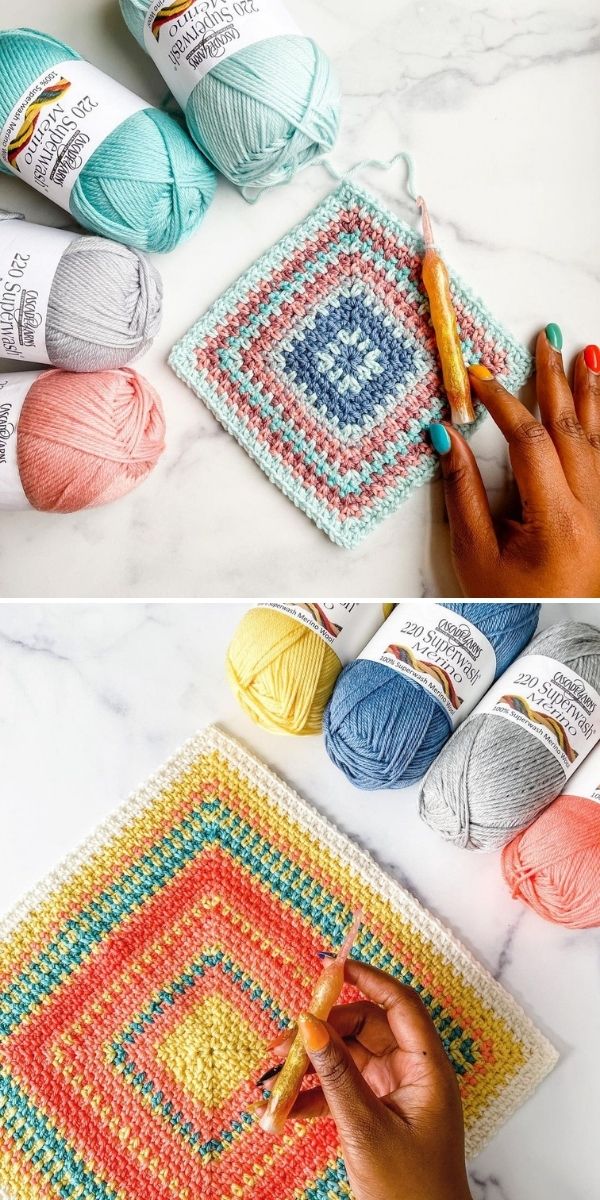 Free crochet pattern for Linen Stitch Square by TLYarnCrafts is available on tlycblog.com.
◉
2020 Temperature Tile Blanket Version by loopysue
Don't like the look of unevenly striped blankets? No pressure! You can easily go for tiles, if you want, just like Loopysue did with her fantastic project. Take a look below and see the array of ornamental tiles, each of which represents a week of 2020.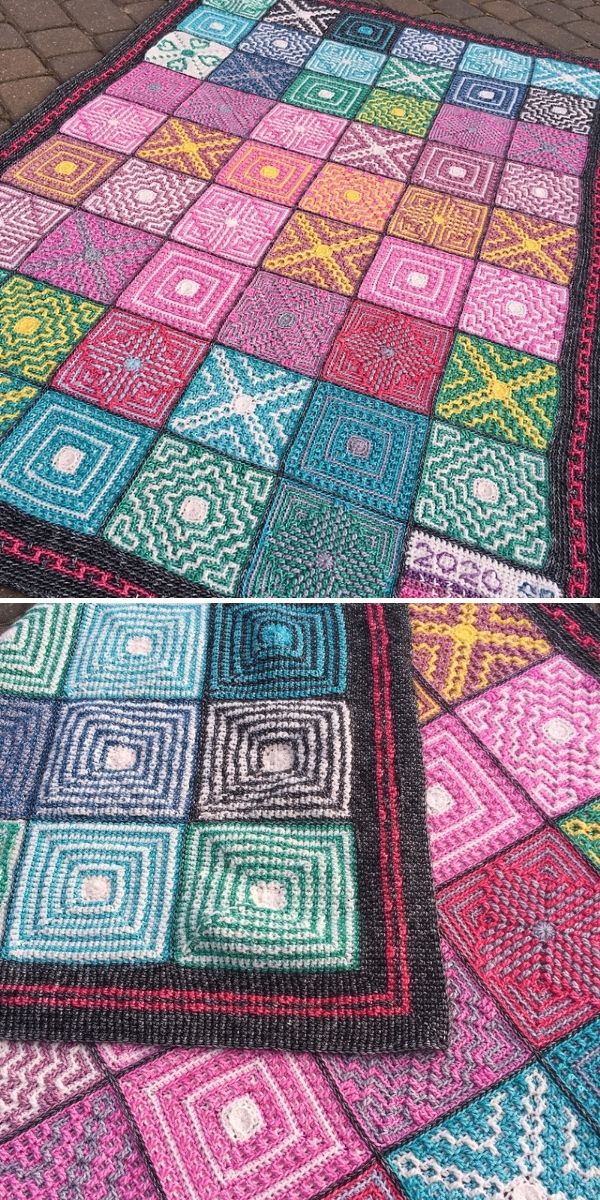 This pattern combines 2020 Temperature Tile Blanket by Lynn Johnson with Terrazzo Afghan and HOPE by Tinna Thórudóttir Thorvaldsdóttir – all available on Ravelry.
◉
2020 Temperature Blanket by sarag956
Why not use classic granny squares? If each of them will have seven rows in it, you can fit each day of the week into one granny square. Then make another, and another, so that you have 52 of them at the end of the year! Below you can see a rich color version by sarag956.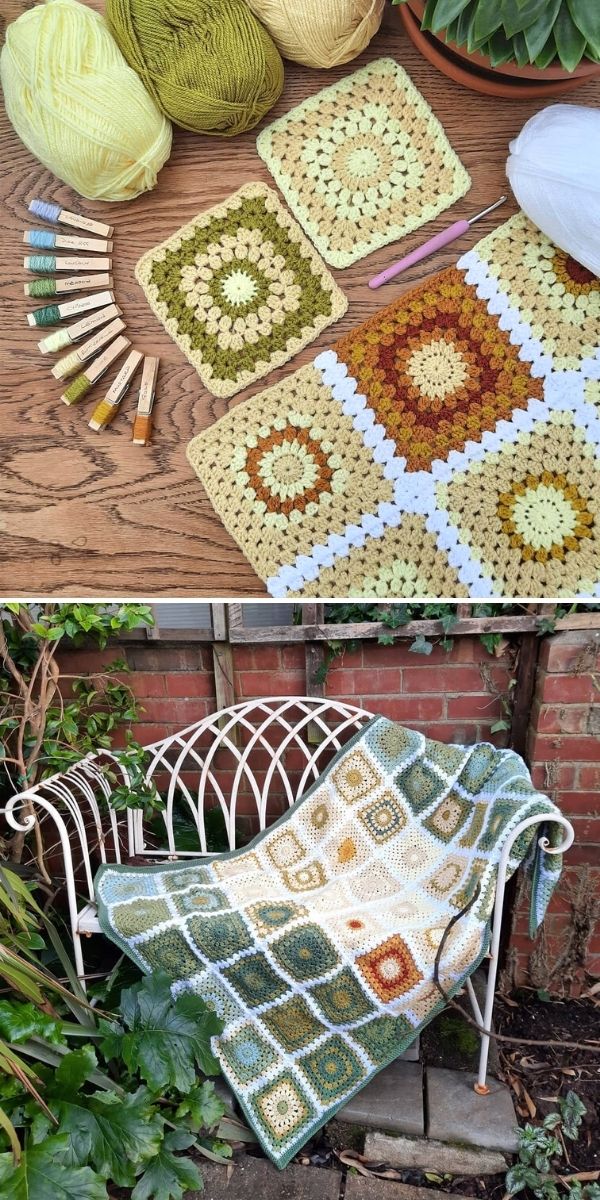 To make similar blanket, you can use free pattern for Magic Pink Granny Square Blanket by Emma Connelly.
◉
2020 Highs and Lows Temperature Blanket by apricotpolkadot
Now this is an explosion of colors, right? Just look at the photos! If you want something rich and playful, go for this pattern. Squared dots represent each day's highest and lowest temperature, so that's even more color combinations for you. Crocheter behind apricotpolkadot really created a showstopper!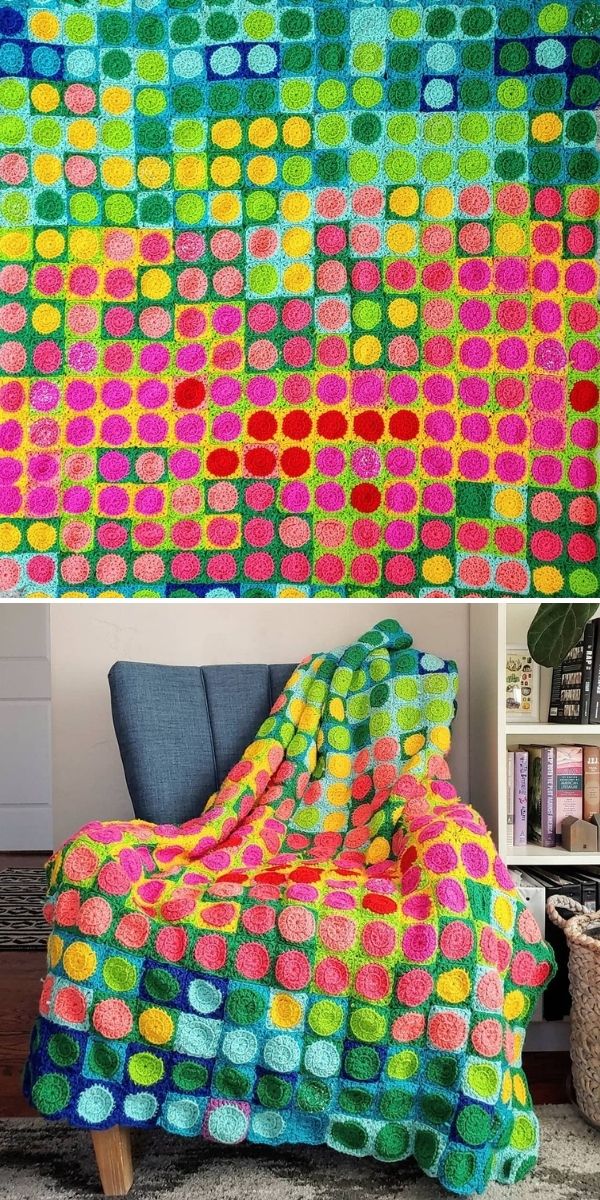 ◉
Make it… Block by Block
Snowflake Temperature Blanket by Kaye Adolphson

Kaye's snowflake blanket doesn't have to look wintery! All you need to do is to change the color palette to more summer-inspired, and these little hexagons will look like flowers with colorful petals. This dark palette, however, is a great choice for an elegant temperature blanket, so keep it in mind if you're not a fan of vibrant home decor.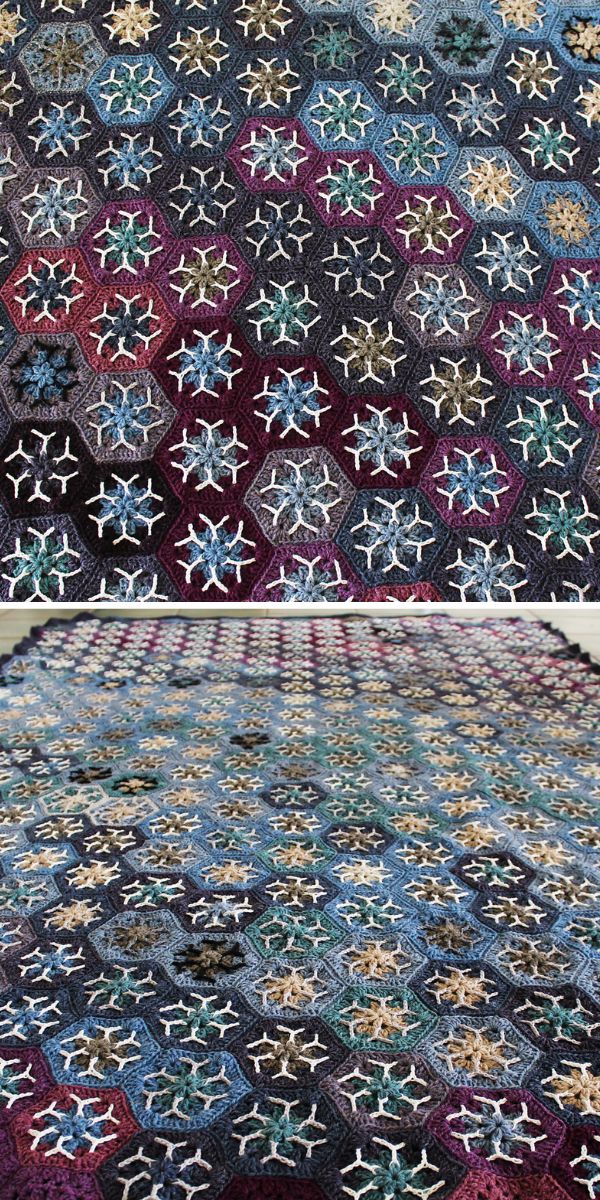 Download this free crochet pattern from ravelry.com.
◉
2019 Daily Temperature Blanket by tlscrochet
Hexagons with flowers in the center look great as they are, but adding a feature of unexpectedness makes them even more fun! Crocheter behind tlscrochet chose the color palette that is truly dreamy, because pastel shades of pink and teal are just made for each other. As you can see in the photo, addition of black join creates a stained glass effect.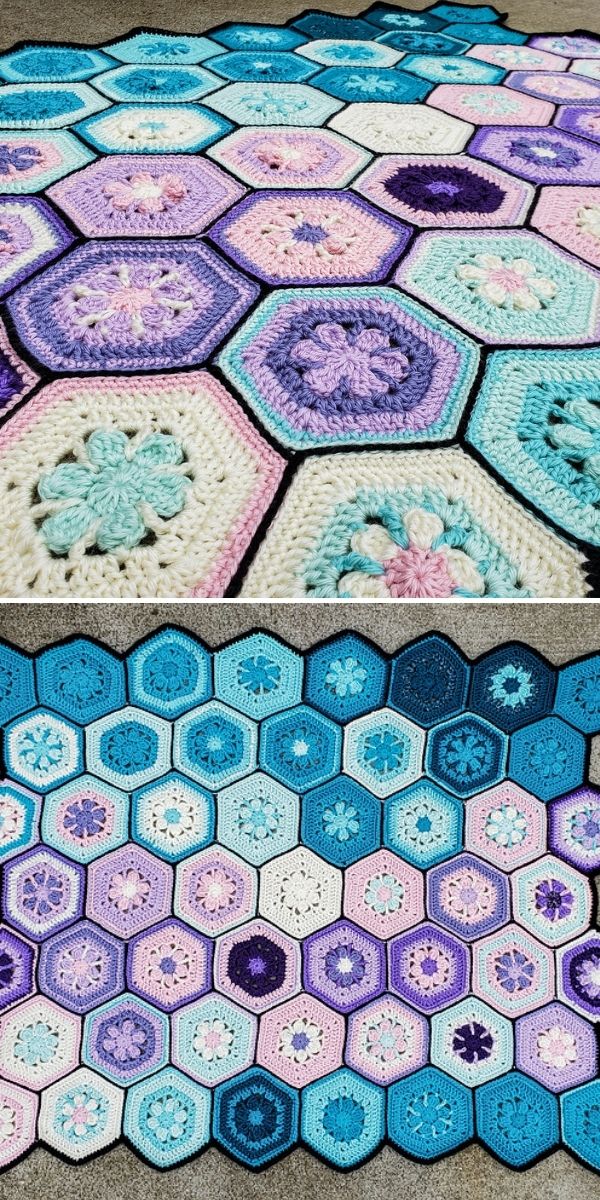 This project is based on crochet pattern called Doris Daisy Hexagon Blanket by Kerry Jayne Designs, which you can purchase from ravelry.com. This particular version is linked below the photo.
◉
Cobram Temperature Blanket by Kaye Adolphson
Small hexagons of solid colors will be a good choice for a year-long project, because you don't have to join them as you go, rather keep them stored and join when you've got all of them. Kaye decided to go with dark colorway with pops of mustard yellow and dove grey. Take a look below how fun it looks, especially thanks to structural post stitches inside the hexagons.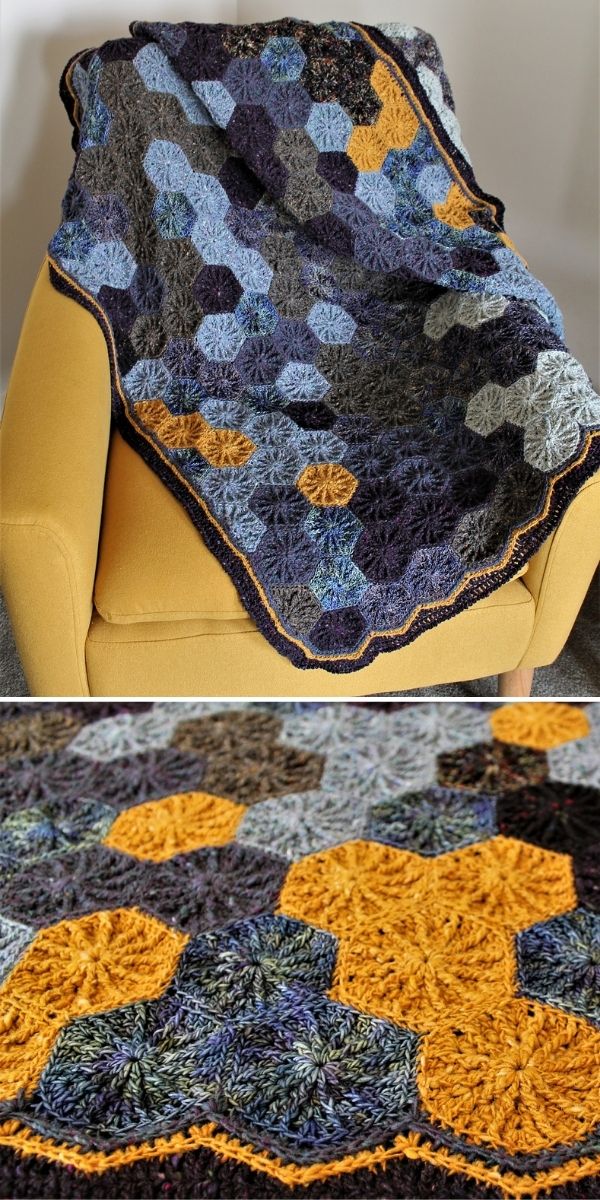 Find this free crochet pattern on ravelry.com.
◉
Thorofare Temperature Blanket by Wyldflower Crochet
After rows and tiles, it's time to talk about hexagons! As you can see in the photos below, they are great for creating modern and unexpected patterns. Heather behind Wyldflower Crochet used an interesting yarn, too, so be sure to check out her blog post about it – I linked it below!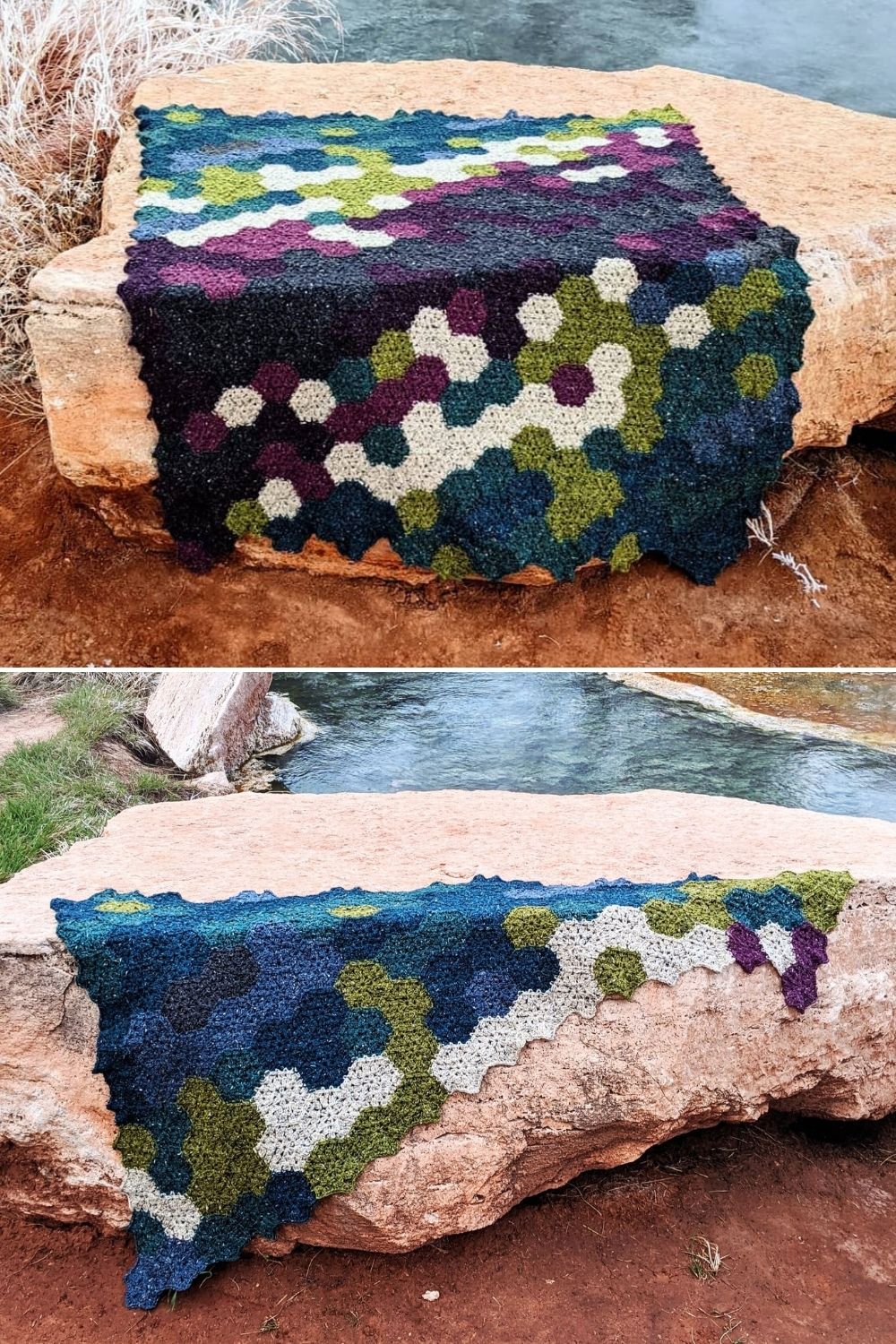 Heather's blog post about this project is available on wyldflowercrochet.com. To make similar blanket, you can use free crochet pattern for #sharethecrochetloveflower by Samantha Dee, or any other basic hexagon pattern.
◉
2020 Temperature Blanket by kaz_hall
Remember that you can incorporate two or more hues in one hexagon, like kaz_hall did! Just take a peek at the photo – doesn't it look great? The final result is mindblowing, but shows the temperature fluctuations quite nicely. If you are a fan of statement pieces, this blanket will be right up your alley!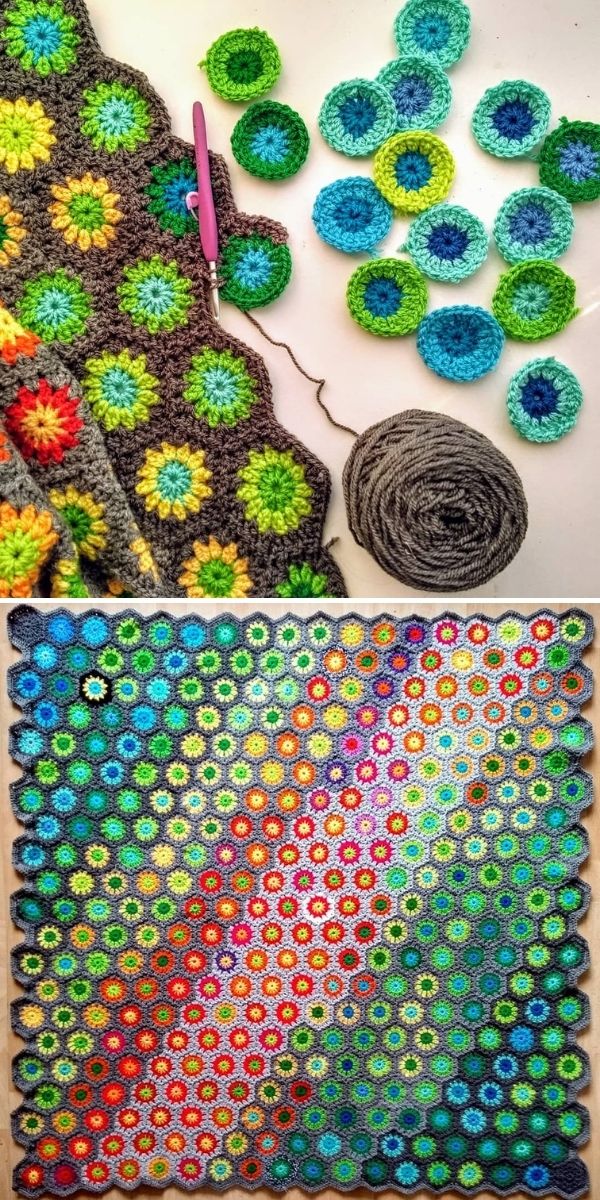 If you are looking for a free pattern, Lockdown Blanket by Potter & Bloom has the same vibe!
◉
2018 Mesmerize Hexagon Temperature Blanket by crochet-hello
If you are going for hexagons in your project, why not make it even more magical and choose the design with a flower motif? What you can see in the photos is a stunning blanket by crochet-hello, in which each tile is unique. Some look like flowers, some like snowflakes, but all look like a big colorful meadow!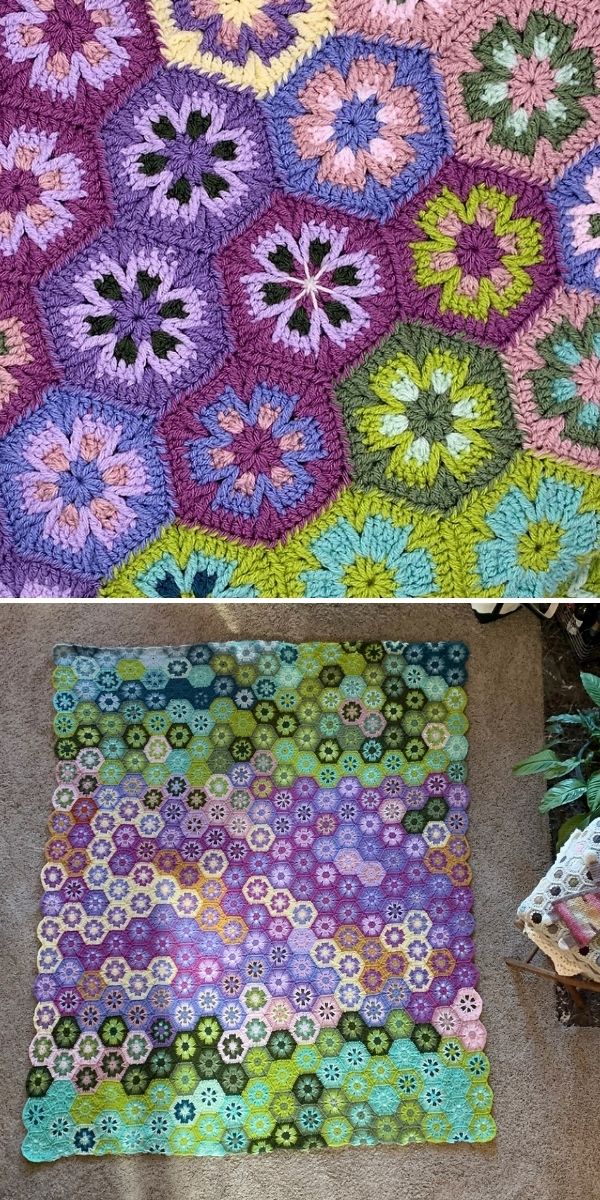 This project is based on Mesmerize Hexagon Motif by Atty van Norel.
◉
That's all for today, but I'll be back with much more inspiring projects and free patterns. Like, share and subscribe if you like what you see. Stay tuned!
↔
You may also like: How to Crochet Seven Wonders Lacy Stitch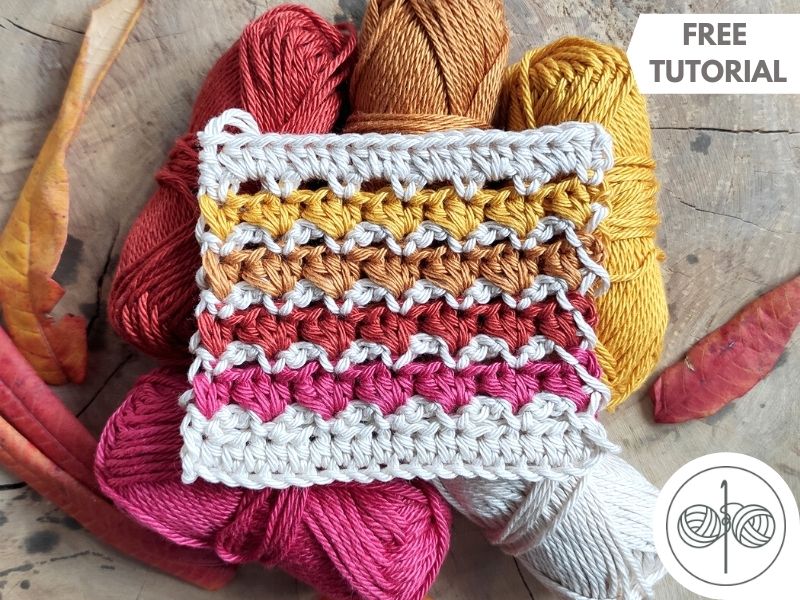 share, like, subscribe!
Sharing is caring, so if you liked this article, be sure to share it with your friends and spread the word! Stay tuned for more free tutorials, patterns and interesting articles by following my social media pages (PINTEREST and INSTAGRAM), or allow notifications to get a pop-up whenever I publish something new.