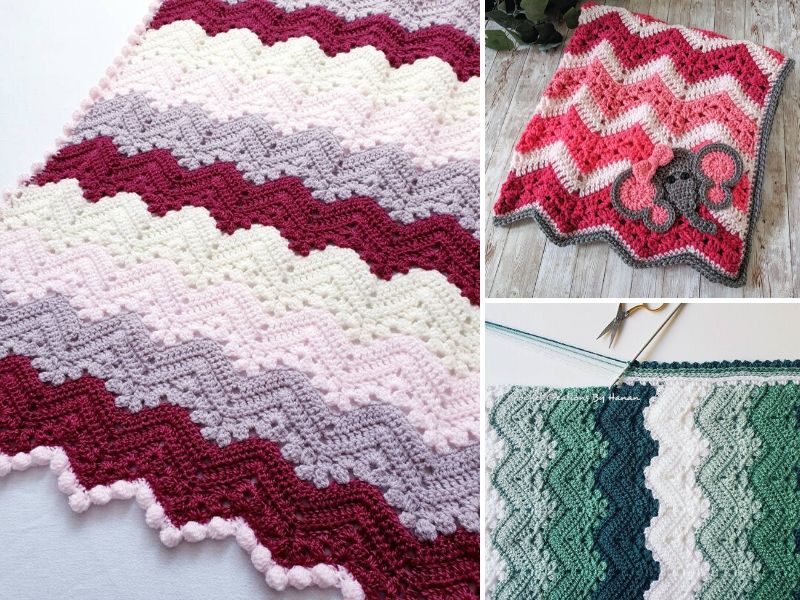 As you may know, I love exploring new ideas in crochet, so I'm not constricting myself to any rules! My stitch series are growing and growing, but it's good to stir things up a little now and then. Today's hero is one of the most popular crochet baby blanket designs with almost 1500 versions on its Ravelry page! That's huge, but I'm not surprised – this design is easy, versatile and interesting. I'm sure you've seen it before, because it's available as free pattern!
◉
6-Day Kid Blanket by Betty McKnit, because that's what we are talking about, was published in 2008 and since then has won the hearts of crocheters all around the world. Want to know why? 🙂 Let's find out!
simple combinations
This crochet baby blanket proves that the strength of the most popular designs lies in their simplicity. Playful zig-zag pattern is made with two kinds of stitches – granny stitch and double crochet. That's all! Smallest version should take 6 days to finish, but we all know that it depends heavily on your crocheting speed and other factors.
How do I start?
To make your own
6 Day Kid Blanket
, you can use any
type of yarn
and corresponding
hook
you want, although most versions are made with DK or Bulky yarn. You can learn more about yarn weights in my article –
Yarn Weights and Ply!
There are many resources you can use when tackling this project, because there was a big demand over the years, since the pattern has been published. Betty wrote articles, tips, tricks, as well as made step-by-step videos that will help you follow through. Below you can see a simplified version of her tutorial – be sure to check it out in its entirety by following the links!
stills from YouTube videos by Betty McKnit – source
As always, you need to start with a
slip knot
and a
foundation chain
, and it's a very important part, because it will determine the width of your project. Finished size of 122 chain blanket is 36″ by 33", so if it's too small for you, consider calculating the base for your desired size.
Learn more here…
You can find the
full playlist of tutorials
 by Betty McKnit on YouTube
here
, or check out a post about this crochet baby blanket
here
on her blog. Ravelry page for this project is
here
.
talking about stitches…
Our growing website and library of free crochet patterns have some projects that might interest you, too. If you want to know more about crochet, read my articles on different topics, for example – explore the most beautiful realizations of Nature's Walk CAL!
→ Yes! Take me to this article! ←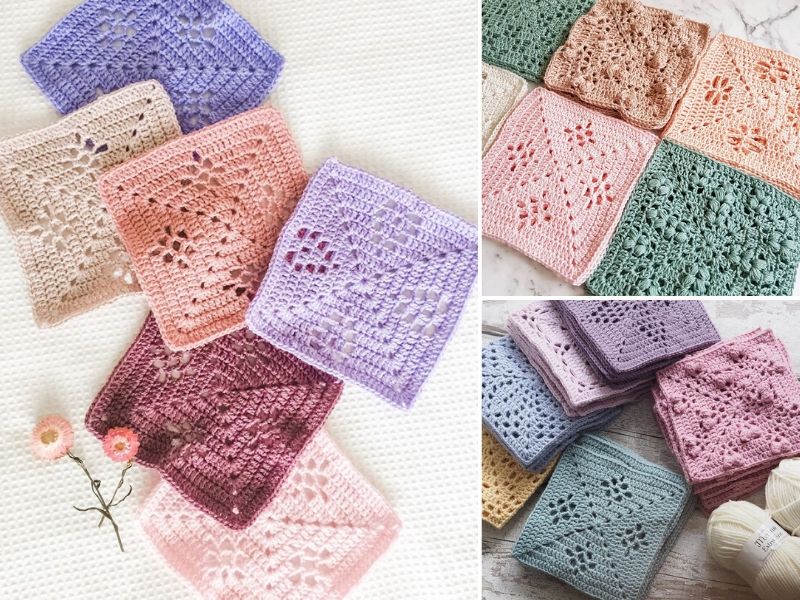 or…
Learn all about Enchanting Dragonfly Stitch Ideas!
→ Yes! Take me to this article! ←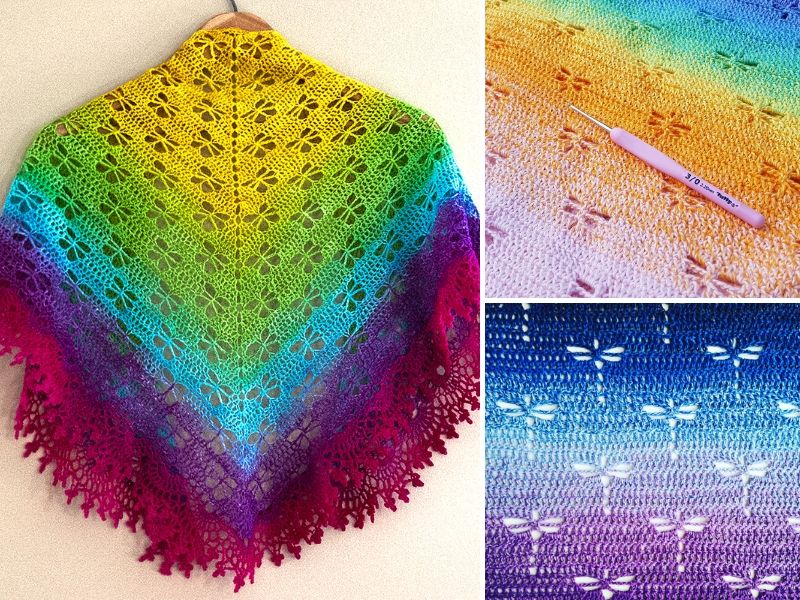 crochet roundup!
I've gathered the most beautiful versions of this crochet baby blanket to show you how versatile it can be. This blanket can transform depending on the colors you choose or the sequence in which they are arranged. You will see abundance of ideas for color palettes, edgings and little tricks that can make the project unique. Let's dive in!
Read carefully for free crochet patterns and tutorials.
◉
Pretty Contrasts
6-Day Kid Blanket by Hanan Hannaway

photos by Hanan Hannaway on Ravelry
The fantastic color scheme you can see above is quite simple, but creates a strong effect. That's because shades of green were organized in a way, which makes white stand next to the darkest hue. Dramatic juxtaposition like this looks great! Go for monochrome palettes if you are not sure how to combine different colors.
◉
6-Day Kid Blanket by Hanan Hannaway
photos by Hanan Hannaway on Ravelry
I love this crochet baby blanket by Hanan for a couple of reasons. First of all, the palette she uses remind me of sea and sand, so it brings back the best memories! Secondly, the edges of the blanket are nicely squared, which is a cool way to add a little bit of elegance to the design. Lastly, neat edging finishes the blanket off quite beautifully.
As all projects presented in this article, these made by Hanan were based on free crochet pattern that is available here. If you want to square off your zig-zag edges, check out this tutorial.
◉
6-Day Kid Blanket by Milly's Makes
Mustard tones and dark grey go very well together, and you can see it clearly in this creation by Milly. She used two tones of yellow and tan hues, and combined it with white and grey. Each module of the pattern is nicely visible, so if you want to create similar effect, go for this color scheme!
Free pattern for this blanket is available here.
◉
6-Day Kid Blanket by kayel62
Can you see that this crochet baby blanket was made with multicolored yarn? Hardly, right? Color changes are so nicely incorporated with the pattern, that it looks as if the author was changing colors section by section. Look closely, though, and you will see that it's not the case 🙂
◉
Subdued Color Stories
6-Day Kid Blanket by Jessica McLean
photos by Jessica McLean on Ravelry
There are no rules to color changes or color schemes, and this beautiful blanket by Jessica proves it right. If you don't like symmetry, don't go there! Stir the hues up, make one half of the blanket fully white, and let the colors mix in the other half. Works fine in black and white palettes, too!
Try it for yourself and start your own journey with this project today – it's available as free crochet pattern here.
◉
6-Day Kid Blanket by NinjaFrogTales
Creating color scheme by choosing lightest and darkest color first is a good idea, because then it's much easier to add another two medium colors to it. This lovely version by NinjaFrogTales is feminine, but deep green adds a lot of character.
Free pattern for this blanket is available here, of course.
◉
6-Day Kid Blanket by Kim Stewart Jackson
Are you a sucker for pastels? Me too! What's more spring-inspired than pink and green combo? These colors together always remind me of delicate buds and fresh leaves, so go for it if you need a romantic palette. Squared edges and simple granny stripe edging look impressive despite its easiness.
To square off your edges, check out this tutorial. The main pattern for this blanket is available for free here.
◉
6-Day Kid Blanket by Milly's Makes

Got a lot of leftover yarn? Great, because this project may be a way to use it up! Playing with more than 4 colors in one design can be tricky, but I'm sure you will find a way. Milly chose the most delicate color combos and added a surprises in each of them – in the top one it's dark brown, and in the bottom one – vibrant yellow.
You can find this free crochet pattern here.
◉
Cheerful Ideas for Baby Blankets
6-Day Kid Blankets by Bekki from Quirky Mama Creations
photos by Bekki from Quirky Mama Creations on Ravelry
This lovely cherry blanket is one of my favorite versions of 6 Day Kid Blanket. Rows of granny stitches and double crochets are visibly divided, thanks to three shades of pink and delicate cream, but colors are not the only thing that caught my attention – just look at this elephant!
Adding applique to baby blankets is a great idea, and Bekki definitely knows how to do it. Her creations are beautiful examples of how to combine colors and shapes together.
In case you were wondering, this cute elephant can be found in Zoo Animals Collection by Jen Mitchell – Nella's Cottage. You can purchase it for a small fee.
◉
Another two examples of Bekki's great usage of applique feature a skunk and a unicorn. In the top photo you can see a fun way of changing colors, which users called "a snowflake effect". If you change the colors between the rows of granny stitches, you achieve a fun scalloped look!
Free crochet pattern for the blanket is here. If you want to use the applique presented above, purchase it here: Boho Skunk and Wild Boho Unicorn – both designed by Jen Mitchell of Nella's Cottage.
◉
6-Day Kid Blanket by Marfanical (Abbey)
A fun way to create really unexpected color flow is to alternate two multicolored yarns. It works really beautifully if you want to achieve complex color changes. Another way to achieve that is to choose a colorway that is like a rainbow – this version by Abbey is a great example.
You can find this free crochet pattern here.
◉
6-Day Kid Blanket by Alison Hayton
"Snowflake effect" that I mentioned earlier, is nicely visible in this project. One stripe of color begins and ends in granny stitch row, creating fun patterns. Alison chose simple red edging, and I must say that it works great with these cheerful colors.
Pattern for the blanket is available for free here.
◉
Pom-pom edgings? Yes, please!
6-Day Kid Blanket by Umm Ilyas
Edging is the last step on the way to creating lovely baby blanket, and it's one of the most important steps! This blanket combines simple stitches with openwork of granny, so pom-pom edging fits here naturally. It mimics the clusters of granny stitch and looks great.
To create your own pom-pom edging, check out free pattern for Pom Pom Edge by Robin Sanchez. Free blanket pattern is here.
◉
6-Day Kid Blanket by May's Handmade Crochet
Fun popcorn edging is a cute and easy way to add playfulness to your baby blanket. In this case pastel pink works great when combined with the outermost colors. This palette works great for baby girls, but also for elegant women's bedroom.
This free pattern for Snowball Throw by Rohn Strong has an interesting pom-pom edging you can use. 6 Day Kid Blanket pattern is available for free here.
◉
That's all for today, but I'll be back with much more inspiring projects and free patterns. Like, share and subscribe if you like what you see. Stay tuned!
↔
You may also like: Classic Gingham Crochet