Hello 🙂 It's time to go back to basics. Now that many of us are stuck in our homes due to the coronavirus prevention, the best we can do with this much free time is to crochet! Well, today I have a ton of inspiration both for crochet beginners and seasoned creators, so dive in!
V-Stitch is one of the easiest and coolest techniques out there, because it really requires only basic knowledge of crocheting methods. It works up fast, so it's very satisfying – perfect for quick blankets or accessories.
Have you tried it yet? If not, let's see how to do it!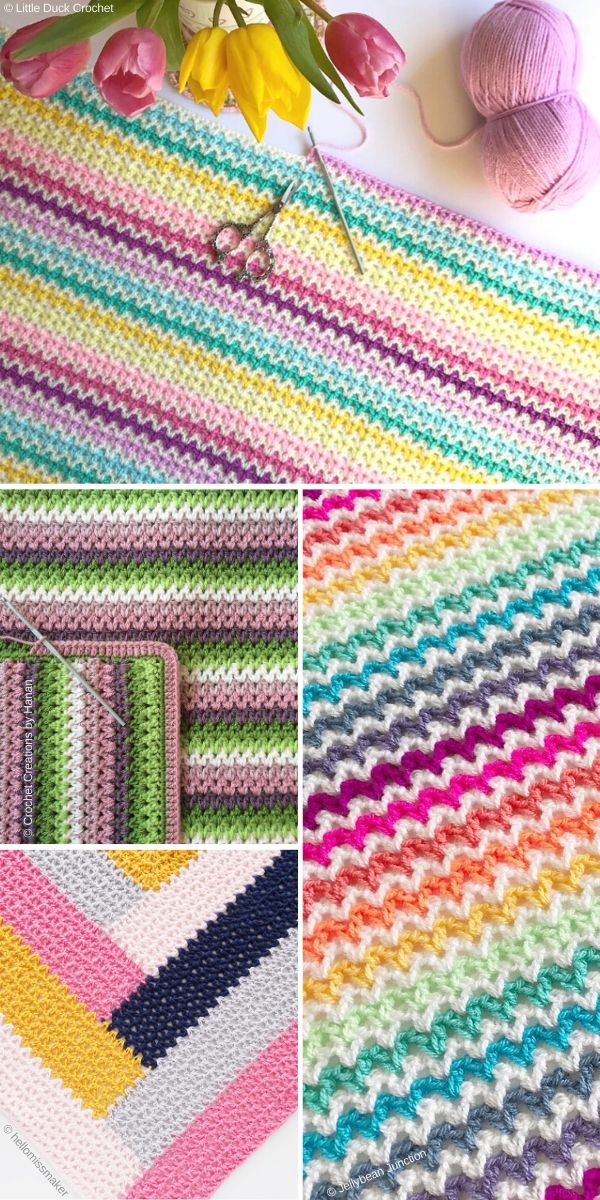 Fun and versatile
V-Stitch can be denser or looser depending on the tension you crochet with, but overall this technique is more on the lacy side. It's great for delicate blankets or summer accessories, such as tunics or shawls.
This stitch is usually done with double crochet stitches, but you can find variations that use single crochet, treble or clusters. You can work it in rows or in a square.
Materials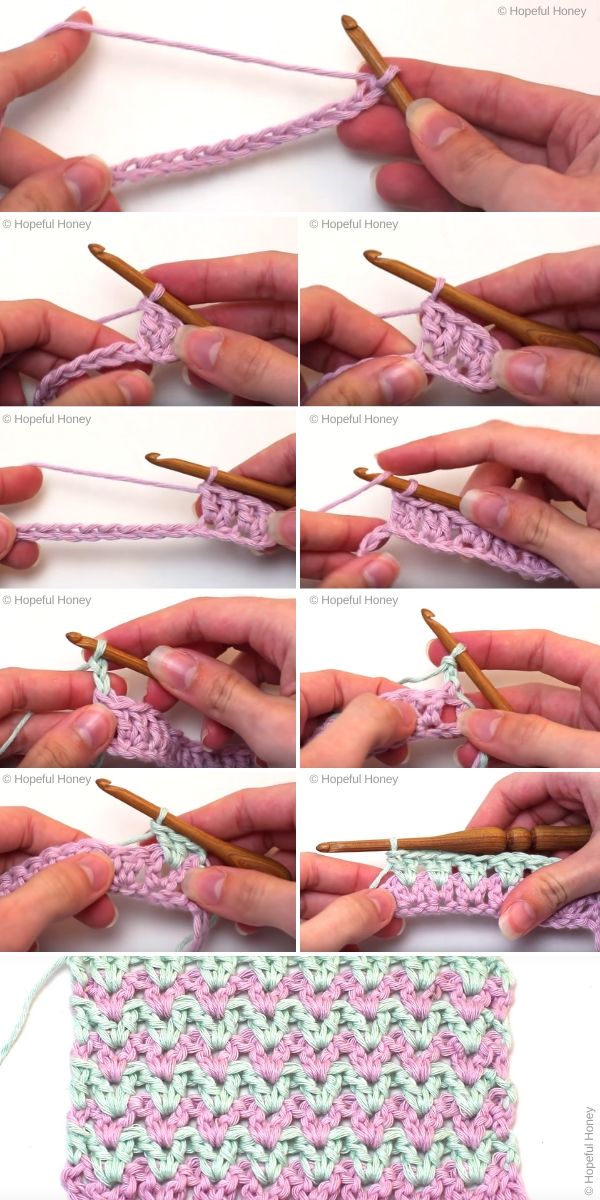 V-Stitch starts with
chain stitch
of multiple of 2 + 2, which counts as a
turning chain
for
double crochet
. The main idea behind this technique is based on making two
double crochets
in one stitch, and skipping one stitch to give them space for creating "v" shape. Next rows are worked in the "dip" of the V, which create lovely zig-zag pattern.
It's very easy, so be sure to check out Olivia's tutorial for full info! It can be found
here
.
talking about stitches…
Our growing website and library of free crochet patterns has some projects that might interest you, too. 
→ How to Crochet V-Stitch Two Ways – Tutorial + Video! ←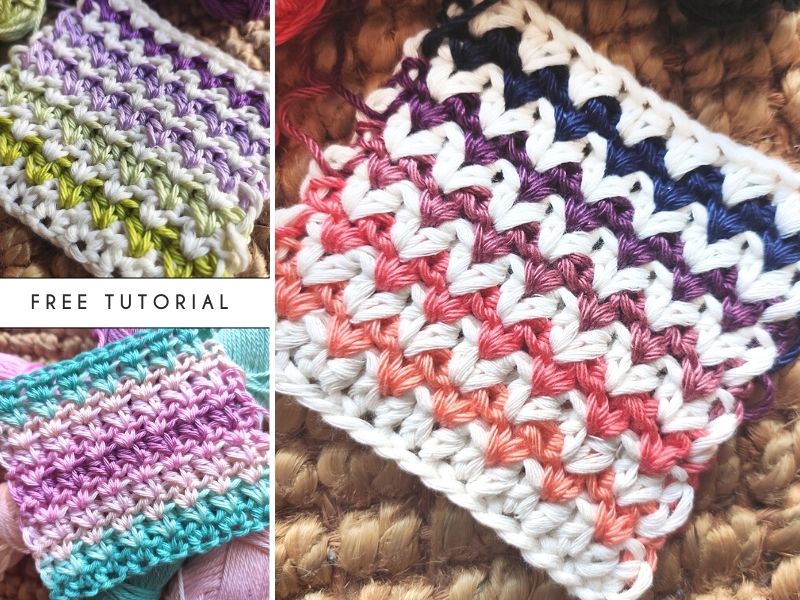 or…
→ How to Crochet Puffy V-Stitch – Video Tutorial and Written Pattern ←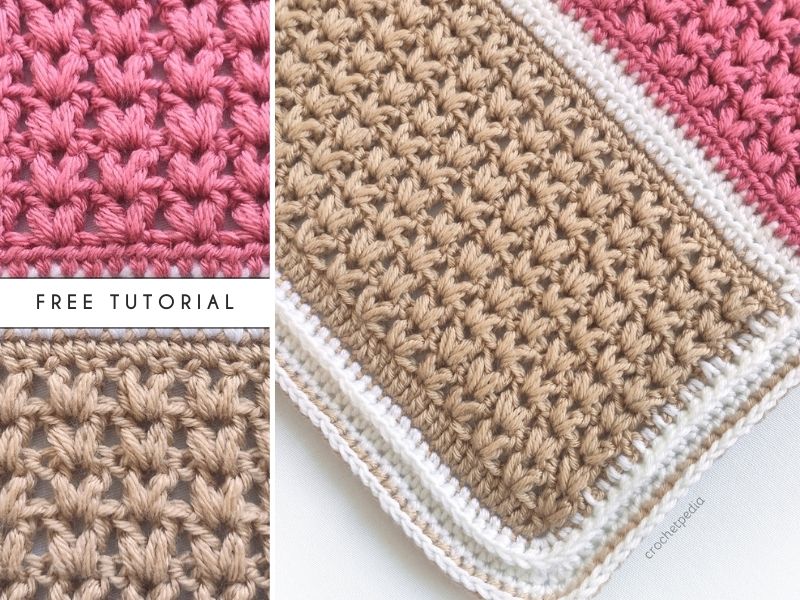 crochet roundup!
There are tons of stunning V-Stitch projects online, and, as per usual, I chose for you the best of the best (in my humble opinion, of course!) Color combinations are amazing, as well as fantastic craftsmanship behind this simple technique.
Read carefully for free crochet patterns and tutorials.
◉
Bold and Vibrant
V-Stitch Blanket by UnicornPuffsandRainbows
Change of colors in the middle of the row? It happens only when you use some crazy multicolored yarn, or if you are very into weaving in ends 😉 This vibrant version by Carley of UnicornPuffsandRainbows is full of unexpected changes and looks like the perfect scrap blanket. Take a look below to admire these lively zig-zags!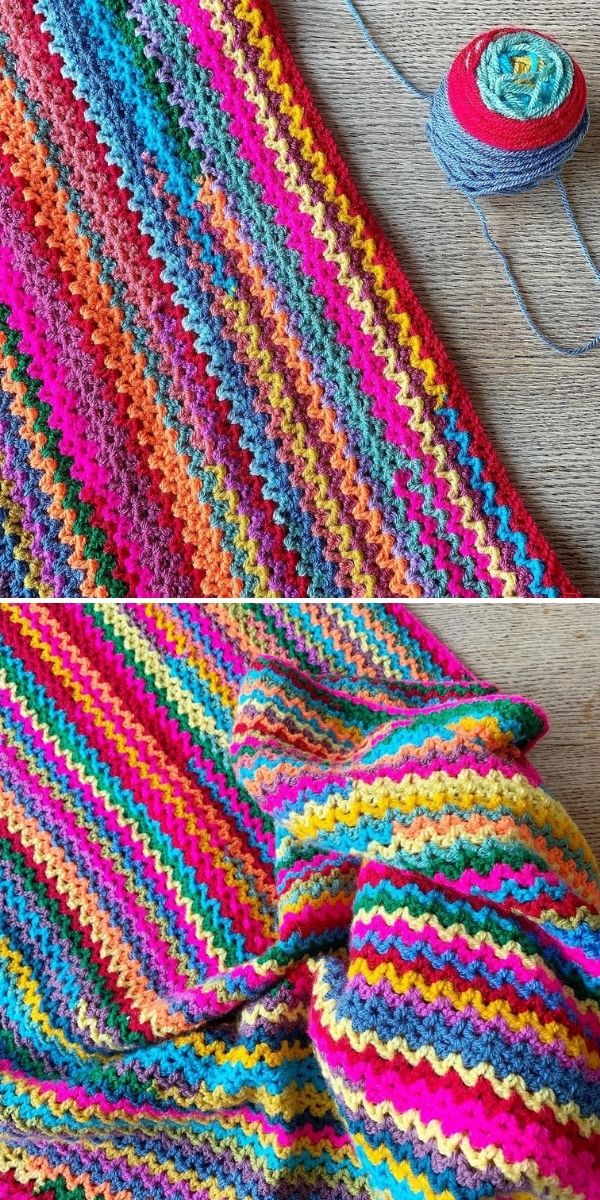 ◉
V-Stitch Blanket by Little Duck Crochet
When working with rainbow colors in stripes, it's good to introduce white every other row, because it gives the design lightness and character! This beautiful version by Little Duck Crochet, which you can see below, will look amazing in a nursery or kids' room.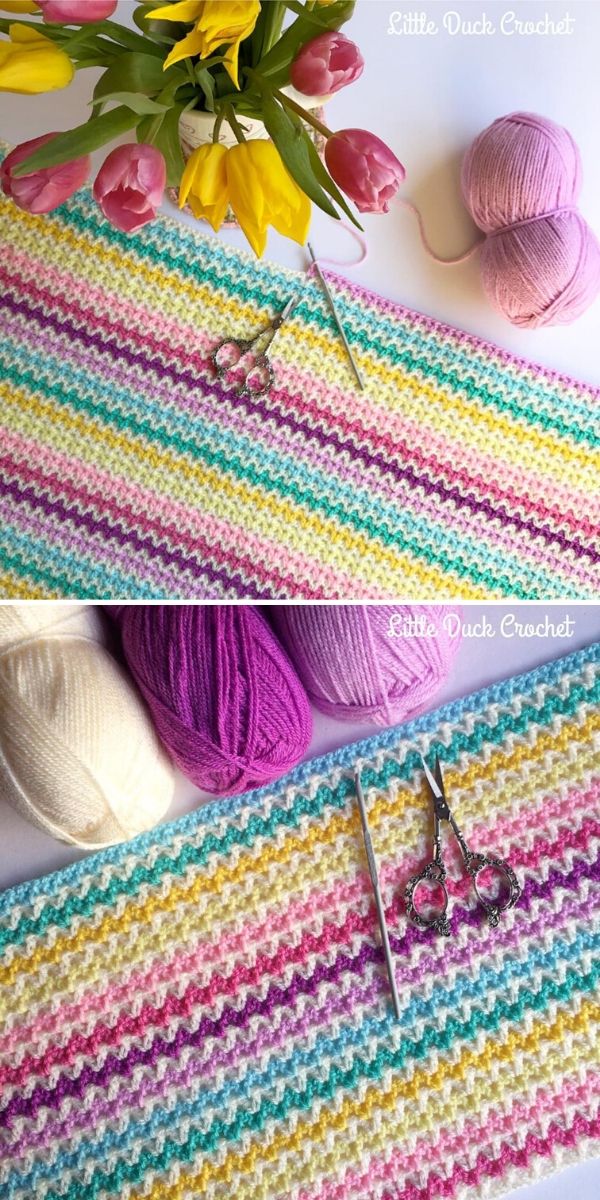 If you don't know how to start, go for free crochet pattern, such as V Stitch Blanket by Hannah Cross.
You may also like this article: Granny Ripple Stitch Ideas.
◉
V-Stitch Blankets by Kerry of Kerryandtheboys
We all know that Kerry is a master of rainbow designs, and these lovely blankets prove this one more time! Whether you choose plain white border or go for fun pom-poms, don't forget about proper finishing touches on these beauties.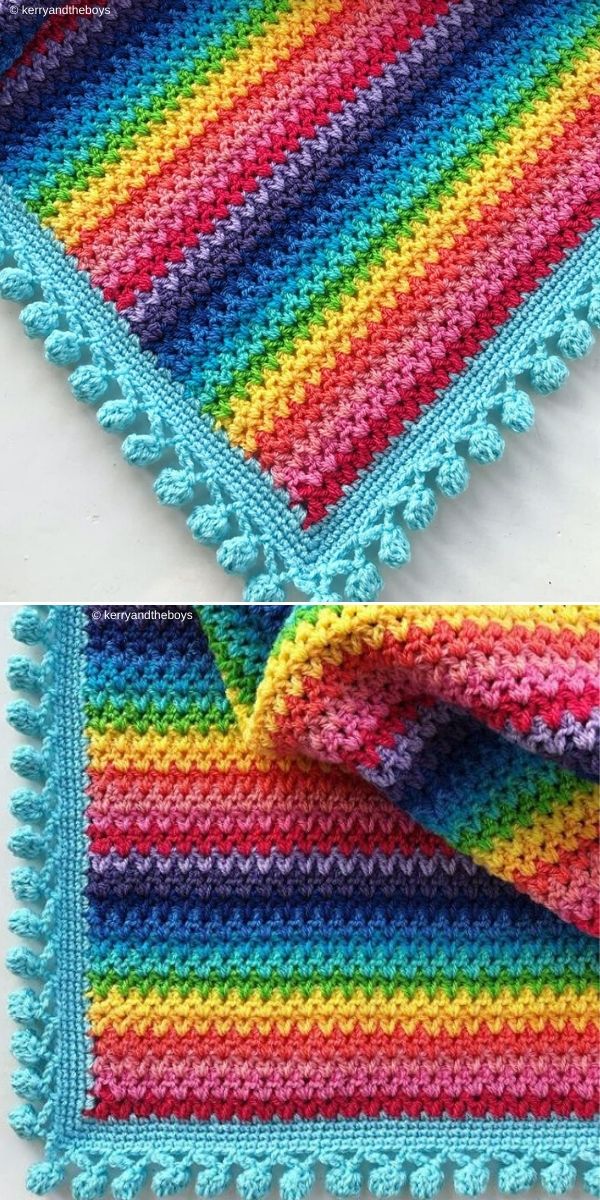 Can you see how differently you can approach rainbow color palette? The example in the photos below looks very different from the one above!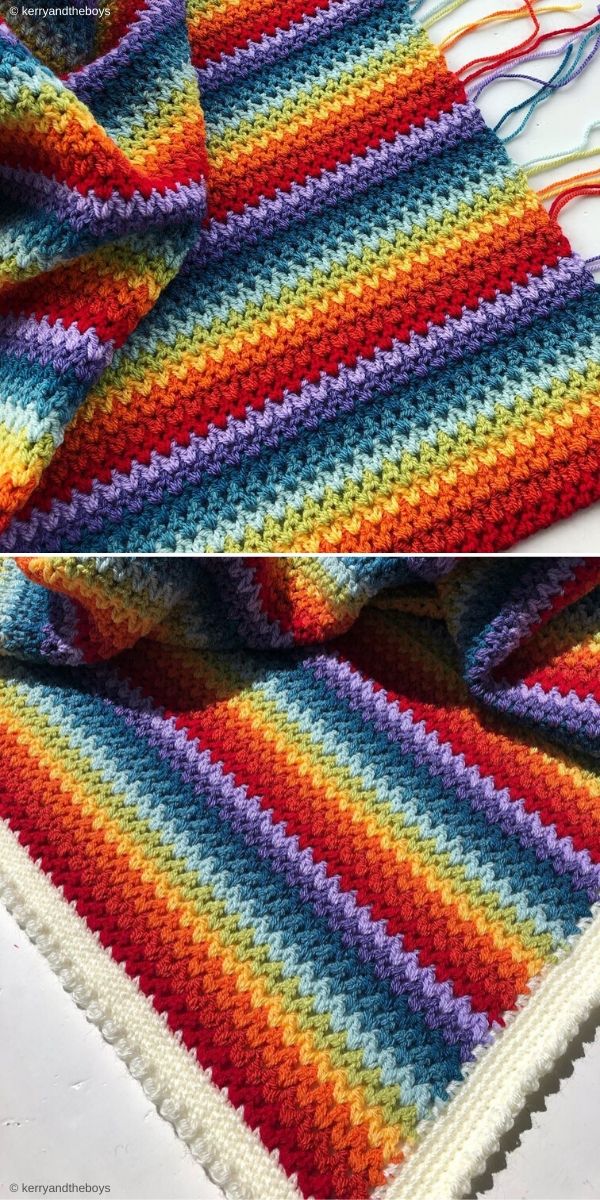 To make similar blanket, go for yet another free crochet pattern – V Stitch by Sucrette.
◉
V-Stitch Blanket by Kate Rowell of Jellybean_Junction
Juicy rainbow of colorful yarn is a true pleasure for the eye – just look at it! V-Stitch is great for such designs, because it works up really fast and is fun to make! Kate Rowell is known for her vibrant designs, so this project is a great representation of her cheerful aesthetic.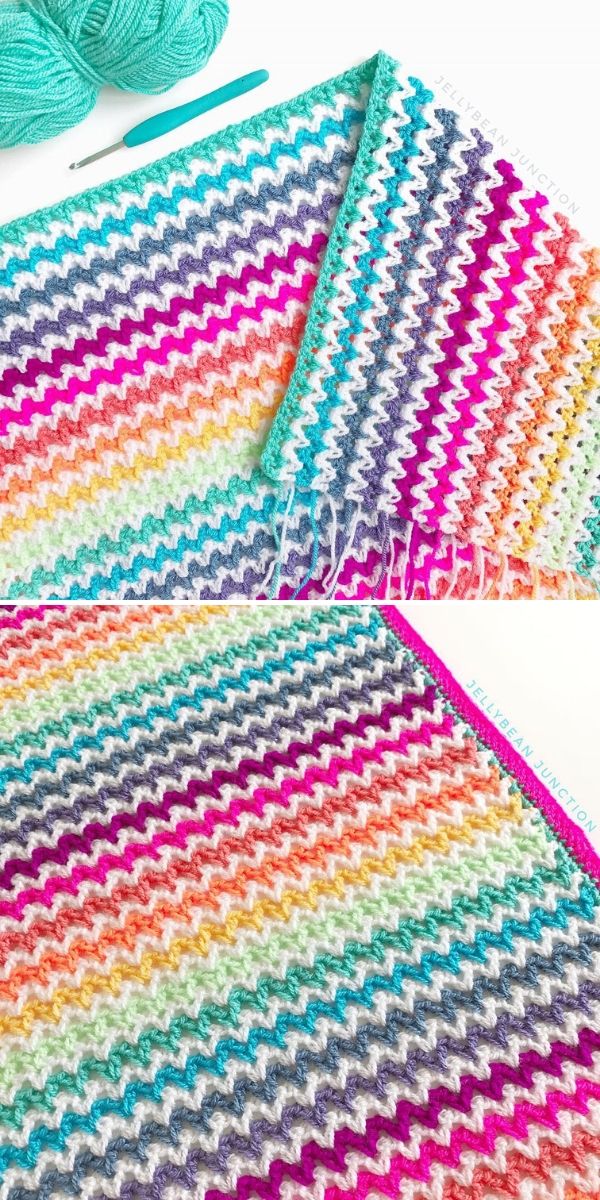 You may also like this article: Dune Blanket Ideas – The Most Beautiful Versions.
◉
V-Stitch Blanket by Crochet Creations by Hanan
Fluffy yarn makes this blanket look soft and comfy, so much that I honestly was wondering if V-stitch is not made in clusters here. Fantastic palette of violets and greens works perfectly fine, despite the fact, that it is a quite unexpected set of colors. Hanan is a master crocheter, so her stitches are always extremely nice and clean – take a look at the photos!

Use free crochet pattern for Crochet Modern V-Stitch Blanket in Red, White and Blue by Daisy Farm Crafts to make similar blanket. It uses simple double crochet border as well.
◉
Delicate and Romantic
V-Stitch Blanket by Jenny Galusha-Luna of Kountingsheep
Wanna go for vintage vibes? Choose delicate color palette and finish your blanket with romantic scalloped edging, just like Jenny did. Babies will love sleeping underneath it, and it will be a crown jewel of any nursery. Can you see the light and airy structure of this blanket? It's perfect for summer days, or cosy evenings.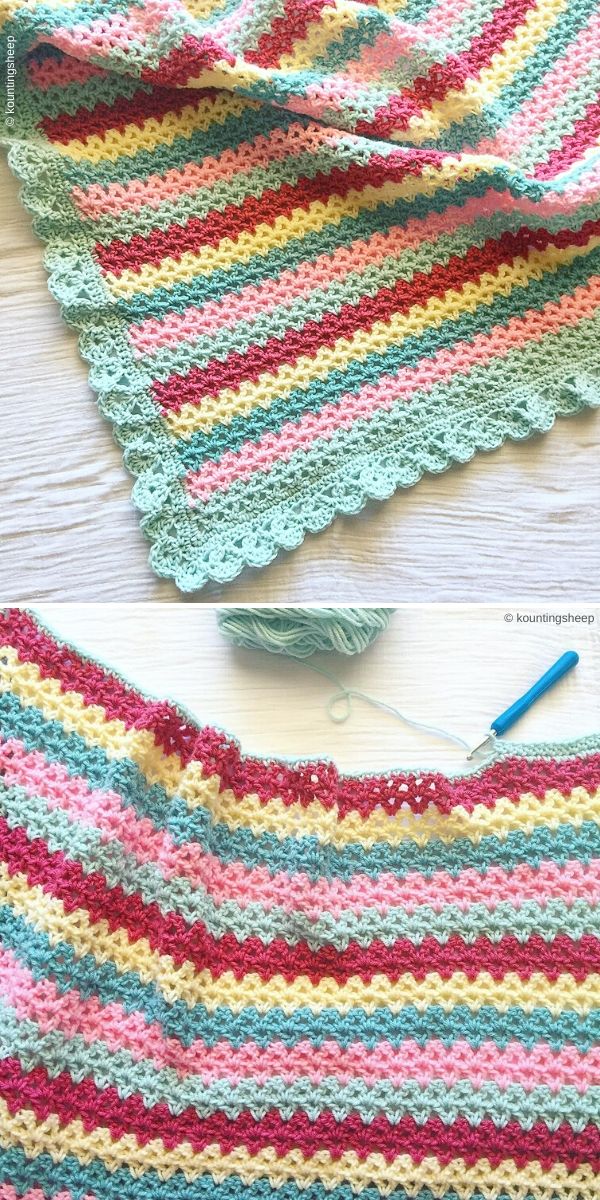 ◉
V-Stitch Baby Blanket by Kerry and the Boys
Simple color schemes are my favorites, because they are surprisingly malleable – they can look completely different depending on the order of the stripes. This v-stitch blanket by Kerry, which you can admire in the photos below, is a great example of a classic. In addition, basic border with fun bobble detail finishes it off beautifully.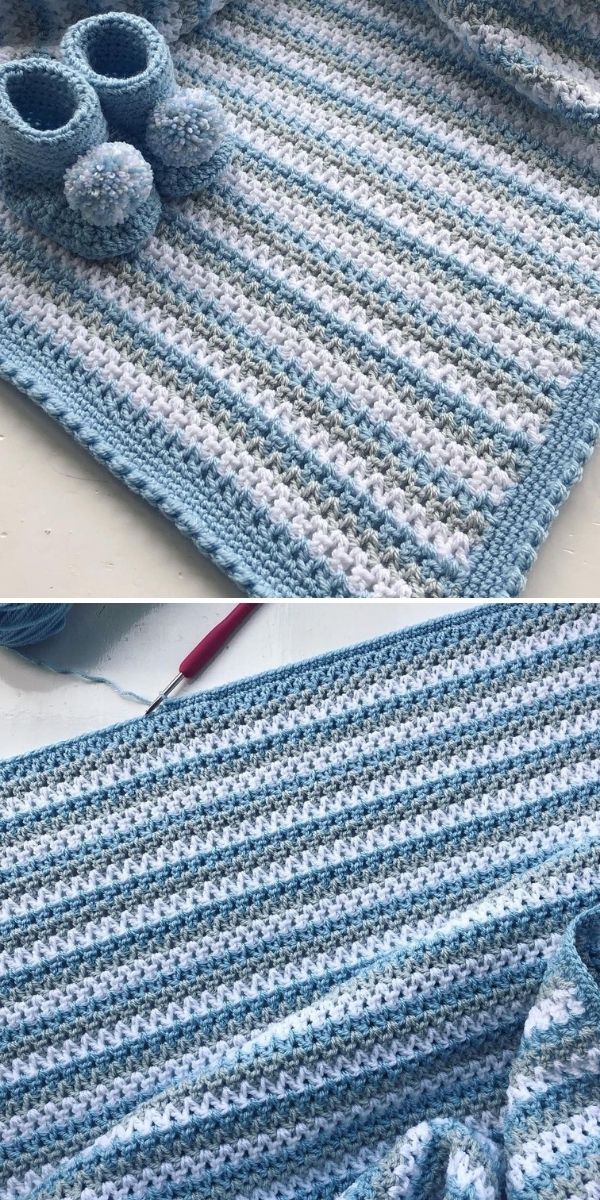 You may also like this article: The Best Flowery Crochet Stitches.
◉
V-Stitch Bedspread by queen_babs
This bedspread by queen_babs is a showstopper, isn't it? Not only does it have a fantastic color flow, but also drapes beautifully, thanks to the lacy structure. You may have noticed that v-stitches come in many variations, and this one makes the Vs a lot looser, creating big eyelets between the stitches. Take a look at the photo and see for yourself!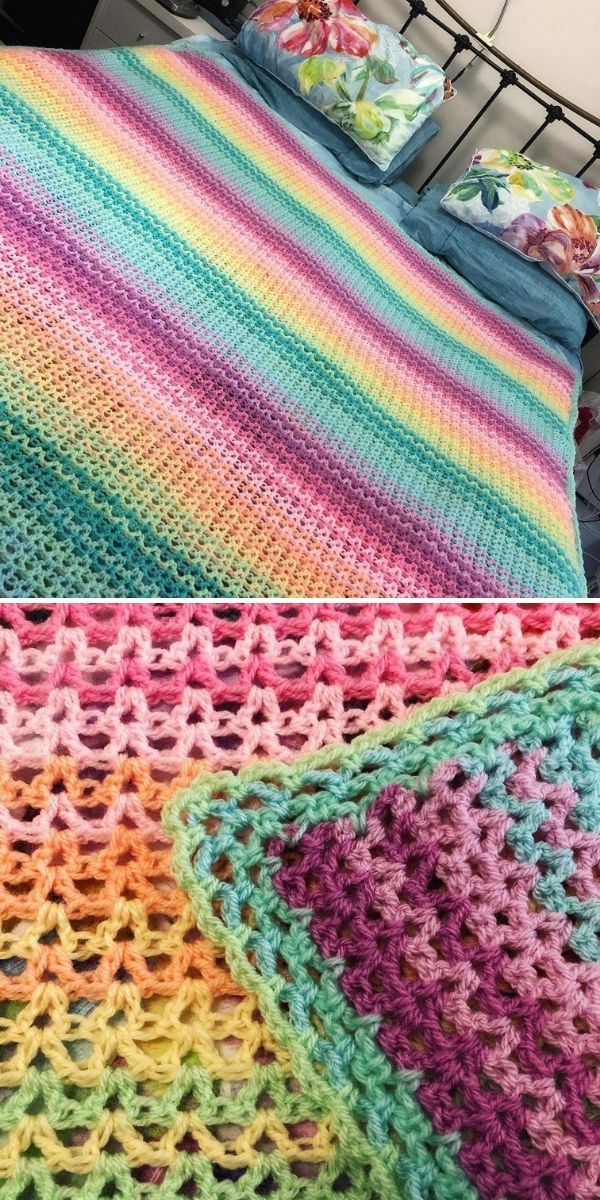 If you are looking for something different, try using V-Stitch in a square! To do this, try free crochet pattern for V-Stitch Granny Blanket by Maria's Blue Crayon.
◉
V-Stitch Blanket by The Crochet Swirl
V-stitches can be short, tall, wide, or narrow. You can choose how you want them to look like! Project, which you can see in the photos, use shorter stitches, so the overall structure looks much more dense, and the V-s are less visible. Crocheter behind The Crochet Swirl combined three colors, dividing wide stripes of grey and tan with single rows of pink.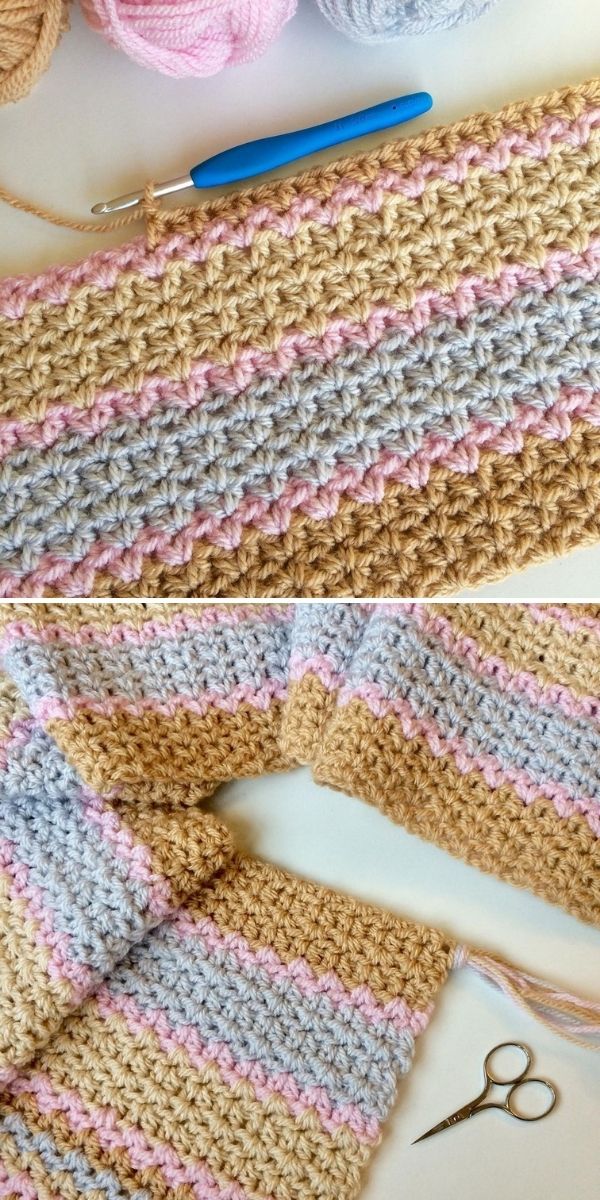 ◉
V-Stitch by Happy Moments Crochet
Wide V-stitch creates beautiful lacy structure, and Shireen Samy of Happy Moments Crochet knows it well! As you can see in the photos, she also decided to arrange the colors into wider stripes, so that three or four rows represent the same hue. In the top photo you can see that she went even further, because she introduced golden yellow between the white and pinks.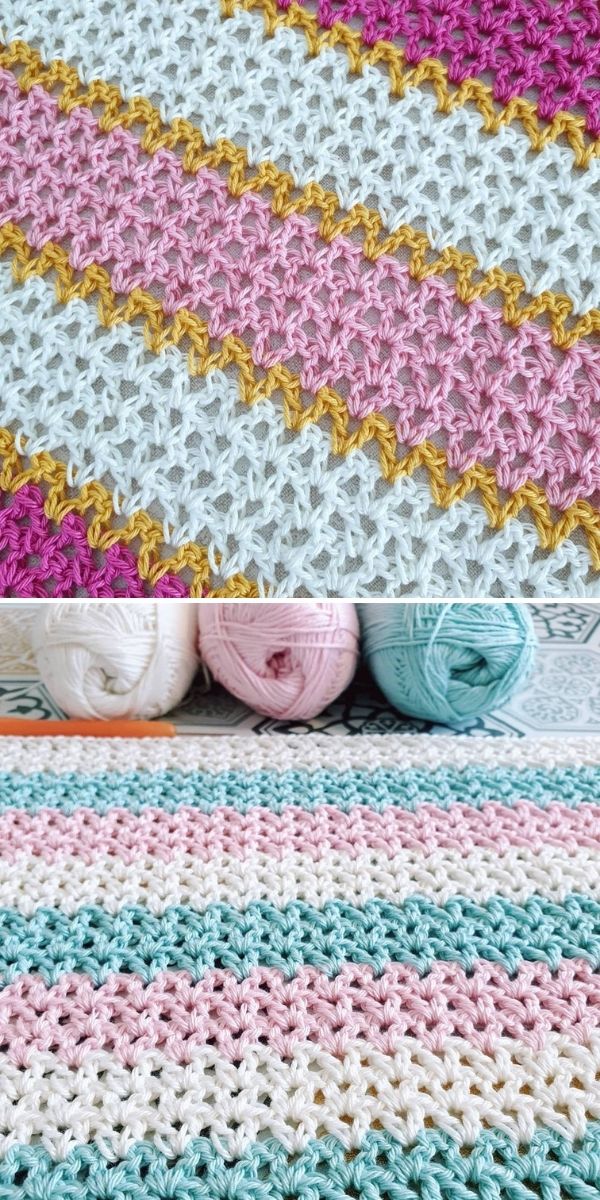 Try out V-stitch Rainbow Blanket by Sarah Zimmerman, it's available as free crochet pattern!
◉
Scrap Blanket Style
V-Stitch Blanket by Nikii of Nikiiloops
This technique is amazing for scrap-buster blankets and throws, so Nikii decided to make a few! If you have a lot of leftover yarn ends in your stash, be sure to use them all up in such colorful design, because it looks simply stunning – just look at the photos! The stripes doesn't have to be planned, just add new colors as you go!

You may also like this article: Cosy Stripe Blanket Ideas.
◉
V-Stitch Blanket by Helen Boreham of Chain Space Designs

This colorway has something really eye-catching to it! Maybe it's because dark navy pops out among juicy yellows and delicate blues? Helen did something very interesting here, because she chose two tones of each color – for example, bright yellow and pale yellow; dark green and light, juicy green. See it in the photos below and try it for yourself!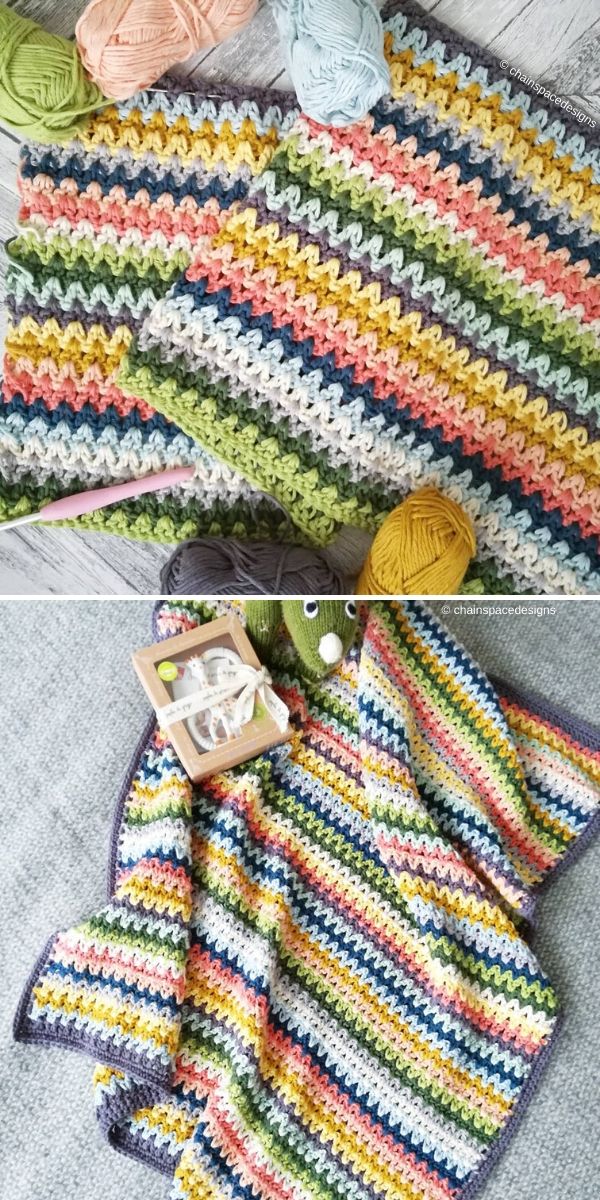 Looking for a quick project to refresh your living room? Free crochet pattern for Family Room Throw by Fiber Flux / Jennifer Dickerson will be perfect, because it's made with bulky yarn!
◉
V-Stitch Blanket by Meridalane
Dividing many different colors with one background color is a great way to make your project look nice and polished. It's a good trick to keep in mind, especially if you are not sure that the colors you have will look nice side by side. Anna of Meridalane went for silvery grey, and it looks very interesting! As you can see below, random colors make it clear, that it's a perfect project for stash busting.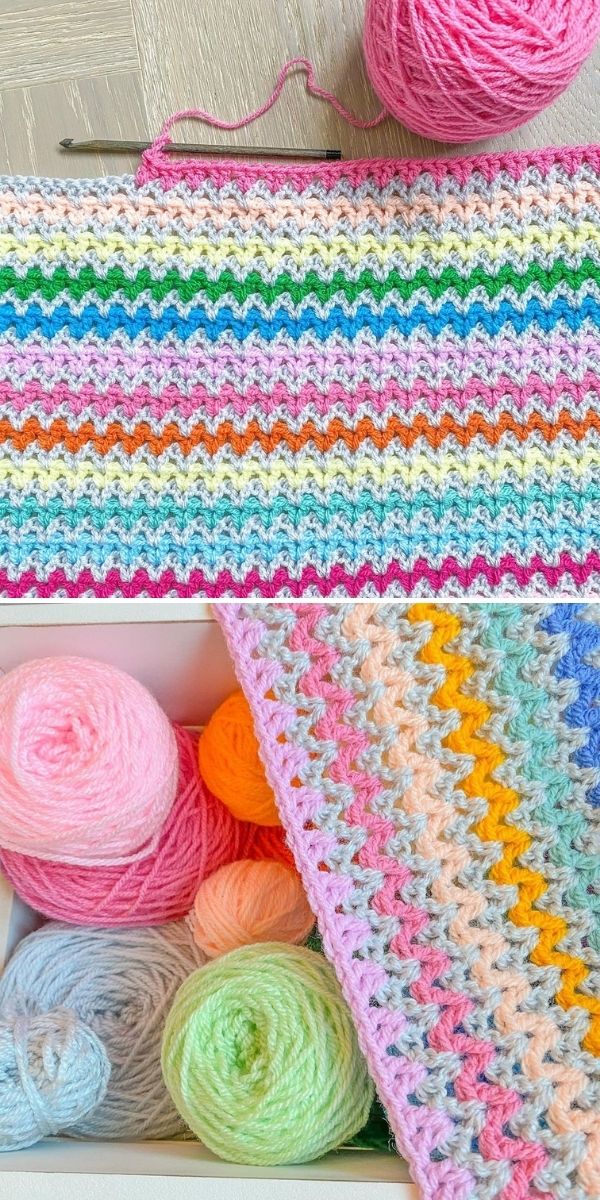 You may also like this article: Rozeta CAL Ideas.
◉
Graphic Experiments
V-Stitch Blanket by Kate of Harriet's Duck
Simple combination of contrasting colors is a great idea if you want to make modern baby blanket. This one will be great for little girls, as well as boys! Kate went for dark grey, white and a pop of color – a kind of dusty pink. Take a close look at the bottom photo and see, how she arranged the colors to make an eye-catching graphic stripy design.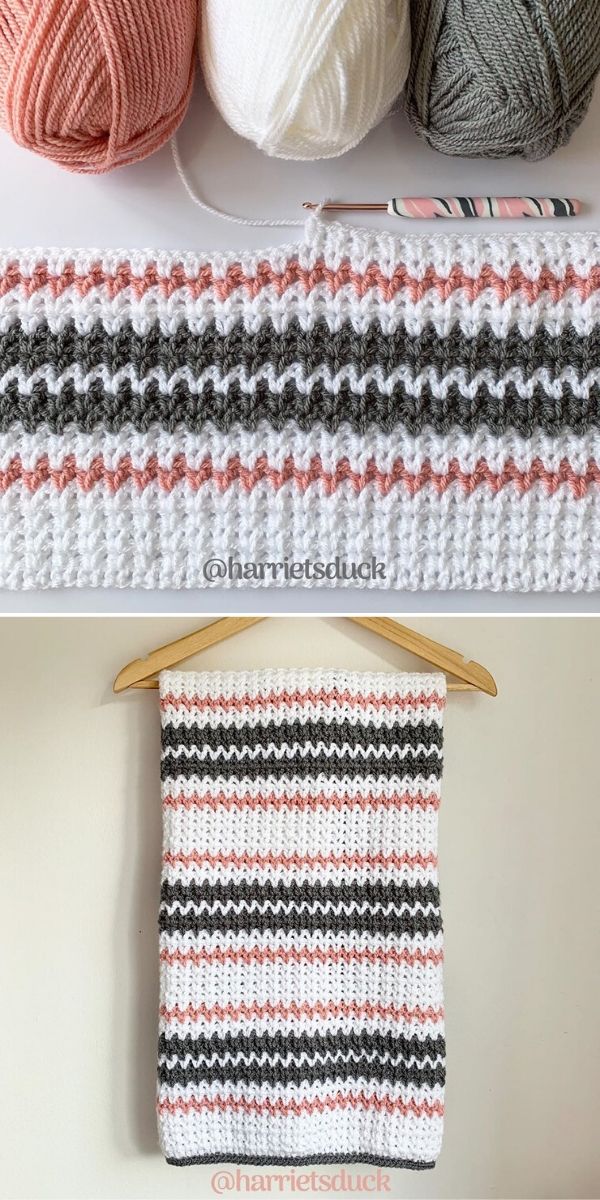 Use free crochet pattern for Modern Double Crochet V-Stitch Blanket by Daisy Farm Crafts to make very similar blanket.
◉
Color Block Shawl by Hellomissmaker
This beautiful crochet shawl uses V-Stitch in an unexpected manner! It looks so modern and fresh, that it reminds me of upcoming spring and summer. Jess treated her rows as panels and interlocked them at 90-degree angle, which is a mind-blowing simple idea. It would look lovely with summer dresses!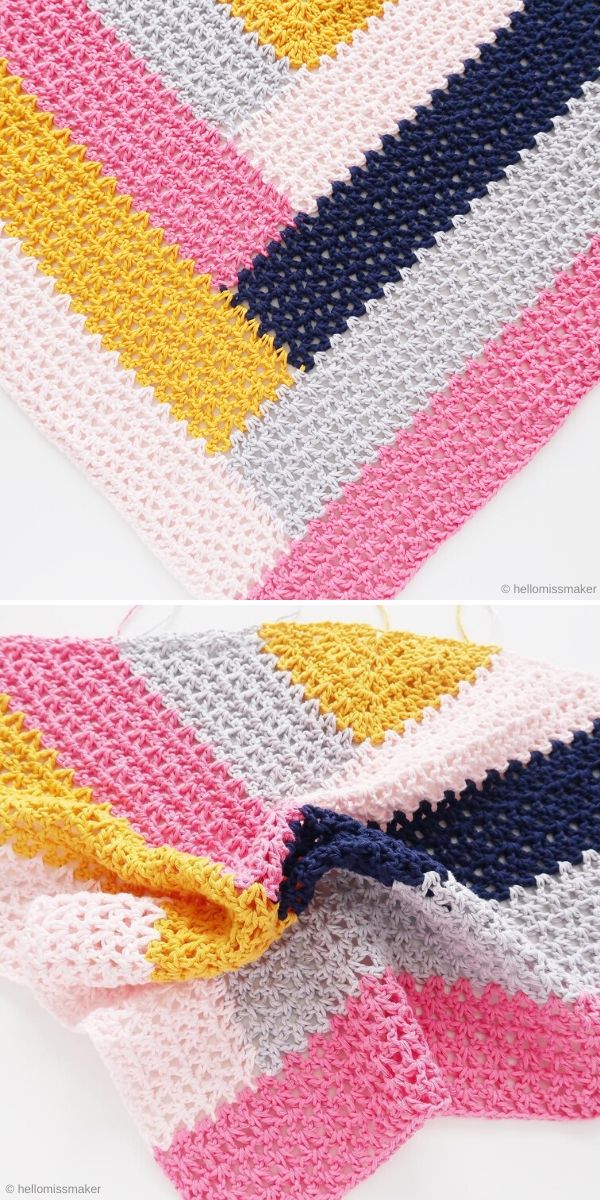 You can purchase this pattern here – Color Block Shawl by A la Sascha.
◉
That's all for today, but I'll be back with much more inspiring projects and free patterns. Like, share and subscribe if you like what you see. Stay tuned!
↔
You may also like: Catherine Wheel Stitch Ideas