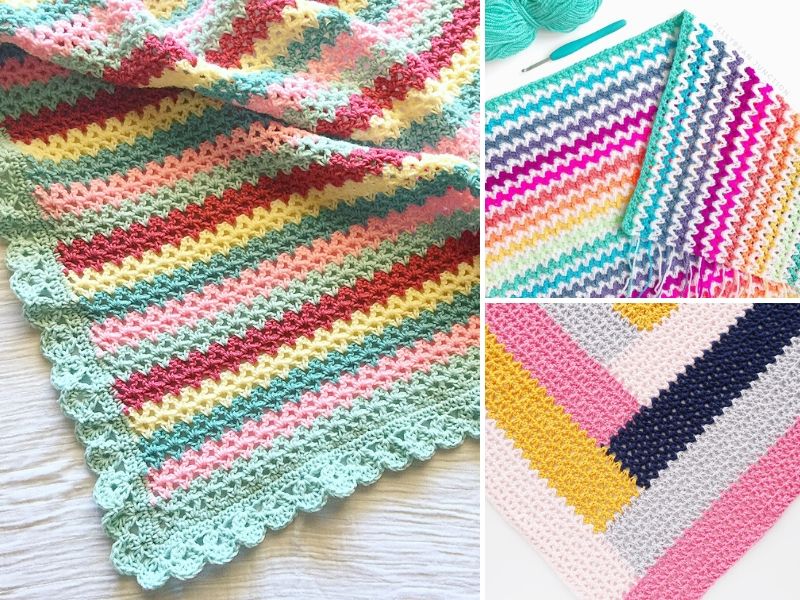 Hello 🙂 It's time to go back to basics. Now that many of us are stuck in our homes due to the coronavirus prevention, the best we can do with this much free time is to crochet! Well, today I have a ton of inspiration both for crochet beginners and seasoned creators, so dive in!
V-Stitch is one of the easiest and coolest techniques out there, because it really requires only basic knowledge of crocheting methods. It works up fast, so it's very satisfying – perfect for quick blankets or accessories.
Have you tried it yet? If not, let's see how to do it!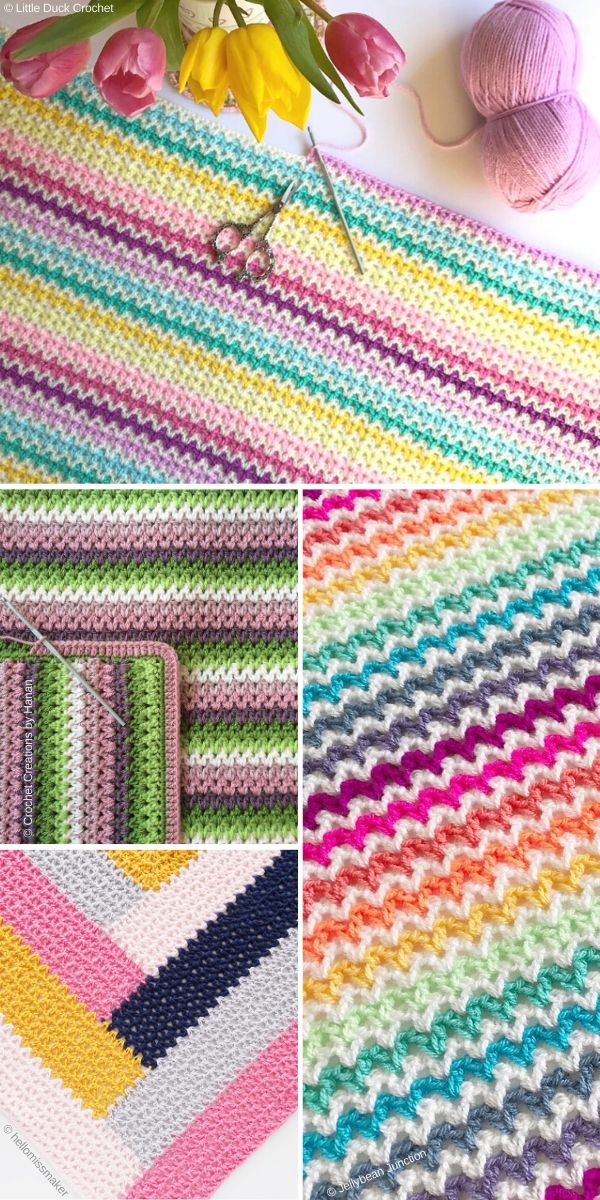 Fun and versatile
V-Stitch can be denser or looser depending on the tension you crochet with, but overall this technique is more on the lacy side. It's great for delicate blankets or summer accessories, such as tunics or shawls.
This stitch is usually done with double crochet stitches, but you can find variations that use single crochet, treble or clusters. You can work it in rows or in a square.
Materials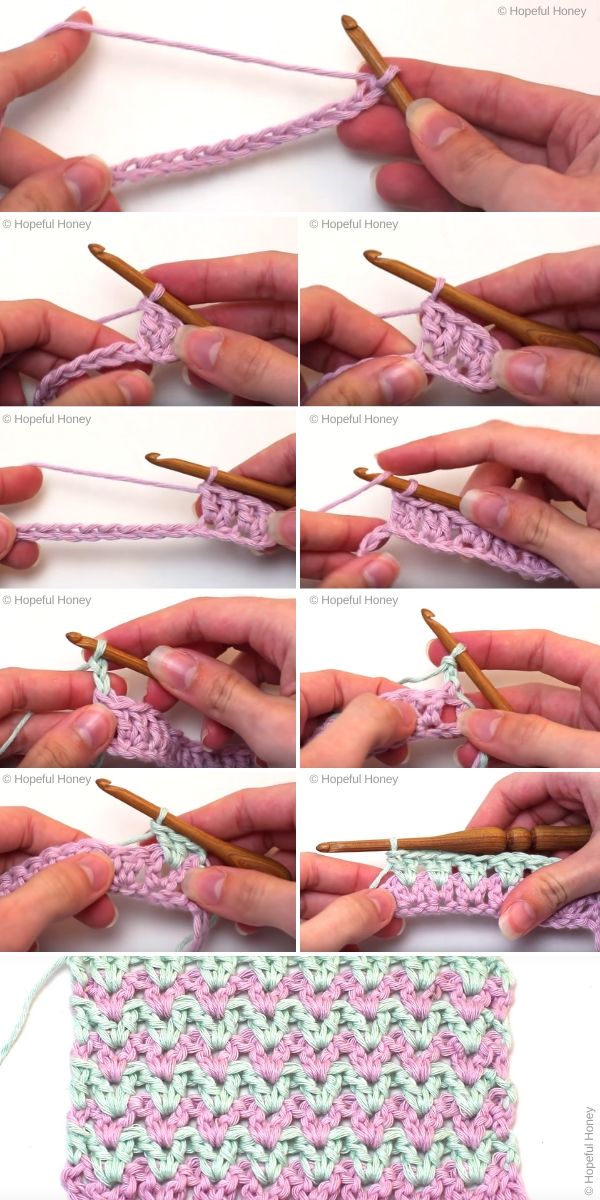 V-Stitch starts with
chain stitch
of multiple of 2 + 2, which counts as a
turning chain
for
double crochet
. The main idea behind this technique is based on making two
double crochets
in one stitch, and skipping one stitch to give them space for creating "v" shape. Next rows are worked in the "dip" of the V, which create lovely zig-zag pattern.
It's very easy, so be sure to check out Olivia's tutorial for full info! It can be found
here
.
talking about stitches…
Our growing website and library of free crochet patterns has some projects that might interest you, too. For example, check out my free crochet pattern for Puppy Baby Lovey!
→ Yes! Take me to this free pattern! ←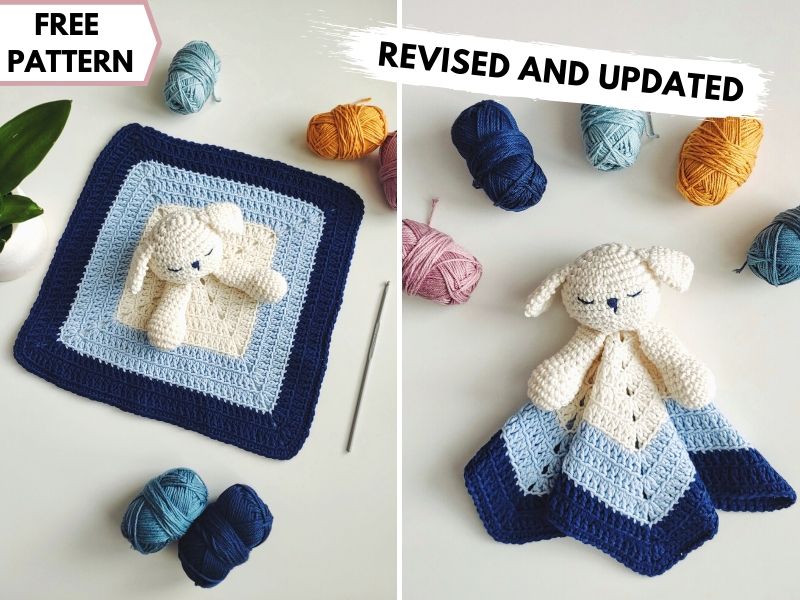 or…
Learn more about crochet blocking!
→ Yes! Take me to this article! ←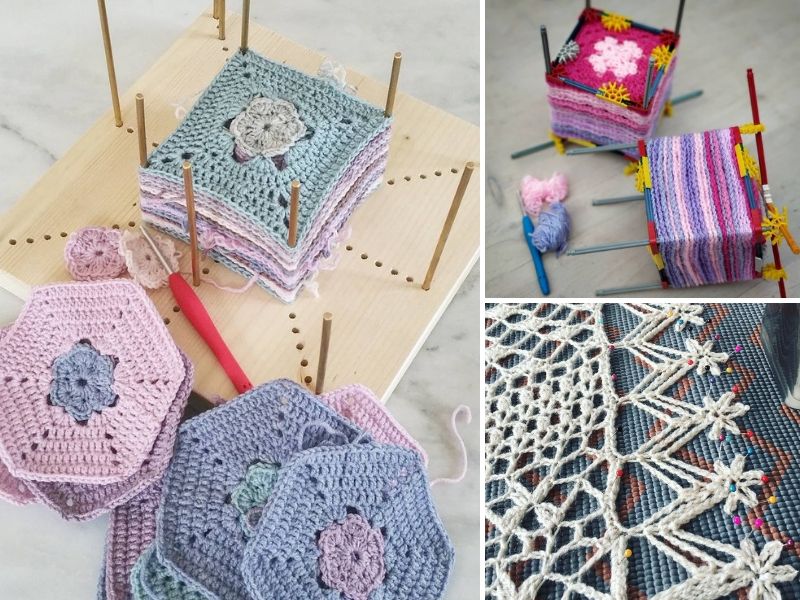 crochet roundup!
There are tons of stunning V-Stitch projects online, and, as per usual, I chose for you the best of the best (in my humble opinion, of course!) Color combinations are amazing, as well as fantastic craftsmanship behind this simple technique.
Read carefully for free crochet patterns and tutorials.
◉
V-Stitch Blanket by Crochet Creations by Hanan

Fluffy yarn makes this blanket look soft and comfy, so much that I honestly was wondering if V-stitch is not made in clusters here. Fantastic palette of violets and greens works perfectly fine, despite unexpected set of colors.
Use free crochet pattern for Crochet Modern V-Stitch Blanket in Red, White and Blue by Daisy Farm Crafts to make similar blanket. It uses simple double crochet border as well.
◉
V-Stitch Blanket by Nikii of Nikiiloops

This technique is amazing for scrap-buster blankets and throws. If you have a lot of leftover yarn ends in your stash, be sure to use them all up in such colorful design. The stripes doesn't have to be planned, just add new colors as you go!
◉
V-Stitch Blanket by Little Duck Crochet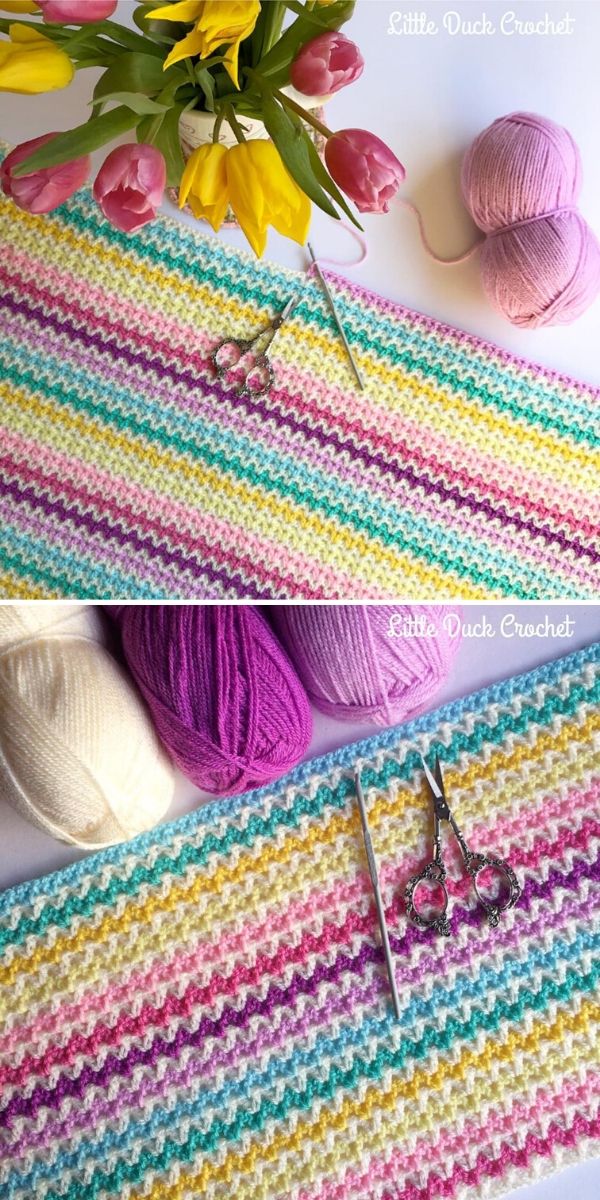 When working with rainbow colors in stripes, it's good to introduce white every other row. It gives the design lightness and character! This beautiful version will look amazing in a nursery or kids' room.
If you don't know how to start, go for free crochet pattern, such as V Stitch Blanket by Hannah Cross.
◉
Color Block Shawl by Hellomissmaker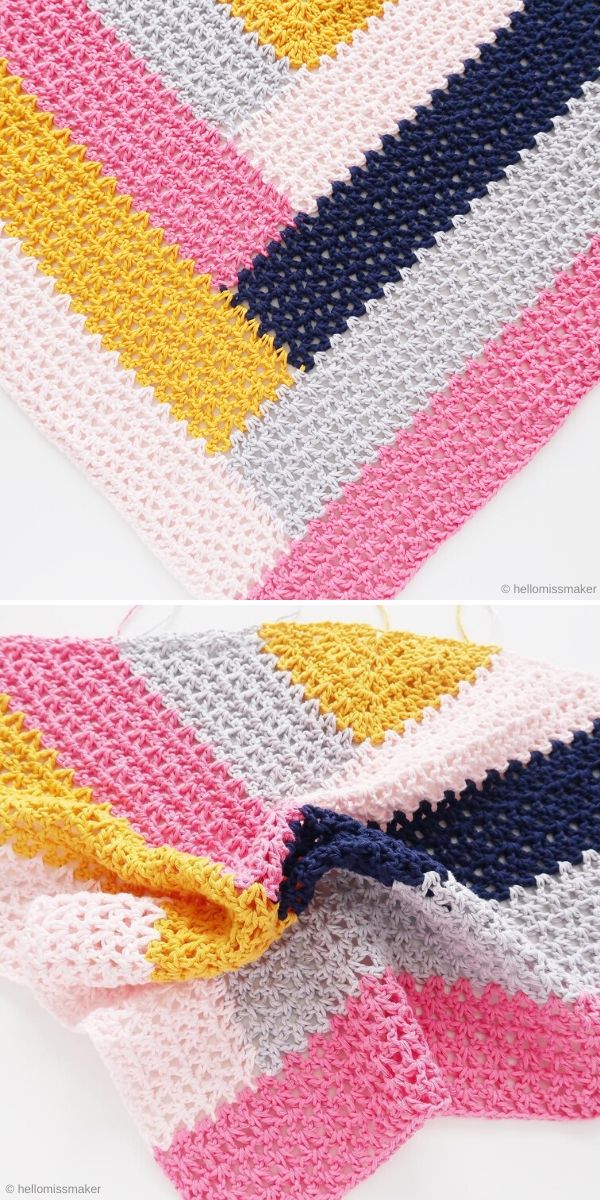 This beautiful crochet shawl uses V-Stitch in an unexpected manner! It looks so modern and fresh, that it reminds me of upcoming spring and summer. It would look lovely with summer dresses!
You can purchase this pattern here – Color Block Shawl by A la Sascha.
◉
V-Stitch Blankets by Kerry of Kerryandtheboys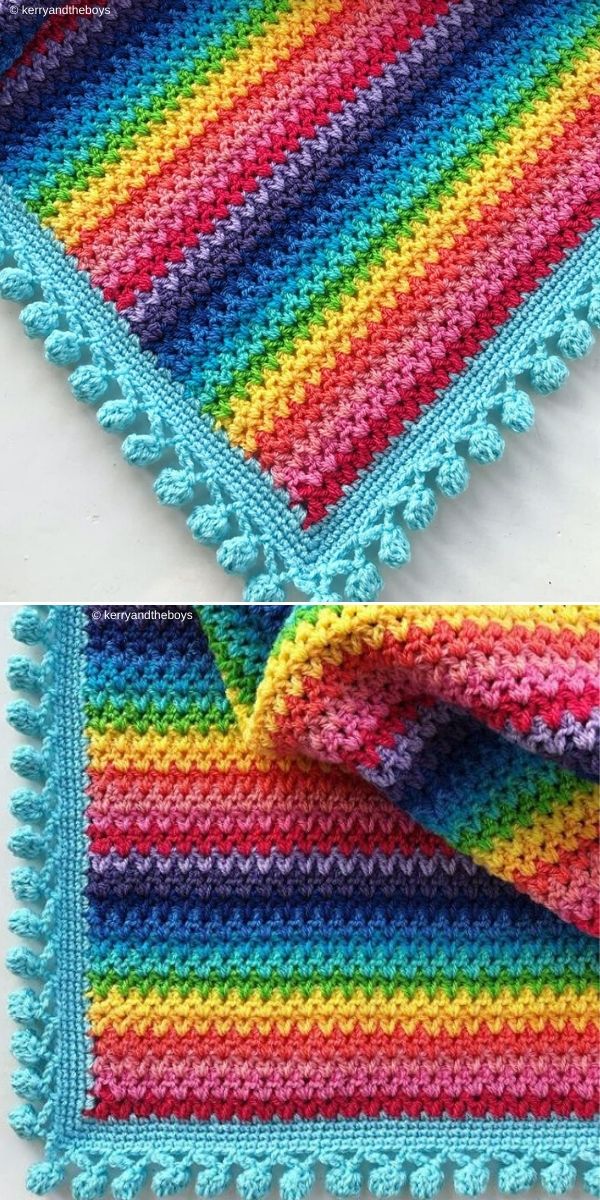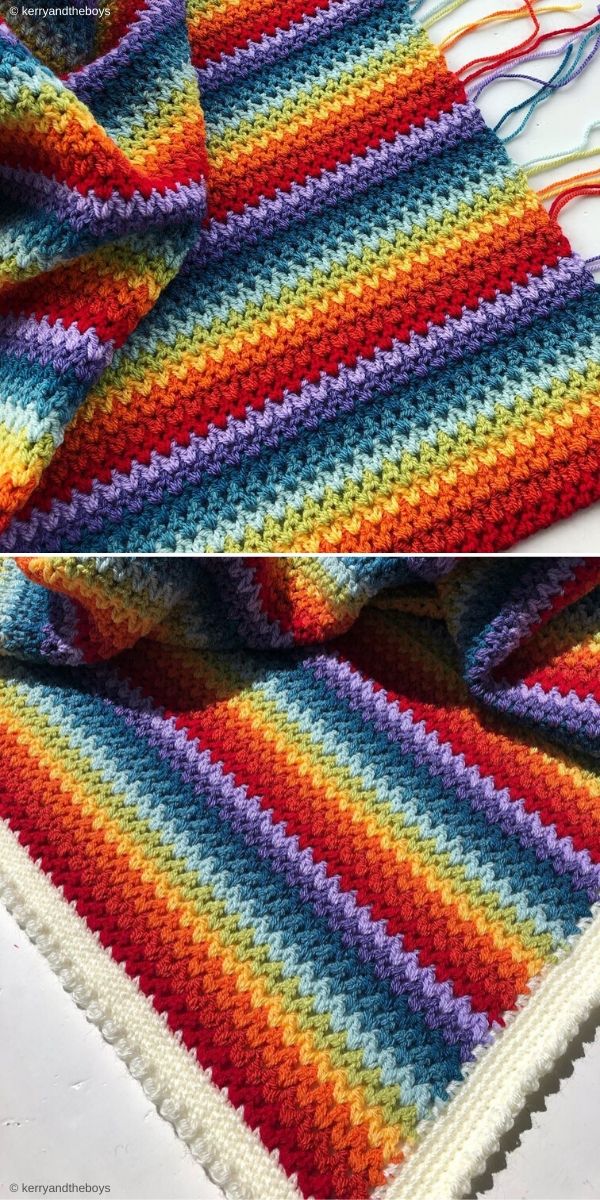 We all know that Kerry is a master of rainbow designs, and these lovely blankets prove this one more time! Whether you choose plain white border or go for fun pom-poms, don't forget about proper finishing touches on these beauties.
To make similar blanket, go for yet another free crochet pattern – V Stitch by Sucrette.
◉
V-Stitch Blanket by Kate of Harriet's Duck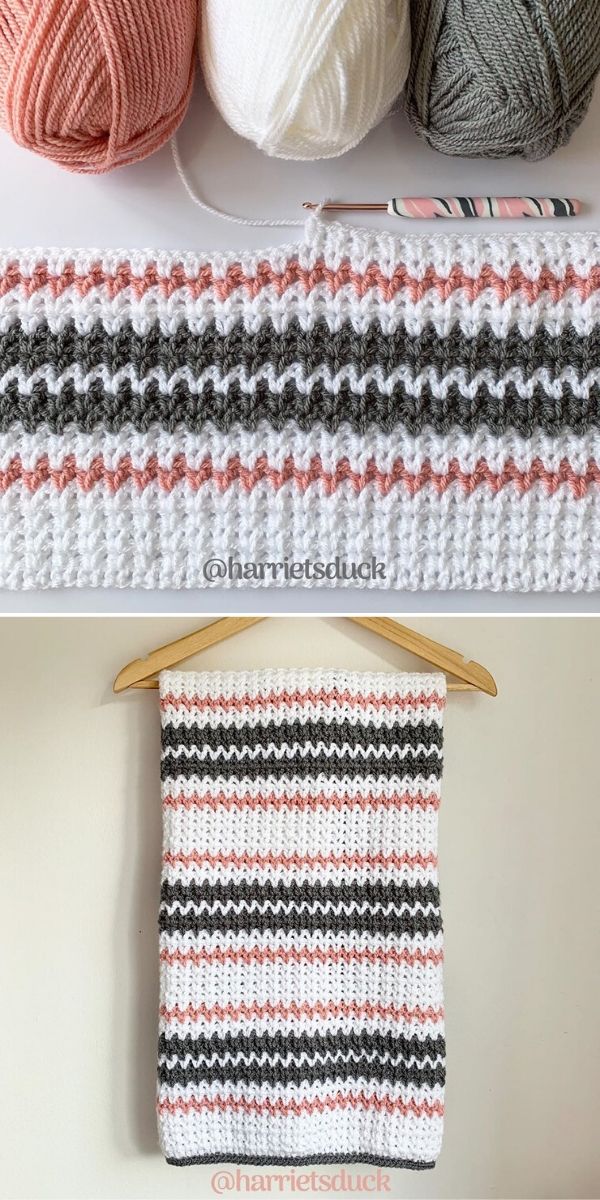 Simple combination of contrasting colors is a great idea if you want to make modern baby blanket. This one will be great for little girls, as well as boys!
Use free crochet pattern for Modern Double Crochet V-Stitch Blanket by Daisy Farm Crafts to make very similar blanket.
◉
V-Stitch Blanket by Kate Rowell of Jellybean_Junction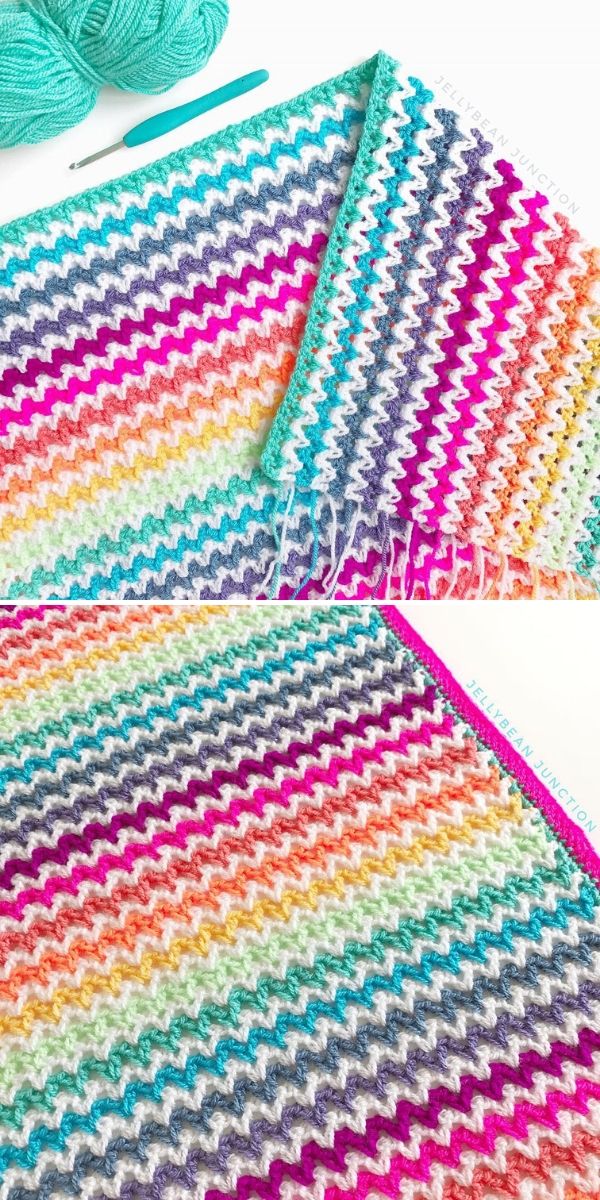 Juicy rainbow of colorful yarn is a true pleasure for the eye. V-Stitch is great for such designs, because it works up really fast and is fun to make!
If you are looking for something different, try using V-Stitch in a square! To do this, try free crochet pattern for V-Stitch Granny Blanket by Maria's Blue Crayon.
◉
V-Stitch Blanket by Jenny Galusha-Luna of Kountingsheep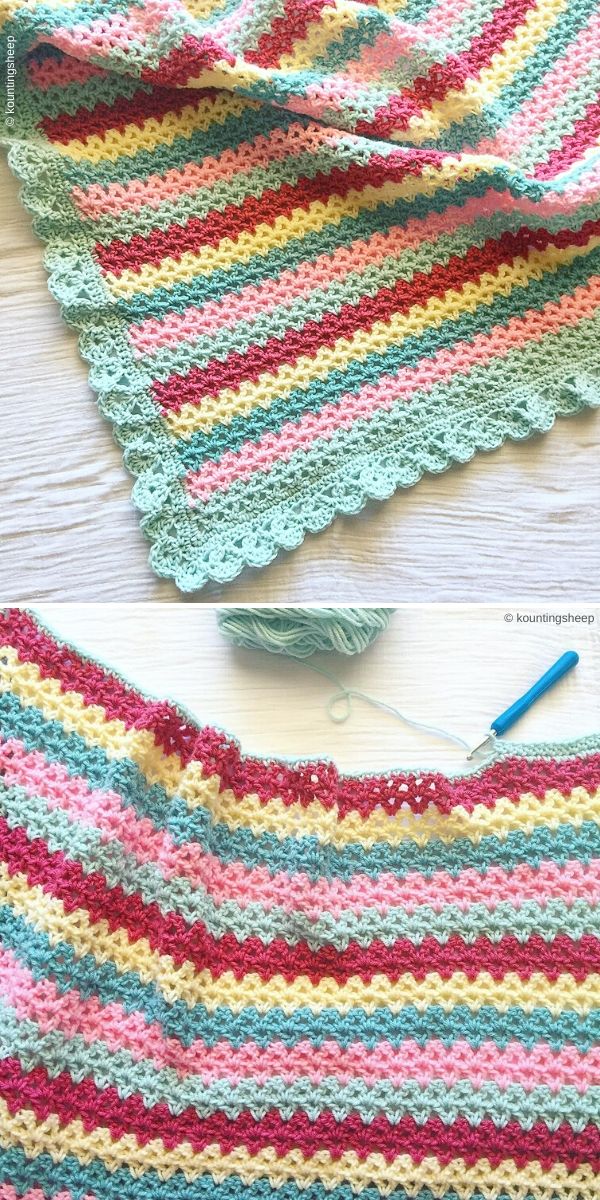 Wanna go for vintage vibes? Choose delicate color palette and finish your blanket with romantic scalloped edging. Your baby girl will love sleeping underneath!
Try out V-stitch Rainbow Blanket by Sarah Zimmerman, it's available as free crochet pattern!
◉
V-Stitch Blanket by Helen Boreham of Chain Space Designs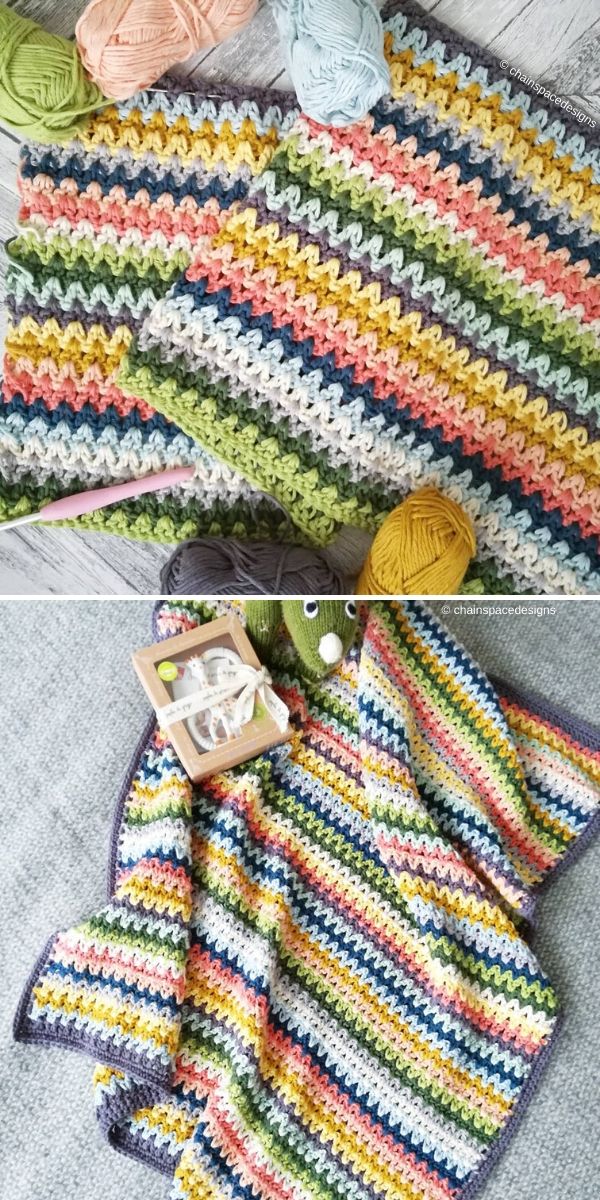 This colorway has something really eye-catching to it! Maybe it's because dark navy pops out among juicy yellows and delicate blues? Try it for yourself.
Looking for a quick project to refresh your living room? Free crochet pattern for Family Room Throw by Fiber Flux / Jennifer Dickerson will be perfect, because it's made with bulky yarn!
◉
That's all for today, but I'll be back with much more inspiring projects and free patterns. Like, share and subscribe if you like what you see. Stay tuned!
↔
You may also like: Catherine Wheel Stitch Ideas