It's common that some stitches get many different names and then are widely mistaken with one another. Some of them does not have names at all, or they are variations on a theme, that you can find in many other works. Star stitch I've seen, but stumbled upon it again recently, while researching stunning Jasmine Stitch.
Stitch I covered in the last article indeed looks like a star, hence the simple and popular name, but Jasmine sounds much better, right? The REAL Star Stitch, though, is the one I want to present you today. Much more delicate and modest, but not at all less interesting!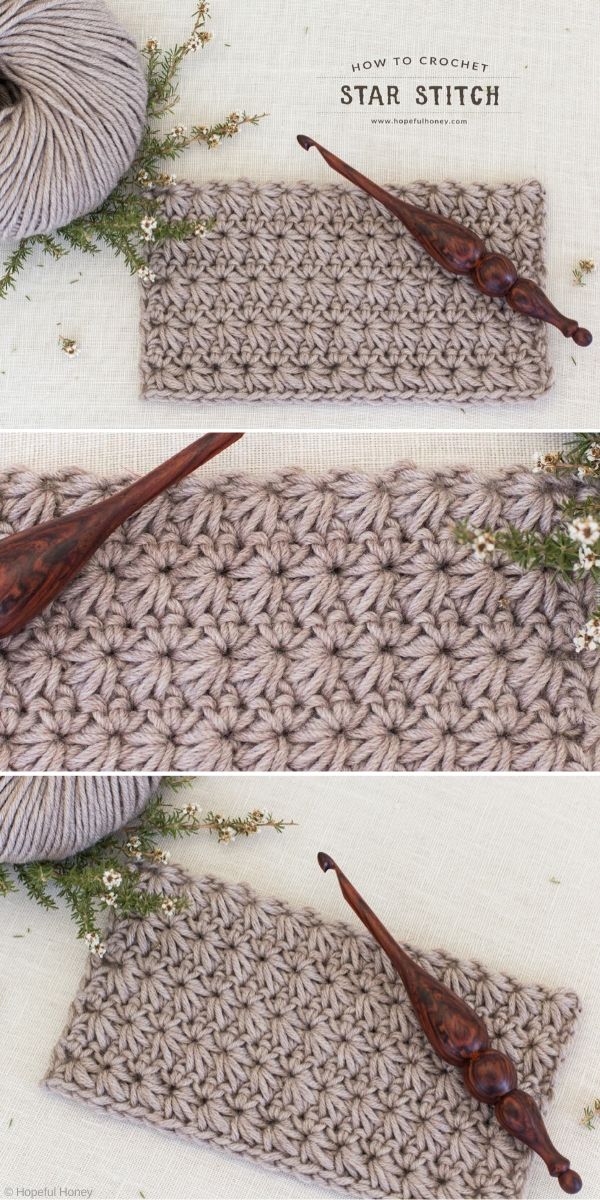 Simple and modern 
This adorable stitch looks the same on both sides, so it's great for blankets or placemats. The structure is dense, but not overly thick. It works perfectly in bags, clutches and other storage of this kind. When made with soft yarn, it's a lovely addition to basic stitches. Try it in winter accessories, such as beanies or scarves!
Materials:
Olivia chose Yarn MillaMia Naturally Soft Aran yarn, which is 100% merino wool, as well as
crochet hook of 5.0mm (H/8). Splendid!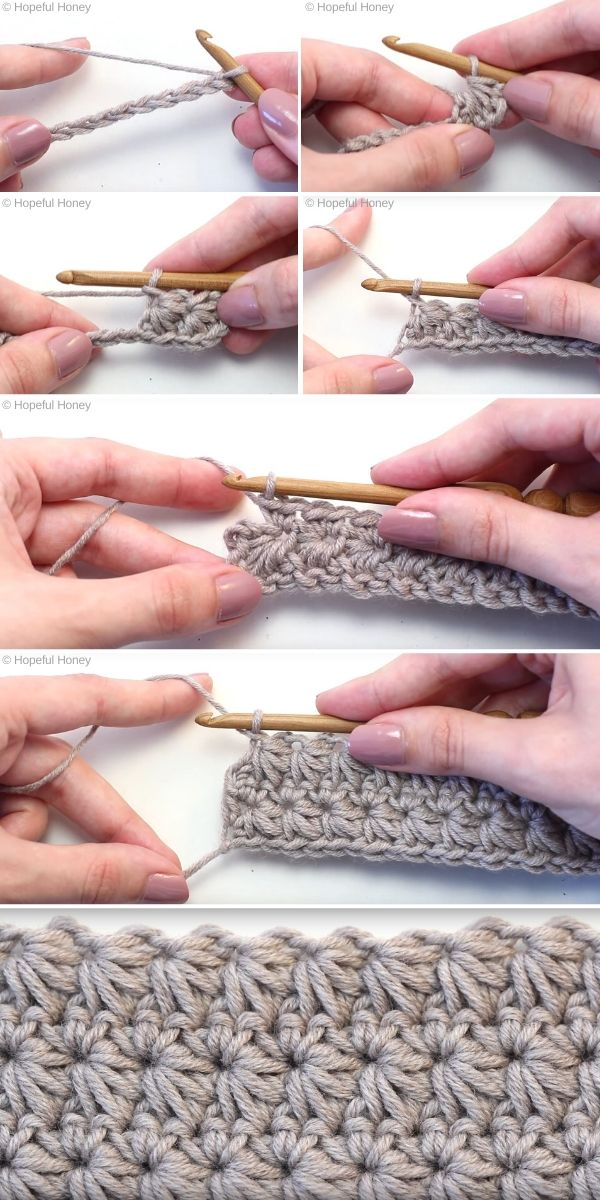 To make star stitch, you need to begin with starting chain in multiples of 2 + 1. Despite some combinations, this stitch uses only basic techniques, such as chain stitch, single crochet and half double crochet. Star motif is created by pulling the yarn through multiple stitches one after another, and then joining them together.
To see more and learn this fantastic technique, check out full video tutorial here, or get a written pattern here.
talking about stitches…
Our growing website and library of free crochet patterns has some projects that might interest you, too. If you are looking for more inspiration, check out my article about Hugs and Kisses Baby Blanket Ideas!
→ Yes! Take me to this article! ←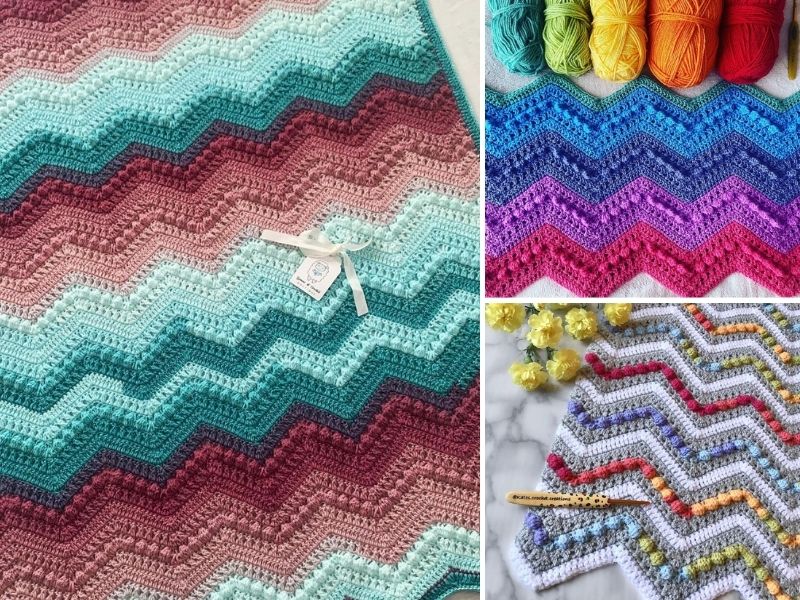 or…
Try my beginner-friendly Lake Sunset Shawl to make a stunning accessory!
→ Yes! Take me to this free pattern! ←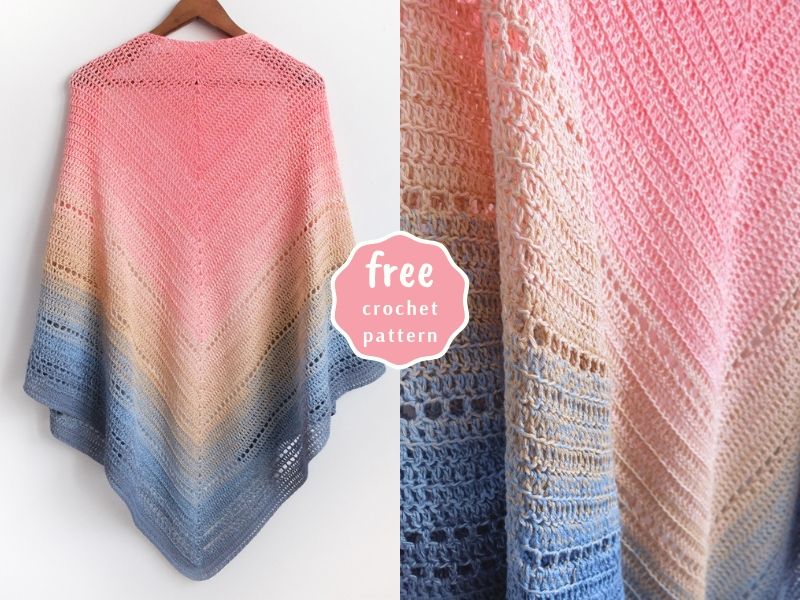 crochet roundup!
Star stitch is loved by crocheters and I've found a lot of inspiring creations that feature it. Check out these fantastic designs and read carefully, because I've added a couple of free patterns for you to use!
◉
Snuggly Star Stitch Ideas
Little Stars Blanket by Little Duck Crochet
Crocheter behind Little Duck Crochet never disappoints, so here is one of her newest creations! Not only does this project have a lovely color palette, but also uses star stitch in the loveliest way. Structure of the star stitch is even more visible when it is paired with simple basic stitches – just take a look at the photos!

You can purchase this pattern in author's Etsy shop here.
Maybe you would like to learn How to Read Crochet Diagrams?
◉
Star Stitch Baby Blanket by Brianna Iaropoli
Why not go for bulky yarn with this technique? If, like Brianna, you are a fan of squishy and fast to make projects, this one will be right up your alley. The structure of star stitch is much more prominent here, but it's a great alternative to basic techniques, which can otherwise be quite boring. Take a peek below and see for yourself.

Find this free crochet pattern on lifeandyarn.com, or read more about it on ravelry.com.
◉
Star Stitch Blanket by Maria's Blue Crayon
Mixing star stitch with other techniques is a great idea, and this blanket in the pictures proves it right! Maria mixed rows of half double crochet with star stitches, added a lovely edging and pom-poms in the corners. The result is simple and sweet! As you can see, using different shades of the same color (blue!) works perfectly with white.

Find this free crochet pattern on Maria's website mariasbluecrayon.com, or purchase PDF from ravelry.com.
Explore ideas for Crochet in Details – Easy Way to Level Up Your Home Decor!
◉
Golden Star Stitch by Salomé Pires and Slip Knot Goods
Golden hues are perfect for this stitch, because it shines brightly! As you can see in the top photo, sometimes it's enough to incorporate it in just one row somewhere between other stitches. Salome decided to use it in just a few places, and it looks stunning!

◉
Multicolored Star Stitch by SnoesjeDesigns and DaintyCraftsByMaria
Why work with only one color? Try finding your favorite combinations by introducing new hue in every other row. Maybe glittery gold will be your choice? By looking at the top photo I can only say that it looks amazing! Don't be afraid to use bulkier yarns with it, too. Bottom photo, which depicts project by Maria, shows how nice and prominent the stars are.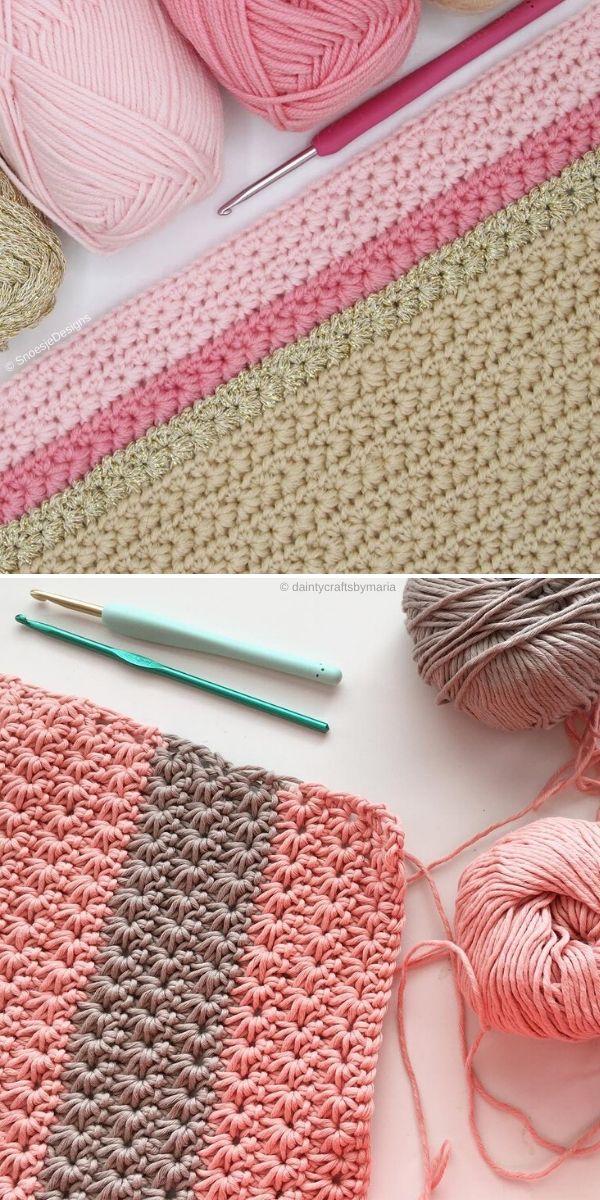 Not enough inspiration for you? Explore Cosy Stripe Blanket Ideas!
◉
Star Stitch Baby Blanket by Kirsten Ballering
Cosy and elegant blanket like this can be a beautiful gift for someone you love, however color combination is totally up to you! First version of this stunning blanket by Kirsten features earthy tones – browns, reds and rusty yellows. If you take a closer look at the photos, you will also see a washed-out look of this yarn, so it must be Scheepjes Stonewashed!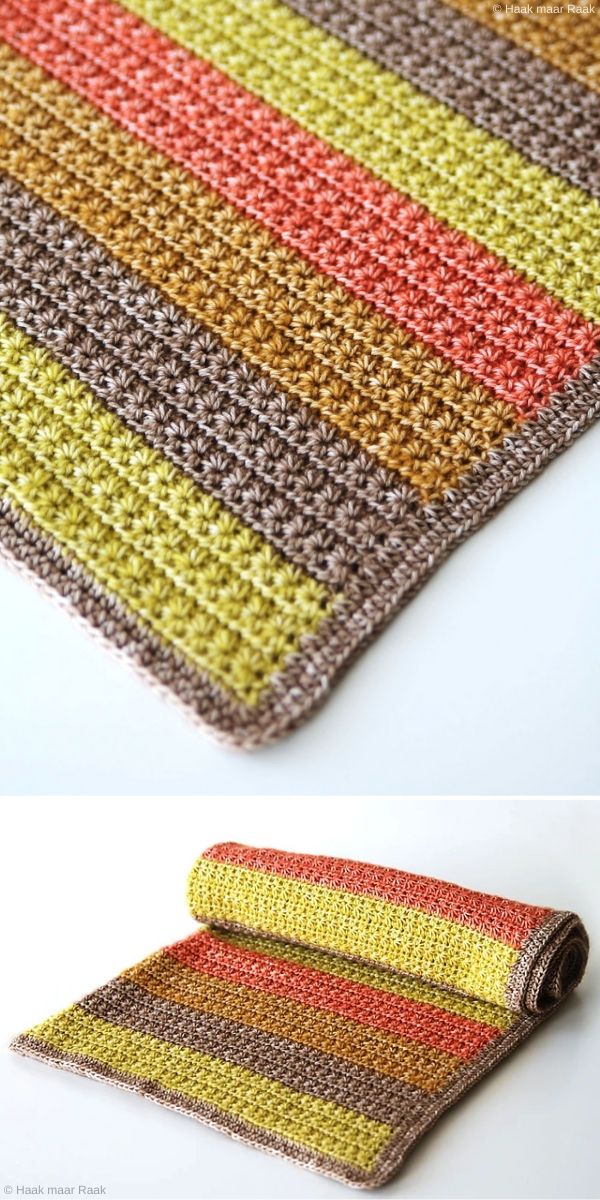 Use free tutorials I've linked above or simply purchase this pattern on ravelry.com.
◉
Rainbow Colored Star Stitch Ideas
Rainbow Star Stitch Baby Blanket by Kirsten Ballering – 2020 Version
This rainbow-colored updated version of Kirsten's classic blanket has won me over, because it's fun, interesting and cute! Colors are mixed and matched a bit, as if it wasn't a true rainbow, but the overall look speaks for itself 😉 Look closely at the photos and notice how nicely this plain white border looks with the colorful design – isn't it special?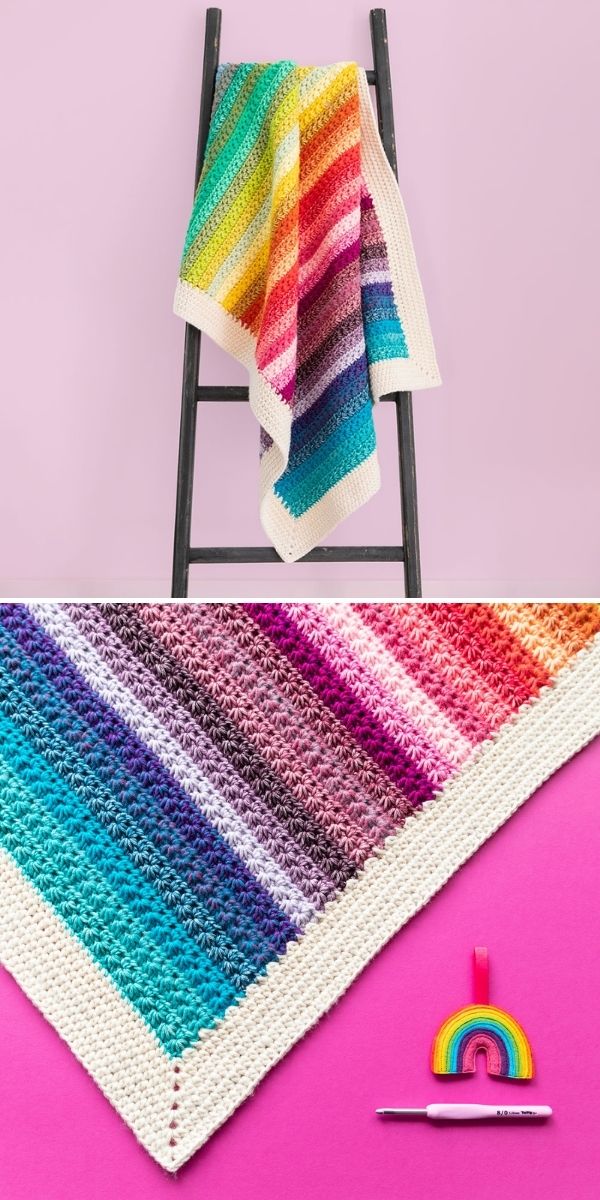 Use free tutorials I've linked above or simply purchase this pattern on ravelry.com.
For fans of colorful designs… African Flowers Crochet Ideas!
◉
Star Stitch Baby Blanket Version by twintigminuten
Crocheter behind twintigminuten decided to go for long vertical stripes, and they look amazing! Remember, that such simple patterns as this one leave much room for experiments and adjustments, so don't be afraid to alter them if you want.

This project is based on Kirsten Ballering's Star Stitch Baby Blanket, which I wrote about above, but to see more about this particular version, click the link under the photo.
◉
Rainbow Star Stitch by LittleCosyThings and YukiYarn Designs
Little colorful designs are perfect for re-purposing leftover yarn ends. If you have some, that you just don't know what to do with, go for star stitch rows! With this technique, you can easily create simple home accessories, such as potholders.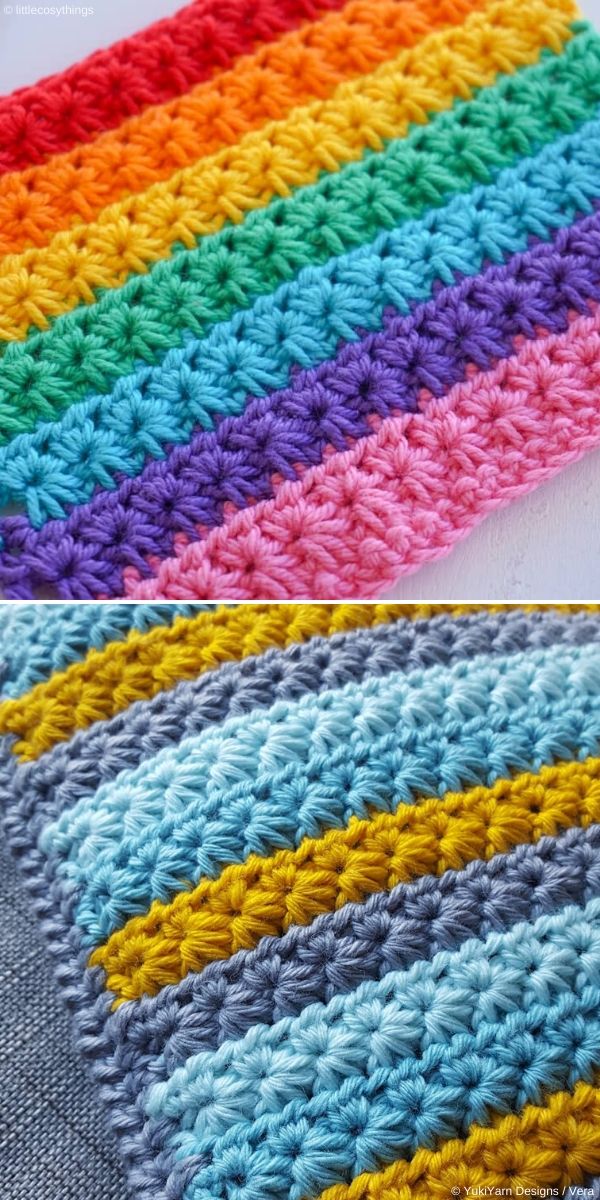 Use one of these free patterns to start – Star Stitch Square by Heather J Anderson, or Star Stitch Wash Cloth by Bethany Simpson.
Check out The Best Flowery Crochet Stitches, if you like learning new techniques!
◉
Delicate and Natural
Natural Star Stitch by Handy Missy and Littleknits
Natural yarns, such as jute, twine or raffia have amazing look, but they are also very minimalist and eco-friendly! A bag or a basket made with star stitch will be a stunning addition to your home or studio.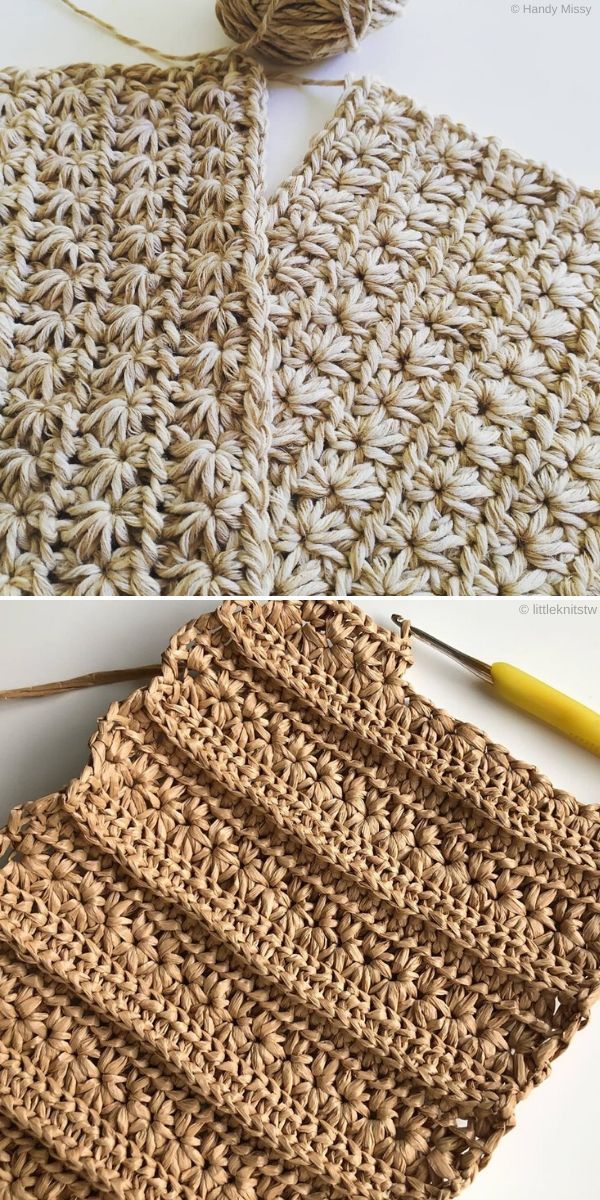 ◉
Soft Star Stitch by The Neon Loop
This squishy yarn looks so soft and comfy, I want to snuggle under such blanket immediately! Soft yarns like this one will be a great choice for chunky throws or winter accessories. See below how divinely squishy it looks in the project of The Neon Loop.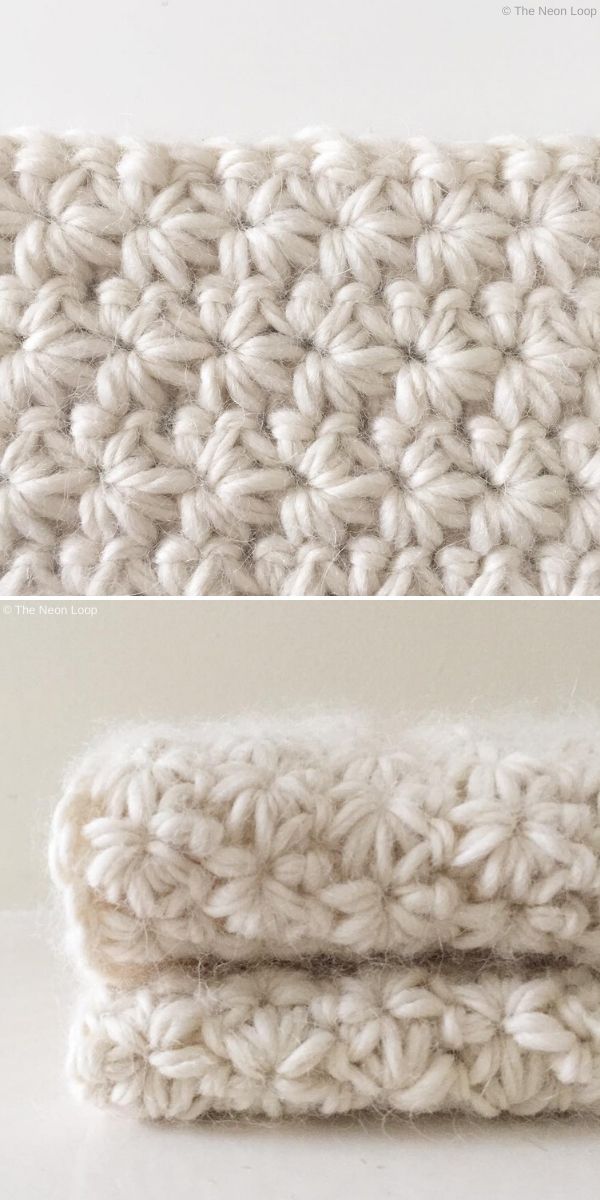 If you are interested in making winter garments with this stitch, try this fantastic free pattern for Snow Drops Slouch Hat by Megan Meyer.
◉
Crochet Star Stitch in Accessories
Star Stitch Accessories Set by Julia of jucapalm
Wondering how to get away with weaving in ends? The answer is obvious and always the same – multicolored yarn! Julia knew it well and chose the yummiest strawberry and cream colorway to make her winter staples. You can see delicate color flow of this shiny yarn in the photos below!

You can purchase this pattern in author's Etsy shop here.
If you want something more classic, go for Gingham Crochet!
◉
Star Stitch Clutch by Little Duck Crochet
This beautiful clutch is made with rope, which makes it sturdy, but still very feminine. Little Duck Crochet is an author of many fantastic projects, and this one is very much on the practical side. Crocheting with rope is fun and quick, but it requires a little bit of strength and practice! It's a perfect project for impatient crocheters, though – and just take a look at this color!

If you're interested in making star stitch accessories, try this amazing free pattern by Stephanie Jessica Lau – Star Stitch Pouches.
◉
Star Stitch Speckled Pouch by Rachelle of Cosier & Cosier
Speckled yarn looks very cute in little accessories, and turns this stitch into something even more stunning. Even and rhythmic pace of this stitch makes it look sweet and elegant. Cosier & Cosier came up with the loveliest combination of cute looks and practicality.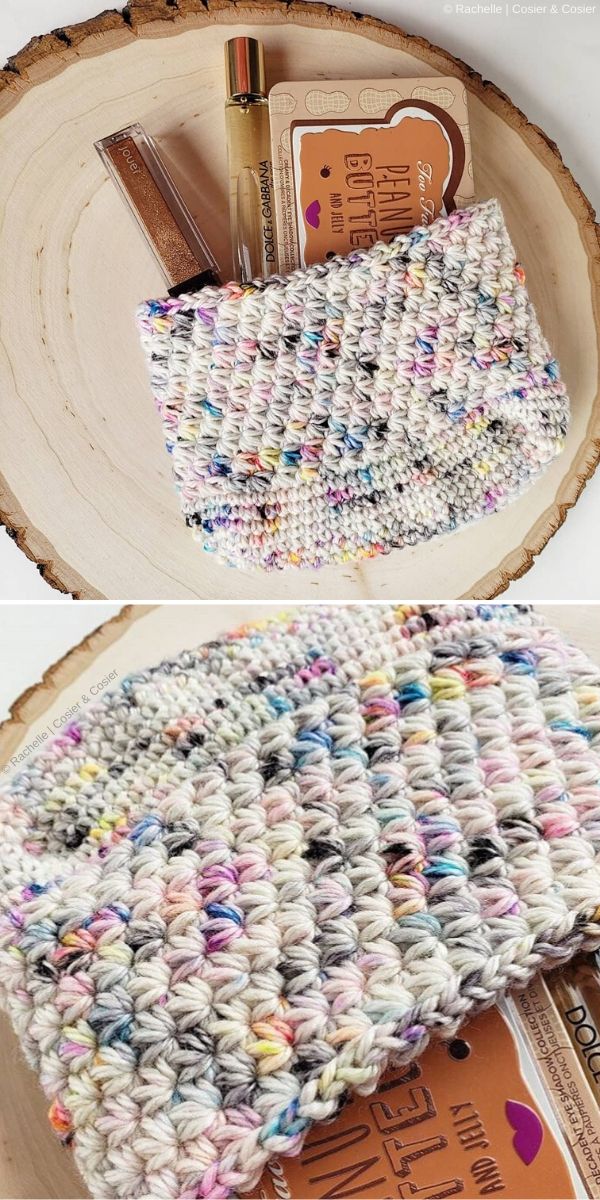 Free pattern by Stephanie Jessica Lau for Star Stitch Pouches is a great starting point to making similar bag.
◉
That's all for today, but I'll be back with much more inspiring projects and free patterns. Like, share and subscribe if you like what you see. Stay tuned!
↔
You may also like: Elegant Jasmine Stitch Ideas