It's common that some stitches get many different names and then are widely mistaken with one another. Some of them does not have names at all, or they are variations on a theme, that you can find in many other works. Star stitch I've seen, but stumbled upon it again recently, while researching stunning Jasmine Stitch.
Stitch I covered in the last article indeed looks like a star, hence the simple and popular name, but Jasmine sounds much better, right? The REAL Star Stitch, though, is the one I want to present you today. Much more delicate and modest, but not at all less interesting!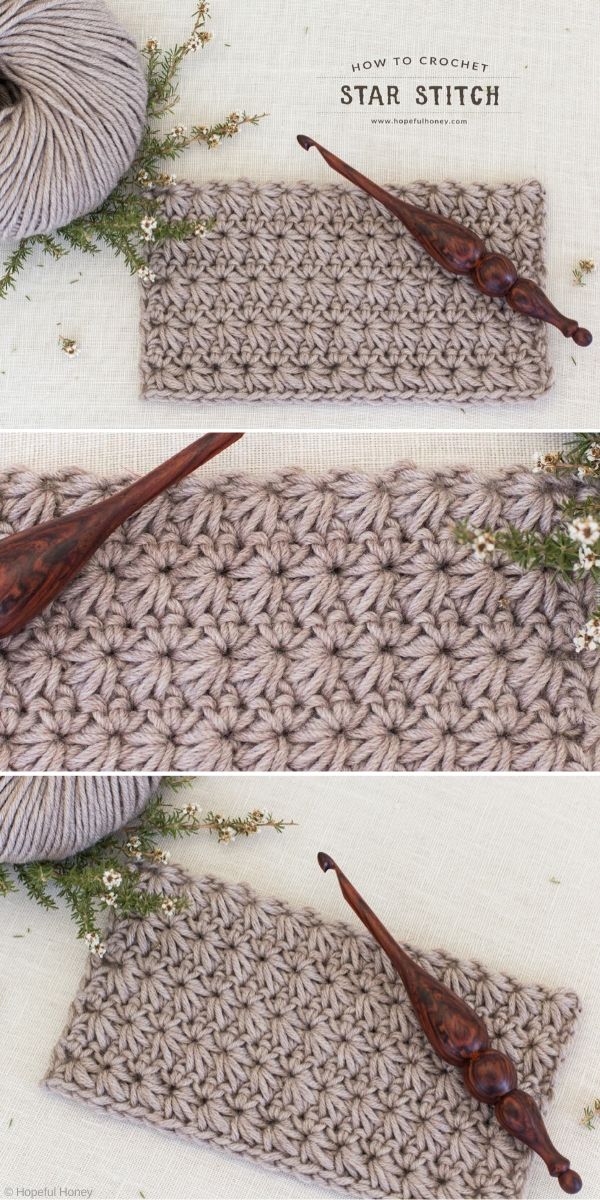 Simple and modern 
This adorable stitch looks the same on both sides, so it's great for blankets or placemats. The structure is dense, but not overly thick. It works perfectly in bags, clutches and other storage of this kind. When made with soft yarn, it's a lovely addition to basic stitches. Try it in winter accessories, such as beanies or scarves!
Materials:
Olivia chose Yarn MillaMia Naturally Soft Aran yarn, which is 100% merino wool, as well as
crochet hook of 5.0mm (H/8). Splendid!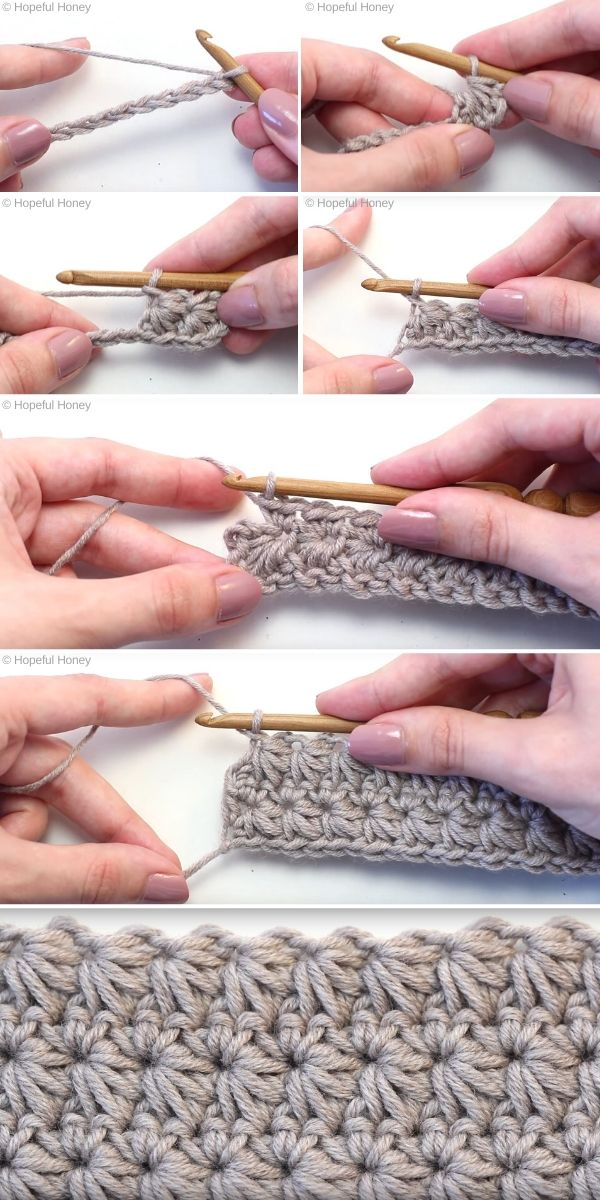 To make star stitch, you need to begin with starting chain in multiples of 2 + 1. Despite some combinations, this stitch uses only basic techniques, such as chain stitch, single crochet and half double crochet. Star motif is created by pulling the yarn through multiple stitches one after another, and then joining them together.
To see more and learn this fantastic technique, check out full video tutorial here, or get a written pattern here.
talking about stitches…
Our growing website and library of free crochet patterns has some projects that might interest you, too. For example, why not find out what is Picot?
→ Yes! Take me to this article! ←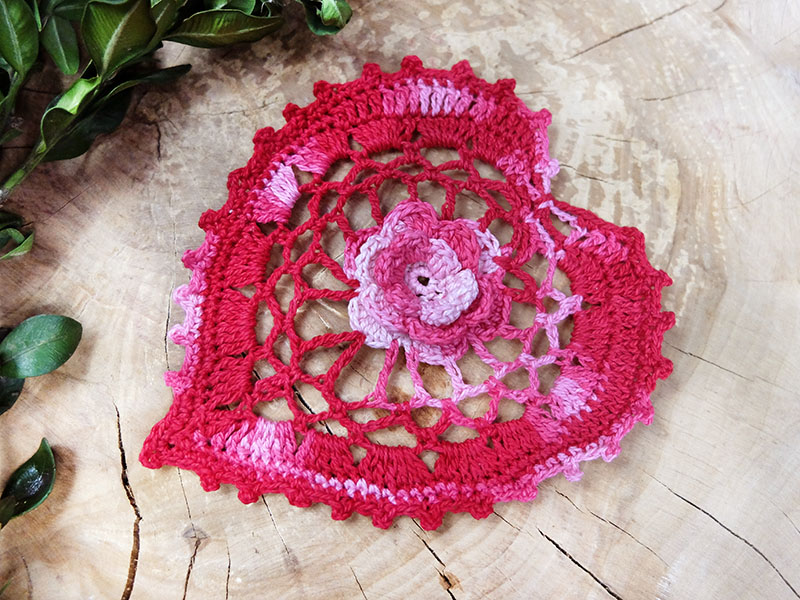 or…
Try my beginner-friendly Lake Sunset Shawl to make a stunning accessory!
→ Yes! Take me to this free pattern! ←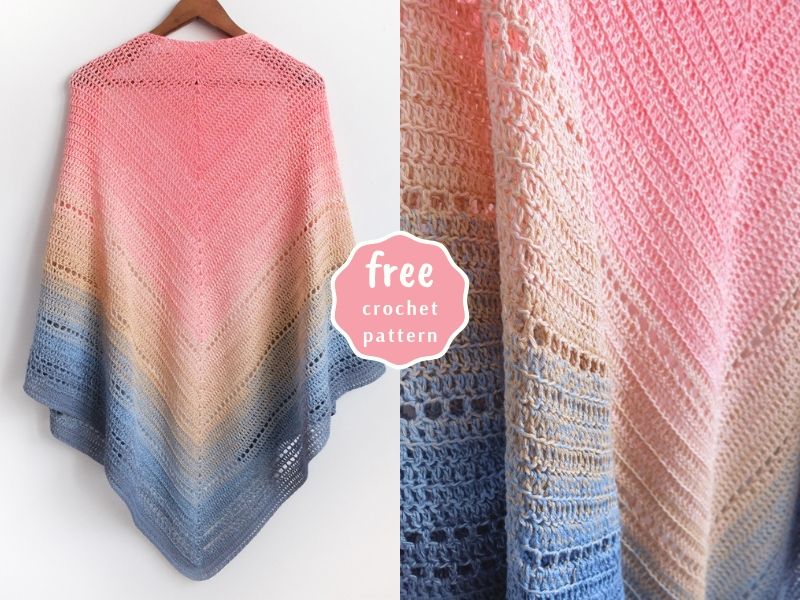 crochet roundup!
Star stitch is loved by crocheters and I've found a lot of inspiring creations that feature it. Check out these fantastic designs and read carefully, because I've added a couple of free patterns for you to use!
Star Stitch Clutch by Little Duck Crochet

This beautiful clutch is made with rope, which makes it sturdy, but still very feminine. Find more inspiration on author's Instagram feed!
If you're interested in making star stitch accessories, try this amazing free pattern by Stephanie Jessica Lau – Star Stitch Pouches.
Golden Star Stitch by Salomé Pires and Slip Knot Goods
Golden hues are perfect for this stitch, because it shines brightly! You can incorporate it in just one row or make and entire garment out of it. See more inspiring creations on authors' Instagram pages, linked above!
Soft Star Stitch by The Neon Loop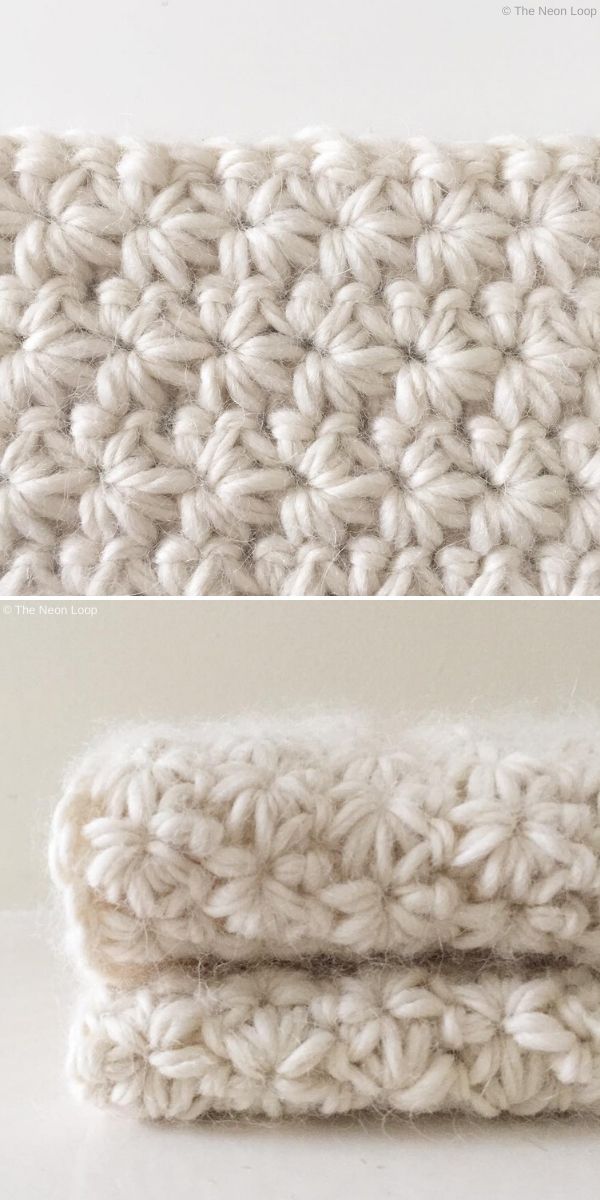 This squishy yarn looks so soft and comfy, I want to snuggle under such blanket immediately! Soft yarns like this one will be a great choice for chunky throws or winter accessories.
If you are interested in making winter garments with this stitch, try this fantastic free pattern for Snow Drops Slouch Hat by Megan Meyer.
Multicolored Star Stitch by SnoesjeDesigns and DaintyCraftsByMaria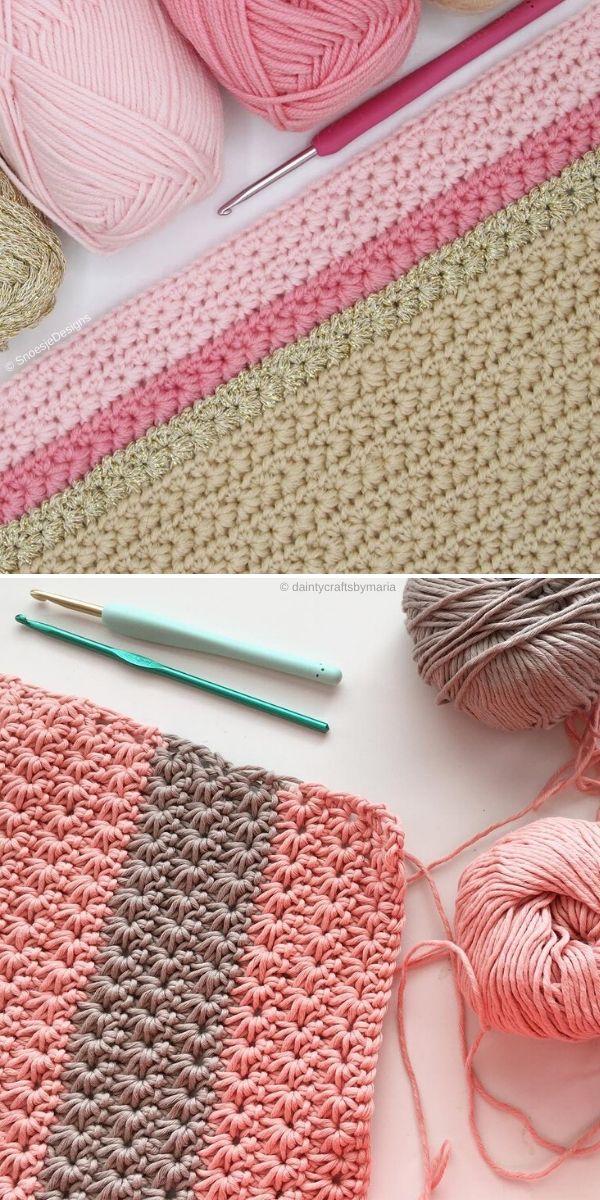 Why work with only one color? Try finding your favorite combinations by introducing new hue in every other row. Maybe glittery gold will be your choice? It looks amazing!
Star Stitch Speckled Pouch by Rachelle of Cosier & Cosier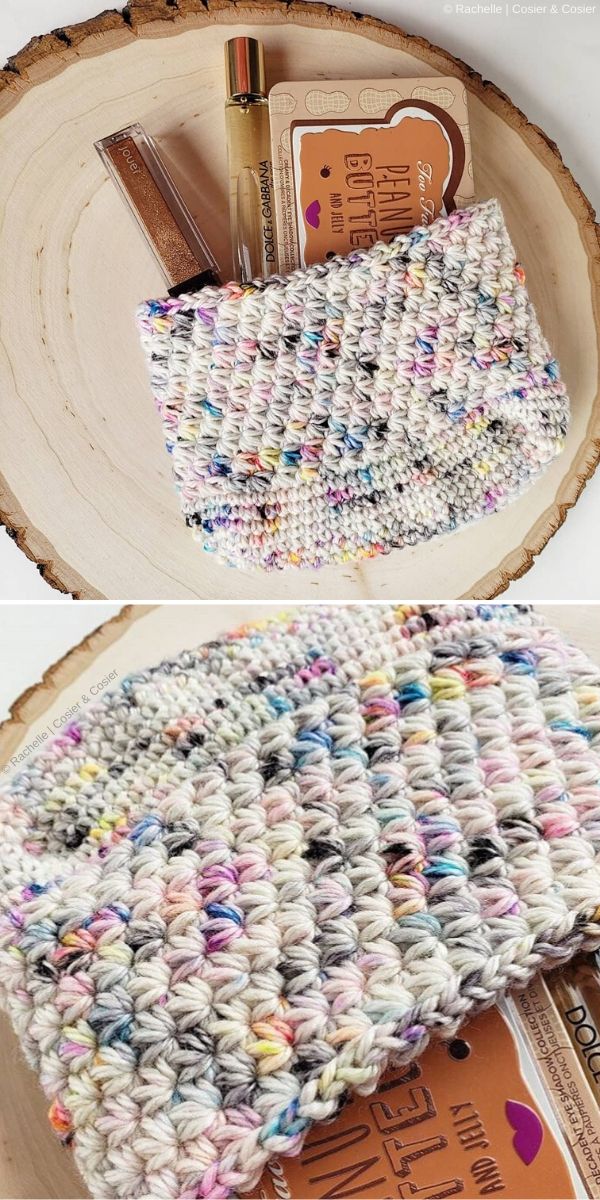 Speckled yarn looks very cute in little accessories, and this stitch turns it into something even more stunning. Even, rythmic pace of this stitch makes it look sweet and elegant.
Free pattern by Stephanie Jessica Lau for Star Stitch Pouches is a great starting point to making similar bag.
Star Stitch Baby Blanket Crochet Pattern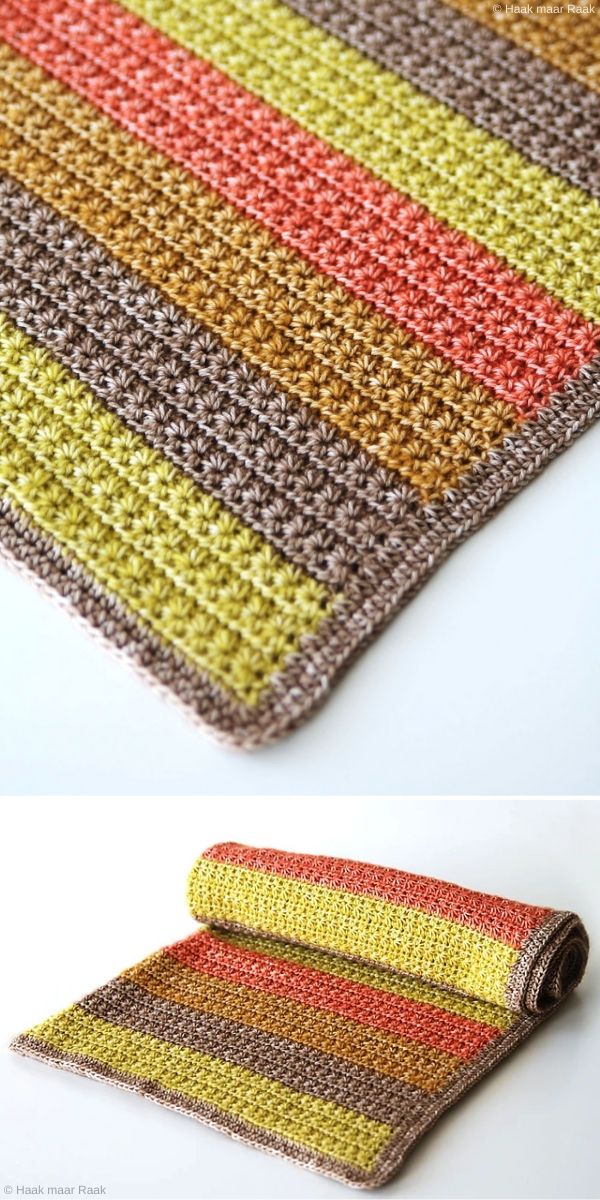 design and photos by Kirsten Ballering of Haak maar Raak 
Cosy and elegant blanket like this can be a beautiful gift for someone you love. Color combination is totally up to you! Use free tutorials I've linked above or simply purchase this pattern.
Rainbow Star Stitch by LittleCosyThings and YukiYarn Designs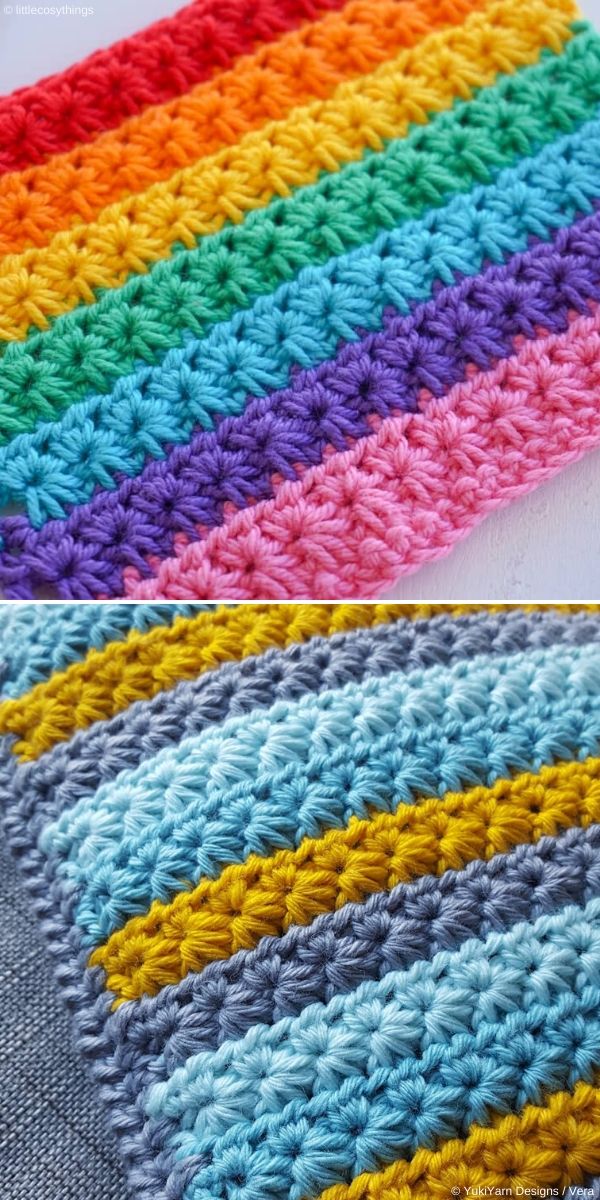 Little colorful designs are perfect for re-purposing leftover yarn ends. If you have some, that you just don't know what to do with, go for star stitch rows! With this technique, you can easily create simple home accessories, such as potholders.
Use one of these free patterns to start – Star Stitch Square by Heather J Anderson, or Star Stitch Wash Cloth by Bethany Simpson.
Natural Star Stitch by Handy Missy and Littleknits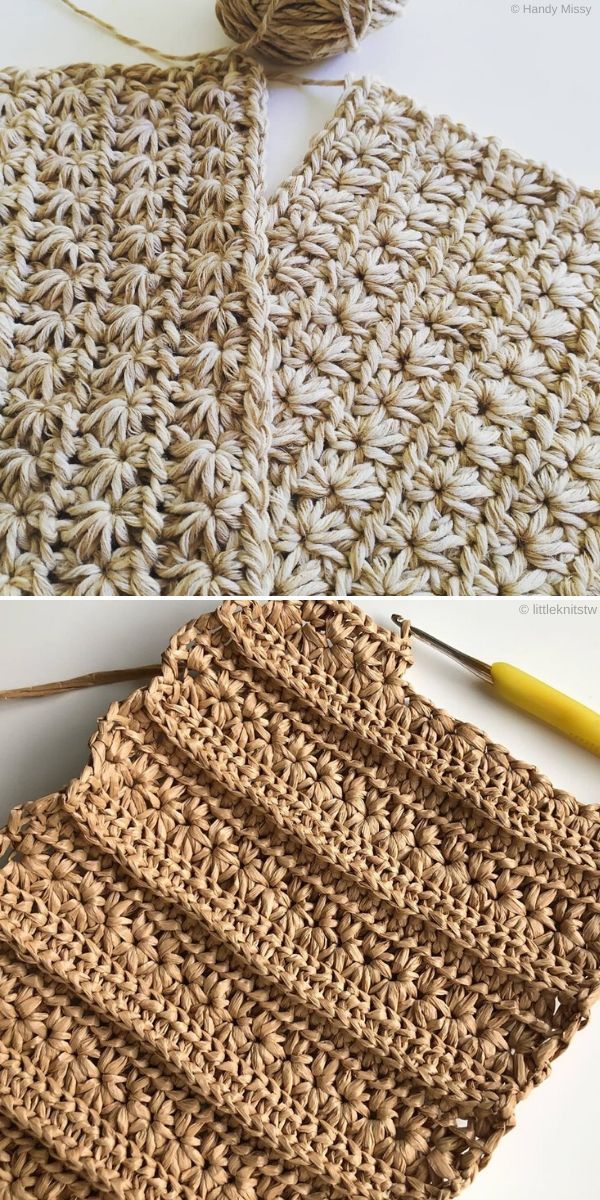 Natural yarns, such as jute, twine or raffia have amazing look, but they are also very minimalist and eco-friendly! A bag or a basket made with star stitch will be a stunning addition to your home or studio.
That's all for today, but I'll be back with much more inspiring projects and free patterns. Like, share and subscribe if you like what you see. Stay tuned!
↔
You may also like: Elegant Jasmine Stitch Ideas