Cosy Stripe Blanket is one of the most famous crochet designs, which has thousands of versions in hundreds of color combinations. This project stole the hearts of makers all around the world with its simple, but lovely stitches.
Author of this pattern is probably known to you already – Lucy of Attic 24 is a master designer when it comes to timeless blanket patterns. You can see her projects on her website attic24.typepad.com, or visit her Ravelry page.
◉
All of the projects presented in this post are based on Cosy Stripe Blanket, which is available as free crochet pattern. It means, that you can make it, too!
◉
Below you can see a couple of images from Lucy's original tutorial. Be sure to check it out in its entirety, because it clarifies all the issues and answers any questions you could possibly have. You will find it under the link in the paragraph above!
◉
simplicity is key
What is it and who is this for?
Cosy Stripe Blanket by Lucy of Attic 24 is definitely a beginner-level pattern, so don't be afraid to try it if you are just starting out. It's perfect for baby blankets, bigger blankets, or even king-size bedspreads. As you will see in the next part of this article, your color choices and their order will affect the overall effect.
How to do it?
This project uses double crochet stitches and granny-stripe-like triads, which makes it even easier if you already know it.
Pssst… I did a tutorial on Granny Stripe Stitch, so check it out.
Lucy created a color-pack for her project, which you can use – it really does make the process easier! If you want to create your own palette, however, check out her recommendations as to how much yarn you need, and go from there. I always recommend making a gauge swatch first, just to see how your crocheting style affects the stitches.
What should I pay attention to?
The main thing you should keep in mind is that Lucy's original tutorial is written in UK terms, so the names of the stitches will be different than in US. Make sure you understand it before you start!
◉
talking about stitches…
Our growing website and library of free crochet patterns has some projects that might interest you, too. To know more about one of the coolest stitches, check out this article about Harlequin Stitch Ideas!
→ Yes! Take me to this article! ←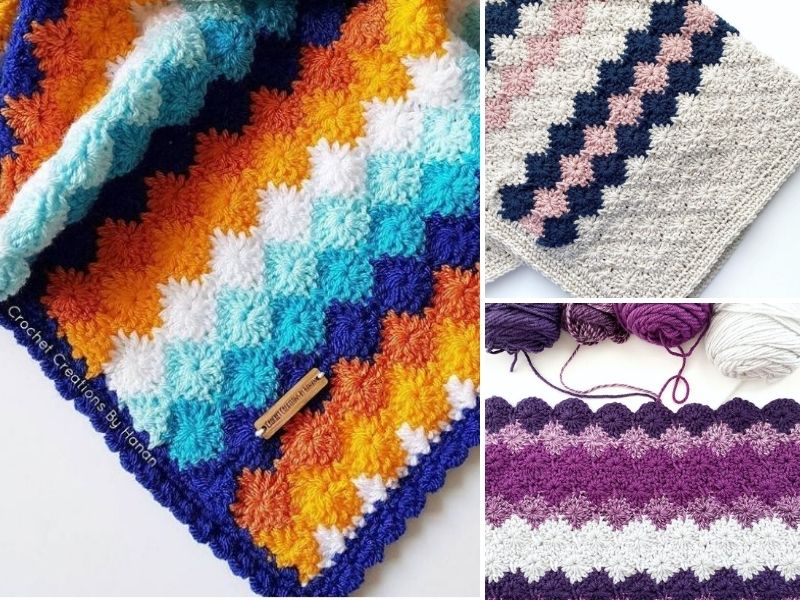 or…
Check out my Sapphire Puff Shawl!
→ Yes! Take me to this free pattern! ←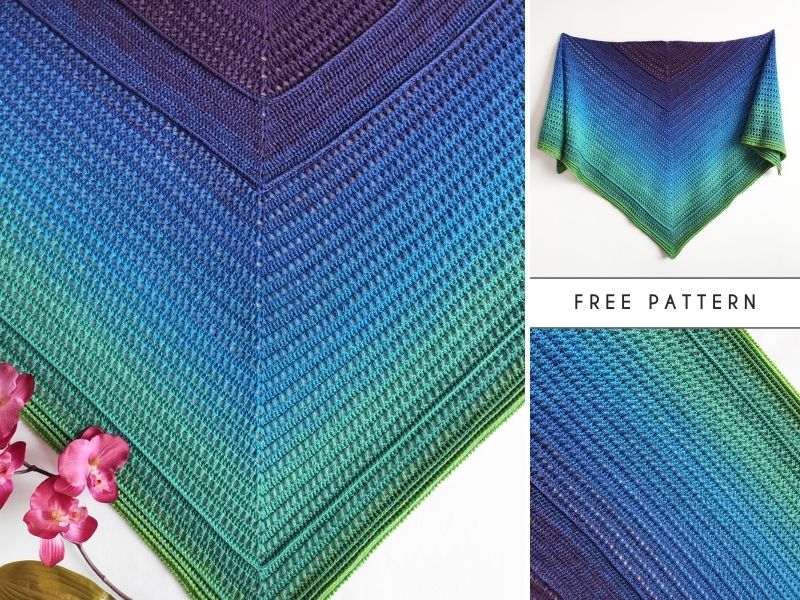 ◉
crochet roundup!
Now to the good part! Below you will find the most beautiful versions of today's hero. To make this selection versatile was my main goal, so I chose many different color schemes. I hope that you will find something in my selection, that will inspire you to tackling the project by yourself!
I will not link original pattern below each picture, because you can find a TON of resources in the first part of this article. When in doubt, go there!
◉
Juicy Colorways
Cosy Stripe Blanket Version by Emma Huthart
If this color scheme does not make you think about summer, I don't know what would. It's just oozing with sweetness! Colors arranged tone by tone create a delicate flow, and Emma used it to the fullest. If you take a look at the picture below, you will see that she used three colors for the border, too! This kind of details elevate the project to another level.
Visit Emma's Instagram page to see more.
◉
Summer Meadows in a Winter Lockdown by NY-152
This project actually combines two of Lucy's designs – Cosy Stripe and Meadow Blanket. The stitching in this one is somewhere in between the two, and you must admit that it looks interesting – just look at the photos! That's what I like about free patterns – seasoned crocheters can mix and match the techniques, therefore making something completely new.
By following the link above, you will get to NY-152's Ravelry page with useful info about this project.
◉
Cosy Stripe Blanket Version by alisblanketbox
Strawberry cream, please! This baby blanket is as sweet as it can be without rainbows or other motifs that we see all around. This combination of colors can work in a nursery, but also in a cheerful bedroom of an adult. When you take a close look at Ali's project below, you will see that she used one color for two rows at a time.
Explore Ali's Instagram page for more inspiration.
◉
Moody Colorways
Cosy Stripe Blanket Version by maeleena.crochets
Projects so simple as this are the most versatile, so don't be afraid to explore unexpected color stories. You can be surprised how nice it can be! If you look at the pictures below, you will see that Maeleena chose quite strange colorway – navy blue, pure white, dusty greens and beige. Who would have thought that it would work so perfectly together?
Check out Maeleena's Instagram to see more of her crochet blankets.
◉
Cosy Stripe Blanket Version by Little Dove Crochet
I'm not a big fan of random color placement, because most of the times it looks strange. This project by Little Dove Crochet, however, uses a cool trick that makes all the difference. Take a peek below and see how the stripes of particular colors are almost the same distance from each other. No color is too close to the stripe of the same hue, and that's what makes it look pleasant to the eye.
Click the link above to see more photos of this project.
◉
Pastel Sweetness
Cosy Stripe Blanket Version by cathncrochets
No roundup would be full without pastels, so here we are! It's not a pastel rainbow, though – it's much more sophisticated palette. It reminds me of bluebells and lilac flowers, with little green leaves sprouting through the snow. That's what this colorway makes me think about, and I thank cathncrochets for this small reminiscence of spring!
Visit projects' Ravelry page by clicking the link above.
◉
Cosy Stripe Blanket Version by Alison Hayton
I love unexpected color schemes, so this one caught my eye immediately! Alison chose seemingly basic pastels for her project – pink, blue and cream, but the addition of dusty hues makes all the difference. Just look at the pictures below and notice how your eye hops from row to row, from eyelet to eyelet.
Alison crochets lots of blankets, and they are all beautiful, so be sure to check out her Instagram page.
◉
That's all for today, but I'll be back with much more inspiring projects and free patterns. Like, share and subscribe if you like what you see. Stay tuned!
↔
You may also like: How to Crochet Seven Wonders Lacy Stitch