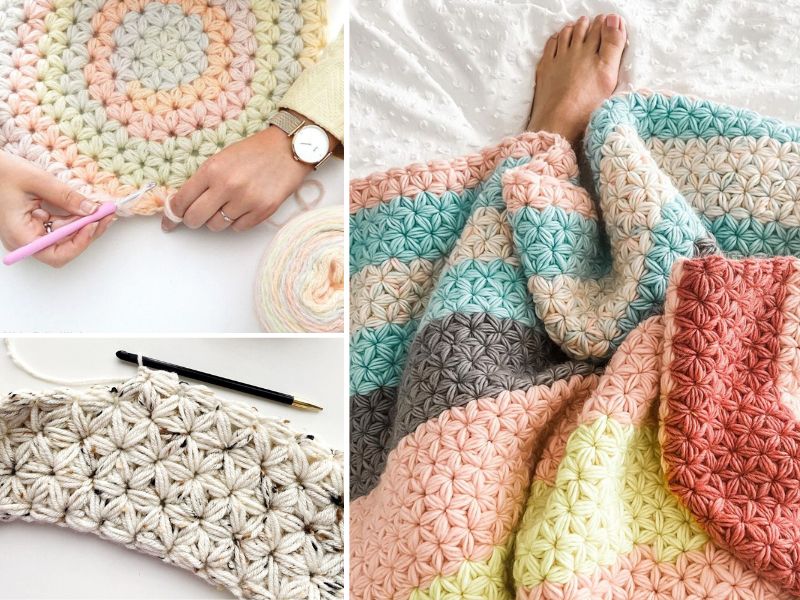 Elegant and feminine, like a meadow of flowers! Yes, I'm talking about Jasmine Stitch, the hero of today's article. It looks divine, especially when made with soft and fluffy yarn. And guess what… it's actually easier to make than you think! If you haven't tried it already, today's the best day for new adventures 😉
Take a look at today's recommendations. Get inspired and try it for yourself!
pure elegance! 
Double-sided squishy texture is perfect for winter accessories or comfy blankets, but it all depends on the type yarn you use. When worked with thick cotton yarn or rope, it becomes dense and sturdy, which makes it perfect for bags, purses and other accessories.
Materials:
As per usual, you will need yarn and hook in the recommended size, as well as scissors and yarn needle. Thick, soft yarn will make this project look squishy and comfy.
Bella Coco used Paintbox Yarns Simply Aran in Washed Teal colorway and a 5.00 mm hook.
This stitch is made almost entirely with puff stitches, so if you have the skills, it will be much easier for you to grasp this technique. Work on the tension and fluency of your moves to make the work nice and even.
Chain stitch is obvious, but Foundation Puff Stitches, Turning Puff Stitches and Puff Stitch Clusters can be confusing at first, but I assure you, that once you practice with video tutorial, everything will become clear and simple.
Check out full video tutorial on youtube.com, or get a written pattern on bellacococrochet.com.
talking about stitches…
Our growing website and library of free crochet patterns has some projects that might interest you, too. For example, why not learn more about Puff Stitch?
→ Yes! Take me to this article! ←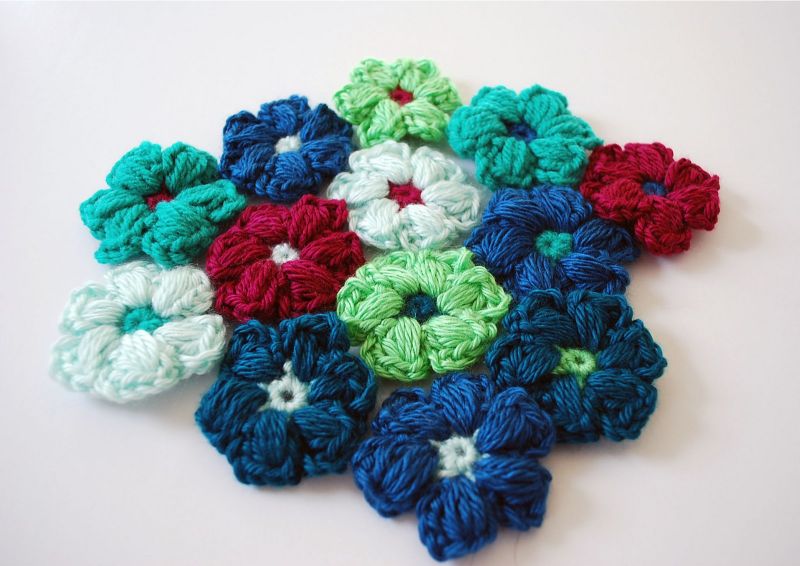 or…
Try my free pattern for Sleepy Bunny Lovey to make a sweet baby gift!
→ Yes! Take me to this free pattern! ←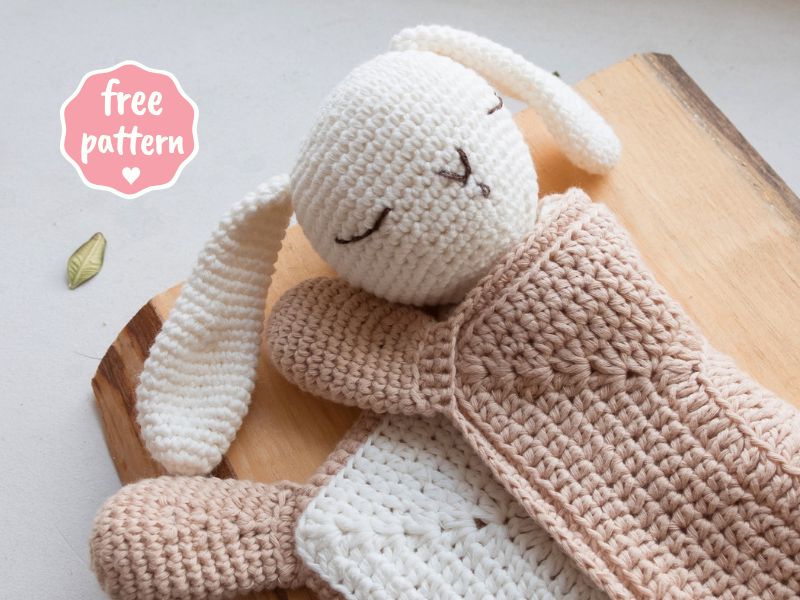 crochet roundup!
Jasmine Stitch can look intimidating, but it's getting more and more popular among crocheters. Let me tell you – it definitely deserves the attention! Check out all the amazing creations I've found, as well as free patterns 🙂
◉
Jasmine Stitch Ideas
The Jasmine Stitch by yarnTh3ory
There's something about this yarn that makes me want to try it as well! Krysten's jasmine stitch is a great example of how delicate speckles enhance the natural floral look of this technique. Take a look and notice the rustic vibe it gives off, or go straight to the video tutorial to learn it – it's linked below the picture.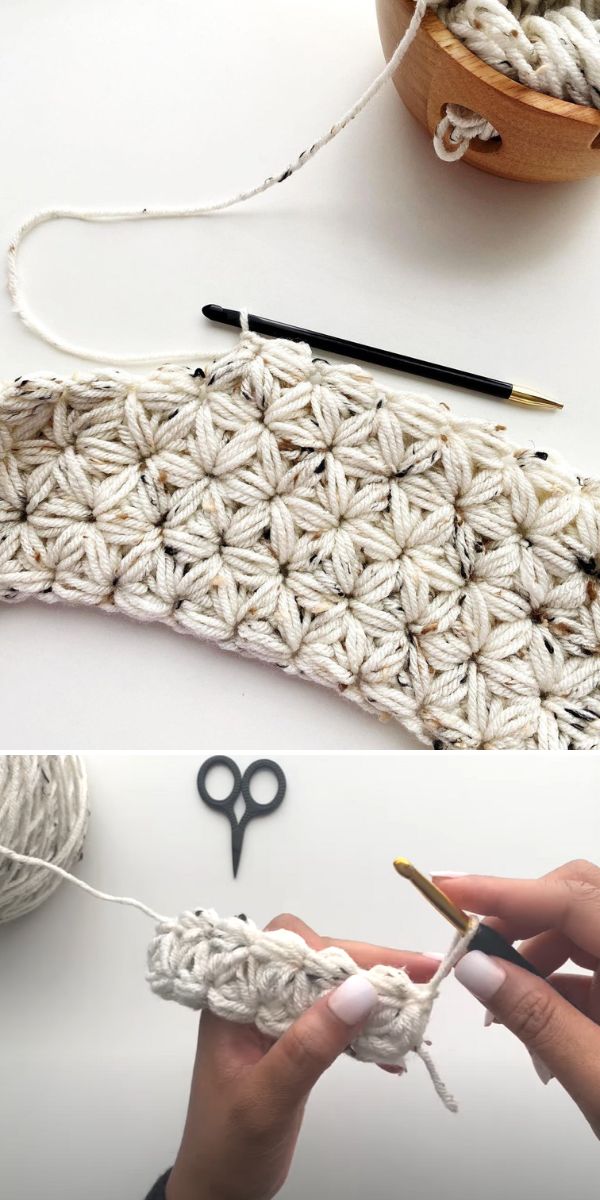 Check out YarnTh3ory's video tutorial available on youtube.com.
◉
Mohair Jasmine Stitch by Crochet Rainbow
There are two groups of people – those who love and those who hate mohair, but I think it's all about the context! I was amazed to see jasmine stitch worked in this delicate kind of yarn, but somehow it just works. This technique is most often combined with dense and squishy yarns, but, as you can see, it looks lovely in mohair, too!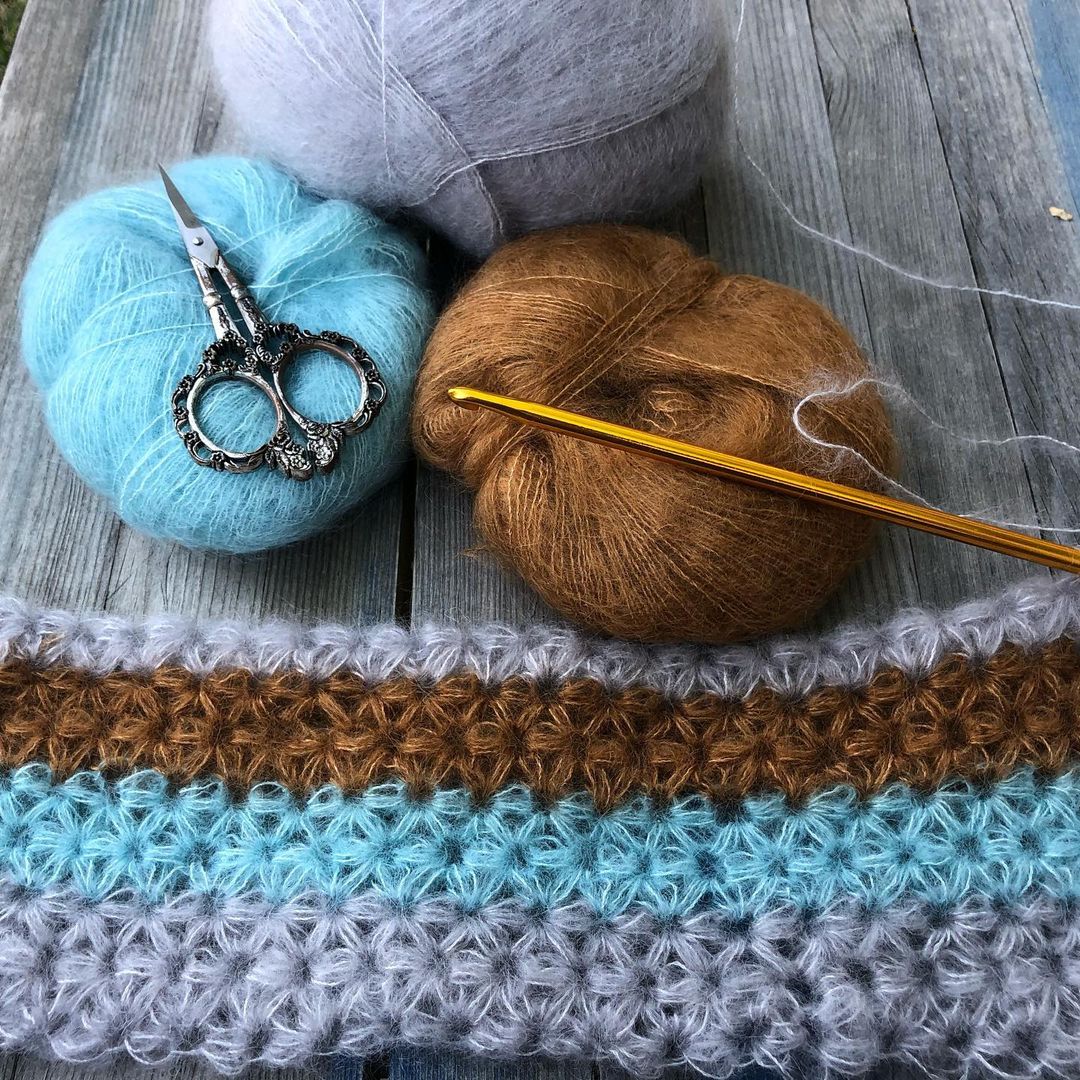 ◉
Jasmine Stitch by nadhezdha_lab
As you may already know, stitches can look very different when made with different materials. That's exactly why I want you to peek at the two photos below! Behind both of them is Nadhezdha, whose crochet creations are very much worth checking out. In the top photo you can see jasmine stitch made with a cord, and in the bottom one – with soft and fluffy yarn. Isn't the difference intriguing?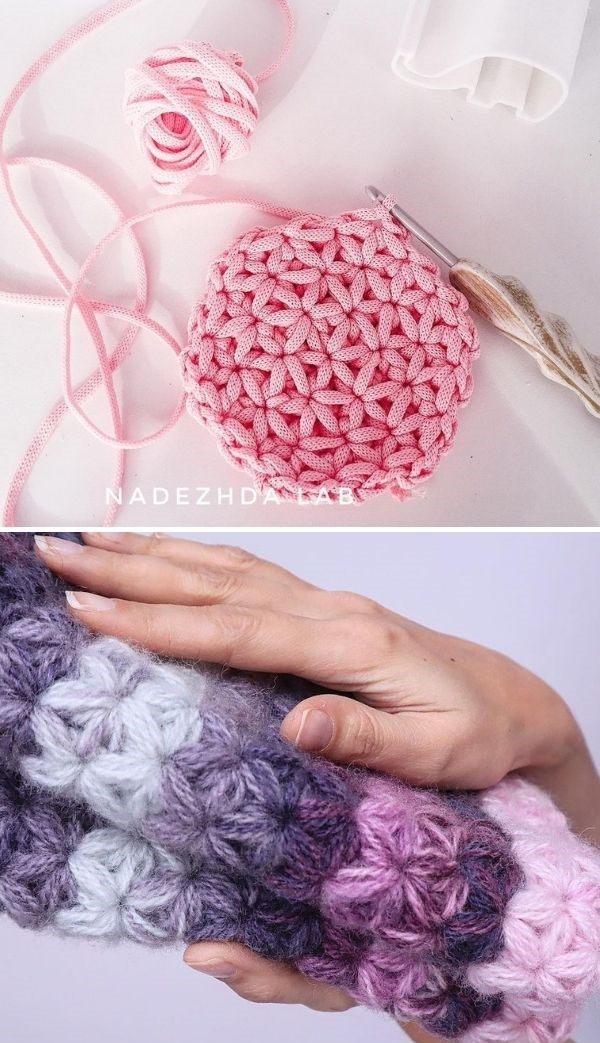 ◉
Jasmine Stitch by amicoro_journal
Oh yes, artisan yarn is perfect for jasmine stitch projects, and that's because it's decorative enough on its own, and it can showcase the coloring beautifully. Crocheter behind amicoro_journal decided to use lovely yarn dyed with greens, cream and violet, so the final effect reminds me of a crocus flower! Take a look at the photos below and see for yourself.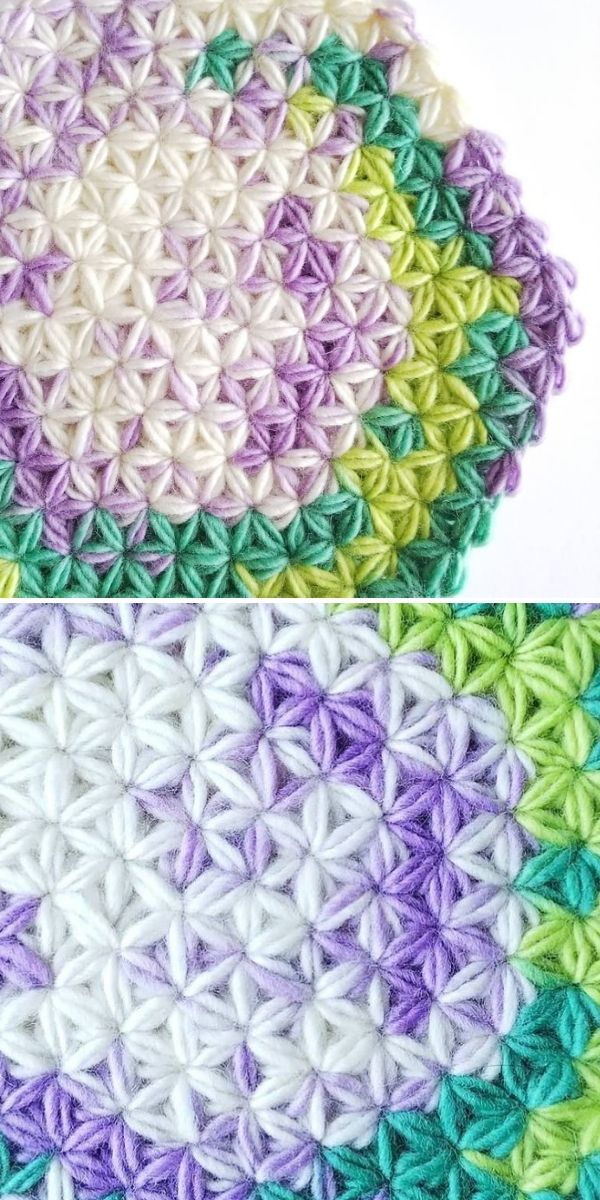 You may also like this article: Granny Ripple Stitch Ideas.
◉
Jasmine Stitch by Lindsey Sophie v/d Hoek
Did you know that you can work jasmine stitch in rows and in the round? Multicolored yarn is a perfect choice for both, because it results in unique color changes! It also makes the work much more pleasant and easy, because you don't have to attach new yarns. Take a look at the photos to see the beautiful creation by Lindsey Sophie.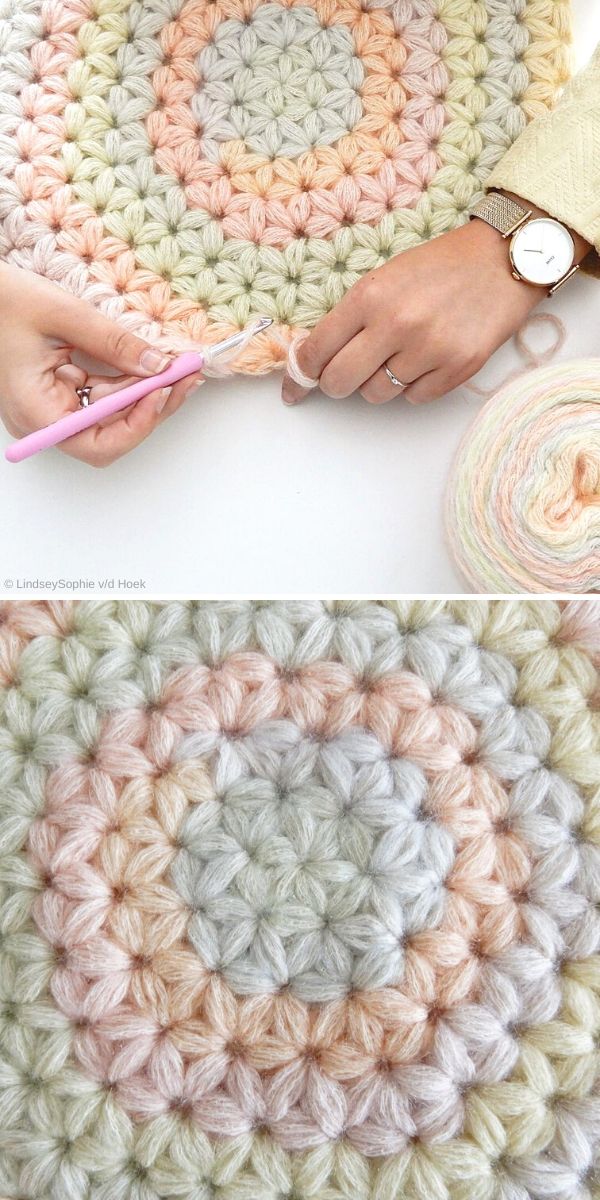 ◉
Jasmine Stitch Blankets
Jasmine Stitch Blanket by p_r_e_p_p_y
Designer behind p_r_e_p_p_y used The Petite Wool yarn from We Are Knitters to make the blanket you see in the photos. Isn't it lovely? Simple stripes would look very basic, but the texture of jasmine stitch makes it very eye-catching and unusual. If you look closely, you'll see that one of the colors is delicately speckled with pastels!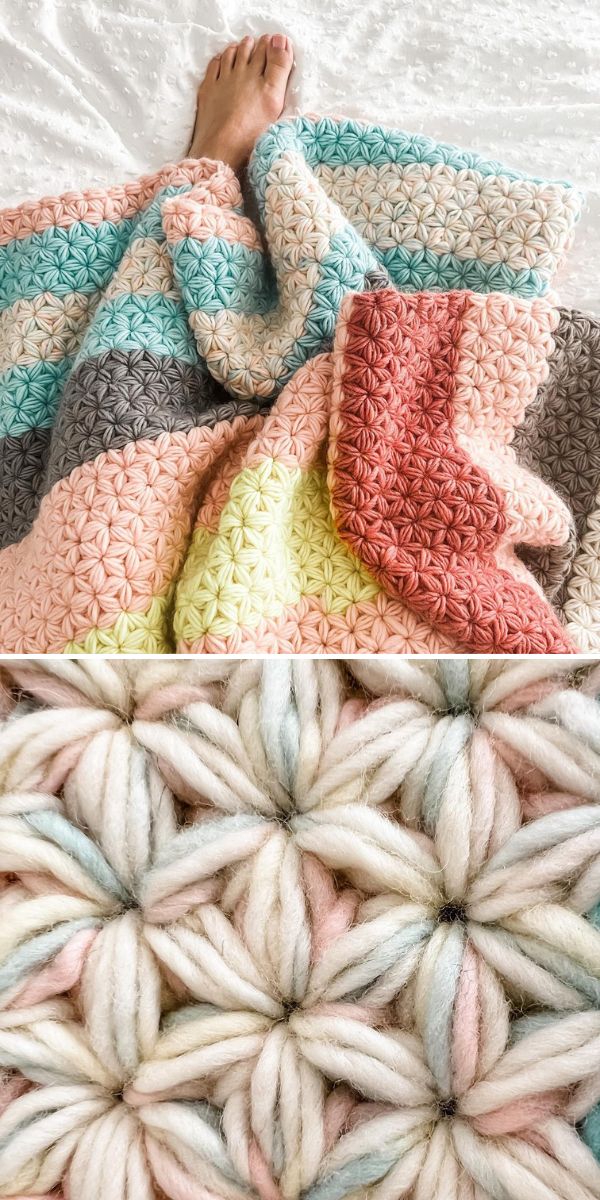 ◉
Jasmine Stitch Baby Blanket by The Pretty Knot
Squishy blankets are perfect for babies, because they keep them warm and cozy. Use the softest yarn you can find, combine it with simple stitches… and voila! Crocheter behind The Pretty Knot knows it well, and you can see the effect in the pictures below. How cute is this peachy pink with white?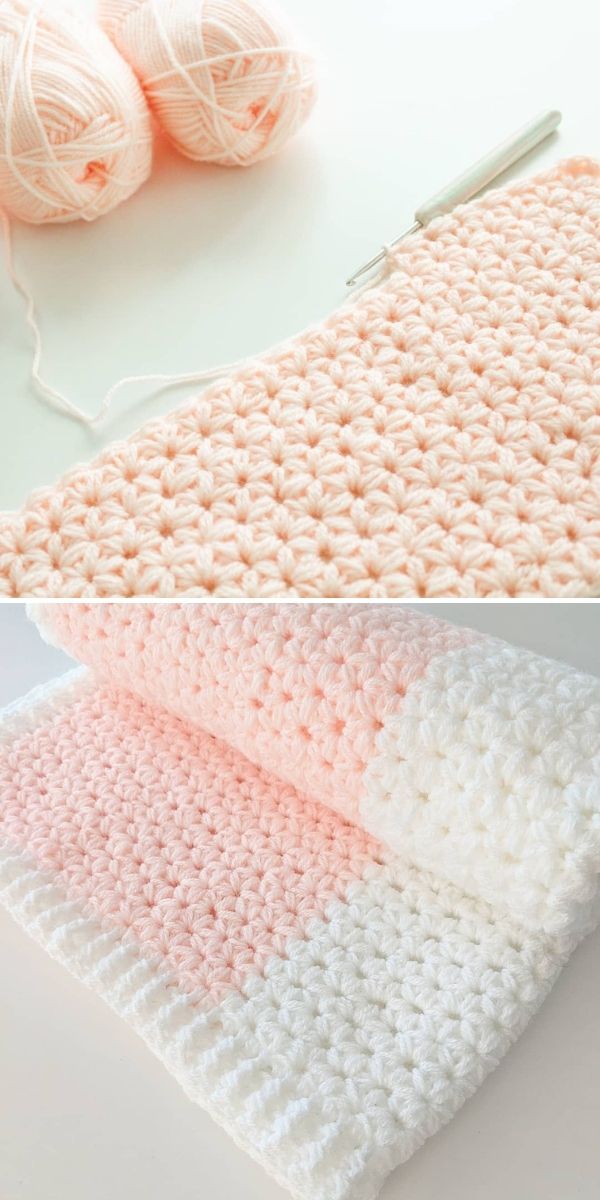 ◉
Jasmine Stitch Home Accessories
The Jasmine Cushion By Lucy Djevdet
I love this technique, because it doesn't look very "crochet-y", if you know what I mean. Do you agree? Pure white yarn is enough to showcase the beauty of the stitches. Author of this beautiful cushion is Lucy from @craftingbylucy who run the website craftingbylucy.co.uk.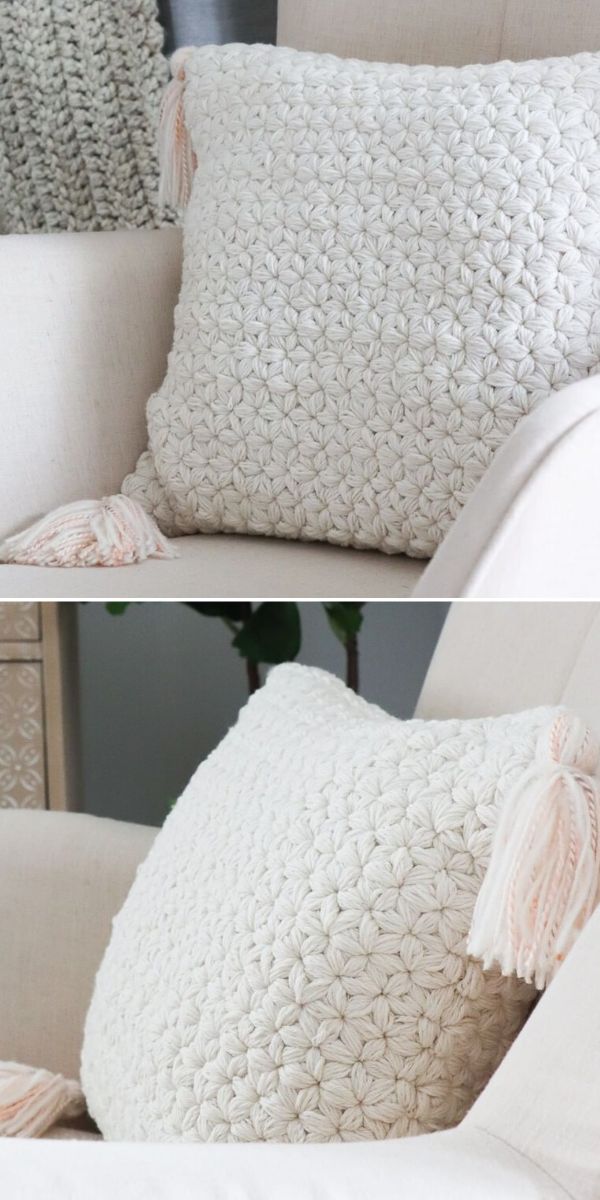 This pattern is a part of Bella Coco Crochet's The Homeware Collection, which is available to purchase on bellacococrochet.com.
◉
Jasmine Stitch Face Scrubbies by Craft Confessions
Is there anything better than colorful handmade accessories? I don't think so! What you see below in the photos, are cotton face scrubbies by talented crocheter behind Craft Confessions. Jasmine stitch makes them look feminine and delicate, so a set of these would be a perfect gift for a woman you love. Gather colorful yarn scraps and start crocheting!
To start with circular shapes in Jasmine Stitch, try free pattern for Jasmine Stitch in the round.
◉
Jasmine Stitch Face Pads by Imogen Abbot
Crocheters know intuitively, that this technique will look lovely in the bathroom, so here is another face pads project. Take a look below at the photos, and see which colors Imogen chose for her design. Jasmine stitch makes these pads puffy, and cotton yarn is perfect with its absorbent qualities. If you are looking for an alternative to disposable cotton pads, this one is great!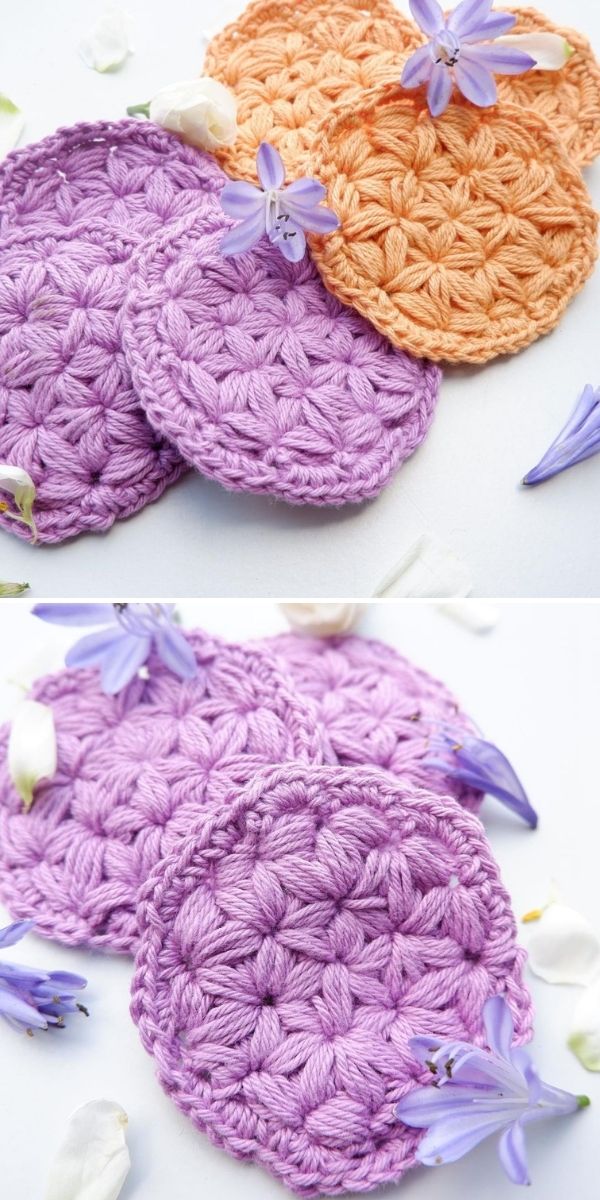 You may also like this article: Crochet in Details – Easy Way to Level Up Your Home Decor.
◉
Jasmine Stitch in Clothing and Accessories
Jasmine Stitch Top by Imogen Abbot
Imogen loves jasmine stitch, so she uses it in many of her designs. The one you can see in the photos is a summer top in lilac and ocean green. Unique pattern that this stitch creates is definitely a showstopper, so you should use it for statement pieces. No other embellishment is needed here, because the stitch speaks for itself.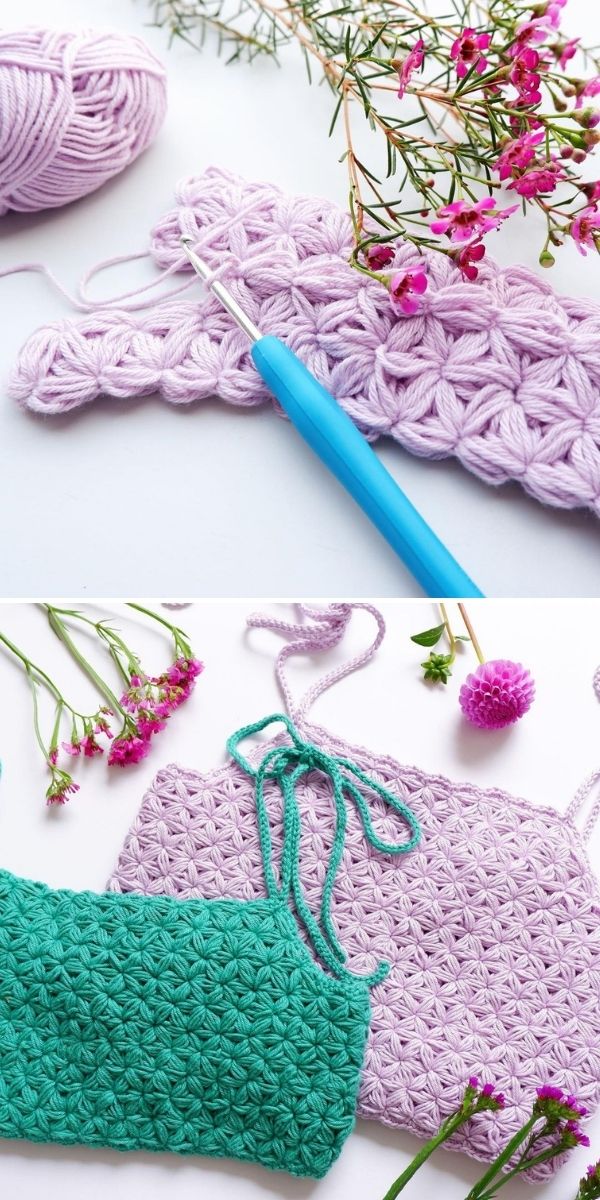 Imogen doesn't sell patterns, but you can buy the clothes she designs – these tops are available on her website imogenabbot.com/shop.
◉
The Ivy Bikini by Imogen Abbot
Imogen's jasmine stitch tops were a true hit, so she decided to make a bikini as well! As you can see below, it turned out beautiful, even though it's fairly simple. I can assure you that it looks even better on the model, but see for yourself – I linked the author's websites below the picture.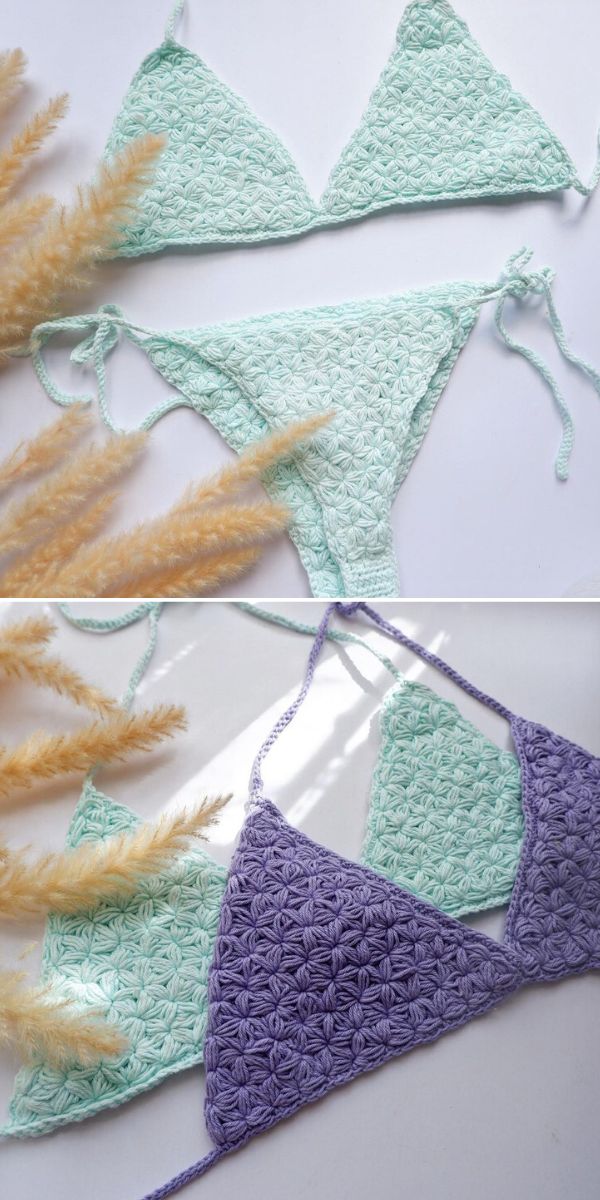 Imogen doesn't sell patterns, but you can buy her designs on the website imogenabbot.com/shop.
◉
Jasmine Stitch Cowl by Barbara Craft&Fabric
The kind of yarn you choose to work with is one of the most important things in crochet. Jasmine stitch looks great in bulky yarn, but look below how cute it is when made with mohair! Barbara chose comfort, and I'm not surprised! Such accessories make all the gloomy days much more bearable.


If you are interested in making winter accessories using jasmine stitch, check out this free pattern for Crochet Jasmine Scarf by Fluffy Stitches.
◉
Jasmine Stitch Shawl by Lindsey Sophie v/d Hoek
Multicolored yarn is an easy way to introduce variety into repetitive stitches, and I must admit that I love this colorway! Take a peek below and see how nice is this shawl by Sophie. Puffy structure is great for winter colds, so choose this technique if you aim for warmth!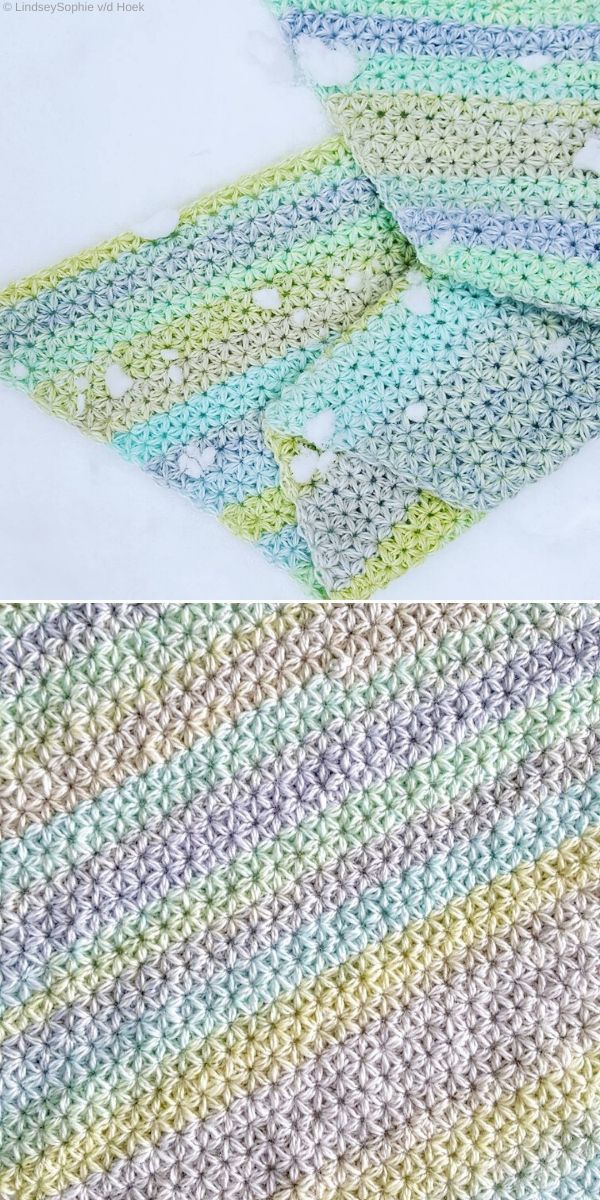 If you would like to try making circular items with this technique, try free pattern for Jasmine Stitch in the round.
◉
Jasmine Stitch Crochet Hair Clips by tz075
Did you know that you can easily transform your swatches into fantastic hair accessories? Use leftover yarn ends, add some felt and sew them together, inserting hair clip inside. Delicate pastel colors are just perfect, if you are a fan of romantic and feminine accessories, so take a look at the pictures made by tz075 and get inspired!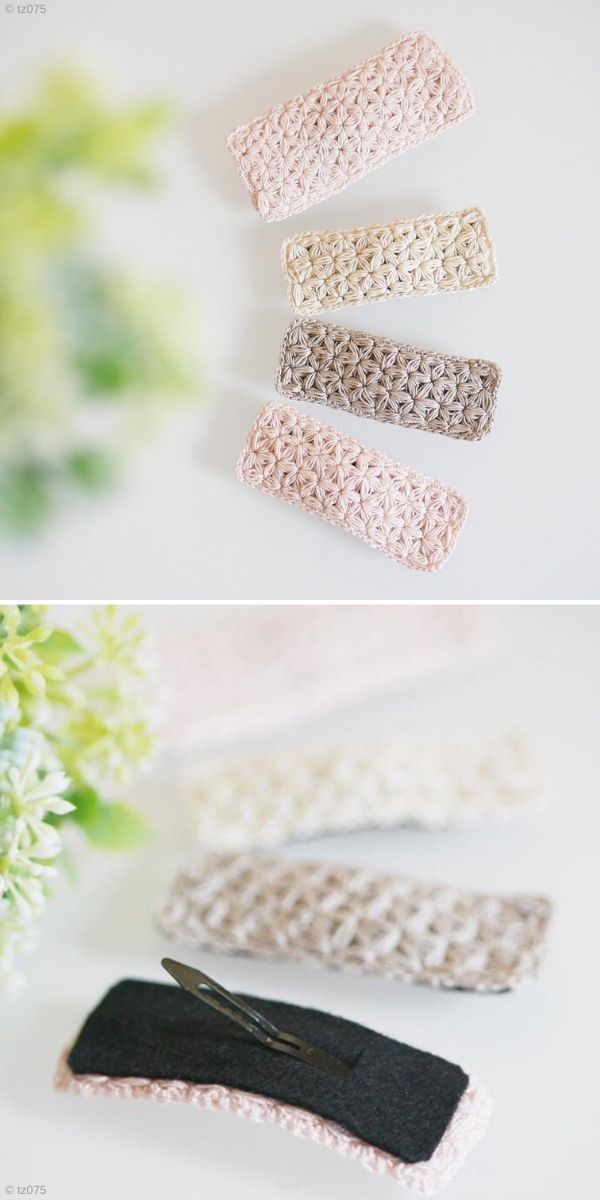 You may also like this article: African Flowers Crochet Ideas.
◉
Crochet Jasmine Stitch Bags and Pouches
Jasmine Bucket Bag by Putlogpo
Bucket bags are almost as popular nowadays as bucket hats, but I think they are more versatile! Author of this piece included three different sizes in her instructions, so that you can choose which one to make. Big one can become your everyday bag, and small ones will be great for keeping tools or treasures inside.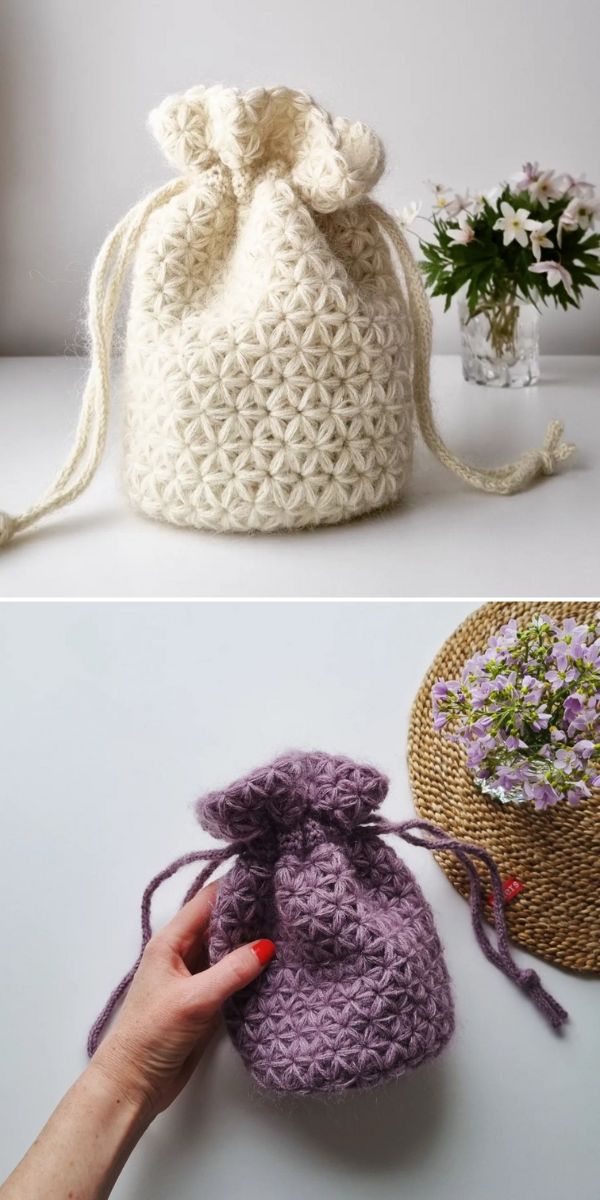 You can buy this pattern on etsy.com, but I recommend checking if the language of the pattern is English or Norwegian.
◉
Jasmine Stitch Crochet Pouches by Akiko Hirata
These cute purses, which you see in the photo, will keep you organized! Line them with fabric and use as coin purses, or toiletries on-the-go storage. You can easily purchase metal clasps to go with it, so assembling such beauty shouldn't be a problem nowadays. Akiko tried almost every color, so be sure to browse their Instagram page for more inspiration!

You may also like this article: Catherine Wheel Stitch Ideas.
◉
Jasmine Stitch Crochet Bag by Pleciemotki
Spaghetti cotton yarn and jasmine stitch go very well together, because they create amazing structure. You can make a beautiful accessory for everyday adventures in no time, such as the one you can see in the photos! Author behind Pleciemotki went for classic grey and silver chain, but remember that you can use any color you like the most!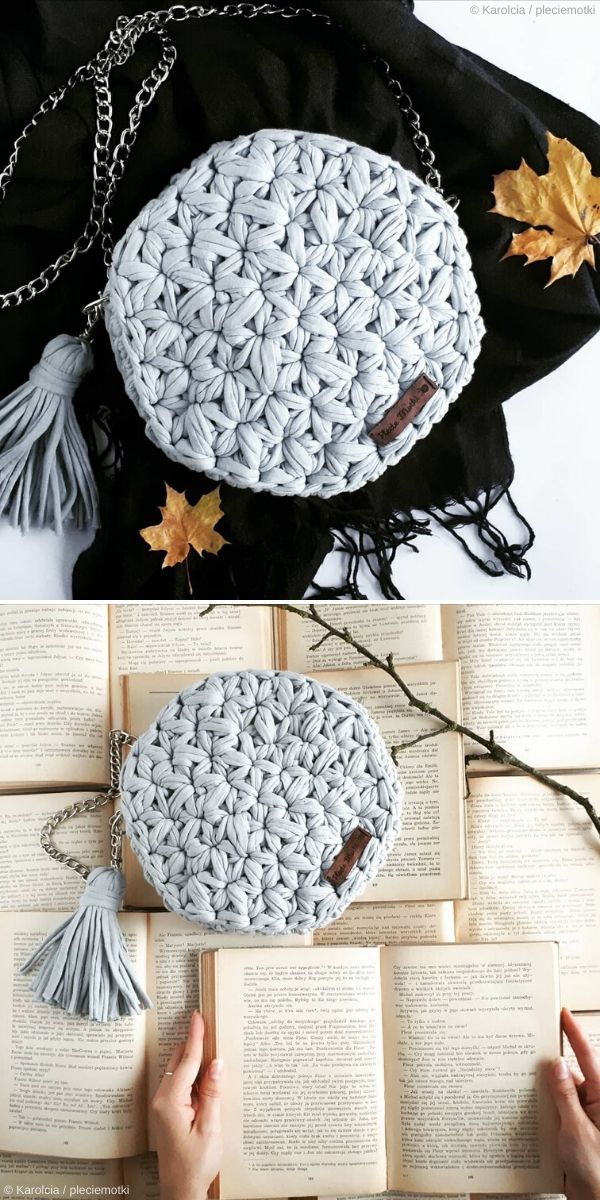 Free pattern for Jasmine Stitch in the round is a great starting point to make this project.
◉
Unusual Jasmine Stitch Ideas
Jasmine Stitch Crochet Triangle by Pooleum_
Why not go for triangles? When you are familiar with a stitch, you can easily experiment and create such interesting home decor. Crocheter behind Pooleum_ not only went for unusual shape of the piece, but also finished it off with lovely picot edging. Take a look below to see how cool it all looks!
◉
That's all for today, but I'll be back with much more inspiring projects and free patterns. Like, share and subscribe if you like what you see. Stay tuned!
↔
You may also like: Beautiful Bavarian Stitch Ideas