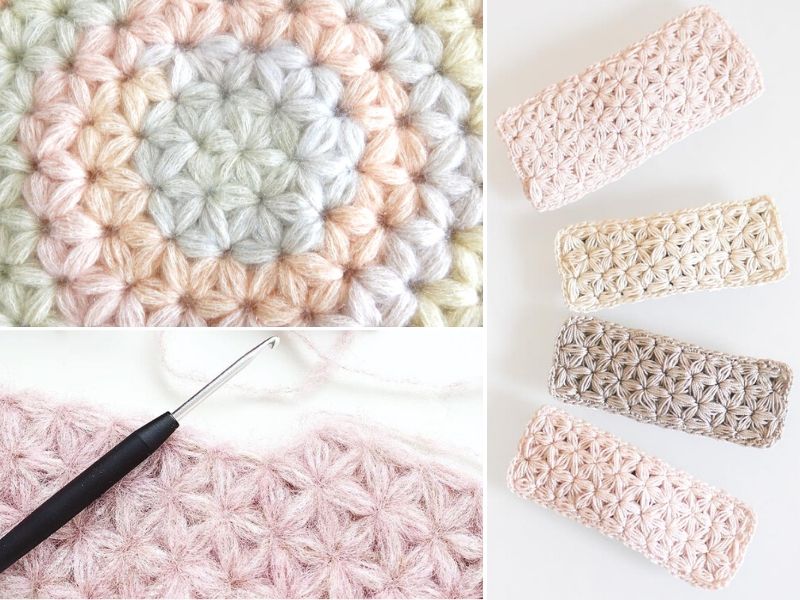 Elegant and feminine, like a meadow of flowers! Yes, I'm talking about Jasmine Stitch, the hero of today's article. It looks divine, especially when made with soft and fluffy yarn. And guess what… it's actually easier to make than you think! If you haven't tried it already, today's the best day for new adventures 😉
Take a look at today's recommendations. Get inspired and try it for yourself!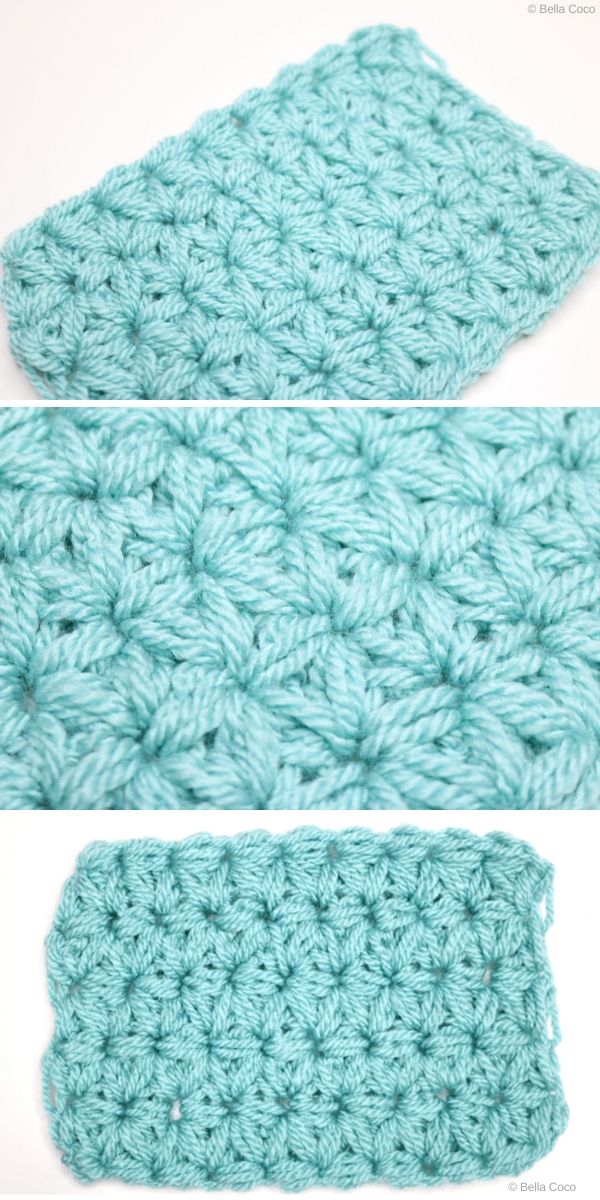 pure elegance! 
Double-sided squishy texture is perfect for winter accessories or comfy blankets, but it all depends on the type yarn you use. When worked with thick cotton yarn or rope, it becomes dense and sturdy, which makes it perfect for bags, purses and other accessories.
Materials:
As per usual, you will need yarn and hook in the recommended size, as well as scissors and yarn needle. Thick, soft yarn will make this project look squishy and comfy.
Bella Coco used Paintbox Yarns Simply Aran in Washed Teal colorway and a 5.00 mm hook.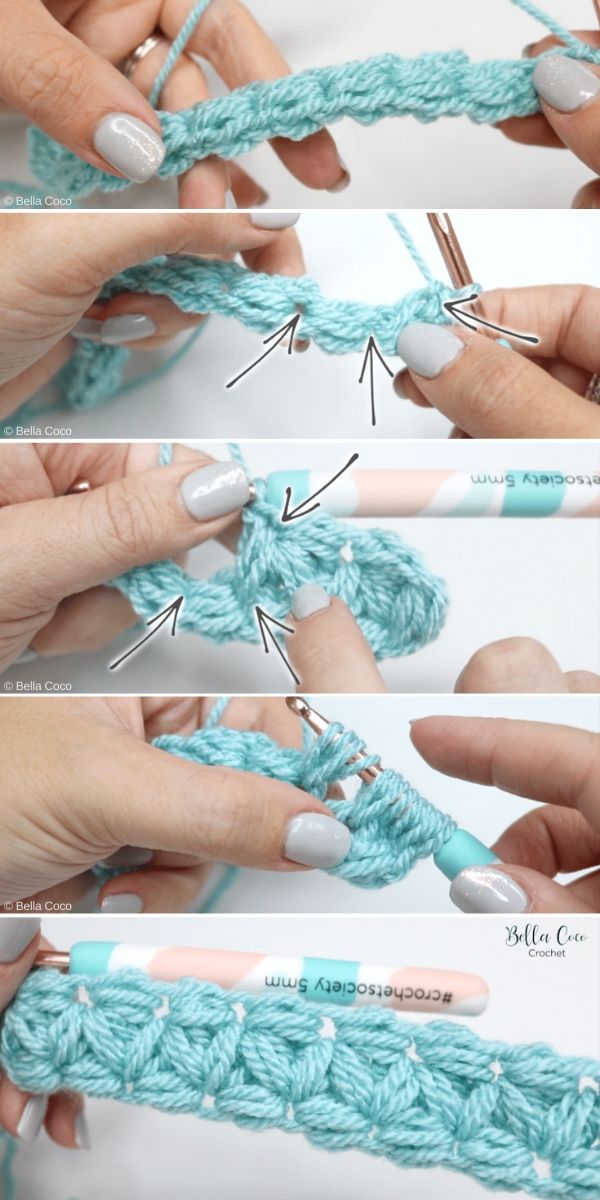 This stitch is made almost entirely with puff stitches, so if you have the skills, it will be much easier for you to grasp this technique. Work on the tension and fluency of your moves to make the work nice and even.
Chain stitch is obvious, but Foundation Puff Stitches, Turning Puff Stitches and Puff Stitch Clusters can be confusing at first, but I assure you, that once you practice with video tutorial, everything will become clear and simple.
Check out full video tutorial here, or get a written pattern here.
talking about stitches…
Our growing website and library of free crochet patterns has some projects that might interest you, too. For example, why not learn more about Puff Stitch?
→ Yes! Take me to this article! ←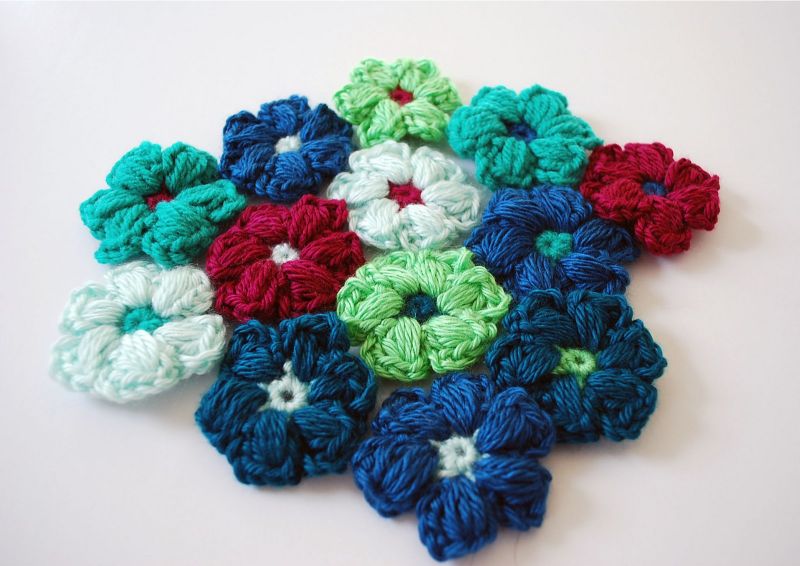 or…
Try my free pattern for Sleepy Bunny Lovey to make a sweet baby gift!
→ Yes! Take me to this free pattern! ←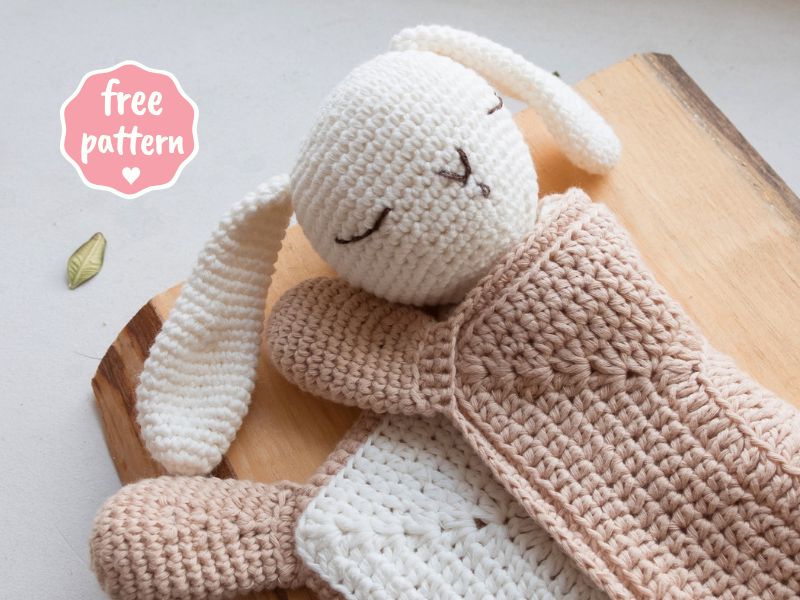 crochet roundup!
Jasmine Stitch can look intimidating, but it's getting more and more popular among crocheters. Let me tell you – it definitely deserves the attention! Check out all the amazing creations I've found, as well as free patterns 🙂
Jasmine Stitch Cowl by Barbara Craft&Fabric


photos by Barbara Craft&Fabric
The kind of yarn you choose to work with is one of the most important things in crochet. Jasmine stitch looks great in bulky yarn, but look how cute it is when made with mohair! To see more photos by this talented crocheter, check out her Instagram @barbaracraftandfabric.
If you are interested in making winter accessories using jasmine stitch, check out this free pattern for Crochet Jasmine Scarf by Fluffy Stitches.
Jasmine Stitch Crochet Pouches by Akiko Hirata
These cute purses will keep you organized! Line them with fabric and use as coin purses or toiletries on-the-go storage. For more inspiring Ideas, check out Akiko's Instagram @tsukurite_akko.
Jasmine Stitch by Lindsey Sophie v/d Hoek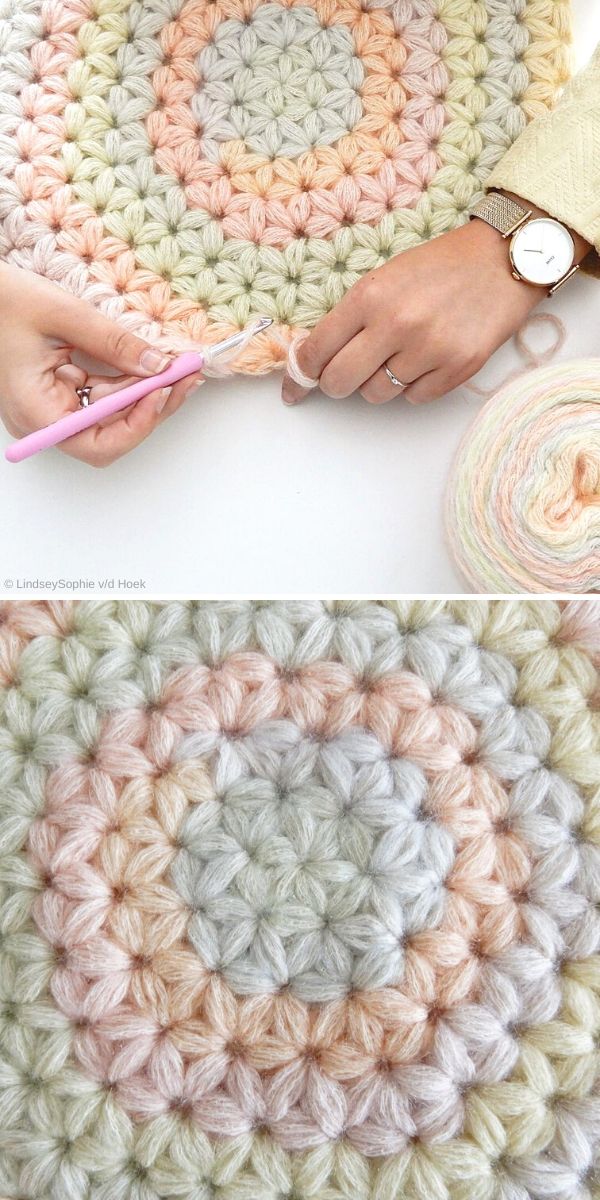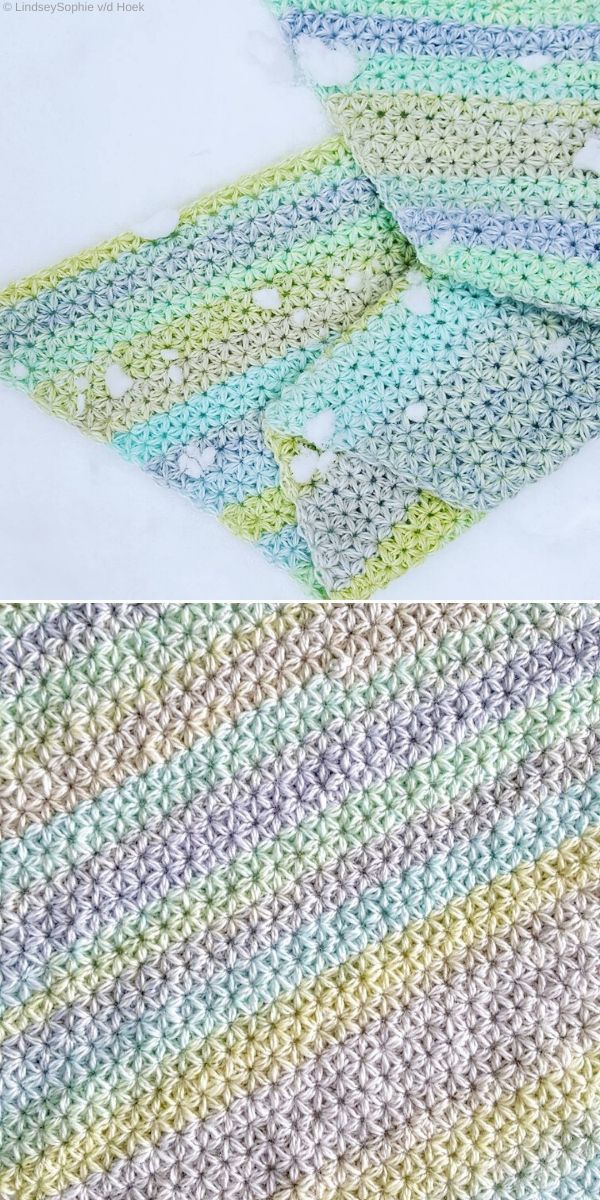 photos by Lindsey Sophie v/d Hoek
Did you know that you can work jasmine stitch in rows and in the round? Multicolored yarn is a perfect choice for both. More inspiring ideas on LindseySophie's Instagram @lindseysophie.
If you would like to try making circular items with this technique, try free pattern for Jasmine Stitch in the round.
Jasmine Stitch Crochet Bag by Pleciemotki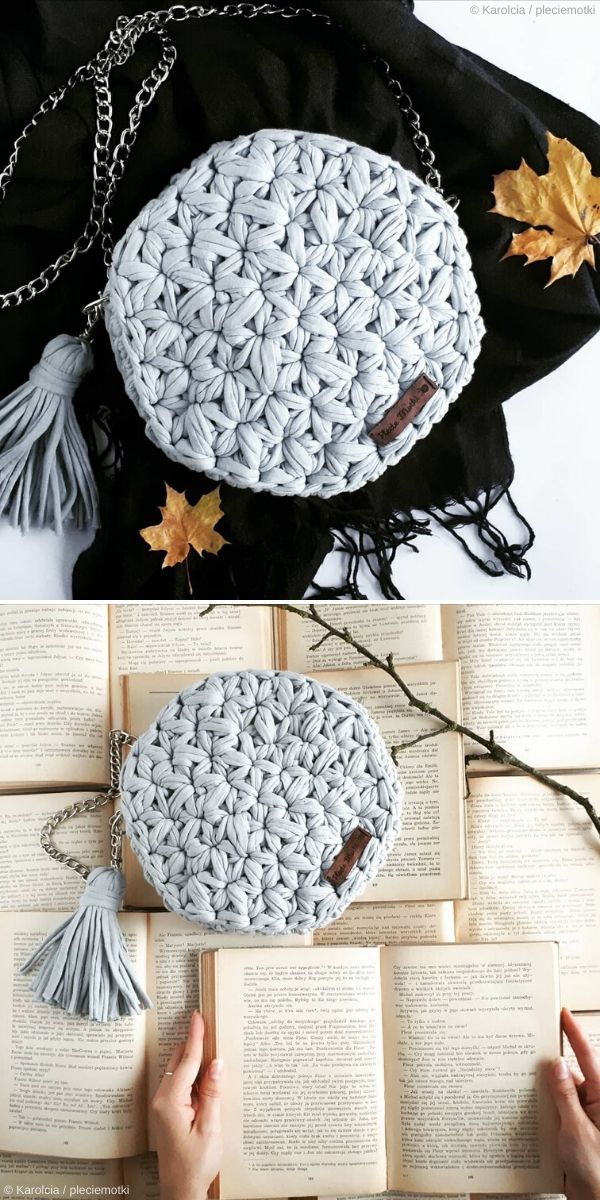 photos by Karolcia of Pleciemotki
Spaghetti cotton yarn and jasmine stitch go very well together! You can make a beautiful accessory for everyday adventures in no time! Explore author's Instagram for more inspiration here – @pleciemotki.
Free pattern for Jasmine Stitch in the round is a great starting point to make this project.
Jasmine Stitch Crochet Hair Clips by tz075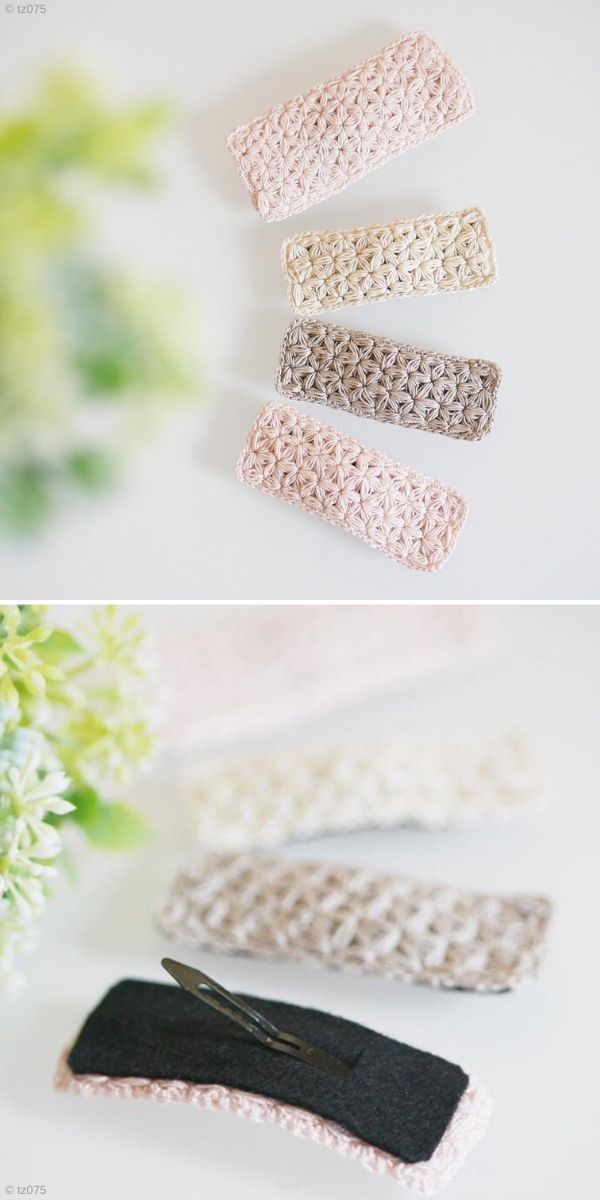 Simple and fast to make swatches can be transformed into fantastic hair accessories! Use leftover yarn ends and some felt to make them. More ideas on author's Instagram – @tz075.
Jasmine Stitch Crochet Triangle by Pooleum_
Why not go for triangles? When you are familiar with a stitch, you can easily experiment and create such interesting home decor. Check out author's Instagram here – @pooleum_.
That's all for today, but I'll be back with much more inspiring projects and free patterns. Like, share and subscribe if you like what you see. Stay tuned!
↔
You may also like: Beautiful Bavarian Stitch Ideas