Don't we all look for the best yarn storage ideas to keep our beloved stash safe and sound? Yes we do, and that's why we fill our Pinterest boards with photos of stunning craft studios and DIYs. One thing is certain – getting your stash in order is always easier said than done, so let's take a look how we can store our yarn!
If you want to learn more, read my articles, check out my Recommendation Series, or try my Free Crochet Patterns and Stitch Tutorials!
◉
You may also like…
10 Best Ways to Join Crochet Squares
◉
Does it matter where and how I keep my yarn?
Oh yes it does, because yarn can be very fragile and vulnerable to the conditions it's stored in. Of course, it doesn't really matter if you keep it on the shelf by the door or by the bed, but keeping it closed in a bag is very different than displaying it on the pegboard.
Some yarn types are more durable than other, so keep it in mind. While natural yarns can become a tasty meal for pests, acrylics most definitely won't. To keep your yarn happy, make sure that it's safe from pests and water, and your skeins aren't wound up too tightly.
What can happen to my yarn if I don't store it properly?
As I've mentioned, natural yarns containing wool, silk, or other natural fibers will be a treat for moths. Consider hiding your skeins if you've got cats or other pets that might destroy them when unattended. If your stash catches the dampness, it can simply start to rot overtime, or at least spill the color to neighbouring skeins. Long exposure to sun can also make the colors change significantly, so keep it in mind if you want to make one of those pegboard walls.
Additionally, if your yarn balls are too tight, then it might affect the yarn, because it won't breathe and will stretch unevenly.
How do I know which storage type is best for me?
One of the key aspects is simple – how big is your space. If you have your own craft room or studio, you can definitely go crazy, but it's very different if you have to share the space with others.
Other thing to consider is how often you use your yarn, because there's no point in keeping it out at all times if you don't have the time to use it. It's definitely better to keep it safe than displayed.
Additionally, I consider if you want to use the spaces and furniture you already have, or do you want to buy or make something new. DIY projects can be time-consuming, and there are a lot of ready-made solutions you can just grab from a store.
Now let's see how THEY do it!
In the roundup section I've gathered 20 ideas, which will be perfect for both big and small spaces, so see what you like best.
◉
You may also like…
◉
Crochet Roundup
In this section I've gathered the best ideas for yarn storage. Let's explore and find your favorite!
◉
The Best Yarn Storage Ideas
Showcase Your Yarn!
1. Fancy wall shelves
Let's start with a true showstopper, because deep inside that's all we came here to see! Fancy shelving, whether in the shape of a spiral, geometric figures, or complicated swirls, will most definitely make your room feel more stylish. In the photo below you can see how stunning it looks when filled out with precious yarn skeins.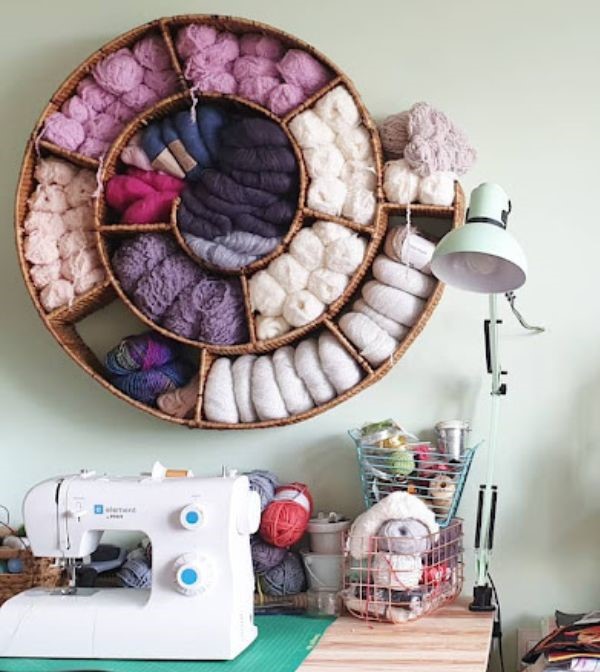 2. Built-in shelving and bookcases
Got some bookcases or built-in shelving in your home? Great, then let's fill it out with yarn! This photo shows stunning home of Erin Barrett, who creates woven wall hangings, and this kind of work requires using many skeins at once. This storage solution is perfect for those of you, who often use their yarns and like to see everything at a glance.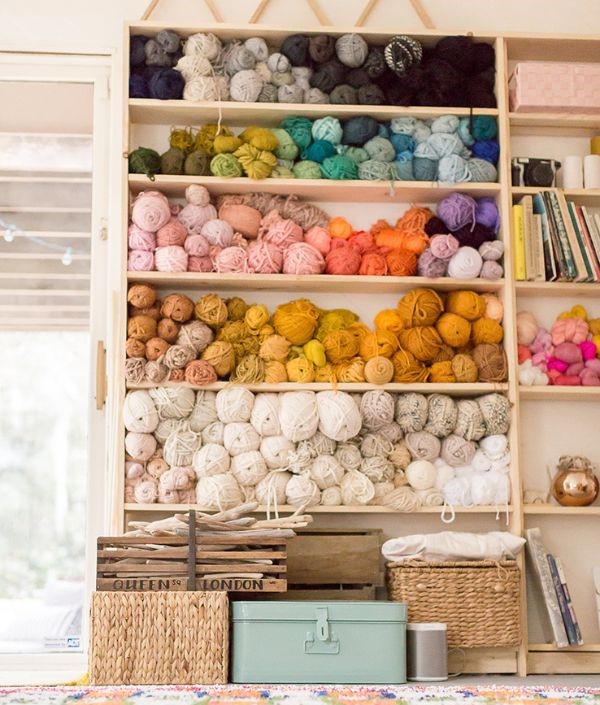 3. Vintage cabinets
I love vintage furniture, and that's truly the best way to get great quality furniture for an acceptable price. Of course, some vintage pieces are very pricey, but I'm sure it's possible to find true gems for a penny. In this picture you can see stunning wooden cabinet that must have originated from some office or a store.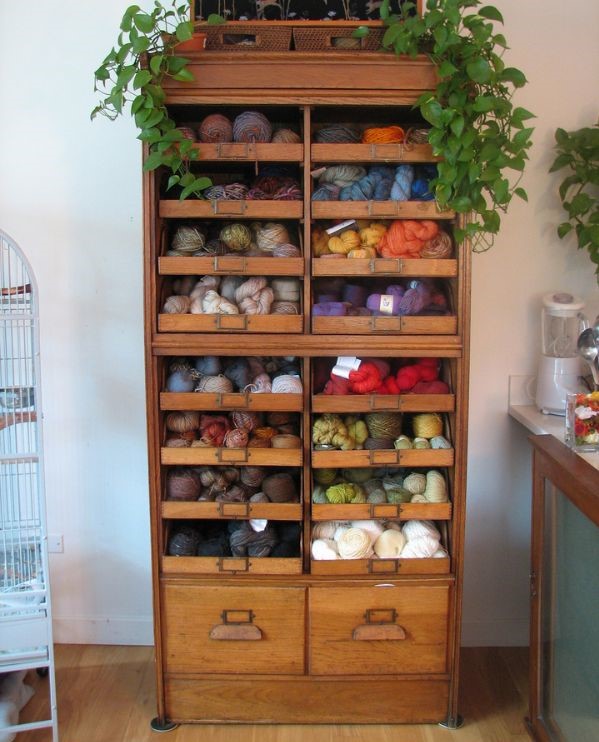 4. Pegboard
Did you know you can create a "painting" on the wall with your yarn skeins? This yarn storage solution is one of the most unique, but it requires some wall space and a lot of dedication. Install a pegboard on the wall and fill it with fibers, so that it creates a truly unique color scheme. Just remember to fill out empty spaces when you use them up!
5. Glass jars and vases
Yarn in glass jars? Why not? These containers not only will keep your fiber safe, but also create a truly exceptional decor. Just fill them with yarn scraps or yarn balls, especially small ones. It's a fantastic way to store leftovers.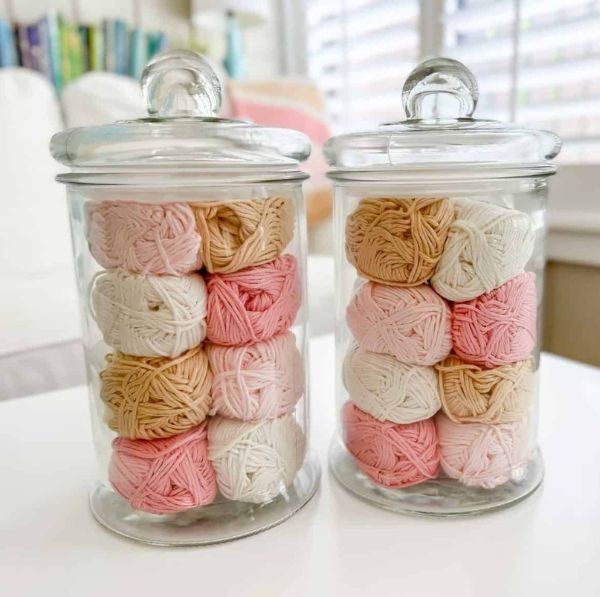 6. Metal wire racks and bins
Metal racks and bins will add industrial touch to your interior, but they are very on trend! What's more, this kind of yarn storage is breathable and easily accessible, so it's great to keep near your crocheting station. Vertical storage helps to save space and looks really stunning.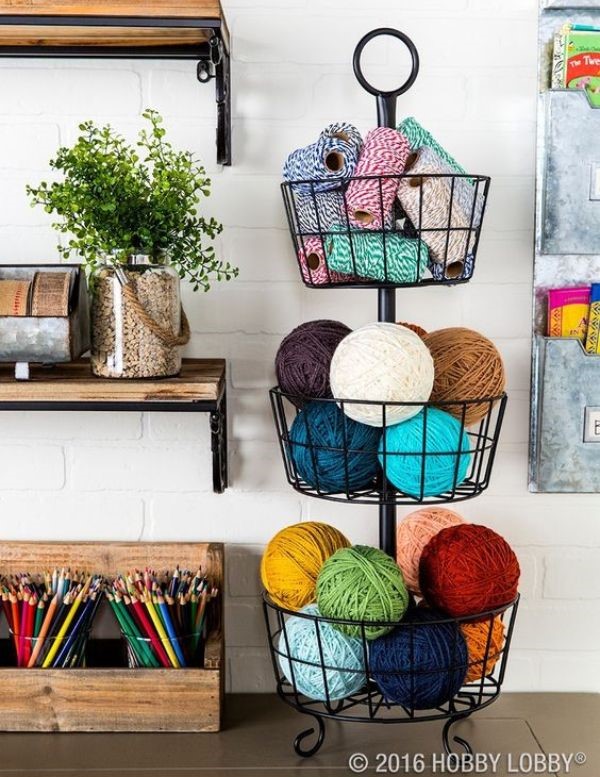 ◉
Craft Studio Must-Haves
7. Hanging baskets
I could go on all night talking about the various uses for hanging baskets, but I'll spare you this. Instead, I'll just mention the fact that you can put anything inside for easy reaching – includning yarn skeins! And the best part is? You can crochet these baskets by yourself!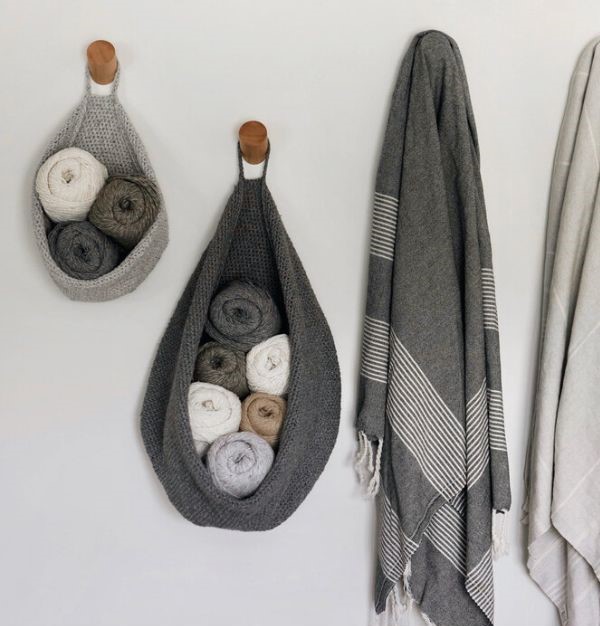 8. Stackable units
I love stacking. It's my favorite, because it turns dozens of boxes into one neat box tower. As you can see below, there are stackable basket units you can buy, which snap to one another and have easy access to the insides. Alternatively, you can go for piece with many little shelves, such as vintage wooden piece visible in the photo, or a CD tower.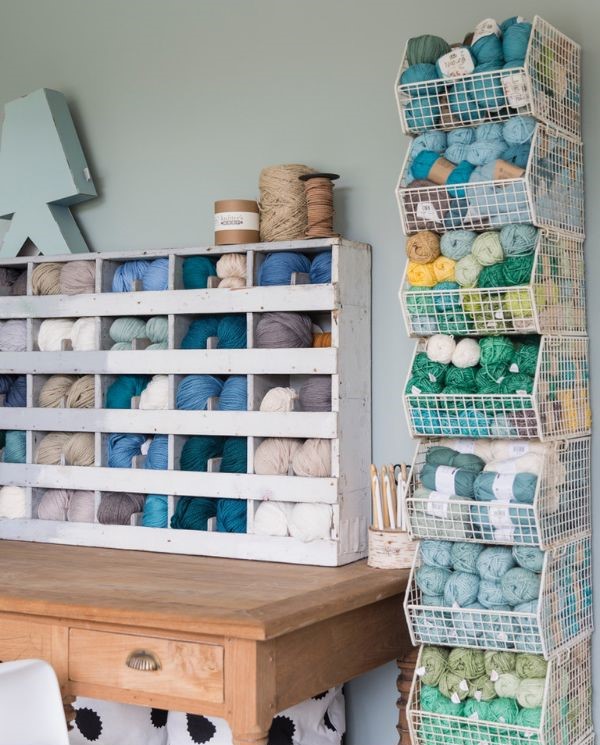 9. Mobile carts and trolleys
Is there anything better than movable crocheting station? I guess not! Fill a trolley with all the things you need and take it with you to whichever sofa or chair you're choosing today. It will keep yarn, tools, and even your hot teacup if you keep the top part tidy.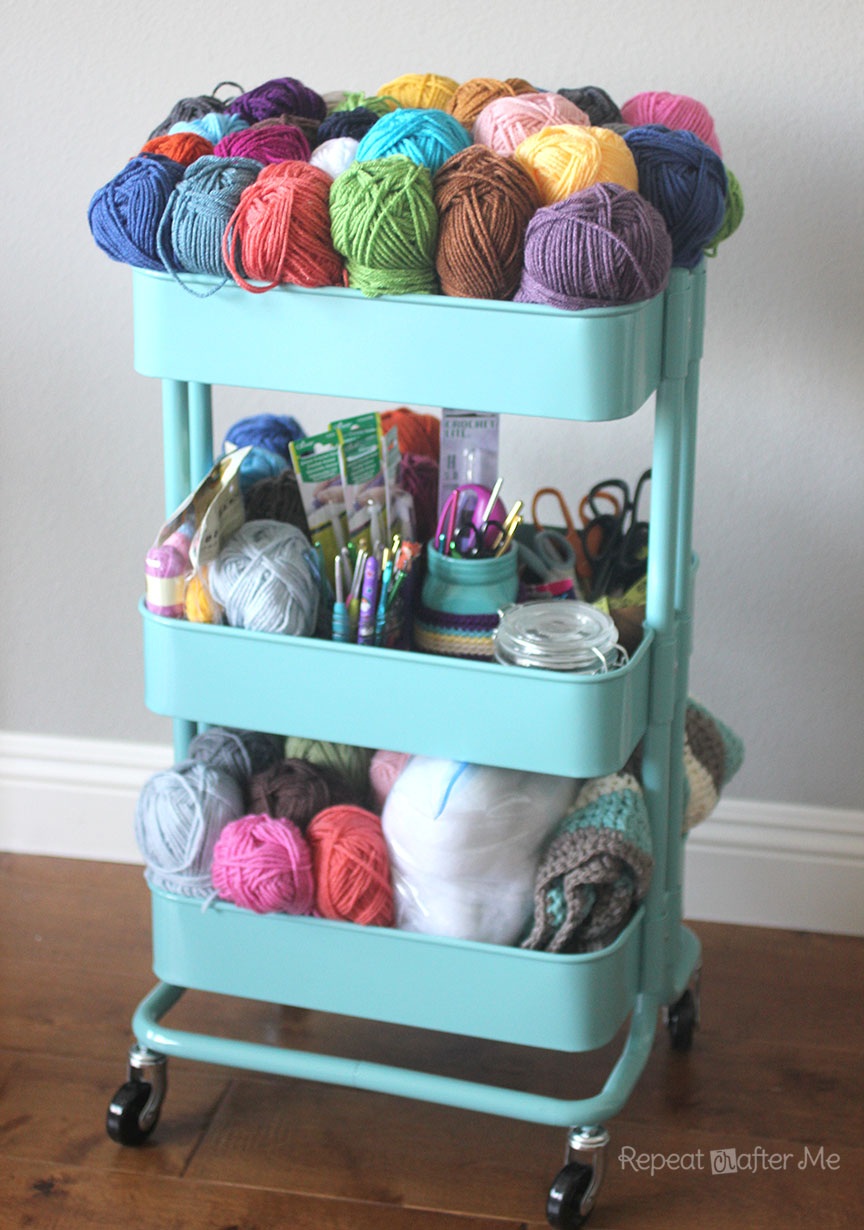 10. Shoe organizer
If you've got space on your walls or doors, go for simple shoe organizers. They can easily be turned into handy yarn containters, which will look pretty and work great. Color code your stash to end up with a rainbow, or use some of the units to store tools.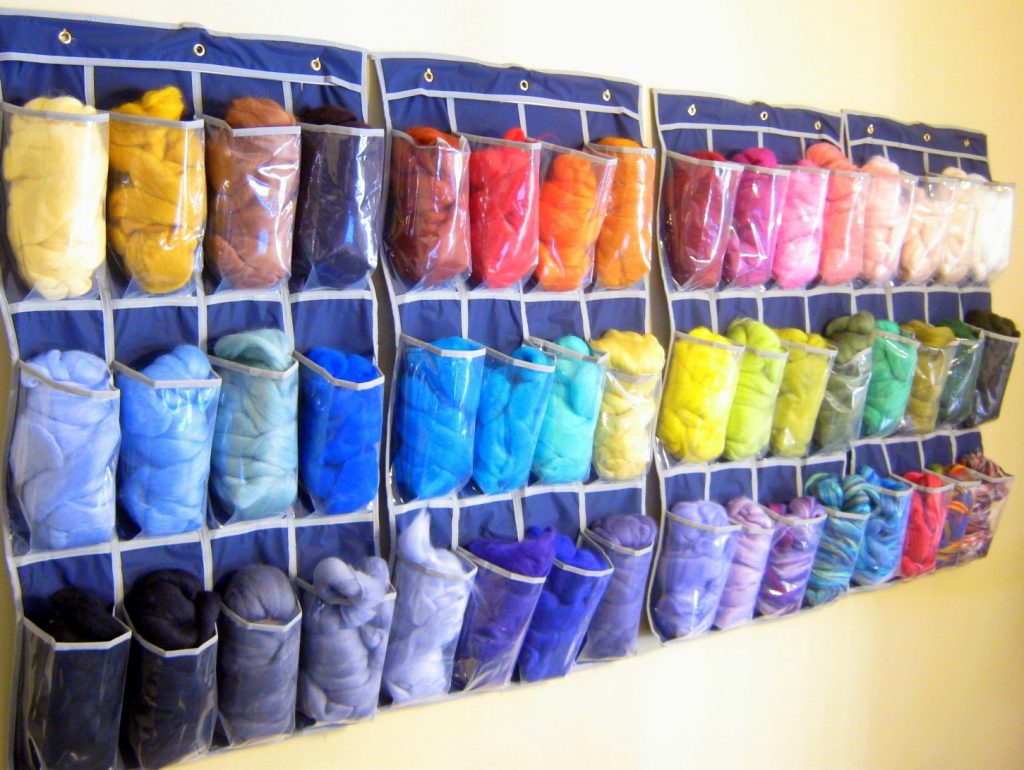 ◉
DIY yarn storage solutions
11. Wooden crates
Jess' DIY hack is great in its simplicity, because it uses zip-ties to join these crates together. If you've got time and space, such personalized shelving will not only be nice, but also very rewarding project. Of course, you don't have to use it for yarn – fill it with books, knick-knacks, or plants if you wish!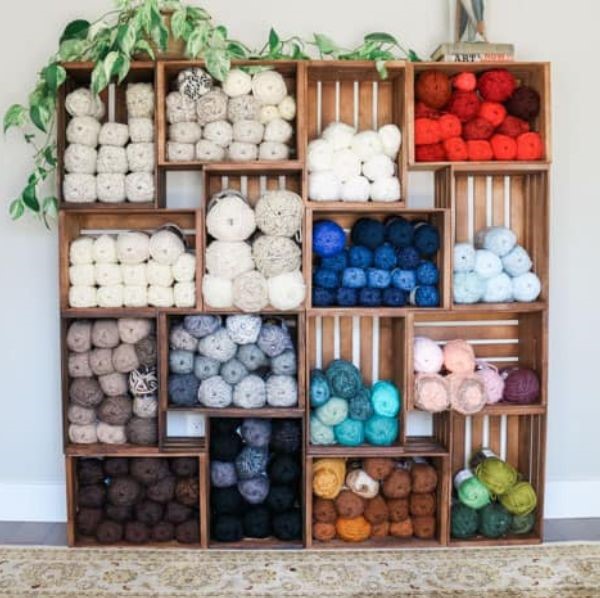 12. Coffee cans
Join empty coffee cans together to create this unusual DIY storage solution. Keep your yarn inside, as it's shown in the bottom photo, or fill it with other things, such as pencils or paint brushes. Just make sure that the cans are very clean and that there are no sharp edges that the yarn could snap on.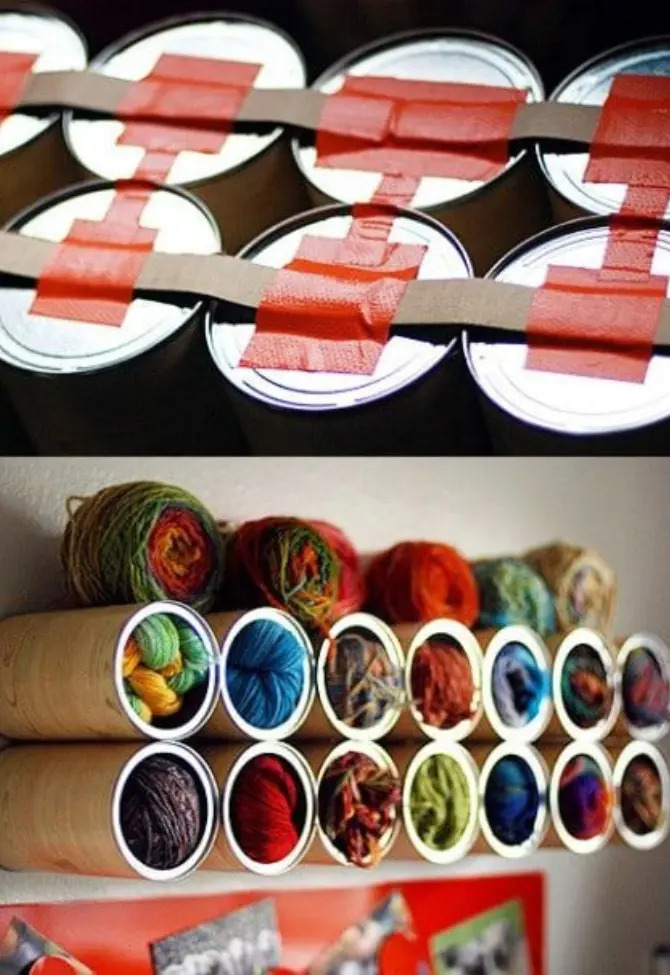 13. DIY PVC pipe organizer
Staying in the theme of round containers, here's another DIY solution – handmade PVC pipe yarn storage! This type of pipe is very cheap and you can buy it in any hardware store. Simply cut it into smaller pieces and join them together, so that you can hang it or keep it standing by the wall.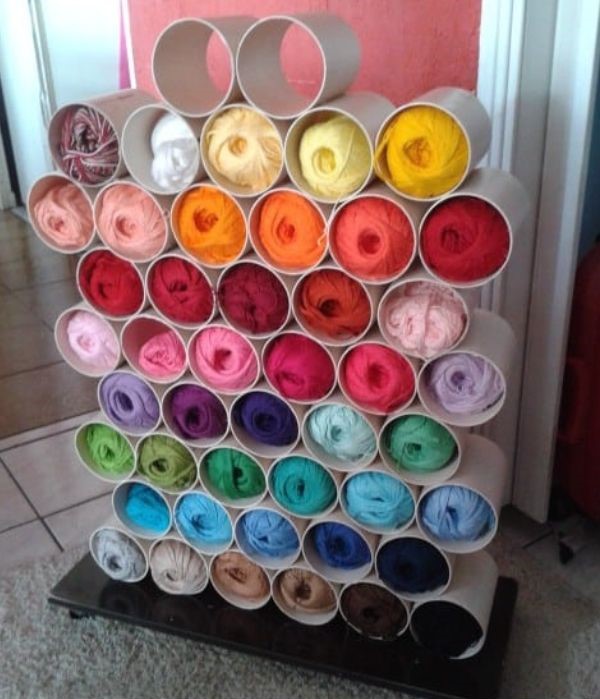 14. Yarn hammock
If you're into crochet, this yarn storage solution will be right up your alley, because you'll make it in no time! This simple hammock-like piece uses three hooks and immediately adds boho vibes to any interior. You can fill it with your stash (of course), or hang it in your kids' room to keep all their softies there.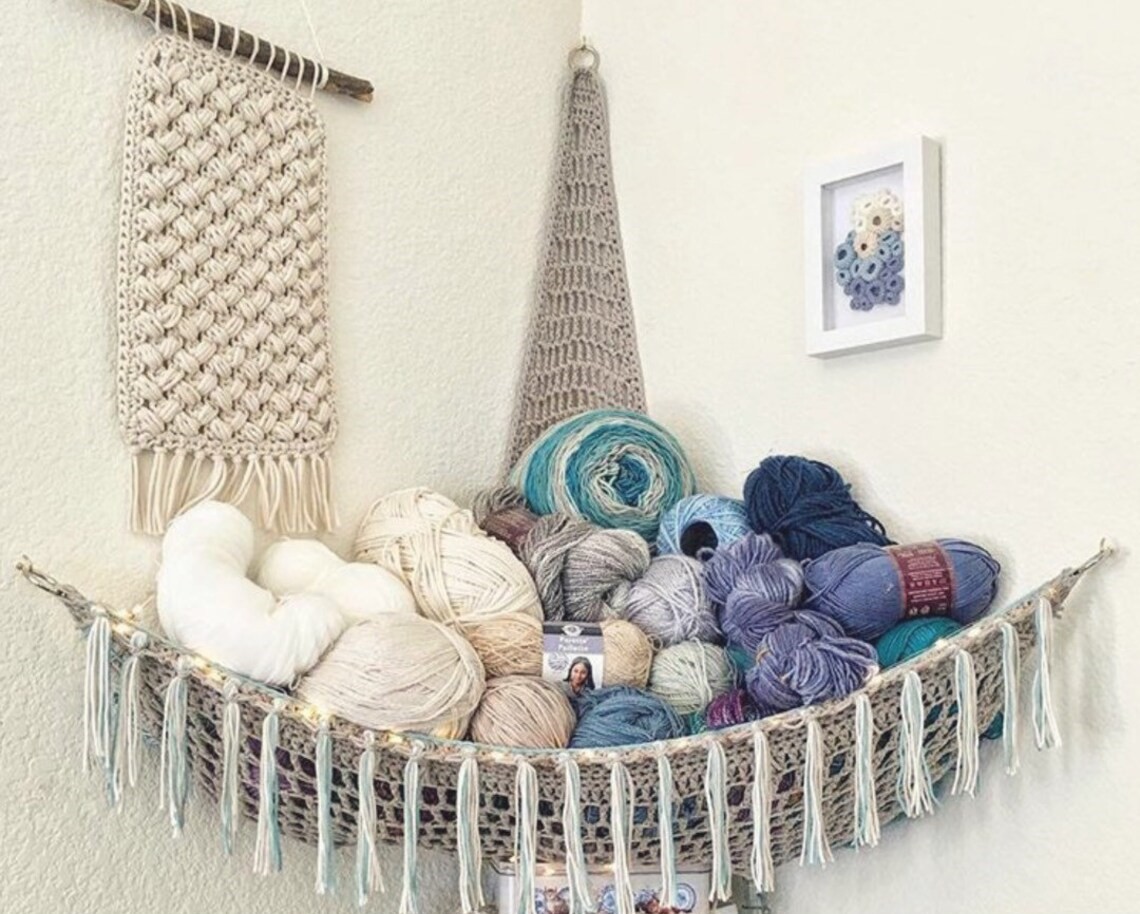 15. Stash Baskets
Another solution for crocheters are, of course, yarn baskets! In fact, there's nothing really special about stash baskets, other than the fact that they almost always have handles. Use any crochet pattern you like and make it as big as you need – and then keep your precious yarn balls inside!
◉
Space-saving Ideas
16. Hanging cubby in a closet
Let's say you want to have easy access to your yarn skeins, but you don't want to look at it everyday – what can you do? Use the closet space! Hanging cubbies may come in very handy, because you can fill them to the brim with yarns. And, when you use up some of your materials, simply take it off, turn into a small package and tuck away.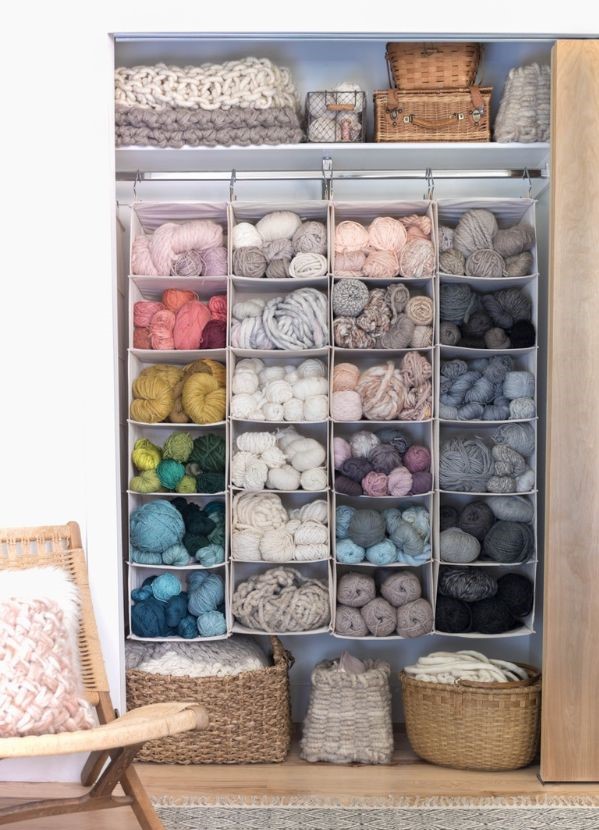 17. Drawers
I'm a big fan of drawers, and I mean it! They are much more useful than shelves, especially deep shelves, because you can't see what's in the back. It's all nicely visible in the drawer, though, so organize your skeins and keep them away when you don't need them.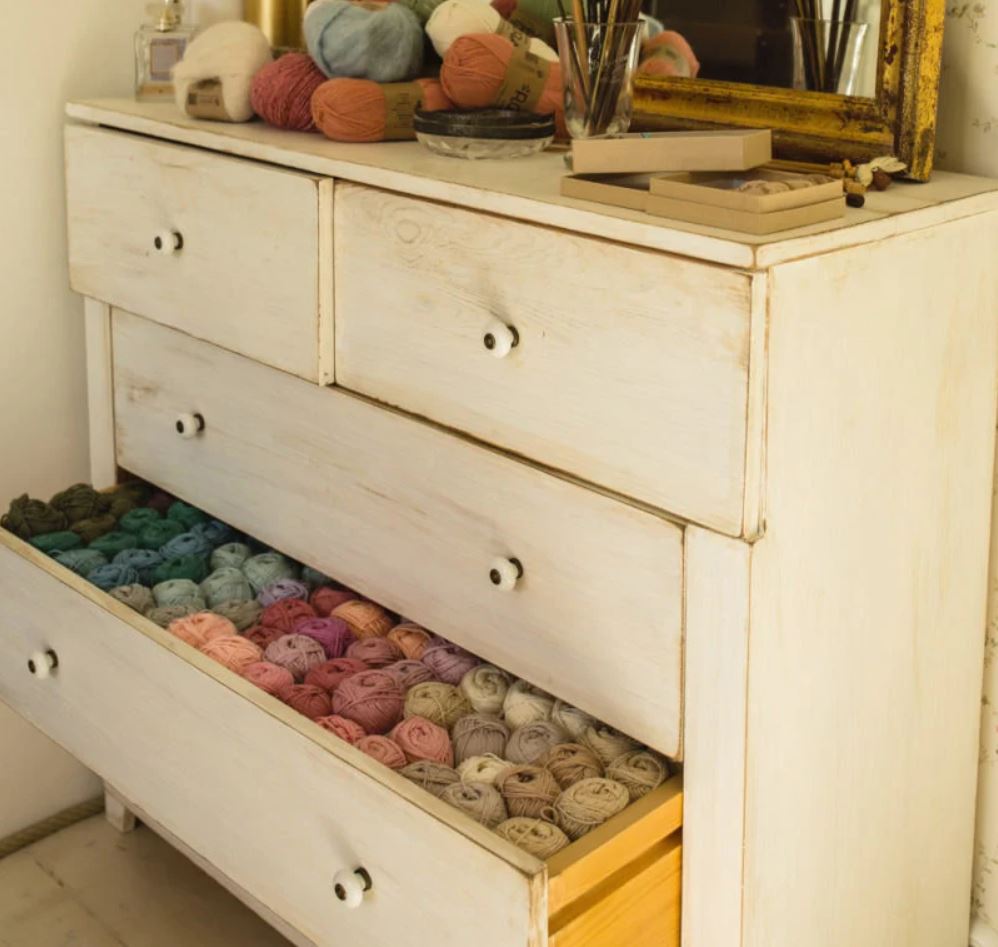 18. Clear plastic boxes with lids
This yarn storage solution is not about being pretty, but it's all about being useful. Clear plastic boxes will keep your yarns from pests, while letting you know exactly what's inside. This way you won't need to rummage through endless containers to find this one skein, ever again!
19. Under-bed storage bags
Another great solution for small spaces is under-bed container, because this space often is left unused. As you can see, there are even bags with clear lids, so that you can see what's inside. Fill it with yarns and keep them safe.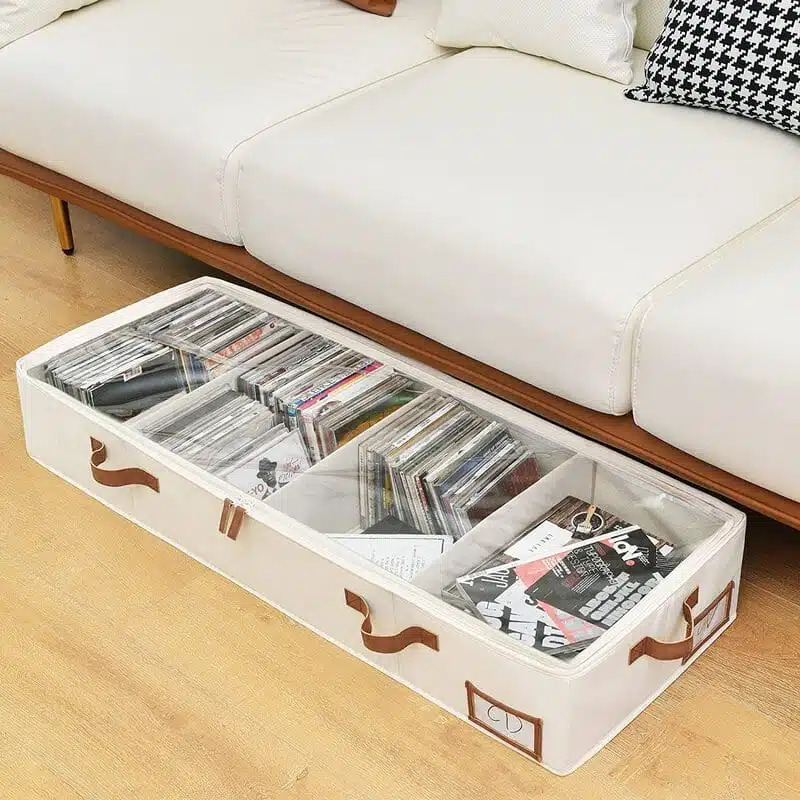 20. Short term solution – vacuum bag
This storage solution isn't for long-term storage, because it may negatively impact the yarns inside. It is, however a stunningly clever way to minimize the size of your stash when moving, for example. As yarn skeins are filled with A LOT of air, vacuum bag can suck it all out and transform your stash into rock-solid units. Clever!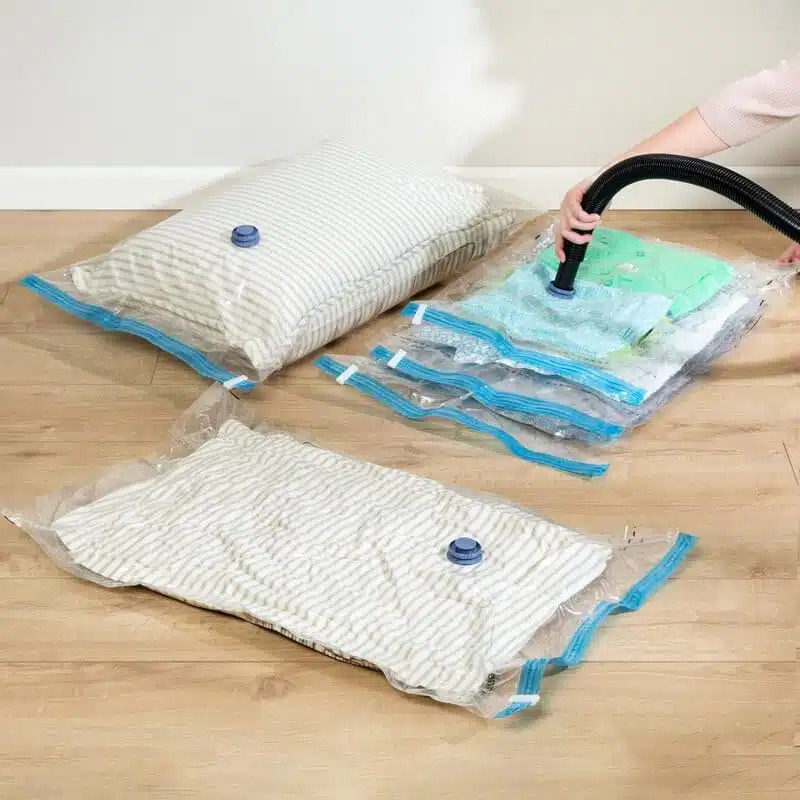 ◉
That's all for today, but I'll be back with much more inspiring projects and free patterns. Like, share, and subscribe if you like what you see. Stay tuned!
↔
You may also like: 10 Best Crochet Hacks to Make Your Life Easier