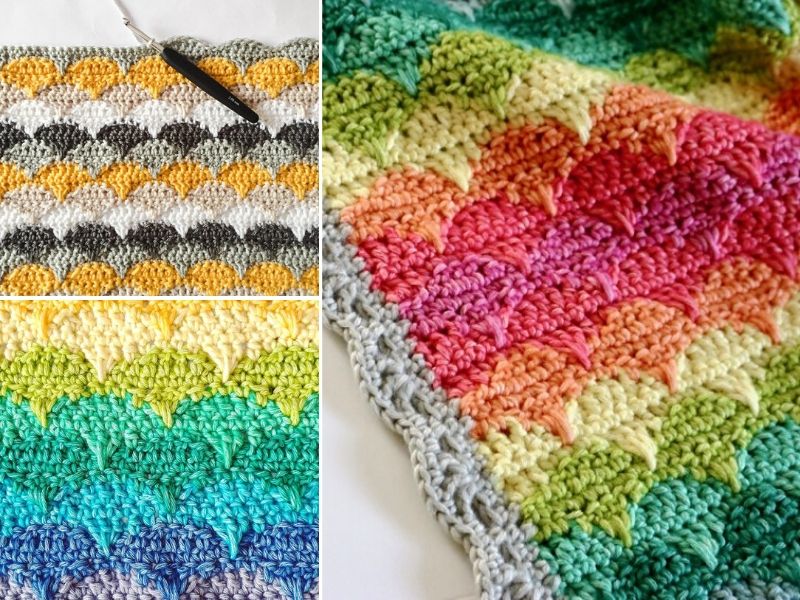 Today's theme is fun, vibrant and absolutely beautiful. You might think that clamshell stitch have something to do with crochet shells, but hey, surprise! They totally are not 😉 Whaaaat?
This stunning pattern is created with basic stitches and a little bit of trickery, such as cleverly placed spike stitches. It requires a little bit of time and effort to grasp, but once you know how to do it, you can make the loveliest accessories and blankets!
Curious? Great! Let's dive in!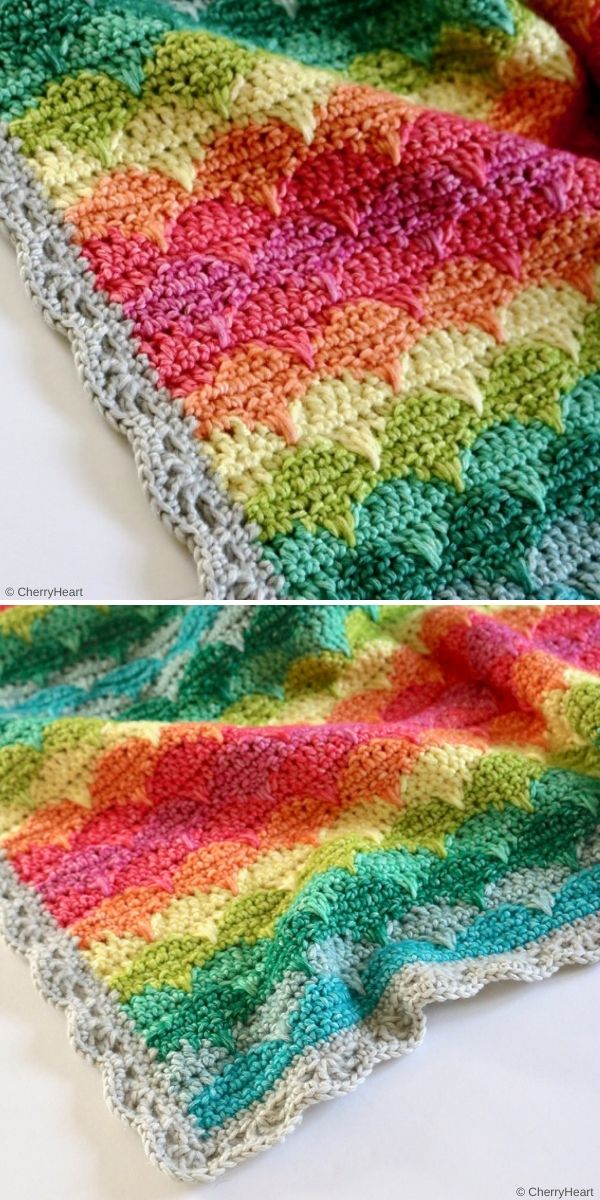 Fun and versatile
Clamshell Stitch is one of those techniques, that look great in many different projects. It creates moderately dense structure, which is perfect for blankets and throws. Alternating colors is an absolute must here, because otherwise clamshells will not be visible. If you don't like rainbows, don't fret! You can use two colors and be absolutely fine 🙂
Materials
You can use any type of yarn for this stitch – it will look different depending on what yarn weight and
hook
you choose. The thinner the yarn, the smaller the clamshells.
Sandra used DK yarn and a 4 mm
hook
for clamshell stitch tutorial, and Aran weight yarn with 5.5 mm
hook
for blanket pattern. She labels this stitch as "tricky", and her blanket as "intermediate", but I can assure you that her tutorial is so well written that you won't have problems with following it.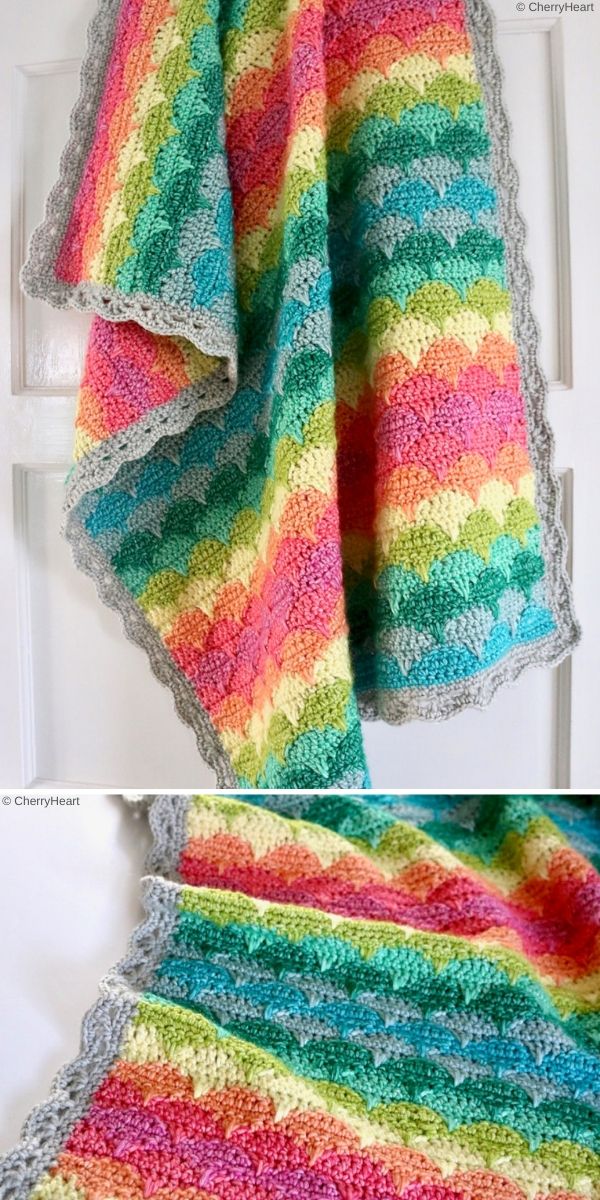 CherryHeart's
Clamshell Stitch Tutorial
is a great starting point, because it's
free
and you can then use it in any project you want! Take notice that it's written in
UK terms
, so you don't get confused, if you are used to American terms.
Need even more inspiration?
If you prefer a nicely formatted, ready-to-print pattern, you can purchase
Clamshell Blanket
for step-by-step instructions, charts and edging. It's available in both UK and US terms and costs less than a coffee! 🙂
talking about stitches…
Our growing website and library of free crochet patterns has some projects that might interest you, too. On top of that, my list of Stitch Series is still growing! For example, check out my article on Easy Heart Stitch Ideas!
→ Yes! Take me to this article! ←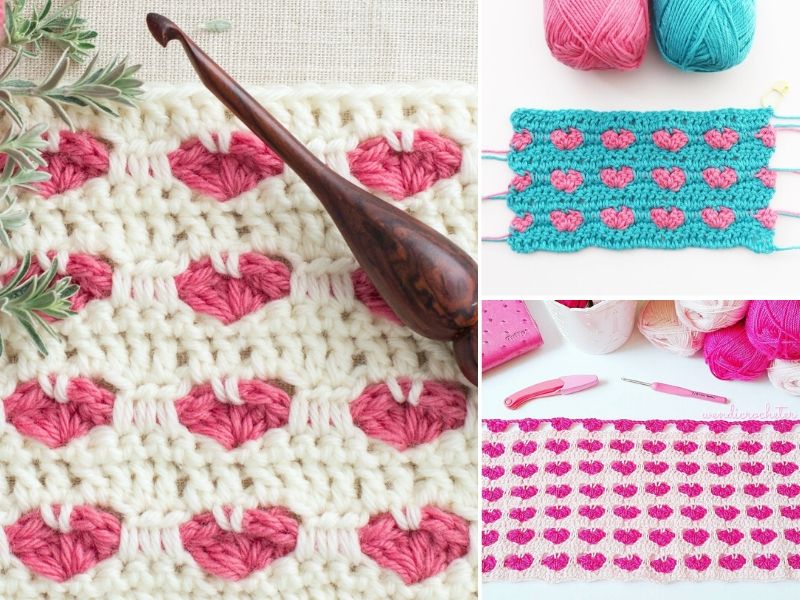 or…
Explore the article I wrote about Dreamy Alpine Stitch Ideas, because it's full of free resources!
→ Yes! Take me to this article! ←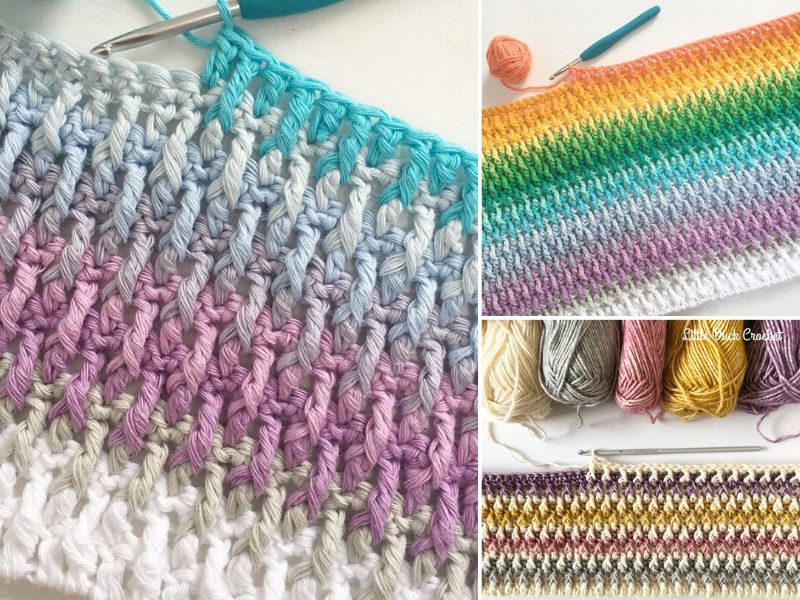 crochet roundup!
As per usual, I chose for you the most amazing crochet creations on the theme, so sit back and relax! Clamshell stitch is so tightly associated with Cherry Heart's tutorial, that it's hard to find anything that isn't a version of her pattern. I'm so happy to show you fantastic creations by talented crocheters!
All of the projects presented below can be recreated by using Sandra's Clamshell Stitch Tutorial or Clamshell Blanket pattern, so check out both links – they are provided at the beginning of this article.
◉
Sweet Pinks
Clamshell Blanket by DownGrapevineLane
Are you looking for a romantic color scheme, or something for a little baby girl? This fantastic baby blanket features the most amazing dusty pinks and greys, and delicate lacy edging is just a cherry on top. Crocheter behind the name of DownGrapevineLane did a great job, so take a look at the photos and get inspired.
◉
Clamshell Blanket by BebeRouge
Bold pinks and turquoise go very well together, but we all know that edging is one of the most important finishing touches to any blanket. Be sure to choose a fitting one! Crocheter behind the name of BebeRouge decided to go with lace, and it's a great choice. As you can see below, delicate shell pattern mimics the ebbs and flows of the clamshell pattern.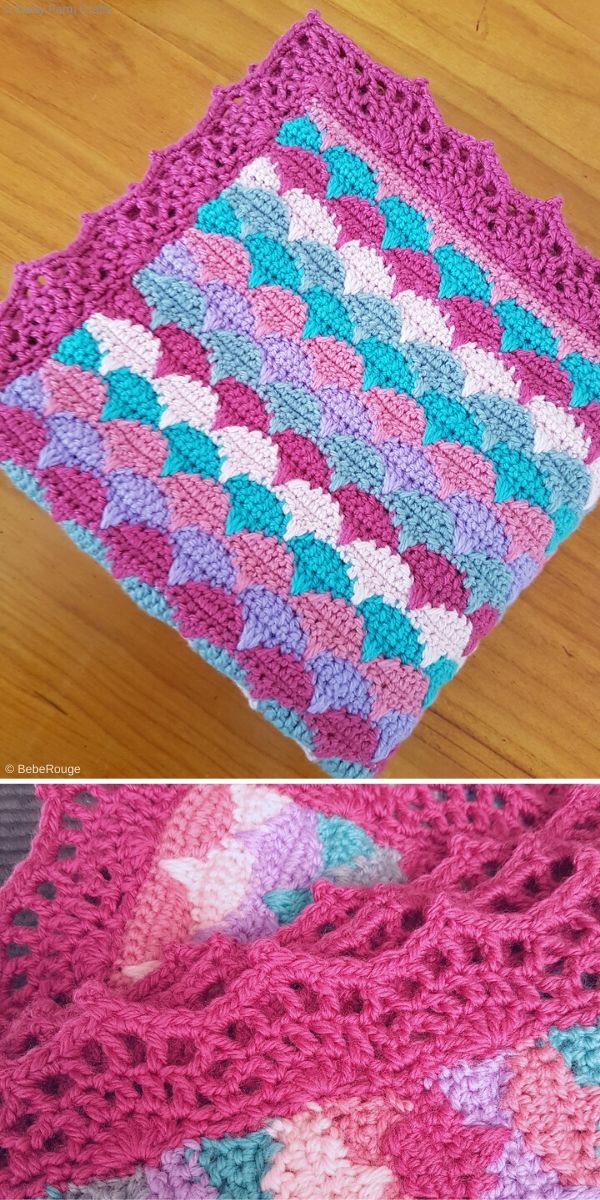 ◉
Clamshell Stitch by TichTach
A little swatch is enough to showcase the beauty of clamshell stitch, so always start with one. TichTach introduced three shades of pink and broke it up with contrasting yellow and navy. As you can see below, this unexpected combination looks really good. Remember that the colorway you choose is crucial, so decide on your favorite hues and give it a go!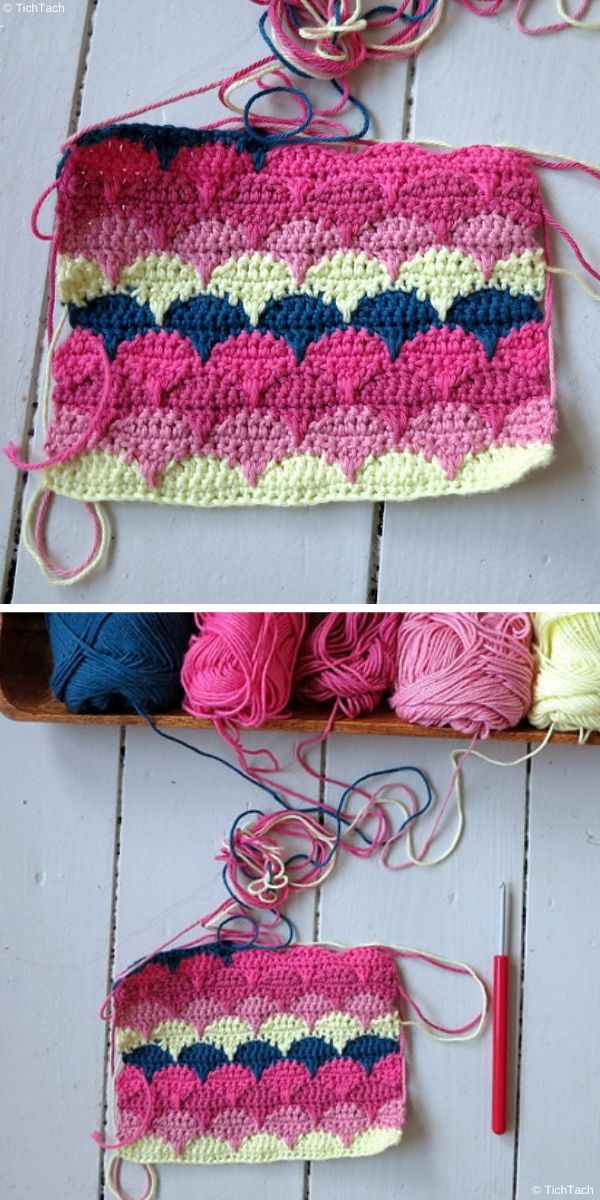 ◉
Clamshell Blanket by natcustodio
Thick border made with basic crochet stitches features all the colors used in this project, so it fits perfectly. Clever, right? Scalloped edge looks great here, because it mimics the curves of clamshell pattern. Author of this blanket decided to break up the girly combo of pinks, whites and blues with earthy brown yarn color. See it below – it looks so interesting!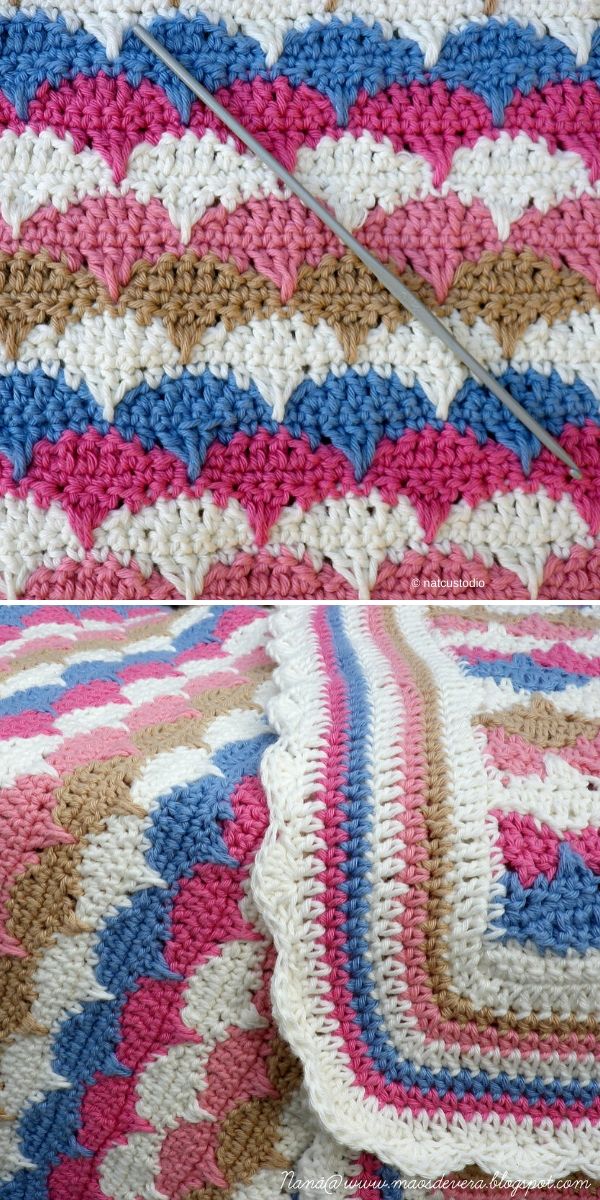 ◉
Clamshell Broken Ankle Recovery Blanket by soniams
This blanket by Sonia reminds me of juicy berries, or plums of different colors. Five colors that she chose created a lovely sequence, which is neither too busy, nor boring. Take a look below to see that she chose yet another color of yarn to make a border with, and it's much darker than the rest of the blanket. You must admit that it works great!

This blanket incorporates edging from Sandra CherryHeart's free crochet pattern called Dolly Mixtures Blanket, which is available on cherryheart.co.uk and on ravelry.com.
◉
Moody Palettes
Clamshell Blanket Version by Madeleine Windsor
This elegant color palette has won me over, because it's sophisticated, moody and very earthy. It reminds me of wet trees in the forest, squishy moss and blue sky peeking through the treetops. As you can see below, Madeleine finished it off with delicate beige edging that features lacy scalloped stitch.

◉
Beth's Baby Blanket by runnergirl59
Shades of blue and yellow play together as nicely as sea waves play with the sun. You definitely should keep this combination in mind, because it looks great in many different versions. Here you can see that the stripes of yellow and blue are divided with grey and white – just as seafoam gathers between the waves of the sea.

◉
Clamshell Stitch Pillow by Ebb Flow Handmade
Soothing colors of the sea and sand are perfect choice for an interesting home accessory, so be sure to give it a go. A pillow with lovely scalloped edge will bring a delicate summer breeze into your living room or bedroom, so make a bunch! Megan did a great job and you can see it up close in the photos below.

◉
Vibrant and Colorful
Clamshell Baby Blanket by lupa
As with many other blanket stitches, alternating rainbow colors with white works like magic. Lupa did just that and you can see the effect in the photos below – isn't it the most cheerful of the bunch? In addition, author decided to add simple striped edging, which is a great choice for such a busy pattern.

◉
Clamshell Stitch by Crafty CC
Do you have a lot of leftover yarn scraps? You can use them to make a fun colorful crochet item! Vibrant hues remind me of candy, so this palette will be perfect for a baby blanket. As per usual, crocheter behind Crafty CC delivers top-notch crochet piece. Take a look below to admire uniform stitches and bold color palette.
◉
Clamshell Blanket by Crochet Shaz
Pastel rainbows are the best, right? This one is just stunning, and color flow makes me drool. As you can see, clamshells look delicate and sometimes almost invisible, but they create beautiful, subtle structure. See more of author's projects on her Instagram page.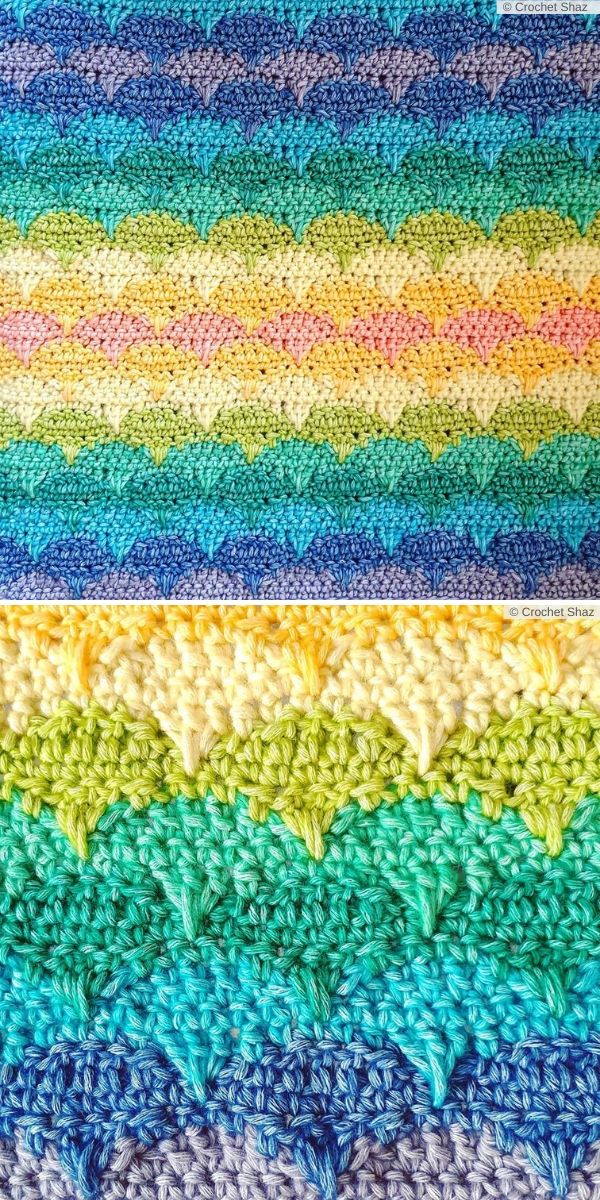 ◉
Scrap Blanket Ideas
Clamshell Blanket by PiaPoireChocolat
This beautiful blanket is a perfect example of using up scraps, because each clamshell row is made with a different color. In addition, it looks very bohemian! If you are a fan of this style, take inspiration from Pia's piece shown in the photos.
◉
Clamshell Blanket by Irene Strange
Earthy tones work in nature, so you can use them in textile art as well! This amazing project uses greens, yellows and blues to create a breathtaking crochet landscape. Irene's blanket uses many different colors of yarn, so it looks like it's made with leftover yarn ends. It doesn't have to be, but hey – doesn't it look amazing?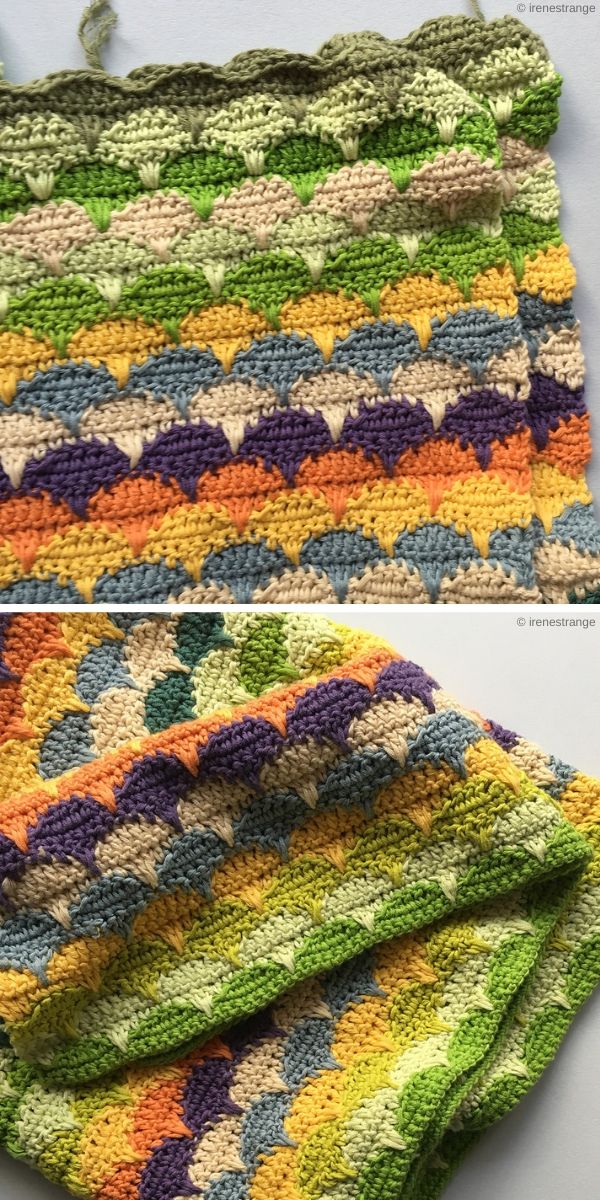 ◉
Lovely Contrasts
Clamshell Stitch Blanket by marchefka
Modern color scheme can take this pattern to a new level, so don't be afraid to try it. Olga combined neutrals with bright yellow accent, which is a great idea if you are looking for a more contemporary approach. Below you can see how nice and even her stitches are – a sign of long hours of practice and effort.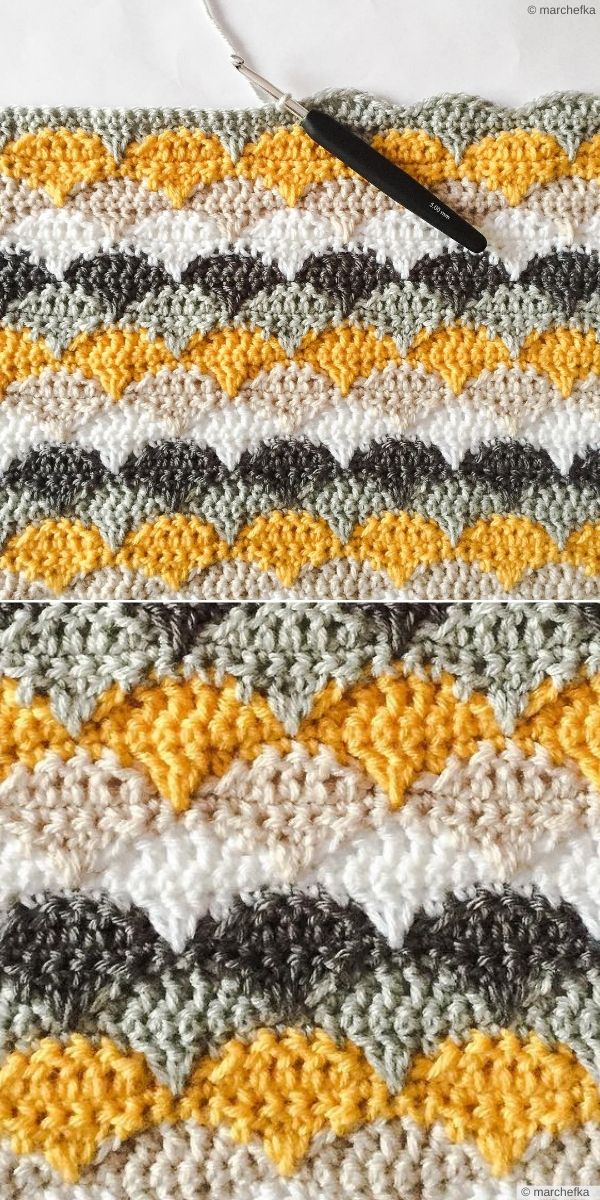 ◉
Clamshell Shawl by Sylwia Kawczyńska
*free crochet pattern*
Not a fan of blankets? That's no problem, because here I've got a beautiful free shawl pattern, which uses clamshell stitch. Sylwia went for contrasts by choosing classic combination of yellow, black and neutrals. This color scheme very much enhances the pattern, making it a one-of-a-kind accessory – just take a look at it!

You can find this free pattern on Sylwia's blog mycrochetory.com.
◉
That's all for today, but I'll be back with much more inspiring projects and free patterns. Like, share and subscribe if you like what you see. Stay tuned!
↔
You may also like: Nature's Walk CAL Ideas