Useful Crochet Accessories – Storage and Measuring Tools
What should every crocheter have in their studio? Of course, you need a crochet hook and some yarn, right? Sure, that's all you need when you start, but when patterns get more complicated, and your projects more time-consuming, it's great to have some useful crochet accessories at hand. 
Whether you have a beautiful crafting studio to keep all your projects and stuff in, or just a designated drawer in your bedroom, that's ok! Sometimes a tiny accessory can make a huge difference, because it simply makes your work much easier.
In this article I will explore the world of crochet and yarn accessories, so that you can decide, which of them add to your crafting space! Some of them are tiny, but necessary, while others are for complete yarn freaks… so dive in and decide for yourself!
Check out part 2 of the article here: Useful Crochet Accessories – Working on and Finishing off Your Projects
◉
Storage and Organization
When your bags, baskets and boxes begin to overflow, and your crochet hooks are mixed with pencils and knick knacks in the bottom drawer, it's time to get organized. 
Hook holders
There are many ways to organize your crochet hooks. If you've ever decided to buy the whole set of different sizes, you must have noticed that they come in a nice crochet hook case. Store-bought crochet hook cases usually open up like a book, which reveals simple slide-in nooks for each hook, and the whole case closes nicely with a zipper. Sounds cool, right? But that's not your only option. 
Hook Roll
If you need something more flexible, or you have so many hooks and crochet accessories, that you couldn't possibly fit them into a store-bought case, make your own hook roll. You can easily sew or crochet it, but the best thing is, that you can design it to fit your needs. Below you can see a beautiful rainbow example.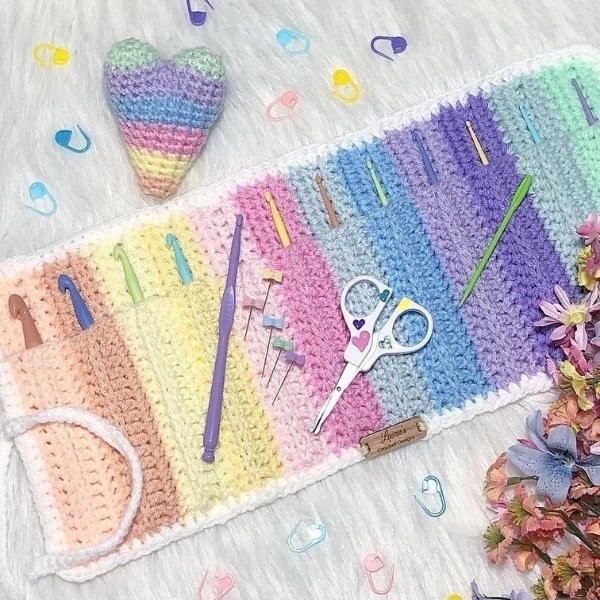 Hook Bag / Case
For those of you, who don't need that much order in your crochet hooks, I recommend a simple pouch, which we can also call a hook bag. This one is definitely the easiest one to make or buy, as well as small and portable. Take a look below to see a simple crochet case.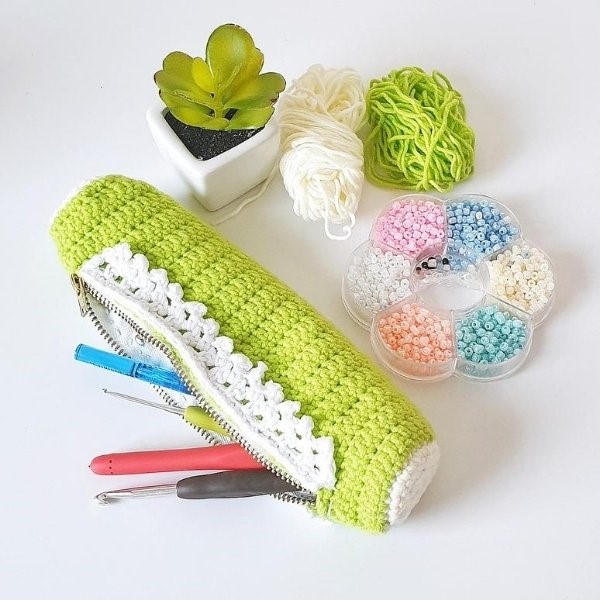 This project is available as free crochet pattern – On-The-Go Crochet Case by LoopinglyMade on loopinglymade.com.
Hook Holder
To keep your crochet hooks in easy access in your crafting space, go for a simple hook holder – it can be a tin can, a jar, or plastic desk organizer. Whatever works! Remember, that you can easily embellish your hook holder with crochet techniques or painted motifs. In the photo below you can see simple trick that will help you turn basic jar into hook holder, so try it, because it's extremely easy!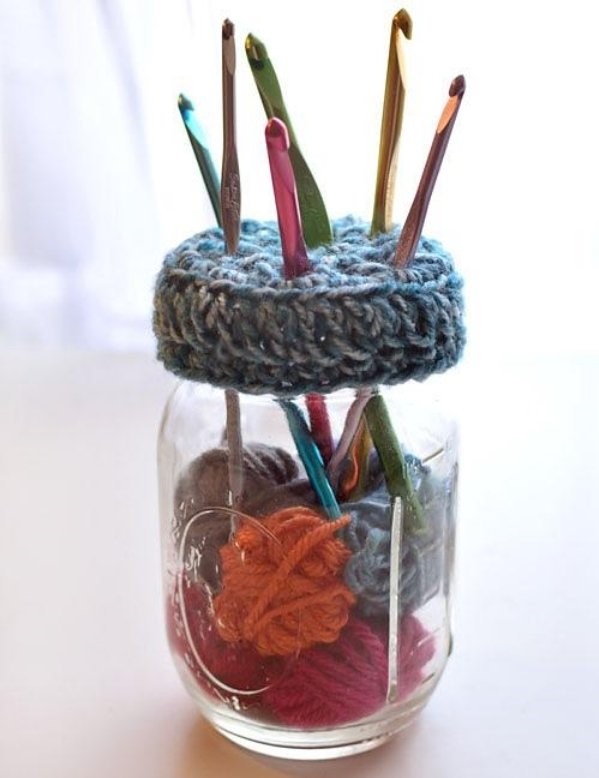 This project is available as free crochet pattern – Mason Jar Crochet Hook Holder by Rachel Choi on crochetspot.com.
Project Bag
This accessory will come in handy, if you don't have a safe place for your ongoing WIPs, so if you have a hungry dog or a child around, definitely get yourself a project bag. If you work on a big project, it's also good to keep all the tools and materials in one place, so that you know exactly what's what.
It can be a simple cotton tote bag, or a plastic zipper bag. Simple solutions work great, but if you would like something more fancy, there are more sophisticated options. You can find project bags that have additional storage for your hooks and crochet accessories, or tote bags with customized prints on it, like the one you can see in the picture below.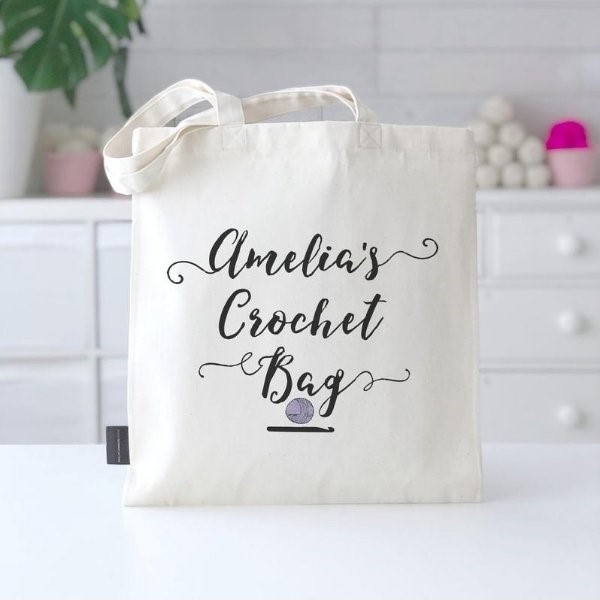 Stash Basket
Stash is all the yarn you have, and the more you have, the harder it is to keep it in check! Crocheters and knitters come up with fantastic ideas for clever and beautiful storage, but nothing beats a simple stash basket.
It can be crocheted, knitted or sewn, but the most important thing is – it must fit nicely into your space. By making your own stash baskets, you can control their size, color and dimensions, therefore fitting them perfectly to your shelves or nooks. There are many free patterns for fantastic crochet baskets, so take a look below at one of your options.
This project is available as free crochet pattern and you can find it on yarnspirations.com.
Yarn Organizer
This little accessory is more common among embroidery artists, but comes in handy if you are working with lots of colors at once. Yarn organizer is usually a wooden piece with little holes in it, often in fun shape. You can easily attach small amounts of yarns to each hole, and sometimes there is a space above to write its name, colorway or number. 
This simple hack will make it easier for you to organize your color palette for the project, decide on color sequence, or simply store yarn samples for future crochet endeavors. As you can see below, it can be a beautiful piece of art, so consider purchasing one.
Ball Winder
This accessory is definitely for those of you, who take their hobby very seriously! This cool device, which you can see in the photo, allows you to turn hanks and skeins into nice balls. It can be very useful, because it makes it much easier to work with hand-dyed yarns, for example.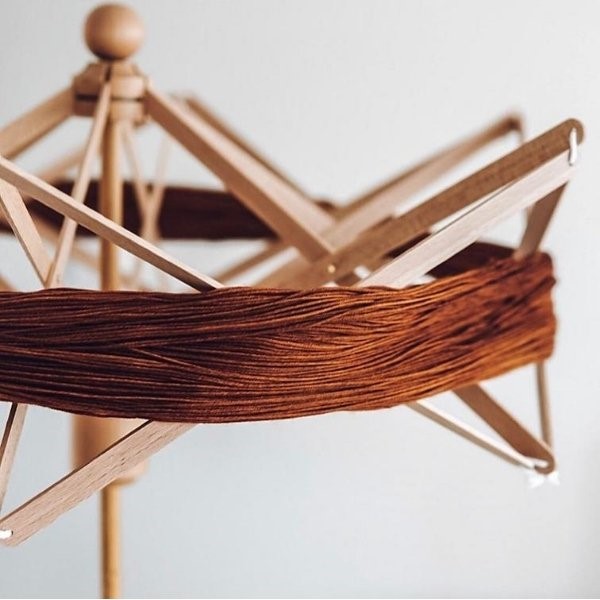 You can learn all about Yarn Ball Types in my article – just click the link!
◉
Measuring
Even if you are not very much into math, measuring tools are extremely important, especially if you crochet, knit or sew. 
Measuring Tape
The simplest accessory of all – measuring tape. It comes in handy in so many situations, that in my case it's as necessary as scissors or needles. Automatic ones have a clever mechanism that rolls it in after it's been pulled out, but old-school ones are great, too. Below you can see fantastic handmade cover for automatic measure tape, so make one, if you can sew!
If you have a designated desk by which you work, just glue your tape to the edge of your desk, so that you don't even have to take it out. It works great for measuring out sections of yarn.
Stitch Counter
Complex patterns are based on complex mathematics, so it's good to have a device that will keep you in check. It's so easy to lose track of counting, when you work with hundreds of stitches in a row! This simple tool, visible in the photo below, will help you stay on track.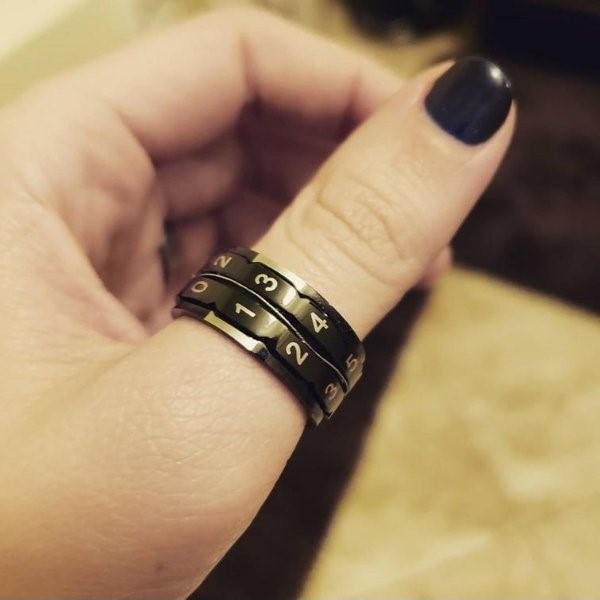 Gauge and Hook Size Ruler
I've already mentioned the importance of making gauge swatches in this article – Crochet Swatches, but there are tools that measure your crochet hooks, too! For example, this beautiful wooden ruler you can see in the photo below. Nowadays, most crochet hooks have their size carved out on the handle, but if you inherited a bunch of no-name hooks or needles, this tool will help you identify their size.
You can purchase this gauge ruler on twigandhorn.com.
◉
You may also like: Crochet Blocking