Useful Crochet Accessories – Working on and Finishing off Your Projects
What should every crocheter have in their studio? Of course, you need a crochet hook and some yarn, right? Sure, that's all you need when you start, but when patterns get more complicated, and your projects more time-consuming, it's great to have some useful crochet accessories at hand. 
Whether you have a beautiful crafting studio to keep all your projects and stuff in, or just a designated drawer in your bedroom, that's ok! Sometimes a tiny accessory can make a huge difference, because it simply makes your work much easier.
In this article I will explore the world of crochet and yarn accessories, so that you can decide, which of them add to your crafting space! Some of them are tiny, but necessary, while others are for complete yarn freaks… so dive in and decide for yourself!
Check out part 1 of the article here: Useful Crochet Accessories – Storage and Measuring Tools
◉
Useful while working on a project…
There are many simple ways to speed up your work or make it much easier, so take a look at the examples below!
Yarn Bowl
Yarn bowls not only look cute, but are also very useful. See these little holes and nooks? Place your yarn ball in the bowl and pull one end through the hole, so that your working yarn is nicely secured. See in the photo below how sweet it can be, and be sure that your yarn ball will never run away again!
You can purchase this Ceramic Fox Yarn Bowl on Etsy.
Stitch Markers
If you have problems with keeping up with your stitch count, you may need stitch markers. There are many kinds available on the market, but you don't have to settle with cheap plastic ones ever again! Many artists, such as the one behind Hello Lavender, make fantastic stitch markers that are very eye-pleasing – just take a look below!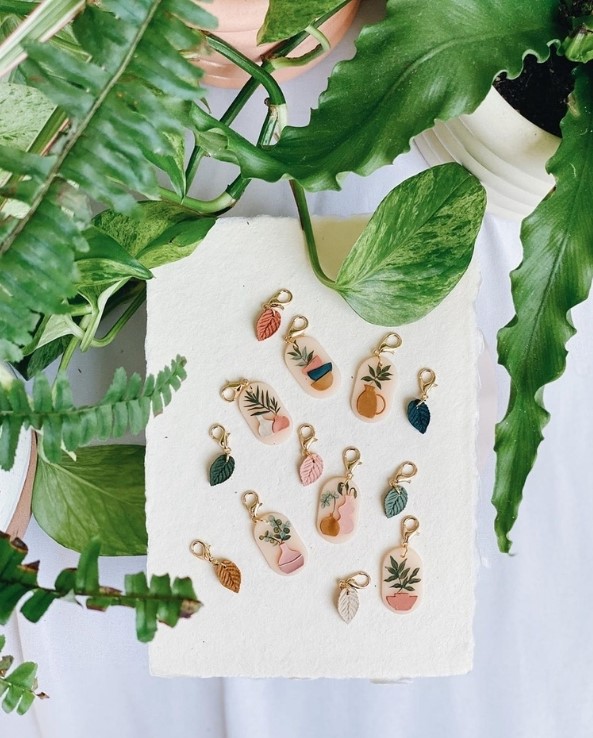 These beautiful stitch markers are from the Plant Lover Collection and will soon be available on hellolavender.com.
Darning Needle
Weaving in ends can be a nightmare, but it is much less unpleasant if you have the right tools in your studio. Darning needles come in handy in many situations, so be sure that you have some – no matter if they are simple ones, or fancy and made with bamboo (like the ones you can see in the photo).
These particular darning needles are Shirotake bamboo needles by @seeknit.
Craft Scissors / Embroidery Scissors
Crocheters, knitters and embroidery enthusiasts definitely share one tool in their working space – scissors. Having scissors at hand is as obvious as having yarn and crochet hook, but be sure to choose small sharp ones. As you can see below, they come in all shapes and sizes.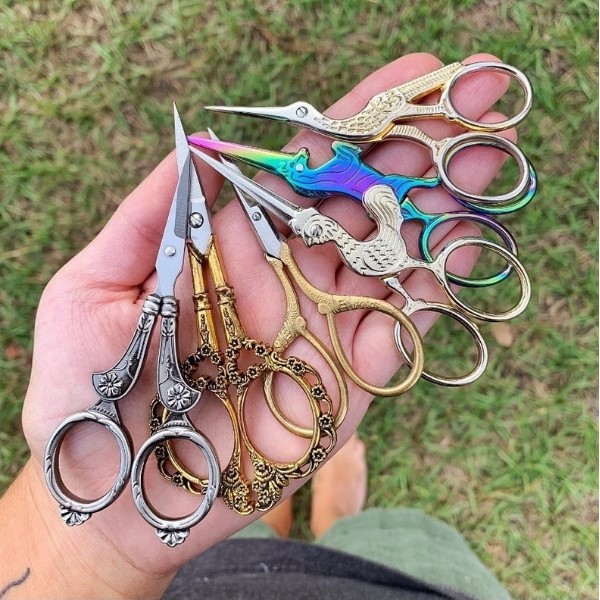 ◉
Useful when you're done…
Finishing off your projects is as important (if not more!) than working on them, so it's good to have some helpers at hand. Check out these crochet accessories, because they will take your crochet work to another level!
Blocking Station
I wrote a whole article about different methods of blocking, so just check it out!
Learn more about this topic in my article – Crochet Blocking.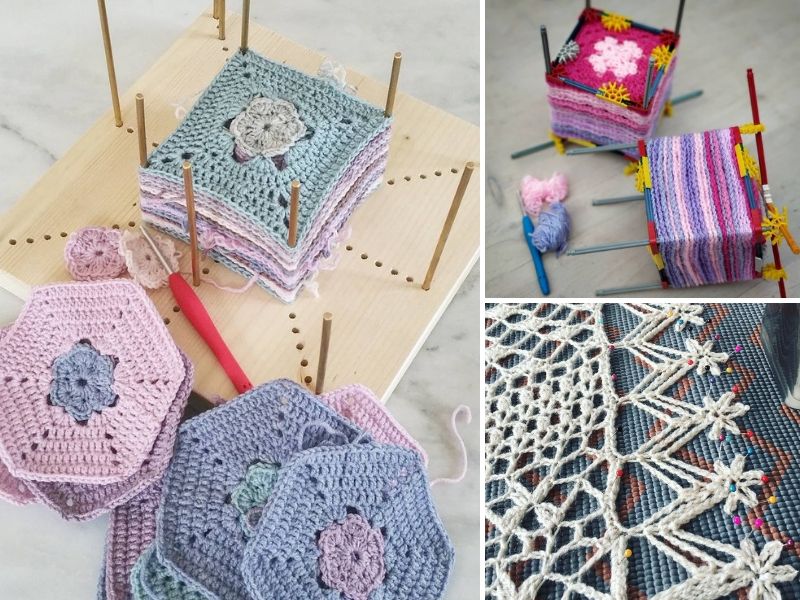 Personalized Labels
No matter if you are going to sell your crochet products, or just gift them to friends and family – they will look much better with personalized labels. Put your or your brand's name on it and see how this simple detail can elevate the whole design.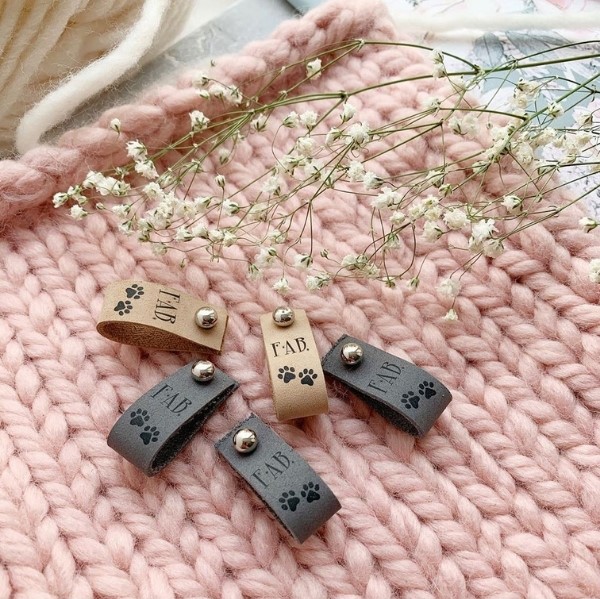 You can order your own customized labels on HappyLabelShop's Etsy page.
◉
Other Accessories
If you need even more inspiration, try these crochet accessories.
Wooden Crochet Basket Base
Sturdy wooden base is a perfect way to create useful home accessory, which will stand the test of time (and weight!). In addition, as you can see below, these bases come in all shapes and sizes, and some of them even have beautiful ornamental openwork.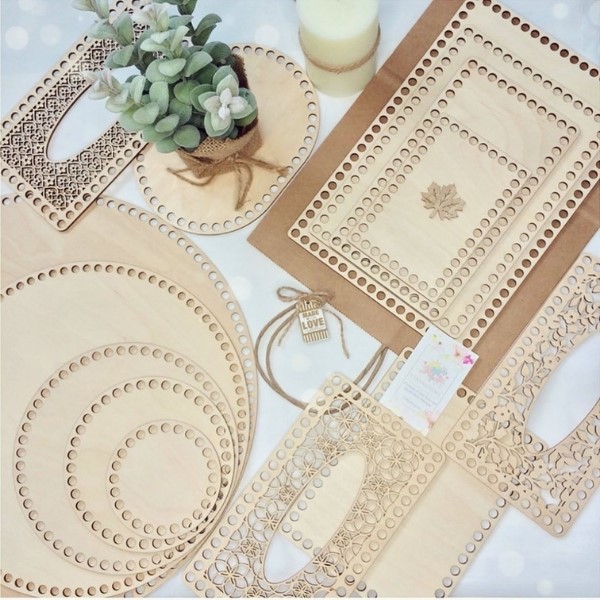 You can purchase these basket bases, as well as other YARNSnGLORY' products on their Etsy page.
Safety Eyes and Noses
If you ever wondered, what makes professional amigurumi stand out so much, the answer is simple – safety eyes and noses. These little plastic accessories are easy to apply and make your crochet toys look very polished. Remember though, that they are not suitable for babies, because they may present a choking hazard. Don't worry – you can use embroidery instead.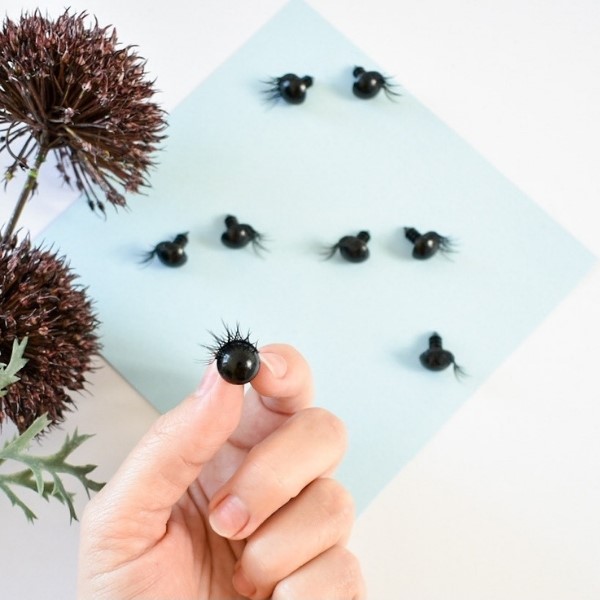 You can purchase these safety eyes, as well as other Whencraftingislife' products on their Etsy page.
Pom-pom Maker
Who doesn't love pom-poms? They make everything better – hats, blankets, pillows; so try it, if using them is a new concept for you. Pom-pom maker is a clever tool that will make it much easier to create these plump fluffy balls. Just take a look below to see how you can cleverly use up colorful yarn ends.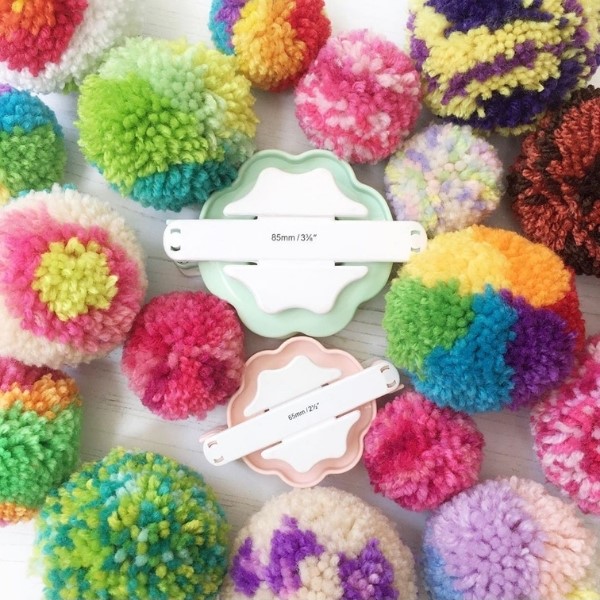 You can purchase this pom-pom maker, as well as other Yarny Bobs' products on their Etsy page.
◉
You may also like: How to Crochet Alpine Stitch