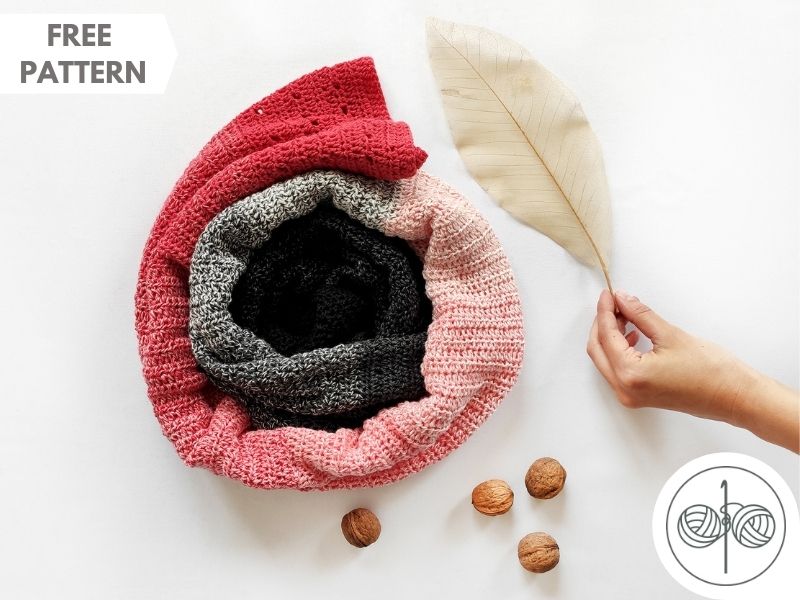 Today I want to show you my easy beginner crochet scarf! This crazy year is coming to an end, so it's time to focus on yourself and just relax. If you are looking for a no-fuss quick project, this crochet scarf will be perfect, because it works up fast and looks cute.
◉
SAVE IT IN FAVORITES ON RAVELRY
or follow me on PINTEREST and INSTAGRAM
◉
This beginner-friendly pattern is so easy, that you will make it in no time, so don't waste another minute to think about it! The trick is to choose ombre yarn, because simple stitches are the perfect background for color changes. One cake of yarn is enough, so that you will have a new accessory ready to wear!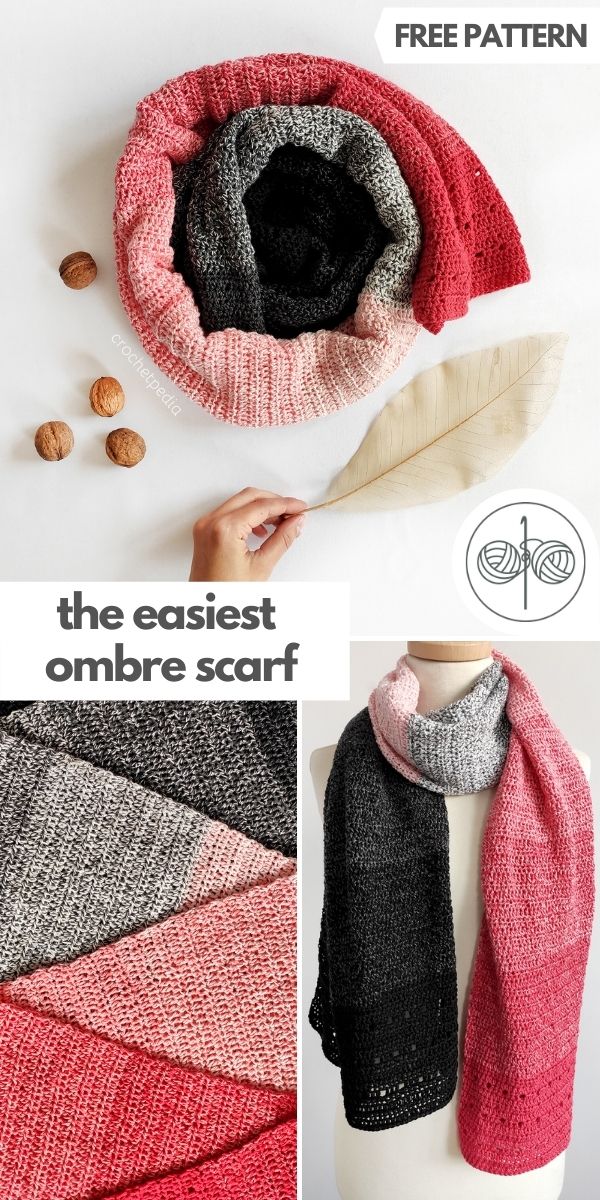 Psst… This project is fun, too. I promise!
If you like this project, be sure to try out my other patterns, because they are great for beginners, too! For example, Seven Wonders Scarf can be another great accessory pattern for you, and it's available for free!
→ Yes! Take me to this free pattern! ←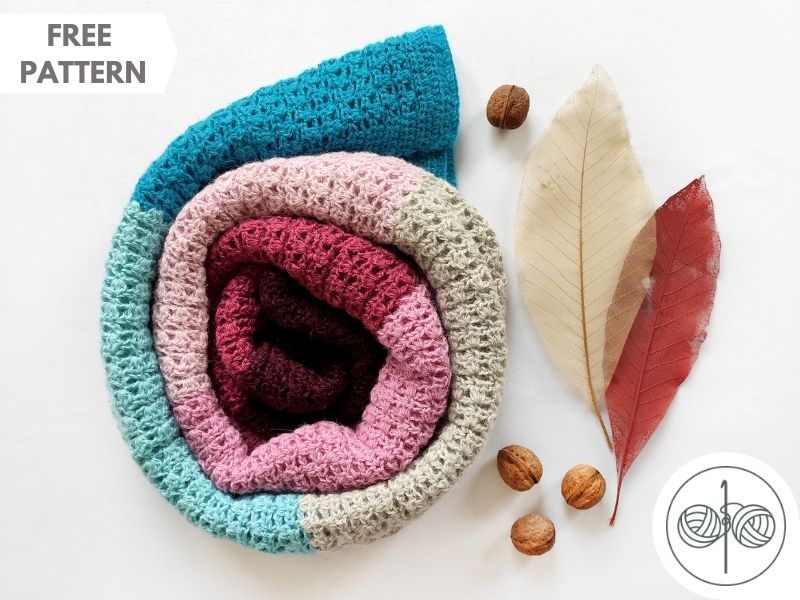 ◉
Get to work!
Although this crochet scarf uses one cake of ombre yarn, you may want to make it from scraps of yarns you already have in your stash! If so, be sure to change the colors seamlessly and weave in ends as you go, because it saves a ton of time.
You may want to know how to change colors, too – check out my article on How to Change Colors in Crochet for more info!
Let's start!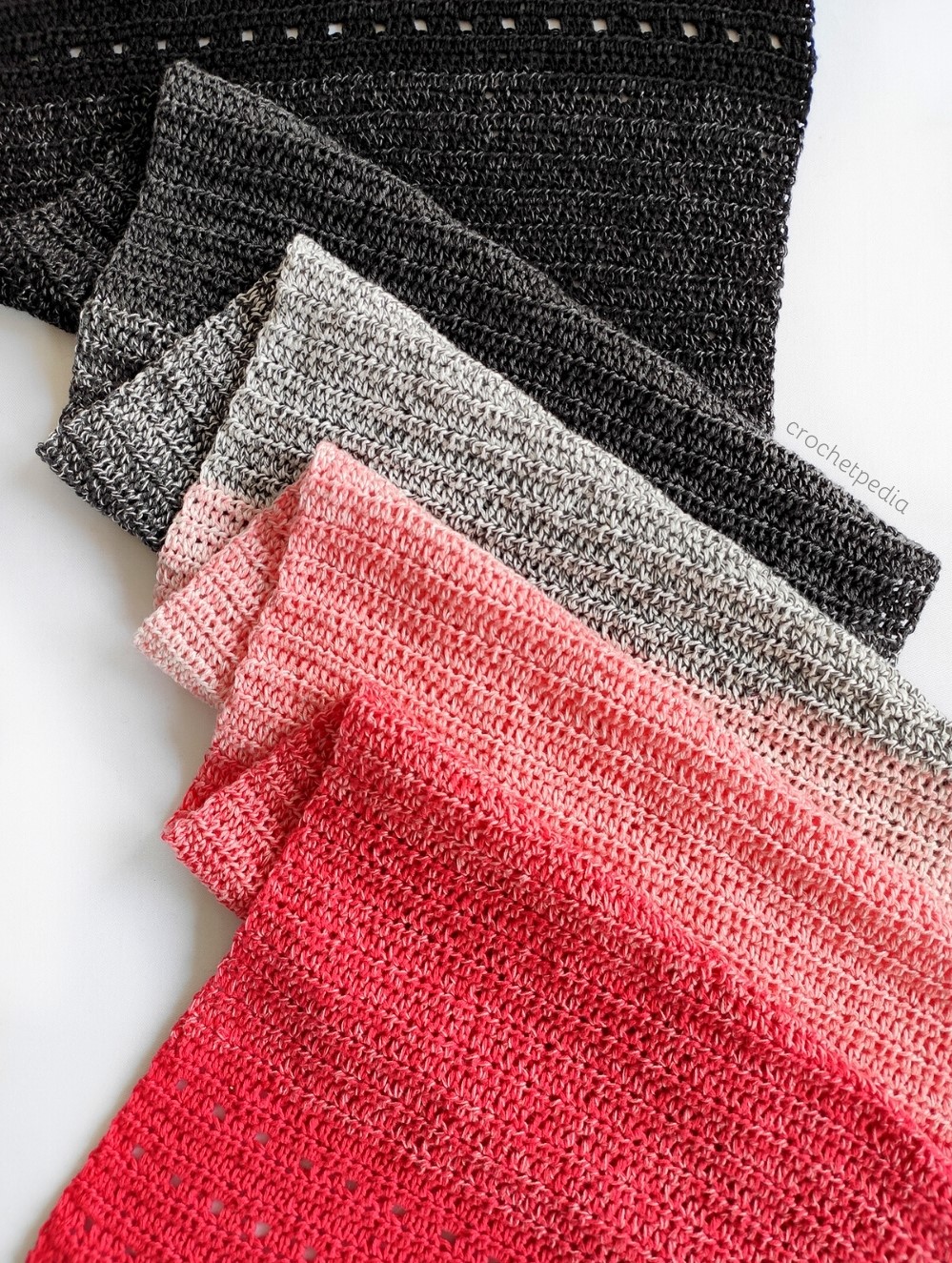 PATTERN NOTES:
LEVEL – beginner
TERMS – standard US
TECHNIQUES
MATERIALS AND TOOLS
MEASUREMENTS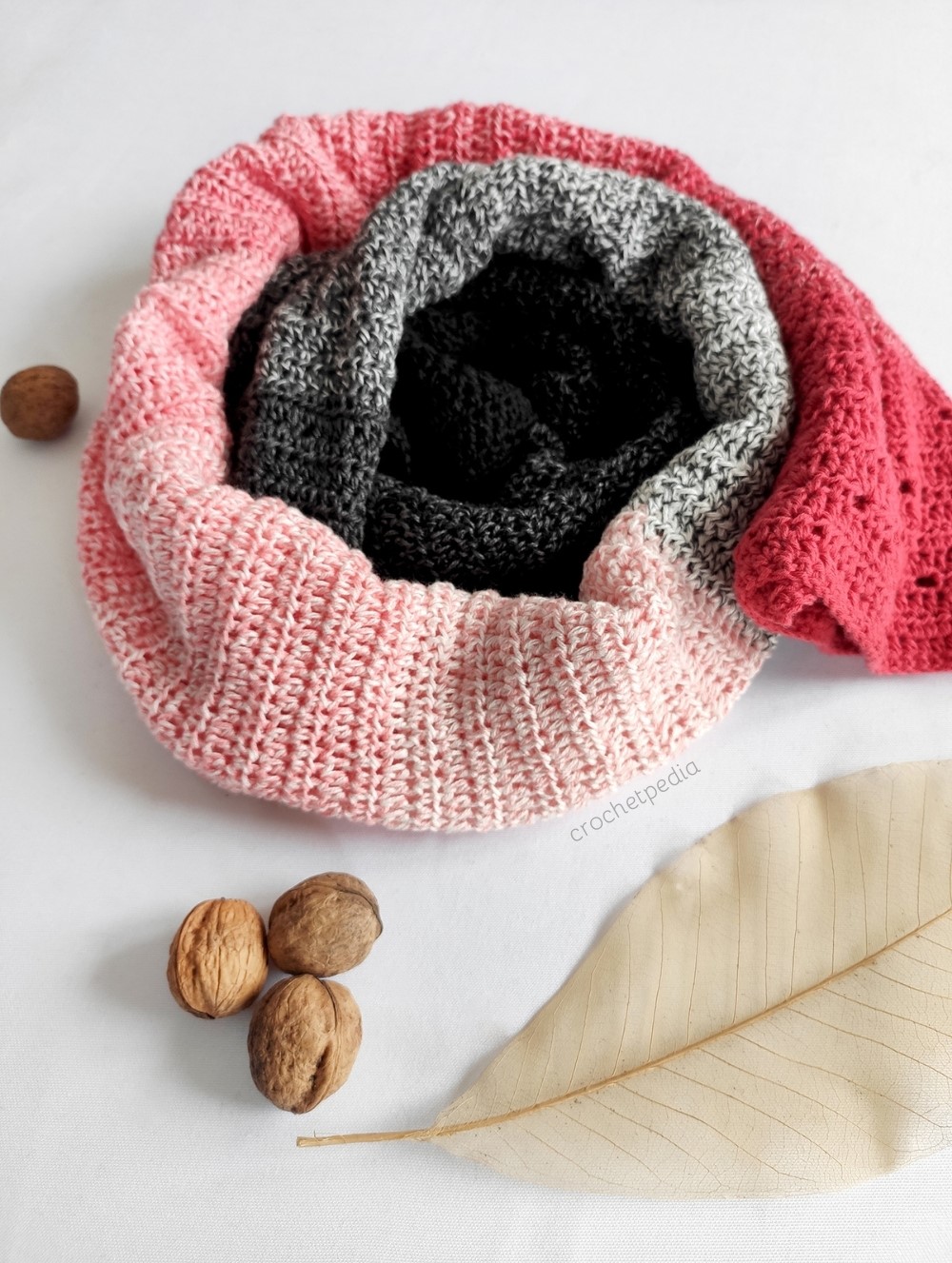 before you start
Before you start, a couple of important things:
Let's begin!
◉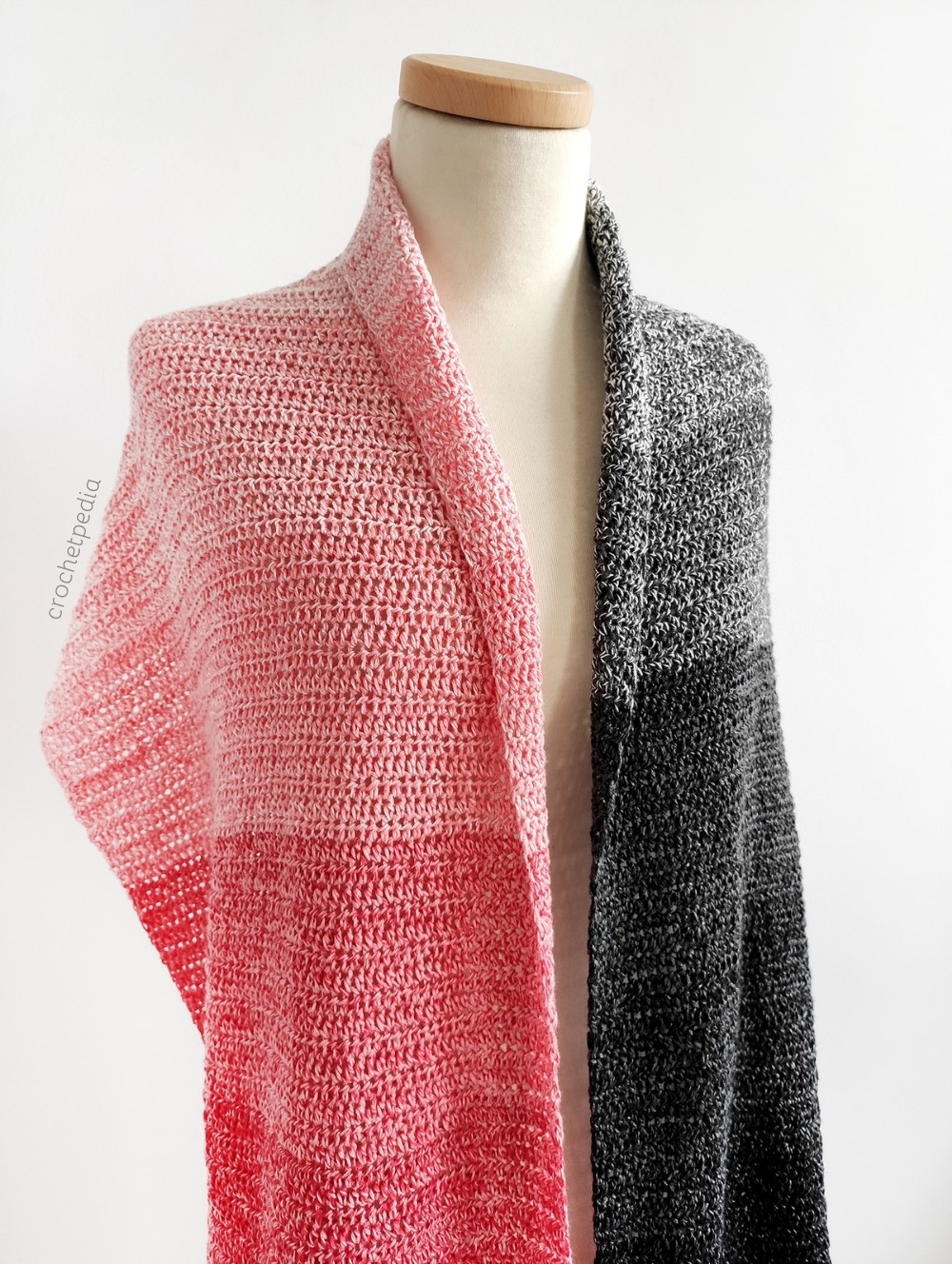 The Easiest Ombre Crochet Scarf
START
make a foundation chain of 79
ROW 1
chain 1, 1 sc in each stitch
ROWS 2-4 
chain 2, 1 hdc in each stitch
ROW 5 
chain 2, 3 hdc, *1 ch, skip one, 3hdc* x 19
ROW 6
chain 2, 2 hdc, *2 hdc into the chain space, 2 hdc* x 19, 1 hdc
ROWS 7-8
chain 2, 1 hdc in each stitch
ROWS 9-10
repeat rows 5-6
ROWS 11-12
chain 2, 1 hdc in each stitch
ROWS 13-14
repeat rows 5-6
ROWS 15-194
chain 2, 1 hdc in each stitch
ROWS 195-196
repeat rows 5-6
ROWS 197-198
chain 2, 1 hdc in each stitch
ROWS 199-200
repeat rows 5-6
ROWS 201-202
chain 2, 1 hdc in each stitch
ROWS 203-204
repeat rows 5-6
ROWS 205-207
chain 2, 1 hdc in each stitch
ROW 208
chain 1, 1 sc in each stitch
Fasten off and weave in ends, because you've finished!
◉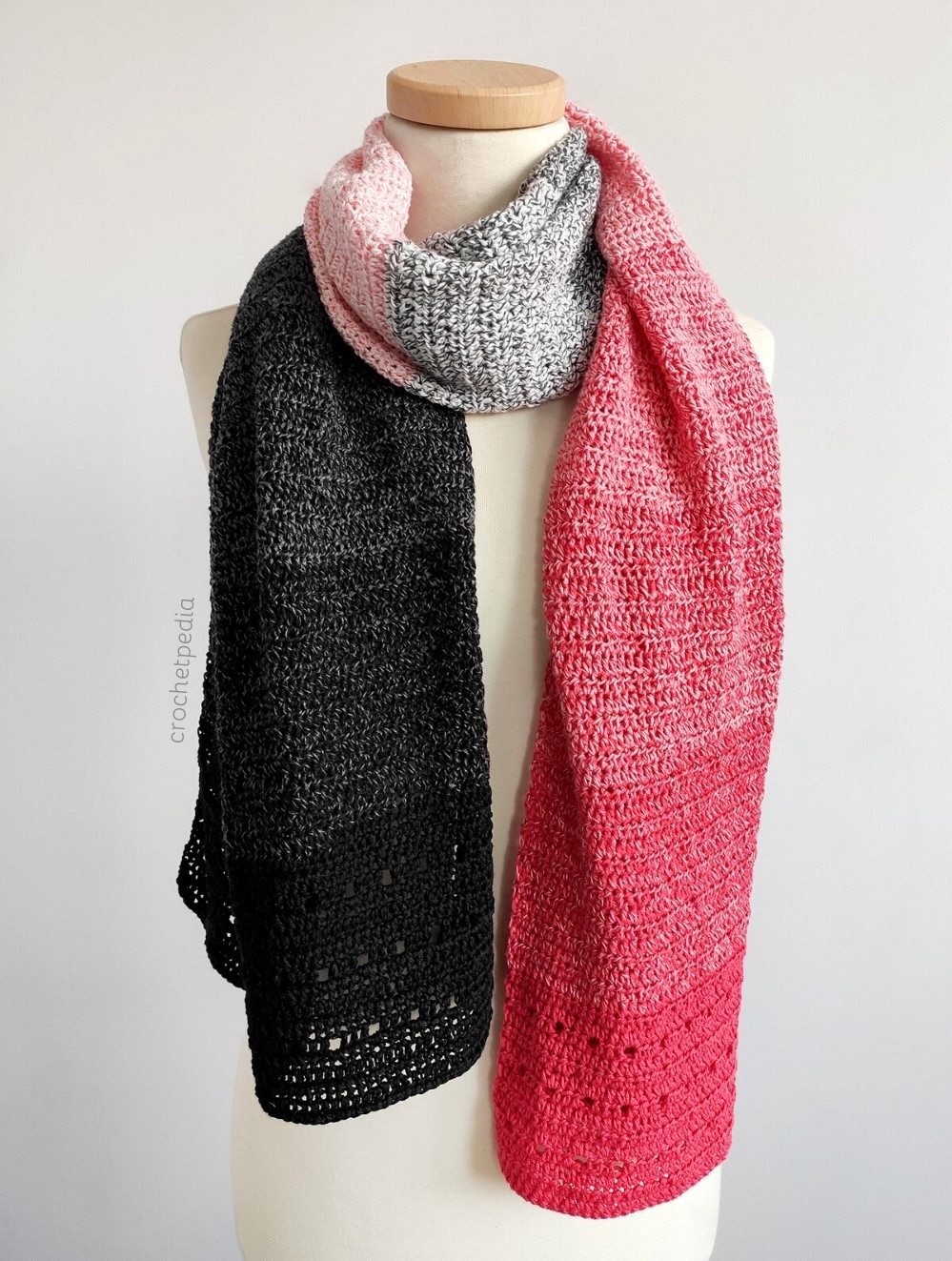 The yarn I chose has quite graphic color changes, so that when one color transitions into another, threads create a kind of stripes. If you want to achieve a more delicate color flow, look for yarns that doesn't have as many stark contrasts, because the changes will be much less visible there.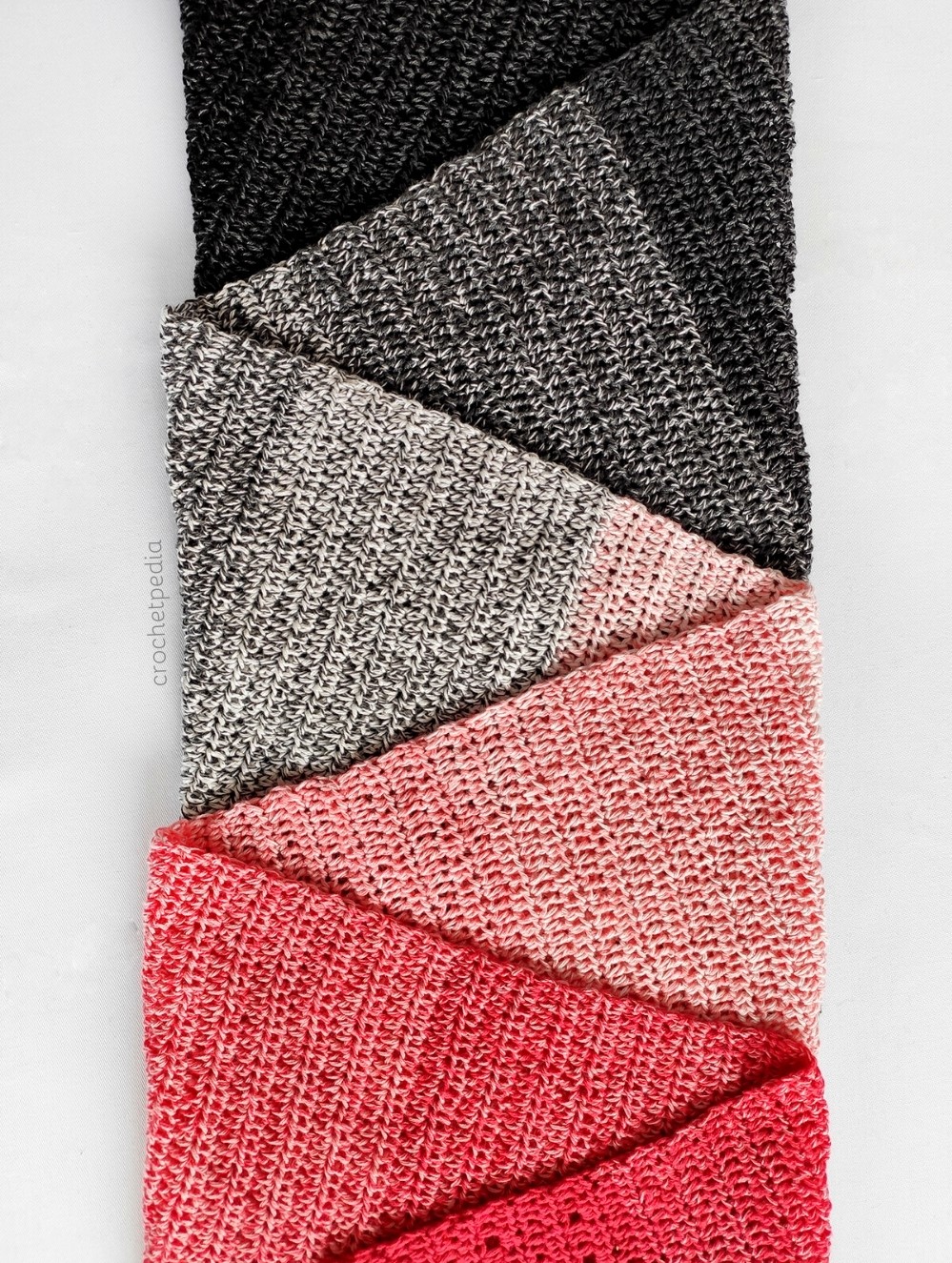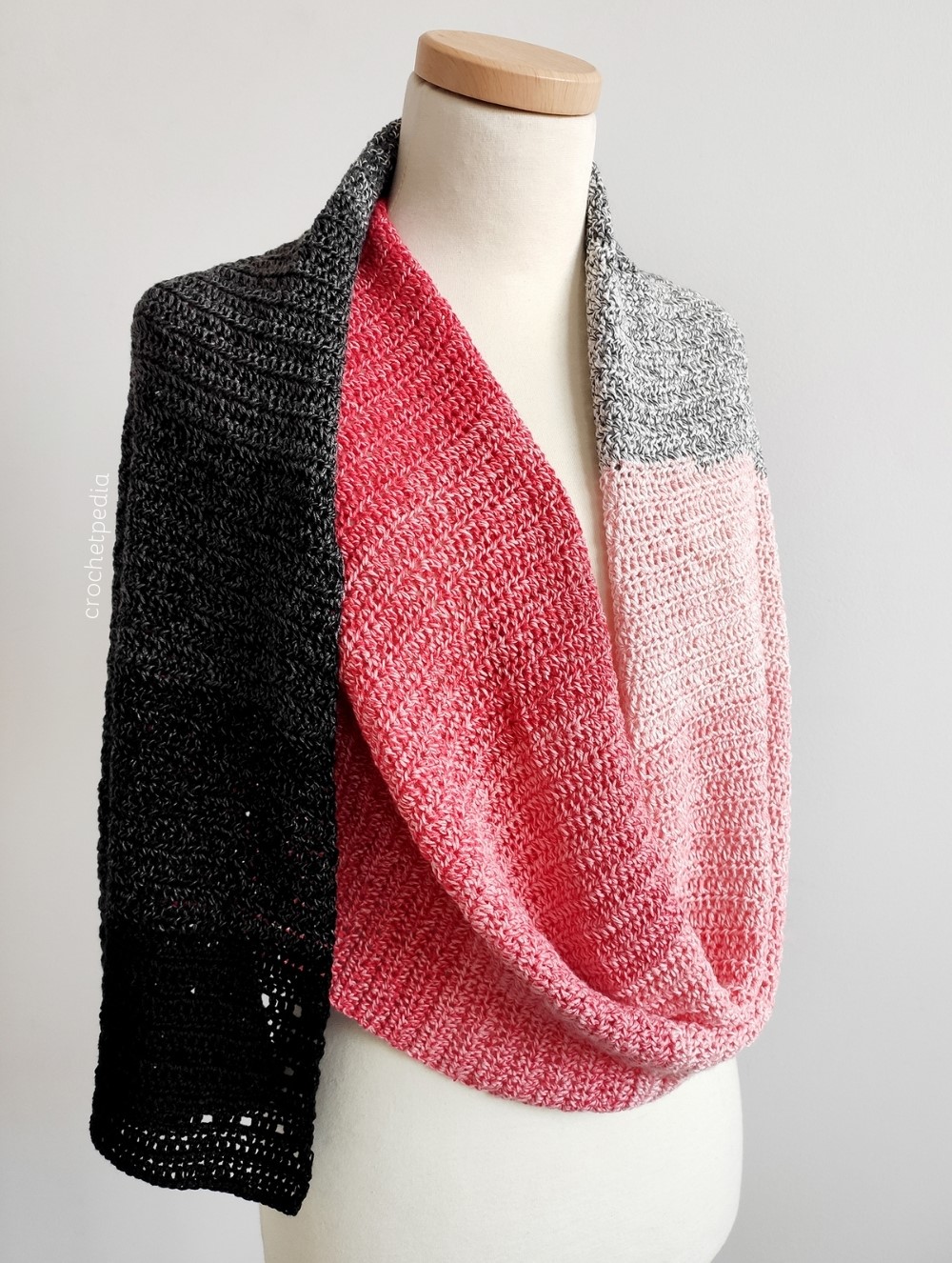 you are done!
◉
You may also like these free patterns!
share, like, subscribe!
It's great when you follow my patterns, so don't hesitate to contact me! Please feel free to share the results in the comments or on social media, because I would love to see it. Of course, if you find any mistakes in the pattern or find it hard to understand, please let me know, so I can learn and improve!
Sharing is caring, so if you liked this project, be sure to share it with your friends and spread the word, because I really appreciate it! For more free tutorials, patterns and interesting articles – follow my social media pages and allow notifications to get a pop-up whenever new post is published.