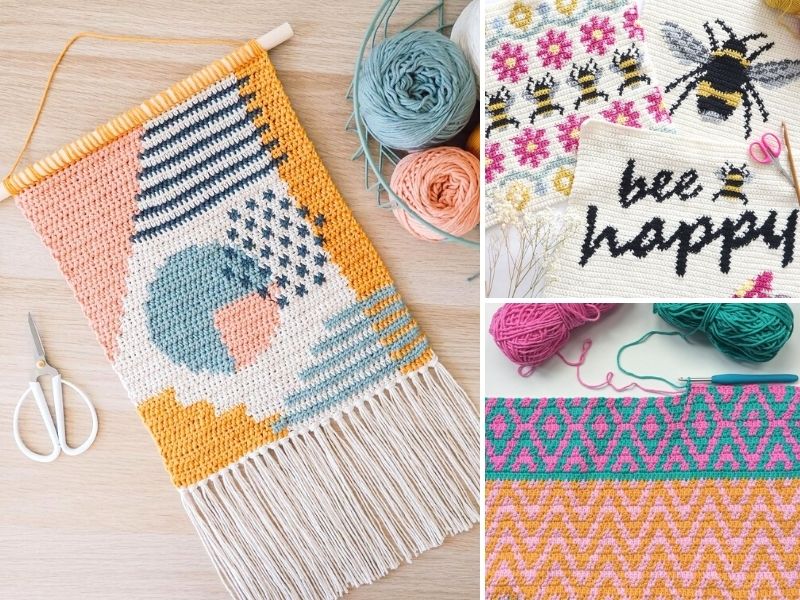 Tapestry crochet remains a mystery for many crocheters, because they think it's too hard and complex to learn. Don't be one of them! This technique is easy to learn and requires the simplest of stitches – the ones every beginner already has in their skillset.
As you may already know, in my Recommendation Series I dissect and analyze the most popular crochet stitches and projects. I always try to find the most beautiful colorways and versions, so that you can be inspired to try them!
In this article I will show you how to approach learning tapestry crochet, so that any of you can try it! As usual, I also gathered for you the most beautiful projects that will hopefully make you excited and inspired.
How to learn tapestry crochet
I would like to try it. How do I start?
Step 1. Make sure you know the basics
To learn this technique all you need to know is how to work in rows, make single crochet stitches and change colors. Easy, right? To start, make sure you know how to crochet a foundation chain, how to make chain stitches, and what is a turning chain.
Step 2. Choose simple pattern
Find easy chart online, or make your own! Stick to two colors only, because it's enough to start with. As you can see in the picture below, crayons and chequered piece of paper will be enough for you to design your own project!
Remember that one square is your one stitch – it works, because single crochet stitches are very short and look almost like little squares.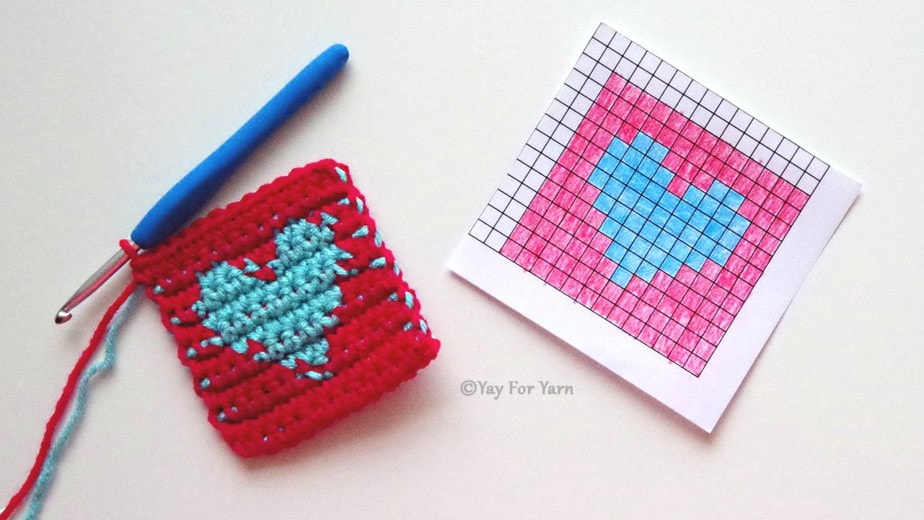 Step 3. Follow a tutorial
You can follow Yay for Yarn's beginner video guide, which is available on youtube.com, or follow Lilla Bjorn Crochet's step by step photo-tutorial available on lillabjorncrochet.com. Tatsiana created a comprehensive guide with many useful tips, so check it out!
Step 4. Block it!
Your project won't be ready until you block it, because it's the only way to give it the nice shape it deserves!
◉
I want to design my own tapestry pieces! How do I do it?
With a piece of checkered paper and colorful crayons – remember that one square is one stitch and start creating!
Stitch Fiddle – this is an amazing online tool, available for free on stitchfiddle.com. Choose "Crochet" -> "Crochet with colors" and explore all the possibilities! You can draw or upload your own picture.
You can use any online tool or desktop editor to pixelate your images, if it has such function. Any should be good, but choose the one that has the option to restrict amount of colors – you need to know how many colors of yarn you need!
◉
I got the basics! What now?
Now go and explore all the possibilities this fantastic technique gives! Remember, that you can work like this in the round, or design your own patterns with many different colors.
It truly is one of the most versatile crochet techniques!
◉
talking about stitches…
Our growing website and library of free crochet patterns has some projects that might interest you, too. On top of that, my list of Stitch Series is still growing! For example, check out my article on Bobble Stitch Ideas!
→ Yes! Take me to this article! ←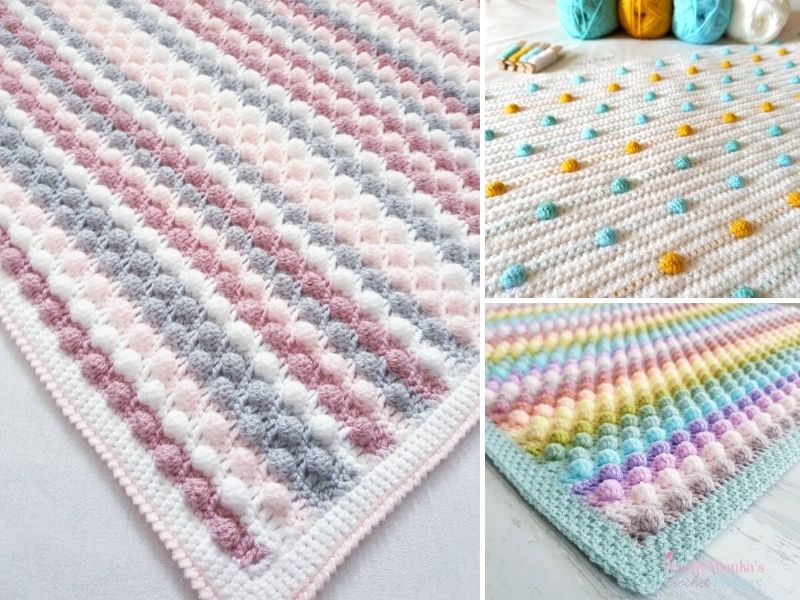 or…
Explore the article I wrote about Rozeta CAL Ideas, because this project uses mainly tapestry crochet technique!
→ Yes! Take me to this article! ←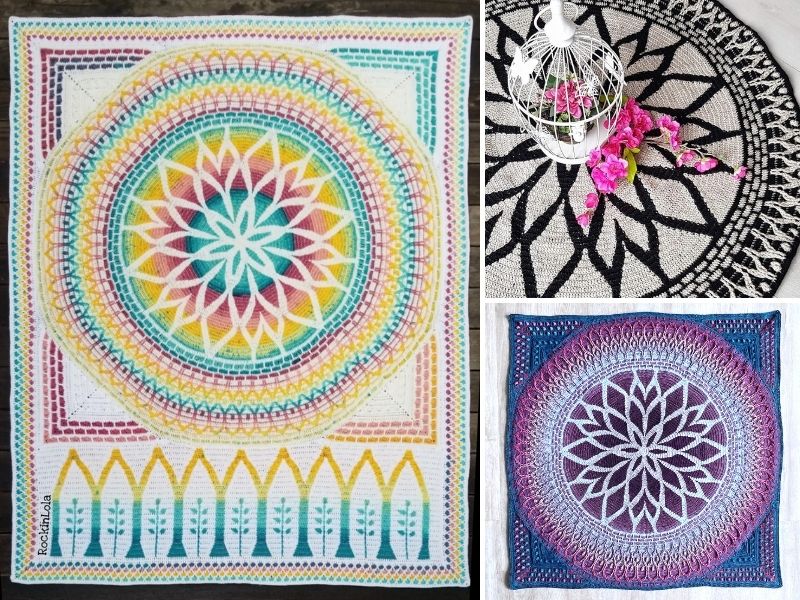 crochet roundup!
Looking for these beautiful ideas was a true pleasure, because there are so many of them online! It was quite hard to come up with narrow selection, but here it is and I hope you will like it as much as I do.
Be sure to check out my suggestions for free crochet patterns linked under the photos!
◉
Simple Graphic Patterns
Shapes Wall Hanging by Flor Samoilenco
This project may looks simple, but don't be fooled – it was meticulously designed. What's more, simple geometrical shapes are very on trend now, especially if you choose such beautiful dusted color palette as in Flor's project. Take a look below and admire her wall hanging, because it's the perfect example of contemporary taste in home decor. Combination of boho vibes and handmade craftsmanship is what makes it so appealing!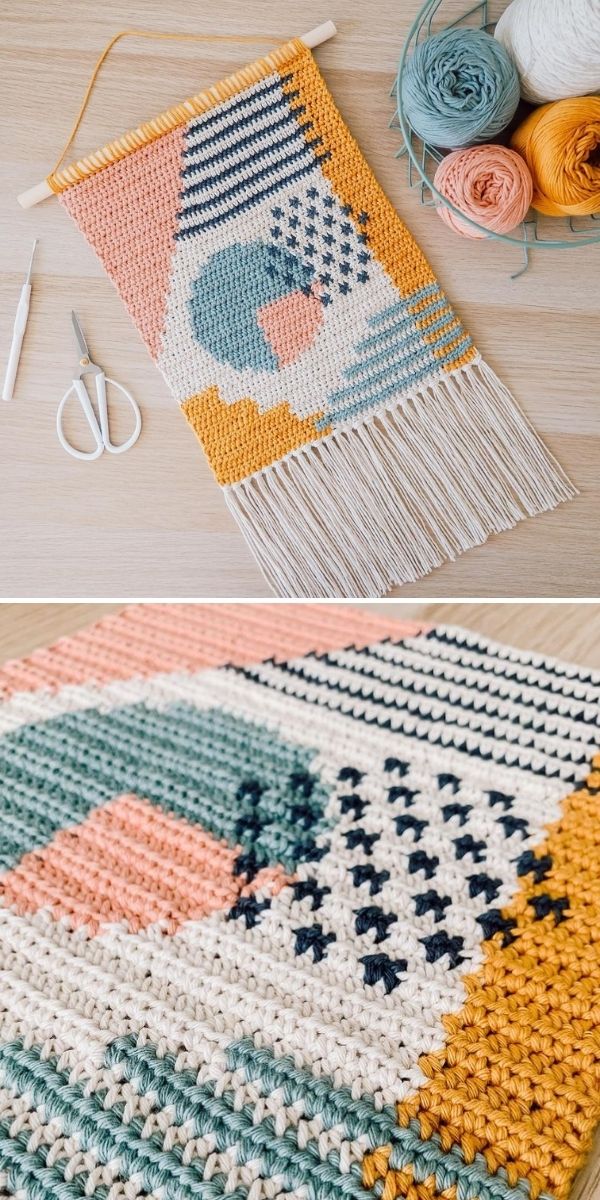 This wall hanging pattern is available for purchase through etsy.com. If you want to try a free crochet pattern first, check out Moon Rise Wall-Hanging by Divine Debris – it's available on divinedebris.com.
◉
Geo Georigie Blanket Version by Poppyseed and Pom
Crocheters often source their inspiration in traditional designs, and this blanket by Catherine Noronha is no exception. Colorful version by Poppyseed and Pom celebrates what's best in both old and new, resulting in eye-catching home decor. If you undertake this project, you can be sure to hone your skills in changing the colors and keeping the right tension throughout.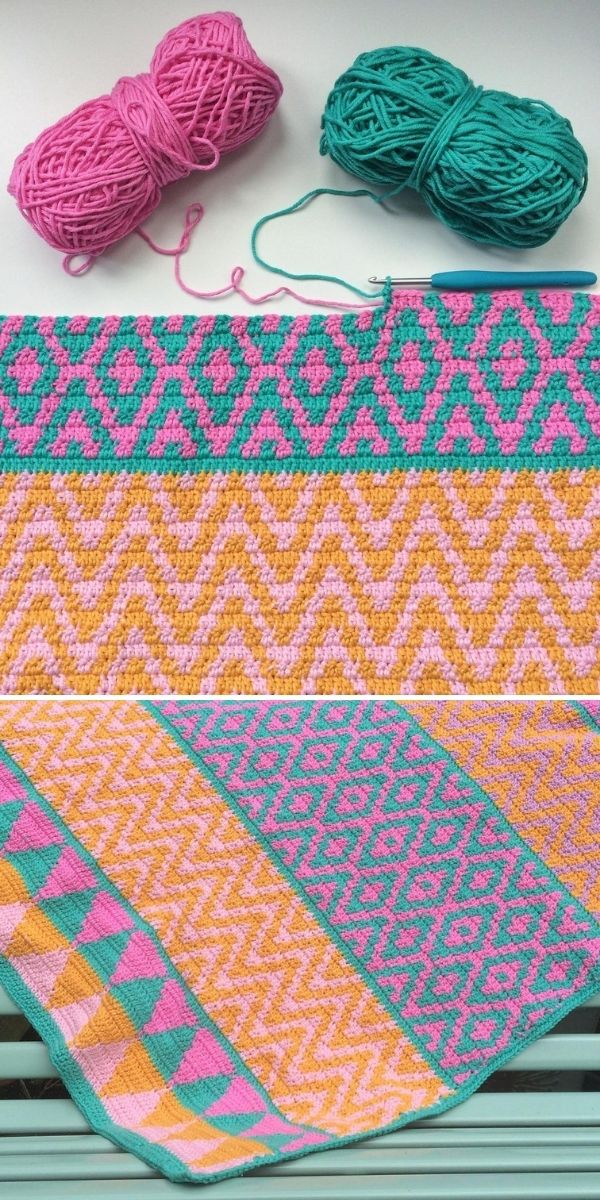 This project is a version of Geo Georgie Blanket by Catherine Noronha, which you can buy through ravelry.com. If you want to start with a free pattern, however, you may like Flying Arrows Baby Blanket by Helen Coe, also available on ravelry.com.
◉
Faces and Silhouettes
Silhouette Tapestry Crochet by moonbeam_stitch
When you are already proficient in color changes and carrying yarn inside the stitches, you can try out something more challenging. Crocheter behind moonbeam_stitch created her own art pieces – small, beautiful and ready to be framed. As you can see in the top photo, you don't need many colors to make stunning design, and looking at the bottom picture will help you understand how illustrations translate into fabric.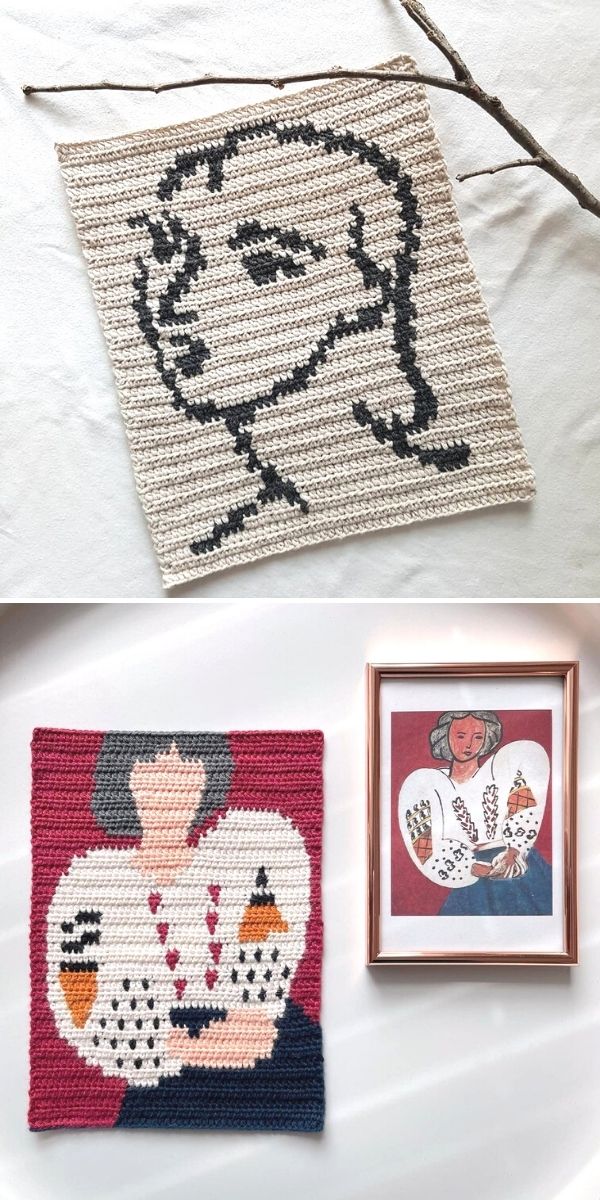 Hone your skills by crocheting Tapestry Afghan Squares by Divine Debris, many of which are available as free crochet patterns – find them on ravelry.com.
You may also like this article: Dune Blanket Ideas – The Most Beautiful Versions
◉
Natural Inspirations
Jar of Jade by Sophie Stitches
Boho wall hangings are a great way to decorate your space, especially if you make them by yourself! Sophie's piece celebrates nature and is simple enough for adventurous beginners to try out. It's sold as a digital pattern, or as a kit, so that you don't even have to think about choosing the right materials for the project! It's a great idea for those of you who want to refresh their living space, or make an unforgettable gift for someone you love.

This pattern is called A Jar of Jade Wall Hanging, and it's available for purchase as a kit or digital pattern on deramores.com.
You may also like this article: Block Stitch Ideas – Colorways, Resources and Inspiration!
◉
Bee Cushions by Little Doolally
Have you ever dreamed of colorful and playful cushions for your home? If so, these might be perfect! A set of bee-themed jacquard pillows will bring a smile on the faces of your guests, that's for sure. The basics of this technique allow you to work with many colors, so don't be intimidated by intricate pieces. Take a look at the beauties by Little Doolally and convince yourself that you really can do it, too!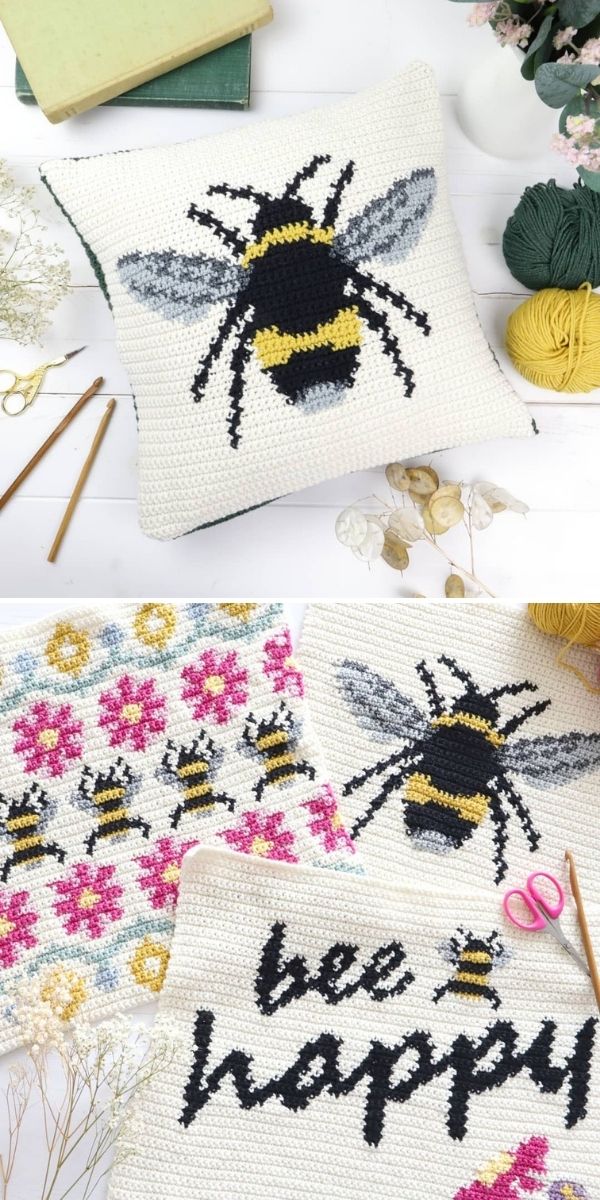 All of the three designs you see in the photos are available for purchase through ravelry.com: Bumble Bee Cushion, Bee Happy Cushion and Busy Bee Fair Isle Cushion. If you are looking for free crochet pattern to try out first, I recommend you taking a look at Dahlia Pillow by Sylwia Kawczyńska, or Camper Pillow Cover Crochet by Briana K Designs.
◉
Wild Jasmine Blanket by Dr Nasreen Imrit
This technique is incredible, because it works perfectly no matter if you are working in rows, or in the round. Painterly squares by Dr Nasreen Imrit are a great example of that. They very much remind me of colorful tiles on the streets of Portugal, and they are as versatile as tiles are! Join them to make a blanket, or use them as coasters – and don't forget to try out a couple of different color palettes.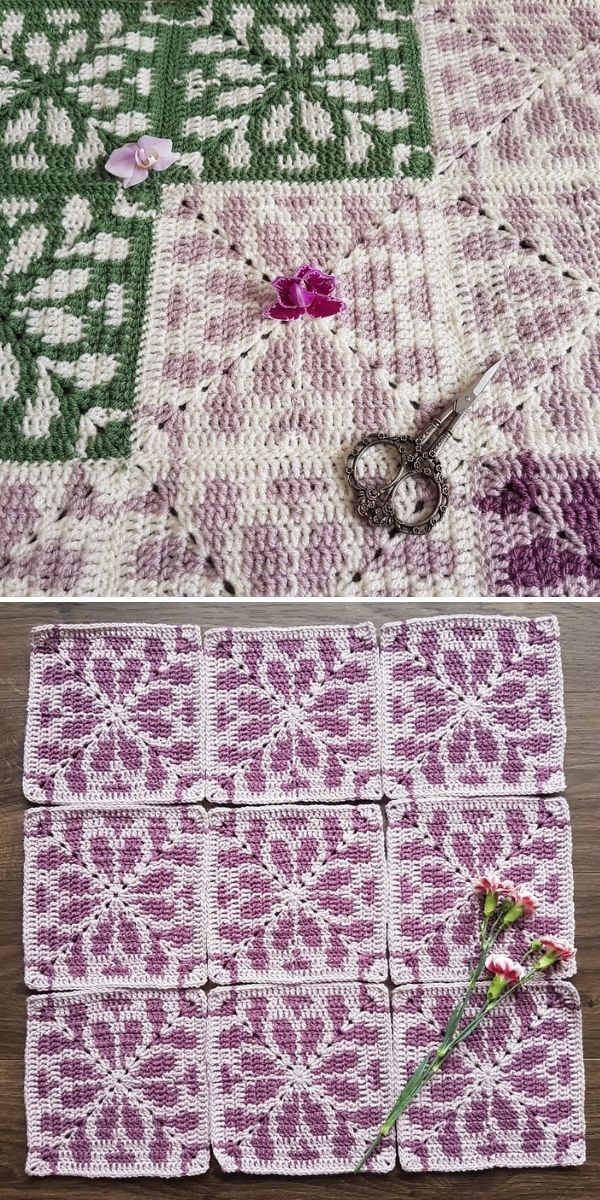 This is Wild Jasmine Blanket by Dr Nasreen Imrit – find free crochet pattern on ravelry.com.
You may also like this article: Apache Tears Crochet Ideas
◉
Map Top by E'Claire Makery
Now this is a true masterpiece, am I right? Claire is a pro when it comes to tapestry crochet, so be sure to check out her other creations, too! Not only does she design meticulous patterns, but also uses multicolored yarn to give them even more depth! It's a great idea for those of you, who find regular pieces too plain.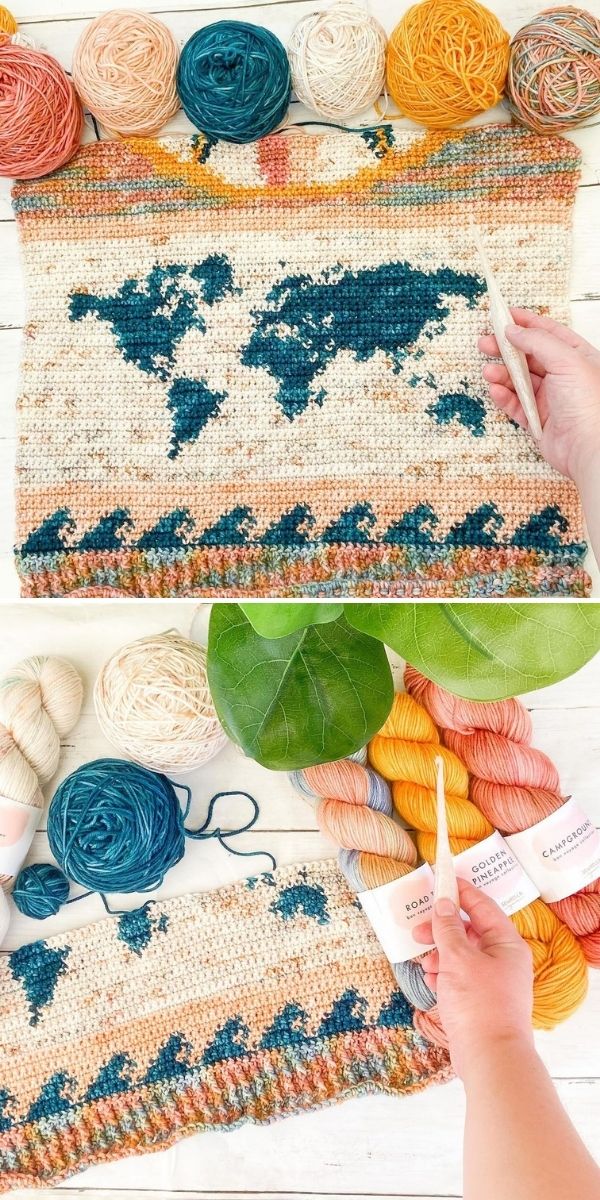 Claire designed an amazing intricate blanket called May Flowers Blanket, which is available as free crochet pattern! Find it in parts on eclairemakery.com, or read more about it on ravelry.com.
◉
Bags and Pouches
Desert Cacti Pouch by Raffaella Tassoni
Paint a picture with yarn and turn it into a useful accessory, so that it helps you get organized. Sounds impossible? No way! Colorful piece by Raffaella, which you can see below, is a free pattern for a cute little pouch. Keep your crochet hooks inside, or gift it to a kid who needs storage for crayons or pencils. Oh, and play with colors, of course!
This is a free crochet pattern, so be sure to try it! You will find it on raffamusadesigns.com, or read more about it on ravelry.com.
You may also like this tutorial: How to Crochet Alpine Stitch
◉
Tapestry Elephant Bag by Daria Shi
I must admit that I gasped when I first saw Daria's designs, because they are simply stunning. If there is such thing as mastering tapestry crochet, she definitely did it. Her bags are playful, intricate, but still beautifully useful – and that's what I like the most in crochet. Learn more about mochila bags if what you see below is your jam, because that's where this kind of colorful bucket bags originally come from.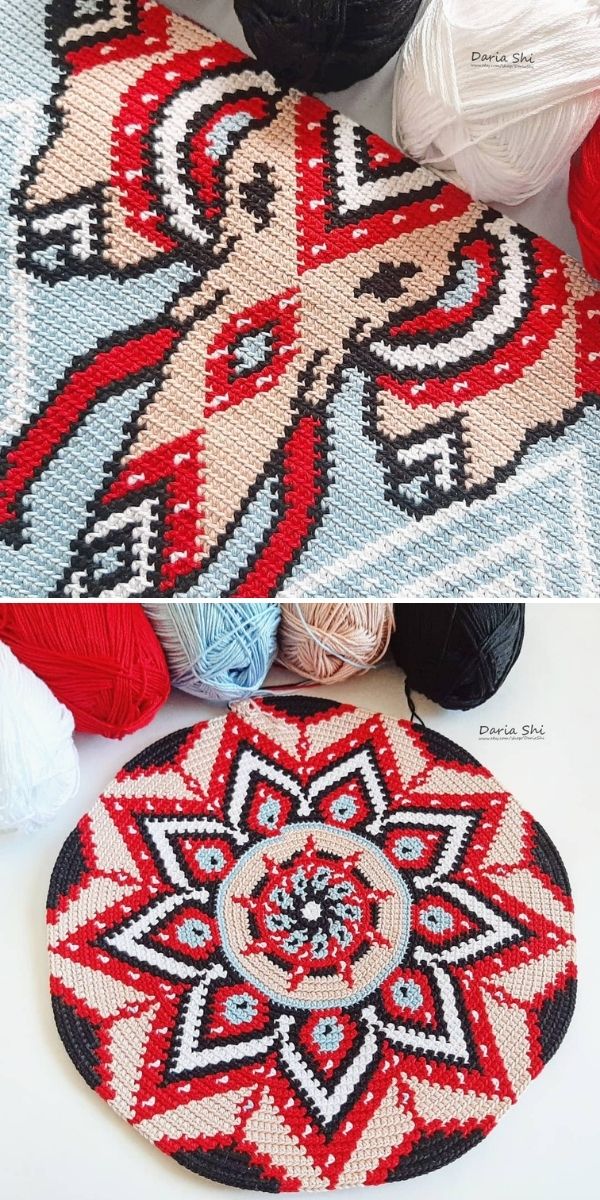 Daria makes her bags to order, so there are no crochet patterns of her designs available. It's a bummer, but if you want to make similarly colorful bag, try free crochet pattern for The Birds by Priscilla Bradburn – you will find it on ravelry.com.
↔
You may also like: The Best Crochet Market Bag Ideas