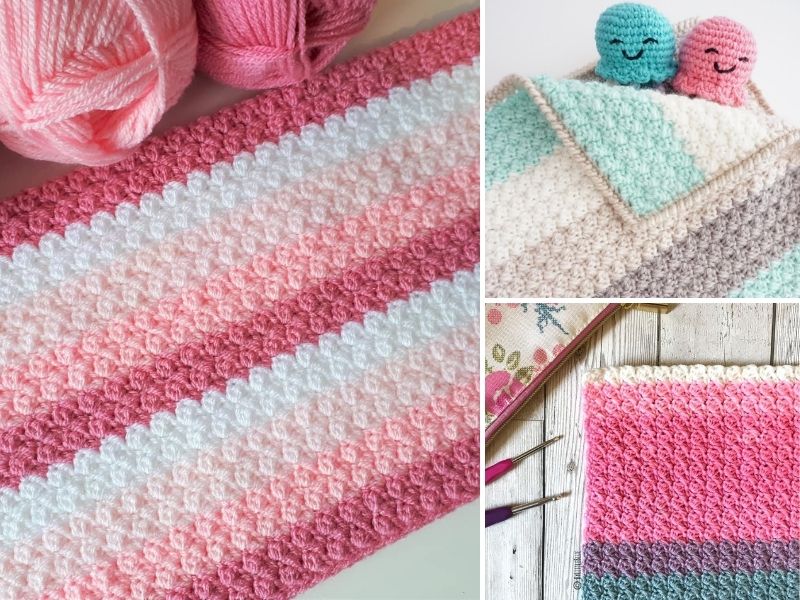 It's time for another stitch analysis, so sit back, relax and learn more about Suzette Stitch!
Find more inspiration in my Recommendation Series, because I've analyzed lots of cool crochet stitches and projects there. Learn more about Star Stitch Ideas, Dune Blanket Ideas, or explore The Best Flowery Crochet Stitches.
This lovely crochet technique is great for blankets, accessories and home decor, because it's dense and structural. Are you ready to learn more about it? Let's go!
Grab your hook and chill
Suzette stitch is beginner-friendly, so don't be intimidated by its wiggly structure! This dense technique uses only single crochet and double crochet in an interesting combination. Chill out and let yourself relax with this cute stitch!
Materials
You can use any yarn and corresponding hook you want, but remember that yarn weight will highly impact the final effect. You can find these informations on the yarn label, so be sure that you know how to find them! To make sure the stitch looks exactly like you want it to, I recommend you making a crochet swatch first.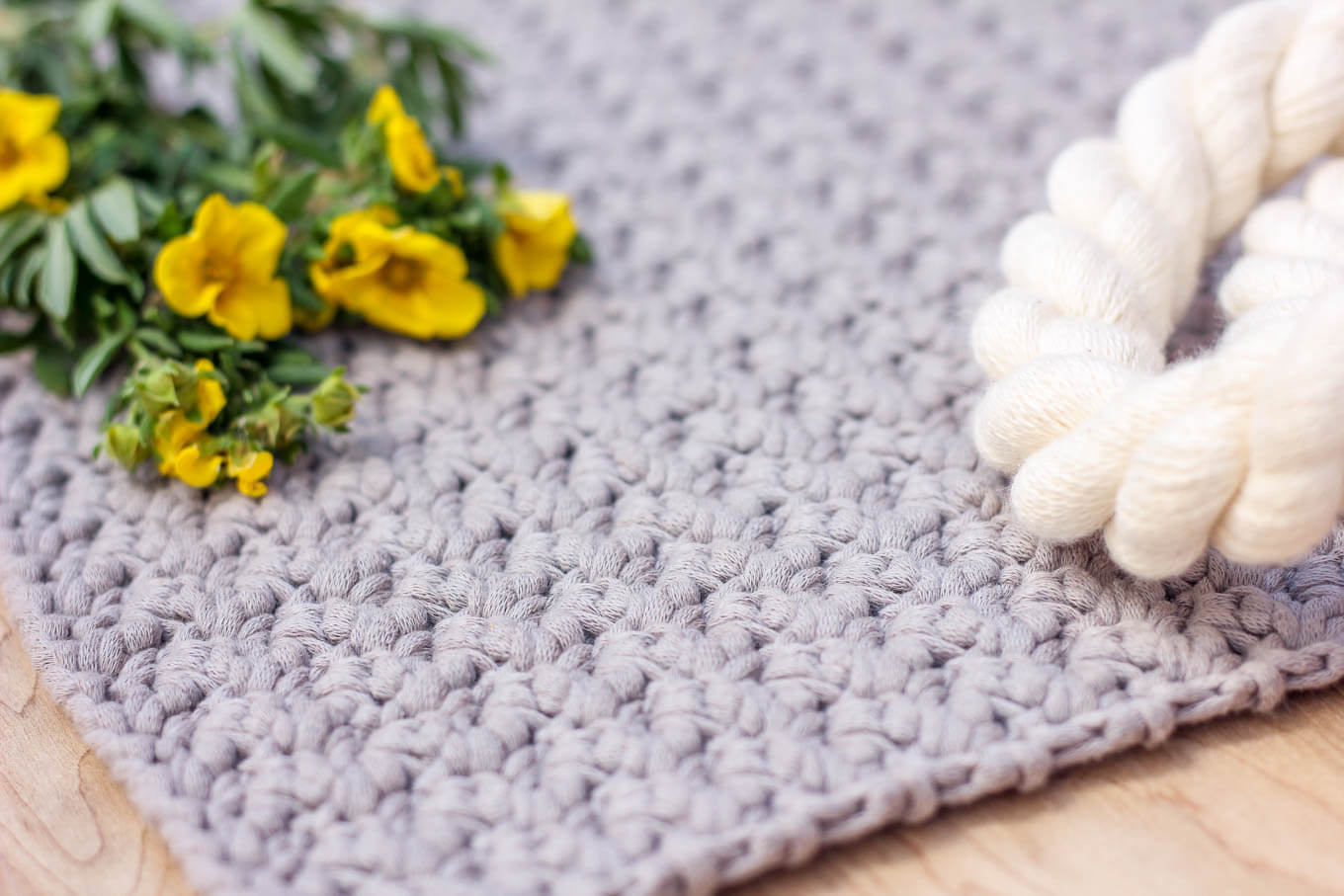 How to make Suzette Stitch?
To learn how to make it, check out Make and Do Crew's free pattern for Easy + Modern Bag in Suzette Stitch on makeanddocrew.com, or read more about this project on ravelry.com. You can also go straight to YouTube and see how it's done in motion! Video tutorial is available here.
On top of that, check out my Crochet Roundup section to find more patterns under the pictures! I'm always linking to free and paid resources you can use on your crochet journey.
talking about stitches…
Our growing website and library of free crochet patterns has some projects that might interest you, too. On top of that, my list of Stitch Series is still growing! For example, check out my article on Hugs and Kisses Blanket Ideas!
→ Yes! Take me to this article! ←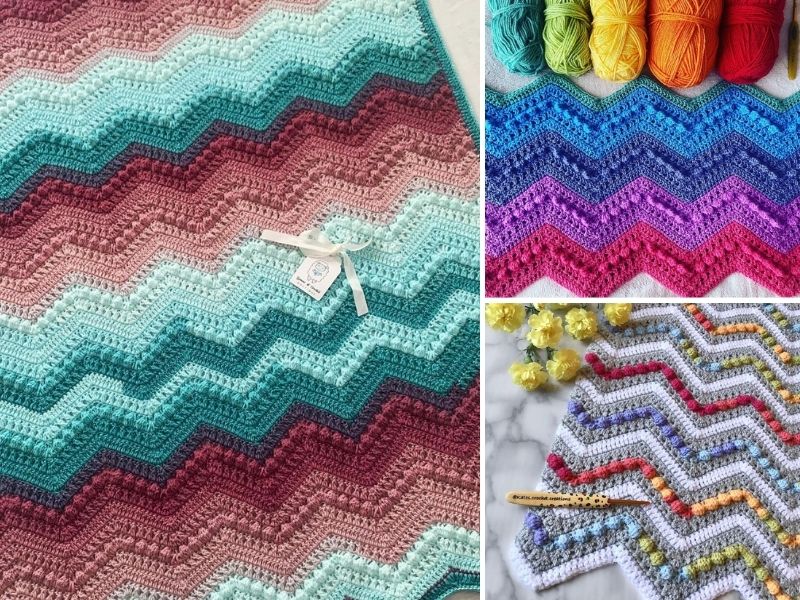 or…
Explore the article I wrote about Crochet Dishcloths, because it's full of cool ideas!
→ Yes! Take me to this article! ←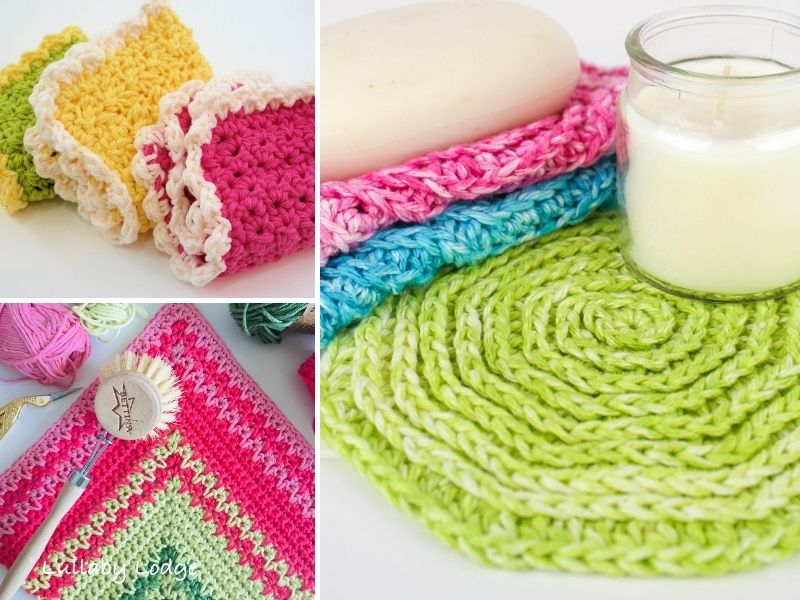 crochet roundup!
As usual, I tried to find the most beautiful version for you, and I find that I fulfilled your wishes 😉 What I love the most about these projects are fantastic colorways, because they inspire me the most!
Read closely to find free crochet patterns and other useful resources, and don't forget to check out and follow talented crocheters I featured today.
◉
So Rosy!
Suzette Stitch by Desert Blossom Crafts
As you can see below, rich fuchsia is a great color to go for, because it's versatile and fun! It will look elegant in classic interiors, but can also be playful when paired with more colorful decor. Rachel from Desert Blossom Crafts chose this fantastic yarn for her stitch tutorial, which I linked under the photo. Be sure to check it out!
Find free crochet tutorial on desertblossomcrafts.com.
◉
Suzette Stitch by By Little Blue
Self-striping yarn is a perfect choice for all of you, who don't like weaving in ends, but love colorful designs. Unicorn colorway of Lion Brand Mandala yarn is a lovely choice for many different projects. As you can see in the photos, it goes from hues of pink to greenish blues – making this blanket a great idea for a baby shower gift.

You may also like to learn… How to Read Crochet Diagrams
◉
Suzette Stitch Blanket by The Crochet Attic
You can achieve delicate color changes by choosing different hues of the same color together, just like in the blanket below. Crocheter behind The Crochet Attic decided to go for rosy waves, going from fuchsia to white again and again. These colors combined with suzette stitch create the loveliest structural pattern. Isn't it beautiful?
To make similar blanket, check out free crochet pattern for Suzette's Chunky Afghan
by Alexandra of EyeLoveKnots, available on ravelry.com.
◉
Rose Suzette Stitch Blanket by Kaidalys
Rosy tones work great with warm yellowish creams, so check out the colorway Kaidalys chose for her project! You can see it in the pictures below. Wide stripes of colors help the structural suzette stitch sing, so choose it if you are looking for a simple and easy to make technique.
To make similar project, you can use free crochet pattern for Suzette Blanket by Sharon Hansen, available from yarnmare.blogspot.com.
◉
Colorful and Fun
Suzette Stitch and Hdc Blanket by Kaidalys
If you want to add a wow factor to your project, combine this stitch with simple rainbow stripes, just like Kaidalys did! Take a look below and see for yourself, how interesting it looks. It's very simple, too – just add a couple of rows of solid half double crochet stitches.
If you are looking for more fun ways to apply this stitch, be sure to check out Suzette Hook Pouch by Sweet Bee Crochet, because it's available as free crochet pattern on sweetbeecrochet.com.
You may also like this tutorial: How to Crochet Alpine Stitch
◉
Sugar Strands Blanket by Little Duck Crochet
Divide colorful stripes with simple white rows, so that every color has a place to shine! Ultra-talented crocheter behind Little Duck Crochet knows what works best, so be sure to check out her other creations. Go for colorful palette, like the one in the pictures, or choose your own favorite hues.
You can purchase this beautiful crochet pattern through ravelry.com.
◉
Textured Stripe Baby Blanket – Juicy Version by Sophie Stitches
Do you like tropical fruits? If so, make this juicy blanket and keep the summery feeling at hand at all times! Vibrant yellows, pinks and oranges look great with greens, so be sure to balance your palette out. This stitch doesn't need any additional decorations, because it creates a nice surface and is eye-catching on its own.
You can purchase this pattern through lovecrafts.com, or through ravelry.com.
◉
Delicate and Sweet
Textured Stripe Baby Blanket by Sophie Stitches
Neutral greys, beiges and whites can be the base for any project, just like in the stunning piece below, made by Sophie. The only thing you need to do is add a color, for example baby blue, or pale pink! Author of this blanket went for simple crab stitch as the border, and I must admit that it looks lovely!
You can purchase this pattern through lovecrafts.com, or through ravelry.com.
You may also like to learn… How To Crochet Granny Stripe Stitch + Video!
◉
Suzette Stitch by Salomé Pires
Is there anything more satisfying than a perfectly blocked crochet stitch swatch? This beauty by Salome is almost ready to become a crochet dishcloth, or a placemat! Dense, but textured nature of suzette stitch makes it perfect for home accessories. Are you sure you don't need new set of crochet dishcloths for your kitchen? 😉
To make crochet dishcloths with this stitch, check out free crochet pattern for Suzette Stitch Spa Washcloth by Katie Clary, which is available on ravelry.com.
↔
Lately I wrote about… How to Crochet V-Stitch Two Ways – Tutorial + Video!