This post contains affiliate links.
I love waffles! We all do, right? Today's theme is so yummy, you will want to grab your hook and yarn, and start right away 😉
Creating waffle structure always seemed a little bit intimidating to me, because the effect is very unusual – you can't compare it to basic crochet. However, when I went into it and dug up video tutorials, I was shocked how easy this stitch is in fact!
Check out abundance of free resources and inspiration below, and try waffle stitch today!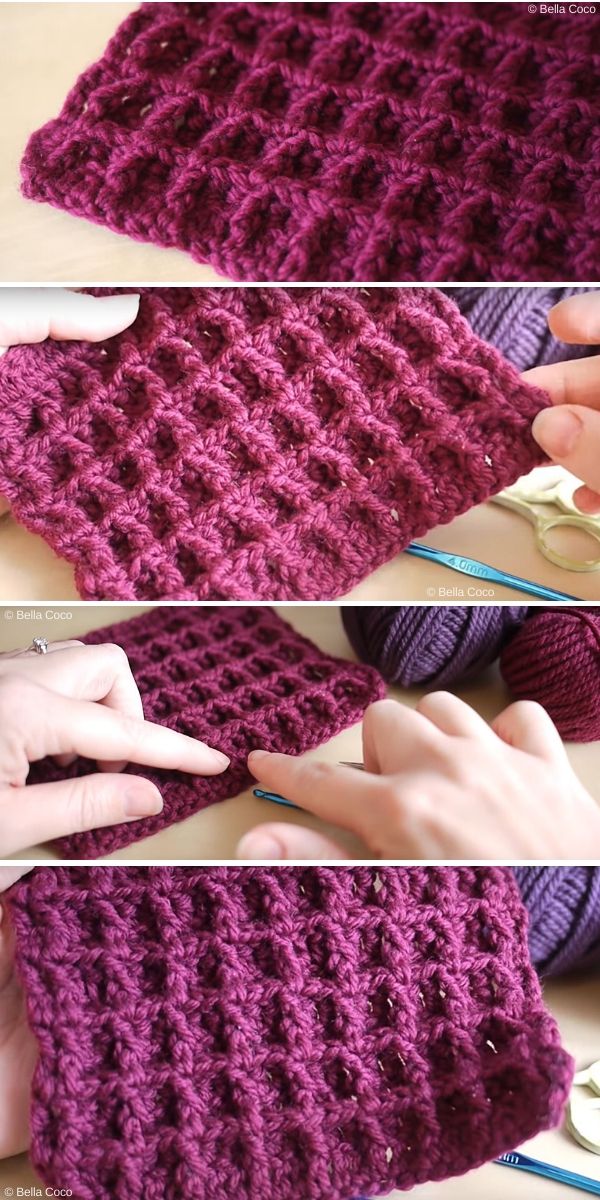 ◉
Affiliate Partnership
What does it mean? It means that if you click the link below and subscribe to this fantastic offer within 24 hours, I get a fee out of that purchase. Such partnerships are what allows me to grow and make even more free patterns and tutorials for you!
How to get 90+ Patterns in your digital library NOW!
Ready to make some brag-worthy projects? Happily Hooked publishes designs are unique, fun, and accessible for all skill levels! Add in your first issue of Happily Hooked, Pattern Pack Pro AND 7 bonus issues, you get… 90+ crochet designs for every season in your personal digital library!
Click to get them today from my friends at Happily Hooked!
CLICK HERE AND SUBSCRIBE TODAY!
◉
Rich structure
Structural stitches are the ones that create three-dimensional surface. They are rich, interesting and very versatile! You can use them for your blankets or home accessories, but their additional thickness is great for winter apparel, too. If you use 100% cotton yarn, you can make amazing dishcloths that gathers the dirt and absorbs fluids easily.
Materials:
Bella Coco used Debbie Bliss Cashmerino Aran yarn, which is a blend of merino wool, acrylic and cashmere. She decided to use 5.00 mm crochet hook, and grabbed some scissors, too. Yarn needle can be useful if you want to weave in ends after the work is finished.
Remember that Bella Coco uses UK Terms, which are different to US Terms. I'm using US Terms for this description, as well as in all my tutorials and patterns.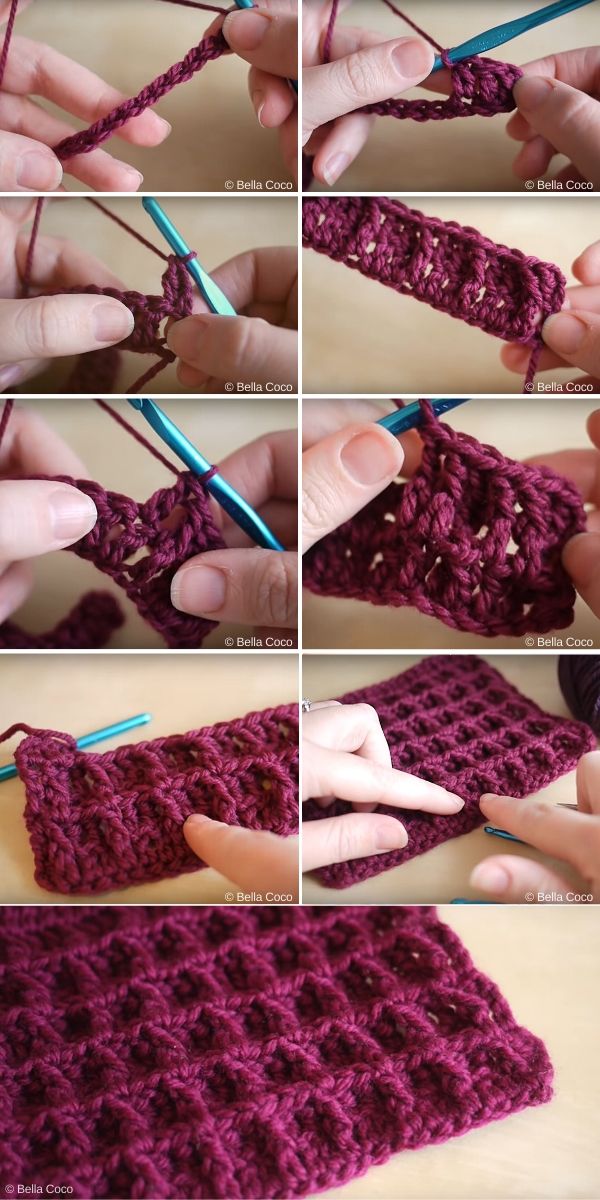 How to do it?
To make waffle stitch, you need to start with a slip knot. Bella Coco decided to work with multiples of 3 chain stitches, but there are many different tutorials online, which create bigger or smaller "waffle" texture. The amount of chain stitches you choose will be your module, which creates big or small waffle "holes".
Following Bella: you start with starting chain of multiples of 3 + 4 chain stitches. First row consists of double crochet stitches, because it creates nice foundation. Next rows are based on working one front post double crochet and two normal double crochet stitches. This combination pushes one stitch to the front, which creates three-dimensional texture.
Check out full video tutorial here 🙂
talking about stitches…
Our growing website and library of free crochet patterns has some projects that might interest you, too. Learn more about Magic Ring!
→ Yes! Take me to this article! ←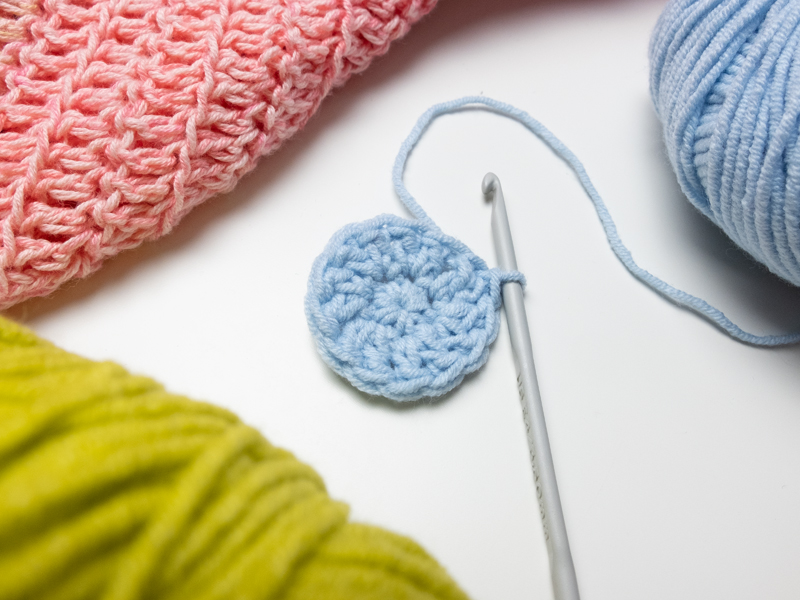 or…
Make an adorable Valentine's day gift with free crochet pattern for Rose Bunny Amigurumi!
→ Yes! Take me to this free pattern! ←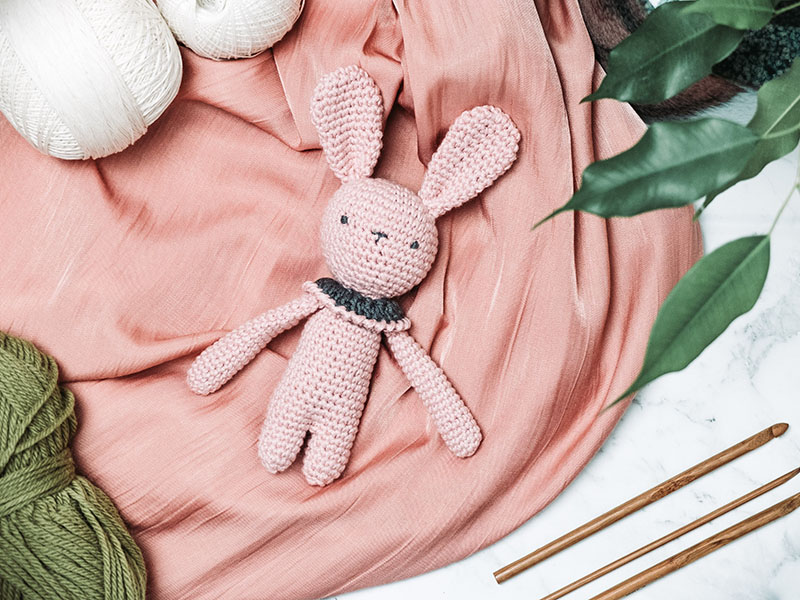 crochet roundup!
I love to see how differently the stitches can look when they are made with various yarns. Waffle stitch is especially interesting, because the structure can be bold and thick, or delicate and subtle. Choose your favorites from fantastic designs below, and let me know which ones spoke to you!
Be sure to read the post carefully for free patterns and tutorials, so you can use them in your projects.
◉
Elegant Waffle Blankets
Waffle Stitch Blanket by The Patchwork Heart
Isn't this color scheme beautiful? Rich deep colors are combined with fresh and delicate ones, creating very sophisticated palette. Heather behind The Patchwork Heart decided to finish this blanket off with beautiful and simple moss stitch border.
If you would like to know more about moss stitch, check out this article – Moss Stitch Ideas. For more inspiration and free patterns for crochet borders, click here!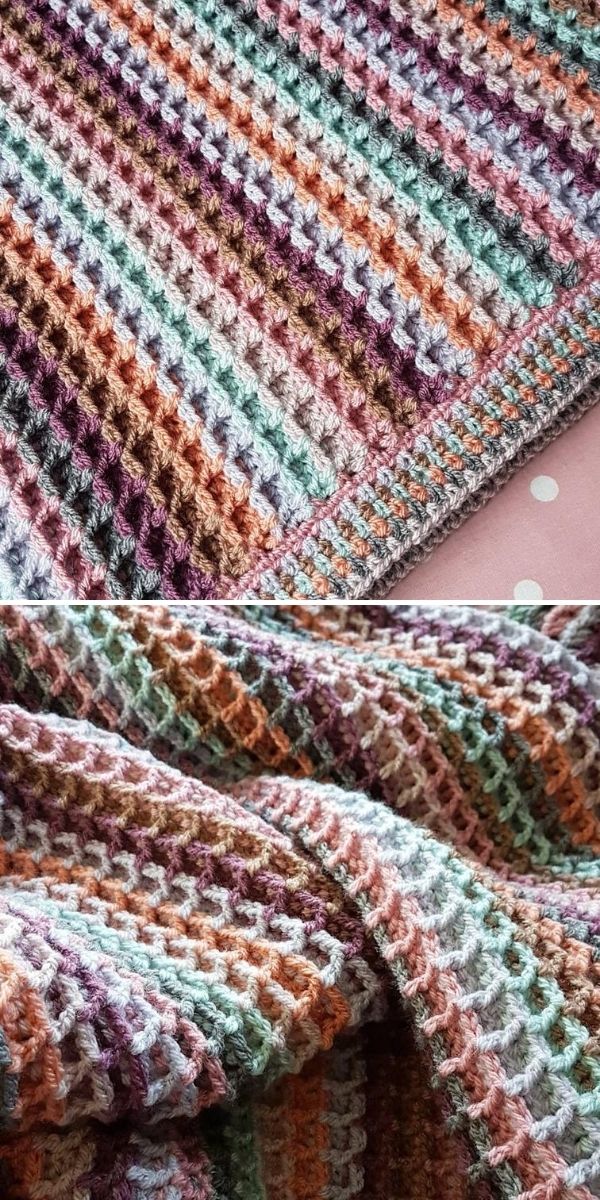 You can easily make a similar blanket by using one of tutorials or free patterns for basic waffle stitch.
◉
Buttermilk Waffle Stitch Blanket by The Patchwork Heart
Buttermilk, cream and white – nothing can go wrong with this combination of colors! Sweet like a foam on your cappuccino, this colorway is gender-neutral and will make a lovely baby shower gift. Heather made it simple, and it worked, so go for classic choices when in doubt.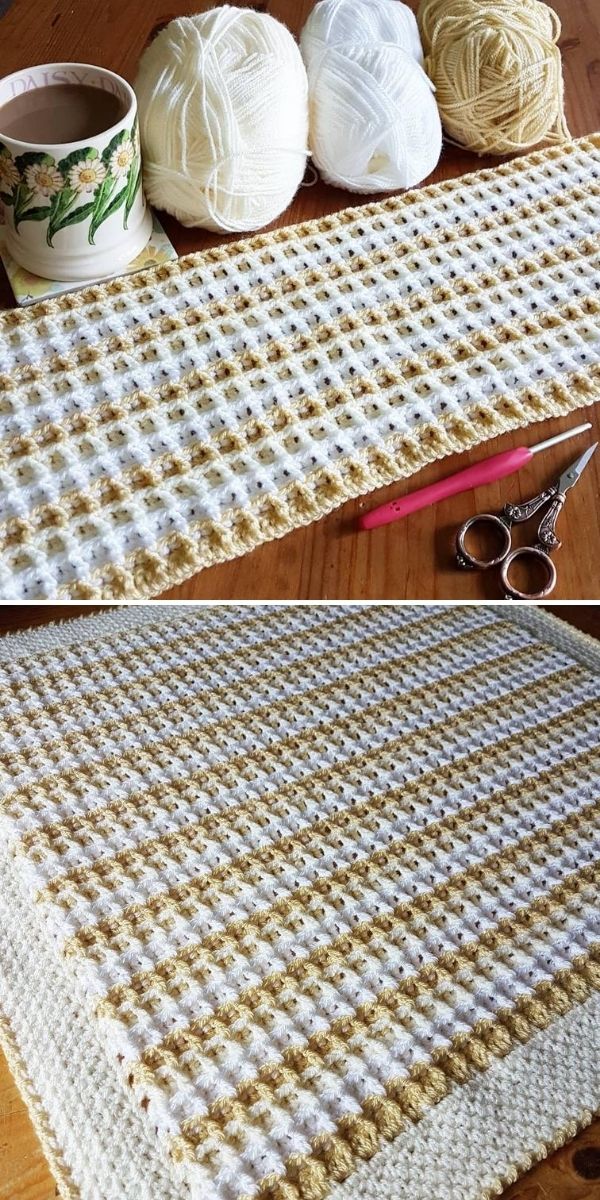 ◉
Waffle Stitch Blanket by Chantelle Stitches and Knots
Do you have leftover yarn in your stash? Use it to make classic stripy blanket, because it's timeless. Moreover, deep colors, such as burgundy, pinks and whites work very well together and are always on trend! Follow Chantelle on Instagram, so you can see more!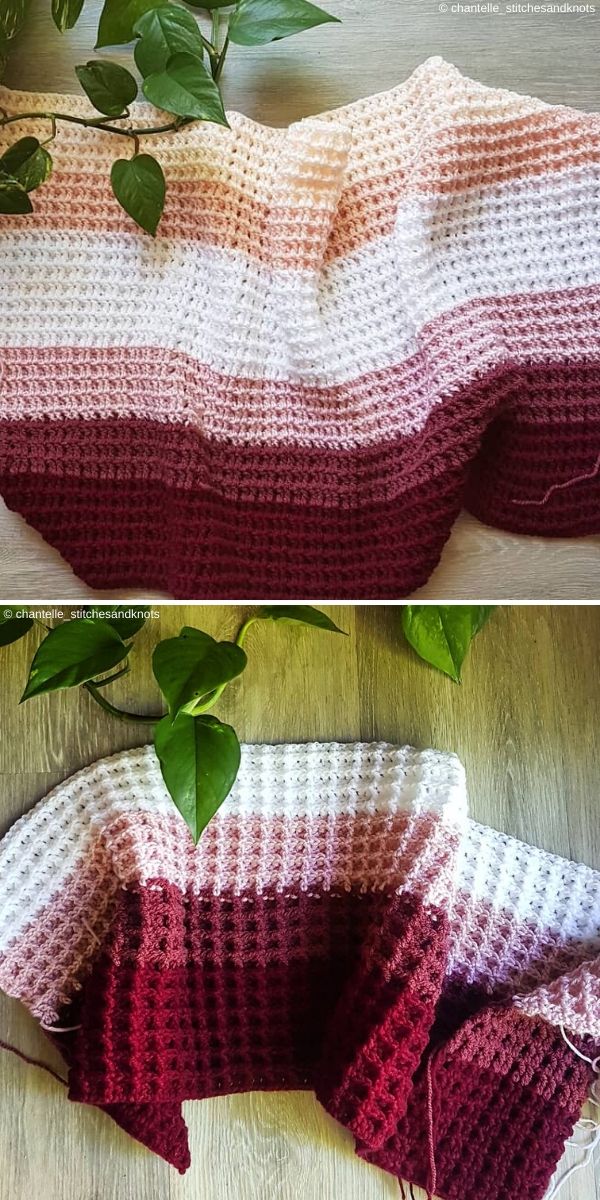 ◉
Squared Waffle Blankets
Waffle Blanket by LoopyJess
Some stitches don't like being worked in rounds, but waffle stitch isn't one of them! You can start from the center and make it bigger and bigger, so change up your foundation chain for a magic ring and don't worry about starting too narrow. LoopyJess decided to use beautiful palette of blues and pinks, which is elegant and modern thanks to addition of dark grey.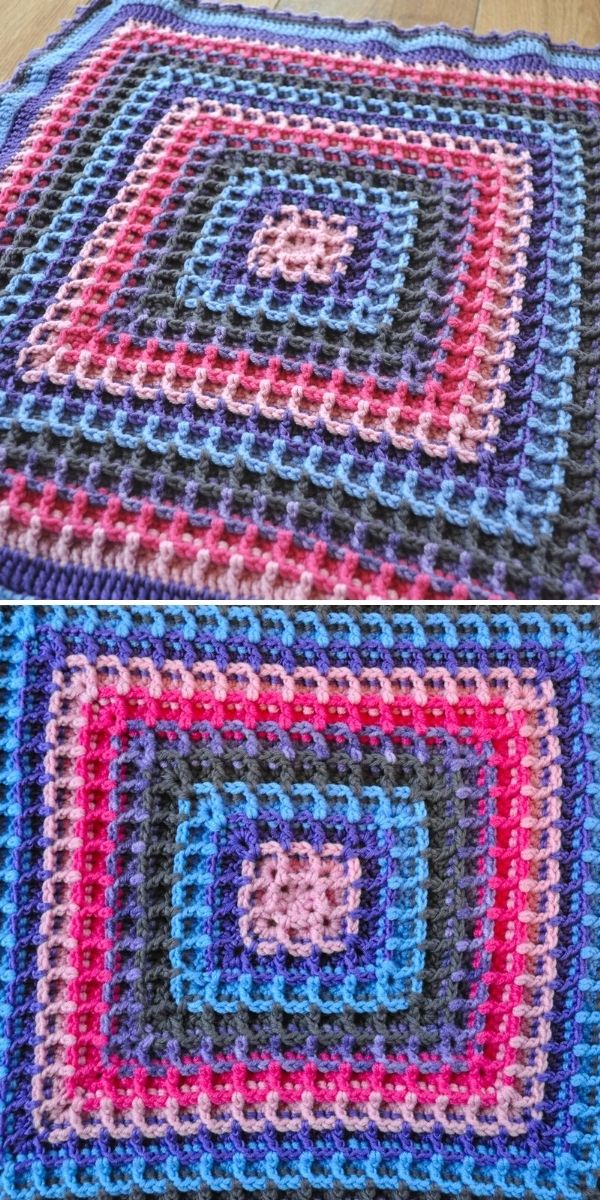 This project was based on Raised Squared Waffle by Buttonnose Crochet, which is a free crochet pattern.
Looking for more blanket inspiration? Try Battenberg Blanket Crochet Ideas!
◉
Raised Square Waffle by stefie2104
This cute blanket is tiny, but looks absolutely adorable! It would be perfect for a newborn, so take a look below and get inspired! Stefie decided to make her waffle blanket with multicolored yarn, and add a lovely vintage border to it. Cute!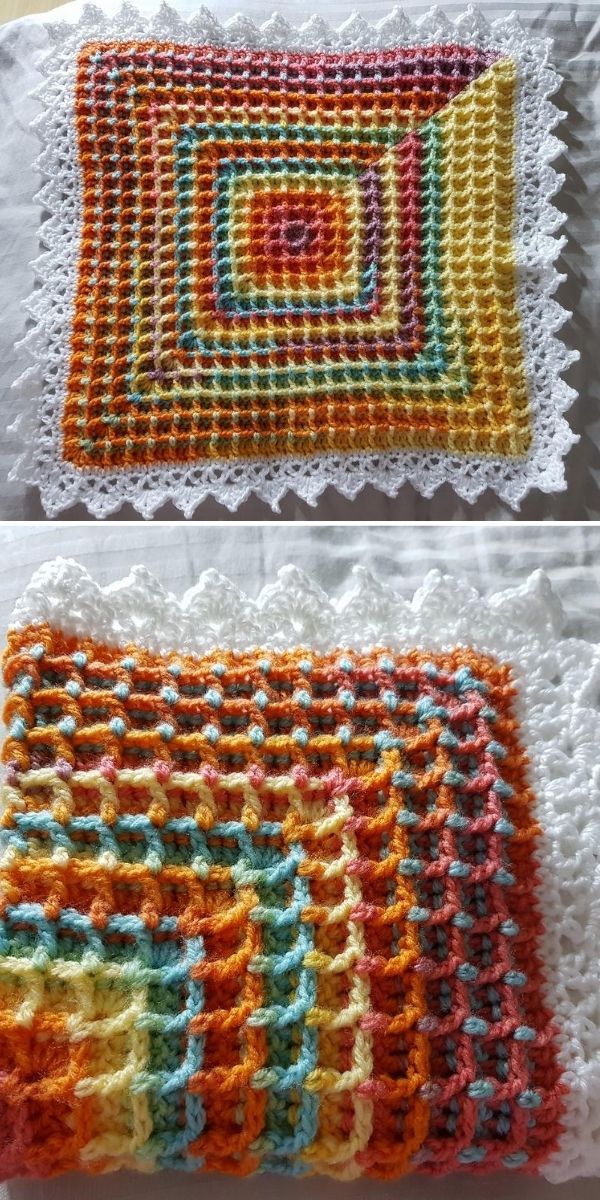 This project was based on Raised Squared Waffle by Buttonnose Crochet, which is a free crochet pattern. If you like it, you may want to try another free pattern – Buttery Waffle Potholder by Josie Chapman.
◉
Waffle Stitch Blanket by Rose of Ninni Time Creations
Squared waffle is very popular and I'm not surprised at all, because it looks stunning. This blanket makes the most out of fantastic ombre yarn in contrasting colors, creating dramatic look! Visit Rose's Instagram page for more inspiration, so you have even more energy to start.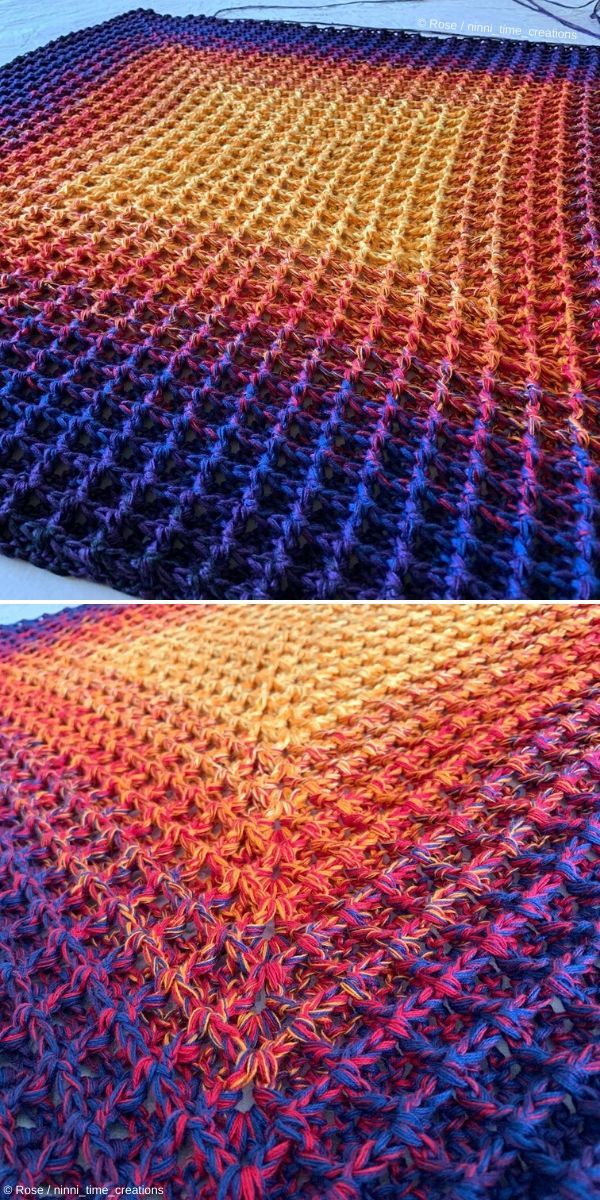 To make similar blanket, use Raised Squared Waffle free crochet pattern by Buttonnose Crochet.
Looking for more classic patterns? Try 6 Day Kid Blanket Ideas!
◉
Colorful Waffle Stitch Blankets
Candy Waffle Stitch Blanket by The Patchwork Heart
Well, this project by Heather will most definitely cheer you up, even if you are world's most cranky crocheter! Bright rainbow may not be everyone's first choice, but I must assure you, that kids will absolutely love it. Once again, Heather chose easy moss stitch edging to go with her waffle blanket, because it's a match made in heaven!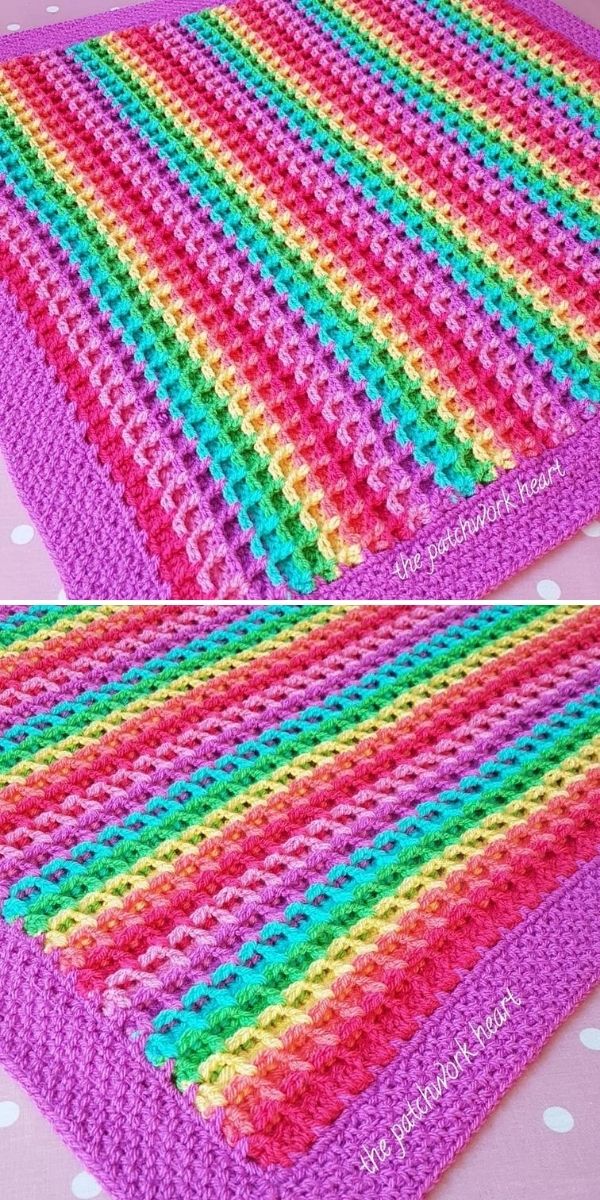 If you are looking for a waffle blanket with fun border, check out free pattern for Arcade Waffle Blanket by Lindsey Dale.
◉
Rainbow Waffle Blanket by Going Loopy
This rainbow blanket by Going Loopy has the most subtle tonal transitions, I swear it looks like made with an ombre yarn! Choosing the right sequence of colors is crucial if you want to make smoothly flowing stripes, so take a look below and Pin this beautiful image for future reference!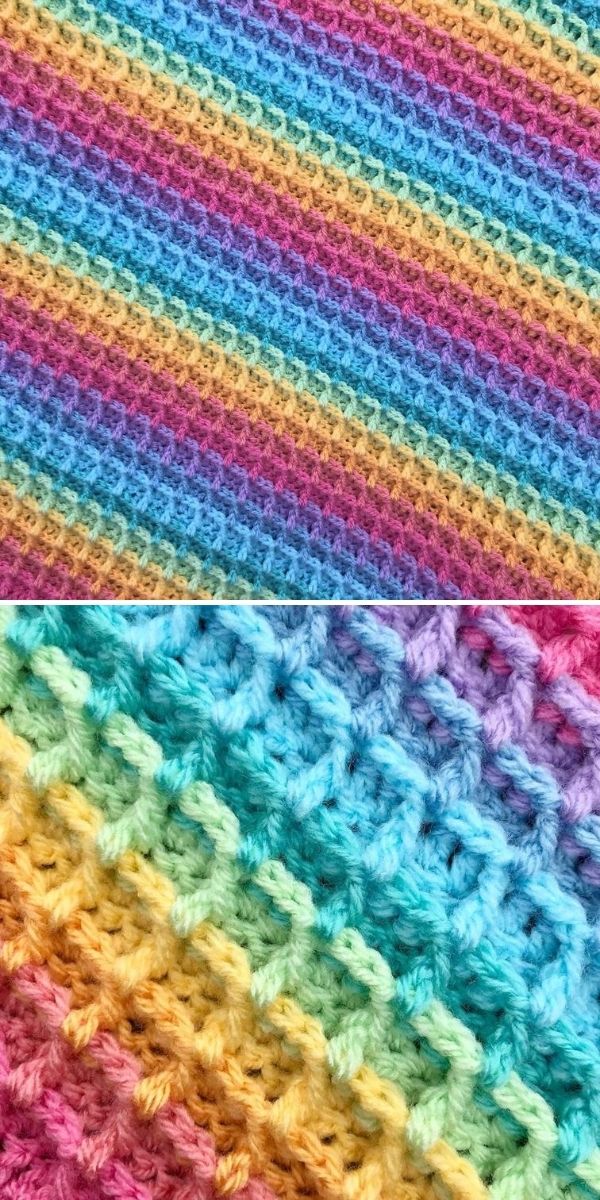 ◉
Waffle Stitch Blanket by Melanie Charles / Woolly Wonka's Crochet Factory
I'm madly in love with this candy-colored rainbow! If you happen to have yarns in an array of rainbow hues, try making similar blanket, so you can feel the vibe, too. It looks squishy and very comfy, which makes it perfect for nurseries and kids' rooms. Melanie's Instagram made me drool, so definitely check it out for more inspo!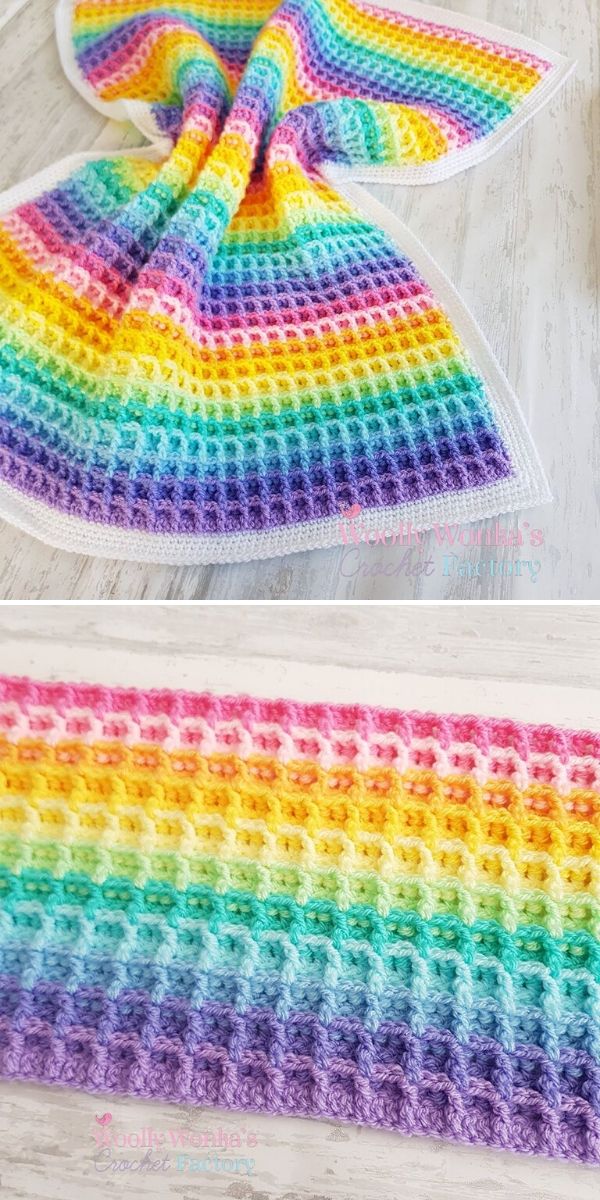 Looking for more blanket inspiration? Try Sophie's Universe CAL!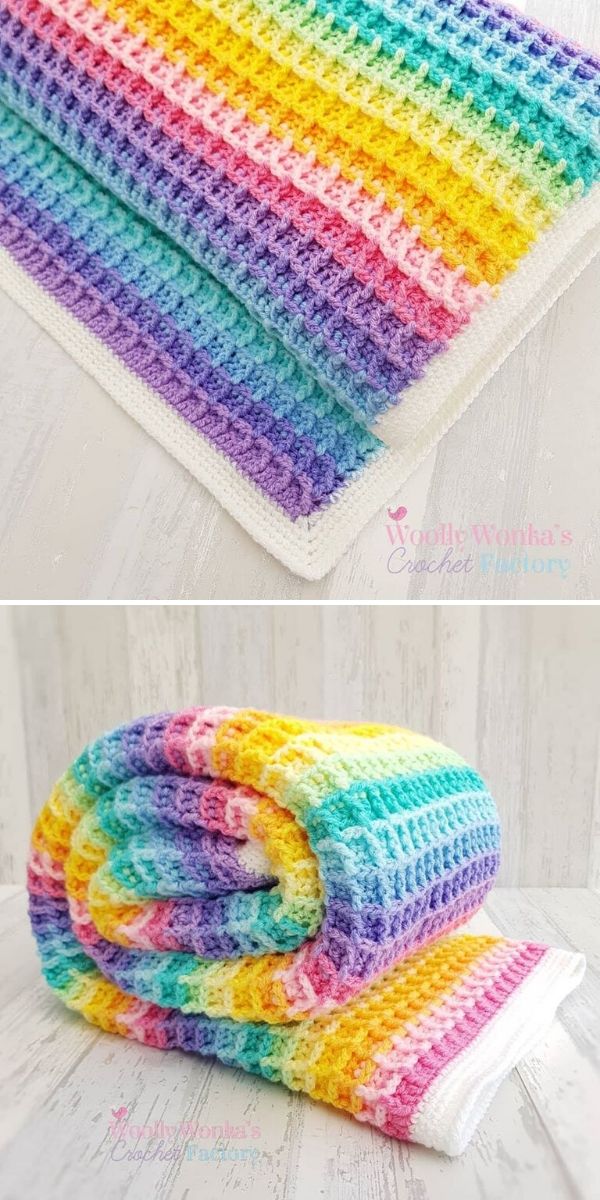 Try using video tutorial I've covered above, or try out this written free pattern – Hook 'n' Learn Part 2 – Waffle Stitch by Lucy Croft.
◉
Waffle Stitch Blanket by Amy Astle / littledoolally
Simple combination of colors and timeless stripes are always a good idea. Especially, if you want to make a lovely baby blanket that is gender neutral and fun to make. Thick, but simple border makes this design look finished and framed beautifully. Check out more projects by Amy on her Instagram, under the link above.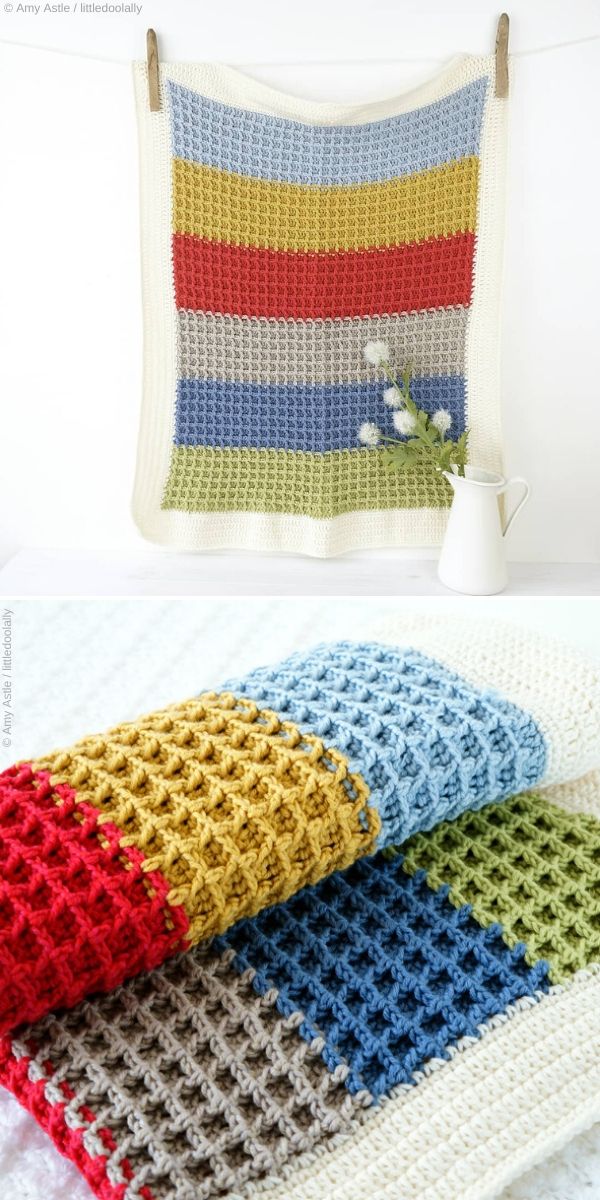 ◉
Waffle Stitch Blanket by Kerry and The Boys
Rainbow always works, right? This stunning blanket won't go unnoticed, because it's so full of cheerful energy! Just imagine giving it as a gift to someone you love. Doesn't it sound amazing? You can easily make it by following tutorials I've mentioned earlier, because it's all in the colors of the yarn. Kerry's Instagram is truly fantastic, so be sure to follow her!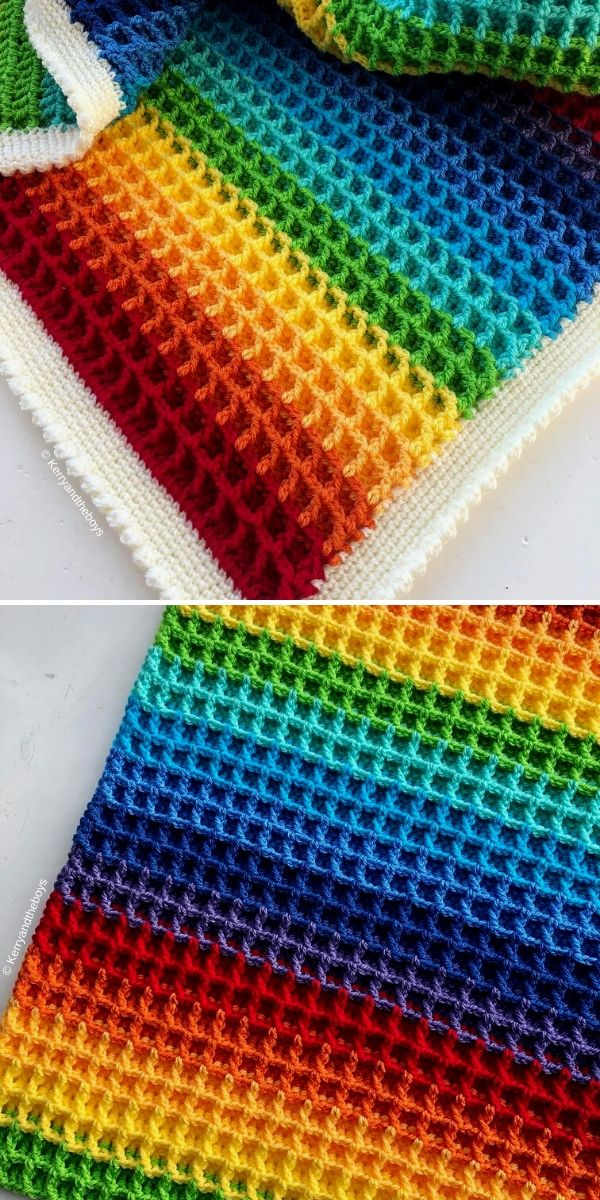 If you like it, check out Granny Square Crochet Ideas!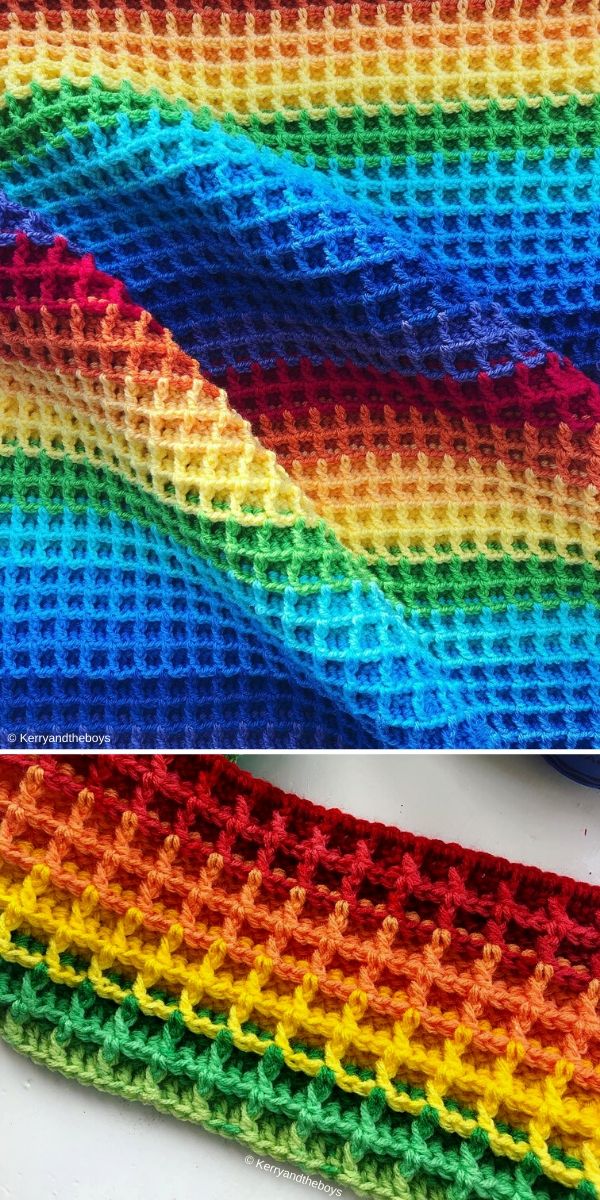 ◉
Waffle Stitch Crochet Accessories
Waffle Potholders by HappyHookStudio
As I've said before, waffle stitch is perfect for home accessories, because it's thick and structural. Just be sure to use 100% cotton yarn, because synthetic yarns melt in contact with hot surfaces and don't absorb very well. These lovely potholders are made from the center out, so they are perfectly square. Check out HappyHookStudio's Instagram for more great ideas.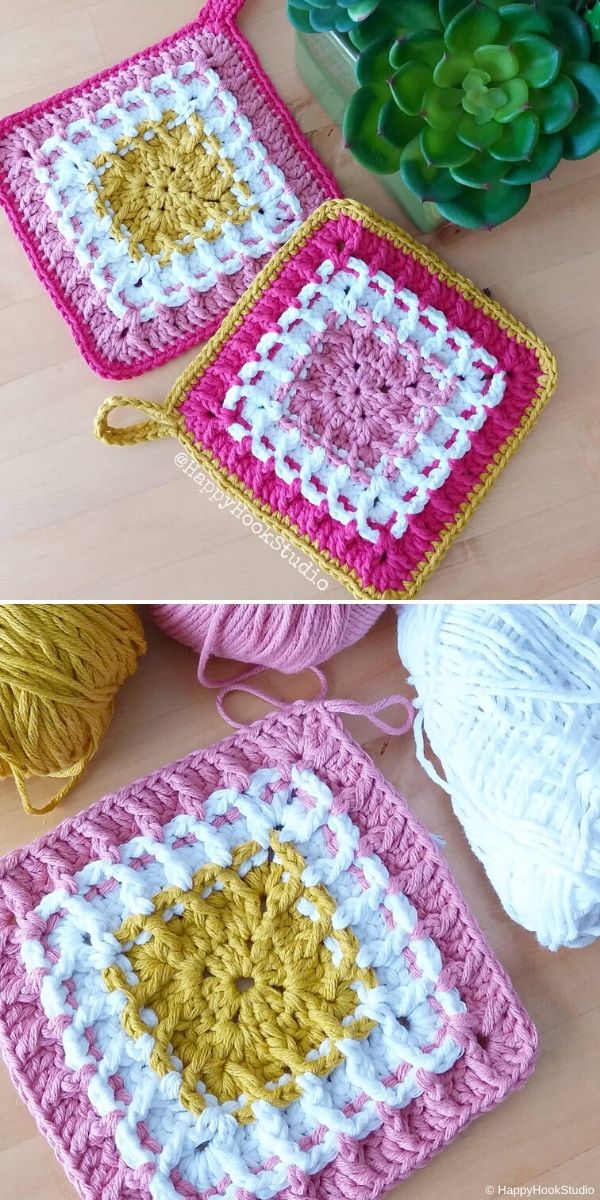 If you want to create similar accessory for your kitchen, try out Potholder in Waffle Pattern 8/4 by Hobbii Design or use tutorial for Squared Waffle.
◉
Waffle Shawl by Anna Stasiak
Stunning combination of colors in this ombre yarn makes the shawl look exceptional, but it's this delicate waffle pattern, that I fell in love for. This technique works perfect in winter accessories, so be sure to try it out! Check out more lovely projects by Anna, by following the link above, because they are exceptional.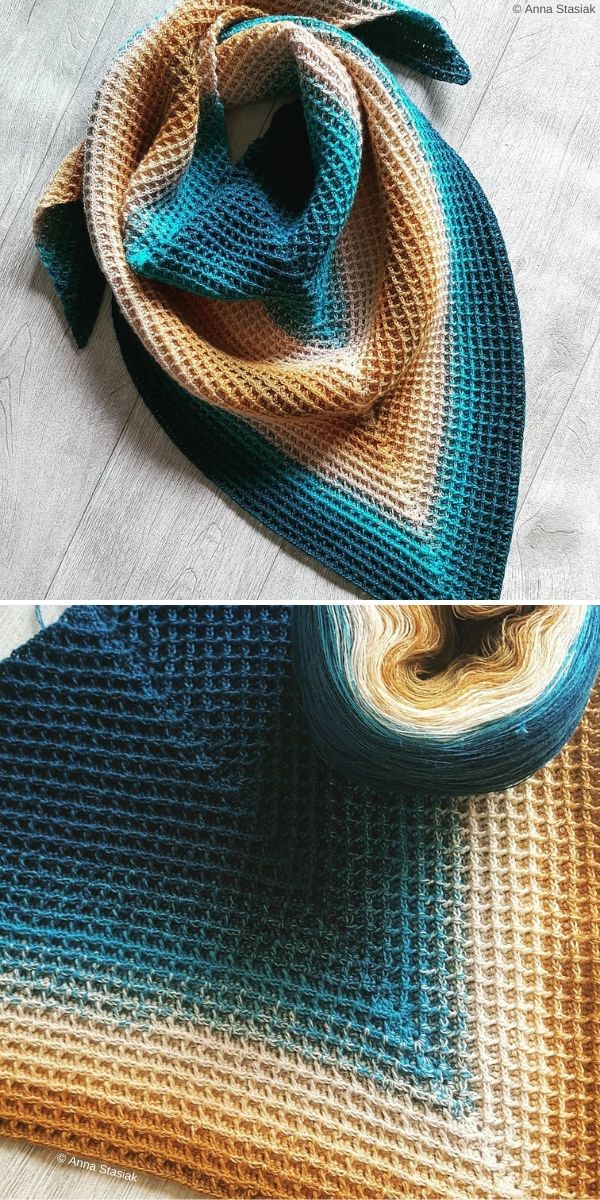 If you want to make similar waffle shawl, check out this free pattern for Alaskan Waffle Shawl by Buttonnose Crochet, or try out Chunky Waffle Infinity Scarf by Bobby Andrews.
◉
That's all for today, but I'll be back with much more inspiring projects and free patterns. Like, share and subscribe if you like what you see. Stay tuned!
↔
You may also like: Apache Tears Crochet Ideas