Seven Wonders Crochet Scarf – Free Crochet Pattern
If you need a warm and elegant accessory for the fall and winter season, this lacy crochet scarf may be perfect for you! It's cosy, delicate and very soft, because it's made with 100% alpaca wool. Beginner-friendly pattern will be easy for everyone, who want to make a new addition to their wardrobe, so don't hesitate and start today!
◉
SAVE IT IN FAVORITES ON RAVELRY
or follow me on PINTEREST and INSTAGRAM
◉
This easy lacy crochet scarf use the stitch I covered recently in my stitch tutorial series. Whether it's done with seven colors, like mine, or just one, it will be a lovely addition to any wardrobe. It can also be a thoughtful present for someone you love, because there's nothing better than handmade gifts!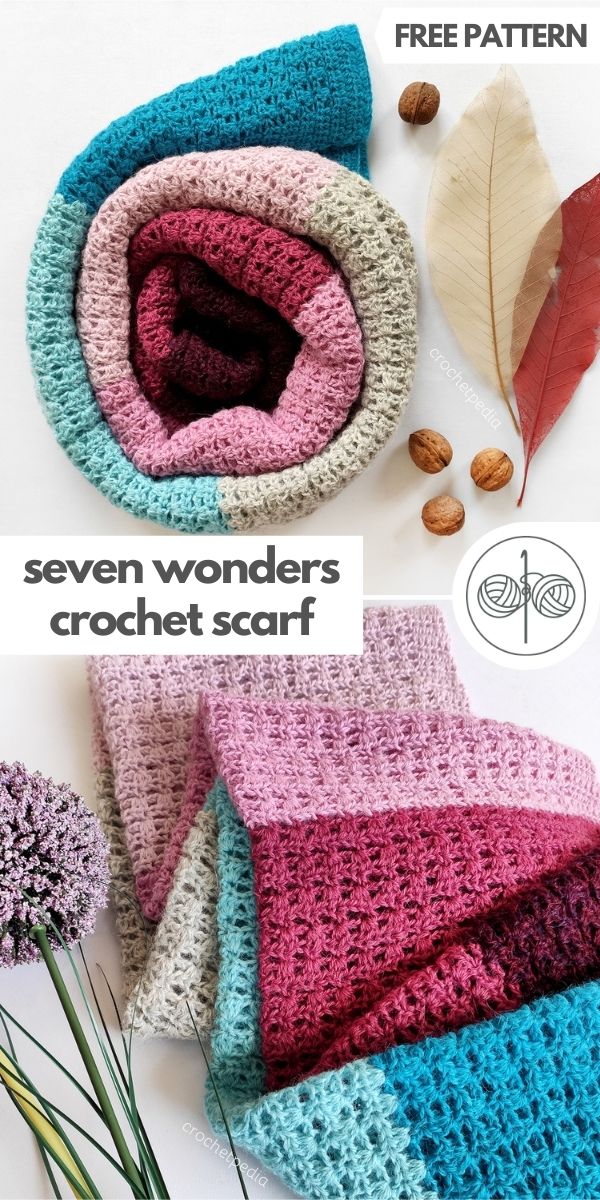 ◉
Original Stitch
This project use a Seven Wonders Lacy Stitch, for which I recently created a step-by-step tutorial. Check it out!
→ Free tutorial and diagram ←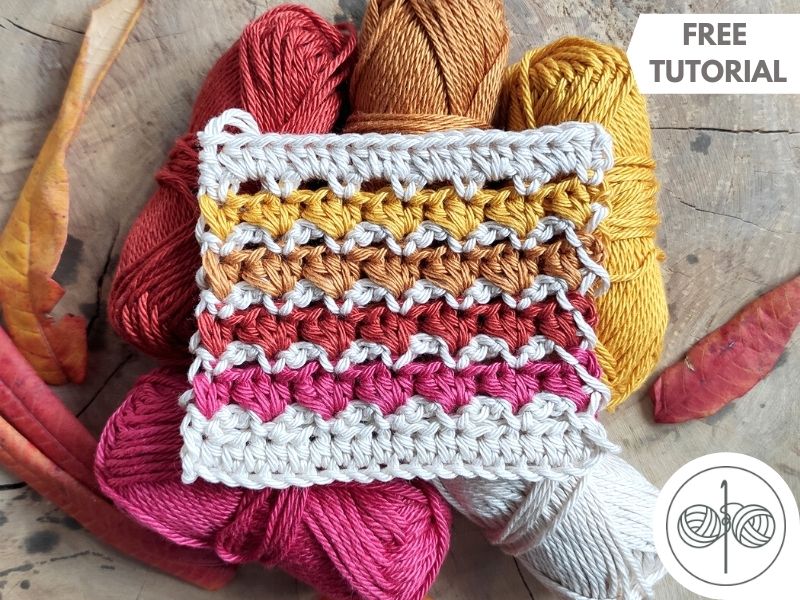 ◉
Get to work!
This lacy scarf is much more delicate and flowy than cotton swatches, which I created for the stitch tutorial (you can see it above!). One thing is much thinner yarn, and the second is quite loose crocheting. Please remember that your style of crocheting will affect your stitches.
Let's start!
PATTERN NOTES
LEVEL – beginner
TERMS – standard US
TECHNIQUES
Seven Wonders Lacy Stitch – click for tutorial!
MATERIALS AND TOOLS
yarn:

Drops Alpaca Uni Colour and Mix (100% Alpaca wool) –

I used 7 skeins of 50 g each – roughly one full skein for one color panel.

crochet hook 3 mm
scissors
stitch marker (optional)

tapestry needle for weaving in ends (optional)
MEASUREMENTS
50 cm (19,7″) x 180 cm (70,85″)

gauge for Seven Wonders Lacy Stitch: 10 cm x 10 cm (4″ x 4″) = 21 stitches (7 modules) x 12 rows (6 modules)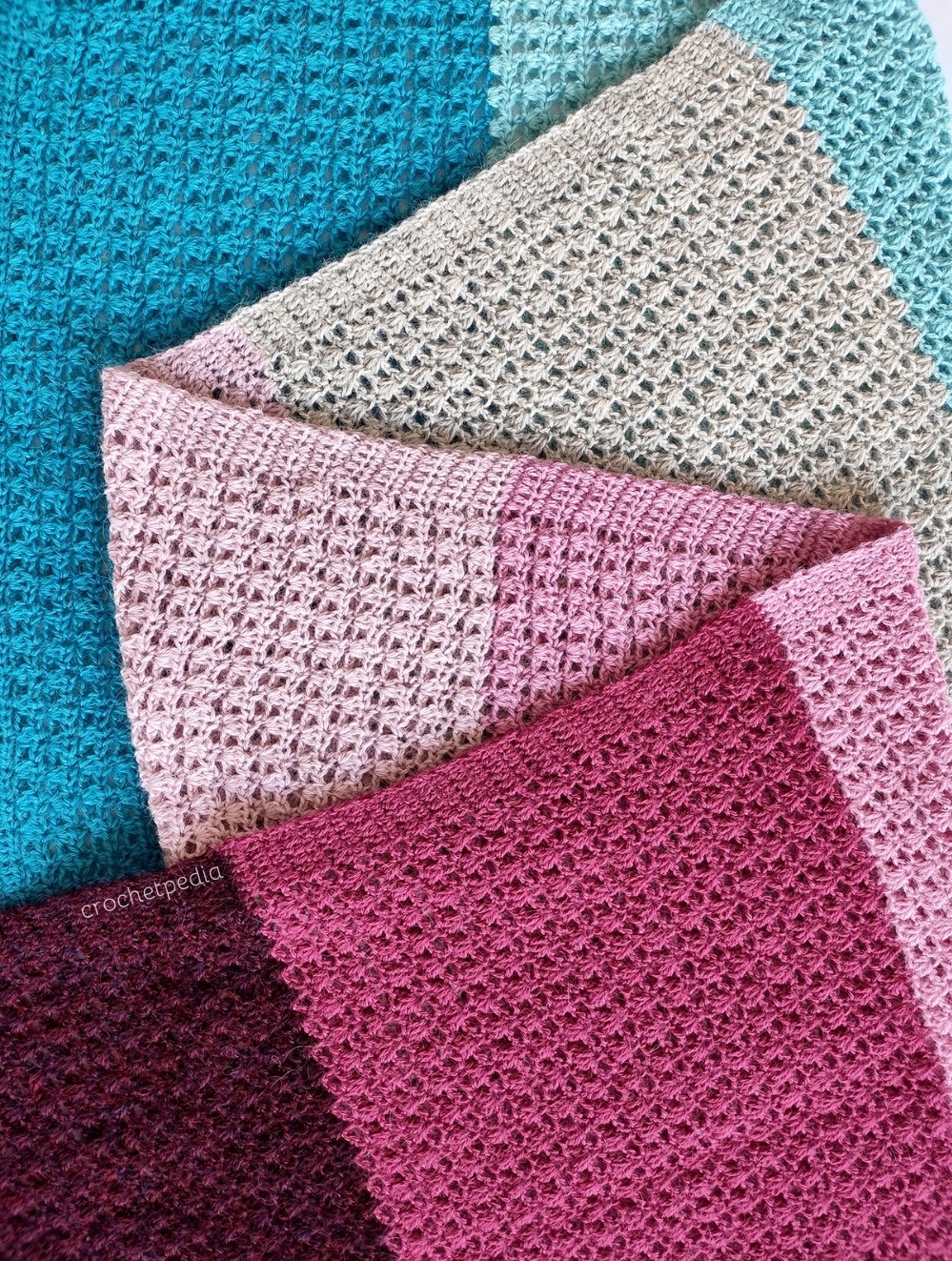 before you start
Before you start, a couple of important things:
main part of this scarf use Seven Wonders Lacy Stitch.
bottom, top and side edgings of this scarf are made as you go, and they are integrated in this pattern.
you may find useful informations in this article, so be sure to check it out – How to Change Colors in Crochet.
this scarf requires blocking afterwards – click on the link to learn more.
◉
COLOR ORDER:
2918 dark turquoise / 4 rows of hdc + 13 repeats (1 repeat = rows 5 + 6)

2917 turquoise /  17 repeats

mix 9020 light pearl grey /  17 repeats

3112 dusty pink /  17 repeats

3720 medium pink /  17 repeats

3770 dark pink /  17 repeats

mix 3969 red/purple / 13 repeats + 4 rows of hdc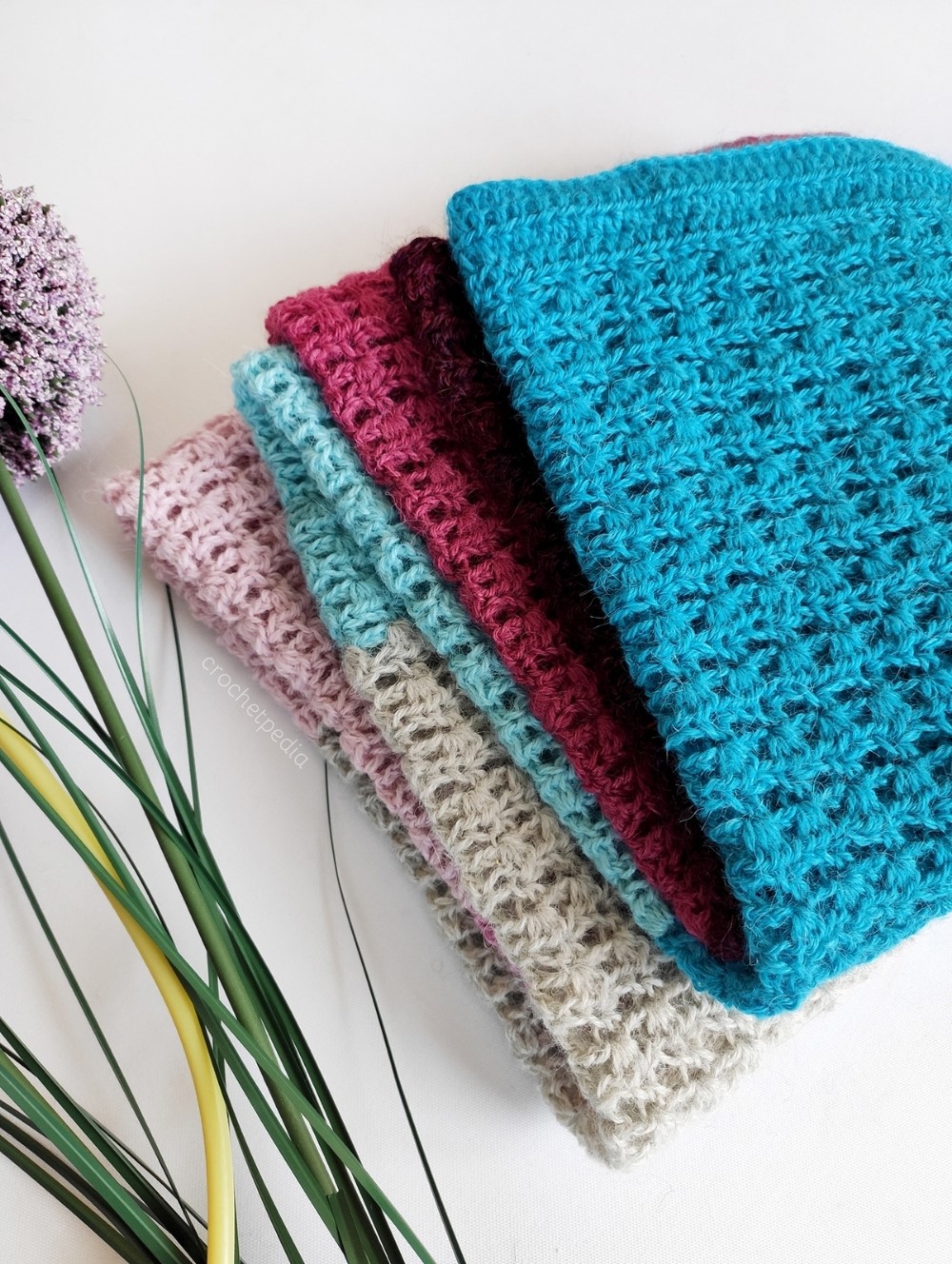 LACY CROCHET SCARF
START:
chain 101
ROW 1-4:
chain 2, 1 hdc in each stitch (101)
ROW 5:
chain 1, 6 sc, *chain 2, skip 2, 1 sc* x 29, 6 sc
ROW 6:
chain 2, 5 hdc , 2 hdc in one stitch,  *skip chain space, 3 hdc in one st (worked in the sc of the previous row)* x 29, 2 hdc in one st, 5 hdc.
Repeat rows 5 and 6 until desired length, and finish your scarf off with 4 rows of hdc (just as you did at the beginning in rows 1-4).
Fasten off, secure the yarn.
PRO TIP!
Weave in ends as you go, by working over the loose ends with the next color, because it saves tons of time!
◉
CHART
Below you can see a simplified chart for this scarf, in which all parts are color-coded, so that it's easier to understand. Of course, the main part is not wide enough in the chart, but my aim was to show you the anatomy of this project.
You start in bottom left corner, so look for the black arrow.
blue color indicates edging.
yellow and pink differentiate modules of the main part.
green is for the unfinished stitches.
How to count your own amount of foundation stitches
If you want to make your scarf wider or narrower than mine, you can calculate your own foundation chain, so don't worry.
Remember, that you have to add 6 stitches for the right border and 6 stitches for the left border, because that's additional 12 stitches for the overall count.
One module of the main part is 3 stitches, which you can see in the chart marked in yellow or pink, so that it's easier to see. One module is two chain stitches and one single crochet in one row, and three half double crochet stitches in the next row. 
Last module is unfinished, so you need additional two stitches to make it all even.
FORMULA for the scarf
6 (border) + *multiply of 3* + 2 + 6 (border)  = *multiply of 3* + 14.
you are done!
◉
While I work hard to make sure the projects I publish are the highest quality, this pattern is untested and may contain errors. If you notice one, please let me know – I'm going to revise it and correct as soon as possible.
You may also like these free patterns!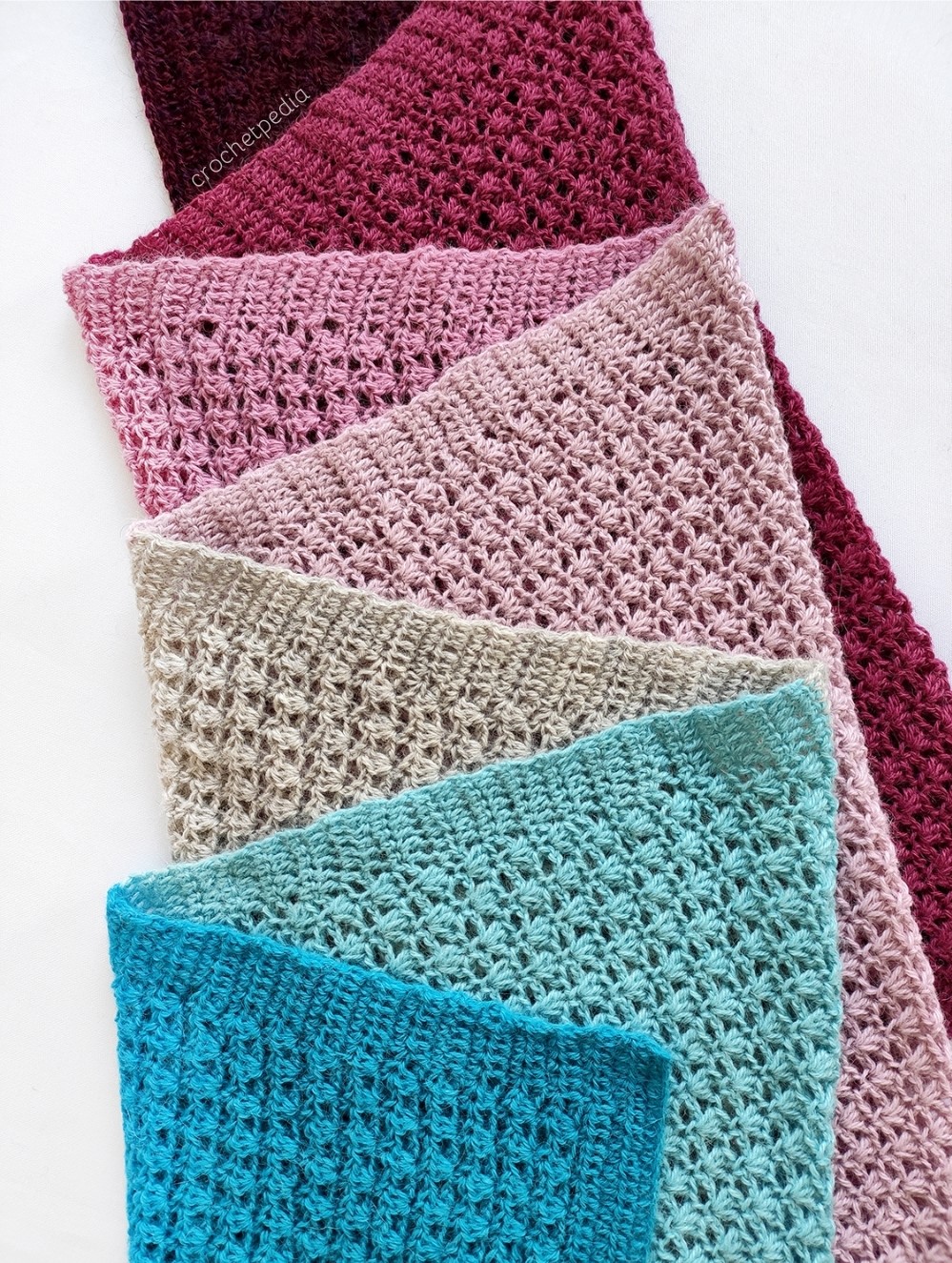 share, like, subscribe!
If you happen to make this project, I would love to see it, so don't hesitate to contact me! Please feel free to share the results with us in the comments or on social media. Of course, if you find any mistakes in the pattern or find it hard to understand, please let me know, so I can learn and improve!
Sharing is caring, so if you liked this project, be sure to share it with your friends and spread the word, because I really appreciate it! For more free tutorials, patterns and interesting articles – follow my social media pages and allow notifications to get a pop-up whenever new post is published.
◉
FOLLOW ME ON PINTEREST AND INSTAGRAM