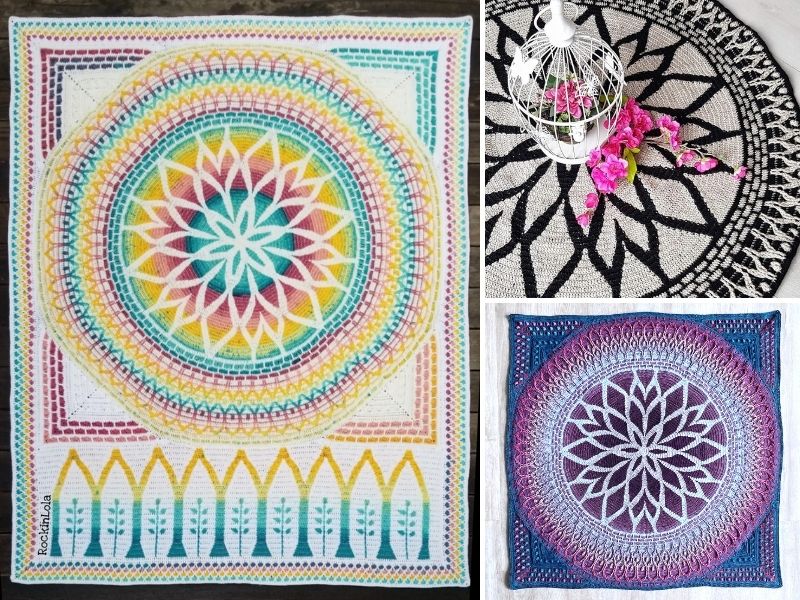 Rozeta CAL is an official Crochet-Along by Scheepjes, which launched in 2019. Since then, it has gathered a lot of enthusiasts, who created their own versions – either by using color kits offered by Scheepjes, or their own color palettes.
Author of this pattern is one of my favorite crochet designers – Tatsiana Kupryianchyk of Lilla Bjorn Crochet. She is incredibly talented and I always marvel over her skills and creativity.
◉
All of the projects presented in this post are based on official Rozeta CAL, which is available as free crochet pattern. It means, that you can make it, too!
◉
Below you can see a couple of original colorways by Scheepjes. They are looking good, right? Let's explore the possibilities!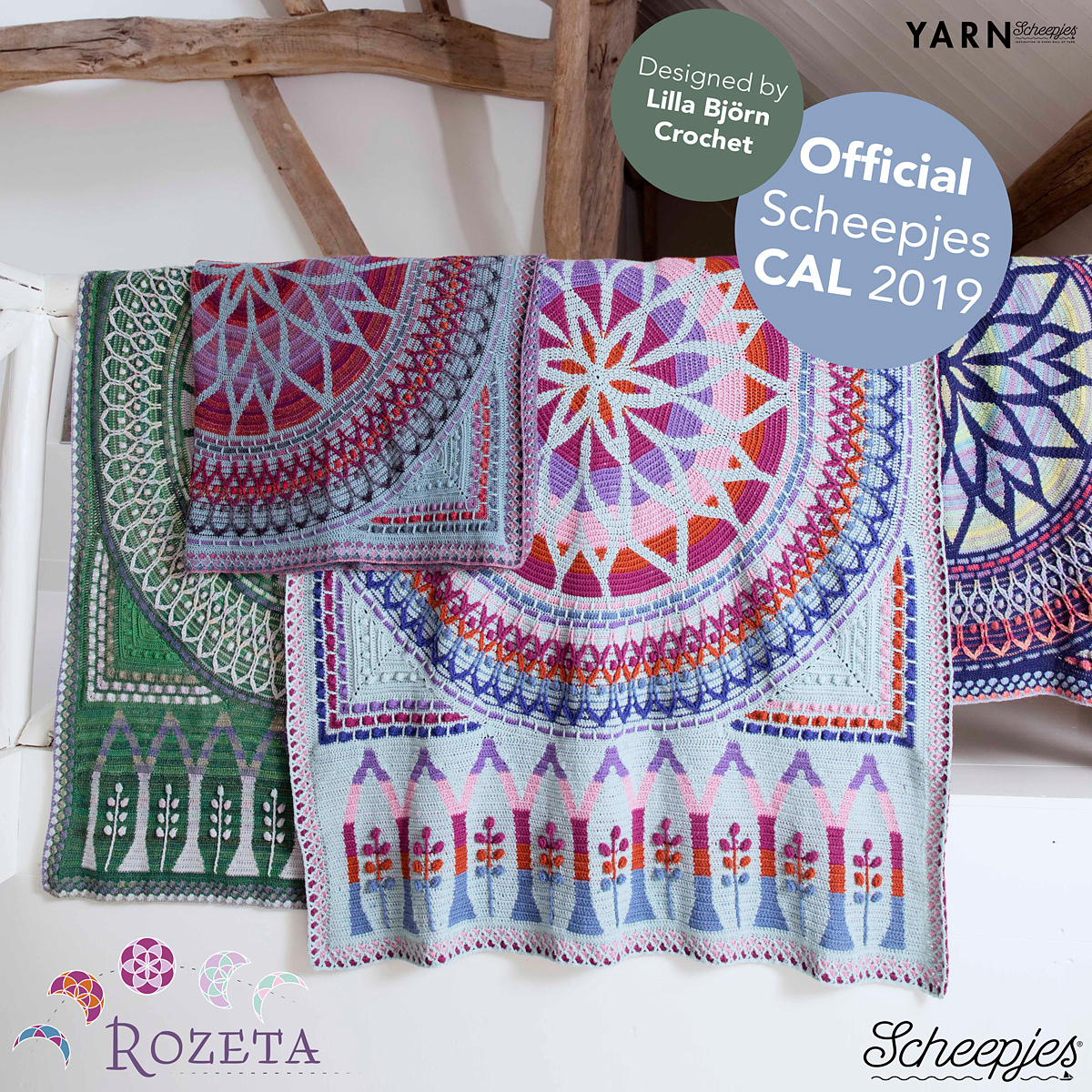 ◉
the beauty of tapestry crochet
What is it and who is this for?
Inspiration for Rozeta was the window of a gothic chapel, and you must admit that the central piece looks a lot like stained glass, right? This project is a rectangular piece, which can work as a blanket, tapestry, or table decoration.
This project is mostly based on tapestry crochet, but has textured elements, too. It's suitable for intermediate and advanced crocheters.
How to do it?
You can find lots of informations on Scheepjes' website (linked earlier in this article),
their Ravelry page
, or on Tatsiana's website
lillabjorncrochet.com
. You can choose from fantastic color packs offered by Scheepjes, or make your own combination of colors! There are also Facebook groups created especially for this CAL, in which you will find lots of helpful info and creative community.
If you like learning with video tutorials,
Esther Dijkstra
of 
It's All in a Nutshell 
created a series of step-by-step videos for the main Rozeta CAL. You can find them all listed in a post on her website –
itsallinanutshell.com
, but remember that she uses UK terminology, which differs a bit from US terms.
I like it, but I don't want to tackle such big project. What should I do?
There is a bonus pattern designed by Tatsiana Kupryianchyk, which you can see in the photo below – it uses the same stitches you can find in the main project. It's a fantastic idea to use up any leftover yarn and create a lovely decoration for your home. You can find this
free pattern 
on author's website –
lillabjorncrochet.com
.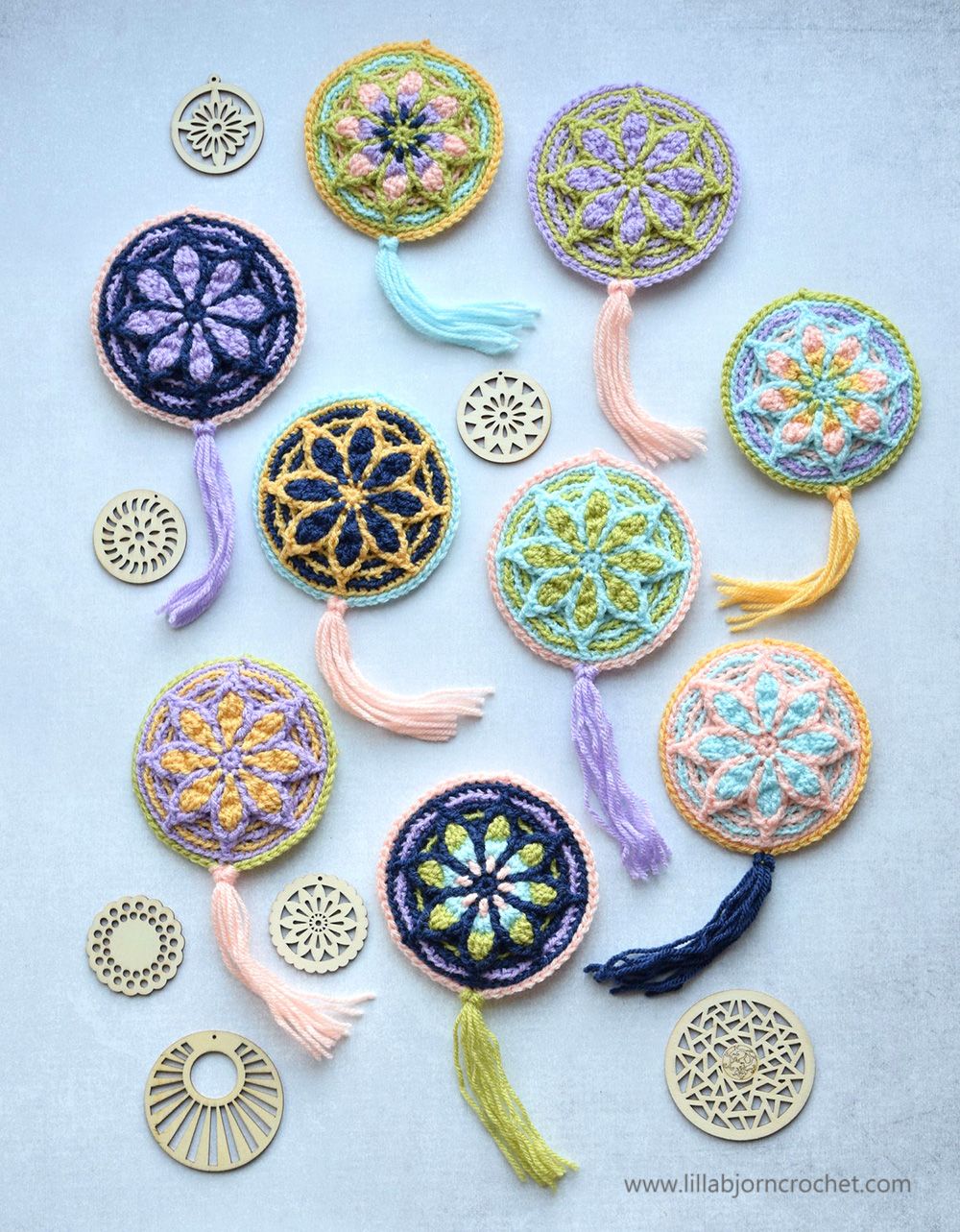 ◉
talking about stitches…
Our growing website and library of free crochet patterns has some projects that might interest you, too. To know more about one of the coolest stitches, check out this article about Harlequin Stitch Ideas!
→ Yes! Take me to this article! ←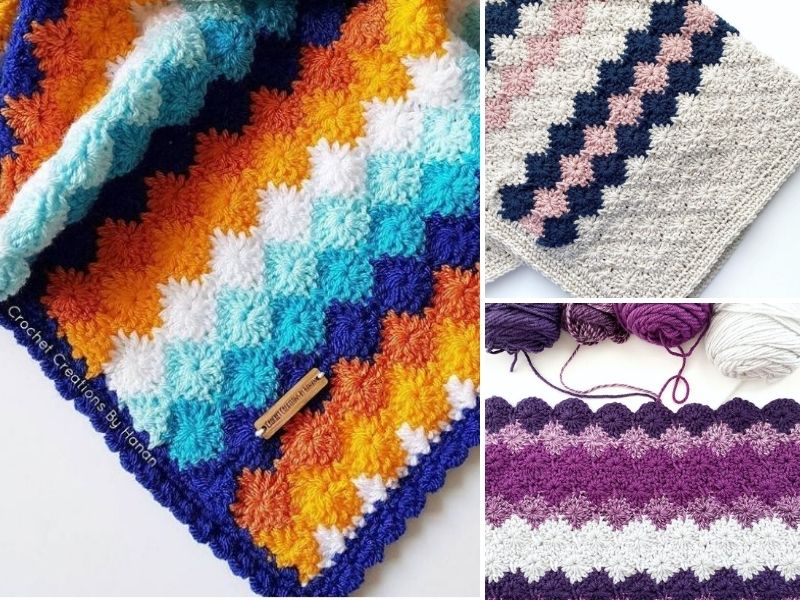 or…
Check out my Crochet Snowflakes Mini CAL!
→ Yes! Take me to these free patterns! ←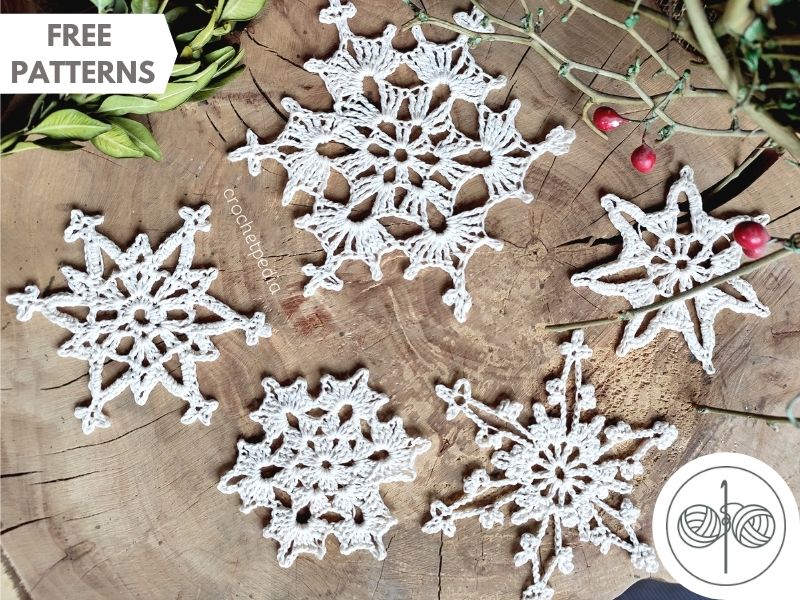 ◉
crochet roundup!
Now to the fun part, because there's nothing better than looking at pretty things! Below you can find the most beautiful versions of original Rozeta CAL. Some of them are based on official colorways, others are not, but each and every one has caught my eye.
I will not link original pattern below each picture, because you can find a TON of resources in the first part of this article. When in doubt, go there!
◉
Light and Delicate Colorways
Rozeta CAL Version by Moonbeam Stitches
How do you like this sweet pastel Rozeta? I think it's perfectly balanced and delicate! Take a look below to see how crocheter behind Moonbeam Stitches created her colorway. Floral part in the center, which is made with white yarn, looks beautiful on pastel stripes that are in the background.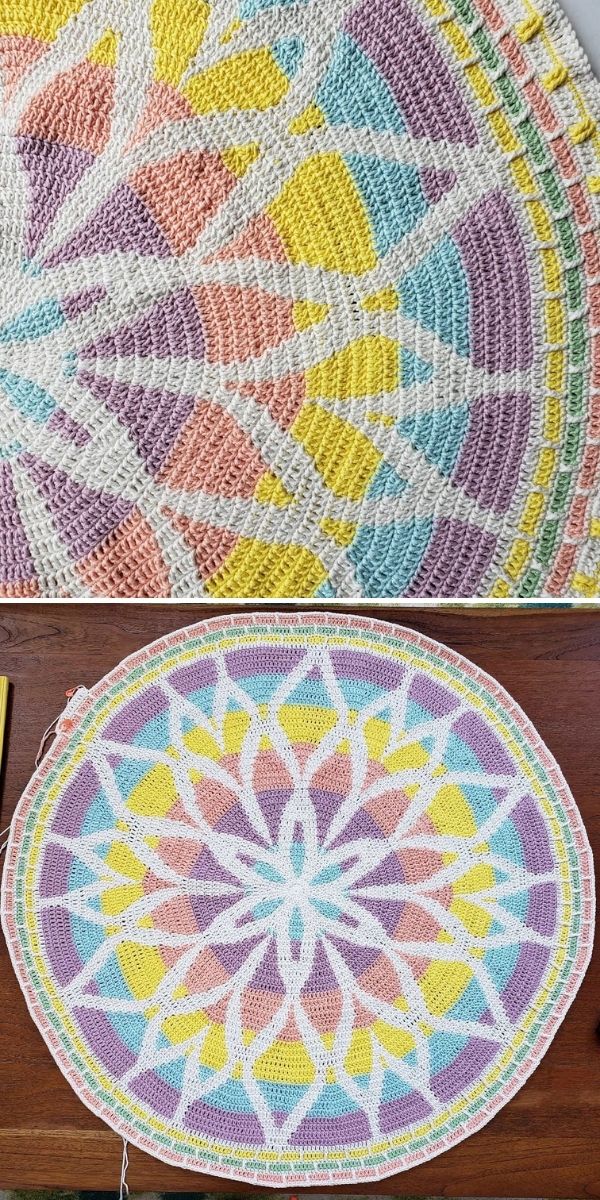 Be sure to check out author's Instagram page, which is linked above, especially if you are an amigurumi enthusiast.
◉
Rozeta CAL Version by Rockin Lola
This juicy version by Rockin Lola is a true gem! The use of multicolored ombre yarn resulted in this fantastic rainbow-like color story. As you can see below, white ties it all together, creating a perfect background for vivid mandala.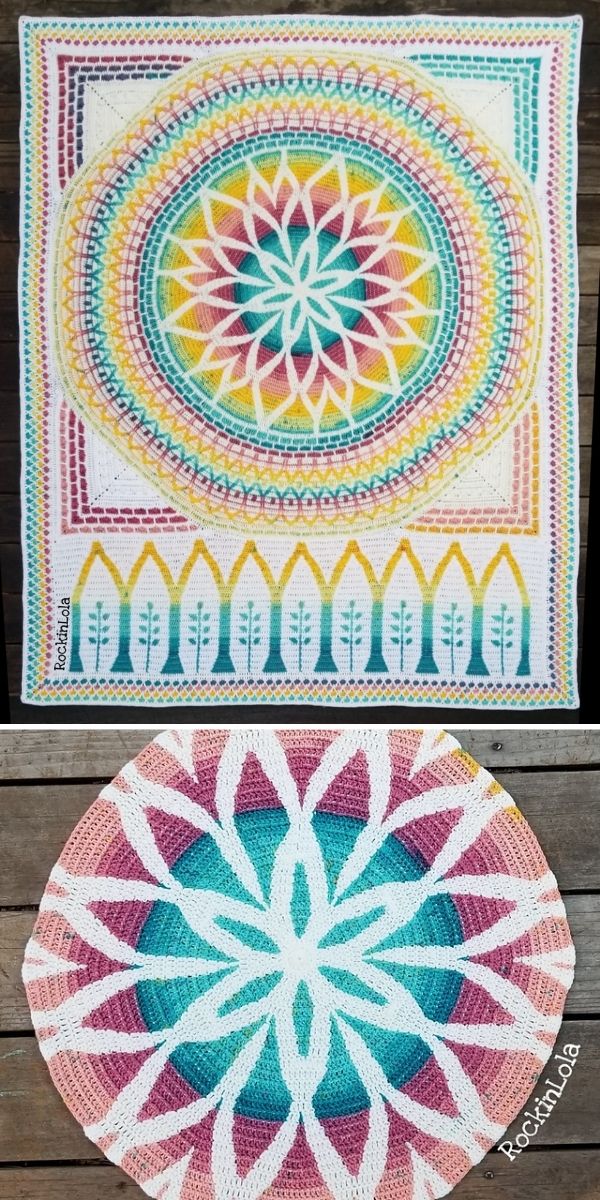 Click on the link above to see more photos of this fantastic Rozeta version, or to get more info about the yarn used in this project.
◉
Rozeta CAL Version by Bobbles and Fluff
If you like delicate and girly palettes, take a look at the pictures below! Crocheter behind Bobbles and Fluff cleverly combined shades of pink with cream and grey, using Scheepjes Colour Crafter yarn. This original colorway will look amazing in a feminine bedroom, so consider following similar hues if you are to make a gift for your mom, for example.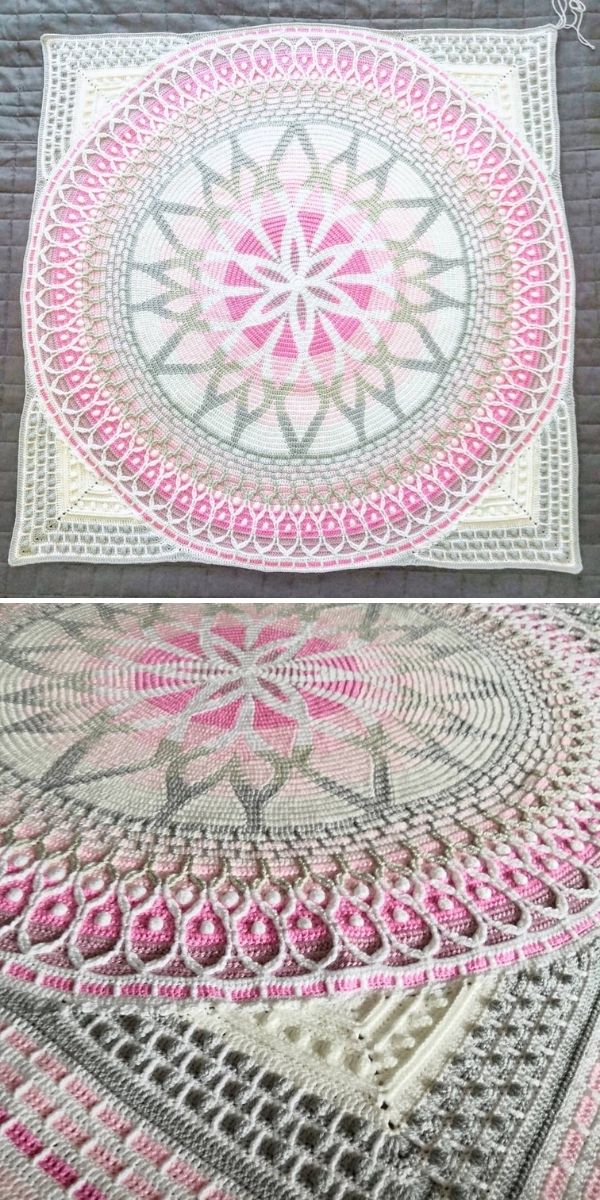 Follow Bobbles and Fluff on Instagram, by clicking the links above, to see more of author's crochet and knitted creations.
◉
Rozeta CAL Version by Andaniella
Pink and cream go so well together that Andaniella decided to use only these two hues for her entire project. When I look at the photos below I am really impressed by how sophisticated the marled background look. It doesn't take much – a little bit of unexpected quality to the hand-dyed yarn can make all the difference.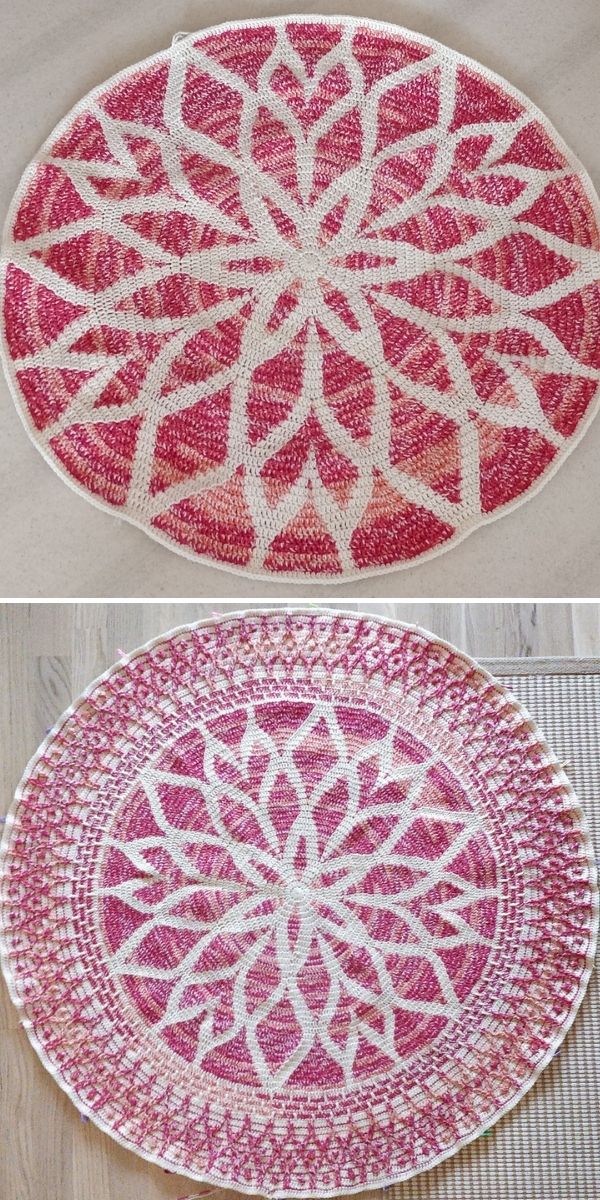 Learn more about this project on Andaniella's Ravelry page.
◉
Moody Colorways
Whirl / Rozeta CAL Version by LittleBlueHook
Shades of lilac, purple and blue are one of my favorite set of colors. This beautiful version by LittleBlueHook, which you can admire in the photos below, is the result of combining two Scheepjes Whirl yarn cakes. These multicolored ombre yarns are intertwined in the most subtle way, creating lovely effect of fading contrasts.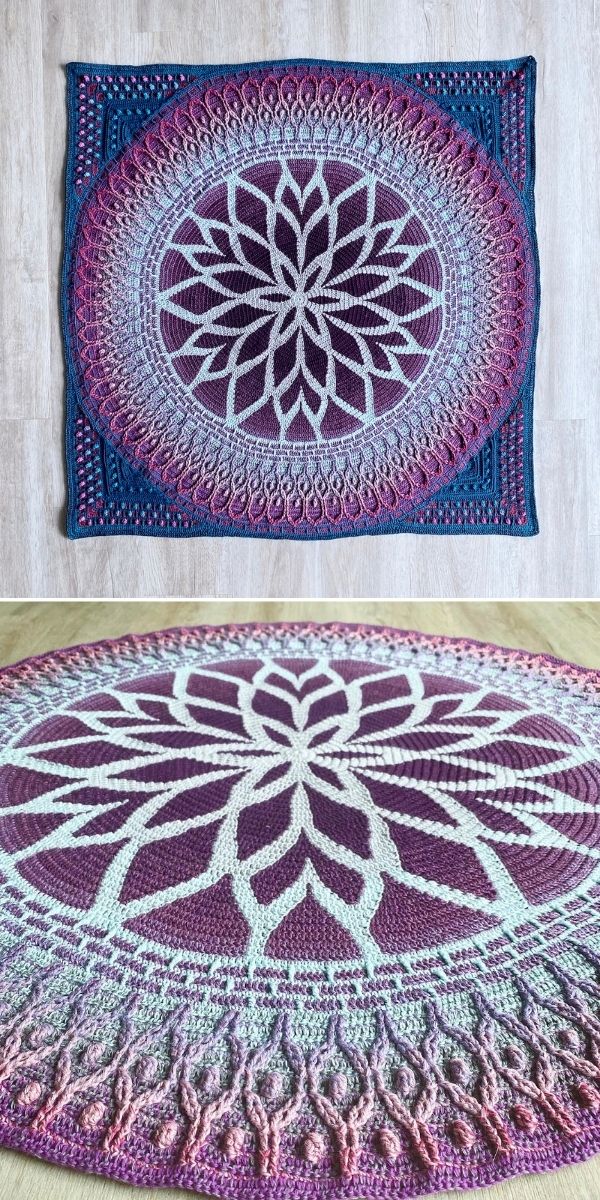 If you click the link above, you will see more photos of this great project, as well as see specifications of the yarns used. Author also created a great video of the process, which you can see on her Instagram here – you must see it!
◉
Rozeta CAL Version by Nancy Martinez
When you work ombre yarn in the round it can create an illusion of sinking or sticking out, depending on the color order. In this case delicate color change between cold violet and hot pink plays perfectly with the flower pattern in the center of the rozeta. Black is always a good choice when you want to accentuate the colors, because it stays in contrast.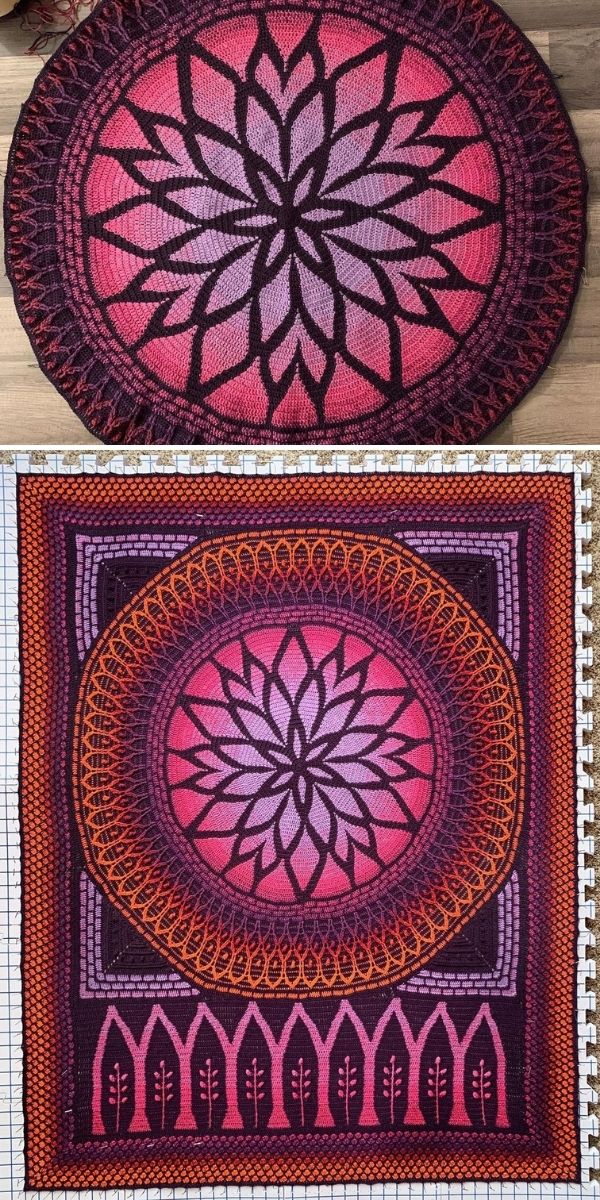 In the bottom photo you can see final blanket being blocked on foam puzzle mat – learn more about different crochet blocking methods in my article.
◉
Rozeta CAL Version by MamaMaster
A little bit of creativity have never killed anybody, and I must say that in the case of crochet projects it's even something to aim for! Don't be afraid to step out of the beaten track and try something new. Crocheter called MamaMaster used central part of the rozeta as a template and filled it in with her own colors, but that's not all – she went for a square shape and added borders all around.
It's just fantastic, isn't it?
◉
Rozeta CAL Version by lda.life
Tapestry crochet piece like this one can be a great canvas for experiments, because this simple technique allows for quick color changes. It's up to you to decide if you want the pattern to be done in two colors, or if you want to switch them up every row. Crocheter behind lda.life created a rather unexpected palette, as you can see in the bottom photo.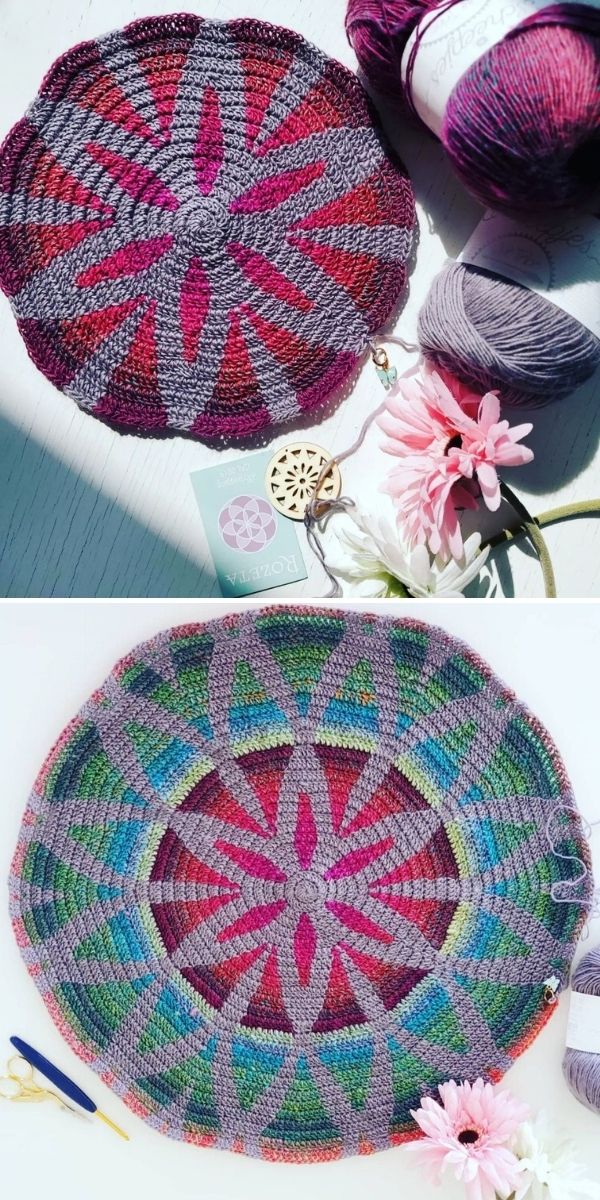 ◉
Dawn / Rozeta CAL Version by the9sisters
Let's talk about earthy tones, because they are very understated, in my opinion! Browns and greys often remind us of old sofas, but there's so much more you can do with it. You can see a great example in the pictures below – this version by the9sisters uses light blue-grey to tie all the colors together.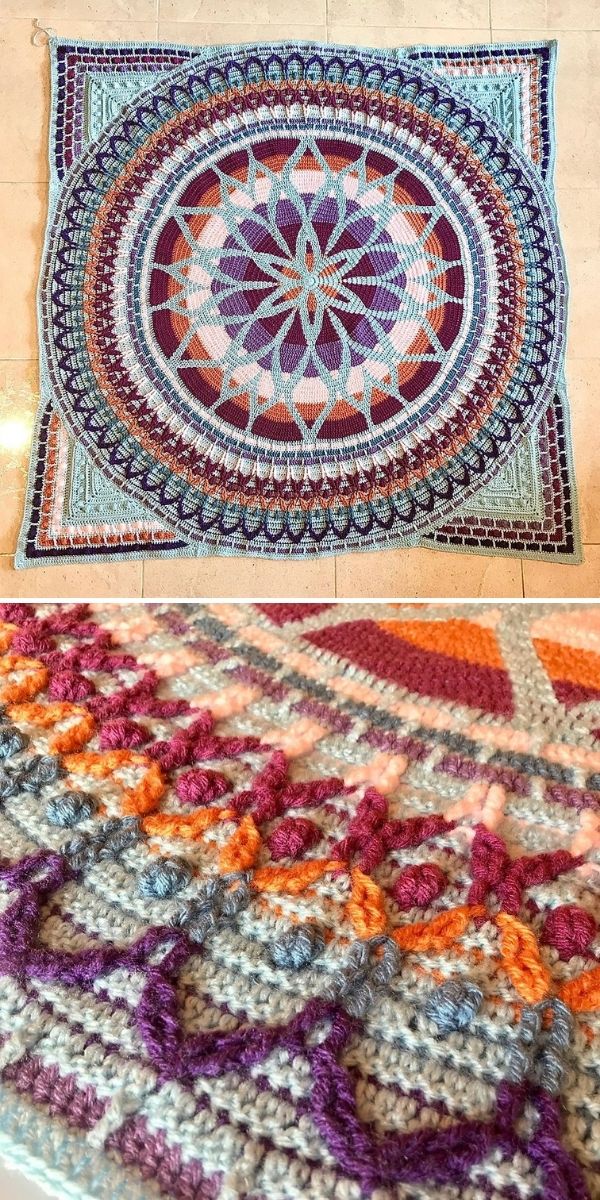 Click the link above to see more photos of this project.
◉
Playing with Contrasts
Rozeta CAL Version by lda.life
I love bold color blocking, and the project you see below is a great example of that. Crocheter behind lda.life used central motif of Rozeta blanket to make stunning placemats. Bright red, blue and greyish beige combined create a color palette that will fit into modern interiors.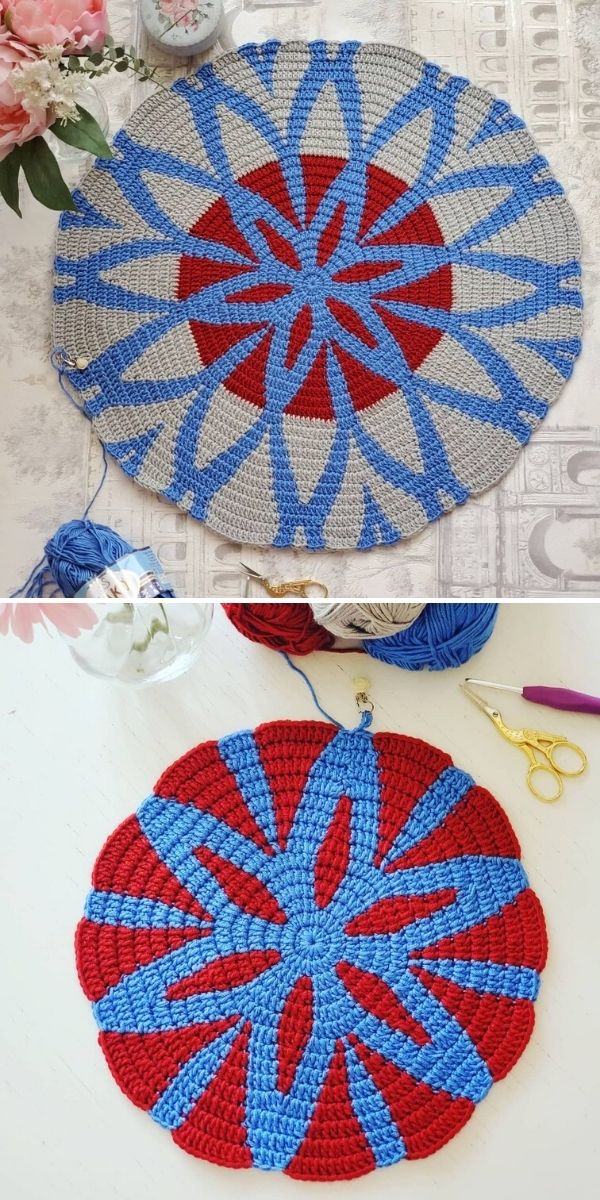 ◉
Rozeta CAL Version by Colorful Hooks
Green is a color of hope, and that's what every crocheter needs when in midst of a big project – a hope to finish it up quickly. Main motif of Rozeta blanket calls for juxtaposition of dark and light, so crocheter behind Colorful Hooks decided to combine green with blue and neutrals. Take a look at the photos and see how stunning it turned out!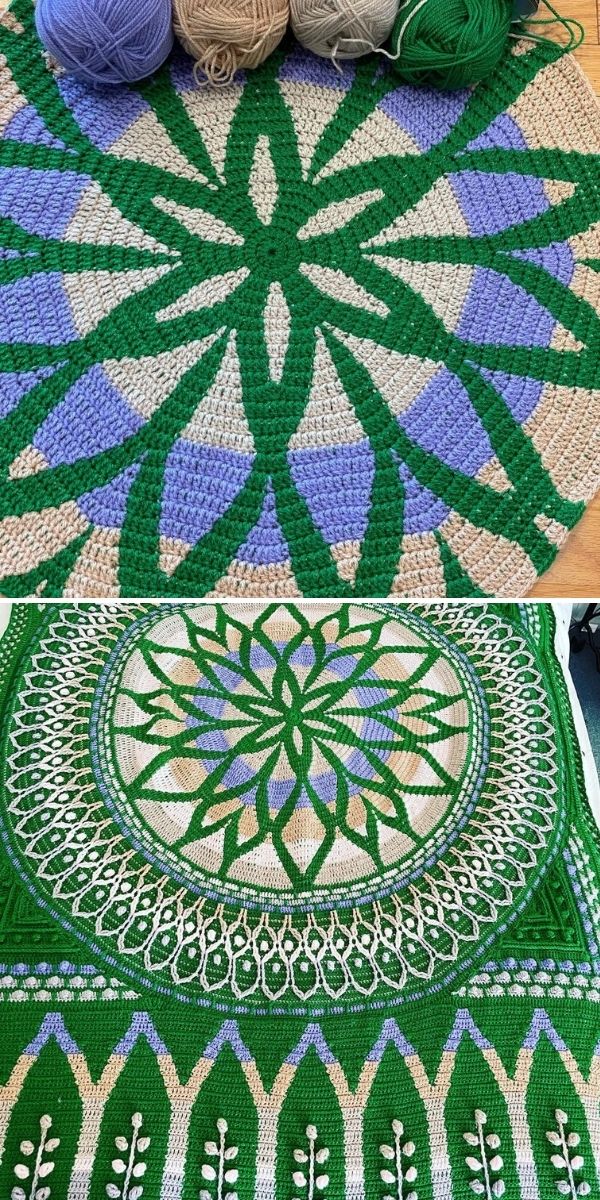 ◉
Rozeta CAL Version by XantheJS
This playful version is an homage to stained glass nature of this amazing design, so take a look below and see how XantheJS did it. Black background is a perfect choice for vibrant colors, especially if you like graphic statement pieces. Just imagine how cool it would look when displayed as a wall tapestry!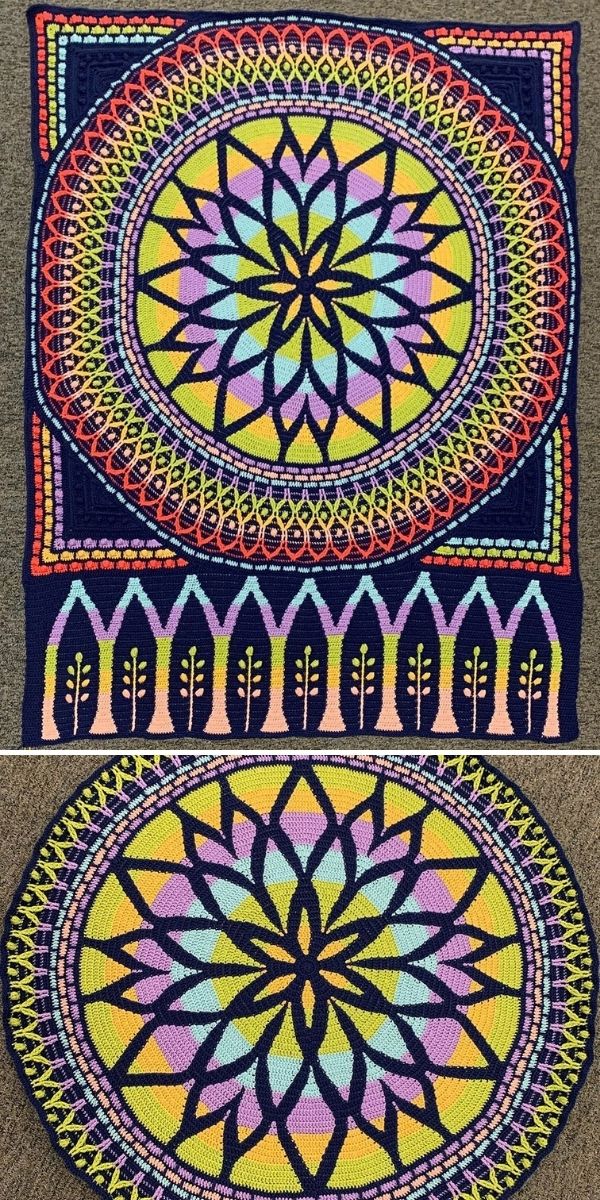 Under the link above you will find all the informations regarding yarn colors and amounts used.
◉
Rozeta CAL Version by elsq
Black background is a great way to make other colors sing! This version by elsq combines blues, reds and neutrals to create a lovely colorway. It reminds me of a misty morning, with sun rising through the clouds. See for yourself – you can see the details in the pictures below.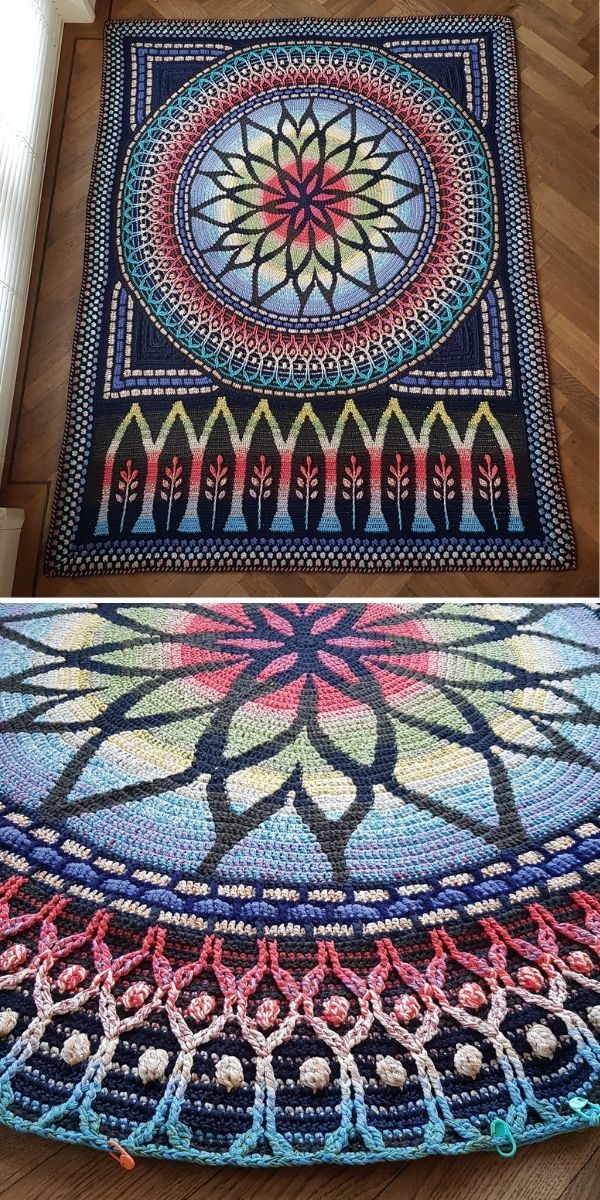 Pattern notes and yarn info is available on author's Ravelry page – just click the link above to see it.
◉
Rozeta CAL Version by cuddlycritter
Oh how I wish to see the Northern Lights! They were the inspiration for this amazing colorway by cuddlycritter. Just take a look at the photos – how amazing are these blues, violets and subtle greens? In this version the pattern truly shines like the Northern Lights against the blackness of the sky.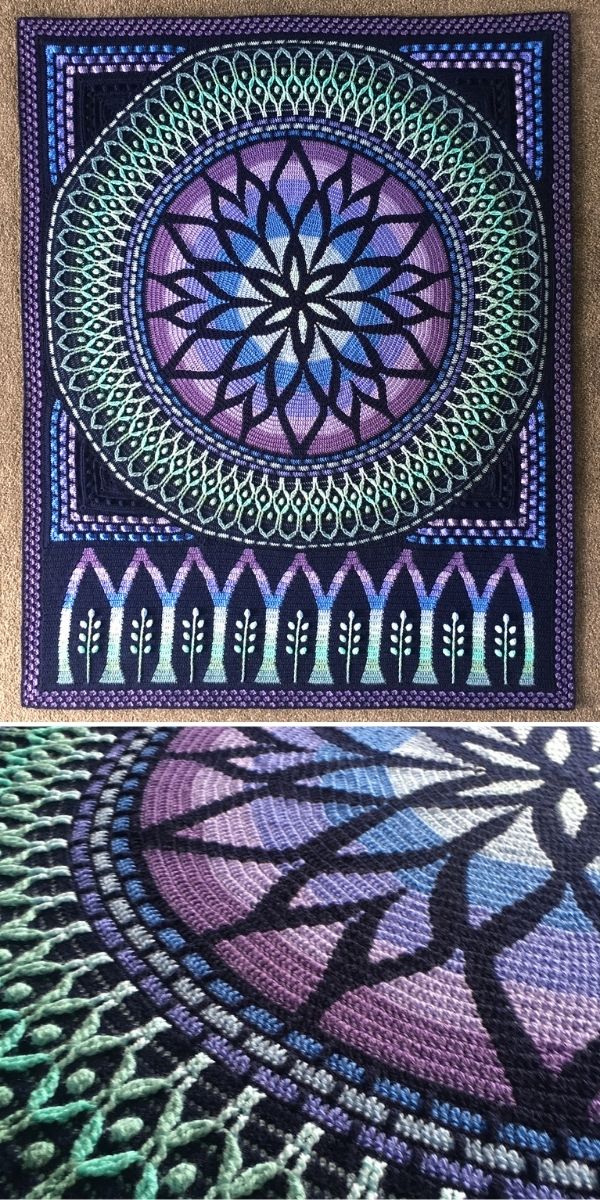 Be sure to check out author's Ravelry page, because there you will find more photos of this beautiful project and detailed yarn info.
◉
Black and White
Rozeta CAL Version by SharonBlignaut
Sometimes the simplest ideas are the best ones, and I think that this is true for a bold, classic colorway called Midnight. SharonBlignaut, who is the author of the version you can see below, did a fantastic job, but mentions in her notes, that you must be a fan of tapestry crochet to truly enjoy the process. The process is as important as the final result, so be sure to choose wisely!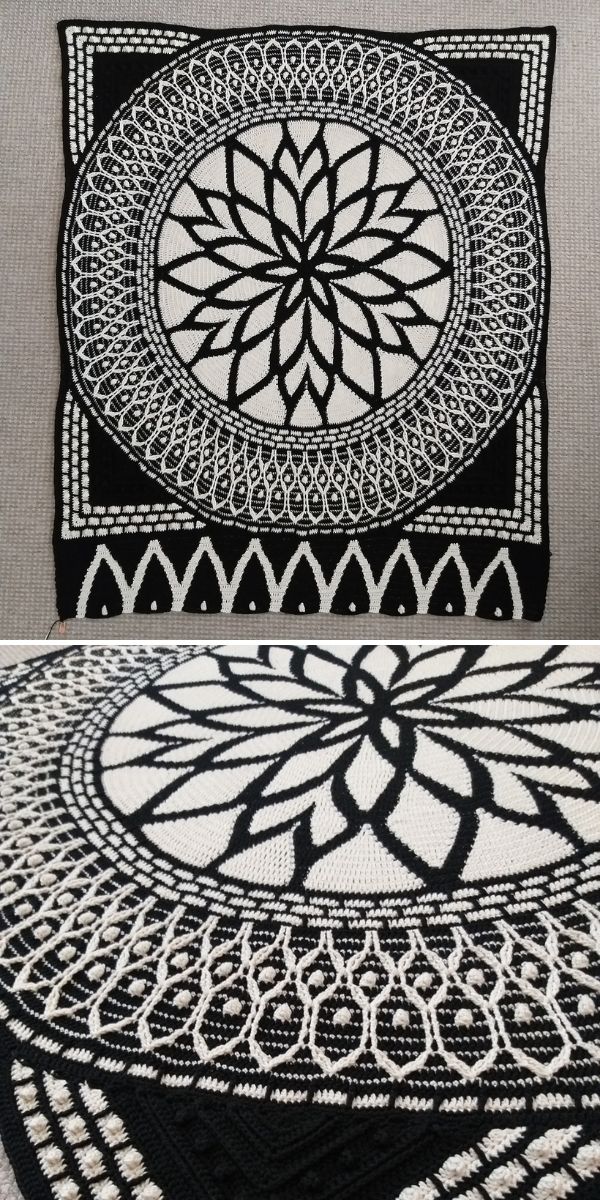 Click the link above to see more and read author's notes.
◉
Rozeta CAL Version by IKzRoguRenifera
Although the photos below can suggest otherwise, author finished the project and it looks amazing! I chose these pictures, though, because they show very nicely, that you don't have to go all the way with the pattern to make something beautiful. Circular centerpiece like that would be a fantastic addition to any living room, so keep it in mind when redecorating your place!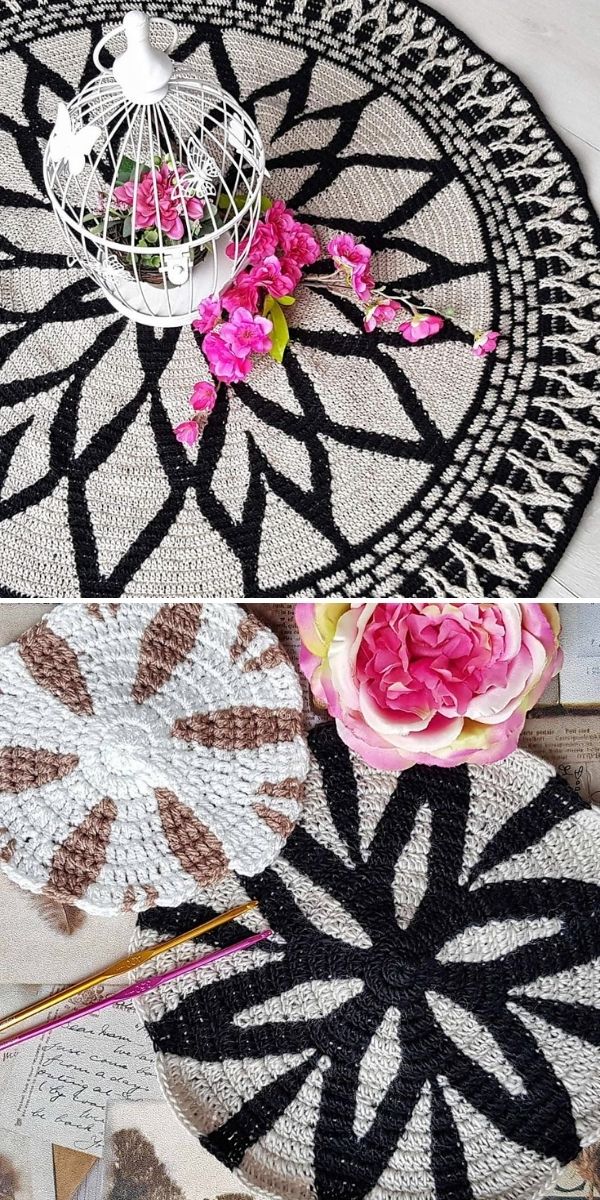 Visit author's Ravelry page under the link above to learn more, or take a look at their Instagram page – @intensywni.
◉
That's all for today, but I'll be back with much more inspiring projects and free patterns. Like, share and subscribe if you like what you see. Stay tuned!
↔
You may also like: How to Crochet Seven Wonders Lacy Stitch