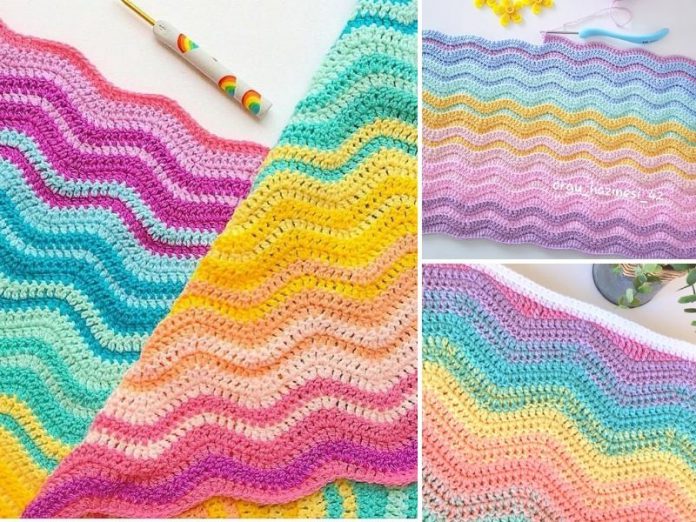 Due to recent events we are spending more and more time at home, so why not engage in some creative activity? When I feel overwhelmed, I like to go back to basics, because then I can try to reinvent simple ideas, or go for something classic without much effort.
Ripple stitch is a crocheter's staple, a go-to stitch; the one that always works and uses basic stitches. When looking for an inspiration for baby blankets or bedspreads, you will find tons of stunning ideas with this technique. And that's because it's one of the most versatile out there, that's for sure.
Grab your crochet hook and try it!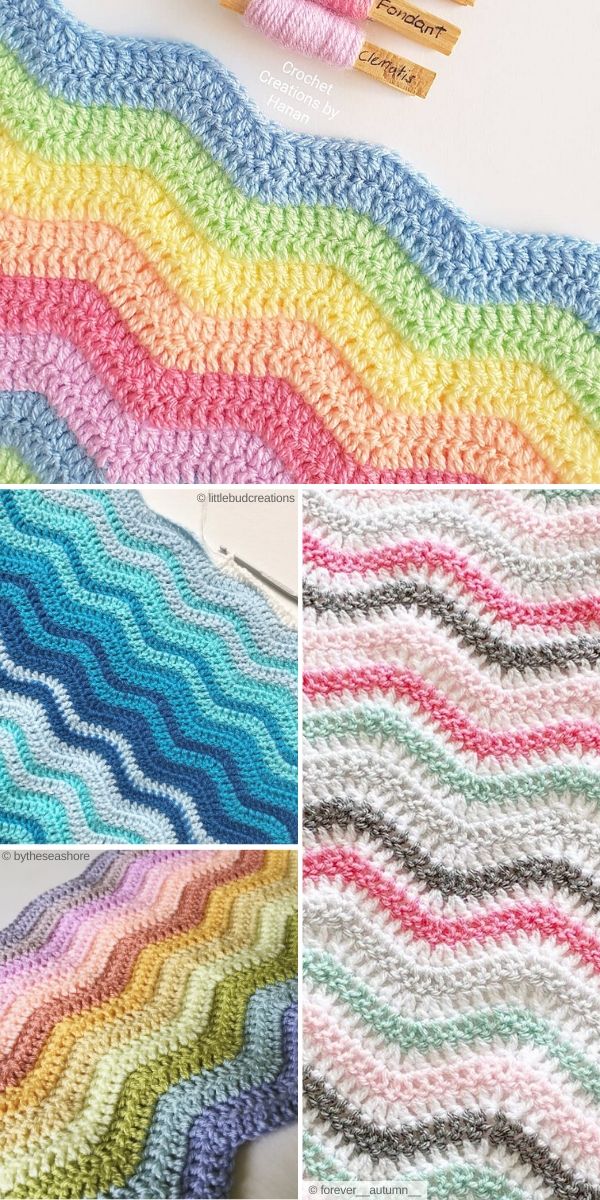 Fun and versatile
Ripple stitch is made for blankets, because it's simple and repetitive. It looks fantastic in many color combinations, which you can see below, but most importantly, this is a great stitch for beginners.
This stitch is rather loose, so it drapes beautifully and remains soft. Use it for bedspreads, throws, baby blankets and else.
Materials
Claudetta used two kinds of bulky yarn: Hayfield Spirit Chunky and Hayfield Baby Chunky. These two compliment each other beautifully, because one of them is multicolored yarn, and the other simple white. Claudetta used recommended
hook
size for this particular yarn, which is 6.5 mm, but you can use any yarn and corresponding crochet
hook
you want.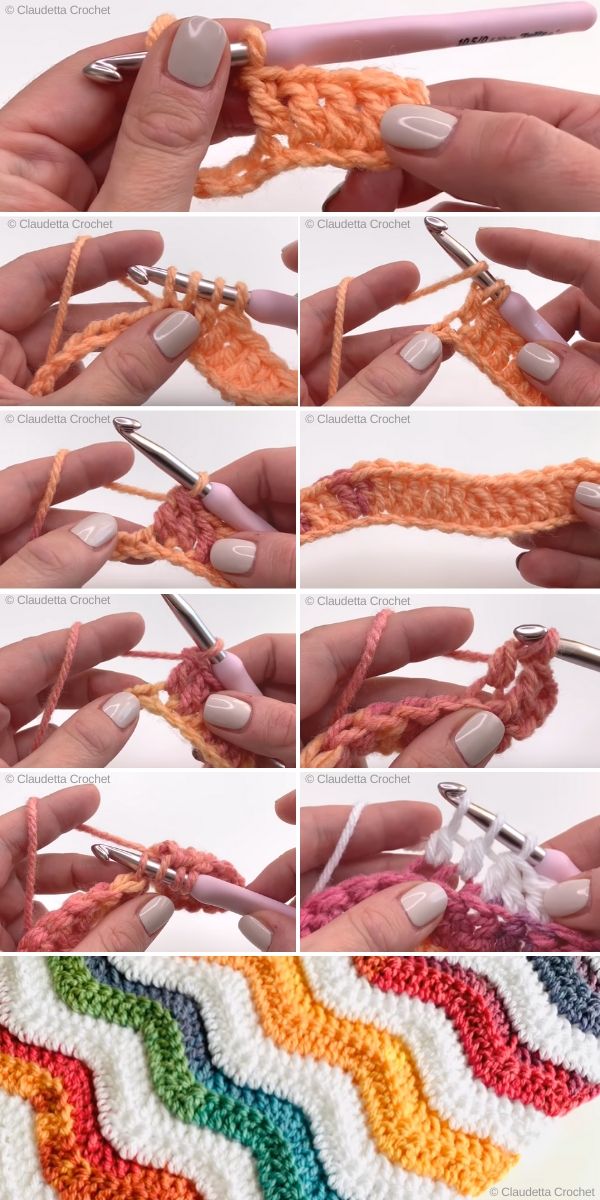 It's very easy, so for full instructions check out Claudetta's tutorial! It can be found
here
.
talking about stitches…
Our growing website and library of free crochet patterns has some projects that might interest you, too. If you want to know more about crochet, read my articles on different topics. You may like Puff Flower Crochet Ideas… 
→ Yes! Take me to this article! ←
or…
Learn more about crochet blocking!
→ Yes! Take me to this article! ←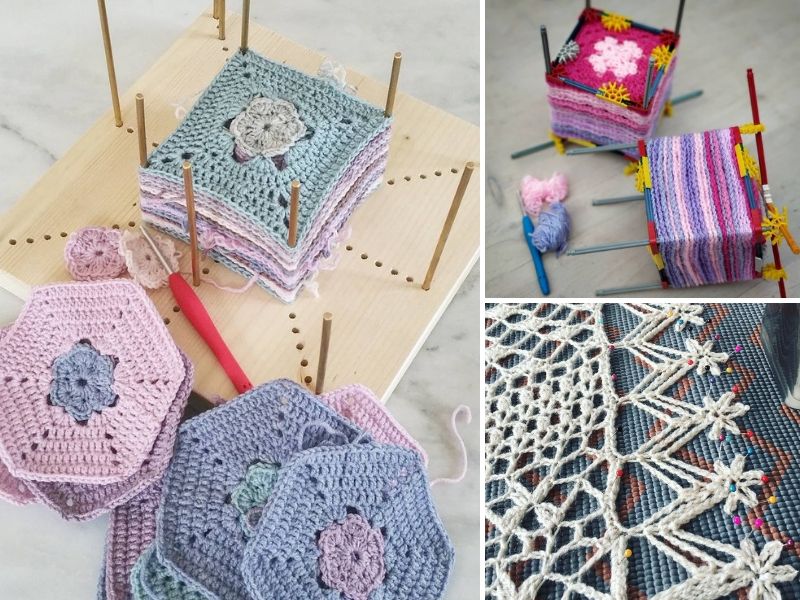 crochet roundup!
Ripple stitch is absolutely one of the most popular crochet techniques. It's easy and so fun to make! Making the selection was very hard, as I've found so many fantastic projects. Anyway, enjoy and get inspired!
Read carefully for free crochet patterns and tutorials.
◉
Pretty Pastels
Ripple Stitch Blanket by Michelle of forever__autumn__
Delicate pinks and greens create very trendy color combo, so don't be afraid to use these two together! Alternate them with white for a softer look, and introduce darker color to make the pattern more interesting.

Use free crochet pattern, such as Feather and Fan Baby Blanket by Alexis Middleton to make a similar blanket!
You may also like my article about Structural Waffle Stitch Ideas!
◉
Ripple Stitch Blanket by Crochet Creations by Hanan
This candy sweet blanket will cheer up even the most fussy little girls! The best part, though, is how easy it is. This is a blanket that you can make in no time, while watching your favorite TV shows.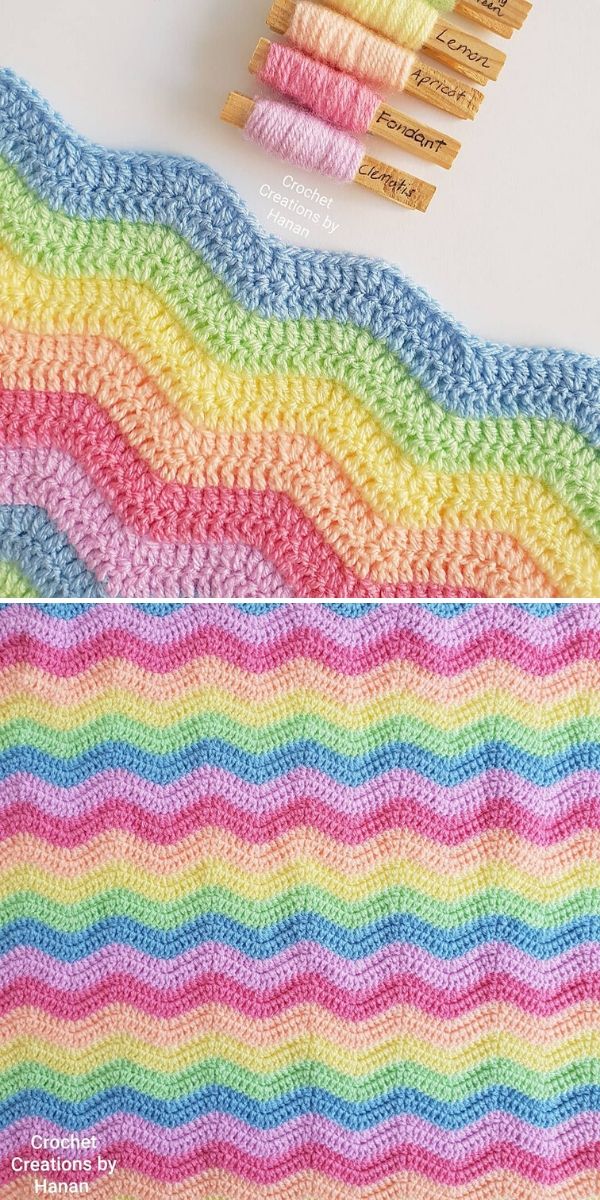 Need a place to start? Check out easily customizable free crochet pattern – Warm Welcome Baby Blanket by Jess Coppom.
◉
Neat Ripple Blanket by pontinhosmeus
If you need romantic, girly palette, try this one, because it's inspired by delicate spring buds. Pale pinks, light blues and vines of fresh green create a color story, which is like a tale of nature and princesses.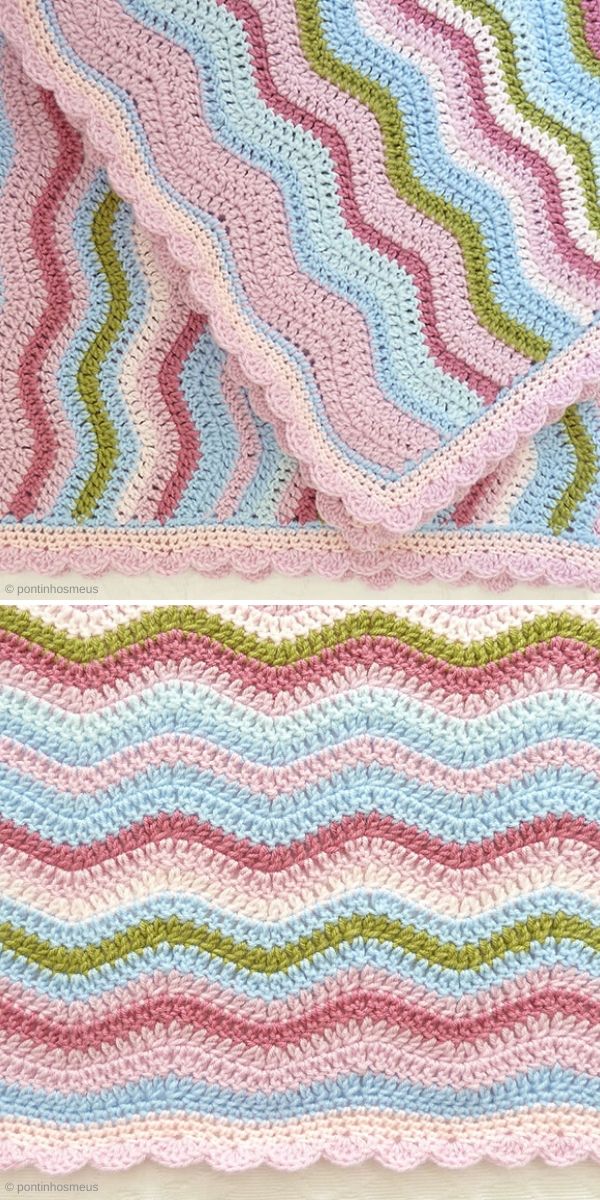 This project is based on Neat Ripple by Lucy of Attic24, see more on its Ravelry page.
Looking for more blanket inspiration? Try Sophie's Universe CAL!
◉
Pastel Ripple Blanket by orgu_hazinesi_42
When I encountered this project, I was in awe, because this is the most adorable example of what you can do with a simple pattern like ripple. It's not only about beautiful color flow, which is very thought through and carefully planned, but also about the technique. Use of back post / front post technique makes the waves pop up and become three-dimensional.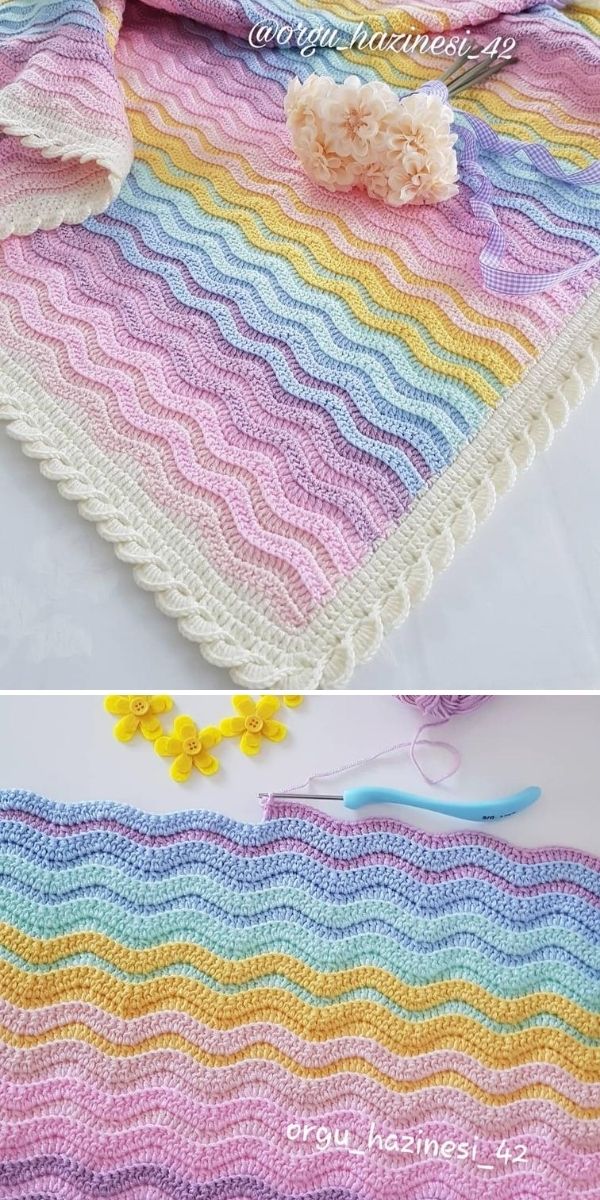 I'm sure that you've already noticed beautiful edging, so take another look at the photos below. It complements this blanket perfectly, and white yarn is the best choice for such colorful blanket.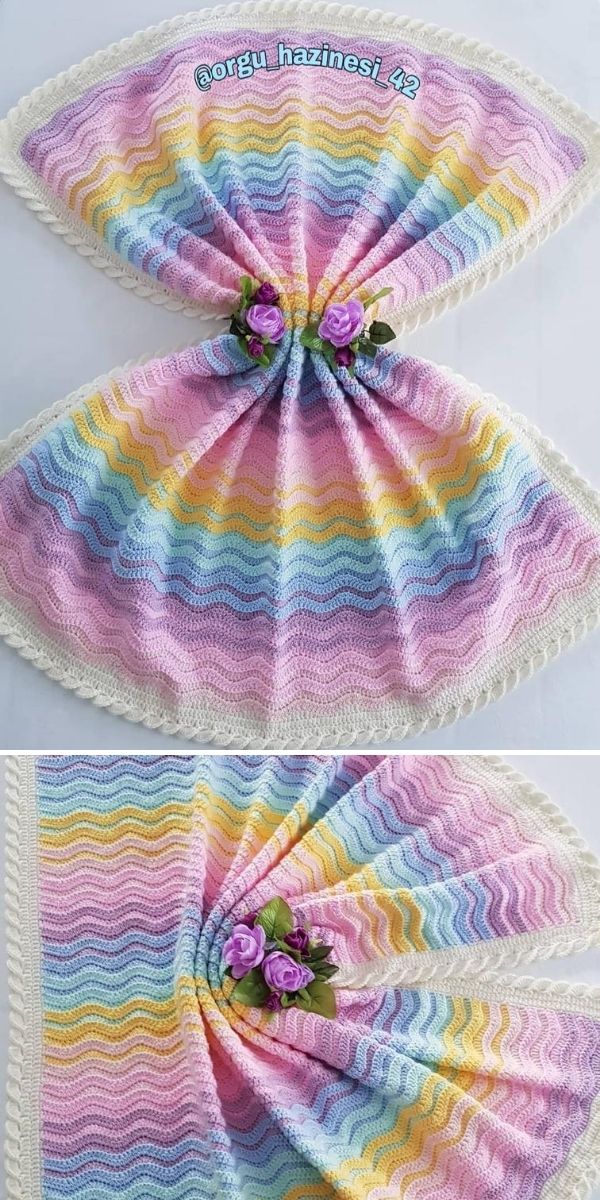 Find free pattern for similar edging, called Pink Wave Edge Tutorial by Elena Kozhukhar, or read more about it on Ravelry.
One of the most read articles on my website is Alpine Stitch Ideas, so try it!
◉
Spring Tide Blanket by Crafty Little Cottontail
I'm sure I mentioned it already, but ripple stitch blankets are perfect stash busters, so gather all of the scraps and get to work! This sweet beauty by Crafty Little Cottontail used lots of different colors, but you can achieve similar effects by working with multicolored yarns. Take a look at the picture below and get inspired!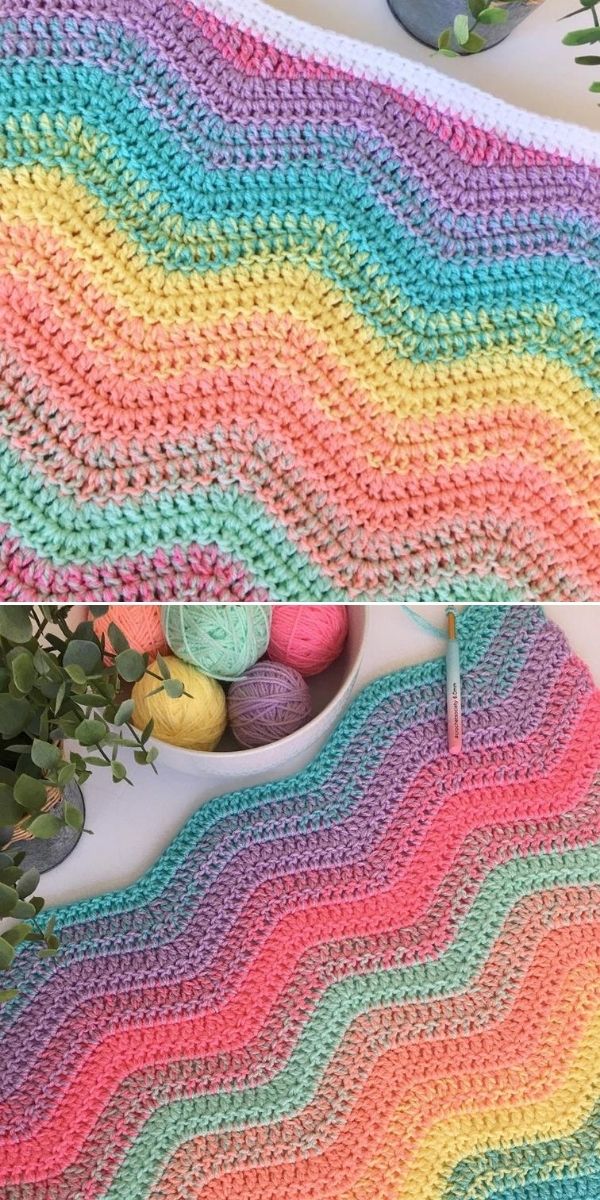 Purchase this project on lovecrafts.com, it's called Spring Tide Blanket by Crafty Little Cottontail.
◉
Ripple Cardigan by Stevie
Sometimes what you see is just a work in progress, and this is the case with this beautiful project by Stevie. At first I thought that it's going to be a lovely baby blanket, but she corrected us all by writing it loud and clear – it's a cardigan! Well, it's going to be a showstopper, because this color palette isn't something you see every day!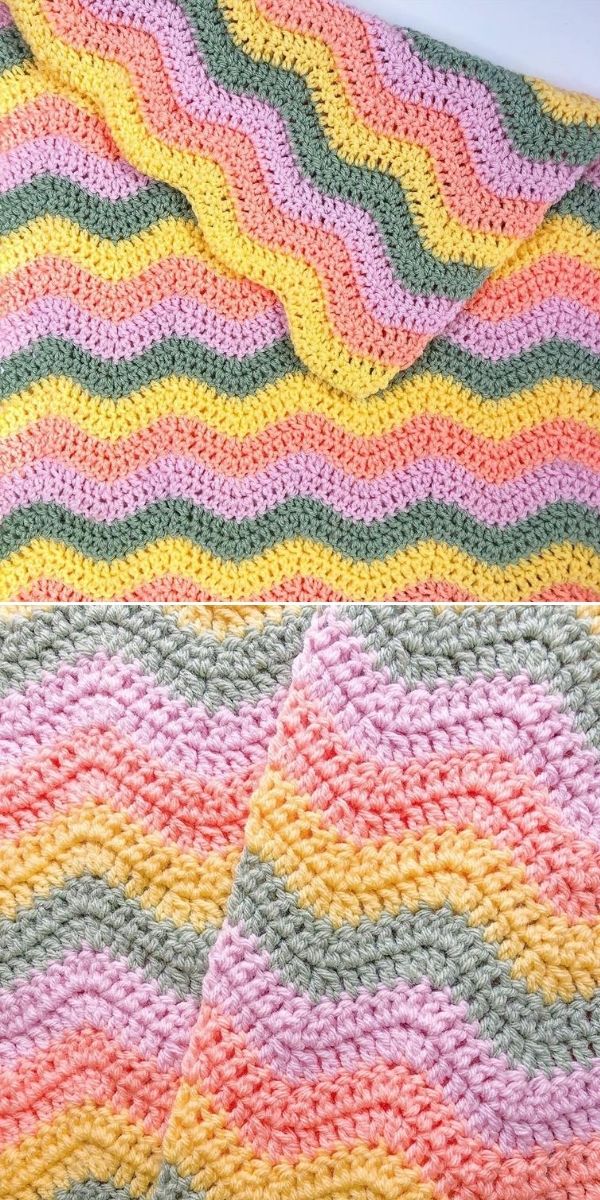 Looking for a fun crochet motif to learn? African Flower will be perfect, so try it even if you are a beginner!
◉
Neat Ripple Blanket by bytheseashore

I love unexpected color combos, and this project is one of them. At first glance, it's a pale rainbow, but when you look closely, you will see all the strange huesm like grey, mustard or rusty brown. This project is a proof that color flow does not have to be classic rainbow.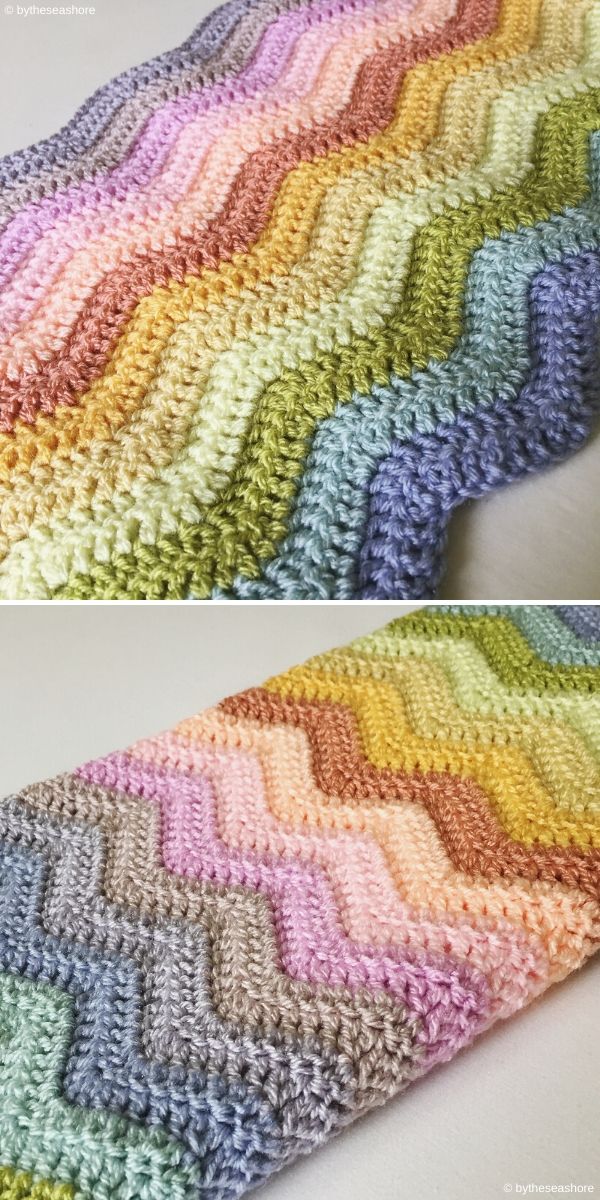 This project is based on Neat Ripple by Lucy of Attic24, see more on its Ravelry page.
◉
Earthy Tones
Ripple Stitch Blanket by Crochet Creations by Hanan
Sometimes one simple trick can make the whole project more interesting, so go for one loop only technique to create more depth in your ripple stitch!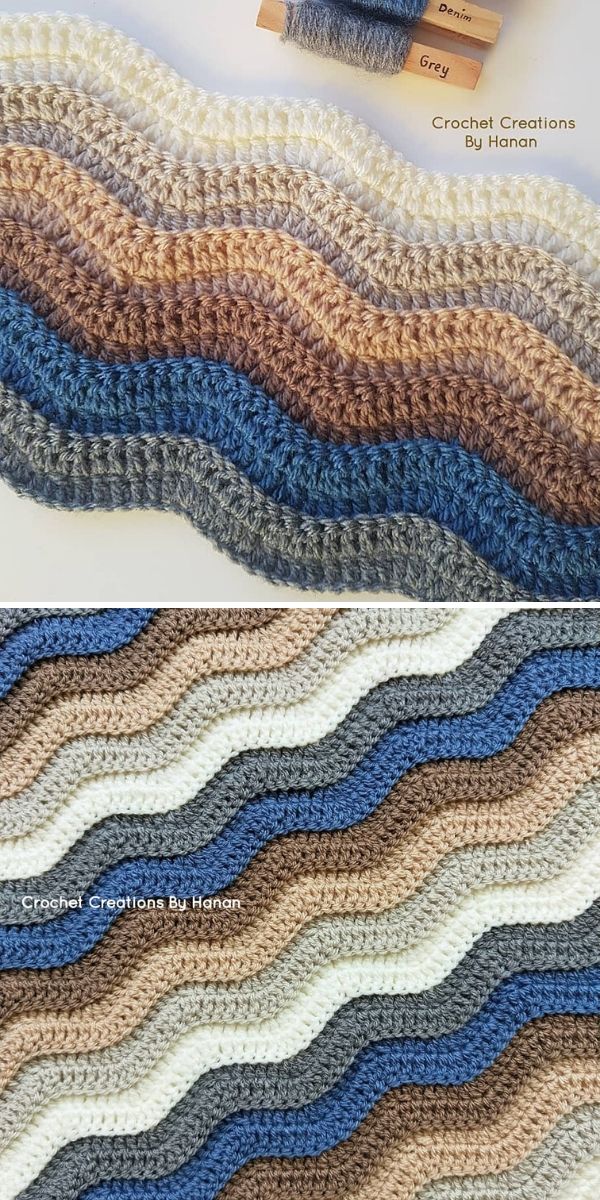 If you like repetitive patterns, you will love Clamshell Stitch.
◉
Ripple Stitch Blanket by Hazel of The Crofters
Why not go for rich browns? These autumnal colors look very elegant together, so it's a great idea when you make a blanket for an older family member. This color combination will look fantastic in classic interiors, too, such as those filled with wooden furniture.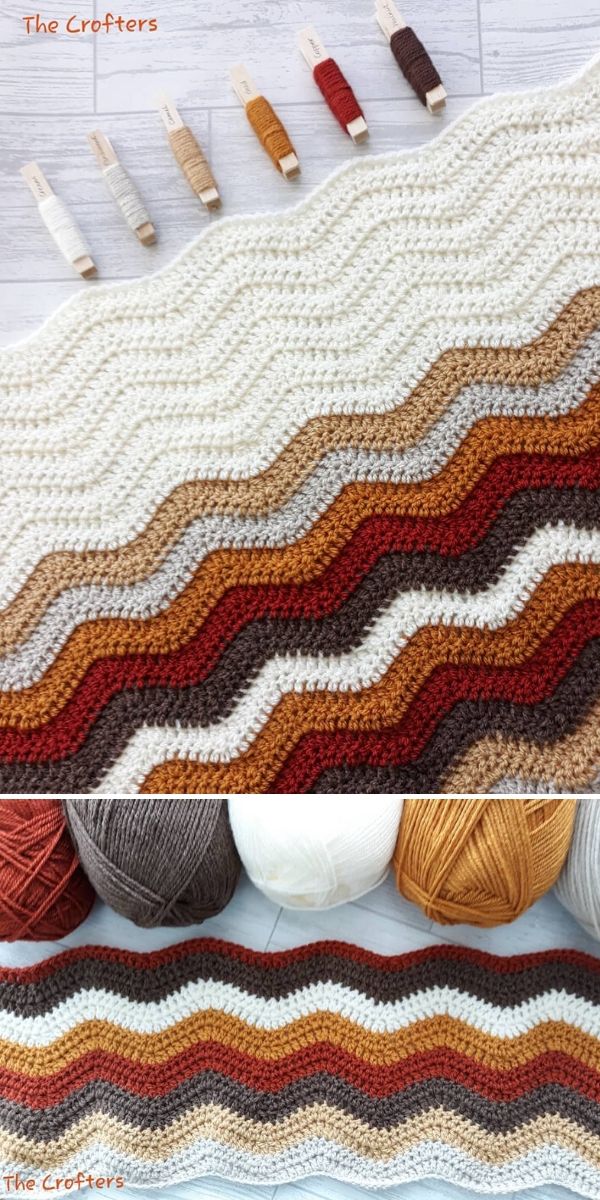 To make similar blanket, try out cool free crochet pattern called Neopolitan Ripple by Michelle T.
◉
Ripple Sweater by colourfulblossom_
I'm in love with this color palette, because it's earthy, but not at all dull! Rich tones become even more beautiful with addition of white, because its crisp and clean nature makes them stand out. This work in progress is an ultimate inspiration – although it's going to be a sweater, pictures below make it easy to imagine that it's something else.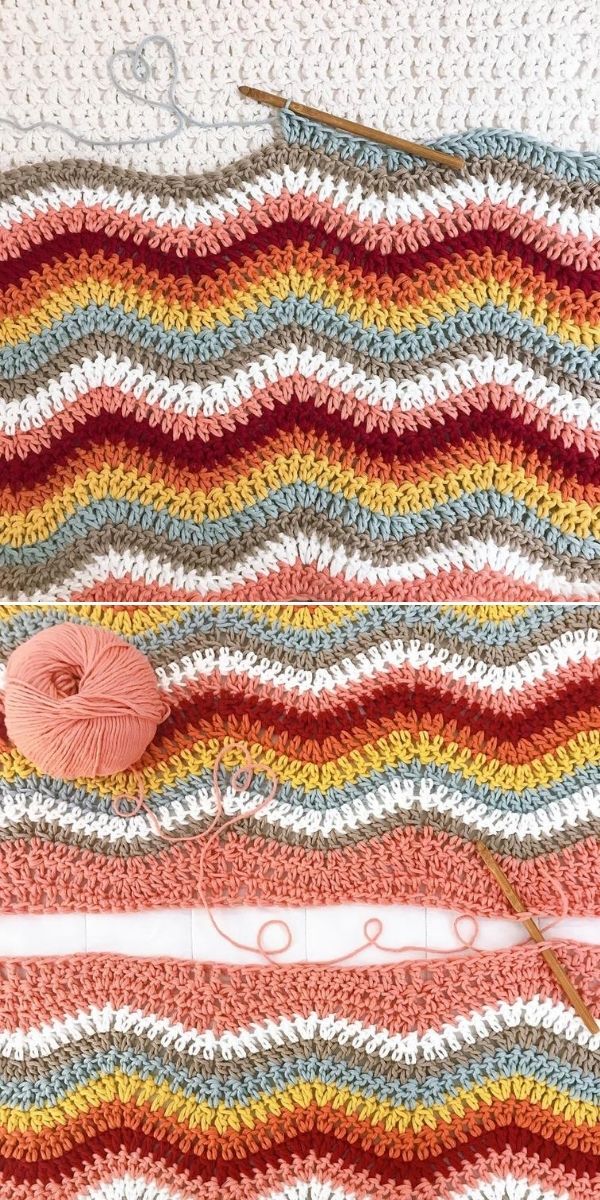 Another classic baby blanket idea is 6 Day Kid Blanket.
◉
Woodland Blanket CAL by tangleandstitch

Woodland Blanket is a beautiful design, which creates lovely details around ripples. As you can see, a little twist in this simple technique is enough to create a totally new project. Add applique to make it even more interesting!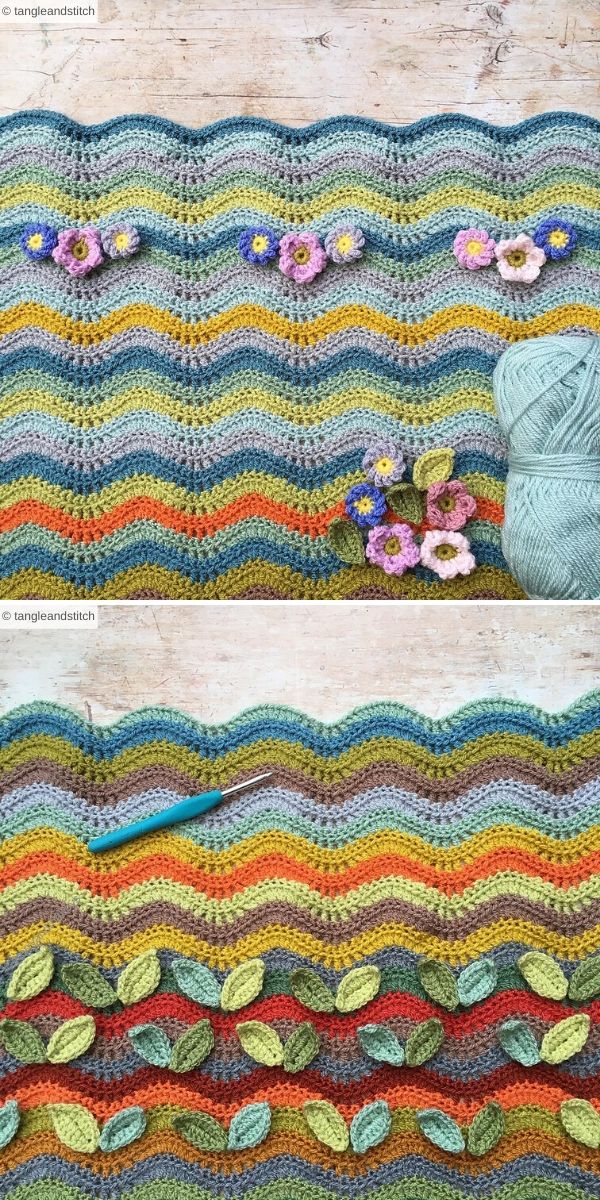 This project is based on Woodland Blanket CAL by Lucy of Attic24, see more on its Ravelry page.
◉
Baby Blues
Ripple Stitch Blanket by Sam Hermes of littlebudcreations
Do you long for the sea? Me too! These beautiful blankets use wavy pattern to the maximum and are perfect example on how alternating colors can change the design. The same hues of blue can make big or small waves, so play with it!

To make similar blanket, you can try using free crochet pattern for Pretty Ripple Baby Blanket by Lauren Brown.
Looking for an interesting pattern? Try my collection of patterns and inspirations for Apache Tears Ideas.
◉
Ripple Stitch Blanket by Milly's Makes
Blue, navy, red and white – classic color combo like this will never go out of style! Go for sea-themed blanket if you have a little one that loves pirate stories. Cute applique will add even more style to this project.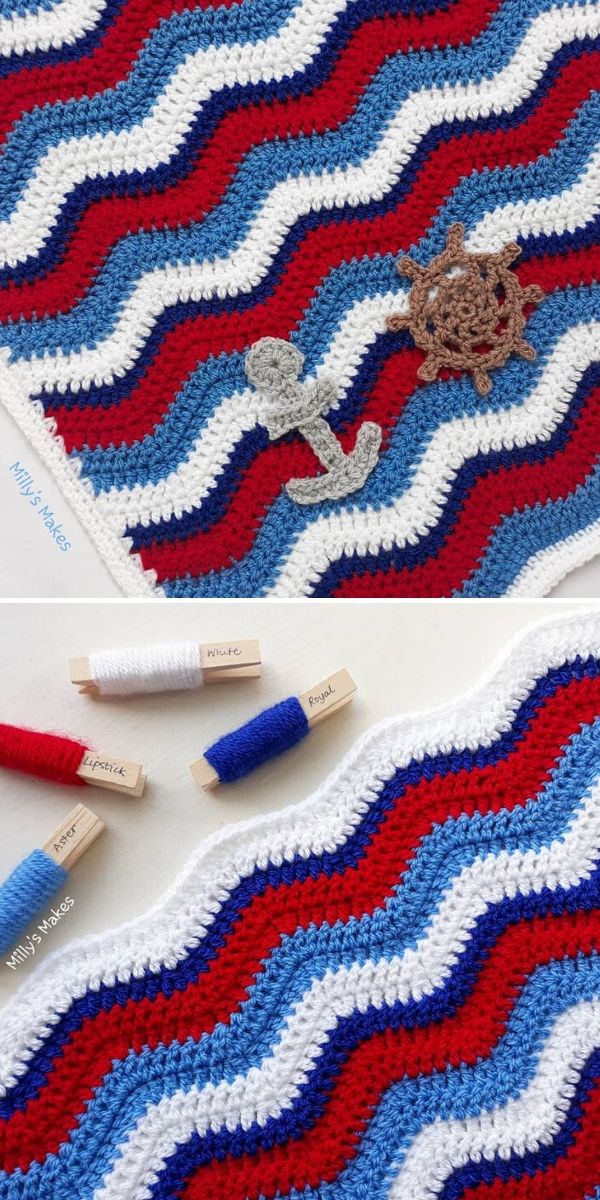 If you would like to make similar blanket by yourself, try out free crochet pattern first, like Turtle Beach by June Gilbank.
◉
Cheerful Rainbows
Interlocking Ripple Blanket by Crafty CC
This roundup would be nothing without amazing rainbow projects, because they are everywhere! Amazing project by Crafty CC, which you can admire in the photos below, makes the rainbow a little bit more fun. It makes the colors slowly combine with each other, which make it look like fantastic waves of colorful sea.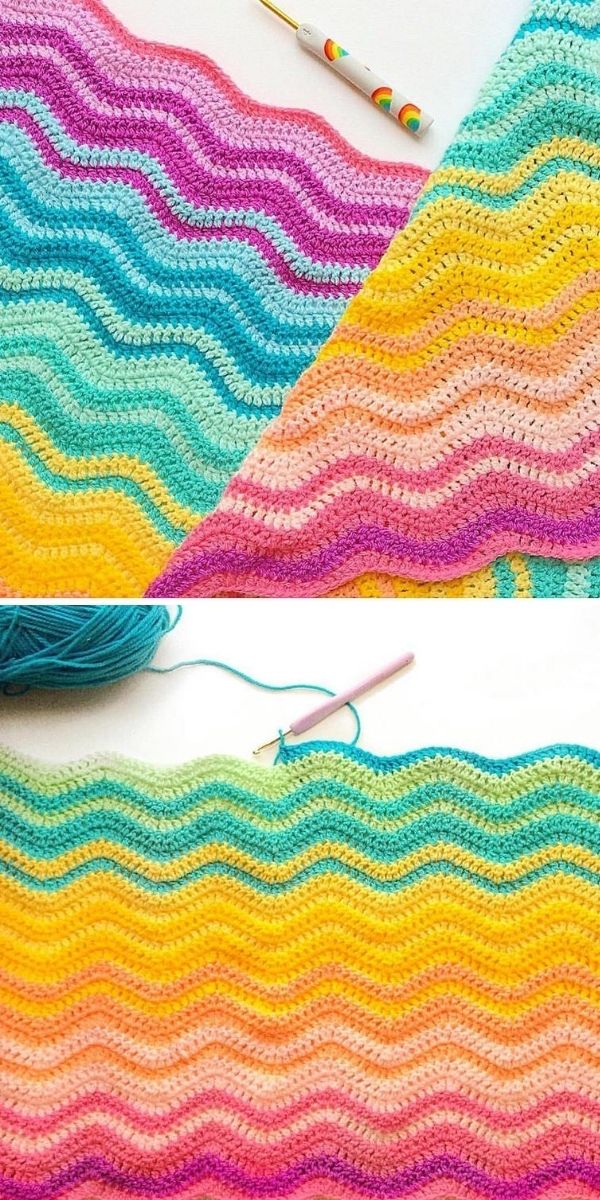 This project is based on Interlocking Ripple Blanket by Lucy of Attic24.
Want to try something basic? Go for Popcorn Stitch Ideas.
◉
Neat Ripple Blanket by IndirectPoem
Need something a little bit more energetic? Why not go for a vibrant rainbow, right? This is an idea for those of you, who are not afraid of bold color palettes. Bedspread like this will most definitely become a crown jewel of your bedroom!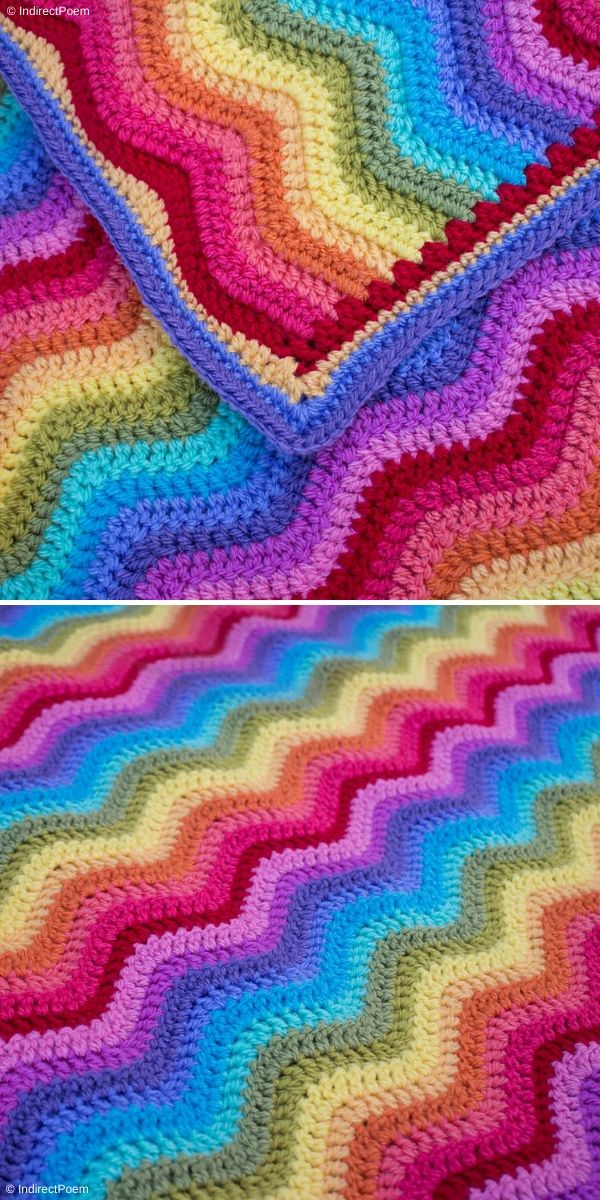 This project is based on Neat Ripple by Lucy of Attic24, see more on its Ravelry page.
◉
Neat Ripple Blanket by cosykitty

When I look at this amazing blanket, I immediately think stained glass! Although this pattern doesn't feature any pictorial motifs, simple combination of vibrant hues with black makes me think of chapels' windows.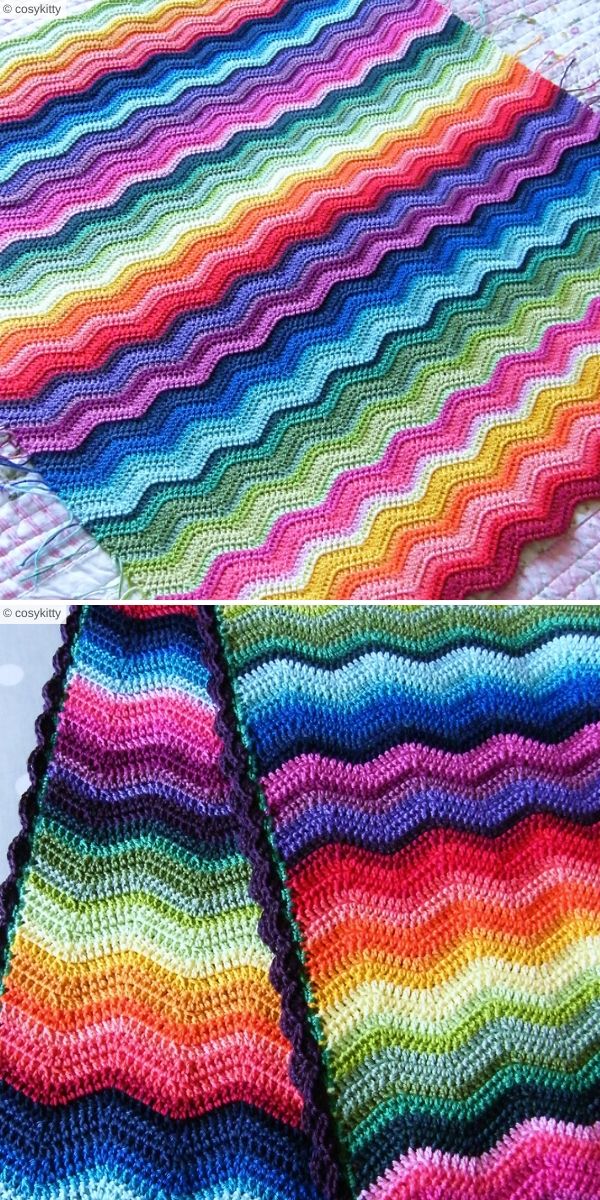 This project is based on Neat Ripple by Lucy of Attic24, see more on its Ravelry page.
Nice choice of a stitch for a blanket would also be this one – Arcade Stitch Ideas.
◉
Neat Ripple Blanket by IgnorantBliss
Simple patterns with repetitive rows are perfect for two things – stash buster projects and temperature blankets. Whichever you choose, be sure that you can't go wrong with these ideas, because they will look fantastic even if every row will feature a different color!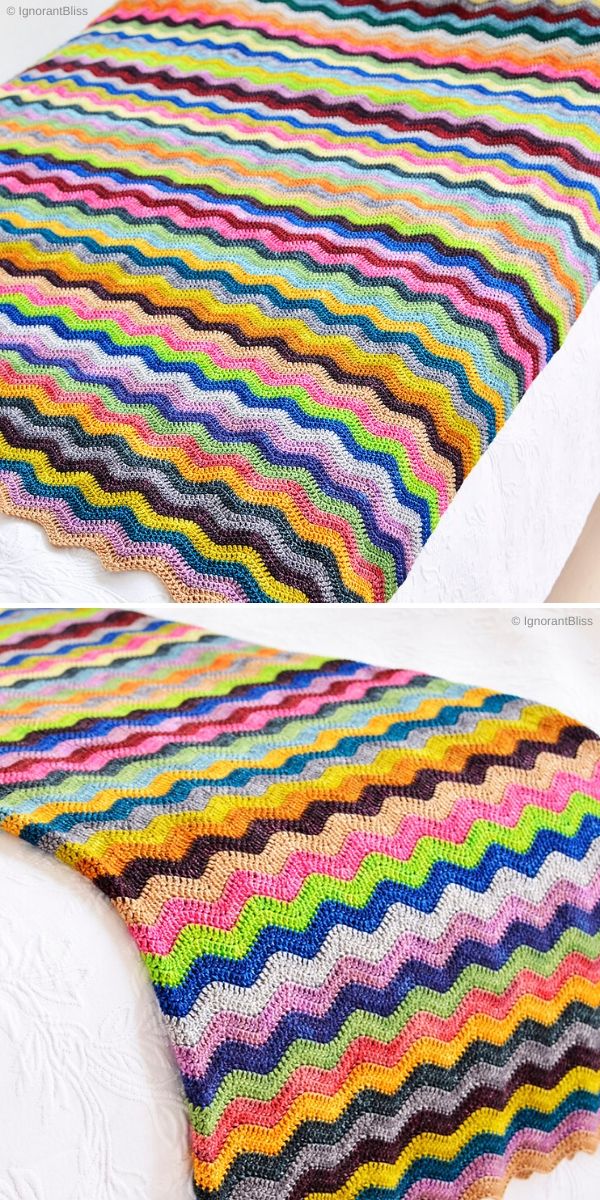 This project is based on Neat Ripple by Lucy of Attic24, see more on its Ravelry page.
◉
That's all for today, but I'll be back with much more inspiring projects and free patterns. Like, share and subscribe if you like what you see. Stay tuned!
↔
You may also like: Easy V-Stitch Ideas