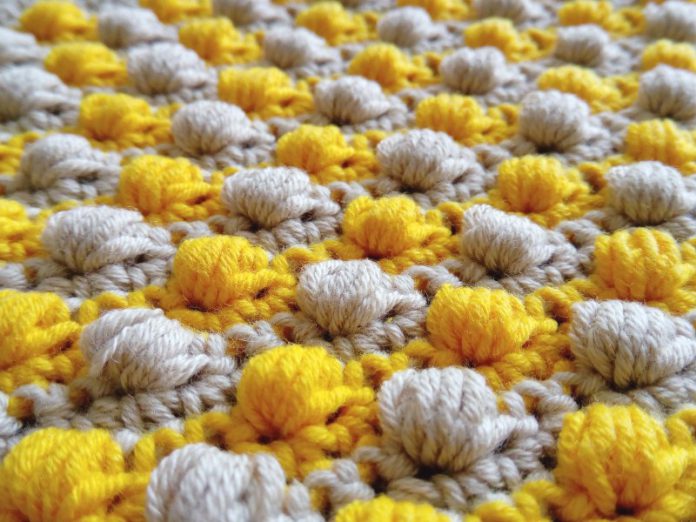 Puff stitch
Also known as the bead stitch.
This is usually marked by a symbol similar to a flower bulb in which the number of curves signifies the number loops yarned over the hook.
The puff stitch is NOT the same as the popcorn stitch or bobble stitch.
This is a very decorative stitch, usually used in projects using wool, thanks to which we get a soft, raised shape in reminded one of an elongated leaf, a flower bulb or a ball, depending on the number of loops wound around the hook and the height of the stitches. We may make from as many loops as we like. It's wrongly categorized as an advanced crochet stitch – in fact, it's very easy to make.
How-to:
We start by winding the yarn over the hook just as when making a double crochet stitch. We insert the hook through a stitch we've chosen on the previous row and crochet, pulling the yarn to the desired height (usually the puffs are about 1-1.5 cm). We yarn over and insert it through the same stitch. We crochet and once again pull it to the desired height. We do it once again, inserting the hook through the same stitch, and pulling the yarn to the desired height. We can do it three, four or five times – the more times, the bulkier the stitch. We then yarn over and draw it through all of the loops we have on the hook. We make 1 chain stitch which closes the puff. We now have a puff stitch.
If we plan to continue making puffs in a row, we need to separate them with at least two chain stitches for the row to be even.
examples
There are so many amazing projects featuring this technique, and crocheters come up with new ideas everyday. These few examples show how versatile puff stitch is, and how many beautiful things you can do with it.
Rainbow Puff Square

by Crafty CC

Check out this free pattern here -> LINK
Puffy Mandala by Inas Fadil Basymeleh, this version by litevirkning

Check out this free pattern here -> LINK and more about this beautiful version here -> LINK
Puffs and Hugs Baby Blanket by  K.A.M.E. Crochet by Krisztina Anna Matejcsok-Edomer

Purchase the pattern here -> LINK
Puff Stitch Fingerless Gloves by Hooked by Robin

Check out this free pattern here -> LINK
Cupcake Puff Hat by Julie Schappert

Purchase this pattern here -> LINK
Puff Stitch Flower by B.hooked Crochet

Check out this free pattern here -> LINK
Puff Stitch Bag from Dana Hogan
Purchase the pattern here -> LINK
Puff Stitch Trivet by Kozy Komforts, this version by shaunacm7
Find free pattern here -> LINK, more about this version here -> LINK 
Puffballs by Frankie Brown
Find this free pattern here -> LINK
Zig Zag Puff Scarf by B.hooked Crochet
See more photos here -> LINK