Are you ready for Christmas? If not, it's high time to start planning, because handmade projects take some time to make! For example, starting peppermint crochet blanket can be a great way to dive deep into the preparations. And is there a better way to feel the festive mood than decorating your home or creating gifts for friends and family?
Don't wait and explore the best christmas blanket patterns today, so that you will make them in time for festivities!
◉
Sometimes there are days like today, in which I want to share with you clever ideas, but don't have much time to spend writing a big post. That's why I came up with Quick Roundup series, in which I will be sharing 5-10 best ideas for crochet techniques, projects and patterns 🙂
See all my articles from Recommendation Series!
◉
Crochet Roundup!
In this article you will find my subjective selection of peppermint crochet blanket pattern ideas that I've found in the depths of the Internet. Some of them are based on free crochet patterns, but some of them are spontaneous creations of their makers. Take a look at the projects below and choose the ones you like the most!
◉
Classic Peppermint Crochet Blanket Ideas
Peppermint Throw Version by Devon Kelleé Scott
*free crochet pattern*
Combination of red and white is the essence of Christmas decor, and if you add peppermint candy swirl into the mix, you will get classic seasonal pieces. Below you can see Devon's work in progress, which already looks quite amazing! You can easily use single pieces of Peppermint Throw as coasters, because they will look great during festive dinner.

This project is based on free crochet pattern called Peppermint Throw and Pillow by Bendy Carter, which is available on yarnspirations.com.
◉
Peppermint Throw and Pillow Version by Caroline Hiatt
*free crochet pattern*
Why not add green into the mix? Take a look at Caroline's blanket in the photos and see how cleverly she introduced another color into the small squares. As per usual, it's the details that make all the difference, don't you think? Comfy throw will definitely make holiday time more cosy, and matching pillow will be an instant favorite of the most tired family members.

This project is based on free crochet pattern called Peppermint Throw and Pillow by Bendy Carter, which is available on yarnspirations.com.
◉
Christmas Crochet Baubles – Free Pattern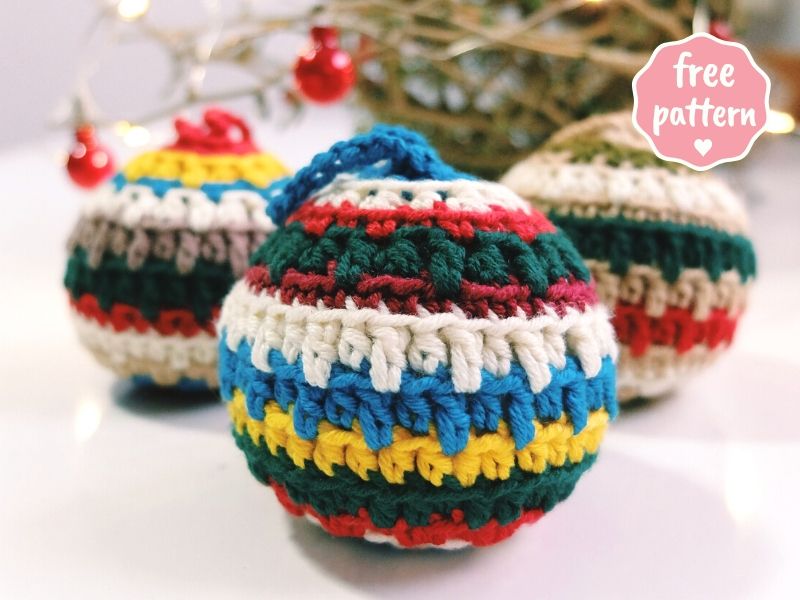 ◉
Peppermint Throw Version by Tara Nielsen
*free crochet pattern*
Tara does not go by the rules, and that's what I love most about crocheting! Every pattern is an opportunity to add something from yourself, whether it is a new colorway, or an interesting detail. As you can see in the photo, she decided to change white to aqua green and combined it with sparkly red yarn – what an idea!

This project is based on free crochet pattern called Peppermint Throw and Pillow by Bendy Carter, which is available on yarnspirations.com.
You may also like this article – Quick Roundup – Mandala Madness Ideas.
◉
Starlight Christmas Afghan Version by Rosiegal
Don't let this afghan make you dizzy! Rosiegal went for a paid pattern, but it's one of the classics. In this project candy swirl circles are cleverly joined together without shaping them into squares or hexagons. The effect is quite stunning – just take a look at the photo! To finish it all off, the blanket has striped white and red edging.

This project is based on a pattern for Starlight Christmas Afghan by Carole G. Wilder and you can purchase it on ravelry.com.
◉
Candy Cane Lane Afghan by allnineskr
When I found this lovely intricate pattern I nearly gasped! Crocheter called allnineskr really took the time and effort to create a fantastic winter blanket. As you can see, it features white snowflakes and candy cane circles – all enclosed in crochet squares and octagons. Unfortunately, there is no pattern for this beauty, but below the picture you will find my suggestion on how to make similar one!

This project is a personal pattern of user allnineskr on Ravelry, but you can achieve similar effect by applying the right colors to the Peppermint Throw. Take a look at the project by Ckmc on ravelry.com – it looks very similar and it is based on a free pattern!
◉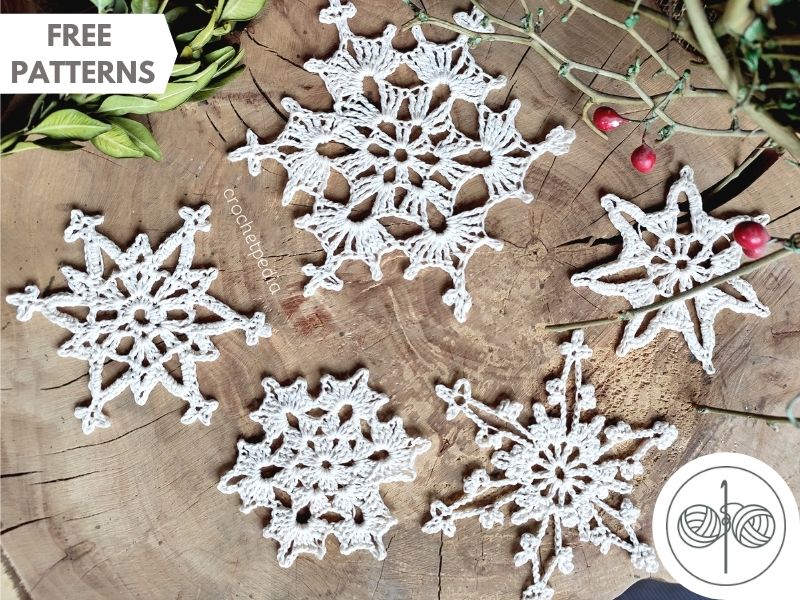 ◉
Other Peppermint Crochet Blankets
Peppermint Stripes by Michele Wilcox
*free crochet pattern*
If you are not a fan of busy designs (and let's be clear – peppermint swirls can give one a headache!), choose simpler crochet blanket patterns. For example, this iconic circular piece by Michele features classic colors and has a lovely edging. In the picture you can see that it's made with chunky yarn, so you can be sure that it will work up fast and be supper snuggly.

Download this free crochet pattern directly from premieryarns.com.
You may also like this article – How to Crochet Granny Stripe Stitch.
◉
Hygge Holiday Throw by Jess Coppom
*free crochet pattern*
Why not go for something totally different? You can use peppermint as an inspiration and go for this simple blanket, which features its colors. Jess decided to go for creamy off-white yarn instead of pure white, and I think that it adds to the 'hygge' feeling. Interesting stitch is simple enough for beginners to learn, but also fun enough to not look boring.

This project is available as free crochet pattern on makeanddocrew.com.
◉
Peppermint Ripple Afghan by Herrschners
You can be sure that any project you make in white and red will look festive, so don't be discouraged if you have just basic stitches in your skillset. In fact, you can go for ripple stitch blanket, such as the one you see below. Crocheter behind Herrschners chose very simple pattern and transformed it into perfect Christmas afghan by applying red and white stripes to it. Clever!

This particular pattern is not available online, but you can use any free crochet pattern that I recommended in my article about Ripple Stitch Crochet Ideas. It's all about the colors!
◉
That's all for today, but I'll be back with much more inspiring projects and free patterns. Like, share, and subscribe if you like what you see. Stay tuned!
↔
You may also like: Puffy Stripes Baby Blanket – Free Crochet Pattern