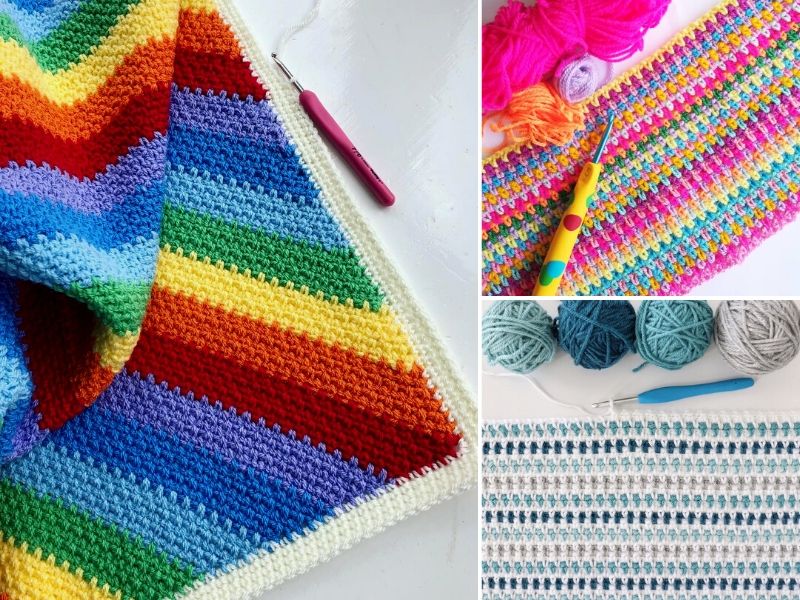 Moss stitch, linen stitch, granite stitch… There are many names under which this lovely technique appears, but the essence is the same. It's a lovely stitch that can be very versatile, works up fast and is VERY easy to learn. Beginners, you have no excuses – this one is for you!
unbelievably easy!
Moss stitch creates quite light and soft structure, so it's great for accessories, such as shawls, cowls or slouchy beanies. It works up great in blankets, too – especially baby blankets.
Materials:
Crocheter of B.Hooked Crochet used Lion Brand Heartland yarn, which is 100% acrylic and 5.00 mm crochet hook.
This stitch is really simple, because it's made entirely of basic stitches. It uses chain stitches and single crochet stitches respectively, creating base for the next row. Each row you work single crochets in chain spaces between single crochets of the row below. This way you create characteristic "v" pattern!
For more info check out full video tutorial here, or check out written pattern if you prefer.
talking about stitches…
Our growing website and library of free crochet patterns has some projects that might interest you, too. Check out my Sleepy Bunny Lovey!
→ Yes! Take me to this free pattern! ←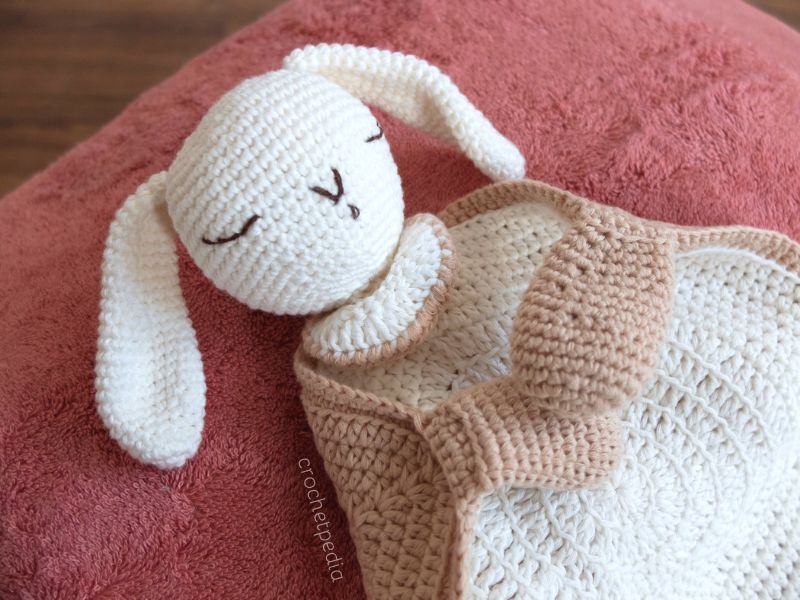 or…
Make an adorable Valentine's day gift with free crochet pattern for Rose Bunny Amigurumi!
→ Yes! Take me to this free pattern! ←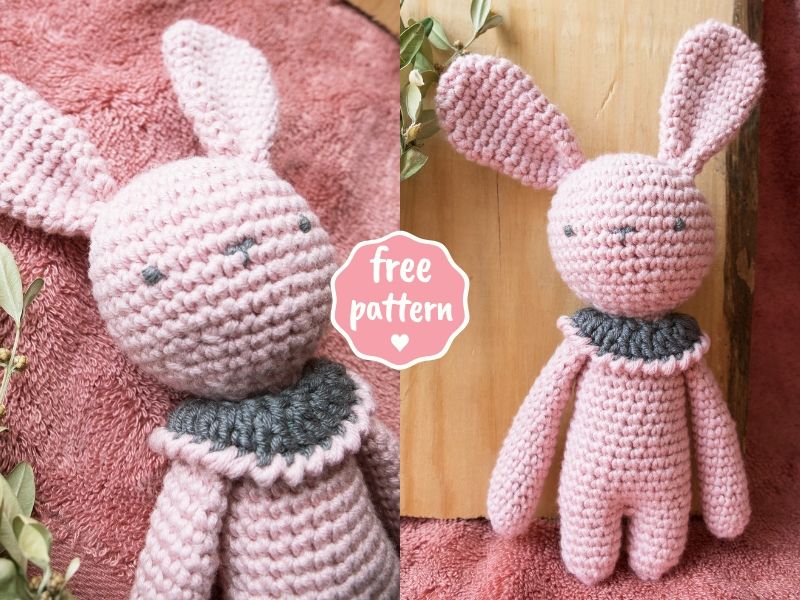 crochet roundup!
Today's theme is Moss Stitch a.k.a Linen Stitch! Since both those names are very popular, be sure to search for both of these terms during your own explorations. I've found the most beautiful projects that use this easy technique, so sit comfortably and dive in!
Be sure to read the post carefully for free patterns and tutorials.
◉
Moss Stitch by Hook One Purl One

Colorful scrapghan will be a great idea to use up a bunch of leftovers from your other projects. Moss stitch works up really quickly and you can leave the ends as a fun fringe. Visit Heather's Instagram and follow her for more juicy designs!
Use one of the tutorials for moss stitch in rows provided at the beginning of an article, so you can make your own version.
◉
Moss Stitch Blankets by The Loopy Yarn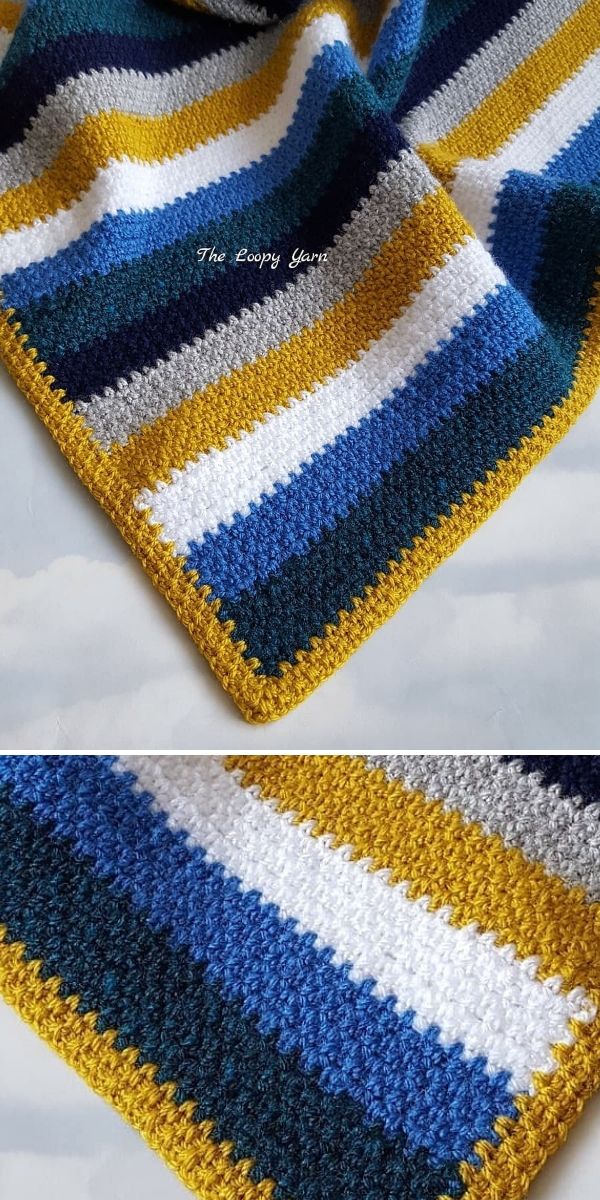 Three colors are absolutely enough to create fantastic home decor. The way you use the colors is crucial, so make a lot of swatches to find out your way! More lovely creations on The Loopy Yarn's Instagram available under the link.
Border of the blanket is almost as important as the main thing, so be sure to check out this free pattern for Moss Stitch Border by Polly Plum.
◉
Moss Stitch Shawl by Steph Lewis
Multicolored artisan yarns are sooo beautiful! Simple stitch like moss is perfect to showcase the stunning nature of this material. Steph Lewis created simple but stunning accessory that will add spice to everyday adventures. Check out her Instagram under the link above!
Steph has made this shawl on the bias, but if you are in need of a similar free pattern, be sure to check out triangular Moss Stitch Shawl by Sarah Zimmerman.
◉
Striped Moss Stitch Blankets by Kerry and The Boys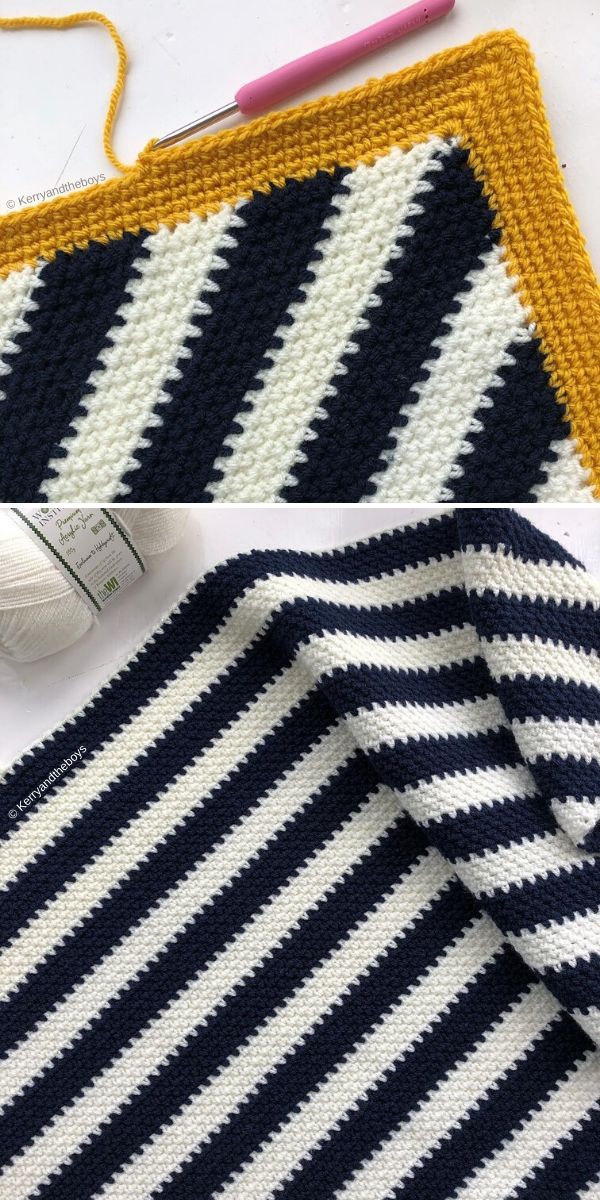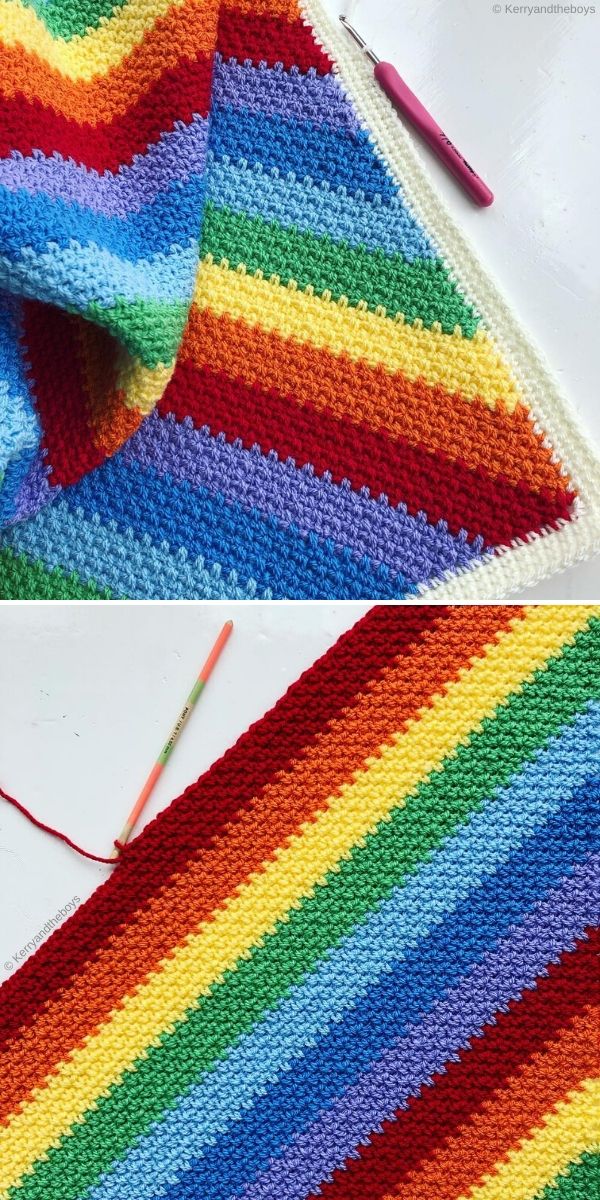 Colors and bold patterns are always on trends, especially if you want to create amazing gifts for kids! Clever ideas can make baby blankets interesting and fun, so use moss stitch as corner-to-corner and don't forget to add nice border!
To use this technique in C2C version, check out free pattern for C2C Moss Stitch Washcloth by Erin Sharp. With simple tweak you can use it to make bigger projects, like blankets.
◉
Moss Stitch by Daisy Farm Crafts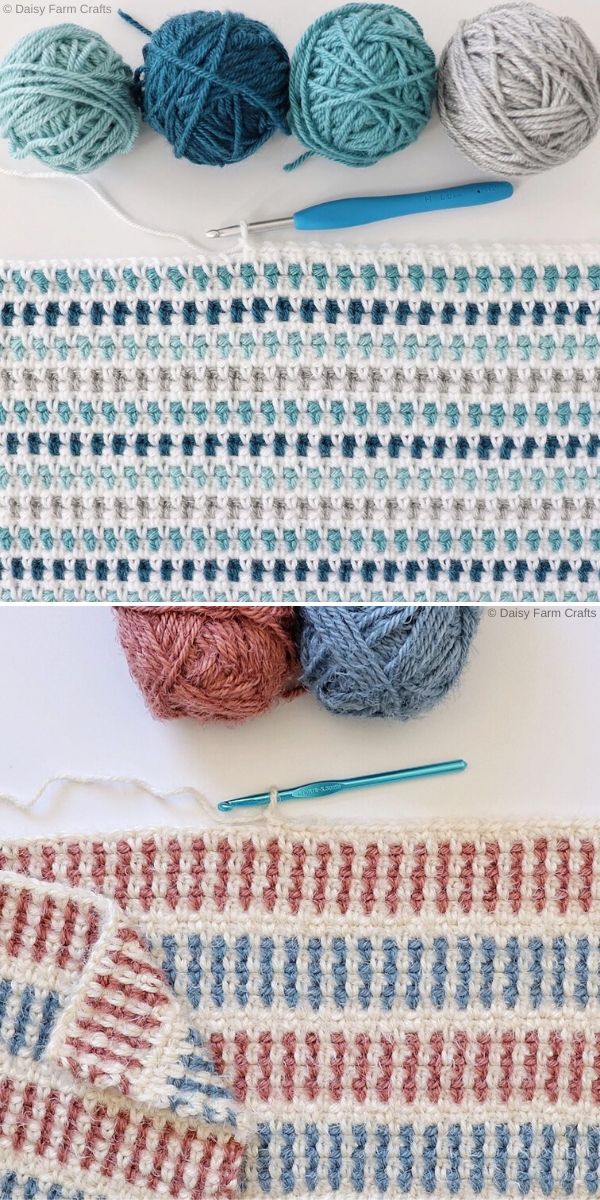 You can really play with patterns with this technique. If you like experiments, try out different colors and combinations. Let these lovely creations by Daisy Farm Crafts be an inspiration!
Check out their free pattern for Modern Moss Stitch Blanket to grasp the basics.
◉
Moss Stitch Blanket by 1977ozlem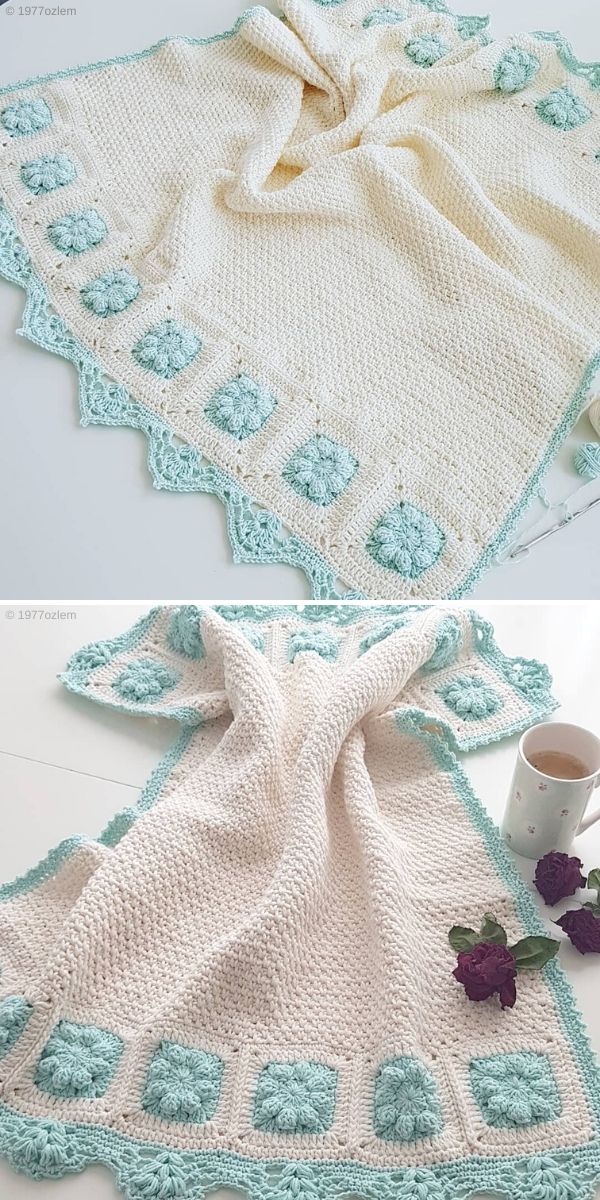 Wow, this romantic baby blanket looks really beautiful, right? who would have thought that it's made with one of the most basic stitches? Crochet squares on both ends and beautiful lacy edging are to die for! Experiment with basic tutorials for moss stitch and free crochet patterns for squares of your choice.
If you want to make a lovely baby blanket, try out this free pattern for Moss Stitch in a Square Blanket by Sarah Zimmerman. It's made from the center out, but it can be a great starting point for beginners.
◉
Linen Stitch Manghan by Dedri Uys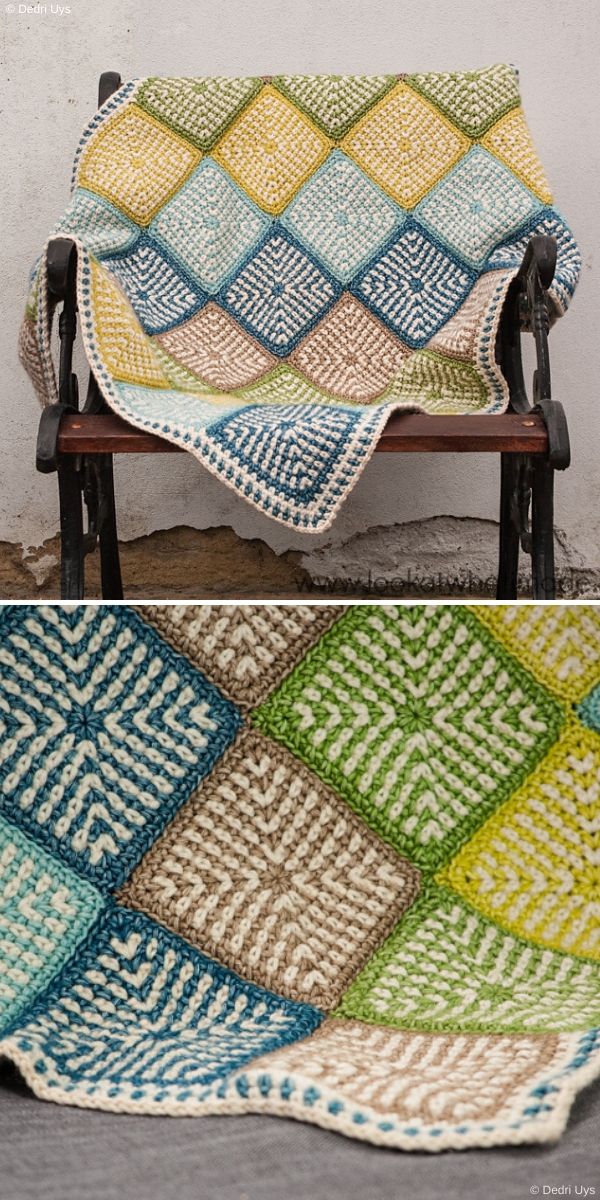 This amazing "manghan" has amazing masculine vibe to it, hence the name! If you want more vibrant colors, though, don't be afraid to introduce some. Squares from this project are fun to make and can work as coasters as well! Try free pattern for this project here.
◉
That's all for today, but I'll be back with much more inspiring projects and free patterns. Like, share and subscribe if you like what you see. Stay tuned!
↔
You may also like: Structural Waffle Stitch