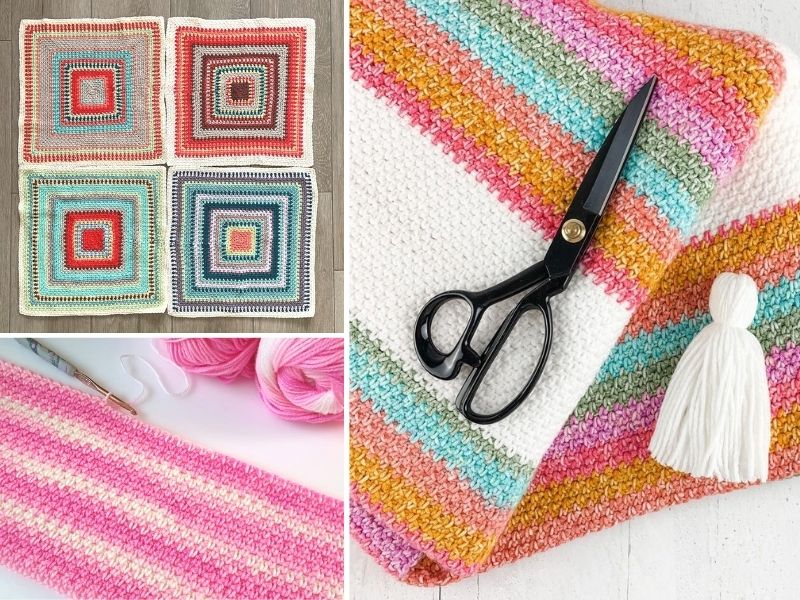 Moss stitch, linen stitch, granite stitch… There are many names under which this lovely technique appears, but the essence is the same. It's a lovely stitch that can be very versatile, works up fast and is VERY easy to learn. Beginners, you have no excuses – this one is for you!
unbelievably easy!
Moss stitch creates quite light and soft structure, so it's great for accessories, such as shawls, cowls or slouchy beanies. It works up great in blankets, too – especially baby blankets. Be sure to check out my free tutorial and click the link below!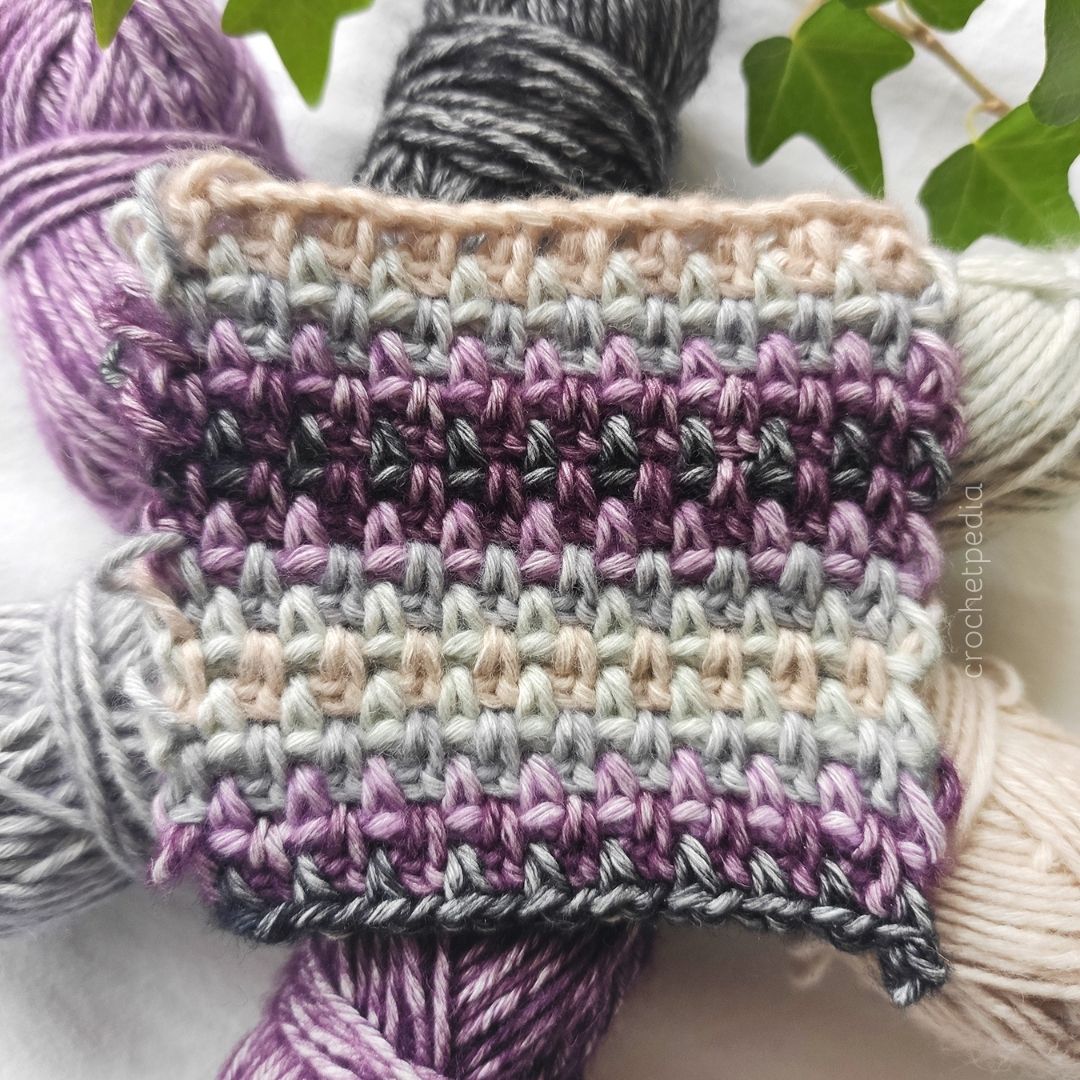 This stitch is really simple, because it's made entirely of basic stitches. It uses chain stitches and single crochet stitches respectively, creating base for the next row. Each row you work single crochets in chain spaces between single crochets of the row below. This way you create characteristic "v" pattern!
talking about stitches…
Our growing website and library of free crochet patterns has some projects that might interest you, too. Check out my Sleepy Bunny Lovey!
→ Yes! Take me to this free pattern! ←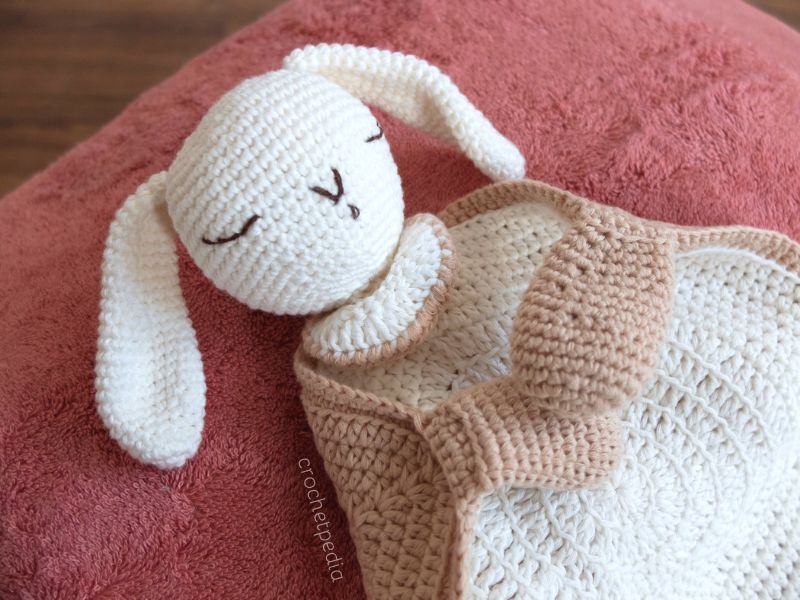 or…
Make an adorable Valentine's day gift with free crochet pattern for Rose Bunny Amigurumi!
→ Yes! Take me to this free pattern! ←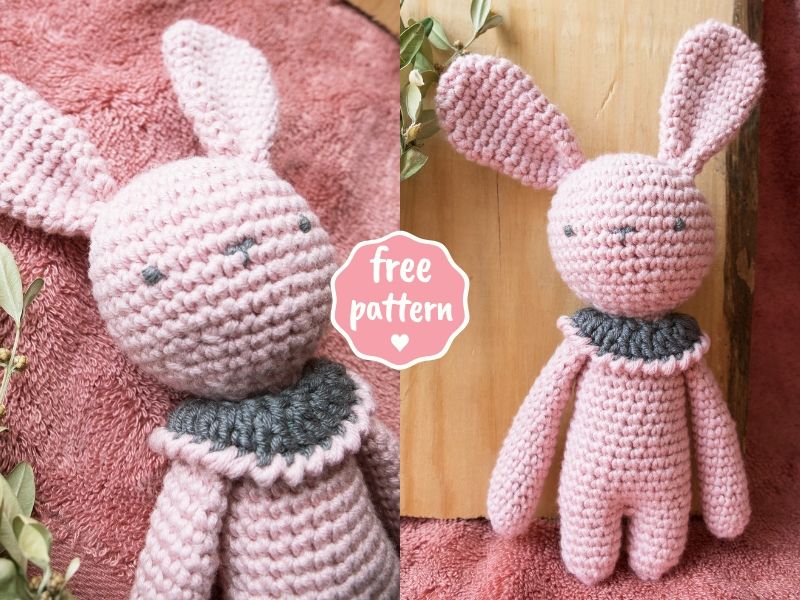 crochet roundup!
Today's theme is Moss Stitch a.k.a Linen Stitch! Since both those names are very popular, be sure to search for both of these terms during your own explorations. I've found the most beautiful projects that use this easy technique, so sit comfortably and dive in!
Be sure to read the post carefully for free patterns and tutorials.
◉
Delicate Moss Stitch Colorways
Mood Blanket by Holly Woodward Designs
If you are a fan of temperature blankets, this project by Holly Woodward Designs will be right up your alley! This mood blanket is a diary of her mental states throughout the entire 2020, so not only is it a great reminder of this crazy year, but also a nice home decor item. She was crocheting one line per day, following this color key: Pink for a good day, Blue for a bad day and White for an okay day.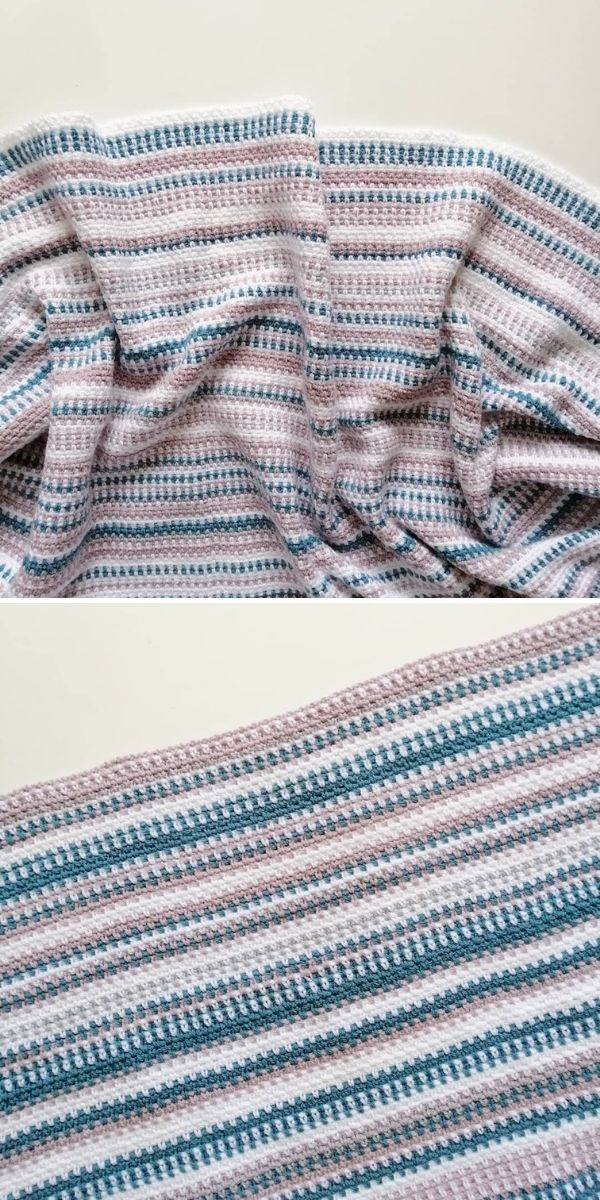 Mood blanket is a similar concept to temperature blanket, so click on the link to learn more about it!
◉
Moss Stitch by Daisy Farm Crafts
You can really play with patterns with this technique. If you like experiments, try out different colors and combinations. Let these lovely creations by Daisy Farm Crafts be an inspiration!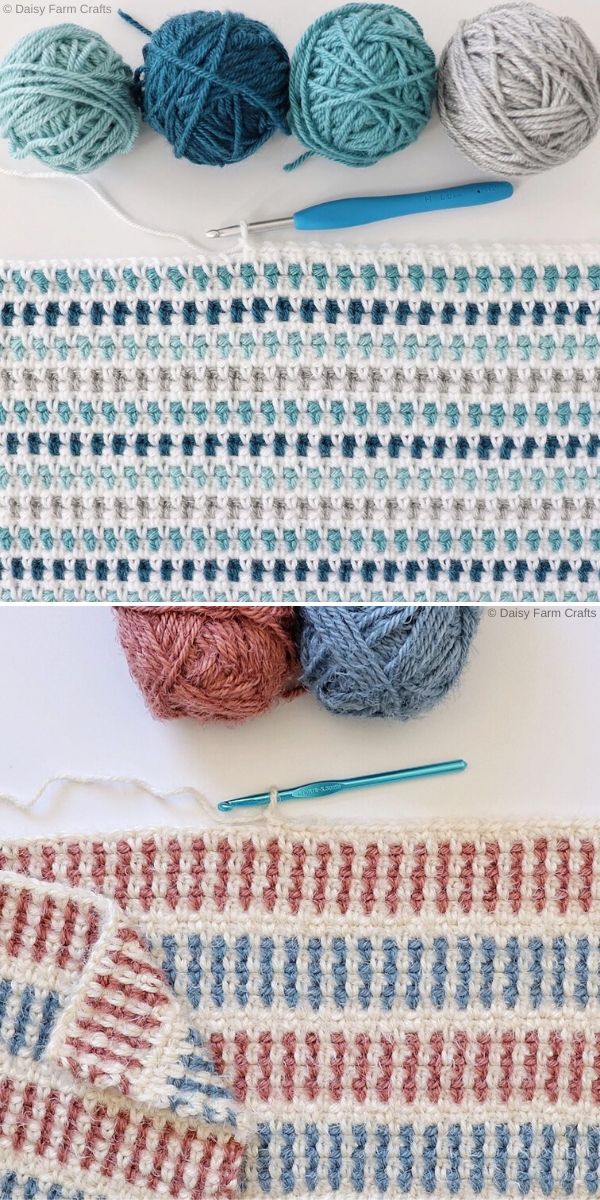 Check out their free pattern for Modern Moss Stitch Blanket to grasp the basics.
◉
Ombre Moss Stitch Blanket by Gilbert Crochet
Crocheter behind Gilbert Crochet made one of the most beautiful ombre blankets I've seen recently. 15 mini skeins from monthly yarn club allowed for this beautiful color scheme to emerge. If you take a look at the photos, you will see slight differences in the colors, as if they were painted with watercolors – that's the beauty of artisan yarn. This particular kind comes from @vickibrowndesigns.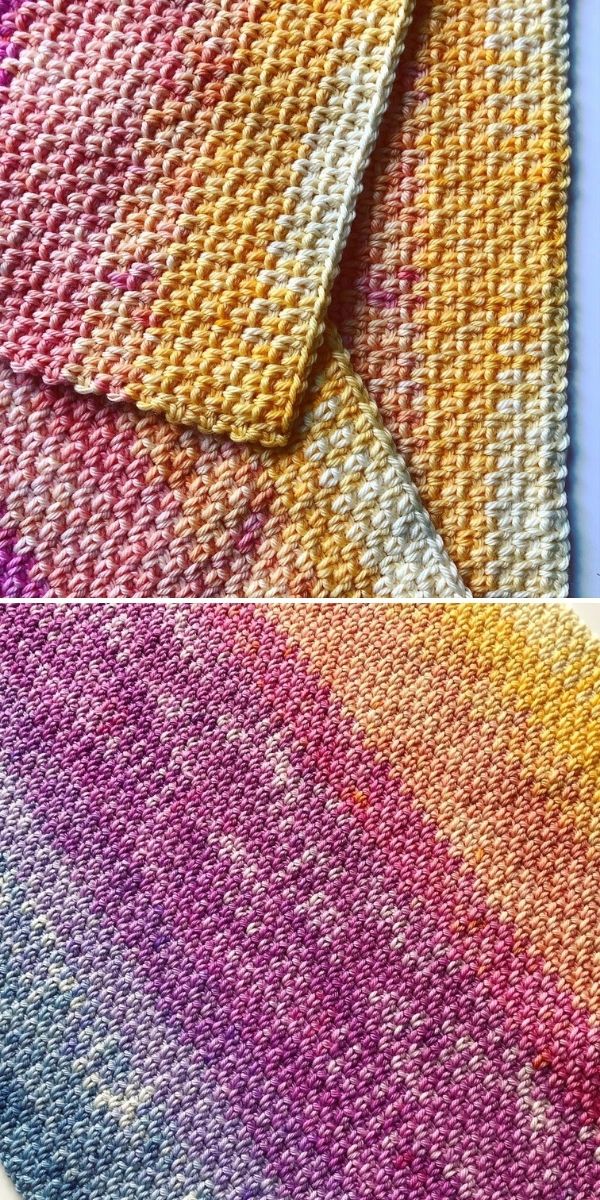 Use my Moss Stitch Tutorial to learn how to make it.
◉
Pink Moss Stitch Blanket by Amy Perry
Ready for a candy-sweet project? Because this blanket by Amy is the epitome of girly cuteness. You can use self-striping yarn, such as the one visible in the bottom photo – it's called neon pink swirl cicibebe baby batik. You can also try combining the yarns on your own, but try not to overdo it.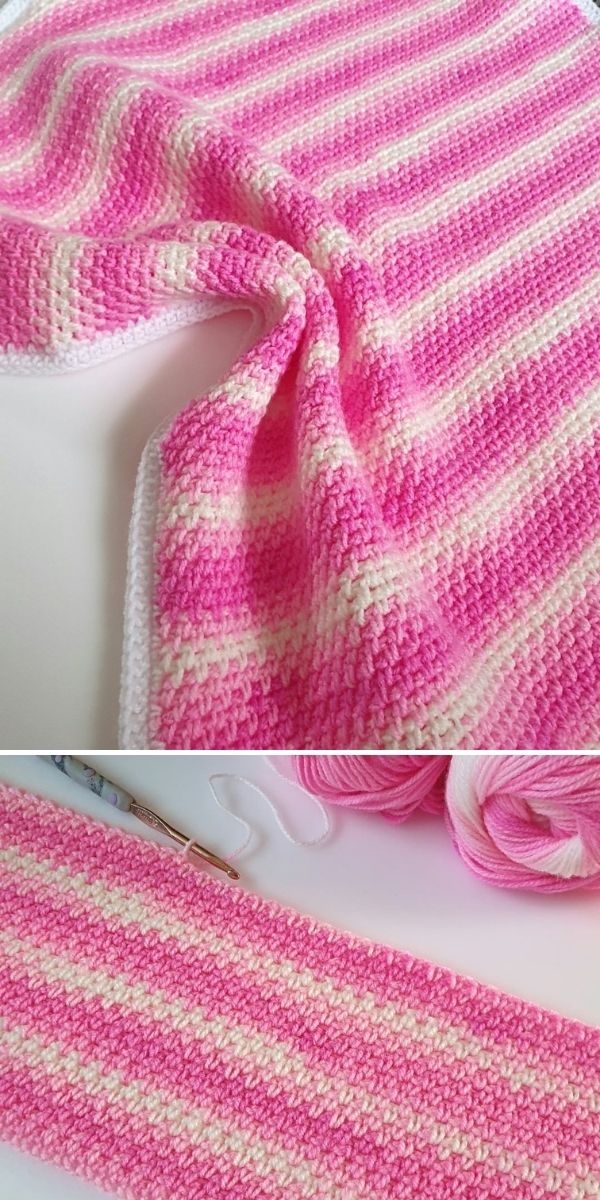 Use my Moss Stitch Tutorial to learn how to make it.
◉
Blue Linen Stitch Blanket by Hazel
I'm a big fan of this stitch, because it creates an eye-catching structure. To get the most of it, however, try changing the colors with each row, so that it makes this dotty effect. Once you're ready to start, try mixing up the colors in some parts, just like Hazel did – by putting contrasting hues together.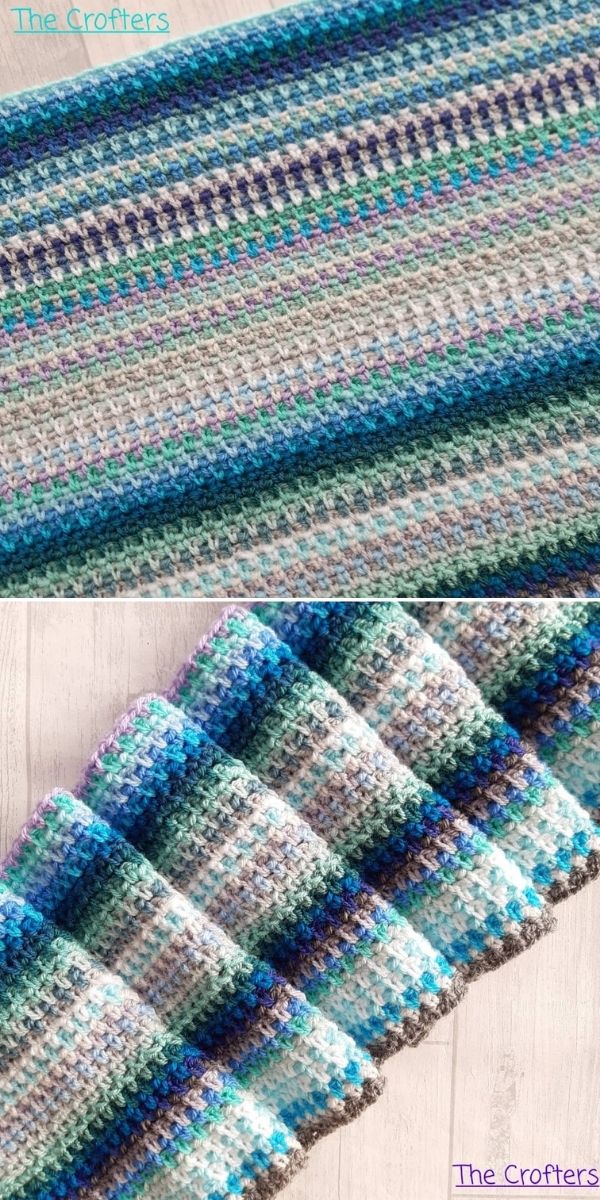 Use my Moss Stitch Tutorial to learn how to make it.
◉
Rainbows of Linen Blanket by Grace and Yarn
Well, isn't it cheerful? Panels of white and panels of colors create a great balance, so keep it in mind. The devil is in the details, though, so take a look at the bottom photo. Can you see these amazing fluffy tassels? Add them to each corner of the blanket and see how it instantly elevates the style!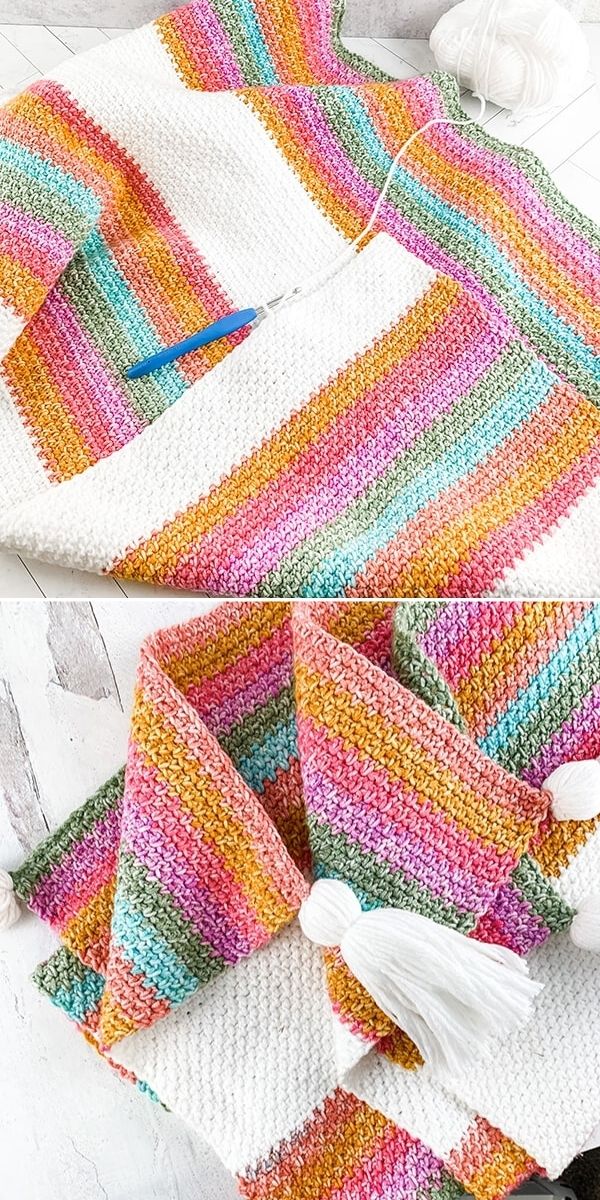 Find this free crochet pattern on graceandyarn.com.
◉
Colorful Moss Stitch Projects
Moss Stitch by Hook One Purl One
Colorful scrapghan will be a great idea to use up a bunch of leftovers from your other projects. Moss stitch works up really quickly and you can leave the ends as a fun fringe. Visit Heather's Instagram and follow her for more juicy designs!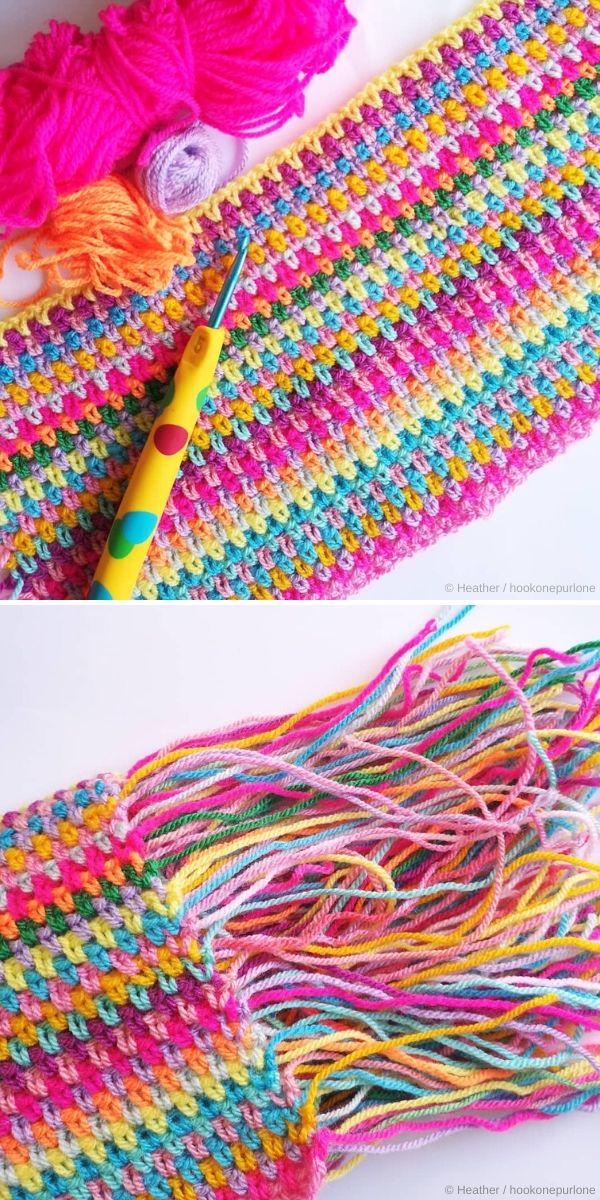 Use my Moss Stitch Tutorial to learn how to make it, so you can make your own version.
◉
Moss Stitch Shawl by Steph Lewis
Multicolored artisan yarns are sooo beautiful! Simple stitch like moss is perfect to showcase the stunning nature of this material. Steph Lewis created simple but stunning accessory that will add spice to everyday adventures. Check out her Instagram!
Steph has made this shawl on the bias, but if you are in need of a similar free pattern, be sure to check out triangular Moss Stitch Shawl by Sarah Zimmerman.
◉
Moss Stitch by Citybrightknits by Christina
Moss stitch looks great in contrasting colors, so why not go for something cheerful? This modern combination of electric orange, deep blue and charcoal is very eye-catching. Christina from Citybrightknits refers to her color choices as autumnal, but I can see the vibrant hues of tropical flowers here, too!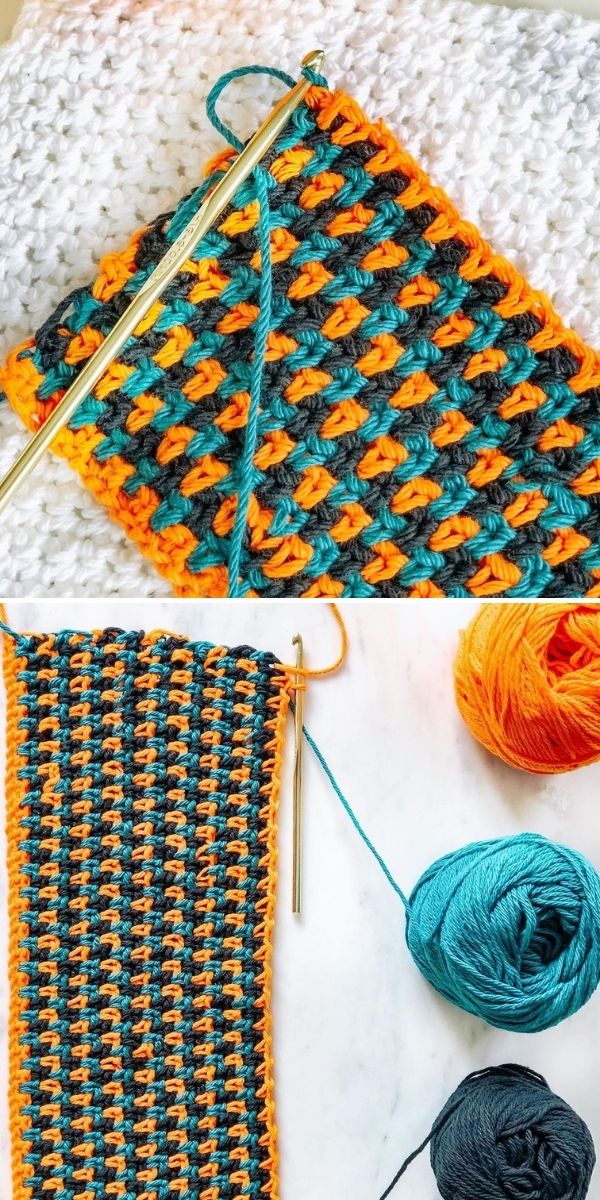 Use my Moss Stitch Tutorial to learn how to make it.
◉
Striped Linen Stitch Blankets
Moss Stitch Blankets by The Loopy Yarn
Three colors are absolutely enough to create fantastic home decor. The way you use the colors is crucial, so make a lot of swatches to find out your way! More lovely creations on The Loopy Yarn's Instagram available under the link.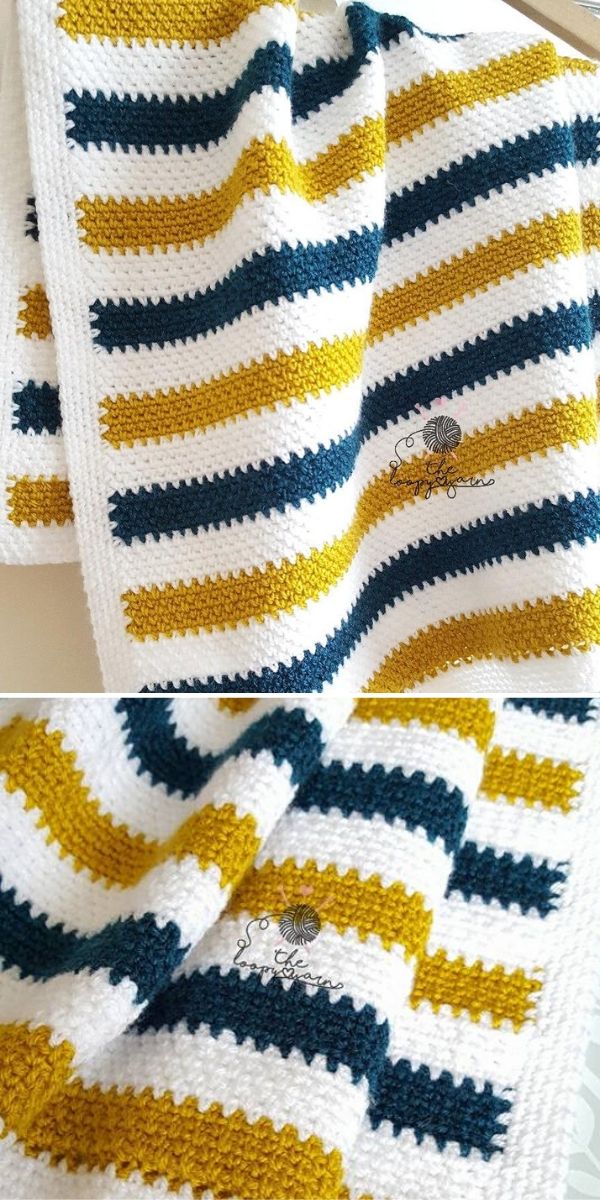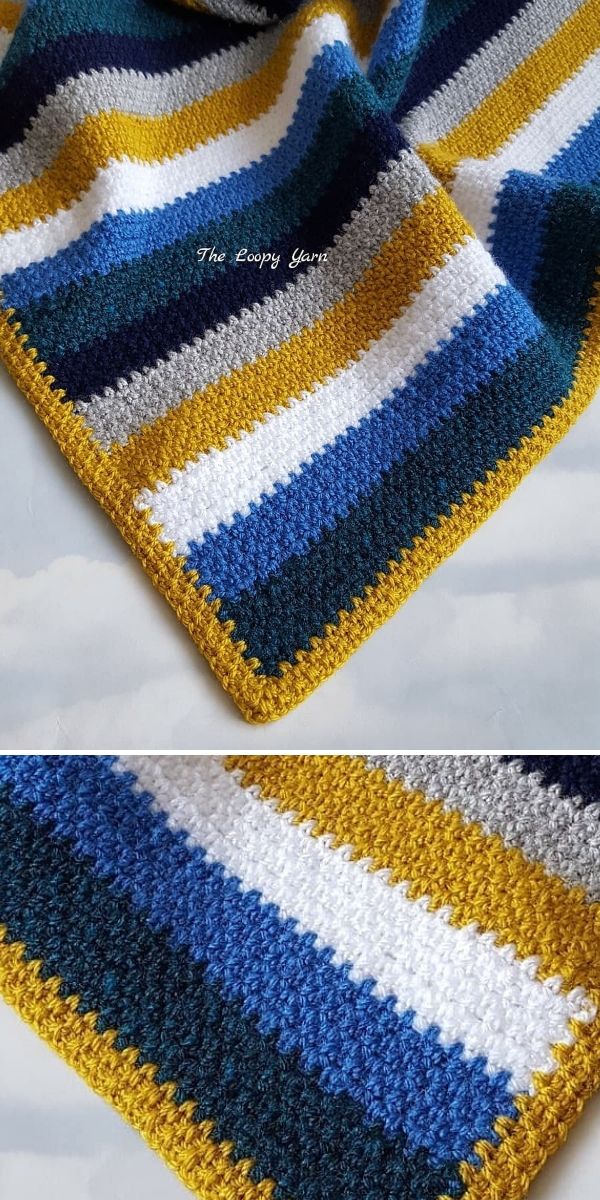 Border of the blanket is almost as important as the main thing, so be sure to check out this free pattern for Moss Stitch Border by Polly Plum.
◉
Striped Moss Stitch Blankets by Kerry and The Boys
Colors and bold patterns are always on trends, especially if you want to create amazing gifts for kids! Clever ideas can make baby blankets interesting and fun, so use moss stitch as corner-to-corner and don't forget to add nice border!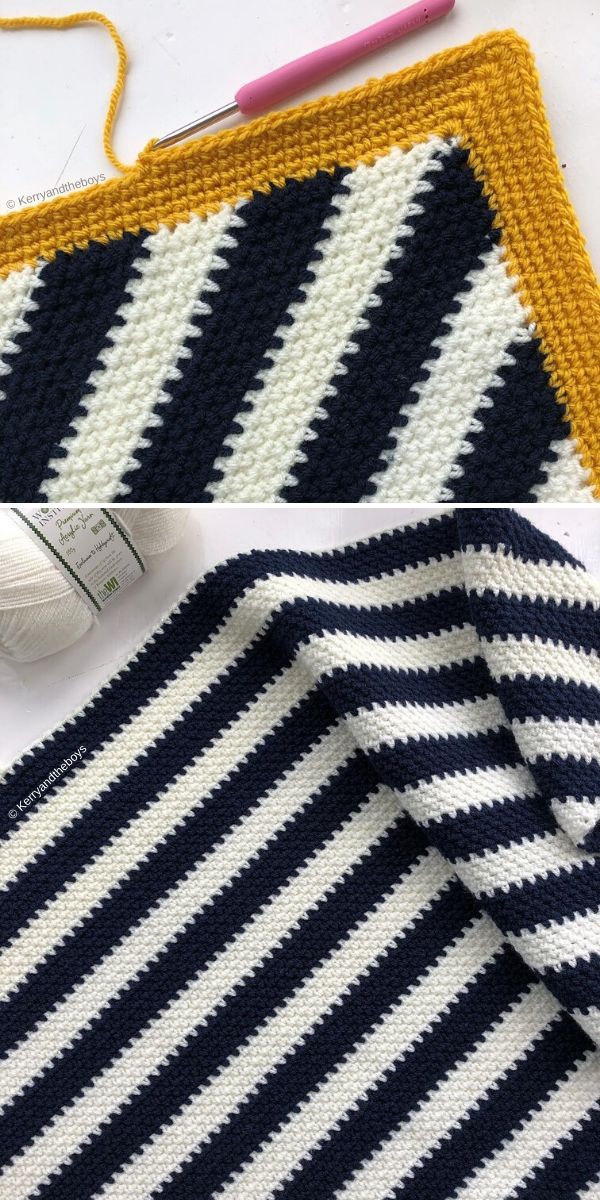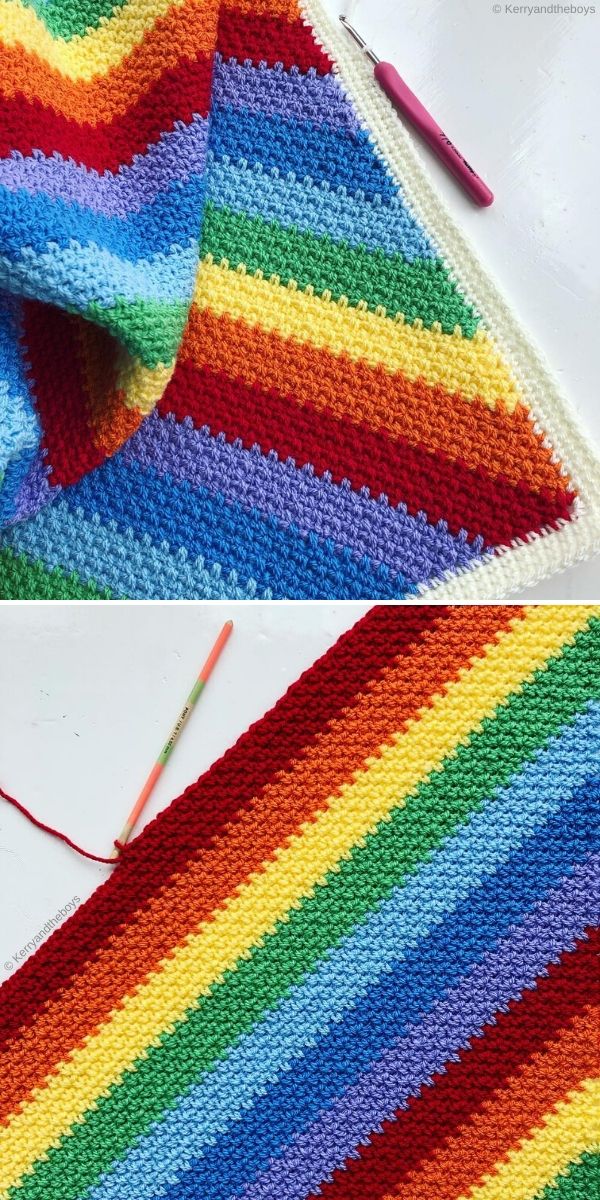 To use this technique in C2C version, check out free pattern for C2C Moss Stitch Washcloth by Erin Sharp. With simple tweak you can use it to make bigger projects, like blankets.
◉
Purple Moss Stitch Blanket by Amy Perry
As I wrote in my article about How to Choose The Best Colors for Your Crochet Project, it's a great idea to combine one color family with neutrals. In this case Amy went with shades of pink and purples, but divided each color with cream. Clever!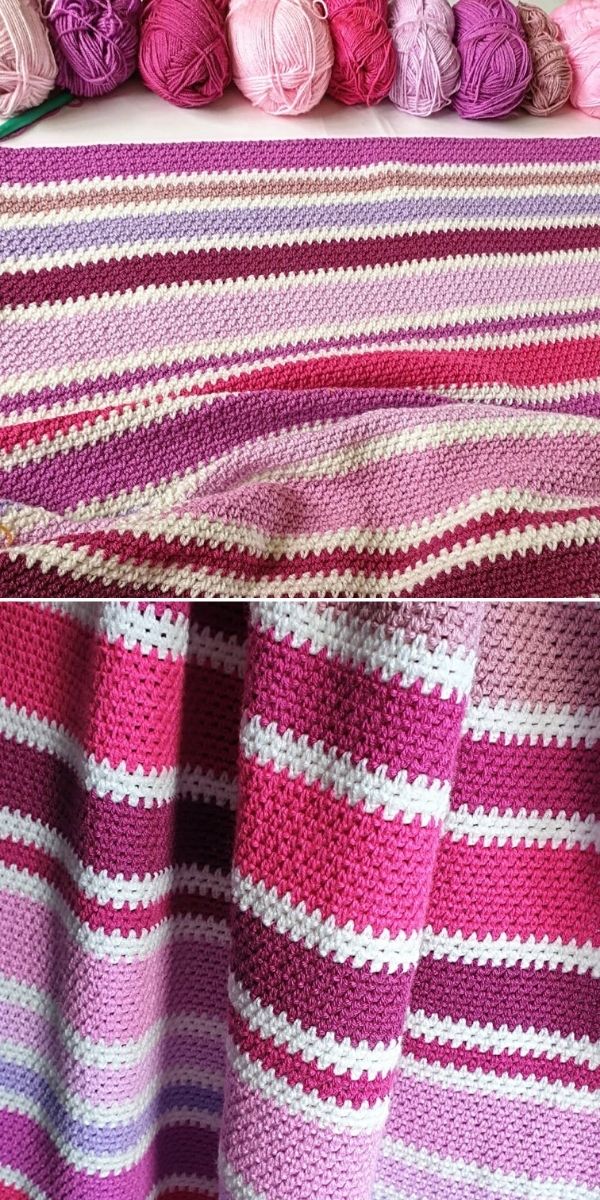 Use my Moss Stitch Tutorial to learn how to make it.
◉
Rainbow Moss Stitch Blanket by Amy Perry
To make this fantastic blanket Amy chose Good Vibes Yarn rainbow pack, so she didn't have to choose all the colors by herself. It's a great way to go about colorways, because a lot of yarn manufacturers sell color packs! As you can see below, simple white border is enough to make it look neat.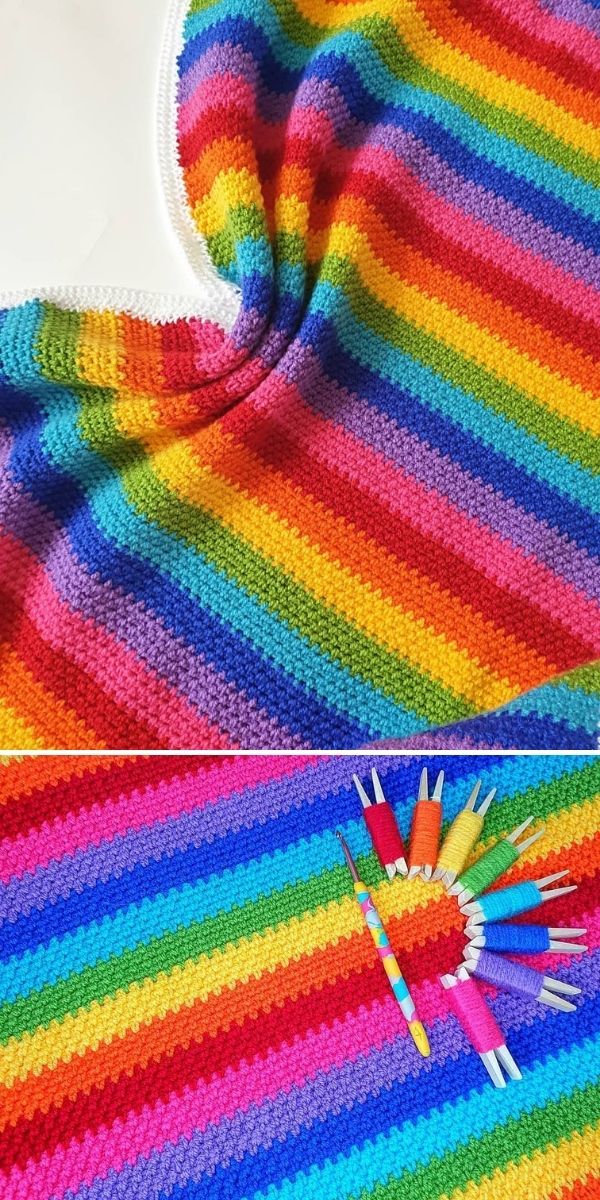 Use my Moss Stitch Tutorial to learn how to make it.
◉
Moss Stitch in a Square
Moss Stitch by Emily O'Kelley
There are many crocheters, who like to go back to moss stitch every once in a while, and Emily is no exception. In the top photo you can see a simple version featuring white and blue, as well as other colors waiting to be incorporated. In the bottom photo she combined neutrals to create cosy everyday afghan.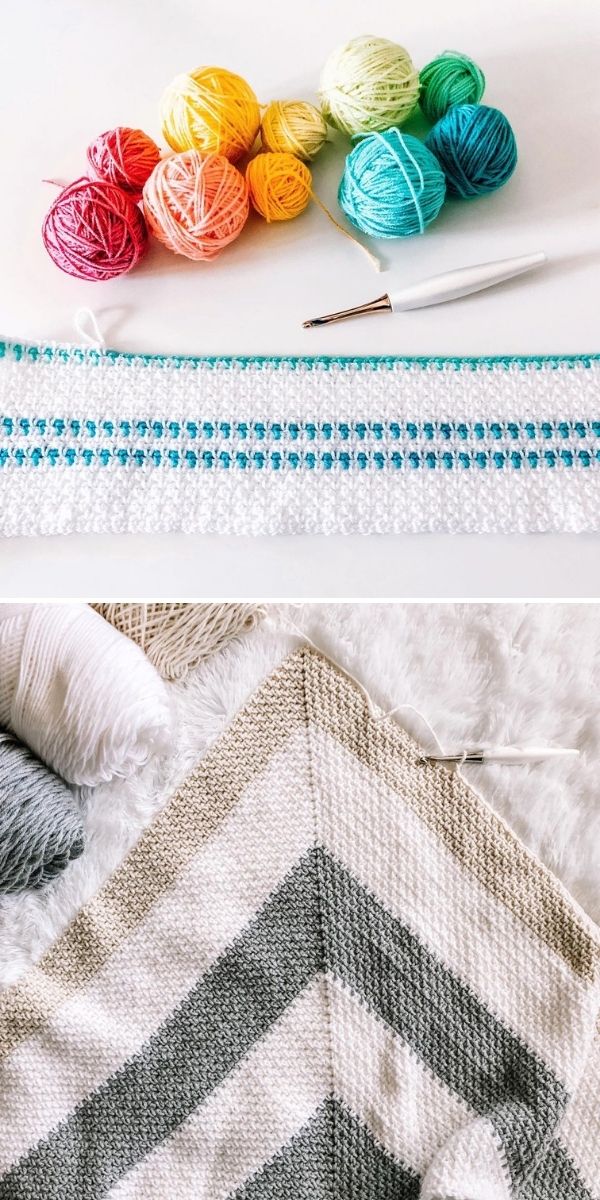 Blanket that you can see in the bottom photo is a version of free crochet pattern Bradley Afghan by @tlyarncrafts, and the yarn is Caron One Pound.
◉
Square Moss Stitch Blanket by Katherine Louise of happysherbet
This sweet blanket, which you can see in the pictures below, use two clever techniques. First of all, it's created in a square, so color changes are nicely visible, and the overall look is very original! Secondly, multicolored yarn cake makes it so easy to work with, because you don't have to change the colors. Katherine Louise decided to go with "Sunny Day" colorway from Yarnspirations, and I must admit that it looks beautiful!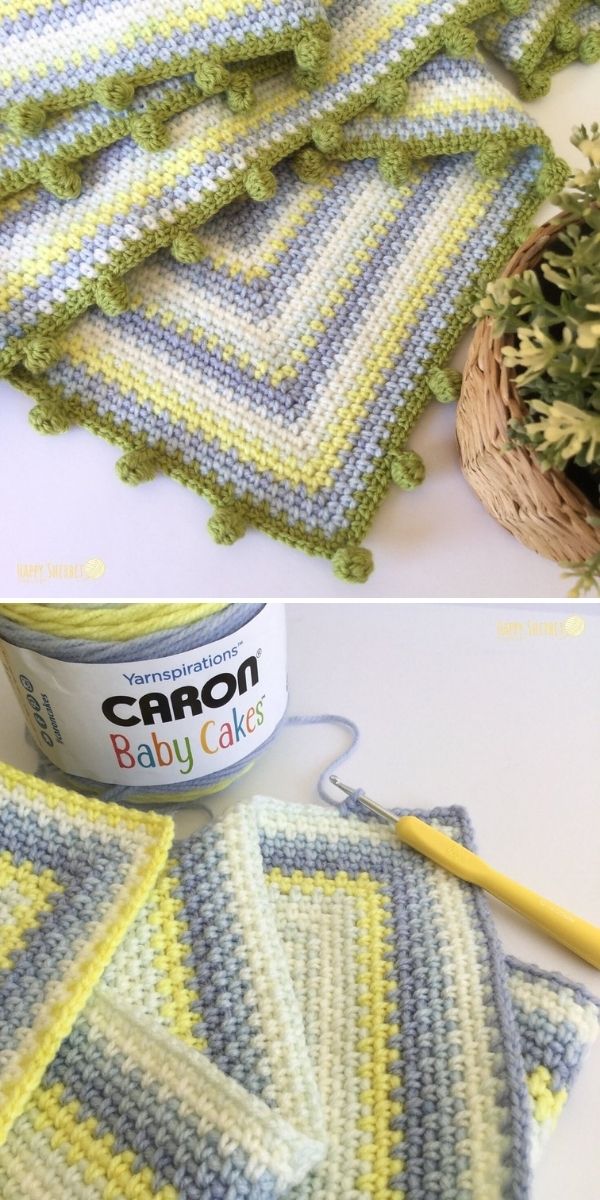 This blanket uses free crochet pattern for Moss Stitch in a Square Blanket by Repeat Crafter Me, available on repeatcrafterme.com.
◉
Scrap Buster Moss Stitch Square Blanket by Katherine Louise of happysherbet
Another project by Katherine Louise can be an inspiration for those of you, who are looking for a perfect scrap buster blanket. As you can see below, it's worked in a square, but it uses different color for every row. You can use up all of the half-finished balls and skeins of yarn you have lying around, so be sure to try it!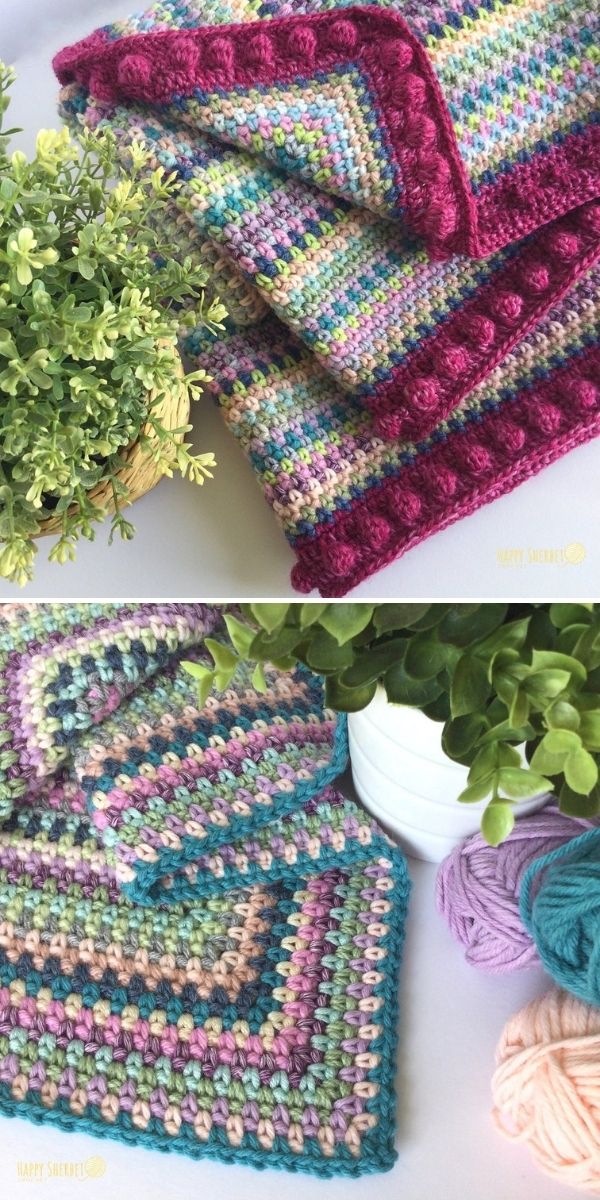 Make similar blanket using free crochet pattern for Moss Stitch in a Square Blanket by Repeat Crafter Me, available on repeatcrafterme.com.
◉
Linen Stitch Manghan by Dedri Uys
This amazing "manghan" has amazing masculine vibe to it, hence the name! If you want more vibrant colors, though, don't be afraid to introduce some. Squares from this project are fun to make and can work as coasters as well!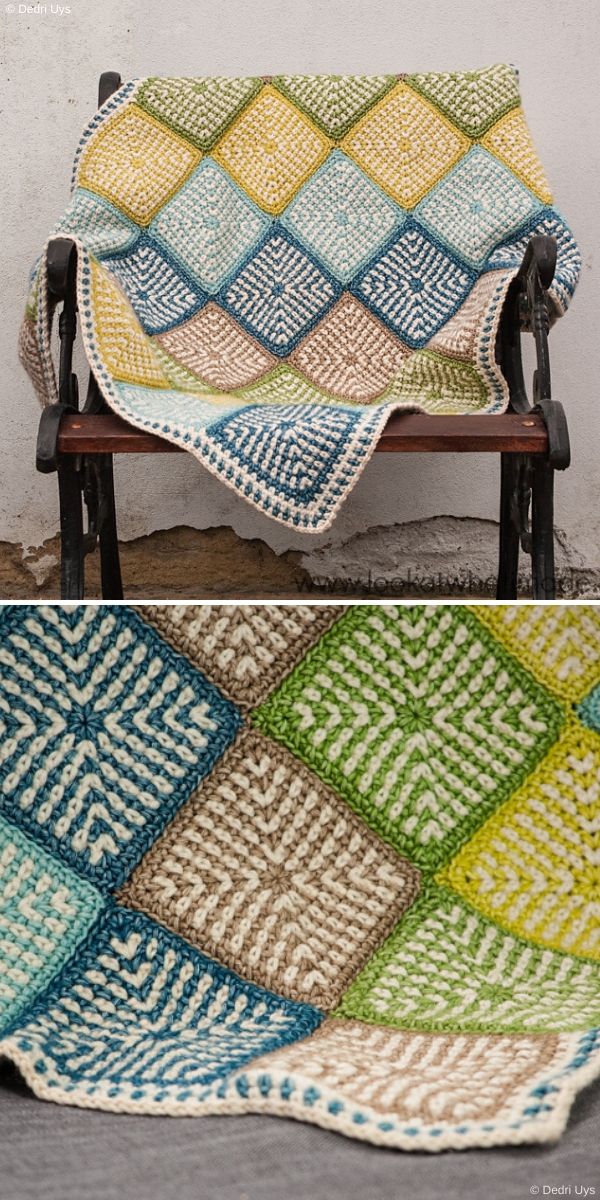 Try free pattern for this project on lookatwhatimade.net.
◉
Squared Temperature Blanket by Jill
I love squared versions of classic stitches, so this is right up my alley! Jill decided to go for a temperature blanket, but it's a project that will look great in many different colorways. Use two or three hues to end up with stripes, or go for an ombre yarn to create a seamless color flow!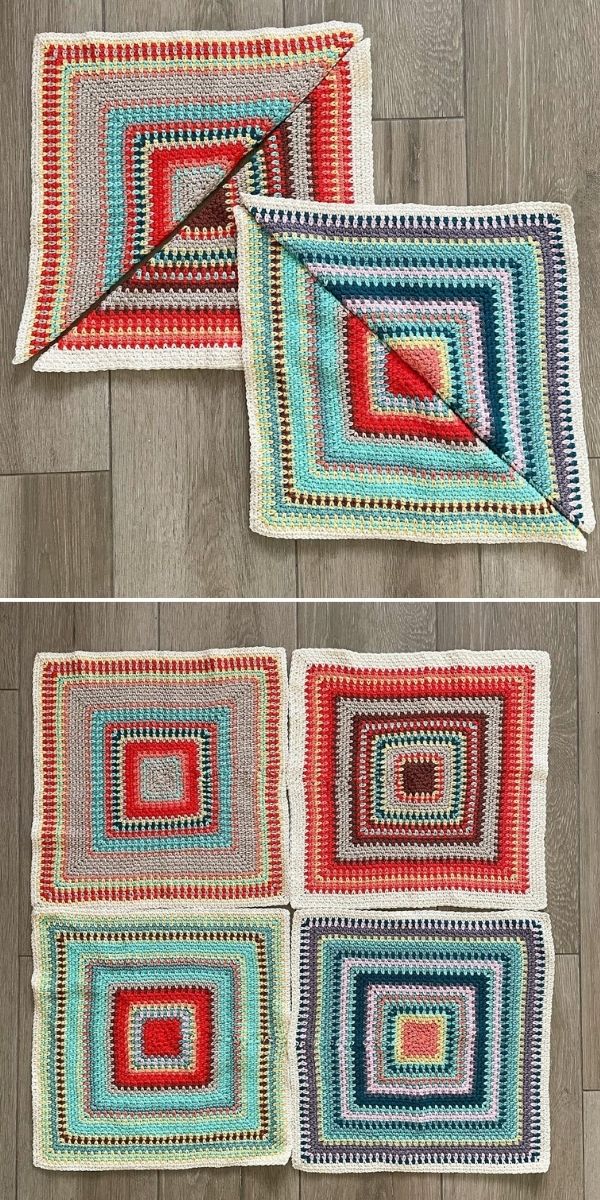 This is a version of free crochet pattern for Linen Stitch Square by TLYarnCrafts, which is available on tlycblog.com.
Read more about temperature blankets in my article Temperature Blanket – Ideas and Resources.
◉
Other Ideas
Moss Stitch Blanket by 1977ozlem
Wow, this romantic baby blanket looks really beautiful, right? who would have thought that it's made with one of the most basic stitches? Crochet squares on both ends and beautiful lacy edging are to die for! Experiment with basic tutorials for moss stitch and free crochet patterns for squares of your choice.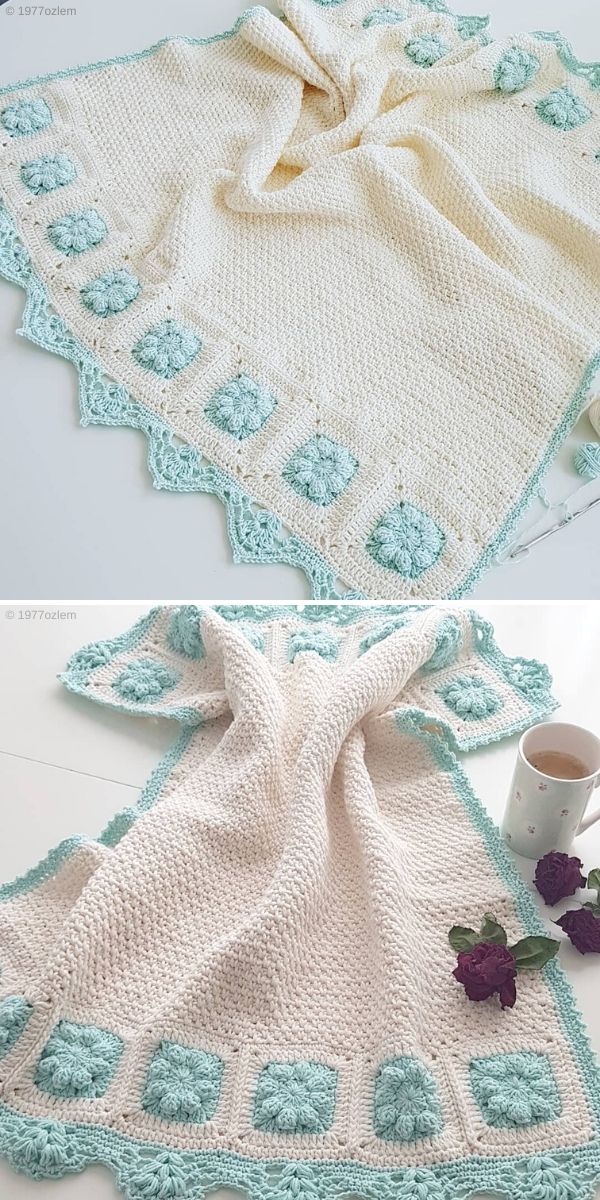 If you want to make a lovely baby blanket, try out this free pattern for Moss Stitch in a Square Blanket by Sarah Zimmerman. It's made from the center out, but it can be a great starting point for beginners.
◉
Argyle Blanket by Erica Newton
How can one transform yarn into such an elaborate plaid? With magic! Self-striping yarn, such as Caron Jumbo, has very regular color changes, so when you "hack" it, you can end up with this amazing repeatable pattern. Below the photo I linked Erica's YouTube video, in which she talks about this blanket and shows how to approach this kind of projects.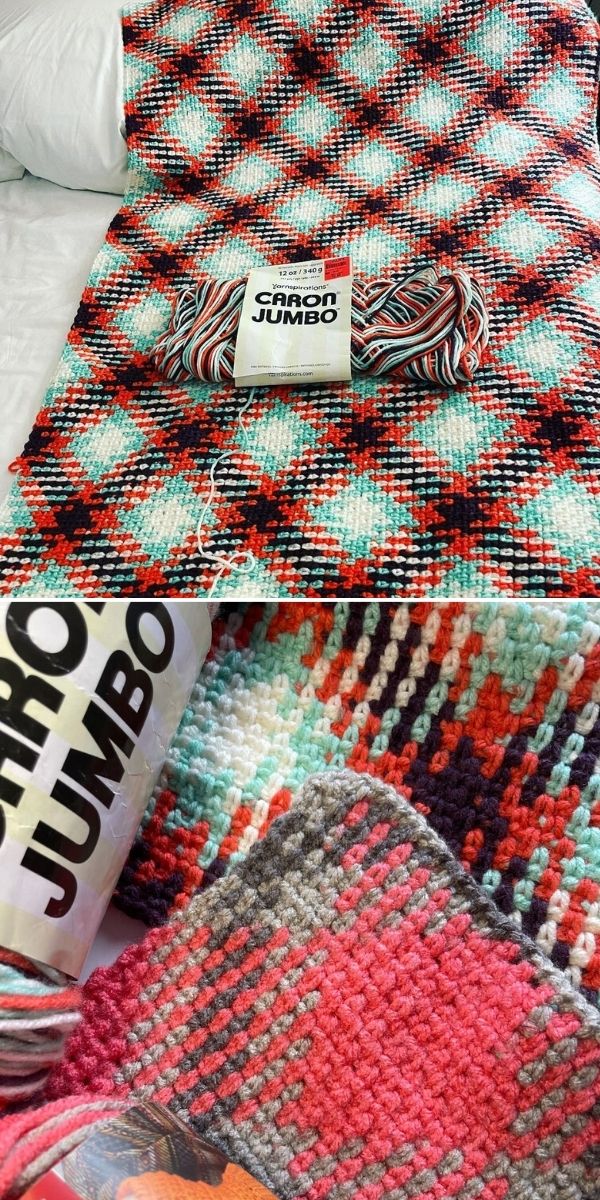 Erica shares her tips and shows how she did this blanket in her video on youtube.com.
◉
Linen Stitch Zigzag Blanket by An Raskin
There's nothing better than experimenting with basic stitches, am I right? Not only does this project use one of my favorite motifs (namely, chevron), but is also a fine example of a scrap yarn blanket. An created a truly mesmerizing color combination, so take a look at the photo and get inspired!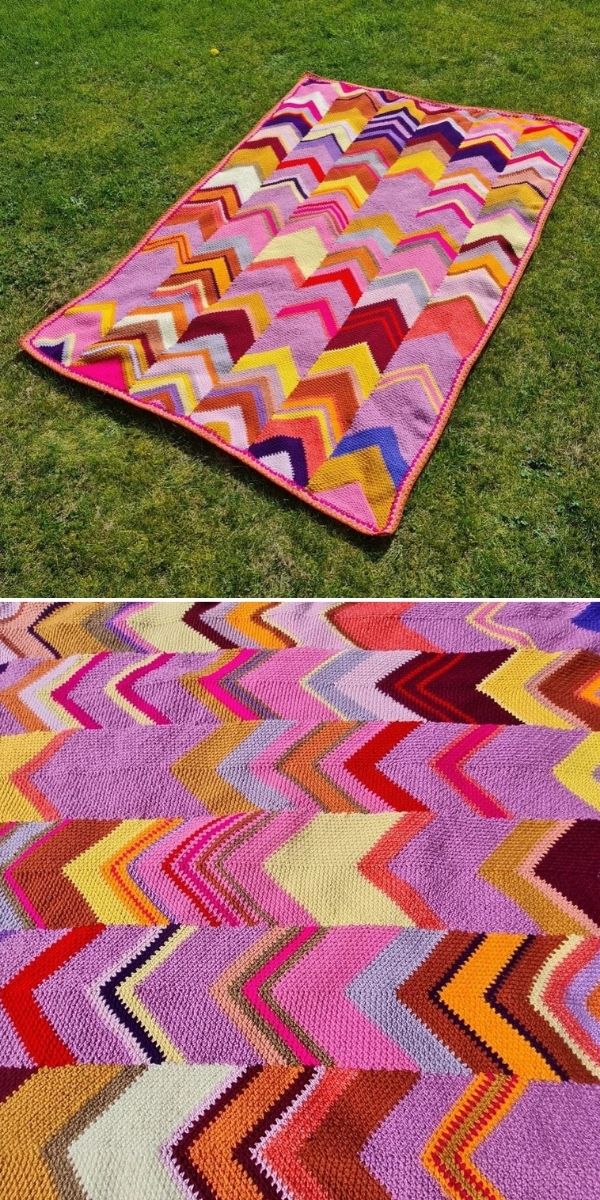 It looks like this blanket is based on a paid pattern called Chevronnie by Rachele Carmona, which is available on cypresstextiles.net and on ravelry.com.
◉
That's all for today, but I'll be back with much more inspiring projects and free patterns. Like, share and subscribe if you like what you see. Stay tuned!
↔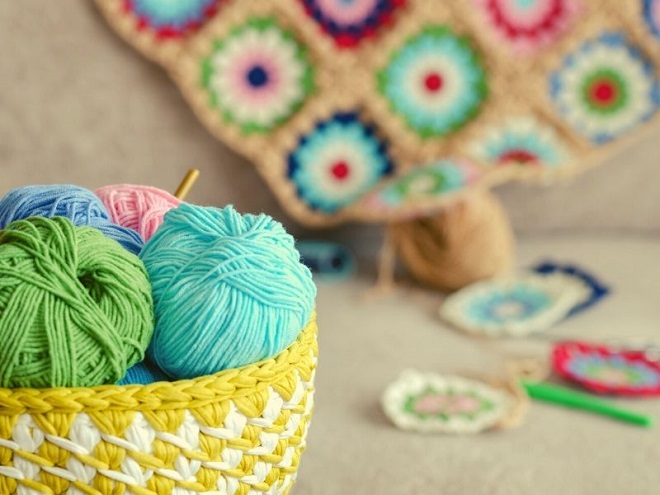 share, like, subscribe!
Sharing is caring, so if you liked this article, be sure to share it with your friends and spread the word! Stay tuned for more free tutorials, patterns and interesting articles by following my social media pages (PINTEREST and INSTAGRAM), or allow notifications to get a pop-up whenever I publish something new.